Fauci On Deck, Fear Sets In For [JB], The Patriots Are Dropping The Hammer – Ep. 3050
Podcast: Download (Duration: 1:24:51 — 37.1MB)
Watch The X22 Report On Video
The people are pushing back, Macron can't even walk down the street, the people are not going to take it anymore. Food prices are rising very quickly in Europe. [JB] pushing those with good credit to pay for those with bad credit, sounds like socialism. The Biden admin making a move to bring down the markets. The [DS] is scrambling now, the evidence that is pouring out is getting worse and worse. The patriots will push an impeachment, will the [DS] react and take him out using the 25th Amendment. The Fauci files were released and most likely this is just the start. The patriots are now dropping the hammer on the [DS], all movies playing at the same time, the people are waking up in droves, nothing can stop this, nothing.
---
Economy
Emmanuel Macron was greeted with the sounds of pots and pans, and jeers as protesters gathered in Alsace on Wednesday to hound the embattled French president as he made his first public outing since signing his controversial pension reforms into law.
During an attempt to show that he was not cowering behind the walls of the Élysée Palace, President Macron was met in turn with continued rage from the French public, who have been suffering under a cost of living crisis spurred in large part by coronavirus lockdowns — of which Macron was a champion — and the war in Ukraine, which the French leader has actively sought to continue through the shipment of French arms into the region.
Source: breitbart.com
Food prices in Britain have hit their highest level in nearly a half-century amid continued double-digit inflation, while wages fell yet again in real terms.
According to research conducted by the Office for National Statistics (ONS), the consumer prices index (CPI) remained in double digits at 10.1 per cent in March. The inflation rate — the highest in Western Europe — was slightly down from 10.4 per cent from the previous month, however, food prices remained high, hitting levels not seen in 45 years.
According to the government statistician agency, the prices of bread and cereals were up 19.4 per cent in the year to March, the highest rate recorded on record since the government began tracking such figures in 1989. Meanwhile, the sharpest price increases were recorded among food items produced with olive oil which were up by 49 per cent on the year, followed by milk products at 38 per cent, and ready-made meals, which were up 21 per cent over last year, the BBC reported.
Meanwhile, Britons have been feeling the inflationary crunch in their paychecks as well, with the average worker being essentially poorer than they were last year, according to the National Institute for Economic and Social Research.
The report found that real wages, which are calculated by comparing earnings with inflation, had fallen by 3 per cent in real terms over the previous year. Wage growth stood at 6.6 per cent in the three months leading up to February, however, this lagged behind the increase in the cost of living, resulting in an effective pay cut.
Source: breitbart.com
Did you know "Environmentally friendly" windmills kill dozens of protected Eagles every year in America?
ESI Energy was convicted in '22 & ordered to pay $8M+ in fines after 150+ eagles were killed at its wind farms in 8 states
Good job climate changers
ESPN is going to start laying people off next week, as part of the efforts by its parent company Disney to cut costs.
The network, which used to cover sports exclusively, has made the mistake of embracing woke politics in recent years.
This is most certainly having a negative effect on their bottom line.
CNBC reports:
ESPN to begin layoffs early next week as part of Disney cost cuts, sources say

Source: thegatewaypundit.com
Good-credit homebuyers will be forced to pay more for their mortgages to subsidize loans to higher-risk borrowers when a Biden administration rule begins to take effect next month.
A Washington Times report Tuesday sets out the circumstances around the change. It states:
Experts believe that borrowers with a credit score of about 680 would pay around $40 more per month on a $400,000 mortgage under rules from the Federal Housing Finance Agency that go into effect May 1, costs that will help subsidize people with lower credit ratings also looking for a mortgage.
"The changes do not make sense. Penalizing borrowers with larger down payments and credit scores will not go over well," Ian Wright, a senior loan officer at Bay Equity Home Loans, outlined to the Times. "It overcomplicates things for consumers during a process that can already feel overwhelming with the amount of paperwork, jargon, etc. Confusing the borrower is never a good thing."
But those who work in the industry believe the new rules will only serve to frustrate and confuse people as home ownership becomes an increasingly distant dream for so many under the Biden administration.
"It's going to be a challenge trying to explain to somebody that says, 'I worked my whole life for high credit and I've put a lot of money down and you're telling me that's a negative now?' That's a hard conversation to have," one worried Arizona-based mortgage loan originator told the New York Post.
 
The fee changes for homebuyers are slated to take effect on May 1.
Source: breitbart.com
The White House on Thursday slammed the long-awaited GOP debt limit proposal announced on Wednesday by Speaker Kevin McCarthy (R-CA), calling it a "blueprint to devastate hard-working American families" – and invoking "MAGA" not once, but twice.
The bill pairs a debt ceiling increase expected to last into next year with what McCarthy said would be about $4.5 trillion in savings generated in part by cutting Biden administration priorities.It aims to raise the debt limit by $1.5 trillion or through March 31, 2024, whichever comes first, and it proposes reverting discretionary spending caps to fiscal 2022 levels while limiting growth to 1 percent annually over the next decade. –The Hill
"That stands in stark contrast with President Biden's Budget, which Invests in America, lowers costs for hardworking families, and cuts the deficit by asking the super-wealthy and largest corporations to pay their fair share," she continued.
The Biden team has been peppering the "Extreme MAGA" messaging in for weeks…
Never mind the 'extreme inflation' most Americans are feeling, thanks to the Biden administration.
CNN noted that the GOP plan "would avoid a default" despite Jean-Pierre's dramatic performance.
Source: zerohedge.com
It's unlikely that the benefits of a central bank digital currency (CBDC) would be greater than the potential risks.
So said Federal Reserve Governor Michelle W. Bowman on Tuesday (April 18) during a speech at Georgetown University.
 .Noting that it remains imperative to study the potential for a U.S. CBDC, Bowman said there are several instances in which it's likely a CBDC would not be the best solution for a problem.
"Enabling this type of limit through a CBDC would stand in stark contrast to the flexibility and freedom embedded in physical currencies or bank deposits and could serve to control or even harm consumers and businesses," she said.
The U.S. Congress will soon be considering CBDCs as well. A piece of crypto legislation published Saturday (April 15) includes a request by the U.S. Treasury to study the feasibility and working impact of a digital dollar CBDC.
Source: zerohedge.com
---
Political/Rights
Here are the specifics on the collapsing ad revenue:
In 2018, seven late night programs — NBC's "Tonight" and "Late Night," CBS' "Late Show" and "Late Late Show," ABC's "Jimmy Kimmel Live," Comedy Central's "Daily Show" and NBC's "Saturday Night Live" — drew more than $698 million in advertising in 2018, according to Vivvix, a tracker of ad spending. By 2022, that total came to $412.7 million — a drop of approximately 41% over five years. 
Five years ago, these left-wing shows earned almost $700 million per year. Now it's closer to $400 million. Does that even cover the budgets to produce this junk?
Source: breitbart.com
Alec Baldwin is having all of his charges dropped and will not face any punishment at all after killing a woman on the set of Rust.

Remember that Alec Baldwin has killed more people than all Trump supporters combined did on January 6th at the Capitol.

— Gain of Fauci (@DschlopesIsBack) April 20, 2023
Senate Democrats Fail to Temporarily Replace Feinstein on Judiciary Committee
Senate Democrats   failed to temporarily replace Dianne Feinstein on the Judiciary Committee.
Dianne Feinstein's absence from the Senate is holding up Joe Biden's judicial confirmations.
Feinstein, 89, has been MIA since she was hospitalized for shingles last month.
The California senator's absence from the Senate Judiciary Committee has the panel deadlocked at 10-10. 
The California Senator will be 91 years old when her term expires at the end of 2024.
Source: thegatewaypundit.com
This is a HUGE story.  The Biden gang as we all know is being protected by the corrupt DOJ which has gone to hell in a handbasket.  Attorney General Garland is protecting them – now we have proof.
FOX News reports:

Attorney Mark D. Lytle penned a letter calling for whistleblower privileges regarding his client, an IRS criminal supervisory agent. The letter read that the agent previously made legally protected disclosures at the IRS and stated that these disclosures "contradict sworn testimony to Congress by a senior political appointee."

"My goal is to ensure that my client can properly share his lawfully protected disclosures with congressional committees," Lytle wrote. "Thus, I respectfully request that your committees work with me to facilitate sharing this information with congress legally and with the fully informed advice of counsel."

The letter was released and shared on Twitter:
Source: thegatewaypundit.com
BREAKING: DOJ IG Horowitz investigating claims by IRS whistleblower of political bias in investigation of Hunter Biden tax fraud — backed up by emails, other docshttps://t.co/9UhhIgV4Qc

— Paul Sperry (@paulsperry_) April 19, 2023
Whistleblower account to inspector general, notification to Congress calls into question AG Merrick Garland testimony.
Adecorated supervisory IRS agent has reported to the Justice Department's top watchdog that federal prosecutors appointed by Joe Biden have engaged in "preferential treatment and politics" to block criminal tax charges against presidential son Hunter Biden, providing evidence as a whistleblower that conflicts with Attorney General Merrick Garland's recent testimony to Congress that the decision to bring charges against Biden was being left to the Trump-appointed U.S. Attorney for Delaware.
According to a letter from the whistleblower's attorney Mark Lytle to Congress obtained by Just the News, the IRS agent revealed he is seeking to provide detailed disclosures about a high-profile, sensitive case to the tax-writing committees in Congress, which have special authority under federal tax privacy laws to receive such information. That could pave the way to share the details with other committees in coming weeks.
T
In a letter Wednesday to Republicans and Democrats overseeing multiple oversight committees in Congress, Lytle wrote: "The protected disclosures: (l) contradict sworn testimony to Congress by a senior political appointee, (2) involve failure to mitigate clear conflicts of interest in the ultimate disposition of the case, and (3) detail examples of preferential treatment and politics improperly infecting decisions and protocols that would normally be followed by career law enforcement professionals in similar circumstances if the subject were not politically connected."
Hunter Biden has acknowledged since December 2020 that he has been under criminal investigation for tax matters, and his representative disclosed last year he paid overdue tax bills totaling $2 million. He has expressed confidence he will be cleared of criminal wrongdoing.
"It's clear from our investigation that Hunter and other members of the Biden family engaged in deceptive, shady business schemes to avoid scrutiny as they made millions from foreign adversaries like China," the statement continued. "We've been wondering all along where the heck the DOJ and the IRS have been. Now it appears the Biden Administration may have been working overtime to prevent the Bidens from facing any consequences."
Ways and Means Committee Chairman Jason Smith said that the committee will go where the facts lead and investigate.
Source: justthnews.com\
The US Department of Treasury needs to release every Suspicious Activity Report related to the Biden family.

If Janet Yellen doesn't release the reports, she is complicit in the coverup. #Verdict

— Ted Cruz (@tedcruz) April 19, 2023
TAKE A LISTEN
If the GOP doesn't impeach Biden (just as Democrats impeached Trump just in time for the election campaign), they deserve to lose.

Of course the Senate would never convict but who cares. The point is to force the media to spend a few months talking about Biden's dirty laundry. https://t.co/dUS5CRaDgS

— Hans Mahncke (@HansMahncke) April 20, 2023
---
Geopolitical/Police State
I've ordered FL Division of Emergency Management Director Kevin Guthrie to bring swift accountability for the test of the emergency alert system in the wee hours of the morning. This was a completely inappropriate use of this system.

Stay tuned.

— Ron DeSantis (@GovRonDeSantis) April 20, 2023
BREAKING: Ex-Buzzfeed editor Ben Smith now admits he knew at the time he published, in full, the fake Russia dossier that it contained "clear errors" — in fact, one of his editors, Miriam Elder, warned "It is not just unconfirmed: It includes some clear errors." He publ'd anyway

— Paul Sperry (@paulsperry_) April 20, 2023
There is a big debate over who blew up the Nord Stream pipeline. Instead of allowing the debate, Facebook has decided to take a side. It is censoring Pulitzer-winning journalist Seymour Hersh. And instead of explaining, Facebook sends readers to an article in Norwegian. Watch pic.twitter.com/nN18HovBPR

— Michael Shellenberger (@shellenberger) April 19, 2023
Q

 

!xowAT4Z3VQ

 

ID: f49c4b

 No.1131254

>>1131191

Who does Haberman follow?
>>1131247
Think public & private Twitter accounts.
They all have them.
These people are stupid.
We have it all.
Q
It's hard to believe that Chicago is about to be worse off than it was under Lori Lightfoot, but it really looks like that's the case.
Following the violent youth riots in the city, Mayor-Elect Brandon Johnson is bending over backwards to defend the rioters, calling what they did 'silly decisions.'
He is not even in office yet and you can see exactly where the city is headed.
Townhall reports:
Chicago Mayor-Elect Doubles Down Defending Youths Rioting in DowntownChicago Mayor-elect Brandon Johnson (D) continued to defend the rioting that broke out in the heart of downtown last weekend, which was caused by a large number of black youths causing mayhem in the Loop during the warm evenings. Damage to cars and buildings were done and people were attacked at random with Chicago police officers struggling to contain the violence. Two children were shot as a result of the chaos.ohnson said it is counter-productive to demonize children and young people make "silly decisions.""Demonizing children is wrong!
Source: thegatewaypundit.com
Both shot for going to the wrong house

The white girl who was killed raised $89k and barely got any coverage

The black boy who was injured raised $3M, got a WH invitation, and 24 hour coverage pic.twitter.com/G35mchEDrR

— End Wokeness (@EndWokeness) April 18, 2023
.@JoeBiden invited 3 Tennessee lawmakers to the @WhiteHouse in the wake of the Covenant school shooting, but not families of the 6 victims.

— John Roberts (@johnrobertsFox) April 20, 2023
---
False Flags
CDC Director Rochelle Walensky admitted to Congress   that vaccinated individuals can spread the COVID virus. This is after spreading vaccine disinformation for over two years now.
This is contrary to her earlier statements on the COVID vaccine. She attributed this change to "an evolution of science."
In December 2021, Walensky warned that vaccine misinformation was one of the biggest public health threats. She didn't mention at the time that she was a leading spreader of the propaganda.
Walensky also previously admitted she learned of the effectiveness of the vaccines by watching far-left TV.
Source: thegatewaypundit.com
The entire idea of using OSHA to mandate the Covid vaccine hinged on this concept

Everyone who pushed for that mandate should be banned from any position of public trust for life https://t.co/sbgcXAi1rb

— PoliMath (@politicalmath) April 19, 2023
Three people received compensation for their injuries through the Countermeasures Injury Compensation Program (CICP), run by an agency within the Department of Health and Human Services, officials said in a new update.
One person who suffered severe allergic shock received $2,019, according to the agency, the Health Resources and Services Administration. One person who suffered heart inflammation, or myocarditis, received $1,582. Another who suffered myocarditis received $1,032.
The manufacturer of the vaccines was not made public. Information about the people who received the payments has also not been made public.
The payouts mark the first time the U.S. government has paid people who were injured by the COVID-19 vaccines, which can cause serious problems as well as death and were first introduced in late 2020.
Source: theepochtimes.com
Justice Department Announces Nationwide Coordinated Law Enforcement Action to Combat COVID-19 Health Care Fraud
Criminal Charges Brought Against Medical Professionals, Owners of Medical Businesses, and Others for a Variety of COVID-19 Fraud Schemes with False Billings Exceeding $490 Million
The Department of Justice today announced criminal charges against 18 defendants in nine federal districts across the United States for their alleged participation in various fraud schemes involving health care services that exploited the COVID-19 pandemic and allegedly resulted in over $490 million in COVID-19 related false billings to federal programs and theft from federally funded pandemic programs.
In connection with the enforcement action, the department seized over $16 million in cash and other fraud proceeds. The Center for Program Integrity of the Centers for Medicare & Medicaid Services (CPI/CMS) separately announced today that it took adverse administrative actions in the last year against 28 medical providers for their alleged involvement in COVID-19 schemes.
"The Justice Department will not tolerate those who exploited the pandemic for personal gain and stole taxpayer dollars," said Attorney General Merrick B. Garland. "This unprecedented enforcement action against defendants across the country makes clear that the Department is using every available resource to combat and prevent COVID-19 related fraud and safeguard the integrity of taxpayer-funded programs."
Source:  .justice.gov
1) Twitter Files #FauciPharmaFiles

Last December, @elonmusk sent out his viral tweet about Fauci.

Fauci went on Fox News and said he had "no clue what [Elon] was talking about." pic.twitter.com/L0RIZVRsEO

— Paul D. Thacker (@thackerpd) April 20, 2023
House Republicans have passed a bill to ban transgender athletes from competing in women's sports.

The bill passed with a 219-203 vote. Not a single democrat voted in favour of protecting women in sports.

However, despite the bills passing it will not pass through the… pic.twitter.com/IFNvpzjFED

— Oli London (@OliLondonTV) April 20, 2023
Biden Threatens To Veto GOP Bill Barring Transgender Athletes From Women's Sports
---
Q
New body worn camera footage aired in Proud Boys trial shows not just another assault by stormtrooper DC police but Ray Epps at front line. He is urging police to calm down pic.twitter.com/t0lcsOtRDi

— Julie Kelly 🇺🇸 (@julie_kelly2) April 20, 2023
Imagine if the public had full and unfettered access to all the surveillance and body worn camera video to see how these jackbooted thugs treated American citizens assembled outside the Capitol on January 6. A new select committee could easily make that happen— pic.twitter.com/x0K8cTJJ40

— Julie Kelly 🇺🇸 (@julie_kelly2) April 20, 2023
He has now been released from prison — but Chansley didn't receive evidence favorable to him prior to his guilty plea and sentencing.
Chansley's lawyer has filed an appeal to vacate or correct his sentence. 
William Shipley, a lawyer for Chansley, explained in a Substack what evidence was not given to Chansley and the problems with what the government has said in the Chansley case.
In filings, the prosecutors claimed something that later video evidence showed was questionable: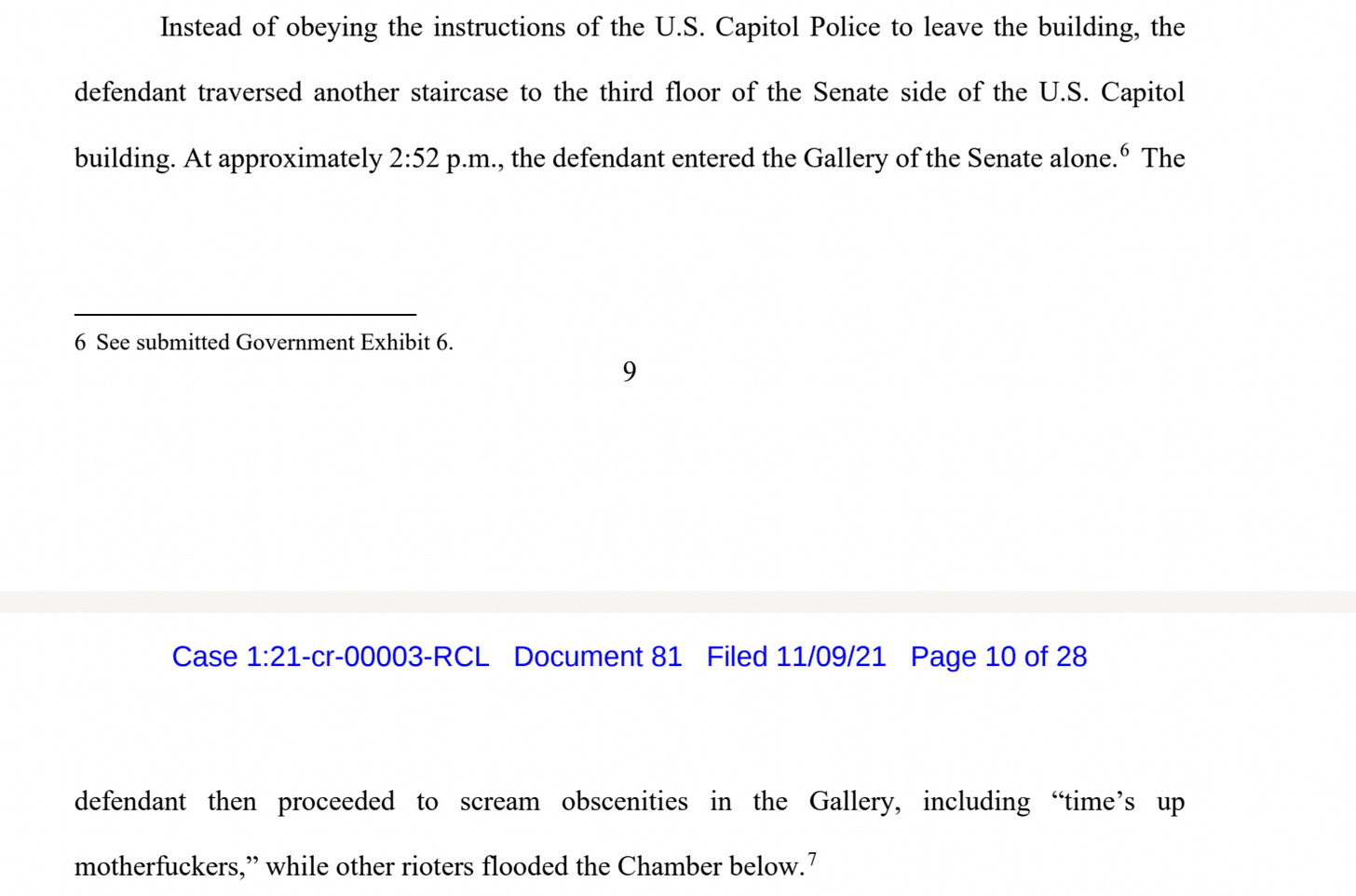 Shipley points out that the released CCTV footage paints a different picture than the one from the government.
This includes Chansley having police officers open doors for him, including the doors to the Senate Chamber.
VIDEO:
Source: thegatewaypundit.com
POLL: Katie Hobbs Ranks Among the Most Unpopular Governors in the Nation-Republicans Hold 7 of 10 Top Spots
Katie Hobbs is wildly unpopular.  In the lead-up to the 2022 midterm elections, she was trailing Trump-endorsed Kari Lake by double digits days before voters took to the polls.
 Republicans hold 7 of the 10 top spots with Vermont's Phil Scott getting the highest marks with a 78% approval rating.
As if the Morning Consult poll wasn't enough, social media tells the same story: while Kari Lake just surpassed 1,000,000 followers on Twitter and over 600,000 on Truth Social, her opponent "Governor" Katie Hobbs is hovering around 56,000 in a state with 7.55 million people.  Lake has 20 times the following on Twitter and, well, Hobbs doesn't have a presence on Truth Social.
Source: thegatewaypundit.com
Judge Nukes Alvin Bragg's Request To Quash Subpoena Because 'No One Is Above The Law' https://t.co/IVgvWLDLUb

— Mollie (@MZHemingway) April 20, 2023
The federal court has ruled against Alvin Bragg's effort to block a subpoena from Chairman Jim Jordan. Judge Mary Kay Vyskocil wrote "Mr. Pomerantz must appear for the congressional deposition. No one is above the law." Here is the opinion. https://t.co/g12ZEauHTJ

— Jonathan Turley (@JonathanTurley) April 20, 2023
BREAKING: Biden Justice Department refuses to release the names of staffers working in Special Counsel Jack Smith's office in two investigations targeting former President Donald Trump. Judicial Watch will sue DOJ to compel the disclosures under the Freedom of Information Act

— Paul Sperry (@paulsperry_) April 20, 2023
I was under the Presidential Records Act and acted correctly, far better than most Presidents, and MUCH better than Biden, who secretly stored boxes in Chinatown, and is not releasing 1,850 boxes stored in Delaware!
Biden Obstructed with thousands of boxes loaded up with Classified documents, many stored in Chinatown, and you hear NOTHING about it. Why?
Mike Lindell Ordered to Pay $5 Million to Trump Voter Who Debunked His Election Lies
FOX NEWS ISN'T alone in having to pay millions of dollars for lying about the 2020 election. MyPillow CEO Mike Lindell was ordered on Wednesday to pay $5 million to Robert Zeidman, a 63-year-old Trump voter who debunked Lindell's claim that China interfered in the election based on data Lindell provided.

It's a strange story. It started in August 2021 when Lindell claimed during a "cyber symposium" in Sioux Falls, South Dakota, that he had data proving China interfered in the election. He announced he would pay $5 million to anyone who prove him wrong, dubbing the contest, naturally, the "Prove Mike Wrong Challenge."

Zeidman signed up for the challenge, which required only that contestants prove that the data Lindell provided didn't have anything to do with the 2020 election. Zeidman, a computer forensics specialist, did just that, finding the data was total nonsense. Lindell refused to pay up, so Zeidman took him to arbitration. The arbitration panel ruled that Zeidman did indeed prove that the data in question "unequivocally did not reflect November 2020 election data," ordering Lindell to pay within 30 days.

Source: rollingstone.com
BOMBSHELL: After sworn testimony from former acting CIA Director Mike Morell, we now know that the Biden Campaign SOLICITED the letter from 50+ intel officials that labeled Hunter Biden's laptop from Hell as RUSSIAN DISINFORMATION, a debunked claim that was used to censor the…

— Charlie Kirk (@charliekirk11) April 20, 2023
Post's reporting on the laptop just two weeks before the 2020 Election. They lied to rig an election. Who will be held accountable???
Republican Wisconsin Sen. Ron Johnson is demanding answers from the Federal Election Commission (FEC) over an allegedly fraudulent fundraising scheme for Democratic political campaigns, according to a Monday letter exclusively provided to the Daily Caller News Foundation.
Johnson's inquiry followed recent revelations from O'Keefe Media Group (OMG) that alleged a money laundering scheme is taking place via ActBlue, a Democratic fundraising nonprofit, into political campaigns, according to a March 28 video report. The senator's letter is demanding clarification on OMG's findings, which detail donations made to political campaigns without donors' knowledge, following a series of other requests of the FEC that were not met. 
"I am disappointed that the FEC is refusing to provide transparency about its awareness of potential misconduct regarding political donations," Johnson stated in the letter. "It is important for the FEC to be forthcoming with Congress and the public in order to maintain confidence in the FEC's abilities to address potential wrongdoing. With this in mind, I request the FEC provide a full explanation related to the allegations contained in the March 28, 2023 video."
ActBlue has raised over $11 billion for Democratic political campaigns, left-leaning organizations and other nonprofits, according to its website. The nonprofit has assisted the campaigns of Democratic California Rep. Adam Schiff and Democratic Massachusetts Sen. Elizabeth Warren, as well as several pro-Biden groups.
O 
"How likely is it that state and federal officials are ignoring evidence of widespread election fraud?"
It's Likely –
DEM – 50% 
IND – 57%
GOP – 79%
All Voters – 62%
DNC parts ways with Marc Elias, the Clintonworld lawyer behind Trump-Russia dossier – washingtonexaminer.com/news/de
There is no more dire threat to the American way of life than the corruption and weaponization of our Justice System…
Q

 

!xowAT4Z3VQ

 

ID: 5a1150

 No.1116344

>>1116248
Trap card played…nice work Q
>>1116307
TRUMP card coming.
Q