At What Stage In The Game Do You Play The Trump Card? Message Received – Ep. 2632
Watch The X22 Report On Video
The fake news is now spinning the news that inflation is not bad all you need to do is cut out things that you purchase, you can do without and you will be happy. The BBB does nothing for the American people but everything for the [DS]. The [CB] has just admitted that Crypto would destroy their system. The [DS] is panicking, the lies and the fake stories are now coming back to haunt them. The people see how they twist the stories. Kyle Rittenhouse was found not guilty on all counts. The [DS] could be planning to riot, see something, say something. Trump sends message about the Trump Card. At what stage in the game do you play the Trump Card. Trump letting us know that he has it and he is going to use it. The [DS] has lost the war, we are watching them destroy themselves.
---
Economy
88% of Americans are worried about inflation. Here's where they're planning to cut back
about 88% of Americans are very worried about inflation as we head into the holiday season, a new survey shows.
Many are planning to cut back their spending when it comes to eating out, upgrading their technology devices, buying clothes and traveling.
"Being a conscious consumer will help in these conditions," one expert says.

A new survey from Country Financial finds that 88% of Americans are highly concerned about inflation.

Consumers often try to offset higher prices by replacing the goods they purchase where they can — by buying ground beef instead of a more expensive steak, for example.
Source: msnbc.com
The sharp increase in inflation over the past year has blindsided many economists. Almost no one saw it coming https://t.co/ggikkcZUvW pic.twitter.com/P66isbuTgv

— The Economist (@TheEconomist) November 19, 2021
Everyone who wasn't paid to lie about it saw it coming https://t.co/qpGkuxd9ku

— Auron MacIntyre (@AuronMacintyre) November 19, 2021
They all knew is was coming, it was paid propaganda, it's always the opposite of what they tell you
Nancy Pelosi defended the mega-rich tax cut in the Democrats' multi-trillion dollar Build Back Better spending bill.
The $285 billion tax to the mega-rich in blue states is the second largest ticket item in the Democrats' bill.
  Democrats' plan to raise the cap on state and local tax (SALT) deductions from $10,000 to $80,000 through 2026 would be "more costly than establishing a paid family and medical leave program, and nearly twice as expensive as funding home-medical services for the elderly and disabled."
Democrats and their socialist cohorts were furious when President Trump exposed and put an end to this annual event where red states bailed out Democrat-led states and their SALT deductions.
Now they have reversed this and the mega-rich in the blue states will get back their large tax cuts.
Source: thegatewaypundit.com
 
Biden shuts down oil production in the US and then sells America's reserves of oil to Asia.  How does this make sense?
Education Views reports:
Practically overnight, America went from oil independence and being a net oil importer, to suffering shortages and, as noted, rising prices.

Biden is now under pressure to tap the SPR to relieve some of the pressure on fuel prices. (Again, remember that Biden birthed this problem by squashing American fuel production, thereby creating the shortage.

It turns out, though, that Biden is already tapping into the SPR; he's just not doing it to help Americans. A report in investment circles is finally trickling down into the mainstream news: Biden is selling massive amounts of SPR oil…to Asia!
Source:thegatewaypundit.com
Shot Chaser pic.twitter.com/sdkSDcZMnY

— Lee Zeldin (@RepLeeZeldin) November 19, 2021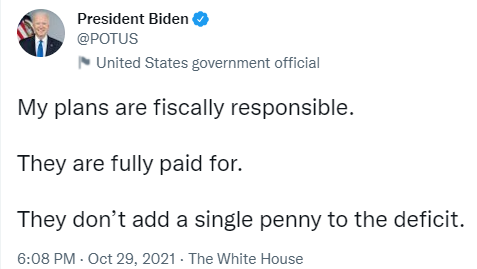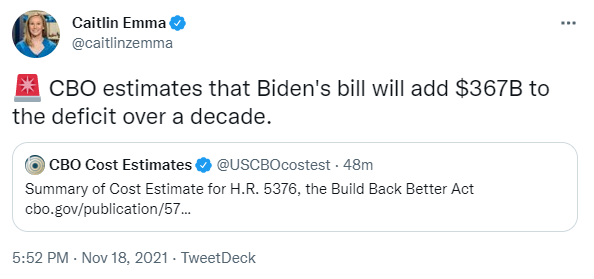 Democrats want to hire 87,000 MORE I.R.S. agents when the border is in CRISIS! https://t.co/skS9ZjG8yg

— Chad Gilmartin (@ChadGilmartinCA) November 19, 2021
 Hillary Clinton has warned that cryptocurrency has the potential to destabilize nations, and is undermining the role of the US dollar as the global reserve currency.
During a panel discussion at the Bloomberg New Economy Forum on Friday in Singapore, Clinton rattled off a list of technology-driven "asymmetric power centers" that threaten governments, including 'disinformation, artificial intelligence, and the rise of cryptocurrency,' according to Bloomberg.
" Crypto has the potential for undermining currencies, for undermining the role of the dollar as the reserve currency, for destabilizing nations, perhaps starting with small ones but going much larger," she said.
As Bitcoin Magazine's Alex McShane notes:
In describing this rather vague threat to nations and multinational corporations Hillary betrayed the fact that she doesn't know the difference between Bitcoin and the separate asset class of cryptocurrencies. Many politicians don't. The terms should not be used interchangeably.
 
Source: zerohedge.com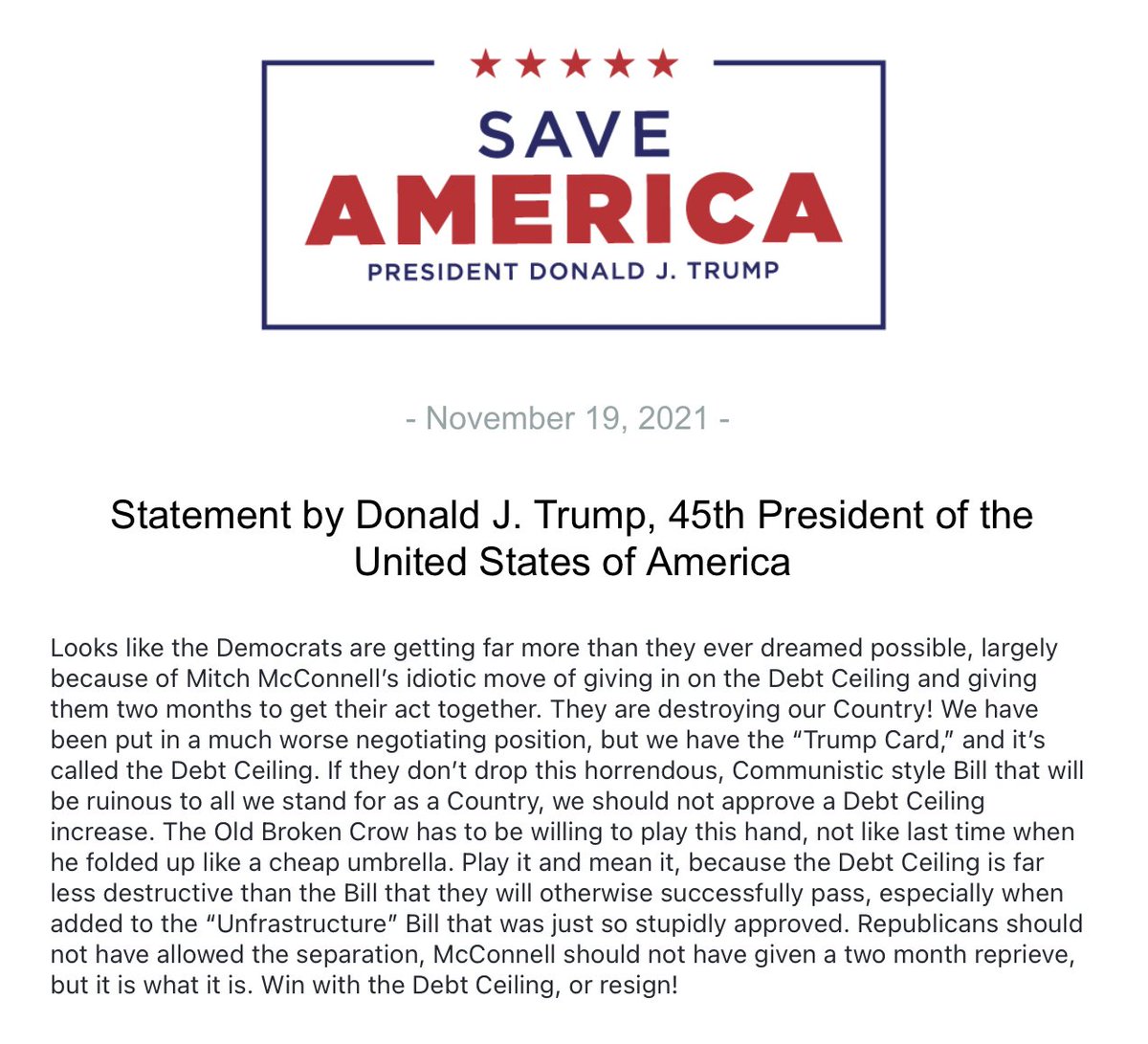 ---
Political/Rights
Biden to transfer power to Harris during colonoscopy on Friday -White House
President Joe Biden will transfer power to Vice President Kamala Harris on Friday for the period during which he will be under anesthesia for a routine colonoscopy he will undergo as part of his annual physical, White House press secretary Jen Psaki said in a statement.
Source: reuters.com
Both are not in control of the WH, the people know this, they could disappear tomorrow and those hiding in the basement, behind the curtain would still be calling the shots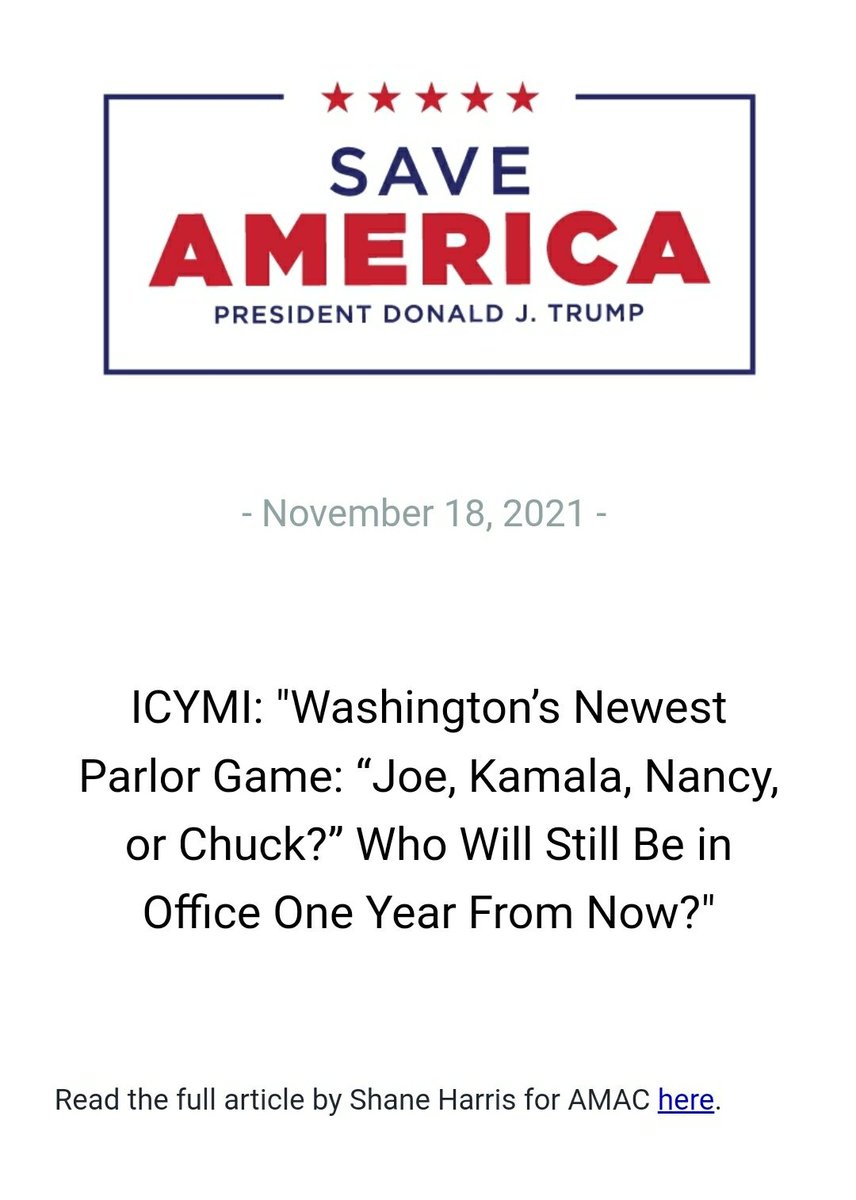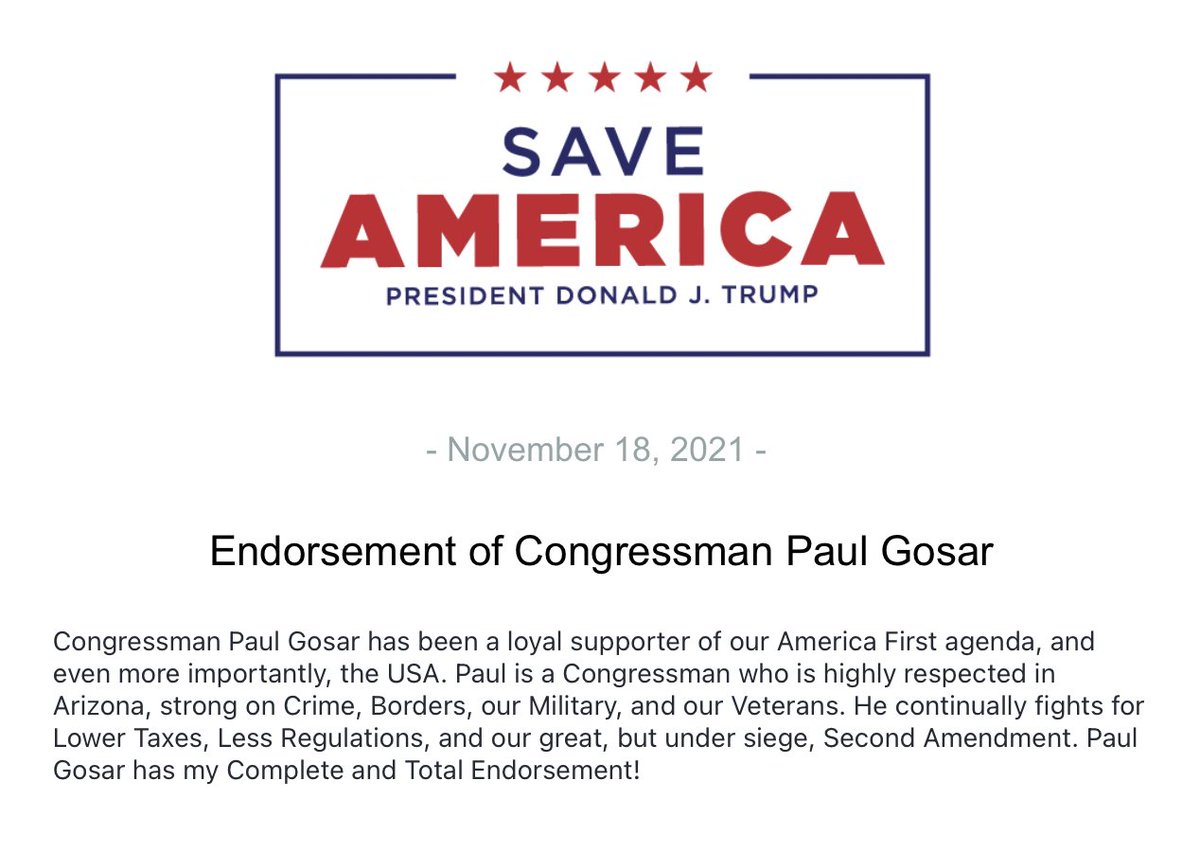 The Steele Dossier and the End of Shame In American Politics
"Schiff told MSNBC that ongoing investigations would constitute "tearing down our democracy" and would serve as a way to "delegitimize" a President."
Durham is just one more path to waking people up to what they already know… everything they've said Trump did, it was all projection.

 

Everything they've said will assault "our democracy" is only propaganda to further THEIR coup.
They flip the script on everything.
 Source: jonathanturley.org
Sheriffs Association Representing 17 States Declare No Confidence in Biden's Open Borders DHS Secretary Alejandro Mayorkas
The Western States Sheriffs Association, which represents Sheriffs from 17 states, declared a position of no confidence in DHS Secretary Alejandro Mayorkas, who supports open borders. The Sheriff's Association is calling on the Biden regime to remove and replace him. They are asking the Biden regime to start "enforcing the rule of law."
Bill Melugin from FOX News reported:
Source: thegatewaypundit.com
Prosecutors in the child sex trafficking case against Ghislaine Maxwell say the defendant "set up VIP elites" with children to rape, court documents show.
According to the court filing, emails that show Maxwell made arrangements to set up powerful elites, including politicians and world leaders, with underage sex trafficking victims "they would like."
Prosecutors have urged the judge to allow the identifies of the elite pedophiles to be revealed during the trial.
The lead attorney states in the court filing that Maxwell's email messages expose her as "using her ability to provide access" to Epstein's child rape victims "as a form of social currency."
Maxwell faces six counts, including enticement of minors, sex trafficking of children and perjury.
Source:en-volve.com
A prospective Ghislaine Maxwell juror was dismissed from the selection process  because he met multimillionaire pedophile Jeffrey Epstein while working in the financial industry years ago.
Epstein died in a Lower Manhattan jail cell while awaiting trial on federal sex-trafficking charges. His death was ruled a suicide.
Source: nypost.com
CRT critic James Lindsay locked out of Twitter after criticizing 'groomer' behavior
On Thursday, James Lindsay, a critical race theory critic, had multiple tweets condemning "groomer" behavior flagged by Twitter, with an added statement from Twitter that the tweets may withheld from viewers in Germany.
On Thursday evening, Lindsay was locked out of his account for 12 hours due to several posts in which he responded simply, "Ok groomer," a play on "Ok boomer," to tweets defending the teaching and pushing of gender identities in schools.
Source: thepostmillenial.com
Why is Twitter running cover for Pedo Simps?@ConceptualJames did nothing wrong. https://t.co/ww35Pes0GK
— Charlie Kirk (@charliekirk11) November 19, 2021
---
Geopolitical/Police State
A New York judge   ordered the New York Times to appear in court next week and defend publishing legal documents from Project Veritas and, in the meantime, stop publishing the privileged materials.
Justice Charles Wood said he may order the paper to remove all references to or descriptions to Project Veritas's privileged attorney-client information and to return and/or immediately delete all copies of the privileged materials in the paper's possession, unless he was convinced otherwise.