Crimes Against Children = Common Denominator, Fantasy Land, Godfather III – Ep. 2633
Watch The X22 Report On Video
The public is taking notice, they see the inflation and it is getting worse. The Ds decided to give a tax break to the wealthy. The Fed cannot answer a simple question, this tells you everything you need to know. The [DS] is panicking, they are preparing for [GM] court case and trying to get ahead of the story. Crimes against children is the common denominator, this will connect the dots and shine a light on the cult. The [DS] is winning each and every battle and they will fight until the very end. The pandemic narrative is falling apart, the people around the world are pushing back and winning. In the end the perfect storm will be upon them and they will not be able to hide in the shadows, the people will demand justice.
---
Economy
Prices have been going up in a number of segments of the economy in recent months,  the public is taking notice.
Recent data from the Bureau of Labor Statistics highlights rising costs across the board, and shows that specific sectors are experiencing rapid price increases this year.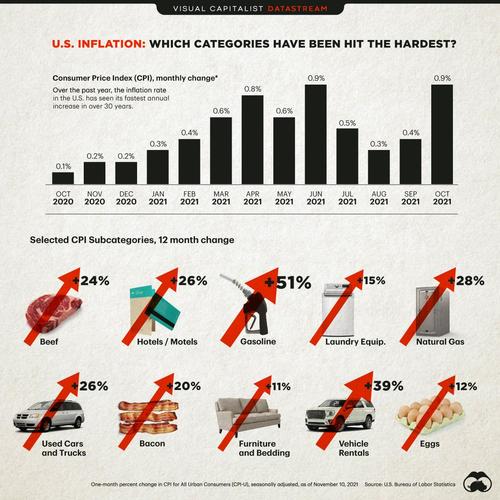 1. Gasoline (+50%)
Consumers are reeling as prices at the gas pump are up more than a dollar per gallon over the previous year.
Simply put, rising demand and constrained global supply are resulting in higher prices. Even as prices have risen, U.S. oil production has seen a slow rebound from the pandemic, as American oil companies are wary of oversupplying the market.
Meanwhile, President Biden has identified inflation as a "top priority", but there are limited tools at the government's disposal to curb rising prices. For now, Biden has urged the Federal Trade Commission to examine what role energy companies are playing in rising gas prices.
2. Natural Gas (+28%)
Natural gas prices have risen for similar reasons as gasoline. Supply is slow to come back online, and oil and natural gas production in the Gulf of Mexico was adversely affected by Hurricane Ida in September.
Compared to the previous winter, households could see their heating bills jump as much as 54%. An estimated 60% of U.S. households heat their homes with fossil fuels, so rising prices will almost certainly have an effect on consumer spending during the holiday season.
3. Used Vehicles (+26%)
The global semiconductor crunch is causing chaos in a number of industries, but the automotive industry is uniquely impacted. Modern vehicles can contain well over a thousand chips, so constrained supply has hobbled production of nearly a million vehicles in the U.S. alone. This chip shortage is having a knock-on effect on the used vehicle market, which jumped by 26% in a single year. The rental car sector is also up by nearly 40% over the same period.
4. Meats (+15%)
Meat producers are facing a few headwinds, and the result is higher prices at the cash register for consumers. Transportation and fuel costs are factoring into rising prices. Constrained labor availability is also an issue for the industry, which was exacerbated by COVID-19 measures. As a top-level category, inflation is high, but in specific animal product categories, such as uncooked beef and bacon, inflation rates have reached double digits over the past 12 months.
5. Furniture and Bedding (+12%)
This category is being influenced by a few factors. The spike in lumber prices along with other raw materials earlier in the year has had obvious impacts. Materials aside, actually shipping these cumbersome goods has been a challenge due to global supply chain issues such a port back-ups.
How Inflation Could Influence Consumer Spending
Rising prices inevitably impact the economy as consumers adjust their buying habits.
Source: zerohedge.com
A top contender to be the next chair of the Federal Reserve refused three times to answer whether or not she was a capitalist or a socialist in 2019.
"Governor Brainard, are you a capitalist or are you a socialist?" Rep. Roger Williams asked Federal Reserve Board of Governors member Lael Brainard in a House Financial Services Committee hearing in September of 2019.

"Thank you for your question," Brainard responded. "I certainly have viewed markets that are well regulated that are competitive as providing really important benefits in terms of innovation and dynamism."

Williams, not satisfied with that response, asked again, "Well are you a capitalist or a socialist?"

Brainard declined to directly answer for a second time.
Source: thegatewaypundit.com
---
Political/Rights
It was an honor and privilege to serve @POTUS and the American people at the @WhiteHouse

I'm excited to be moving down Pennsylvania Ave and traveling around the country with @SecMartyWalsh and @USDOL

Follow along on the road to #BuildBackBetter: @Emma_E_Riley

— Emma Riley (@ERiley46) November 19, 2021
The White House Comms Chief is leaving for a job at the Department of Labor.
 
The New York Times on Saturday reported that a firm founded by Hunter Biden assisted a Chinese company in purchasing one of the world's richest cobalt mines in Congo from an American company for $3.8 billion
It took the fake news New York Times until November 2021, over a year after the stolen election to report this data.
Could they make their bias any more obvious?
The Daily Mail reported:
An investment firm founded by Hunter Biden assisted a Chinese company in purchasing one of the world's richest cobalt mines from an American company for $3.8 billion – helping the conglomerate gain a massive share of the key metal used to make electric car batteries.The president's son was one of three Americans who joined Chinese partners in establishing the Bohai Harvest RST Equity Investment Fund Management Company, or BHR, in 2013.
Source: thegatewaypundit.com
  the FBI was lying for years and that they did have documentation related to Seth Rich after all.  
For years we reported on the murder of Seth Rich and followed up with numerous posts about the emails that were used as the basis to create the Trump – Russia conspiracy. 
For four years the FBI lied and said they had nothing on Seth Rich, but then today [December 20, 2020] we learn that the FBI has 20,000 pages and a laptop all related to Seth Rich.  The Deep State FBI liars finally brought the Seth Rich case out of the closet.
This leads us to today:
Attorney Ty Clevenger received another batch of documents from the FBI.  This time the FBI provided an index of records from the FBI, and #19 is particularly interesting:
"FD-302 documenting the interview of a third party regarding the homicide of Seth Rich, dated March 26, 2018."
Ty's request was for records from the FBI regarding the Russian collusion investigation.  He says this is the first time the FBI has admitted that it investigated the Seth Rich murder as part of the Russian collusion investigation. We knew that the FBI took custody of his computers and interviewed witnesses, but this is an admission that the murder was under investigation by the Russian collusion team.
After several years of investigative reporting we now know there is no evidence Russia hacked the DNC and sent the hacked emails to WikiLeaks.
Attorney Ty Clevenger has been asserting for years that the FBI and/or DNI has been covering up the fact that they have communications between Seth Rich and WikiLeaks they finally notify Clevenger that they basically lied and have thousands of pages of documents and Seth Rich's laptop.  And now they admit interviewing someone in March 2018, related to this case.
 
Source: thegatewaypundit.com
85
Anonymous
11/05/2017 01:06:58
 ID: v3eCc2tY
4chan Thread/Post: 148016618 / 148027165
Direct Link: 148027165
1195
Q
!xowAT4Z3VQ
04/19/2018 22:21:44
 ID: d7571e
Archive Bread/Post Links: 1108585 / 1109139
Direct Link: 1109139
'Everybody's Absolutely Horrified': High Society Is Bracing Itself for Ghislaine Maxwell's Trial
What will be revealed? Who might she name? Jeffrey Epstein's right-hand woman is going on trial for their alleged crimes — and those who used to know her can't stop talking about it
Source: rollingstone.com
Why are Ghislaine Maxwell's two 'accomplices' not in dock with her? Victims of billionaire paedophile ask why others who acted as 'groomers and recruiters' are not also on trial
Later this month, one of the other women will testify against Maxwell in court 
Identities of the women being protected as they co-operate with US government
Maxwell has asked for 'co-conspirators' to be named to prevent trial ambush
Jeffrey Epstein's victims have said his 'co-conspirators' should be on trial, not just Ghislaine Maxwell. Pictured: Maxwell, Jeffrey Epstein's associate accused of sex trafficking, in a courtroom sketch in New York City

Later this month, one of the women they say acted as Epstein's 'groomers and recruiters' will testify against Maxwell. Pictured: Jeffrey Epstein and Ghislaine Maxwell attend de Grisogono Sponsors The 2005 Wall Street Concert Series Benefitting Wall Street Rising

'It doesn't seem right that only Maxwell is in the dock,' one victim said.
'There were others who facilitated the abuse and this makes it seem like it was only her.'
Source: dailymail.co.uk
4565
Q
!!Hs1Jq13jV6
07/02/2020 13:53:00
 ID: e67d38
Archive Bread/Post Links: 9827147 / 9827385
Direct Link: 9827385
4566
Q
!!Hs1Jq13jV6
07/02/2020 17:18:30
 ID: 3bbfe0
Archive Bread/Post Links: 9829519 / 9829982
Direct Link: 9829982
---
Geopolitical/Police State
---
War
Imagine being deep below the ocean in a submarine and, as the sea's intense pressure bears against the hull of the vessel or as you perhaps risk collision, you learn that records of tests of the submarine's steel were falsified.
Not a good feeling.
It's not an imaginary scenario, as a metallurgist has admitted to 30 years of falsifying records of strength testing of steel for U.S. Navy submarines.
Elaine Thomas of Auburn, Washington, has pleaded guilty to major fraud as a result of doctoring results of strength and toughness of steel cast by her employer, Bradken, Inc., a leading provider of castings to contractors who fabricate submarine hulls for the Navy, according to a U.S. Department of Justice news release.
Thomas, 67, was a metallurgist for a Tacoma steel foundry of Atlas Castings & Technology, which Bradken acquired in 2008, naming Thomas director of metallurgy the following year, The New York Times reported.
Bradken's management has said they were unaware of Thomas' falsifications until 2017, according to the Justice Department. Bradken management learned of the false tests as a result of a lab employee's examination of Thomas' test records.
"The Navy requires that the steel meets certain standards for strength and toughness to ensure that it does not fail under certain circumstances, such as a collision," the news release, which was from the U.S. Attorney's Office for the Western District of Washington, said. "For 30 years, the Tacoma foundry … produced castings, many of which had failed lab tests and did not meet the Navy's standards," the release continued.
It noted that Thomas "… falsified test results to hide the fact that the steel had failed the tests.  Thomas falsified results for over 240 productions of steel, which represent a substantial percentage of the castings Bradken produced for the Navy."
Source:  westernjournal.com
Q 

!UW.yye1fxo

 

ID: 071c71

 No.564130

>>563781
1 of 5.
>>563824
2 of 5.
What if the steel used for military-grade projects was made-inferior by our enemies as a method to weaken?
What if Hussein knew and authorized?
Renegade.
How many Marines volunteered to serve Hussein during his term?
Why?
What if his name we don't say organized the deal?
The US taxpayer subsidizes the WORLD.
AMERICA has been sold to the highest bidder.
AMERICA has been weakened on purpose.
The depths of their TREASON is unimaginable.
Pure EVIL.
HELL on earth – HRC victory.
Q
---
False Flags
Ahead of Thanksgiving week, one of the busiest travel periods of the year, as many as 40% of Transportation Security Administration (TSA) workers aren't vaccinated against COVID-19, according to Forbes.
Beginning on Monday, all federal employees must be vaccinated. November 8 was the last date that airport security screeners could get a J&J dose and be considered "fully vaccinated" to meet Monday's deadline.
Everett Kelley, president of the American Federation of Government Employees, representing 45,000 employees, told a panel on Capitol Hill yesterday that the union urged President Biden to push back the vaccination deadline for federal workers to January 4. He was unsure of how many TSA workers were fully vaccinated at the moment and noted several TSA officials requested religious and medical exemptions for the vaccine.
A perfect storm could be developing. There appears to be a great deal of TSA workers who have yet to be vaccinated and may complicate their work status next week as AAA is projecting that 4.2 million Americans will fly over Thanksgiving weekend, about double the number from last year but still down 11% from pre-pandemic times.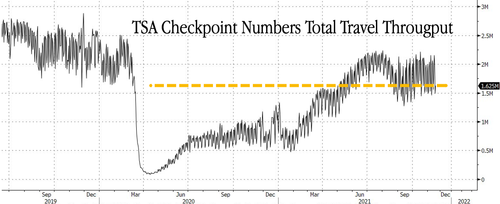 Source: zerohedge.com
Vaccinated people under 60 are dying at twice the rate of unvaccinated people in the same age group.
The original data is here.
Via Alex Berenson.
This ought to be the death knell for the push for mandatory vaccines. Will it?
Via Alex Berenson.
The brown line represents weekly deaths from all causes of vaccinated people aged 10-59, per 100,000 people.The blue line represents weekly deaths from all causes of unvaccinated people per 100,000 in the same age range.I have checked the underlying dataset myself and this graph is correct. Vaccinated people under 60 are twice as likely to die as unvaccinated people. And overall deaths in Britain are running well above normal.
Now we know why the globalists want to hide the Pfizer vaccine results for 55 years.
Source: thegatewaypundit.com
The FDA Produced First Batch of 'Confidential' Vaccine Docs — Now We Know Why It Will Take 55 Years
As reported earlier, the FDA does not intend to fully release the clinical trials information used to justify its authorization of the Pfizer-BioNTech 'vaccine' for 55 years. 
"The FDA has proposed to produce 500 pages per month which, based on its calculated number of pages, would mean it would complete its production in nearly 55 years – the year 2076," the court filing said. "Until the entire body of documents provided by Pfizer to the FDA are made available, an appropriate analysis by the independent scientists that are members of Plaintiff is not possible."
Two months after the lawsuit was filed, the FDA has produced the first 91 pages of the "more than 329,000 pages 
"It is estimated that approximately [REDACTED] doses of BNT162b2 were shipped worldwide from the receipt of the first temporary authorisation for emergency supply on 01 December 2020 through 28 February 2021," the document states.
"Cumulatively, through 28 February 2021, there was a total of 42,086 case reports (25,379 medically confirmed and 16,707 non-medically confirmed) containing 158,893 events," the FDA document continues. "Most cases (34,762) were received from United States (13,739), United Kingdom (13,404) Italy (2,578), Germany (1913), France (1506), Portugal (866)."
Below is a General Overview of the reported outcomes to the Adverse Events:
  the System Organ Classes (SOCs) that contained the greatest number (≥2%) of events in the overall dataset, were General disorders and administration site conditions (51,335 AEs), Nervous system disorders (25,957), Musculoskeletal and connective tissue disorders (17,283), Gastrointestinal disorders (14,096), Skin and subcutaneuous tissue disorders (8,476), Respiratory, thoracic and mediastinal disorders (8,848), Infections and infestations (4,610), Injury, poisoning and procedural complications (5,590), and Investigations (3,693).
The number of Adverse Events in the following categories are shown below.
Aaron Siri points to remarks that Pfizer itself made about "large numbers of spontaneous adverse event reports."
One of the documents produced is a Cumulative Analysis of Post-Authorization Adverse Event Reports of [the Vaccine] Received Through 28-Feb-2021, which is a mere 2 ½ months after the vaccine received emergency use authorization (EUA). This document reflects adverse events following vaccination that have completed Pfizer's "workflow cycle," both in and outside the U.S., up to February 28, 2021.

Pfizer explains, on page 6, that "Due to the large numbers of spontaneous adverse event reports received for the product, [Pfizer] has prioritised the processing of serious cases…" and that Pfizer "has also taken a [sic] multiple actions to help alleviate the large increase of adverse event reports" including "increasing the number of data entry and case processing colleagues" and "has onboarded approximately [REDACTED] additional fulltime employees (FTEs)." Query why it is proprietary to share how many people Pfizer had to hire to track all of the adverse events being reported shortly after launching its product.
Source: beckernews.com
I was reading the CDC's "Guidance for Health Economics Studies Presented to the Advisory Committee on Immunization Practices (ACIP), 2019 Update" and I realized that the FDA's woeful risk-benefit analysis in connection with Pfizer's EUA application to jab children ages 5 to 11 violates many of the principles of the CDC's Guidance document.
Rogers sums it up as follows:
So, to put it simply, the Biden administration plan would kill 5,248 children via Pfizer mRNA shots in order to save 45 children from dying of coronavirus.

For every one child saved by the shot, another 117 would be killed by the shot.

The Pfizer mRNA shot fails any honest risk-benefit analysis in children ages 5 to 11.
More… Dr. Michael Yeadon, former Pfizer VP argued earlier this month that children are 50 times more likely to be killed by the COVID vaccines than the virus itself,"
Yeadon was a chief scientific officer and vice president at Pfizer before he left in 2011 after more than 16 years at the company.
Source: thegatewaypundit.com
COVID-19 has faded into the background of daily life in Africa, and scientists are unable to figure out exactly why.
With a population of 1.3 billion people, Africa is the world's second most-populous continent, trailing only Asia, and it's also the world's poorest. But despite the gap in resources — Africa has much less access to vaccines than places like the Americas and Western Europe — the continent has experienced the second-lowest number of deaths from the virus of any of the World Health Organization's (WHO) six designated regions.
Source: dailycaller.com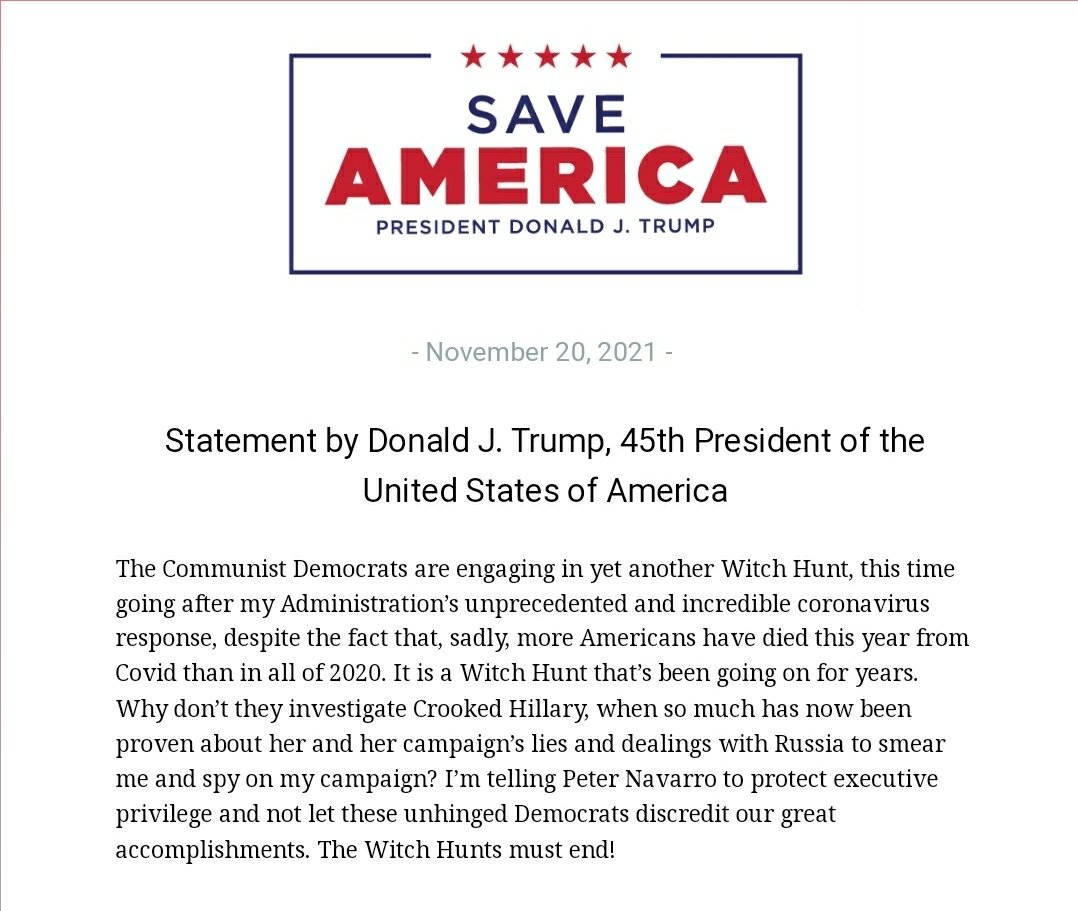 US COVID-19 deaths in 2021 surpass last year's toll
The United States passed yet another sobering milestone in the COVID-19 pandemic as the number of 2021 coronavirus deaths surpassed the 2020 total.
According to the latest available data from Johns Hopkins University, the U.S. has reached at least 770,691 COVID-19 deaths over the full course fo the pandemic.
Data from the Centers for Disease Control and Prevention (CDC) indicate that the total number of deaths involving COVID-19 in 2020 was 385,343.
That means that at least 385,348 COVID-19 deaths — 15 more than the 2020 total —have so far been recorded in 2021, and that number will only rise in the days and weeks to come.
Source: thehill.com
A major Virginia ship builder that makes vessels for the U.S. Navy is no longer requiring employees to be vaccinated against the coronavirus.
The 25,000 employees at Newport News Shipbuilding had initially been told they had to be vaccinated against the coronavirus, according to WRIC-TV.
But that all changed last week, after Mike Petters, CEO of Huntington Ingalls Industries, told workers that the Jan. 4 deadline it imposed has been suspended, according to WTKR-TV.

Advertisement – story continues below
Source: westernjournal.com
FBI Jackboots Break Down Door and Raid Home of America's Mom
 Sherronna Bishop,   is a mom and activist working to confront local corruption on the school board level, county election level, and congressional district level.  Mrs Bishop organized a network [AmericasMom.Net] and helped flip several school board seats through successfully applied tactical civics.  She also organized, supported and activated local district support for Lauren Boebert as a congressional candidate in 2020; they won.
The process of organized tactical civics is underway in thousands of local communities as more people become aware the solution to stopping federal overreach is to engage at a local level and draw a line.
The success is showing up everywhere coast to coast, from school board elections – to state representatives – to statewide office races.  The grassroots organizations are having a great deal of success.  However, that success is now considered a "domestic threat" by the federal political system.
If parents do not want to see their child indoctrinated by Marxist racist ideology, or forced to wear a mask, or have a needle injected into their arm while being told their skin color makes them less worthy of life, that person will become a target of the federal police….
… as Mrs. Sherronna Bishop just discovered.
Source: theconservativetreehouse.com
---
Q
A far-left group is fundraising money on @VenmoSupport to distribute funds to people who are mobilizing to #Kenosha. Like last year, crowdfunding on @VenmoSupport & @CashSupport was used to pay or help people who went to BLM-Antifa riots. #Rittenhouse pic.twitter.com/xL0tRFqzAg

— Andy Ngô 🏳️‍🌈 (@MrAndyNgo) November 20, 2021
Despite calm in Kenosha, Wisconsin, anti-Rittenhouse protesters rioted in Portland, Oregon, and shut down the Brooklyn Bridge in New York.
Sheriff's Office officials reported that the crowd, measuring about two dozen in size, were chanting "burn it down" and they broke open the detention center gate.
Kamala Harris ripped for Rittenhouse reaction 
US Vice President Kamala Harris has claimed the justice system is not "equitable" in her reaction to the Kyle Rittenhouse verdict. Critics have swiftly dropped reminders of her own record as a prosecutor.

Critics were quick to remind Harris of the very past in the criminal justice system as a prosecutor that she references,

Source: rt.com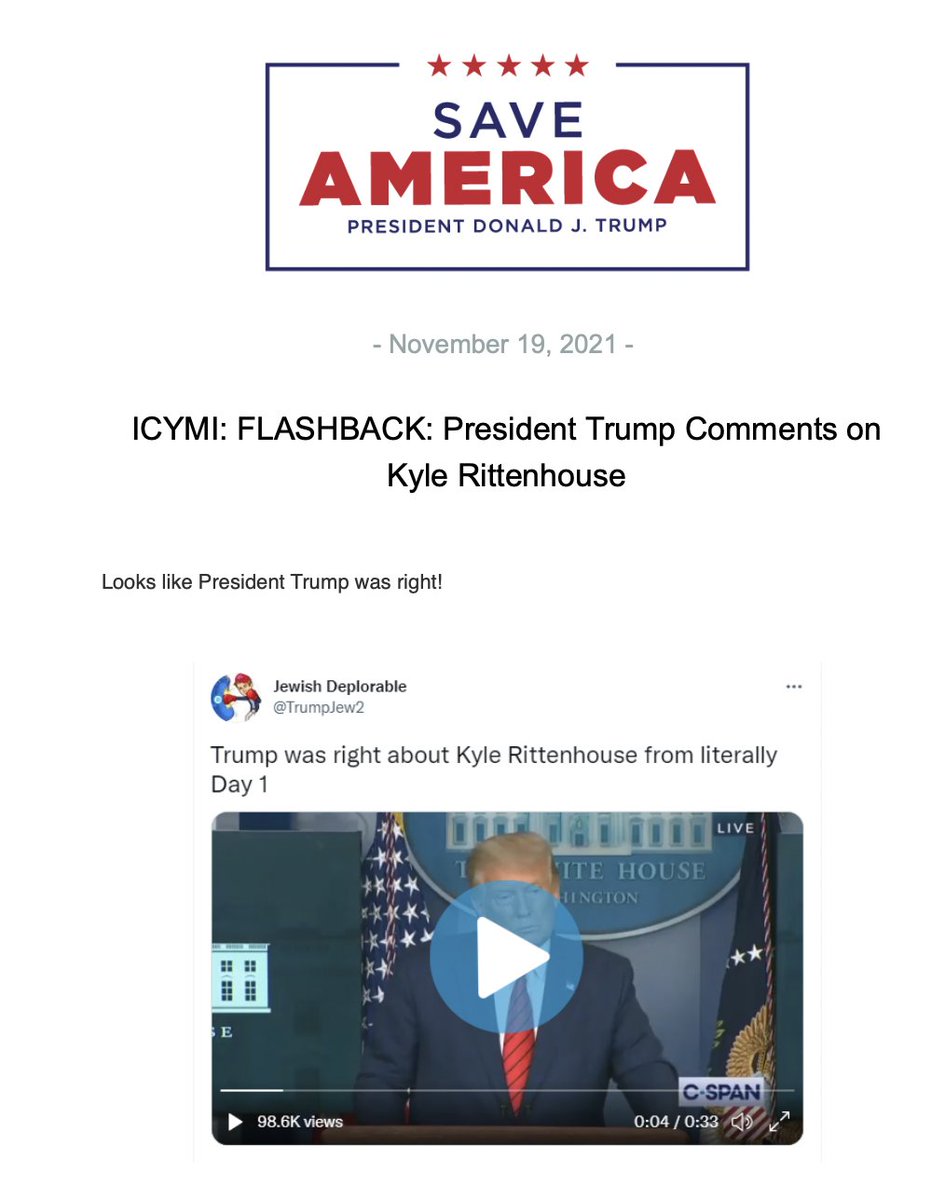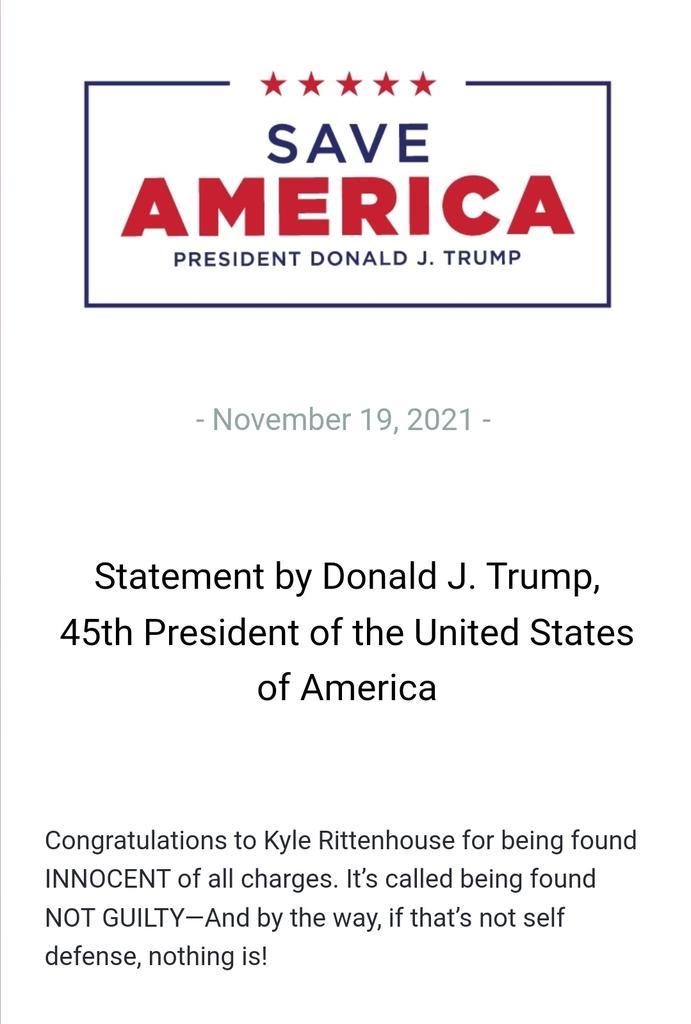 So did Joe Biden.
In 2020 Joe Biden released a campaign ad and hitpiece on President Trump where he called Kyle Rittenhouse a white supremacist.

Then Senator Cotton followed it up with two more tweets calling out Joe Biden.
"He slandered Kyle Rittenhouse."
Source: thegatewaypundit.com
The Next Kyle Rittenhouse Case May Involve Joe Biden
Kyle Rittenhouse could argue President Joe Biden defamed him with a tweet apparently linking him with white supremacists, according to a lawyer who won a defamation case for the student Nicholas Sandmann.
Todd McMurtry helped Sandmann, a former Kentucky high school student, reach a settlement with CNN after he was portrayed as the aggressor in an apparent confrontation in January 2019 with a Native American activist on the National Mall in Washington, DC.
A longer version of the video debunked media reports that Sandmann, a student at Covington Catholic High School, was the aggressor but not before a number of media outlets portrayed the incident as being racially charged.
Source: newsweek.com
Defamation Attorney Argues Kyle Rittenhouse May Have Viable Case Against Joe Biden
Why is the [DS] pushing so hard with Rittenhouse.
Antifa, BLM, Criminals are their foot soldiers
They have already shown us that they will tell the police to stand down and they want to defund the police
Who then stops the burning, killing, looting in neighborhoods
The people will have to defend themselves and stand guard. Together and united, once this happens the small groups of thugs lose power immediatley, They do not want the American people to realize this and with the rittenhouse trial the people just saw how to do that.  
[DS] PANIC
Today I approved funding to launch an Election Audit Division within the Texas Secretary of State's office.

This audit will be the most comprehensive forensic audit in the country.

Ensuring the integrity of our elections is critical to our democracy. pic.twitter.com/dY445a9V0W

— Greg Abbott (@GregAbbott_TX) November 19, 2021