Attacks Intensify, You Attack Those Who Threaten You The Most, [DS] System Is Collapsing – Ep. 2698
Watch The X22 Report On Video
The cost to produce food is skyrocketing, this will show up in the grocery stores and restaurant. The [CB] system can now bee seen by everybody. [NP] is now saying that those in congress should not trade stocks, interesting timing. Another broken promise by [JB]. The [CB] of Russia backs off, Bitcoin will be currency. The [DS] system is collapsing, the narrative is in shambles and soon these people will start to turn on each other. Big pharma is now preparing for the fallout. The election fraud is now dripping out and more and more evidence is being produce. DHS and other agencies are preparing for truth and facts, anyone that is pushing the truth will be designated a terrorist. Think back to the founding fathers, they used pen names, they met in the green dragon bar, they pushed for freedom, truth and the facts, they pushed against a tyrannical government.
---
Economy
This bay of fertilize cost around $18,000 last year. Today, just over $40,000. Roundup, 275 gallons, last year $4900, today just over $14,000. Those are just two expenses incurred when growing a crop. Remember this in the grocery store & your favorite restaurant. pic.twitter.com/PJVTfC9Gx4

— ErectorNeck (@erector_neck) February 6, 2022
Homelessness in the San Francisco Bay Area is now so bad residents are being asked to house a homeless person in their OWN HOMES: Politicians and charities claim locals want to be part of the solution
Charities are urging local families to take homeless people into their very homes, in their spare rooms, with little to no compensation 
Mayor of Richmond, a city 20 miles from San Francisco, has set up a program to match homeless people with local landlords who have empty apartments
It will pay the landlords a year's rent up front to encourage them to forgo the usual credit, employment and background checks for tenants
He claims he has not faced any concerns about the tenants from those housing them, because as the apartments were lower end in the first place
Asked whether people expressed concern about welcoming homeless people into their homes, he insisted that people care about the plight of the homeless
'They are more concerned with the homeless camps,' he said. 'People want to see solutions, and want to be part of the solution'
Source: dailymail.co.uk
Another Biden Fail: Dr. Jill Confirms 'Free' Community College to Americans is Off the Table (VIDEO)
Another Biden fail.
Jill Biden on Monday admitted that the Biden Regime won't be able to deliver 'free' community college to Americans like Joe Biden promised.
LOL
Joe Biden has repeatedly promised that community college and public colleges and universities will be 'free' for families earning less than $125,000 a year.
Source: thegatewaypundit.com
DOJ arrests New York couple and seizes $3.6 billion in bitcoin related to 2016 hack 
The Justice Department has seized around $3.6 billion in cryptocurrency tied to the 2016 hack of a virtual currency exchange, and arrested a New York couple charged with conspiring to launder billions of dollars' worth of the stolen bitcoin.
The seizure — the largest ever for the department — and arrests stem from the 2016 breach of the Bitfinex exchange. At the time of the hack, the stolen funds were worth around $71 million, but the value has since soared to around $4.5 billion, officials said.
Source:  wxpr.org
— Pomp 🌪 (@APompliano) February 9, 2022
---
Political/Rights
EXCLUSIVE: Hunter Biden tried to broker a $120million oil deal between Chinese energy firm now under US sanctions and former Kazakhstan prime minister who has been accused of treason in hopes of pocketing a fortune, laptop emails reveal
Emails obtained by DailyMail.com show Hunter Biden worked with former Kazakh prime minister Karim Massimov to try to pull off a $120M pipeline deal 
The oil deal involved Massimov, who's now accused of treason, and the State China National Offshore Oil Corporation (CNOOC), now under US sanctions  
The president's son traveled to Beijing and Kazakhstan in 2014 and 2015 to broker the deal on behalf of a Ukrainian gas firm Burisma as a board member
The venture came years after a similar oil deal had faced opposition from Western energy firms 
Devon Archer, Hunter's longtime friend and business partner at Burisma wrote to Hunter that he was excited that the offer could make them rich 
Emails show their plan was for the Kazakh government to grant drilling rights to CNOOC, with the rigs and wells being operated by Burisma
It is unclear from Hunter's emails whether they pulled off either deal 
The State Department's sanctions only cover CNOOC's activity in the South China Sea, not their other global operations 
Source: dailymail.co.uk
State Department "inappropriately" classified portions of an email embarrassing for Hunter Biden and Burisma and repeatedly declined to give it to Senate investigators, according to @ChuckGrassley & @RonJohnsonWI w/ @SaysSimonson https://t.co/tVIOLyQQLM

— Chuck Ross (@ChuckRossDC) February 8, 2022
+ dozens of interviews conducted including former senior FBI. In November, Danchenko pleaded not guilty to five counts lying to the FBI over the information he provided for Steele Dossier via @RobLegare

— Catherine Herridge (@CBS_Herridge) February 9, 2022
---
Geopolitical/Police State
Despite her increasingly aggressive stance on climate change – the Democratic leader insists the US has a "moral obligation" to address climate change – House Speaker Nancy Pelosi has shelled out $500,000 for flights on private jets since October 2020.
The California Dem's campaign paid Virginia-based Advanced Aviation Team a total of $423,707.62 for travel services on 10 occasions between October 2020 and December 2021, according to the Speaker's latest FEC filings, which were reported by Fox News. In January last year, Pelosi's campaign also paid California-based Clay Lacy Aviation $65,457.23, bringing its private jet expenses to a total of $489,164.85.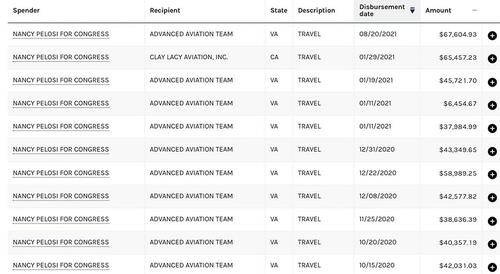 Private jets produce more carbon dioxide emissions per passenger than commercial airplanes, according to an analysis by the European Transport & Environment.
Source: zerohedge.com
---
False Flags
"None of this has to do with a few trucks parked at the Coutts border crossing," Kenney says.
MORE – Premier of Alberta adds: "I think it's quite likely that for the rest of our lives we're probably going to need to take an annual COVID shot much like the annual flu shot."pic.twitter.com/wOh1iuGDII

— Disclose.tv (@disclosetv) February 9, 2022
White House Press Secretary Jen Psaki may have a firm grip on reality. However, she fails to show on a near-daily basis during her so-called "press conferences."
On Monday, Psaki was asked to weigh in on the Freedom Convoy movement spreading from Canada around the globe in protest of vaccine mandates.
She had an interesting explanation for the uprising on behalf of people's basic human rights. Watch:
"So, truckers in Canada last night shut down the ambassador bridge, which carries about a quarter of U.S.-Canada trading goods," a reporter asked. "What's the administration's response to this action and what steps are being taken to ensure the free flow of goods and also any preventative steps being taken to address a possible blockade on the Michigan side of that bridge?"
"Well, let me first start by saying, I know there's been some suggestion, not by reporters necessarily at all, but that this congestion is related to the vaccine requirements," she said. "It's not, uh, I mean, I'm, I'm saying I'm gonna get to the protests, but the protests going on across Canada, which have spread to a bridge are leading to sporadic congestion and blockages," she claimed.
"
If you want a Psaki-to-English translation: The vaccine mandates are not causing disruption, the protesters are causing the disruption.
Source: beckernews.com
The alternate crowdfunding effort for the truckers in Canada just surpassed $7 million.
Source: theconservativetreehouse.com
An Ottawa Police Staff Sargent is resigning effectively immediately, likely over political leadership's mishandling of the Freedom Convoy protests.
Source: beckernews.com
Peter Sloly, the Jamaican-born police chief in Canada's capital city of Ottawa, worked for the multinational consulting firm Deloitte before he took over the Ottawa police force. Deloitte operates the vaccine tracking system for the Canadian federal government and also for the Centers for Disease Control and Prevention (CDC) in the United States. Peter Sloly collected years of income from Deloitte, and now he is trying to use the power of government to force the Freedom Truckers out of Ottawa. 
Source: nationalfile.com
Governor Gavin Newsom announced his statewide mask mandate will expire on February 15 for vaccinated individuals.
"Unvaccinated people will still need to wear masks indoors," Newsom said. 
There is no statewide vaccine passport system in California so there is no way to determine who is vaxxed or unvaxxed. 
Source: thegatewaypundit.com
— Dan Scavino Jr.🇺🇸🦅 (@DanScavino) February 8, 2022
Some of the Covid-19 vaccines currently in development could increase the risk of acquiring HIV, warned a group of researchers in the The Lancet medical journal Monday, potentially leading to an increase in infections as vaccines are rolled out to vulnerable populations around the world.
The vaccine made use of a modified virus — called adenovirus 5 (Ad5) — as a vector to transport some of HIV's genetic material into the body.
Exactly how the vaccine increased the risks of HIV transmission is unknown, but a conference convened by the National Institutes of Health recommended against further use of Ad5 as a vector in HIV vaccines (Dr. Anthony Fauci was lead author of the paper outlining this position.)
Source: forbes.com
Did Big Pharma produce and distribute the vaccines knowing this, Now we can see why they don't want to release the docs, to late, incoming
The lawsuits are going to be spectacular. Entire companies will go under.
735
Q
!UW.yye1fxo
02/11/2018 19:38:19
 ID: 540a54
Archive Bread/Post Links: 342541 / 343019
Direct Link: 343019
 Pfizer – which just forecast $54 billion in Covid-related sales in 2022, appears to be anticipating some bad news, as evidenced by several redline changes in their Q4 earnings releases.
As Rubicon Capital's Kelly Brown notes on Twitter, the changes center around disclosures of unfavorable safety data.
For example, in Q4 they added: "or further information regarding the quality of pre-clinical, clinical or safety data, including by audit or inspection."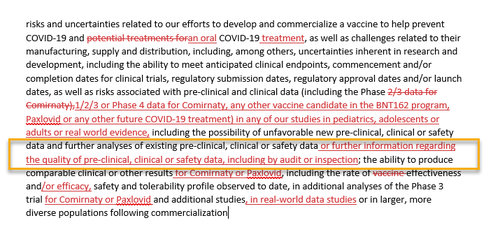 Pfizer is now highlighting "concerns about clinical data integrity…"
Covid-19 may "diminish in severity or prevalence, or disappear entirely."
Source: zerohedge.com
Dr. Anthony Fauci, the chief medical adviser for President Biden, said in an interview published Tuesday that the U.S. is almost past the "full-blown" pandemic phase of the coronavirus and said he hopes that all virus-related restrictions could wind down in a few months.
Fauci discussed his idea of the virus's trajectory with the Financial Times. He told the paper that the government response to the disease will eventually be handled on a local level and not federal.
He did not mention a specific month or season but told the paper that these restrictions — including mask mandates — could end "soon."
Source: nypost.com
Florida adamantly opposes Critical Race Theory (CRT), Gov. Ron DeSantis (R) emphasized on Monday, explaining that his goal is to have every child in the Sunshine State know that they are a "Floridian and an American."
"One of the reasons we're opposing CRT in schools: We want all the kids treated as individuals. We want them judged on the content of their character, on their talents," he explained.
"We don't want them separated into racial groups and pitted against each other. Every single kid is a Floridian and an American. and that's what we want to make sure," the governor continued.
"And we've got to stop dividing people. We've got to stop teaching our kids to hate our country, so that's our mission, and we're going to make sure we get that done this legislative session," he vowed.
Source: breitbart.com
The federal public health agencies, just like the FBI/DOJ, etc., have proven themselves irredeemably corrupted.

— Tom Fitton (@TomFitton) February 9, 2022
---
Q
McConnell calls Jan. 6 a "violent insurrection" and says the RNC shouldn't have censured Cheney and Kinzinger pic.twitter.com/wcE1EQRH9y

— Jan Wolfe (@JanNWolfe) February 8, 2022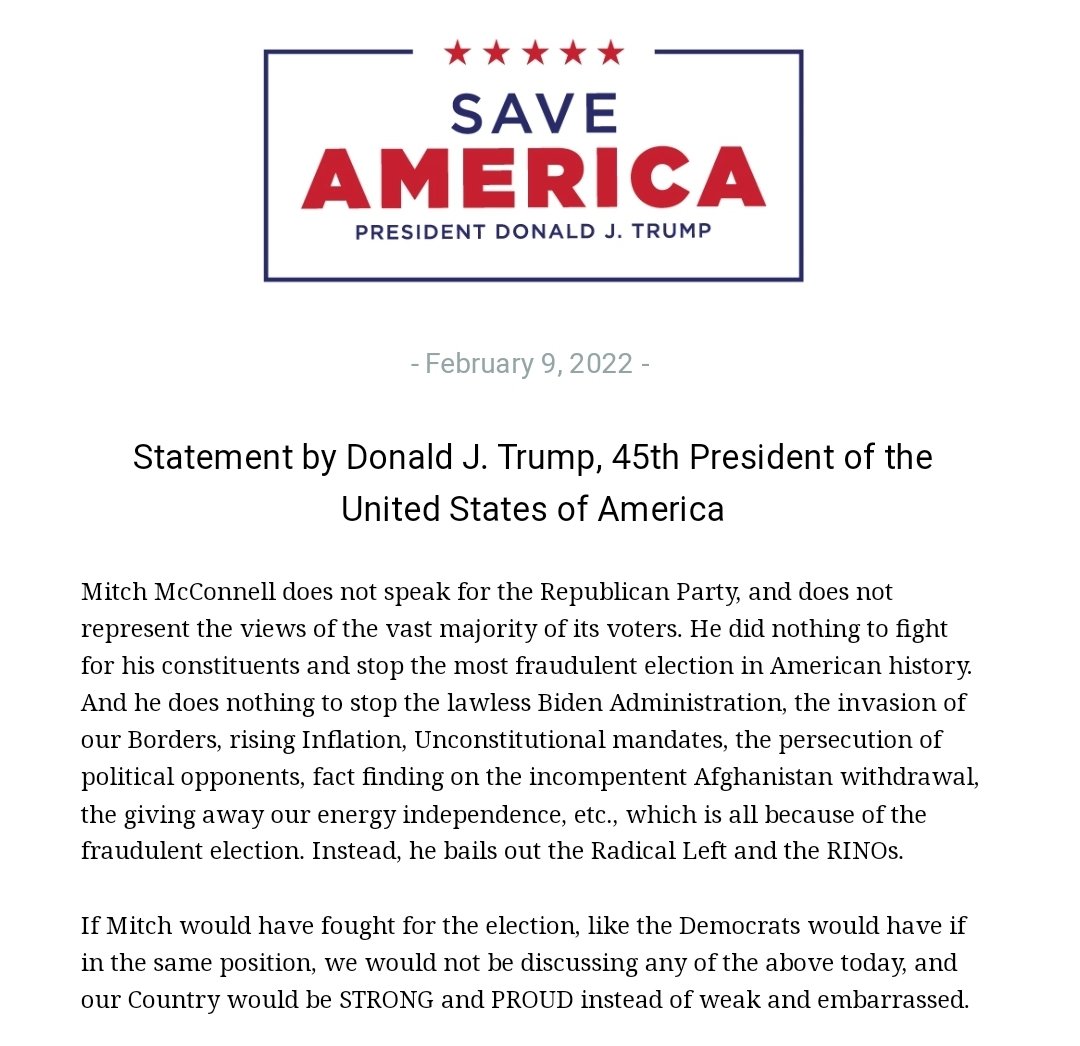 Arizona GOP House speaker on election decertification bill: 'Unconstitutional, unwise'
Arizona House Speaker Rusty Bowers criticized state Rep. Mark Finchem's legislation to decertify the 2020 general election results in three counties on Monday, highlighting a split among the chamber's Republicans.
In a statement Monday, Bowers blasted Finchem's bill, which was cosponsored by 10 state House representatives and three state senators, the Arizona Republic reported.
"Mr. Finchem's obviously unconstitutional and profoundly unwise proposal will receive all of the consideration it deserves," Bowers said.
Finchem introduced a bill on Monday calling for the state Legislature to decertify the 2020 general election results in the counties of Maricopa, Pima and Yuma, where, he said, "the margin of error exceeds the margin of victory."
 "If we are a nation governed by the 'rule of law,' as we so often espouse, then violations of the law must have consequences," said Finchem, who has been endorsed by Trump for Arizona secretary of state. "In that regard, the 2020 General Election is irredeemably compromised, and it is impossible to name a clear winner of the contest."
State Sen. Wendy Rogers, who cosponsored the bill, and state GOP Chairwoman Dr. Kelli Ward both retweeted Finchem's response.
Source: justthenews.com
On Wednesday Garland Favorito and VoterGA presented their latest report on the 2020 Georgia presidential election titled, "The Truth about the Georgia Elections."
The entire presentation with questions ran for about an hour-and-a-half.
During their presser VoterGA laid out 42 different points of fact to refute Secretary of State Brad Raffensperger's false claims about 2020 being a free and fair election.
At one point the Favorito discussed the MITRE Corporation's National Election Security Lab report used by Raffensperger to declare the election free from ballot harvesting.
Garland and his team admitted they were not aware of this MITRE report until Raffensperger brought it up. The MITRE company put together a few statistics and graphs and declared the Georgia election free of ballot harvesting. 
We now know via True the Vote that there were AT LEAST 242 ballot harvesters and potentially thousands of ballots in Georgia during the 2020 election.
VoterGA even used MITRE numbers to reveal ballot harvesting in Fulton, Gwinnett and DeKalb counties in Georgia.
The MITRE people have some explaining to do.
VoterGA lay the blame at the feet of Brad Raffensperger and his very dishonest assessment of ballot harvesting the 2020 election.
This video clip from today's presser was outstanding!
Source: thegatewaypundit.com
Ballot found in dumpster outside of Dekalb County, GA election facilities after Nov 3rd election
Eye witnesses to ballot manufacturing/harvesting operations in Arizona during and after the 2020 U.S. general election presented information to state officials in late 2020/early 2021. They were ignored.
The information is now being brought before a 'We The People' case using a 'citizens grand jury' in Georgia. Evidence is provided below ballots were sent to GA from AZ.
Below is also expert testimony to be presented to the Grand Jury.
The information regards a firm called 'Fieldworks' which was suspected of election fraud in 2016 (links and information below).
Information is also below showing evidence of illegal ballot harvesting in GA.
———————————-
Source: creativedestructionmedia.com
The lawlessness continues.
The Biden Department of Justice was recently caught opening Rep. Louie Gohmert's House mail before it reached his office.
One letter was from a Christian missionary. One letter was from a constituent in Texas.
 
Louie Gohmert posted this statement on Twitter earlier today.
And earlier today Louie Gohmert exposed the DOJ for tampering of private constituent mail.
🚨BREAKING🚨

My staff received a letter addressed to my official office which was already opened and stamped "DOJ MAILROOM" with a date and "X-RAYED" on the stamp#felonyhttps://t.co/LFMBcR2FP2

— Louie Gohmert (@replouiegohmert) February 8, 2022
Source: thegatewaypundit.com
  U.S. Dept of Homeland Security (DHS), under the current control of the far left, stating that free speech is now the biggest domestic threat for terrorism.  Whereby the voices to target are those voices who might: "sow discord and undermine public trust in government institutions to encourage unrest, which could potentially inspire acts of violence."
Undermine trust in government, as defined by anyone who does not blindly trust the policies from Biden administration, and you are now subject to be labeled a terrorist.
Source: theconservativetreehouse.com
2694
Q
!!mG7VJxZNCI
02/11/2019 17:53:54
 ID: 306030
Archive Bread/Post Links: 5127053 / 5127652
Direct Link: 5127652
3852
Q
!!Hs1Jq13jV6
02/10/2020 13:25:03
 ID: 9f19f8
Archive Bread/Post Links: 8092585 / 8093066
Direct Link: 8093066
I'm proud to have President Trump's endorsement, confidence and support as I seek to represent the people of Georgia's 10th Congressional District. America First movement is alive and well! The squad better get ready! pic.twitter.com/lNXeC6Uucr

— Vernon Jones For Congress (@RepVernonJones) February 9, 2022