Corona Offline, [DS] Scrambling, We The People Are The Cure – Ep. 2699
Watch The X22 Report On Video
Inflation has hit, this is just the beginning, inflation is the destroyer of the [CB], the D's unleashed it and now it can not be controlled. Wages are not keeping up with inflation, [CB] will have to raise rates, playbook known. The [CB] bank system is being destroyed using their own system. The [DS] have lost the corona narrative, it is now offline and they need to back out of it quickly, the people around the world are waking up, we the people are the cure. The [DS] is scrambling trying to find something on Trump. The [DS] is using the same playbook as Russian collusion, producing information that is meaningless but trying to make it look like they have something on Trump. The trap has been set, everything they are doing, all the rulings will be used against them in the end, down she goes.
---
Economy
Consumer prices increased 7.5% in the 12 months ending in January, the fastest pace of inflation since 1982.
Inflation rose throughout the course of 2021 and early 2022. For most of the past summer, inflation hovered at just over 5% before once again increasing over the last few months.
Prices rose for goods and services across the board, but they are being led by massive increases in used car prices and the cost of energy. Used car prices have increased by a staggering 40.5% since last year, while energy prices rose by 27%. Food prices are also up significantly, pinching households every time they go to the grocery store.
Home prices have also soared in the past year, and rents are up as well. "
Source: washingtonexaminer.com
Inflation is taxation.

📈Used Cars are UP 40.5%
📈Gasoline is UP 40.0%
📈Meats/Fish/Eggs are UP 12.2%
📈New Cars are UP 12.2%
📈Electricity is UP 10.7%
📈Food at home is UP 7.4%
📈Food away from home is UP 6.4%
📈Transportation is UP 5.6%
📈Shelter is UP 4.4%

— House Republicans (@HouseGOP) February 10, 2022
Here's a look at the Effective Fed Funds Rate and Inflation Rates when the Unemployment Rate was at 4.0%, as it is today.

Find the outlier… pic.twitter.com/n5rCcPIs8E

— Charlie Bilello (@charliebilello) February 10, 2022
---
Political/Rights
Looks like the CNN 'days without a sex scandal' counter just got reset again.
A jury trial has been ordered in a 2019 lawsuit against CNN's Don Lemon, who is accused of rubbing his balls in a Hamptons bar and forcing another man to smell his fingers.
After two years of delays in which Lemon repeatedly opposed a jury trial (instead, asking for a 'bench' trial in front of just a judge), Lemon will face judgement for his alleged actions.
Source: zerohedge.com
  Project Veritas released an undercover video exposing 'blatantly racist sh*t' at ESPN.
The whistleblower, ESPN Studio Operator Trevor Adams, recorded undercover video and audio of several ESPN employees discussing a toxic and racist workplace.  Adams previously sent out a company-wide email airing concerns of several employees on the hostile workplace.  Two days after his email was sent, local law enforcement arrived at his home at the request of ESPN which flagged him as a security threat.  Adams told Project Veritas he was surprised by the reaction from ESPN given the amount of support he received from coworkers.
Several ESPN employees supported Adams for speaking out.
On Thursday, Project Veritas published a leaked email from inside ESPN.
Stephen McDonald, an Associate Manager in Customer Care, sent out a company email telling ESPN employees how to deal with any complaints or concerns from their fans concerning the ESPN investigation.  ESPN employees are also ordered not to engage in any social media posts on the PV investigation.
 Employees instructed to "not engage on any social media posts" regarding #ExposeESPN video exposing racism within the workplace
Here is the leaked ESPN email on Project Veritas.
Source: thegatewaypundit.com
Good news. Biden's HHS is no longer funding crack pipes.

But make no mistake: yesterday's change in policy is because HHS got caught. pic.twitter.com/s7nW1mN3GS

— Tom Cotton (@TomCottonAR) February 10, 2022
---
War
Commander in charge of Kabul evacuation slams the White House and Jill Biden for being a 'distraction' during chaos: Claims high-profile pestering for special favors to get allies out slowed military down
Vasely said the Pentagon was being pulled in all different directions from Biden officials, lawmakers, members of the media and even the Vatican
He called the requests a 'distraction' that created competition for 'already stressed resources'
The Pentagon's standard priority had been to first evacuate American citizens, then lawful permanent residents, then Afghans who aided the U.S. 
Demands poured in at such a high volume that Vasely felt the need to take certain forces away from the established rescue plan
Source: dailymail.co.uk
  North Korea boasted on Tuesday that it is one of only a handful of countries in the world to field nuclear weapons and advanced missiles and the only one standing up to the United States by "shaking the world" with missile tests.
A statement from North Korea's Foreign Ministry said a series of tests since New Year represented "remarkable achievements" that strengthened North Korea's "war deterrence."
It also cited the Hwasong-15, the longest-range intercontinental ballistic missile (ICBM) ever launched by North Korea, which hasn't been fired since its first test in 2017, and is believed to have the range to deliver a nuclear warhead anywhere in the United States.
Source: reuters.com
---
False Flags
"The Hollywood Reporter has learned [that] the Academy of Motion Picture Arts and Sciences is planning not to mandate proof of vaccination (with or without a booster) in order to attend this year's ceremony," THR reported. "Instead, it intends to require a negative PCR test or a negative rapid antigen test on the day of the event."
The Covid testing regime would be less remarkable for the deep blue state of California if it were not for the Los Angeles-area vaccine passports, as well as the vaccine requirement for the American Academy of Arts and Sciences' employees.
"The Academy, which requires its own employees to be vaccinated (with rare medical exemptions), declined to comment for this piece,"
Source: beckernews.com
The Freedom Convoy trucker protest has now expanded and is starting to hit more U.S-Canada border crossings, while the main trucker convoy remains in downtown Ottawa.  r
Source: theconservativetreehouse.com
While the CDC masking recommendation still stands, Walensky says that the decision of whether or not to follow that recommendation should be made "at the local level."
Source: theepochtimes.com
Brave high school students across Washington state protested masks in schools on Wednesday.
The high school students said they were tired of being kicked out of class for refusing to wear a mask.
"We're done wearing masks," 
Source: thegatewaypundit.com
Another One: Nevada Dem Governor Ends Statewide Mask Mandate, Including in Schools
Internal poll numbers must be really bad for the Democrats going into the midterm elections.
Nevada Governor Steve Sisolak (D) joined other Democrat governors on Thursday and ended his statewide mask mandate.
Sisolak also ended the mask mandate for schools, but said local school districts may set their own policies.
Federally, masks are still mandated in airports, on planes & on public buses & school buses.

Teachers & schools will no longer be required to wear masks but school districts will need to work with their local health authorities to have plans in place to deal with outbreaks.

— Governor Sisolak (@GovSisolak) February 10, 2022
Source: thegatewaypundit.com
Sweden Declares Pandemic 'Over,' Scraps Almost All COVID Restrictions as More European Nations Follow Suit
Sweden is once again showing the world that lifting Covid restrictions is the sensible approach to dealing with an endemic coronavirus that has a low mortality rate — particularly those with vaccinated or natural immunity.
"As of Wednesday, bars and restaurants will be allowed to stay open after 11pm again, and with no limits on the number of guests," the Guardian reported. "Attendance limits for larger indoor venues were also lifted, as was the use of vaccine passes."
Source: beckernews.com
Are Democrats saying it will no longer be a "Winter of Death?"

What changed? https://t.co/sw4hsKmE2a

— Donald Trump Jr. (@DonaldJTrumpJr) February 9, 2022
Sen. Ron Johnson (R-WI) has slammed the Department of Defense for ignoring his letters regarding a military health database that allegedly showed an increase in troop illnesses after the Biden administration's military vaccine mandate began in August, detailing his concerns in a letter exclusively obtained Wednesday by Breitbart News.
Attorney Thomas Renz, who is representing three DoD whistle blowers, presented findings from the database during a January 24 roundtable hosted by Johnson that showed a spike in the average number of troops diagnosed with miscarriages, myocarditis, cancer, and other serious illnesses from the period 2016-2020 compared to 2021.
Johnson sent a request to the DoD on January 24 to preserve information related to the database, known as the Defense Medical Epidemiology Database (DMED). He sent another follow-up letter on February 7 asking for information related to the database.
Johnson said in his latest missive that rather than respond to him, the DoD has issued a statement to PolitiFact calling the data in the database "incorrect." Johnson wrote:
Source: breitbart.com
Early version of Covid-19′ is discovered in Chinese lab, fuelling fears that scientists were studying the virus prior to outbreak
Soil samples suggest coronavirus may not have jumped from wildlife naturally 
Scientists from Hungary found a unique variant of coronavirus in examining DNA
Researchers also found genetic material from Chinese hamsters and monkeys 
 Scientists have found traces of coronavirus that could bolster the theory that the pandemic began with a leak from a laboratory.
Scientists in Hungary found traces of a unique variant of coronavirus while examining DNA from soil from Antarctica that had been sent to the firm Sangon Biotech in Shanghai.
The researchers also found genetic material from Chinese hamsters and green monkeys, which may suggest the virus was being examined in a lab, using either the animals themselves or their cells.
Source: dailymail.co.uk
China has a population of 1.45 billion people.
As of last August, China has administered 2 billion COVID vaccine shots in the country.
But not a single person in China was given a mRNA COVID vaccine!
Alex Berenson reported on this strange development  
The first person in the world to receive an mRNA Covid vaccine outside a clinical trial was Margaret Keenan, a 90-year-old Englishwoman, on Dec. 8, 2020.

In the 14 months since, more than 1 billion people worldwide have received more than 2 billion shots of mRNA.

None are in China.

A Chinese pharmaceutical company signed a deal to buy 100 million doses of the Pfizer/BioNTech vaccine a week after that first shot.

None have been given to anyone in China.

  Chinese pharmaceutical companies are also "developing" their own mRNA shot, called ARCoV.
Source: thegatewaypundit.com
A drugged (prescription and illegal) population is a population that's weak and easily controlled. https://t.co/mEadXlgZo5

— Vlad The Inhaler (@asthmavlad) February 10, 2022
Roughly 75 percent of registered voters believe defunding police departments is either a "major" or "minor" reason for rising violent crime in the United States, a new Morning Consult/Politico poll found.
The survey, conducted on Feb. 5-6 with 2,005 registered voters and a ±2 percentage point margin of error, found that nearly half — 49 percent — think defunding police departments is a "major reason" for rising violent crime. Twenty-six percent believe cutting funds is a minor reason, and a quarter of those polled do not think defunding police departments have contributed to rising violent crime at all.
Source: breitbart.com
People say lack of housing forces local residents into the streets, but James says he came from Texas to San Francisco for the drugs, the non-enforcement of anti-camping laws, and the $820/month in welfare & food stamps. James says he sold fentanyl, 2 weeks ago, to a 15-year-old. pic.twitter.com/5qMr6tmlWs

— Michael Shellenberger (@ShellenbergerMD) February 9, 2022
---
Q
EXCLUSIVE: While Trump was in office, staff in the White House residence periodically discovered wads of printed paper clogging a toilet — and believed the president had flushed pieces of paper, @maggieNYT scoops in her forthcoming book, "Confidence Man." https://t.co/SMXWUuc1i1

— Axios (@axios) February 10, 2022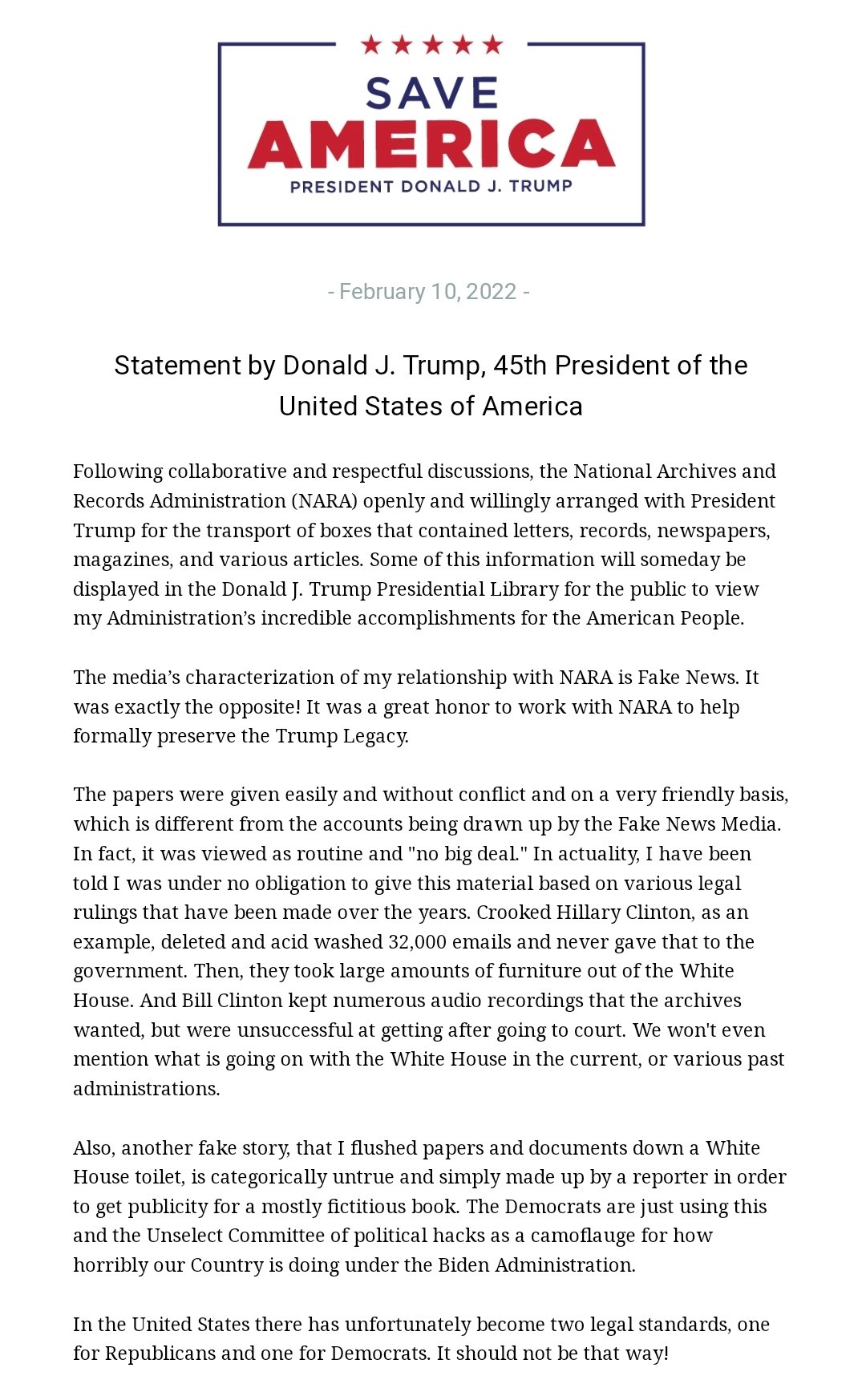 Should the American public be allowed to view the draft indictment of Hillary Clinton over the Whitewater case? Judicial Watch, the organization founded to promote transparency in government, has sued to make the allegations against her public.
According to Judicial Watch:
The draft indictments relate to allegations that Clinton provided false information and withheld evidence from federal investigators to conceal her involvement with the defunct Madison Guaranty Savings & Loan, the collapse of which lead to multiple criminal convictions. Clinton provided legal representation to Madison Guaranty as an attorney at the Rose Law Firm in Little Rock, Arkansas. Clinton's Rose Law Firm billing records, long sought by prosecutors, were found in the private quarters of the White House shortly after an important statute of limitations had expired.
But the National Archives argues that Clinton's privacy must be protected in this instance.
" Source: breitbart.com
Former President Donald Trump is hitting back and asking the Supreme Court to step in and stop the National Archives from handing White House documents to the House Select Committee on January 6.
Source: conservativenewsbrief.com
A hands on deck here. This is step one of Marc Elias's plan if he wins this the precedent will be set and more will follow . Step two is removing Trump from the ballot. Fight back NC! https://t.co/WxA0Li17e4

— Rosie Memos (@almostjingo) February 9, 2022
Exactly their plan.
14th Amendment, Section 3.
Ultimate wrap-up smear.https://t.co/3IUv5MT0kv

— ColdWarrior39 (@ColdWarrior39) February 9, 2022
Liz Cheney hired a retired Secret Service agent to accompany her to the Capitol on January 6.

Adam Kinzinger told his wife to stay home and he brought a gun to the Capitol on January 6.

Almost like they knew something would go down…https://t.co/8eVLNgEqfs

— Julie Kelly 🇺🇸 (@julie_kelly2) February 9, 2022
 
** In Arizona Democrat Secretary of State Katie Hobbs argued that Maricopa County would be forced to replace their Dominion voting machines if they were inspected by investigators. The machines were so delicate that they can never be audited. That's weird?
Also in Arizona election workers were caught on video deleting "archived" files before the machines were turned over to investigators.
** In Pennsylvania the state Supreme Court of liberal activists stepped in at the last minute and delayed an inspection of the Fulton County, Pennsylvania voting machines. The audit is still delayed by the state Supreme Court. Democrats are ABSOLUTELY TERRIFIED that a reputable audit team may inspect the county's Dominion voting machines.
** And in Michigan the radical Attorney General hid the audit of the Dominion machines in Antrim County where 6,000 votes were mysteriously flipped from Trump to Joe Biden.
Democrats want you to know inspecting Dominion Voting Machines IS NOT ALLOWED!
Why are they so afraid of audits?
Source: thegatewaypundit.com
On Day One in Congress, I'll file Articles of Impeachment against both Joe Biden and Kamala Harris for betrayal of public trust.

Then I'll cast my vote for President Trump to be Speaker and invite my colleagues to join me. It's time to throw out the old playbook.

— Vernon Jones For Congress (@RepVernonJones) February 10, 2022
Vernon Jones just said he will cast his vote for President Trump to be Speaker of the House 👀
Keep in mind that VJ has met with President Trump multiple times at Mar-a-Lago…
— Dan Scavino Jr.🇺🇸🦅 (@DanScavino) February 10, 2022
Spy.png

>>147441102

>What must be completed to engage MI over other (3) letter agencies

During the 1950s and 60s, federal troops and federalized National

Guard forces, accompanied by military intelligence personnel, were

deployed to help integrate Southern schools23 and to help deal with

civil disorders in Detroit in 1967 and other cities the following year

after the assassination of Dr. Martin Luther King Jr.24 Throughout

this period military intelligence units also continued to collect data on

Americans at home who were suspected of involvement in subversive

activities.25 In the late 1960s, the Pentagon compiled personal

information on more than 100,000 politically active Americans in an

effort to quell civil rights and anti-Vietnam War demonstrations and

to discredit protestors.26 The Army used 1,500 plainclothes agents to

watch demonstrations, infiltrate organizations, and spread

disinformation. 2

' According to one report, the Army had at least one

observer at every demonstration of more than twenty people.28

The Army's activities were summed up by Senator Sam Ervin:

Allegedly for the purpose of predicting and preventing

civil disturbances which might develop beyond the control of

state and local officials, Army agents were sent throughout

the country to keep surveillance over the way the civilian

population expressed their sentiments about government

policies. In churches, on campuses, in classrooms, in public

meetings, they took notes, tape-recorded, and photographed

people who dissented in thought, word, or deed. This included clergymen, editors, public officials, and anyone who

sympathized with the dissenters.

http://digitalcommons.law.lsu.edu/cgi/viewcontent.cgi?article=6053&context=lalrev

>Hahahaha, Trump has had MI infiltrate Antifa and all the dissenting local govts.Always 5 steps ahead!Please be true.
>>147450119
Well done. Picture being painted.