Trump Just Sent A Message, We Got What We Needed, There Is No Step [5], Thanks For Playing – Ep. 2697
Watch The X22 Report On Video
The world is waking up and the [CB] know this, they are beginning to say the quiet part out loud, they are completely exposed the world. There is no cover story, down she goes. The patriots have the [DS] exactly where they want them, all of the narratives are falling apart and the people are seeing who the liars really are. The pandemic was a hoax created by a fake PCR test and the fake news, both fake.  Trump know he must show the people how they cheated, how they lied, once the people see it, it is game over. Trump is prepared and ready to push the truth and facts out into the public realm, there is no step [5] for the [DS], the patriots have what they need. Trump sends a message that the people cannot wait for another 3 years.
---
Economy
Bank of England governor Andrew Bailey has made an astonishing request of British workers, telling them to help the state control inflation by not asking bosses for pay rises.
"We… can try to prevent inflation from spreading, inflation becoming more ingrained in the system," the central bank boss said in a BBC interview on the subject.
"You're trying to get into people's heads and ask them not to ask for too high a pay rise?" queried interviewer Faisal Islam.
"
Source: breitbart.com
Digital currencies: How to be more China, less El Salvador
Source: verdict.com
---
Political/Rights
A document provided in a D.C. court case against Fusion GPS shows that the company was involved in much more than the garbage Steele Dossier behind the Trump-Russia hoax. 
The company was also behind the Alfa Bank, Carter Page, Papadopoulos, Manafort, and the Trump family lies and smears as well. 
Little did we know that associating Fusion GPS with the Steele Dossier was actually short-changing the company's efforts to harass and take down the President of the United States, Donald Trump.  This company did much more than that.
A document uncovered in a court case in D.C. with Fusion GPS shows that the company was working on nearly every piece of information eventually used by the Mueller gang to take down President Trump.  (Here is the link to the court documents.) 
This second document provides similar data along with the dollar values of their projects totaling more than $1 million.
What we see in these documents is that Fusion GPS was involved in much more than just the phony Steele Dossier.
Fusion GPS was involved in the Alfa Bank story that turned out to be a lie, the Carter Page story that was a lie since Page was working for the CIA, the Paul Manafort story, and the Papadopoulos story.  All of these stories and individuals were used by the DOJ and the Mueller gang as a means to harass and attempt to have President Trump removed from office.  Every one.
Source: thegatewaypundit.com
The FBI released a document dump of Mueller investigation reports that provide almost no significant or relevant information.  But one thing they did do is redact Hillary Clinton's name in a document forgetting that in a prior data dump her name was provided. 
 
But another document provided shows either incompetence or another FBI coverup or both.  On page 17 of the document dump, the FBI releases a document dated in 2001 related to a dinner meeting with Bill Clinton and Hillary Clinton and others.  The FBI was supposedly looking into whether Clinton's pardons of individuals like Marc Rich, were on the up and up.
On page 17 the document shows that a name under Bill Clinton's is redacted:
But we found a similar document dated a couple of days before the above document from a prior document release  [p. 138] from the FBI where Hillary Clinton's name was unredacted.
If you look at page 138 of the Clinton Foundation drop #3 on the vault you can see her name where they forgot to redact it.  While this page that shows her name unredacted is different from the page (#125 of Vault #1) in the file that is also in the Mueller file, it is the same file, same investigation, and same order of unsubs – they just forgot to redact HRC in the recent release.
Why would they redact Hillary's name in the first place?  Was Hillary at a meeting with Bill and Marc Rich?   Source: thegatewaypundit.com
3850
Q
!!Hs1Jq13jV6
02/10/2020 12:58:12
 ID: 9f19f8
Archive Bread/Post Links: 8092585 / 8092721
Direct Link: 8092721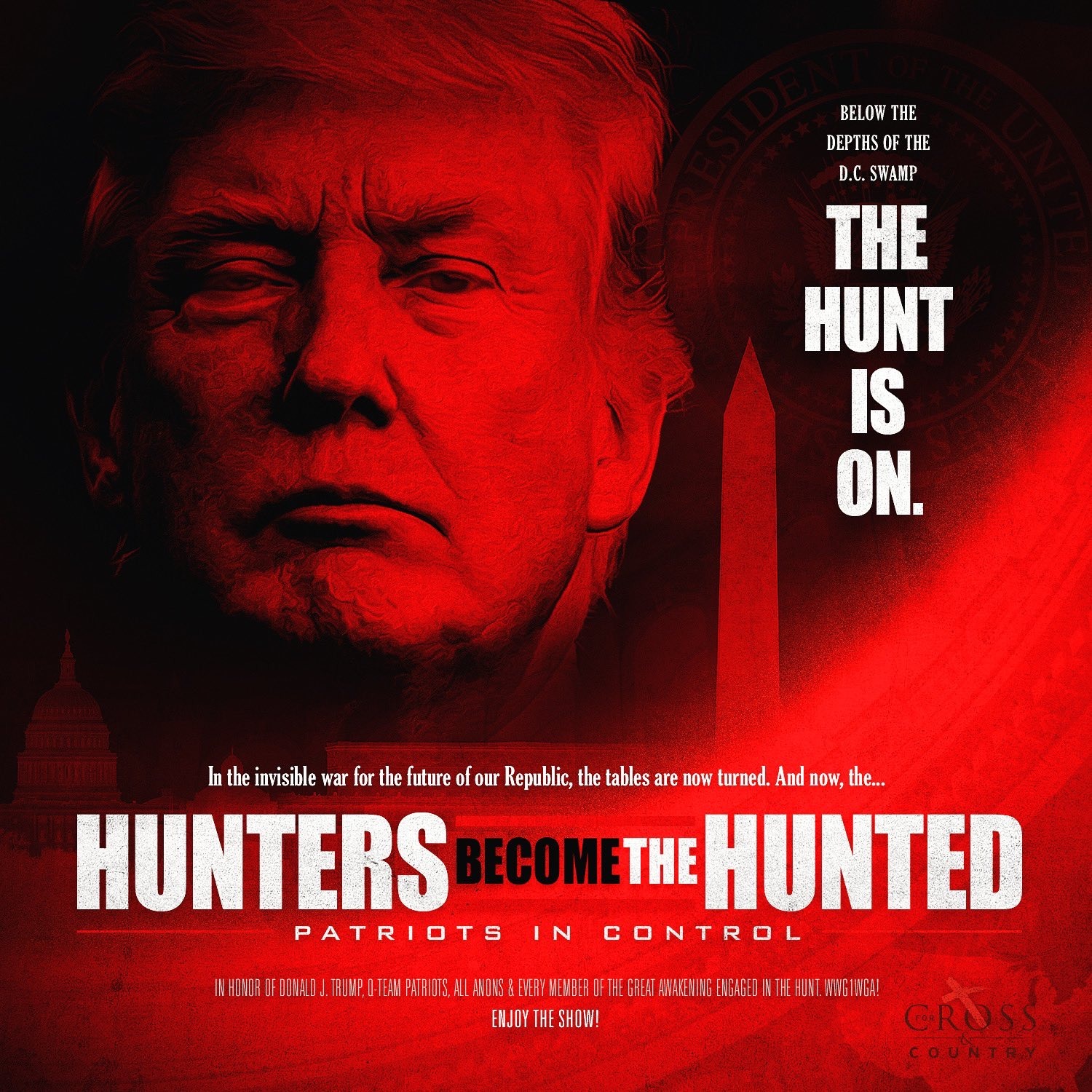 Filename:
d921fd2956ac91053d05e0a82fdc776608fddd6a29d3fbff3c2341e18350e0c6.jpg
https://twitter.com/kylegriffin1/status/1226908710150299649
Did 'Mueller' open the door to Ukraine?
Did 'Mueller' open the door to FISA [illegal]?
How do you introduce evidence legally?
Did 'Impeachment' provide a platform to discuss findings of Ukraine?
How do you introduce evidence legally?
Did 'Impeachment' harm or help POTUS [public]?
How do you introduce [D]s high crimes [corruption] to the public?
Why didn't POTUS remove [Hussein] holdovers from NSC?
Do you really believe that POTUS & team trusted [Hussein] holdovers to remain within the admin and work to enact POTUS' agenda w/o bias or confrontation?
How do you 'awaken' the 'induced coma' public [FAKE NEWS control] from their long sleep?
Sometimes allowing your enemies to [openly] attack…….
Logical thinking.
Q
---
Geopolitical/Police State
That statement is an oxymoron, its popular video so we block it so it can reach a bigger audience.
Source: investmentwatchblog.com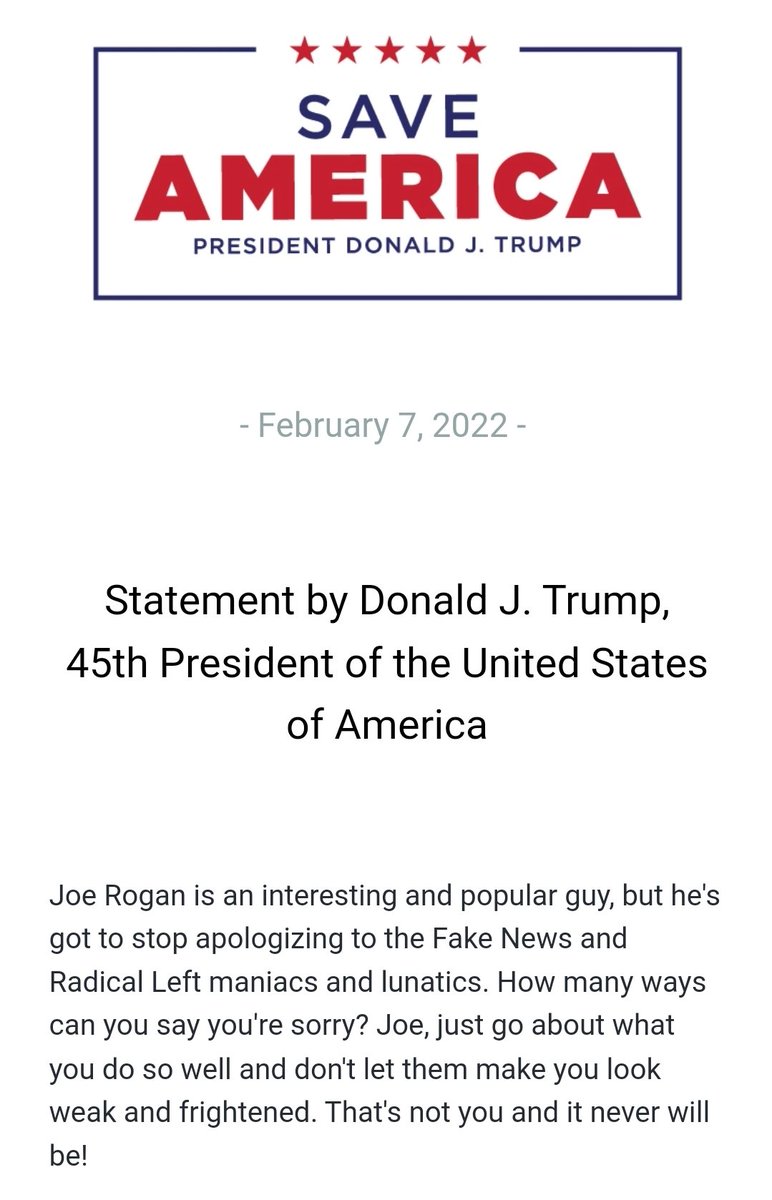 ---
War
Justin Trudeau and Chrystia Freeland made personal appeals to persuade the Ukrainian government to not arrest and imprison former president Petro Poroshenko when he returned home in mid-January, two sources in Ottawa and one in Kyiv say.
Source:  theglobeandmail.com
Ukraine has harsh words for CNN
Writing on Twitter, Oleg Nikolenko was reacting to a claim published by one of the network's anchors, Jake Tapper, who reported, citing an anonymous Ukrainian government source, that Zelensky refused to meet Baerbock because of her refusal to say that the controversial Nord Stream 2 gas pipeline would be shelved if Russia were to launch an invasion of Ukraine. The official reason was a scheduling error.
A suggestion from CNN that Ukrainian President Volodymyr Zelensky canceled a meeting with German Foreign Minister Annalena Baerbock over political disagreements is "divorced from reality," the spokesperson for Ukraine's Ministry of Affairs has claimed.
Source: rt.com
For generations, governments have mounted false flag operations, in which they justify military action by deceptively accusing an enemy of a violent act.
However, actual false flags plotted in recent history are outnumbered by dubious conspiracy theories that label real, verifiable crisis events as "false flags."
Experts warn that social media rumors alleging "false flags" should be viewed skeptically.
Source: politicfact.com
---
False Flags
The Science™ has completely collapsed to justify universal school masking (and it never existed to begin with), but don't tell unelected New York Governor Kathy Hochul that. She intends to continue the disastrous policy after legal authorization for it expires in February.
"New York's indoor mask-or-vaccine mandate governing businesses is expected to expire on Thursday and not be renewed, although the regulation that is being used to enforce masking in schools for children and employees is poised to remain in place beyond February," the Albany Times Union reported.
Source: beckernews.com
The Democratic Party is in full retreat on school masking. It's a strategic retreat — those who touted the 'infallible' science would never admit how fallible they really were — but for all intents and purposes it's 'over.'
Note: Mask mandate schools had higher case rates than mask optional schools. This tracks with mask mandate states:
Source: beckernews.com
Huge coincidence I'm sure that a bunch of Democratic governors ended mask mandates on the exact same day https://t.co/mN7G1Pr64L

— Chuck Ross (@ChuckRossDC) February 7, 2022
Source: thegatewaypundit.com
Trudeau continued by saying the Canadians who "stepped up, to support one another" express the true meaning of being Canadian.  The protest group are a hate-riddled minority of unclean "swastika" waving outsiders, walking around Ottawa "insulting and jeering" local residents "for wearing a mask."
Trudeau told the chamber, the protest group "is not the story of this pandemic."   He accused the protest group of "attempting to block the economy" without regard for their collective responsibility to "support their fellow Canadians."  WATCH:
Source: theconservartivetreehouse.com
Hasn't the Canadian government done this for the last two years ,  shut down the economy and prevented people from living their day to day lives.
A majority of Canadians now say it is time to end COVID restrictions, according to an Angus Reid poll, a sharp increase from when the same question was asked in early January.
The latest poll, taken Jan. 27-28, found 54% want restrictions to be lifted compared to just 39% who wanted restrictions lifted when the same question was asked two weeks earlier.
The poll asked people if they agreed or disagreed with the statement: "It's time to end restrictions and let people self-isolate if they're at risk."
"A majority (54%) now say it is time to remove restrictions and let Canadians manage their own level of risk, an increase of 15 percentage points since this question was asked in early January," the Angus Reid Institute said.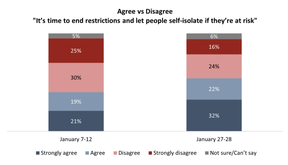 Source:  torontosun.com
Dr. Leana Wen,  
"There was a time and is a place for pandemic restrictions," Dr. Wen claimed. "But when they were put in, it was always with the understanding that they would be removed as soon as we can."
"And in this case, circumstances have changed," she continued. "Case counts are declining. Also, the science has changed. We know that vaccines protect very well against Omicron, which is the dominant variant, everyone five and older have widespread access to vaccines."
This is a blatant lie. The vaccines, including the booster shots, fade very quickly in terms of providing protection to Omicron. This is why many big pharmaceutical companies wanted to develop an mRNA shot specifically for Omicron. Israel has run through four shots already, and it is still seeing a case and hospitalization explosion. What is really causing a decrease, similar to the case in South Africa where Omicron cases vaporized on their own, is that approximately 4 out of 5 Americans have natural immunity from prior infection.
Source: beckernews.com
Really, the science has changed on masks, please present this incredible science before and after, plus case counts aren't important, why now? Please present the science before and after
A task force comprised of scientists and data specialists at the Department of Health and Human Services and the Centers for Disease Control and Prevention are working with hospitals nationwide to improve Covid-19 reporting. The group is asking hospitals to report numbers of patients who go to the facility because they have Covid-19 and separate those from individuals who go in for other reasons and test positive after being admitted, the two officials said.
The administration's goal is to get a more accurate sense of Covid-19's impact across the country and whether the virus is causing severe disease.
  Biden officials are conducting a national review of hospitalization data to determine how many individuals sought care for Covid-19 and unrelated reasons during the peak of the Omicron spread. In one CDC report published last week, a California hospital found that 80 percent of its patients came into the facility for Covid-19 and 20 percent were admitted "primarily for non–COVID-19 conditions."
White House science adviser resigns after probe found he bullied staffers
Eric Lander, President Biden's science adviser, resigned on Monday evening after an internal investigation uncovered evidence that he bullied subordinates.
In his resignation letter to Biden, Lander, who heads the Office of Science and Technology Policy (OSTP) within the White House, took responsibility for his actions and said he was "devastated" for causing hurt to colleagues.
"It is clear that things I said, and the way I said them, crossed the line at times into being disrespectful and demeaning, to both men and women. That was never my intention," Lander wrote in the letter. "Nonetheless, it is my fault and my responsibility. I will take this lesson forward."
Source: thehill.com
---
Q
Fact check: The left media is being dishonest about the Trump records issue. A president has discretion on what docs to retain as presidential records while in office. So the law allows Trump to tear up documents, shred them, and take documents when he left the White House.

— Tom Fitton (@TomFitton) February 8, 2022
Fact check: Irrelevant. Under the law, President Trump and other presidents have virtually complete control of their records while in office. https://t.co/gX9BSEUH7J

— Tom Fitton (@TomFitton) February 8, 2022
🚨BREAKING🚨

The @CapitolPolice Intelligence Division investigated my office illegally and one of my staffers caught them in the act.

Thread🧵

— Congressman Troy Nehls (@RepTroyNehls) February 8, 2022
Two days later on Monday November 22, 2021 (Thanksgiving week), three intelligence officers attempted to enter my office while the House was in recess.

— Congressman Troy Nehls (@RepTroyNehls) February 8, 2022
.@CapitolPolice never informed myself or senior level staff of their investigation and the reasons are clear.

— Congressman Troy Nehls (@RepTroyNehls) February 8, 2022
Maybe it is because I have been a vocal critic of @SpeakerPelosi, the @January6thCmte, and @CapitolPolice leadership about their handling of January 6th, the death of Ashli Babbitt and the subsequent SHAM investigation.

— Congressman Troy Nehls (@RepTroyNehls) February 8, 2022
The inspector general for the U.S. Capitol Police (USCP) has opened a formal investigation into whether the law enforcement agency tasked with securing the Capitol has been inappropriately surveilling elected members of Congress, their staff, and visitors to their offices, T
USCP Chief J. Thomas Manger confirmed the opening of the inspector general investigation in his response to congressional inquiries about USCP police tactics, reported in a January 24 article published by Politico, including surveilling and compiling intelligence dossiers on members of Congress, their staff, and visitors.
Source: thefederalist.com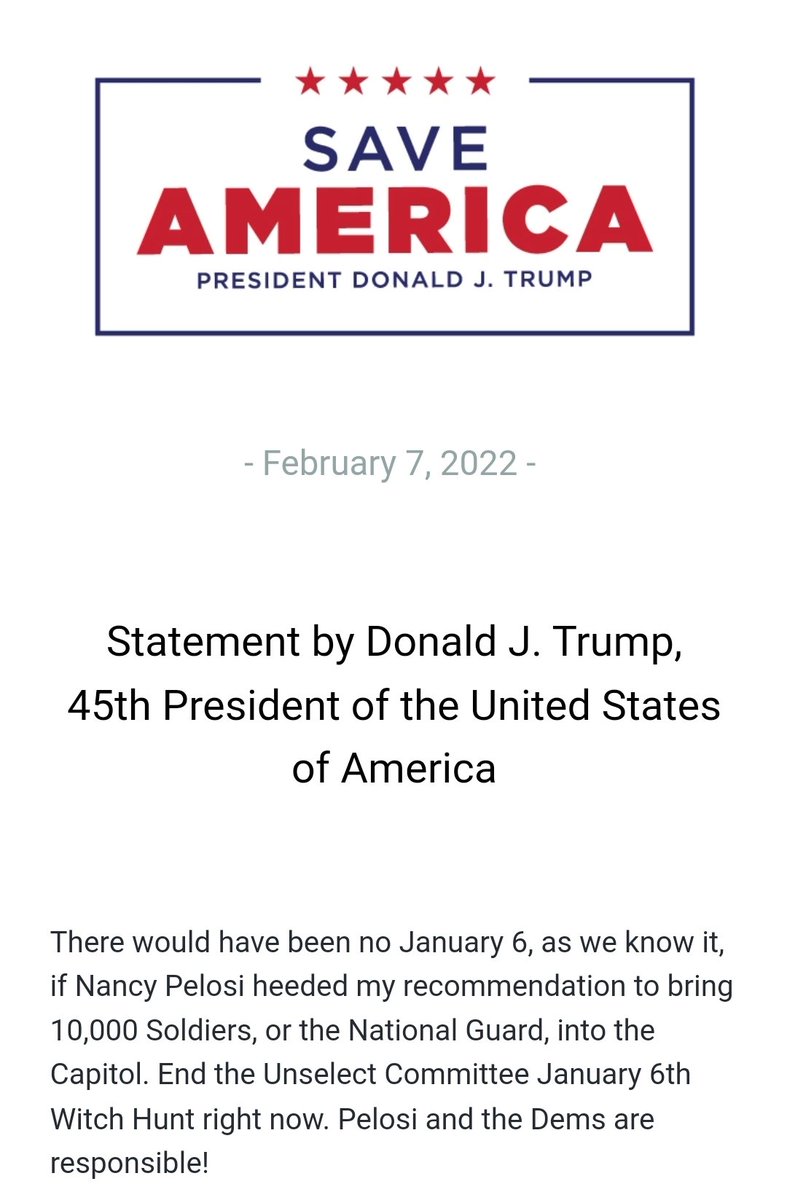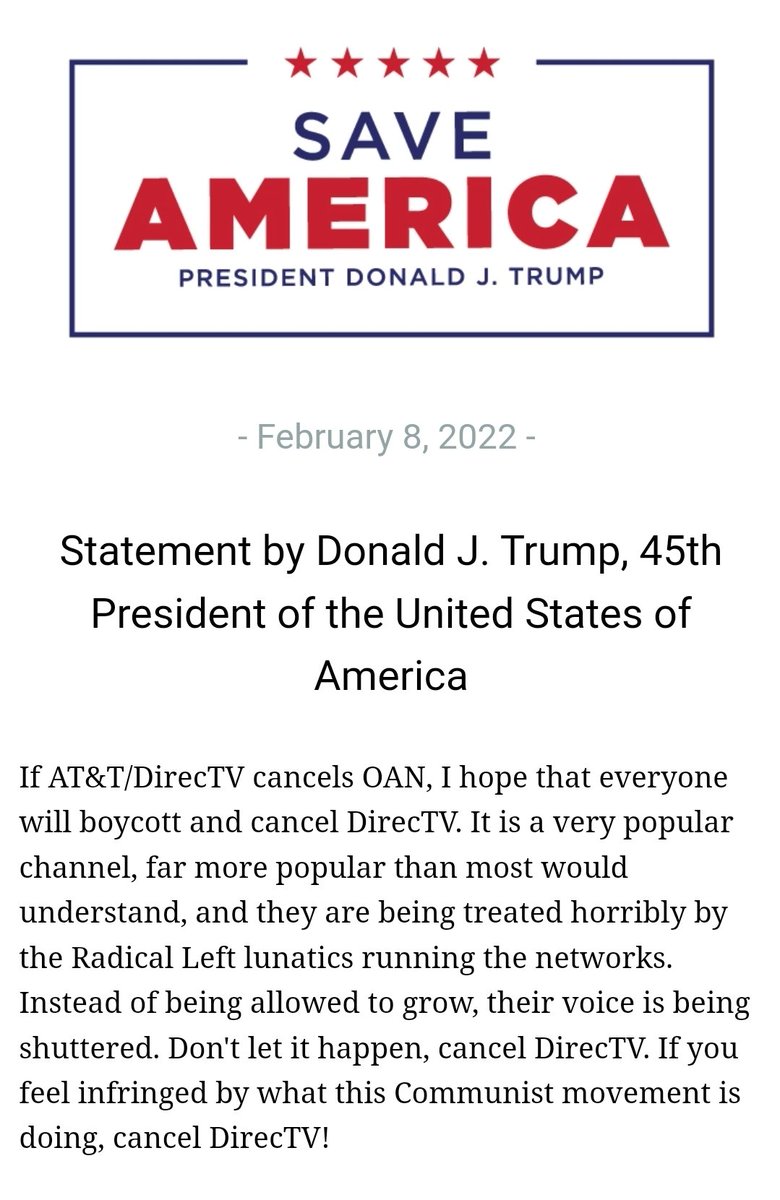 The DHS is warning supporters of foreign terrorist organizations may have encouraged copycat attacks after last month's hostage standoff at a Texas synagogue. The bulletin says recent threats against HBCUs, Jewish facilities + churches "cause concern." pic.twitter.com/ZNOQmL4NDa

— Catherine Herridge (@CBS_Herridge) February 8, 2022
 Another voting machine firm, Dominion Voting Systems Corp, has brought similar lawsuits against conservatives.
The Gateway Pundit was sued by far-left Dominion executive Eric Coomer, a committed Trump-hater, for our reporting on his presentations to possible clients and links to Antifa.
Via far left Reuters:
Right-wing U.S. television network Newsmax Media Inc on Monday countersued Smartmatic Corp, an election security firm that says it was defamed by Newsmax's coverage of the 2020 presidential election.

Source: thegatewaypundit.com
So, a few of us are wondering, @DHSgov …

ARE YOU OUT OF YOUR MINDS? https://t.co/lxSloorM4W pic.twitter.com/6ZGcuTKn0F

— Ron Coleman (@RonColeman) February 8, 2022
State Representative @RealMarkFinchem Introduces Resolution to Set Aside & Decertify Three 2020 County Elections.https://t.co/yNnZjZpD10 #HCR2033 #azleg pic.twitter.com/Si7GjMAEeg

— AZ House Republicans (@AZHouseGOP) February 7, 2022
80 PERCENT of Early Voting Ballot Transport Statements have defects that violate Arizona statutes pic.twitter.com/esj6yS0BTJ

— Liz Harrington (@realLizUSA) February 7, 2022
Ballot envelopes "pre-opened"

Ballots moved and counted off site with no independent poll watchers present pic.twitter.com/9VREpkyvkK

— Liz Harrington (@realLizUSA) February 7, 2022
23,344 mail-in ballots from voters who no longer lived at that address

2,382 voters who moved out of Maricopa County

2,081 voters who moved out of state

255,326 early votes with no corresponding file pic.twitter.com/aF2oZh1GC0

— Liz Harrington (@realLizUSA) February 7, 2022
"Therefore Be it resolved …that lawful voters expect that election officials and state legislators will do their duty to ensure that lawful votes of the people as cast are honored and not diluted or debased by acts classified by the Arizona Legislature as criminal acts." pic.twitter.com/iJCOlNM87V

— Liz Harrington (@realLizUSA) February 8, 2022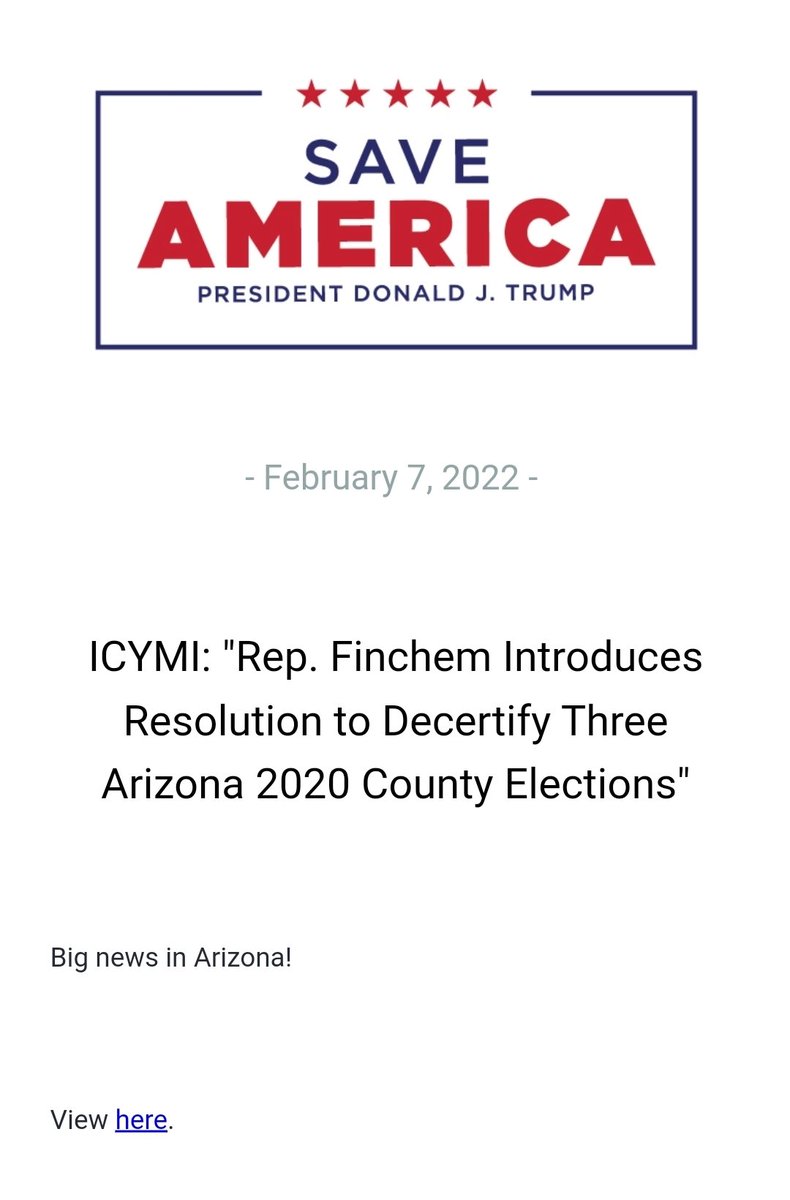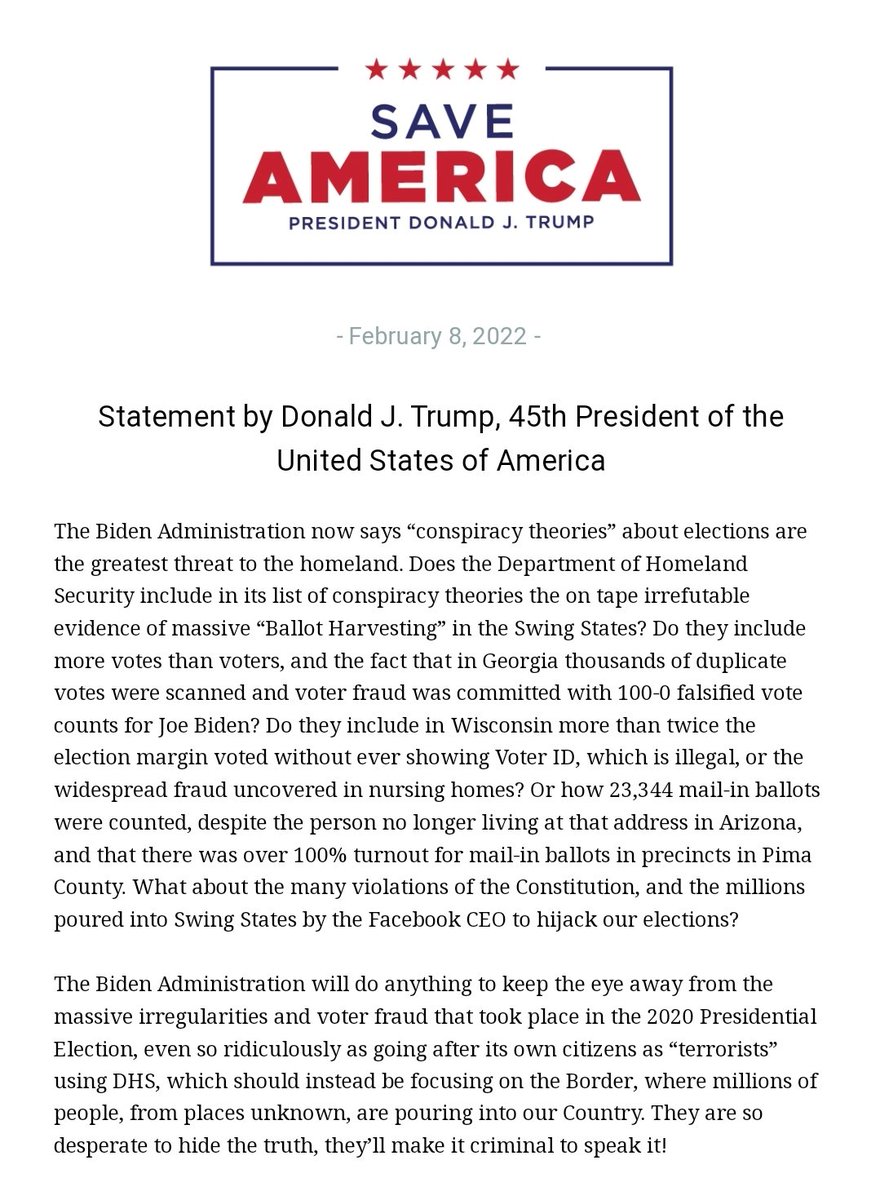 I really really really don't think Trump is going to wait til 2024…
3851
Q
!!Hs1Jq13jV6
02/10/2020 13:21:22
 ID: 9f19f8
Archive Bread/Post Links: 8092585 / 8093002
Direct Link: 8093002