August Is A Hot Month, 11.4 Marker, Events Planned, [DS] Already Knows They Lost – Episode 2228
The economy is starting to boom again, gold and silver are rising quickly and the ratio has begun too close.  House sales are rising at an incredible pace. Trump is getting ready to push the infrastructure build by cutting more taxes and de-regulating, Judy Shelton ready to come on board. The [DS]/MSM are panicking, their entire event is now falling apart, the people know the truth and people are not going along with their agenda. The silent majority is growing every day and arrests are coming. August is going be a hot month, the [DS] already know they lost so they are planning additional events, the patriots already know the playbook.
Check Out The X22 Report Spotlight YouTube Channel X22Report Spotlight
Please check Newzsentinel.com for the latest news on the economic collapse. The Sentinel Alerts are updated throughout the day.
---
Current News – 07.20.2020
Watch The X22 Report On Video
---
Economy
Home sales post near-record turnaround despite inventory constraints
 Phoenix saw a 37.2% month-over-month increase in sales as Months Supply of Inventory dropped to less than 1 month.• In Phoenix, the Median Sales price was $ $307,149, an increase of almost 10% year over year.
Overall, U.S. home sales returned to near seasonal levels – just 6.9% lower than last June, which was the third-highest sales month of 2019. All of the report's 53 metro markets posted gains over May and a third of them topped last June. The June results were far different than those of May and April, which both reflected widespread stay-at-home mandates in many states.
"June home sales snapped back in a major way," said Adam Contos, RE/MAX Holdings CEO. "With historically low interest rates, stabilizing unemployment and increased mobility tied to working remotely, buyer demand remains high in most areas of the country. We're seeing positives in several leading indicators such as pending sales and mortgage applications."
Source: azbigmedia.com
 the government is now considering forgiving all of the "small" PPP loans that it distributed under the coronavirus pandemic.
While the average American is still clinging to the one $1200 stimulus check they were distributed months ago, Treasury Secretary Steven Mnuchin has said that he is considering "forgiving all small loans, but would need fraud protection,"

About 87% of all PPP loans that were distributed through June 30 were less than $150,000. A coalition of almost 150 groups sent a letter to Mnuchin calling for loans of less than $150,000 to automatically become grants, instead of making  applicants fill out paperwork to have them forgiven. There was still $132 billion in PPP funding left as of July 10. 
Source: zerohedge.com
---
Political/Rights
WATCH: Mexican CJNG cartel shows military-style convoy with armored vehicles in show of force against President López Obrador pic.twitter.com/ku7UvbW96O
— BNO News (@BNONews) July 18, 2020
---
Geopolitical/Police State
---
War
---
Cyber Attacks
---
False Flags
WOW! Chris Wallace Carries Water for Democrats – Says Biden Never Said to Defund Police Even Though He Said He Would Redirect Police Funding (VIDEO)
Joe Biden says police have "BECOME THE ENEMY" and calls for CUTTING police funding: "Yes, absolutely!" pic.twitter.com/PKXvz3zobe

— Trump War Room – Text TRUMP to 88022 (@TrumpWarRoom) July 8, 2020
TAKE A LISTEN
Progressive groups are pushing 2020 Democrat presidential nominee Joe Biden to cut the military budget by hundreds of billions and move his foreign policy platform further left.
They have laid out a progressive wish list that includes cutting the Pentagon's budget by $200 billion each year, ending the refurbishment of the nation's nuclear arsenal begun under Defense Secretary Jim Mattis and getting rid of the Space Force — at a time when U.S. adversaries are ramping up spending in those areas.
More than 50 progressive groups made the demands in a letter sent to Biden in May. It is not clear how receptive Biden is to their demands, but he has already indicated he is open to cutting the defense budget.
"We can maintain a strong defense and protect our safety and security for less," he told the Washington Post.
"Now the Democrat Party is calling for defunding of our military. Think of that: defunding. They want to defund our military when China is building a massive military. They're building a massive military, and Biden wants to defund our military. And the world needs American strength right now more than ever, and we've got it," Trump said.
Source: breitbart.com
President Trump Defends Waving the Confederate Flag as Symbol for 'Freedom of Many Things'
Even as many Republicans and conservatives fold to the left-wing mob, President Donald Trump is standing strong and defending patriotic Americans who fly the Confederate Flag.
Chris Wallace and Trump were discussing the controversial flag and gave his opinion about its use. He was asked if he found the flag to be offensive.
it's freedom of speech."
 Source: bigleaguepolitics.com
The family that owns The New York Times were slaveholders: Goodwinc
Source: nypost.com
Nancy Pelosi Calls Federal Agents "Stormtroopers" in Reference to Nazis after They Are Sent to Portland Following 49 Days of Leftist Rioting and Mass Destruction
The meltdown over federal law enforcement's "driveby" arresting tactic is because it's effective & uses minimal force. Antifa know this & that's why they're having friends in media press this point (like WaPo's Katie Shepherd, who erased her Twitter history after getting the job) pic.twitter.com/Je4jTlsczU

— Andy Ngô (@MrAndyNgo) July 17, 2020
Thanks to @DHSgov, they've been able to arrest rioters recorded committing serious crimes like assault, arson, property destruction & more. Some of the weapons found on the federal suspects here include a machete, pipe bomb, hammer & more. pic.twitter.com/Yd6xOzpNZq

— Andy Ngô (@MrAndyNgo) July 17, 2020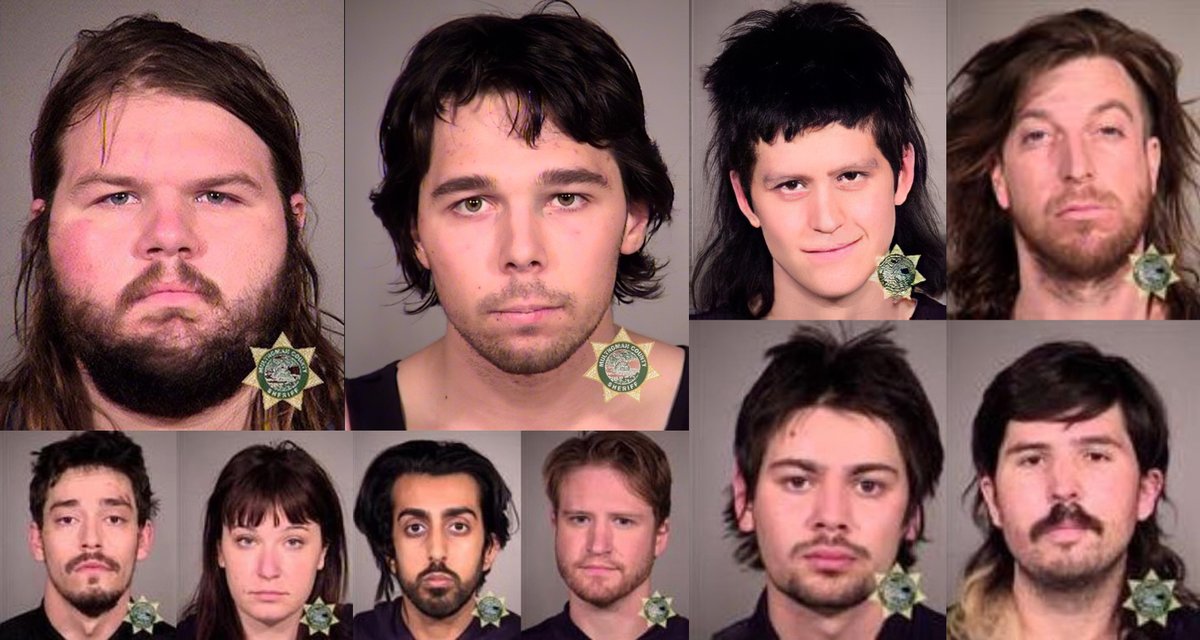 Antifa train in black bloc tactics to "de-arrest" their comrades by swarming police & pulling them out. It's already happened this week with the local police. They can't do that as easily w/federal law enforcement. And that's why they want to stop them. https://t.co/tsdGpM3VcO pic.twitter.com/RTVZrrOmmk

— Andy Ngô (@MrAndyNgo) July 17, 2020
Politicians like @SenJeffMerkley have spread the antifa lie that unmarked law enforcement is going after criminal suspects. That is false.

They ALL wear uniforms with their agency patches on their shoulders. https://t.co/NVPIQHgzk7

— Andy Ngô (@MrAndyNgo) July 17, 2020
Black people are rising up against Black Lives Matter, realizing that the central control of the movement is lead by people trying to control and manipulate their thoughts and actions.

"We aren't standing for black lives matter." She says.pic.twitter.com/KvtMin3HJx

— Mike Coudrey (@MichaelCoudrey) July 18, 2020
---
Q
https://twitter.com/andrewbostom/status/1283404442088484864📁
Real data (again) comparing seasonal flu deaths in Texas in 2017-2018, & 2018-2019, to C19 deaths in 2020 (data from Texas Dept of Health): 2019 flu data

dshs.state.tx.us/IDCU/disease/i

; 2018 flu data

dshs.state.tx.us/IDCU/disease/i

2020 C19 data as of 7/14/20

txdshs.maps.arcgis.com/apps/opsdashbo

;


CDC C19 data [actually] lower than reported?
Why did select [D] govs [4] mandate nursing home C19 positive insert?
Election not virus.
Win by any means necessary.
Q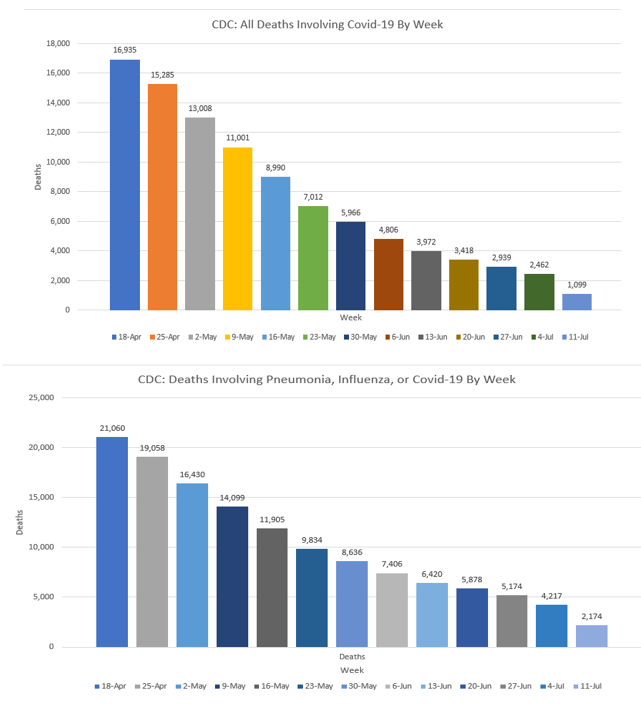 Coronavirus update: Florida labs not reporting negative test results, report says
Fox 35 News ran an investigation of the figures, contacting local locations listed in the state's report
Incomplete reporting from some Florida laboratories resulted in errors on the state's report on virus positivity rates, according to a Fox 35 News report.
"Countless labs have reported a 100 percent positivity rate, which means every single person tested was positive," Fox 35 News reported Tuesday. "Other labs had very high positivity rates."
Orlando Health, for example, reported a 98 percent positivity rate. Lee Memorial Hospital Lab, PanCare of Florida, Inc and Advance Medical of Naples all reported 100 percent positivity rates; no negative results were included.
That rate implies every person tested had a positive result.
How important is FL re: 2020 election?
1 lab = possible human-error
'Countless' labs = deliberate [coordinated]
Largest coordinated mis[dis]information campaign ever to be pushed by controlled entities?
Who benefits the most?
Q
The fake news media exploded this weekend after a health official on the Texas Gulf Coast claimed 85 infants have tested positive for the Coronavirus.
 .
"On Friday, July 17, during a press conference, a spokesperson mentioned that 85 infants under the age of one had tested positive for coronavirus," Judge Canales said in a statement, KRIS 6 reported. "This number reflects the cumulative total of positive tests for infants under the age of 1 since the beginning of testing in mid-March, which has resulted in 8,171 positive test results."
"
Source: thegatewaypundit.com
Safety standards and core rules for Washington State conveniently end the day after the election. Is this about a virus or the election. Who benefits the most? No debates- Can Biden debate?

lni.wa.gov/safety-health/#QAnon #WWG1WGA #Trump2020
C19 narrative kill date: Election Day +1
Prepare for zero-day [massive cyber-power] attacks [attempts] on 11.4.
Q
Do not give up the citizen investigation.
Public awareness important [bypass of controlled [approved] topics].
[General public steered by MSDNC like a dog steering sheep]
Have faith in Humanity.
Q
KVgXmabdw_0.png
Epstein was 'Pinocchio' with 'Gepetto' Ghislaine pulling the strings, accuser says
Ghislaine Maxwell was far worse than Jeffrey Epstein when it came to abusing young women and girls, according to their most outspoken accuser — in fact, she was "Gepetto" to his "Pinocchio."
"She was pulling the strings," Virginia Roberts Giuffre , she called  Maxwell the mastermind, and a "monster."
"Ghislaine was much more conniving and smart than Epstein ever was," Giuffre said.
"I know that woman. I've known her really well. Put it this way — Epstein was Pinocchio, and she was Gepetto."
Giuffre had still more choice words for Maxwell.
"She is a monster. She's worse than Epstein. She did things even worse than Epstein did. She was vicious. She was evil. And she's a woman."
Q
Update: Suspect Dressed In FedEx Uniform who Killed Son Of NJ Federal Judge, Found Dead
 

A gunman wearing a FedEx driver's uniform came to the home of a federal judge connected to high-profile cases, one involving Jeffery Epstein, killing her son and leaving her husband in critical condition after they answered the door to the assailant, according to news reports and law enforcement officials.

Judge Esther Salas is linked to federal court cases involving Jeffery Epstein, and oversaw cases involving the reality TV couple the "Real Housewives of New Jersey," as well as very dangerous gangs that operated the state.
The killings are now being investigated by the FBI a 
the Suspect in shooting of Judge Salas family was found dead of an apparently self-inflicted gunshot wound.
cover7.jpg
Kevin Spacey accuser dies by suicide day after actor posts 'kill them with kindness' video
"This marks the third Spacey accuser to die in 2019."
At what point does it become painfully obvious?
Q
Nolte: Connecticut 'Satanic' Desecration Marks 11th Attack on Christian Church 
"St. Joseph's Church … was vandalized this week, as an unknown individual or individuals painted 'satanic' and 'anarchist' symbols on its doors," 
According to St. Joseph's pastor, Rev. John Paul Walker, the church was desecrated using pink paint, including a pentagram and the symbol for anarchy.
Here's the rundown of attacks on the Christian church over just the last two months — ten in the last month — which coincides with the lawless rioting, vandalism, and looting at the hands of the corporate media's and Democrat Party's Brownshirts in the left-wing Black Lives Matter and Antifa terrorist groups:
July 16: Statue of Christ decapitated inside a Florida church
July 15: Statue of Virgin Mary decapitated outside Tennessee church
July 12: Statue of Virgin Mary lit on fire in Boston
July 11: Suspect arrested after detectives "say he plowed a minivan through the front door of Queen of Peace Catholic Church in Ocala, doused the foyer with gasoline and set it on fire, causing extensive damage"
July 11: Arson suspected in devastating fire at San Gabriel Mission in California
July 10: Statue of Virgin Mary desecrated with spray paint in Brooklyn
July 4: Statue of St. Junipero Serra toppled in Sacramento, California
June 20: Statue of St. Junipero Serra toppled in Los Angeles, California
June 19: Statue of St. Junipero Serra toppled in San Francisco, California
May 31: St. John's Church firebombed in Washington, DC 
5:5?
Q
When was the last time you witnessed a [D] party leader being Patriotic [exhibiting National Pride (love of Country)]?
When was the last time you witnessed a [D] party leader 'speak out against' the riots [violence in the streets]?
[MSDNC projecting 'peaceful' protests?]
When was the last time you witnessed a [D] party leader support those who took at oath to protect and defend?
When was the last time you witnessed a [D] party leader support and call for UNITY across our Nation?
Why do they want people divided?
Why do they want people categorized?
WHO CONTROLS THE DEMOCRAT PARTY LEADERS?
[F]
The Great [D]eceivers.
Q
"We are not alone. More and more people awake. Where we go one, we go all." today in Mannheim, Germany. (Video by W.I.M.) I had freaking goosebumps, he actually said that in front of this huge crowd, maybe 3-4k

#WWG1WGA
#QAnonGermany
TAKE A LISTEN
When the news is no longer trustworthy it is up to each of us to use discernment.
Have faith and trust in yourself.
UNITY NOT DIVISION.
WWG1WGA.
Q
https://www.foxnews.com/politics/meadows-previews-school-reopening-plans-durham-probe-results-i-expect-indictments📁
Meadows signals imminent indictments in Durham probe: 'It's time for people to go to jail'
The Justice Department's watchdog has identified critical errors in every FBI wiretap application
White House Chief of Staff Mark Meadows said   that it's "time for people to go to jail" as part of U.S. Attorney John Durham's probe into FBI misconduct — prompting ex-Trump aide George Papadopoulos to sound a celebratory note on Twitter.
The comments came as Fox News learned this weekend that Jennifer Boone, a senior FBI official who oversaw the flawed probe into former Trump adviser Carter Page, has received a major promotion to lead a field office — and the bureau won't say why.
Meadows, during his Sunday interview with Fox News' "Sunday Morning Futures," also previewed the Trump administration's soon-to-be-released plans for reopening schools and implementing new economic stimulus measures. More details, Meadows said, would be coming this week.
Q
EAq_xniU0AcBjxb.jpg
The head of the FBI, Christopher Wray, has hired a new general counsel named JasonJones, who is a partner of Rod Rosenstein in the law firm King & Spalding, which also employs Sally Yates

#FBI
#DeepState
THE SWAMP RUNS DEEP.
v2_change we can believe in
Q
In July of 2019, an anon suspected Chris Wray was secretly working for the deep state as a "sleeper." Q's response seemed to confirm his suspicion. After deep state sympathizers are removed, version 2 (v2) of the Trump administration should run more efficiently.
>>10009877
Mark Meadows on Spygate: "It's All Starting to Unravel
It's Time for People to Go to Jail"
279 views•Jul 19, 20207.5-minutes
https://youtu.be/3HvcKvty8RI
📁
x
Moves_and_Countermoves_07192020_1_Herridge_twts_FISA_lindsey_steele_dossier_Paege_Russua_contacts.png
ES7XVXQXsAMgOJc.jpg
>>10010940
Important to fully digest and understand.
Follow for days ahead
[DECLAS]
.
[note the pen]
You have more than you know.
Q
Senate Judiciary Committee Chairman Sen. Lindsey Graham (R-SC) has released two newly-declassified documents related to government surveillance abuses against the Trump campaign in 2016.

The first document, withheld from public view until now, is a 57-page summary of a three-day FBI interview in January 2017 with Christopher Steele's so-called "Primary Sub-source" in the anti-Trump allegations and "dossier."

 

Claim in NYT article: "Phone records and intercepted calls show that members of Donald J. Trump's presidential campaign and other Trump associates had repeated contacts with senior Russian intelligence officials in the year before the election, according to four current and former American officials."

Note by Strzok: "This statement is misleading and inaccurate as written. We have not seen evidence of any individuals in contact with Russians (both Governmental and non-Governmental" and "There is no known intel affiliation, and little if any [Government of Russia] affiliation[.] FBI investigation has shown past contact between [Trump campaign volunteer Carter] Page and the SVR [Service of the Russian Federation], but not during his association with the Trump campaign."

Claim in NYT article: "…one of the advisers picked up on the [intercepted] calls was Paul Manafort, who was Mr. Trump's campaign chairman for several months…"

Note by Strzok: "We are unaware of any calls with any Russian government official in which Manafort was a party."

Claim in NYT article: "The FBI has obtained banking and travel records…"

Note by Strzok: "We do not yet have detailed banking records."

Claim in NYT article: "Officials would not disclose many details, including what was discussed on the calls, and how many of Trump's advisers were talking to the Russians."

Note by Strzok: "Again, we are unaware of ANY Trump advisers engaging in conversations with Russian intel officials" and "Our coverage has not revealed contact between Russian intelligence officers and the Trump team."

Claim in NYT article: "The F.B.I. asked the N.S.A. to collect as much information as possible about the Russian operatives on the phone calls…"

Note by Strzok: "If they did we are not aware of those communications."

Claim in NYT article: "The FBI has closely examined at least four other people close to Mr. Trump… Carter Page… Roger Stone… and Mr. Flynn."

Note by Strzok: "We have not investigated Roger Stone."

Claim by NYT: "Senior F.B.I. officials believe… Christopher Steele… has a credible track record."

Note by Strzok: "Recent interviews and investigation, however, reveal Steele may not be in a position to judge the reliability of subsource network."

Claim by NYT: "The F.B.I.'s investigation into Mr. Manafort began last spring [2016]."

Note by Strzok: "This is inaccurate… our investigation of Manafort was opened in August 2016."

Claim by NYT: "The bureau did not have enough evidence to obtain a warrant for a wiretap of Mr. Manafort's communications, but it had the N.S.A. closely scrutinize the communications of Ukrainian officials he had met."

Note by Strzok: "This is inaccurate…"
Source: sott.net
EdT35e2XYAA2Wml.jpg
[8.19.2018]
August.
Q
#FISA newly declassified records
show system was "blinking red" over Steele dossier in early 2017 but it was used twice more to renew surveillance warrant
In his December report, IG Horowitz wrote the dossier's source made statements "inconsistent…
w/multiple sections of the Steele reports, including some that were relied upon in the FISA applications" Then just before final FISA June 2017, FBI lawyer apparently blew through another stop sign when he "altered an email" to omit "Page's prior relationship" w/US intel agency.
Revealing that relationship would have likely gone a long way to explain Page's Russia contacts. IG Horowitz found dossier "played a central + essential role" in FBI decision to surveil Page. At what level + who made call to blow through these warnings? RE-READ Horowitz Xi+ Vi.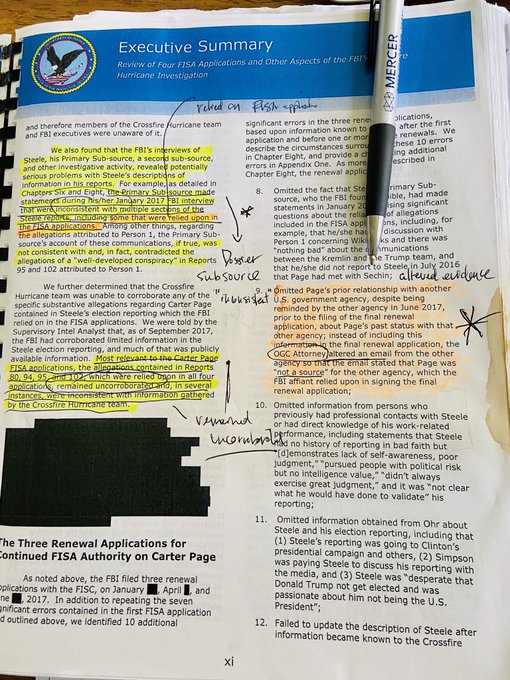 Sunlight kills.
v2
Q
Q reposted a link to today's thread by Catherine Herridge on problems with the FBI's surveillance of Carter Page. I suspect this thread is being highlighted again to bring more "sunlight" to the matter. Light dispels darkness.
Flying under the radar. Jennifer Boone – the FBI official who oversaw (FISA): 1) The improper use of Bruce Ohr as a Steele intermediary; and 2) The FBI's interview of the Steele primary sub-source… Was promoted by Director Wray after the FBI learned of FISA issues.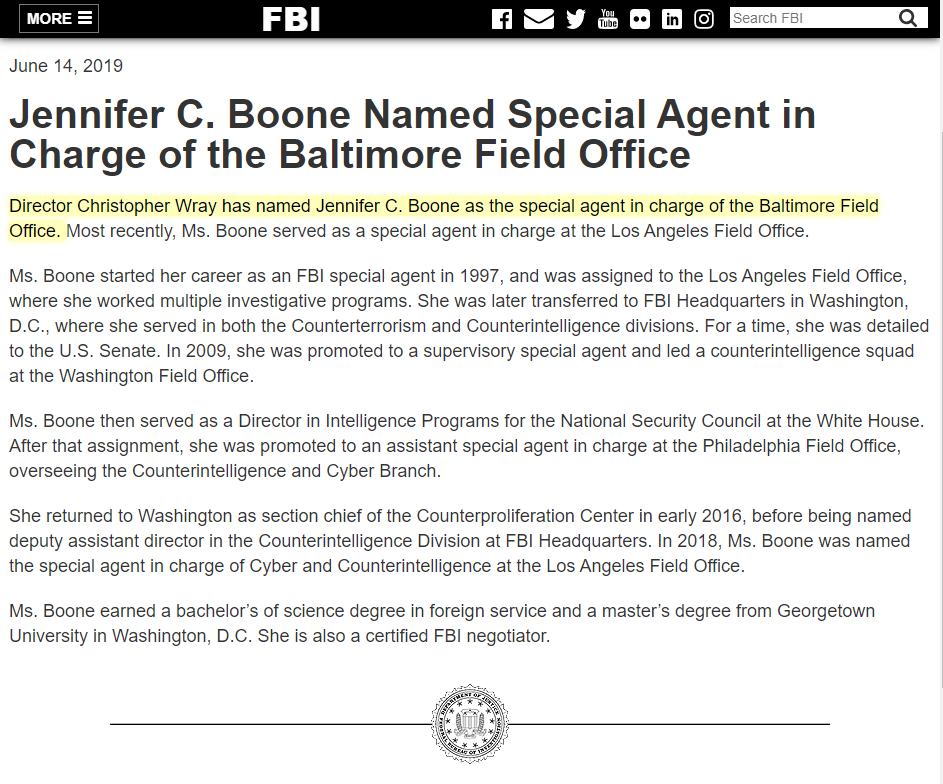 Sunlight kills.
v2
Q
Q posted a link to a thread by
@

Techno_Fog
that explains the role Jennifer Boone played in facilitating the surveillance of Carter Page.
Despite being involved in the illegal surveillance of Carter Page, Jennnifer Boone was promoted by Chris Wray to head the Baltimore field office.Boone was warned of red flags about having an FBI agent meet with Bruce Ohr. The concern was Ohr's connections to Christopher Steele Boone directed the FBI agent to meet with Ohr anyway. It's not like Boone can claim ignorance. She supervised the team tasked with determining the sources of information contained in Christopher Steele's dossier.
Authentic.jpg. (Note – Filename: "Authentic.")
News | socials = propaganda
News | socials = bias
News | socials = political tool
News | socials = weapon
News | socials = camouflage
We are one of many vehicles traveling on the information superhighway.
The choice [of information] has always been yours.
"Free thought" is a philosophical viewpoint which holds that positions regarding truth should be formed on the basis of logic, reason, and empiricism, rather than authority, tradition, revelation, or dogma.
Information warfare.
Q
[Domestic]
How many [R] 2016 candidates were illegally surv?
How many journalists were illegally surv?
How many House members were illegally surv?
How many Senate members were illegally surv?
Upstream collection. [umbrella]
702
non-702
FVEY
non-FVEY
spy_insert_campaign[s] 1&2
ren·e·gade
a person who deserts and betrays an organization, country, or set of principles.
Similar:
traitor
defector
deserter
turncoat
betrayer
rebel
mutineer
quisling
fifth columnist
renegado
tergiversator
Q
Chris_Wray.jpg
***
Are you ready to serve once again?
Q
Acknowledged.
God Bless America.
Q
Q posts asking, Are you ready to serve once again? Q Flynn Changes his banner to God Bless America Q then responds Acknowledged. God Bless A
Anons take note.
You have a rival.
Q
EdVzrxWWAAA_EVl.jpg
Orlando Bloom Destroyed Over Lost Dog https://t.co/0aBT6vqJss

— TMZ (@TMZ) July 20, 2020
The White House reportedly moved the official portraits of former Presidents Bill Clinton and George W. Bush to a place President Trump and visitors would not see them.
The portraits were pulled out of the Grand Foyer of the White House, where Trump often passes through, They were moved into the Old Family Dining Room, a small, rarely used room, which visitors do not normally see.
In a break from the tradition in which the portraits of recent presidents are displayed more prominently, those honoring William McKinley and Theodore Roosevelt, Republican presidents who served more than 100 years ago, have replaced those of Clinton and Bush.
Source: washingtonexaminer.com
Dozens of boaters took to Manhattan's Hudson River on Sunday to show their support for President Trump.
This is what the silent majority looks like.
VIDEOS:
Source: thegatewaypundit.com