Never Seen Panic Like This, It's Time, This Is Not About Another 4 Year Election – Episode 2229
Trump administration is now pushing the payroll tax cut proposal, but the corrupt politicians are pushing back. This is now about making the [CB] recover it is about running the system into the ground. Trump just made a trade deal with India, the new trade system is being built to go up against the globalist system. Judy Shelton is on deck and it seems she got the green light, the setup is almost complete. The [DS]/MSM are now planning their next move, they know their events are not working and they are falling apart each day. We have never seen panic like this before, they are prepared to make their next move. Trump and the patriots already know their next move, the people must see it all. The [DS]/MSM will be so desperate at the end they will show the world who and what they truly are.
Check Out The X22 Report Spotlight YouTube Channel X22Report Spotlight
Please check Newzsentinel.com for the latest news on the economic collapse. The Sentinel Alerts are updated throughout the day.
---
Current News – 07.21.2020
Watch The X22 Report On Video
---
Economy
Judy Shelton's Nomination to the Fed Expected to Clear Senate Banking Committee
According to Politico, Sen. John Neely Kennedy's office says he will vote in favor of Judy Shelton's nomination to the Federal Reserve, clearing her path to the Senate floor. All Republicans were needed for her to get past committee, he was the last hold out. As The New York Times states:


One question that analysts are pondering is what version of Ms. Shelton will show up for work at the Fed if she gets the job: A gold standard proponent, or not? A supporter of low rates, as she has been during Mr. Trump's administration, or an inflation hawk?

I am betting she will fall in line with the rest of the current mad money printers.
Source: economicpolicyjournal.com
---
Political/Rights
John Kasich to speak at Democratic National Convention on behalf of Biden: report https://t.co/RVGnJnGNCu pic.twitter.com/jcB580ZSHM

— The Hill (@thehill) July 21, 2020
JUST IN: Pelosi, Schiff, Warner, Schumer askin the FBI for an all-Congress briefing after learning of "specific" intelligence about a foreign influence operation aimed at Congress. pic.twitter.com/RWKvwiISPb

— Kyle Cheney (@kyledcheney) July 20, 2020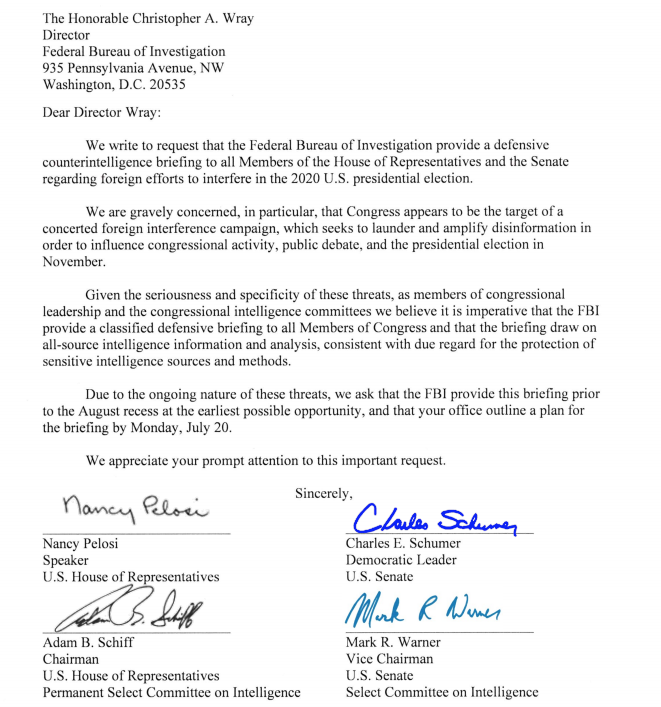 Gang of Eight (and others impacted) were already briefed. Weeks ago. This request is a CYA. https://t.co/XpF3FT8gzH

— Richard Grenell (@RichardGrenell) July 20, 2020
#FLYNN In 24 page filing, Solicitor General says Judge Sullivan overstepped his authority, citing case law + request to reconsider dismissal by full panel should be denied. "In this case, the panel followed established precedent from this Court + the Supreme Court to stop an…

— Catherine Herridge (@CBS_Herridge) July 20, 2020
intrusive process that would usurp the core executive power to decide whether to continue a prosecution. Both this + another circuit have granted mandamus in similar circumstances. In response, the district judge—an officer who would not normally be an interested party-took the..

— Catherine Herridge (@CBS_Herridge) July 20, 2020
extraordinary step of filing a petition in his own name seeking rehearing en banc. That petition only underscores that no case or controversy exists between the actual parties—the government + the defendant— + that any continuation of the criminal proceedings would transform..

— Catherine Herridge (@CBS_Herridge) July 20, 2020
them into a judicial, rather than executive, prosecution. As far as the government is aware, only one district judge has ever before filed a petition for rehearing en banc in a mandamus case + that petition was denied. This Court should follow the same course here."@CBSNews pic.twitter.com/c3E9a58GAK

— Catherine Herridge (@CBS_Herridge) July 20, 2020
DOJ Response to Judge Sullivan's Petition For En Banc Review — "You Needed To Seek DOJ Permission To File Your Petition"
Judge Sullivan   needed DOJ approval to petition the DC Appeals Court for en banc review of the writ of mandamus issued by the Court directing him to grant the DOJ motion to dismiss the prosecution of General Michael Flynn.
The Government's Response cites the Supreme Court's decision in  United States v. Providence Journal Co., where the Court observed there is only one "United States", and it consists of three co-equal branches of government.  The argument suggested by the Response is that all litigation in which the "United States" has an interest must be authorized by DOJ, which has exclusive authority to litigate on behalf of the "United States," and whether he likes it or not, Judge Sullivan, in his capacity as a federal district court judge falls within the definition of "United States" as recognized in that case, and is subject to the same approval process.
But DOJ is making the point that Judge Sullivan is inappropriately holding himself out as some form of "independent" functionary who has standing to contest orders from the Appellate Court with which he disagrees, and the argument that he failed to seek DOJ approval before filing his Petition is made as part of a broader claim that his Petition is procedurally improper, and many thorny problems arise if it is granted by the Appeals Court.
  The Response notes four problems with Judge Sullivan's efforts in his capacity as judge:
 A judge does not have a personal stake in the outcome of litigation — if he did then the law requires that he recuse himself from the case.  Absence of such recusal is conclusive on the question of whether or not Judge Sullivan has a "personal stake" he can assert in the matter.  A mandamus order is not directed personally at the district court judge any more than is an order reversing a conviction on appeal, and no one asserts that a district court judge could seek en banc review of such an order.
The Rules of Appellate Procedure provide that only a "party" may seek en banc review.  Amendments made to the Rules in 1996 make it expressly clear that even when a judge is directed to respond to a petition for mandamus relief, as happened here, such a circumstance does not make the judge a "party" to the proceeding.  Since Judge Sullivan is not a "party" under the Rules, he is not entitled to file a petition for rehearing.
Judge Sullivan lacked authorization from the Appeals Court to file his petition for review.  A district court can only participate in a Petition for Writ of Mandamus if invited to do so by the appeals court.  Judge Sullivan did so in response to the Court's Order that he file a response to Gen. Flynn's petition.  But there was no such authorization issued by the Appeals Court for him to seek en banc review.
Judge Sullivan did not obtain DOJ authorization to seek review in a matter involving the "interests" of the "United States" as he had a statutory obligation to do as an official of the judicial branch of the "United States.
Source: redstate.com
What happens when Flynns case is dismissed, why is they [DS] panicking
BREAKING: Speaker Pelosi slams Trump: "Whether he knows it yet, or not, he will be leaving." @morningmika pic.twitter.com/BqbV6kEUmr

— Scott Dworkin (@funder) July 20, 2020
Why did Nancy Mention this, 
CONTINUITY OF GOVERNMENT: What Is the Presidential Succession Act?
Most Americans know the basic order of succession in the current Presidential Succession Act. After the vice president, the law specifies the following order of succession:

The Speaker of the House
Is she projecting, you can see she is panicked by all of this
Clinton said the following  Donald Trump   is to try to make it as difficult as possible for people to vote, to have those votes counted, and to sew further distrust in our electoral system,  
Source: breitbart.com
Mail-In Voting, unless changed by the courts, will lead to the most CORRUPT ELECTION in our Nation's History! #RIGGEDELECTION

— Donald J. Trump (@realDonaldTrump) July 21, 2020
A survey conducted earlier this year by the Republican National Committee (RNC) found that 62% of voters believe there is fraud in U.S. elections, and that 57% of Americans are concerned that mail-in voting could taint the integrity of U.S. elections.
Source: dailycaller.com
BREAKING: President Trump signs Executive Order "banning undocumented individuals" from 2020 Census count for the purpose of congressional representation
Republicans  appeared to soundly defeat a Democratic-led legal effort to force taxpayers in Florida to fund mail-in ballot postage fees, eliminate ballot-return deadlines and strike down laws restricting the practice of "ballot harvesting" – which allows political operatives to retrieve vote-by-mail ballots en masse and return them to polling places.
The Democratic super PAC Priorities USA had sued the Republican Party and GOP Gov. Ron DeSantis, but agreed to a settlement that dismissed the case just before trial was set to begin on Monday. The agreement includes provisions to educate voters about how to register to vote and cast mail-in ballots, while also educating election supervisors about prepaid postage.
Source: foxnews.com
The #FBI and our partners have announced that a federal grand jury returned an indictment earlier this month charging Li Xiaoyu and Dong Jiazhi for their alleged participation in a global computer intrusion campaign. https://t.co/BJOJtDA8cH pic.twitter.com/zMVJkmHubL

— FBI (@FBI) July 21, 2020
The U.S. Justice Department has accused two Chinese hackers of stealing hundreds of millions of dollars of trade secrets from companies across the world and more recently targeting firms developing a vaccine for the coronavirus.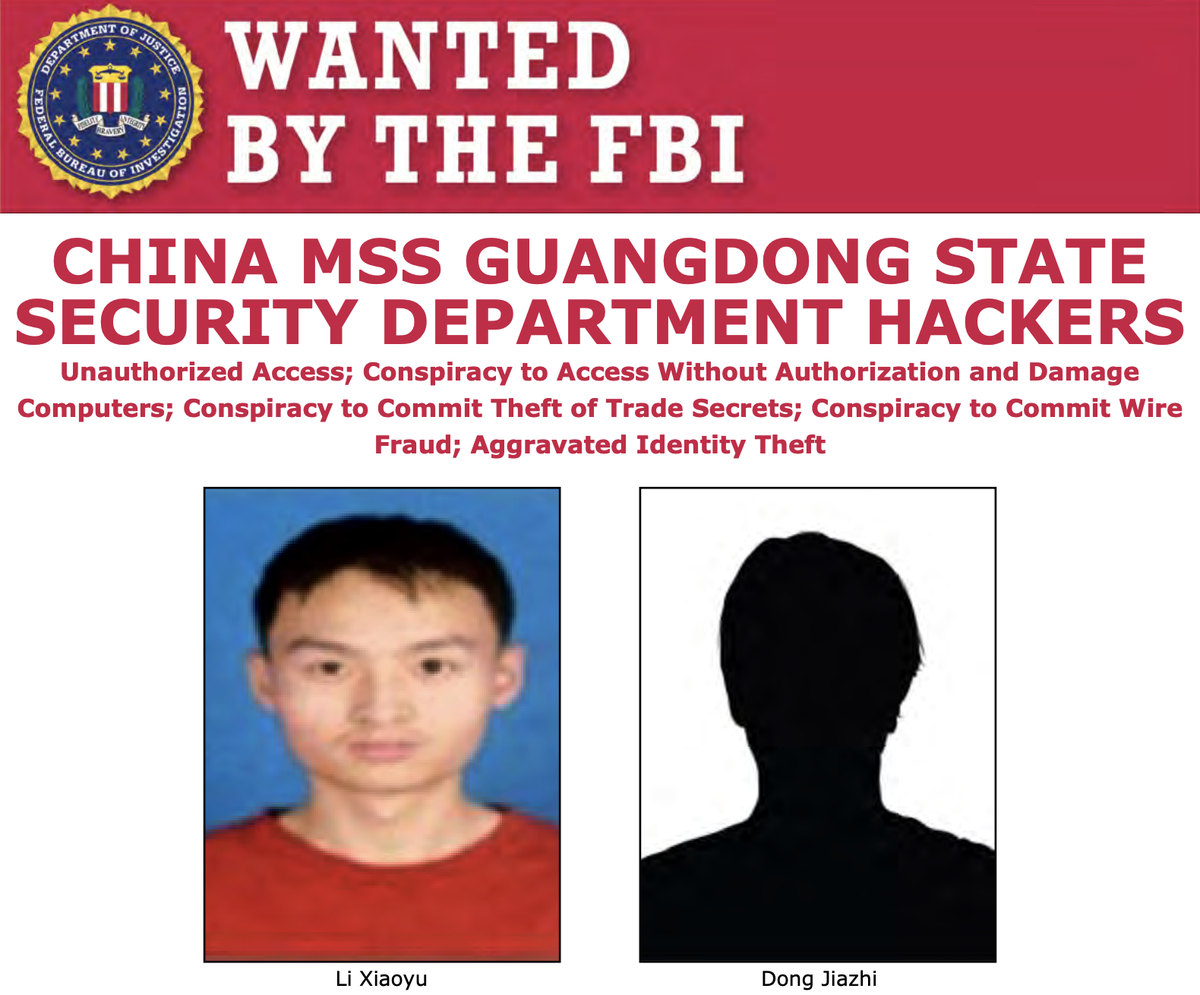 Inside the surveillance software tracking child porn offenders across the globe.

The Child Protection System helps police triage child pornography cases. But as the system expands, it's facing growing privacy concerns. https://t.co/zk14DrH1Gt (1/7) #NBCNewsThreads

— NBC News (@NBCNews) July 21, 2020
"Contact tracing is good. Tracing child pornographers is bad."
The wife of a British aristocrat and frequent flyer on Jeffrey Epstein's 'Lolita Express' has stepped down from her role volunteering for the UK's National Society for the Prevention of Cruelty to Children (NSPCC).
Clare Hazell – an interior designer who became the Countess of Iveagh after her 2001 marriage to the 4th Earl of Guinnes (of the brewing dynasty) – took 32 flights on Epstein's infamous airplane between 1998 and 2000, which included "trips to his homes in New York, Florida, the Caribbean and New Mexico,"  Epstein accompanied Hazell on all but one of the trips aboard the plane, per flight logs.
Virginia Giuffre, accused Hazel of sexually abusing her:
Hazell, formerly the President of the NSPCC's West Suffolk branch hosted events for the charity at Elveden Hall – a lavish estate in Suffolk, England owned by the Guinness family since 1894 in which several scenes from Eyes Wide Shut were filmed. 
The NSPCC immediately sought to distance themselves from Hazell,  She no longer volunteers with us."
 
Source: zerohedge.com
Most Now Think Jeffrey Epstein Was Murdered
Most Americans now believe disgraced financier Jeffrey Epstein was murdered in jail because he knew too much.
A new Rasmussen Reports national telephone and online survey shows that just 21% of American Adults think Epstein actually committed suicide while in jail which is the official explanation for his death. Fifty-two percent (52%) say it's more likely that he was murdered to prevent him from testifying against powerful people with whom he associated.
Former President Bill Clinton is perhaps the most prominent person linked to Epstein. Fifty-three percent (53%) of voters said in June of last year that Clinton is a sexual predator.
Source: rasmussenreports.com
---
False Flags
St. Louis prosecutor Kim Gardner is engaged in a political prosecution.

I entered the case seeking a dismissal.

As AG I have a duty to protect the fundamental rights of all Missourians including the right to keep & bear arms in self-defense of one's person & home.

A THREAD

— Eric Schmitt (@Eric_Schmitt) July 21, 2020
This case is extraordinary. Based on widely reported facts, this prosecution targets conduct explicitly protected both by the MO Constitution & statutes setting forth the "Castle Doctrine" of self-defense. #2A

— Eric Schmitt (@Eric_Schmitt) July 21, 2020
In other words this is not just a case of the gov't retaliating against a citizen for exercising a fundamental right – which is bad enough – its also a case where the local prosecutor believes that exercising that fundamental right is – itself – a crime.

— Eric Schmitt (@Eric_Schmitt) July 21, 2020
The Right to Keep & Bear Arms in Self-Defense of One's Person & Home Receives the MO Constitution's Highest Level of Protection. Self-defense is the "core lawful purpose" & the "central component" of the right to keep & bear arms in both the #2A & MO Const. See Heller decision.

— Eric Schmitt (@Eric_Schmitt) July 21, 2020
The Right to Keep & Bear Arms in Self-Defense of One's Person & Home Receives the MO Constitution's Highest Level of Protection. Self-defense is the "core lawful purpose" & the "central component" of the right to keep & bear arms in both the #2A & MO Const. See Heller decision.

— Eric Schmitt (@Eric_Schmitt) July 21, 2020
The Founders viewed the right to keep & bear arms in self-defense as a natural right that was inalienable.This recognition predated the adoption of the US Constitution & had deep roots in English concepts of liberty forged in the Glorious Revolution of 1689. #2A

— Eric Schmitt (@Eric_Schmitt) July 21, 2020

Michelle Malkin beaten by BLM thugs and prevented from speaking at Denver pro-police rally
Michelle Malkin was brutally assaulted and prevented from speaking as she made her way to the speaker's platform at a pro-police public rally in downtown Denver on Sunday.  The patriotic event, the 6th Annual Law Enforcement Appreciation Day billed as "family friendly," was advertised in advance on social media including at Malkin's Twitter, where she has 2.2 million followers.
Malkin was live-streaming the event from her cell phone on Periscope Sunday afternoon as the situation deteriorated after masked thugs wearing Black Lives Matter t-shirts assaulted two speakers and then set upon Malkin.  A diminutive child of immigrants from the Philippines who legally moved to the U.S. in the late 1960s, Malkin, who was born in Philadelphia in 1970, describes herself as a "little brown woman" with a "big mouth."  Malkin linked to the entire 35-minute long Periscope video at her Twitter feed.
On the video, which had been viewed over 150,000  times by early Monday, several individuals identifying themselves as Black Lives Matter accost Malkin as one or more of them unfurl collapsible batons and begin pushing and beating on Malkin.  In the process, she loses a shoe and is eventually assisted in escaping to a waiting car by the event's security volunteers, at which point the video feed ends.  Malkin was understandably distraught at this unanticipated violent turn of events and expressed frustration that Denver police, who were visibly present in the area, did nothing to stop the attacks or to allow the peaceful pro-police rally to continue.
Source: thenewamerican.com
---
Q
Thank you for the good reviews and comments on my interview with Chris Wallace of @FoxNews. We may have set a record for doing such an interview in the heat. It was 100 degrees, making things very interesting!

— Donald J. Trump (@realDonaldTrump) July 21, 2020
Trump is talking about the heat, that its about to get hotter this summer, 
We are United in our effort to defeat the Invisible China Virus, and many people say that it is Patriotic to wear a face mask when you can't socially distance. There is nobody more Patriotic than me, your favorite President! pic.twitter.com/iQOd1whktN

— Donald J. Trump (@realDonaldTrump) July 20, 2020
Looked up the last drop using "Patriotic" and found this. [Drop 4592]

Could POTUS be telling us that he's deceiving [them]? pic.twitter.com/hNbVHd7TsJ

— TONY™️ (@TONYxTWO) July 20, 2020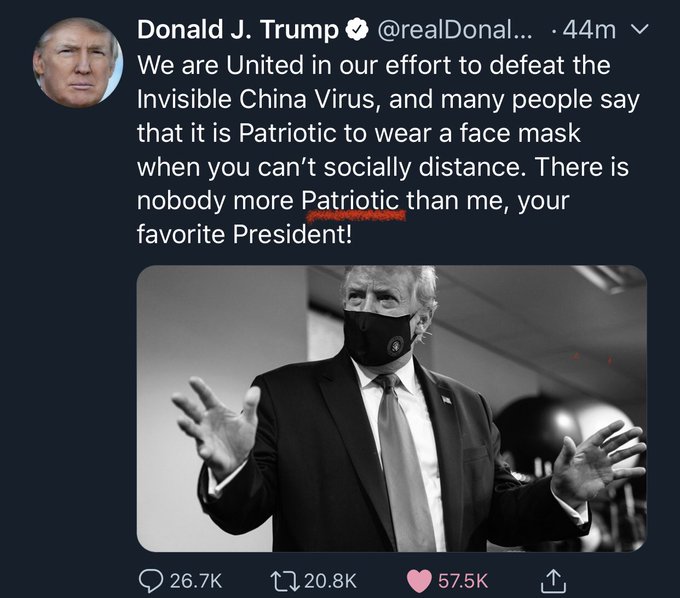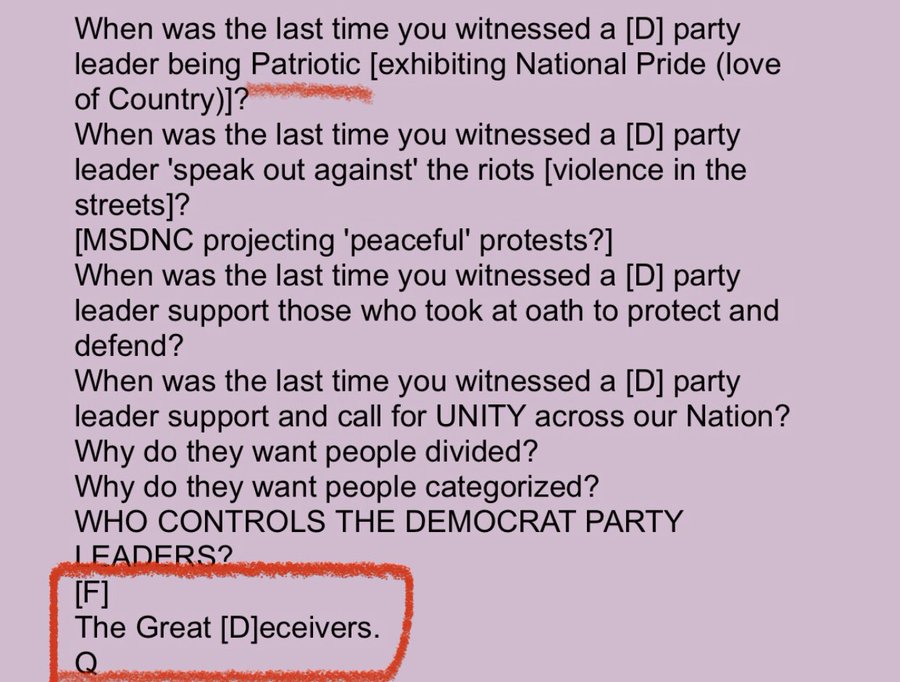 POTUS: "I'm going to do something, that I can tell you…" pic.twitter.com/ytPzotcwFk

— M3thods (@M2Madness) July 20, 2020
YOUR VOICE AND YOUR VOTE ARE WHAT MATTERS MOST.
[WITNESSING] ATTEMPTS TO REMOVE BOTH.
1. CENSORSHIP [FASCISM][AUTHORITARIAN]
2. DEPLATFORM/REMOVAL [SILENCE]
3. MAIL-IN-VOTE FRAUD [DILUTE]
[WATER DOWN] CONSTITUTIONAL RIGHTS?
FREEDOM OF SPEECH?
WILLFULLY BLIND OR WILLFULLY ACCEPTING?
Q
DECLAS, indictments and the November election appear to be merging. Can you sense the panic?