Manipulation Exposed, [DS] Panicking Over Barr/Durham Investigation – Episode 2227
The jobless rates are now down in 42 states and only up in 5 states. The economy is ready to push forward, what's holding it back, the [DS] agenda. Housing starts gain steam. Trump just pushed the economy to the next level, 25000 regs have been removed, the old system is being cleared away. The [DS]/MSM have just lost the narrative, the truth about the pandemic numbers are now being revealed to the public. The [AS] and other corrupt politicians are now panicking, they don't know what Durham and Barr are investigating. Q dropped some bread, the investigation moves forward and confirms the number are being manipulated.
Check Out The X22 Report Spotlight YouTube Channel X22Report Spotlight
Please check Newzsentinel.com for the latest news on the economic collapse. The Sentinel Alerts are updated throughout the day.
---
Current News – 07.17.2020
Watch The X22 Report On Video
---
Economy
State Employment and Unemployment Summary
June jobless rates down in 42 states, up in 5; payroll jobs up in all 50 states
		      STATE EMPLOYMENT AND UNEMPLOYMENT -- JUNE 2020


Unemployment rates were lower in June in 42 states, higher in 5 states, and stable in 3 
states and the District of Columbia, the U.S. Bureau of Labor Statistics reported today.
Forty-nine states and the District had jobless rate increases from a year earlier,
while one state had no change. The national unemployment rate declined by 2.2 
percentage points over the month to 11.1 percent but was 7.4 points higher than in June
2019.

Nonfarm payroll employment increased in all 50 states and the District of Columbia in 
June 2020. Over the year, nonfarm payroll employment decreased in all 50 states and 
the District.

This news release presents statistics from two monthly programs. The civilian labor 
force and unemployment data are modeled based largely on a survey of households. These
data pertain to individuals by where they reside. The employment data are from an 
establishment survey that measures nonfarm employment, hours, and earnings by industry.
These data pertain to jobs on payrolls defined by where the establishments are located.
For more information about the concepts and statistical methodologies used by these two
programs, see the Technical Note.

Unemployment

Massachusetts had the highest unemployment rate in June, 17.4 percent, followed by New
Jersey, 16.6 percent, and New York, 15.7 percent. The rates in these three states set 
new series highs. (All state series begin in 1976.) Kentucky had the lowest unemployment
rate, 4.3 percent. In total, 30 states and the District of Columbia had jobless rates
lower than the U.S. figure of 11.1 percent, 10 states had higher rates, and 10 states
had rates that were not appreciably different from that of the nation. (See tables A 
and 1.)

In June, the largest unemployment rate decreases occurred in Nevada (-10.3 percentage 
points) and Hawaii (-9.6 points). Rates declined over the month by at least 2.0 
percentage points in an additional 27 states. The largest over-the-month jobless rate 
increase occurred in Nebraska (+1.4 percentage points). (See table B.)

The largest unemployment rate increases from June 2019 occurred in Massachusetts (+14.5
percentage points) and New Jersey (+13.3 points), with another six states experiencing
increases of 10.0 points or more. The smallest over-the-year rate increases occurred in
Utah (+2.5 percentage points) and Idaho (+2.7 points). Kentucky was the only state that
did not have an increase in its unemployment rate relative to June 2019. (See table C.)

Nonfarm Payroll Employment

Nonfarm payroll employment increased in all 50 states and the District of Columbia in 
June 2020. The largest job gains occurred in California (+558,200), New York (+301,600),
and Florida (+296,000). The largest percentage increases occurred in Nevada (+8.5 
percent), Michigan (+8.1 percent), and Kentucky (+6.6 percent). (See tables D and 3.)

All 50 states and the District of Columbia had over-the-year decreases in nonfarm 
payroll employment in June. The largest job declines occurred in California (-1,740,600),
New York (-1,496,900), and Texas (-696,200). The smallest declines occurred in Wyoming
(-22,200), Idaho (-22,900), and Montana (-23,200). The largest percentage declines 
occurred in Hawaii (-16.0 percent), New York (-15.3 percent), and Massachusetts (-14.4
percent). The smallest percentage declines occurred in Utah (-2.7 percent), Idaho (-3.0
percent), and Arizona (-3.3 percent). (See table E.)
Source:  bls.gov 


Permitting activity for newly-built homes rose 2.1% between May and June to a seasonally adjusted annual rate of 1.24 million. 
Trump said the cuts in regulations have saved the average American about $2,300 and that African-Americans are among those who have most benefited financially.
The White House said ahead of the president's speech that the reforms over the past three years have saved the country a total $50 billion in regulatory costs, resulting, prior to the impact of the COVID-19 global pandemic, bringing more than 2 million Americans out of poverty.
Source: justthenews.com
You know why NOTHING ever got done on rebuilding infrastructure in this country? Because LOBBYISTS added THOUSANDS AND THOUSANDS of pages of useless regulations to the federal register. And Trump just CUT 25,000 PAGES OF THOSE REGULATIONS.
TAKE A LISTEN
---
Political/Rights
  Kanye West has secured a place one the Oklahoma ballot just in time for November's presidential election. The move comes just after the Grammy-winner filed a "Kanye 2020" presidential committee document with the Federal Election Commission (FEC) on Thursday.
A representative for West filed the necessary paperwork and paid the $35,000 filing Wednesday afternoon, which was the deadline for a spot on the state's Nov. 3 presidential ballot, said Oklahoma Board of Elections spokeswoman Misha Mohr. He was one of three independent presidential candidates to pay the filing fee prior to the deadline, she added. The others were concert pianist Jade Simmons and cryptocurrency entrepreneur Brock Pierce. 
Source: breitbart.com
THANK YOU to the 5 million members of the @NRA for once again entrusting me with your FULL & COMPLETE ENDORSEMENT! As long as I am President, I will ALWAYS protect our Great Second Amendment, and never let the Radical Left take away your Rights, your Guns, or your Police! @NRAPVF https://t.co/8ZhChqxgBI

— Donald J. Trump (@realDonaldTrump) July 17, 2020
We are putting together a plan to create a conservative movie studio for all patriots to do projects that Hollywood would never do. No more blacklisting and no more injustice from the socialist's elites.

— Antonio Sabáto Jr 🇺🇸 (@AntonioSabatoJr) July 16, 2020
---
False Flags
South Dokota Governor Kristi Noem was blasted by the liberal mainstream media for holding a 4th of July celebration at Mount Rushmore with President Donald J. Trump.
The media warned Noem that coronavirus numbers would explode following the event where most of those in attendance chose not to wear masks at the historic event.
On Friday South Dakota Governor Kristi Noem joined FOX and Friends to give an update on the situation in South Dakota.
Governor Noem told Steve Doocy there were no new outbreaks following the Independence Day celebration.
Governor Kristi Noem:
Source: thegatewaypundit.com
FOX 35 INVESTIGATES: Questions raised after fatal motorcycle crash listed as COVID-19 death
A person who died in a motorcycle accident was added to Florida's COVID-19 death count, according to a state health official.
FOX 35 News found this out after asking Orange County Health Officer Dr. Raul Pino whether two coronavirus victims who were in their 20s had any underlying conditions. One of his answers surprised us.
Dr. Pino was asked if the man's data was removed.
"I don't think so. I have to double-check," Pino said.  
Source: fox35.com
**BREAKING**

FLORIDA COVID HOAX EXPOSED:

Sample of age of deaths (see below)

Did 95, 104, 94,98, 100 year olds really die from "Covid" ??

2020 Current resident Covid de

2019 Lower respiratory disease deaths:12,005

RT RT expose the truth! pic.twitter.com/7WkCqXrtQM

— Tribunal Watch (@tribunal_watch) July 17, 2020
BREAKING: Health officials from numeros states have mistakenly included positive results from antibody tests when reporting new COVID-19 cases to the CDC, grossly inflating new cases. The scientific equivalent to "double dipping."

— Nicole Saphier, MD (@NBSaphierMD) July 17, 2020
BREAKING: Health officials from dozen states have mistakenly lumped (+) results from antibody tests in w viral tests for COVID-19 in reporting to CDC, inflating new cases. A (+) antibody test could mean you were infected w virus from same corona family that causes the common cold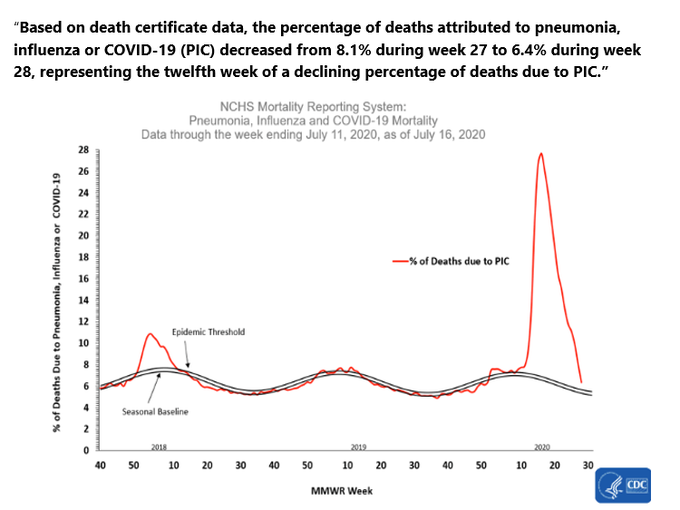 Texas Gov. Greg Abbott says "there is no shutdown coming" as coronavirus cases surge
Abbott said last week that if the spread of the virus didn't slow, "the next step would have to be a lockdown." But in a television interview Thursday, he said that there have been rumors of such a move and stressed that they were not true.
"Let me tell you, there is no shutdown coming," 
Source: texastribune.com
A new study from Germany confirms that there is no evidence that kids spread COVID-19 in school.

This was also revealed in a study from Iceland.

What science are governors using when shutting down our schools?

— Dr. David Samadi (@drdavidsamadi) July 16, 2020
Brazilian President Jair Bolsonaro   again extolled the supposed virtues of malaria drug hydroxychloroquine to fight COVID-19, as he said that he again tested positive for the coronavirus, a week after he first announced he had become infected.
Source: thehinu.com
A Food and Drug Administration (FDA) safety review published on July 1 reported a total of only five adverse side effects among tens of millions of doses of hydroxychloroquine that were distributed to hospitals through the agency's emergency use authorization.
"This suggests that the drug isn't harmful to the vast majority of patients who are treated according to FDA guidelines," A
Source: worldtribune.com
The COVID-19 death rate without a vaccine is lower than the flu death rate with a vaccine.

— Jillian Anderson (@Jillie_Alexis) July 16, 2020
Senator Josh Hawley (R-MO) issued a letter to Attorney General William Barr on Thursday regarding St. Louis Circuit Attorney Kim Gardner's hostile prosecution of a couple forced to use firearms to fend off a Black Lives Matter (BLM) terror mob marauding through their neighborhood.
Hawley's letter accuses Gardner's office of "targeting of the McCloskey family for using firearms to defend themselves and their property against a mob of protesters." He believes she abused her power by ordering a raid of the McCloskey family home in which their guns were confiscated.
Gardner's office responded to news of Hawley's letter with defiance:
Missouri Governor Mike Parson and President Donald Trump are in Hawley's corner against the apparent overreach of Gardner in how her office is coming after the McCloskeys.
"I just got off the phone with the President of the United States before I walked out here today," Parson said. "He understands the situation in Missouri. He understands the situation in St. Louis and how out of control it is for a prosecutor to let violent criminals off and not do their job and try to attack law-abiding citizens. The conversation I had with the President, said that he would do everything he could within his powers to help with this situation."
Source: bigleaguepolitics.com
---
Q
Judiciary Committee Releases Declassified Documents that Substantially Undercut Steele Dossier, Page FISA Warrants
Today, as part of the Senate Judiciary Committee's ongoing investigation into the Crossfire Hurricane investigation and related FISA abuses, Chairman Lindsey Graham (R- South Carolina) released two recently declassified documents that significantly undercut the reliability of the Steele dossier and the accuracy and reliability of many of the factual assertions in the Carter Page FISA applications.
"What have we learned from the release of these two documents by the Department of Justice? Number one, it is clear to me that the memo regarding the FBI interview of the primary sub-source in January 2017 should have required the system to stop and reevaluate the case against Mr. Page.
"Most importantly after this interview of the sub-source and the subsequent memo detailing the contents of the interview, it was a miscarriage of justice for the FBI and the Department of Justice to continue to seek a FISA warrant against Carter Page in April and June of 2017.
"The dossier was a critical document to justify a FISA warrant against Mr. Page and this DOJ memo clearly indicates that the reliability of the dossier was completely destroyed after the interview with the primary sub-source in January 2017. Those who knew or should have known of this development and continued to pursue a FISA warrant against Mr. Page anyway are in deep legal jeopardy in my view.
"Secondly, the comments of Peter Strzok regarding the February 14 New York Times article are devastating in that they are an admission that there was no reliable evidence that anyone from the Trump Campaign was working with Russian Intelligence Agencies in any form.
"The statements by Mr. Strzok question the entire premise of the FBI's investigation of the Trump Campaign and make it even more outrageous that the Mueller team continued this investigation for almost two and a half years. Moreover, the statements by Strzok raise troubling questions as to whether the FBI was impermissibly unmasking and analyzing intelligence gathered on U.S. persons.
"These documents, which I have long sought, tell a damning story for anyone who's interested in trying to find the truth behind the corrupt nature of the FBI's investigation into the Trump campaign in 2016 and beyond."
Q
FBI Crossfire Hurricane unit watched Trump the day he took oath of office
FBI Agent Peter Strzok and his FBI Crossfire Hurricane unit were focused on the White House during President Trump's inauguration celebration, so much so that the "angry" agent complained he was kept out of the loop on a bureau counter-intelligence briefing there.
Mr. Strzok said in an email to his boss, counter-intelligence chief Bill Priestap, he could have folded the FBI briefing into his strategy for investigating Trump associates.
"I heard from [redacted] about the WH CI briefing routed from [redacted]," Mr. Strzok said. "I am angry that Jen [colleague Jennifer Boone] did not at least cc: me, as my branch has pending investigative matters there, this brief may play into our investigative strategy, and I would like the ability to have visibility and provide thoughts/counsel to you in advance of the briefing. This is one of the reasons why I raised the issue of lanes/responsibilities that I did when you asked her to handle WH detailee interaction."
"These documents suggest that President Trump was targeted by the [then-director James] Comey FBI as soon as he stepped foot in the Oval Office," said Judicial Watch President Tom Fitton.
Q
BREAKING: Sources inside Trump Administration confirm to me that CDC has been misreporting the data for coronavirus to inflate the numbers.
What would be the primary purpose of inflating C19 numbers?
Who benefits the most?
Pro-America v Anti-America.
Infiltration.
All assets deployed.
Election not virus.
Q
Jul 17, 2020 4:20:53 PM EDT
C.D.C. Labs Were Contaminated, Delaying Coronavirus Testing, Officials Say
Fallout from the agency's failed rollout of national coronavirus kits two months ago continues to haunt U.S. efforts to combat the spread of the highly infectious virus.
How do you provide cover for invalid 'positive' test results?
Think pawpaw.
THE SWAMP RUNS DEEP.
THE NEWS IS FAKE.
THE WAR IS REAL.
Q
May 15, 2020 12:29:26 PM EDT
Why did [D]s push 'everything is fine' narrative early on [ex: Pelosi China town]?
Why did science board push [no need close China travel] narrative early on?
Why did [select] govs push COVID-19 positive elderly patients into nursing homes [most at risk_proven] when surplus of availability in hospitals [+ USNS_Comfort]?
Why are CDC numbers conflating COVID-19 deaths with influenza, pneumonia, other?
Why are influenza deaths at [all-time] historical low levels vs years past [outside of standard deviation]?
Why are COVID-19 tests returning positive results on
PAW
PAW
's and animals?
Why are [select] swing states undergoing heavy quarantine extensions?
Why are possible [treatments][cures] being prevented and attacked [USA]?
"Testing, Testing, Testing, Tracing, and Isolation." – [Pelosi]
Q