Blocks Removed, The Attack Run Has Begun, Treason- Episode 2206
Podcast: Download (466.4KB)
New homes sales are soaring, the real estate market is rebounding and people are taking advantage of the low rates. Homebuilder sentiment is up. Trump and the patriots are getting ready to use another around of stimulus to help the everyday person get back on their feet. The [DS]/MSM blocks are being removed one by one, the patriots are clearing the path. Trump calls out BO again and begins to educate the people that BO committed treason. The [DS]/MSM are being pushed to where the patriots want them. JB & GS information leaked in the same time frame as GB was removed from the SDNY. The attack run has begun, the [DS] doesn't event have a chance.
Check Out The X22 Report Spotlight YouTube Channel X22Report Spotlight
Please check Newzsentinel.com for the latest news on the economic collapse. The Sentinel Alerts are updated throughout the day.
---
Current News – 06.23.2020
Watch The X22 Report On Video
---
Economy
 that new home sales  continue to rebound in May (after rebounding first in April, 
 , new home sales have massively rebounded (up 16.6% MoM vs +2.7% exp), pushing YoY back into the green – up 12.7% YoY…
Homebuilder sentiment about future sales has v-shape-recovered…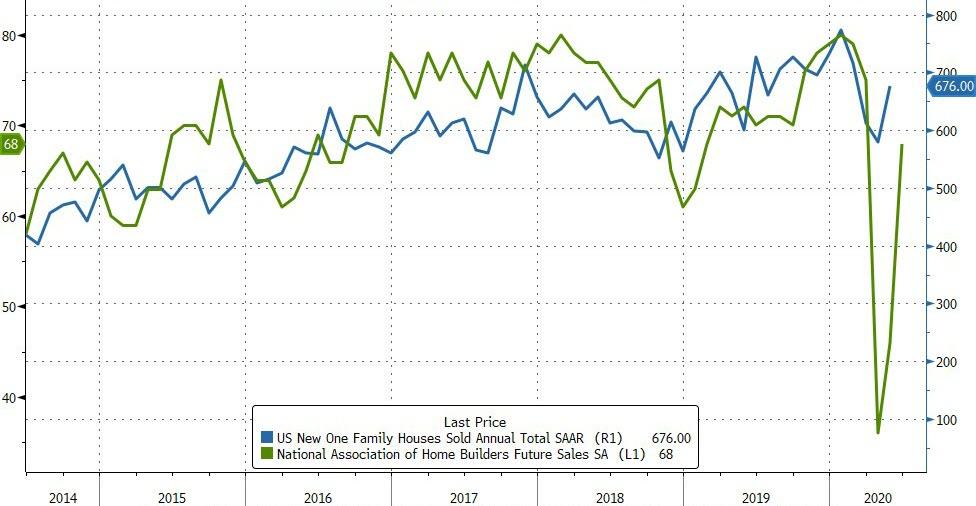 Source: zerohedge.com
 Trump committed that there will be a second round of economic stimulus, which he said is likely to be announced "over the next couple of weeks," the president did not say how much the stimulus would be, but said he thinks the second round of stimulus will "be bipartisan."
 ."
Trump added, "We will be doing another stimulus package. It'll be very good. It'll be very generous."
St. George then asked how much the stimulus would be.
Trump answered, "You'll find out about it."
S
Source: breitbart.com
---
Political/Rights
Trump Jr. Calls Out ABC, Jimmy Kimmel Over 'N-Word' Tape: 'Hard To See How ABC' Lets Him Keep His Job https://t.co/T2m44n5x40 pic.twitter.com/QDqH0KGGAn

— The Daily Wire (@realDailyWire) June 22, 2020
Joe Biden's campaign is refusing President Donald Trump's request to take part in more than three debates ahead of the general election in November.
"Joe Biden looks forward to facing Donald Trump in a multi-debate series that the American people have come to expect from their leaders; we hope that
Source: zerohedge.com
I wonder if he is actually going to follow through on this or are we going to see events popup right before so he can bow out.
The 200th mile of Wall just went up along the US-Mexico border!
A U.S. Army soldier is facing charges after allegedly giving classified military information to a neo-Nazi Satanist group, a U.S. Attorney's Office statement said Monday.
Ethan Melzer, 22, a private in the U.S. Army, allegedly planned an attack on his army unit by sending sensitive details including location, movements and security, to members of the Order of the Nine Angles, the statement says.
Acting USA Strauss: As alleged, Ethan Melzer, a private in the U.S. Army, was the enemy within. He allegedly attempted to orchestrate a murderous ambush on his own unit, unlawfully revealing its location, strength & armaments to a neo-Nazi, anarchist, white supremacist group.
He is charged with multiple conspiracy charges, including attempting to murder U.S. nationals and military service members, and conspiring to murder and maim in a foreign country. He is also charged with providing material support to terrorists.  ( 
"As alleged, Ethan Melzer, a private in the U.S. Army, was the enemy within.  Melzer allegedly attempted to orchestrate a murderous ambush on his own unit by unlawfully revealing its location, strength, and armaments to a neo-Nazi, anarchist, white supremacist group.  Melzer allegedly provided this potentially deadly information intending that it be conveyed to jihadist terrorists," acting U.S. attorney Audrey Strauss said in the release.
"
Source: dailycaller.com
Married Hollywood executive David Guillod is charged with 11 sex crimes, including rape and kidnapping for 'attacks on four women dating back to 2012'
David Guillod surrendered to police Monday morning in Santa Barbara
He faces a total of 11 felony charges for the incidents spanning back to 2012, and a maximum sentence of 21 years to life in prison
The 53-year-old producer and talent manager denies the charges
The four women are not named in charge sheets but he has previously been accused by actress Jessica Barth of drugging her during a 2012 meeting
In a separate incident, an alleged kidnap and rape in Santa Barbara took place in December 2014 at a company wine country retreat 
Guillod was also charged with the rape of two unconscious and intoxicated women over a 48-hour period in January 2015
Source: dailymail.co.uk
---
False Flags
Cases are going up in the U.S. because we are testing far more than any other country, and ever expanding. With smaller testing we would show fewer cases!

— Donald J. Trump (@realDonaldTrump) June 23, 2020
Cases up only because of our big number testing. Mortality rate way down!!! https://t.co/bKFmgOLEGZ

— Donald J. Trump (@realDonaldTrump) June 23, 2020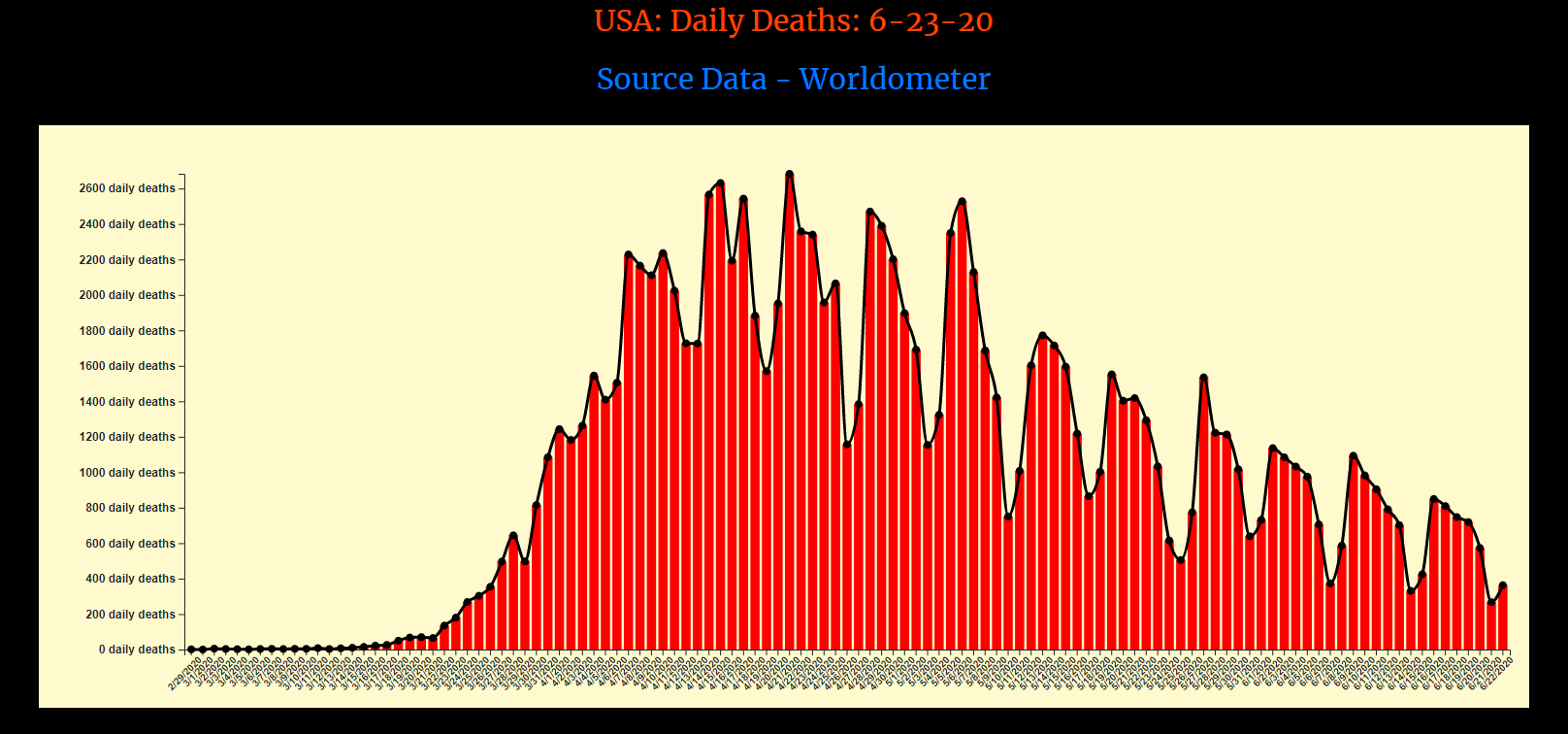 Faced with growing pressure to crack down on the "occupied" protest zone following two weekend shootings, Seattle's mayor said Monday that officials will move to wind down the blocks-long span of city streets taken over two weeks ago.
 Mayor Jenny Durkan said at a news conference that the violence was distracting from changes sought by thousands of peaceful protesters seeking to address racial inequity and police brutality. She said the city is working with the community to bring the "Capitol Hill Occupied Protest" zone to an end.
Source: zerohedge.com
Due to Seattle's unrest, billion-dollar investment firm moving to Phoenix
  an investment advisory company is leaving the cultural unrest in Seattle and moving its headquarters to Phoenix's Camelback Corridor.
" … The unrest that has taken place in the city of Seattle … there is really is not a downtown business community today," Smead Capital Management, President and CEO Cole Smead told KTAR News 92.3 FM.
Source: ktar.com
Democratic New York Gov. Andrew Cuomo said  that taking down historical statues of notable American leaders is "a healthy expression" of anger against historic sins.
"The Teddy Roosevelt statue I think was less about Teddy Roosevelt but the other parts of that statue. And look, people are making a statement about equality, about community to be against racism, against slavery," Cuomo told the outlet.
Source: dailycaller.com
 the sculptor, James Earle Fraser, said this about the Roosevelt statue: "The two figures at [Roosevelt's] side are guides symbolizing the continents of Africa and America, and if you choose may stand for Roosevelt's friendliness to all races."
Sen. Tom Cotton (R-AR) called for rioters who attempted to pull down the Andrew Jackson statue near the White House on Monday evening to be locked up.
Commenting on Twitter, Cotton noted that the statue is federal property and that destroying it "carries a 10-year sentence under the Veterans Memorial Preservation and Recognition Act." 
Title 18 of the U.S. Code, section 1369, reads:
§1369. Destruction of veterans' memorials
(a) Whoever, in a circumstance described in subsection (b), willfully injures or destroys, or attempts to injure or destroy, any structure, plaque, statue, or other monument on public property commemorating the service of any person or persons in the armed forces of the United States shall be fined under this title, imprisoned not more than 10 years, or both.

(b) A circumstance described in this subsection is that-
(1) in committing the offense described in subsection (a), the defendant travels or causes another to travel in interstate or foreign commerce, or uses the mail or an instrumentality of interstate or foreign commerce; or
(2) the structure, plaque, statue, or other monument described in subsection (a) is located on property owned by, or under the jurisdiction of, the Federal Government.
Source: breitbart.com
 I have authorized the Federal Government to arrest anyone who vandalizes or destroys any monument, statue or other such Federal property in the U.S. with up to 10 years in prison, per the Veteran's Memorial Preservation Act, or such other laws that may be pertinent…..

— Donald J. Trump (@realDonaldTrump) June 23, 2020
This Tweet violated the Twitter Rules about abusive behavior. However, Twitter has determined that it may be in the public's interest for the Tweet to remain accessible. Learn more
There will never be an "Autonomous Zone" in Washington, D.C., as long as I'm your President. If they try they will be met with serious force!

— Donald J. Trump (@realDonaldTrump) June 23, 2020
---
Q
#BREAKING

: Trump says Obama may have committed treason, refuses to elaborate on specific charges

hill.cm/HBDahvF
Trump says Obama may have committed treason
President Trump on Monday suggested without evidence that his predecessor, former President Obama, committed treason in connection with the investigation into the 2016 Trump campaign's contacts with Russia.
"Treason. Treason. It's treason," Trump said in an interview with CBN News. The president did not elaborate on the specific charge but repeated his assertion that the previous administration "spied" on his campaign in the course of the Russia probe.
EXCLUSIVE: President Trump on what crime President Obama would have been potentially committing regarding the previous administration spying on his campaign: "Treason. It's treason." Watch the explosive clip from my White House interview with @realDonaldTrump @POTUS @WhiteHouse pic.twitter.com/IFui3fNigS

— David Brody (@DavidBrodyCBN) June 22, 2020

TAKE A LISTEN TO WHAT HE SAID
Digital warriors ready.
Surrender to None ['Digital Battleground'].
WWG1WGA!!!
Q
Exclusive — Seema Verma: Cuomo, Other Democrat Governors' Coronavirus Nursing Home Policies Contradicted Federal Guidance
Seema Verma, the administrator for the Centers for Medicare and Medicaid Services (CMS), told Breitbart News exclusively that New York's Democrat Gov. Andrew Cuomo and other Democrat governors originally issued guidance that contradicted federal guidelines for nursing homes battling the coronavirus pandemic.
"I just want to make it very clear that our guidance was absolutely crystal clear," Verma said in an exclusive interview late last week. "It was clear and unmistakable. Any insinuation to the contrary is woefully mistaken at best and dishonest at worst. We put out our guidance on March 13. It's very clear when it says that, I'm actually going to read this to you, it says that: 'When should a nursing home accept a resident who is diagnosed with COVID-19?' It says: 'A nursing home can accept a resident diagnosed with COVID-19 and still under transmission-based precautions,' which means if this person is infectious you have to take precautions. It says 'as long as the facility can follow CDC guidance for transmission-based precautions.' It says: 'If a nursing home cannot, it must wait until these precautions are discontinued,' meaning if you are not able to care for this patient—somebody is still positive and you're not equipped to care for the patient, then you shouldn't accept the patient into your care. That's really important because longstanding discharge—when you're discharging a patient from the hospital, longstanding guidelines require when you transfer them somewhere you transfer them to a place that can take care of their needs whether they're going home or they're going to a nursing home or some other facility."
Verma added later that it is "disingenuous" for Democrats such as Cuomo to claim they were following federal guidelines when they were not.
>>9712392
Use 'topic' as target practice.
Test your strengths.
Know your weaknesses.
Adapt.
Overcome.
Q
WOW.

A translated Ukrainian press conference from yesterday not only implicates Biden, but also George Soros, in a plot to snatch 1.5 billion from Ukrainian tax payers for a…get this…"corruption tax", through overstated gas tariffs from Naftogaz.

https://t.co/x7detIopnr pic.twitter.com/Qkb6ycKBzx

— TheSharpEdge (@TheSharpEdge1) June 23, 2020
Whoever did this is amazing!

"Jill, if there's ever a problem, just go out on the balcony and fire two blasts outside the house." "Buy a shotgun." "Buy a double barrel shotgun."
A little humor goes a long way.
Q
Q

 

!!Hs1Jq13jV6

 

ID: 20394c

 No.9719446

NEW
Fired NY prosecutor was given Biden-Ukraine allegations in 2018 but didn't follow up, emails show
Could the impeachment scandal have been prevented if the now-fired U.S. Attorney Geoffrey Berman had followed up on Ukrainian allegations about Joe Biden and his family in 2018?
The memos show that well before Ukrainian prosecutors reached out to Rudy Giuliani, President Trump's lawyer, in 2019 to talk about the Bidens and alleged 2016 election interference they first approached Berman's office in New York in October 2018 via another American lawyer.
The memos show Little Rock, Ark., lawyer Bud Cummins, a former U.S. attorney himself, reached out at least five times in October 2018 to Berman seeking to arrange a meeting with then-Ukrainian Prosecutor General Yuriy Lutsenko.
Timing of video release [#4500] & Berman termination?
Coincidence?
"You cannot attack your political opponent."
The doubters will soon be believers.
Years in the making.
Q
Q

 

!!Hs1Jq13jV6

 

ID: f4d9eb

 No.9720036

NEW
b7c716d68a2f073fe5dff16a4e410f97c0007201a2470a2bc779057f101ea055.jpg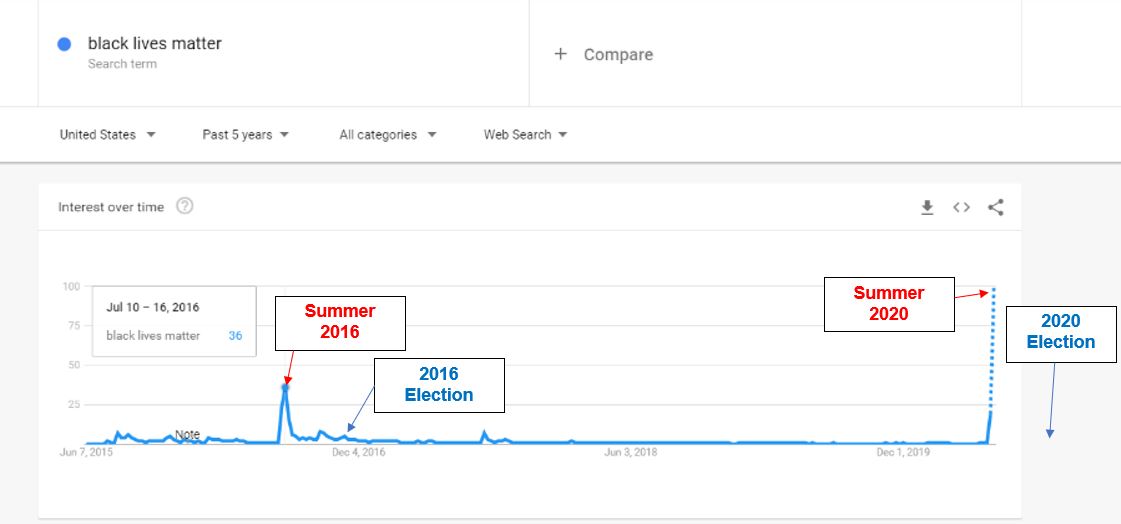 Black Lives Matter co-founder tweets about killing "men and white folks"
Black lives matter … but the lives of "men and white folks" do not?
That apparently is the message Black Lives Matter Toronto co-founder Yusra Khogali was trying to convey when she posted a controversial tweet on Feb. 9 that surfaced Tuesday morning.
In the tweet, Khogali asks Allah for strength "to not cuss/kill these men and white folks out here today."
Black Lives Matters activist Sandy Hudson blamed the media for focusing on the tweet, instead of the larger issues at hand.
"This is extremely frustrating and emotional for me because we slept outside for two weeks to get somebody to care about death in our community and this is what you decided to focus on? It's very, very, very irresponsible," she said.
When repeatedly asked for a comment on the tweet, she refused.
This was removed by @yusrakhogali from twitter after I tweeted about it. She is co-founder #blacklivesmatterTO pic.twitter.com/TksW5kj4oX

— Jerry Agar (@jerryagar1010) April 5, 2016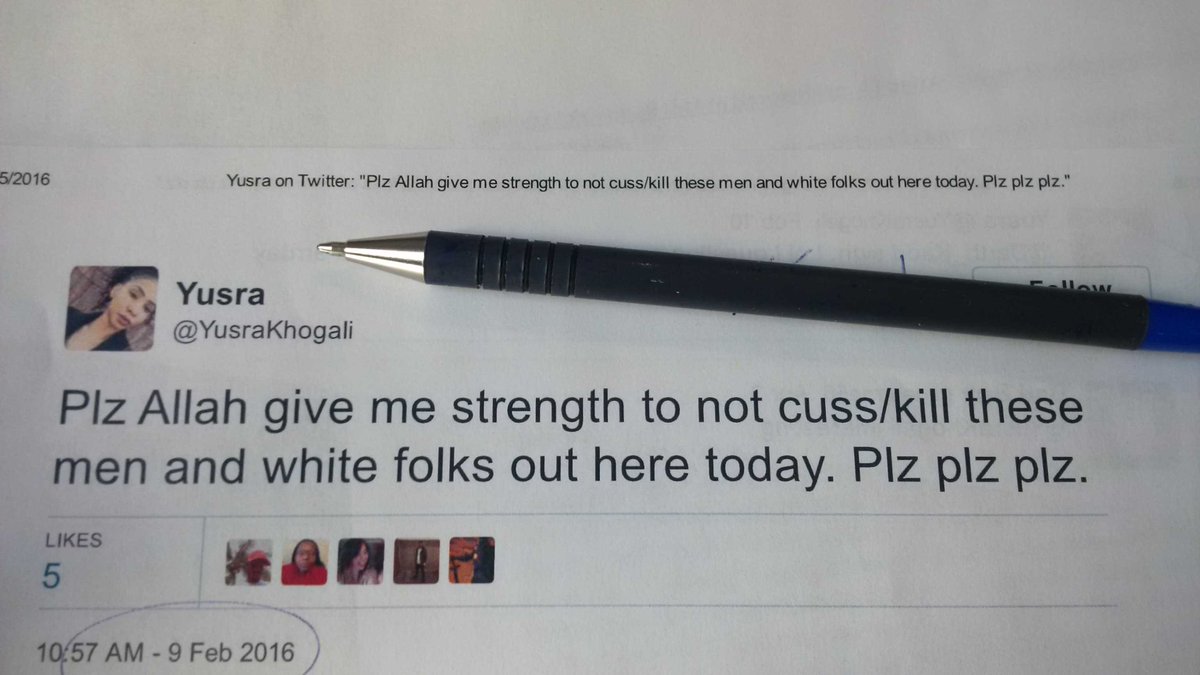 Worth remembering.
What happens when 'racists' are running a supposed 'anti-racist' organization?
Hatred?
Violence?
Destruction?
Murder?
Division pushed every election year [4 years]?
Why?
Political advantage to one party over another?
What if [D]s never let go post civil war?
What if they simply implemented a new form of control [ownership]?
Knowledge is power.
Take ownership of yourself [your life].
Q
Q

 

!!Hs1Jq13jV6

 

ID: b807ef

 No.9721100 

NEW
UPDATE: Proved to a Certainty – Is Bubba Wallace "Rope Noose" a Hoax or Misunderstanding? All Talladega Garage Doors Have Nooses – NASCAR Video Evidence…
 
When NASCAR rolled in to Alabama and the Talledega motor speedway, the story of a "rope noose" in the garage of Bubba Wallace grabbed media attention.   However, a NASCAR video of the exact garage doors at the Talledega motor speedway shows all of the garages have ropes and nooses on them.
The images above are from a 2017 NASCAR "GarageCam" walk through during the  NASCAR Camping World Truck Series garage at Talladega Superspeedway.  The rope with a "noose" on the end is a simple method to pull down the garage door to close it.  The noose provides a place to put your hand/wrist when closing the door.
The ropes and "nooses" are clearly visible [particularly at 03:20] as the cameraman goes from garage bay to garage bay.  There are several rope nooses visible and a few of them are severely worn from use.  Check it out:
.
Did the Bubba Wallace team accidentally make a major headline grabbing story out of a simple mistaken perspective?  Or was the mistaken impression purposefully misunderstood by either the team or the organization to gain attention?   You decide.
Source: theconservativetreehouse.com