Boom Week Ahead, Teams On Standby, Waiting For The Green Light, No Sleep In DC – Ep. 2765
Watch The X22 Report On Video
The economy is falling apart and it's not happening by accident, this is what the [CB]s want, but more importantly this is where the patriots are leading them. The polls are not in Bidens favor, the people are not with him and the [CB]. The people see the plan very clearly. There is panic in DC, the corrupt politicians are not sleeping. Boom week ahead, teams standing by waiting for the green light. The patriots planned this for the right moment, Durham, Election Fraud, Crimes against humanity all standing by, the information weapons are locked and loaded. The [DS] is trapped and they have lost their ability to function, the clock is ticking down.
---
Economy
Foreclosures are up 181% in one year. Home sales are down 12.6% year over year.
FOX46 reported:
Some eight months after a nationwide moratorium on foreclosures expired, foreclosure filings soared to the highest level since the pandemic began.

Last month, 33,333 properties across the U.S. faced foreclosure, a 181 percent jump from March 2021 and 29 percent pop from February, according to a report by foreclosure tracker Attom. The first quarter saw 78,271 properties with a foreclosure filing, a 39 percent from the previous quarter and 132 percent from last year.

March marked the 11th consecutive month in which foreclosure activity posted a year-over-year increase.
Source: thegatewaypundit.com
 Gallop released a poll showing most Americans believe the economy is getting worse.  Conservative Treehouse reported:
 latest Gallup polling data:

In the latest Gallup poll, conducted April 1-19, four in five U.S. adults rate current economic conditions in the country as only fair (38%) or poor (42%), with few describing conditions as excellent (2%) or good (18%). Furthermore, 76% of Americans say the economy is getting worse, 20% say it is improving, and 3% think it is staying the same. (read more)
Americans know it when politicians are working against them.  The Biden-Obama gang is working to destroy this country and everyone can see it.
Source: thegatewaypundit.com
A lot of gas stations play ads on the screen while you are pumping gas. The GOP should be paying to play this on a loop 24/7 at every gas pump in the country they can buy the ad space for. https://t.co/hNyncXWgOQ

— Shem Horne (@Shem_Infinite) May 1, 2022
One of the disastrous consequences of Biden-era supply chain disruptions that are now being exacerbated by overseas wars and indirectly because of U.S. sanctions is that farmers are now seeing fertilizer shortages. The use of high-nitrogen fertilizers is a modern farming technique, but it often requires natural gas in the production process.
Samantha Power, a former ambassador to the United Nations under Obama, and currently an administrator of USAID under Biden, appeared on ABC News' "Fertilizer shortages are real now because Russia's a big exporter of fertilizer," Power said. "And even though fertilizer is not sanctioned less fertilizer is coming out of Russia. As a result, we're working with countries to think about natural solutions like manure and compost."
 "USDA forecasts for consumer food price inflation were increased again this month, with all food prices now seen rising 5% to 6% (4.5% to 5.5% in March) and grocery store prices expected to rise 5% to 6% (4.5% to 5.5% in March) while the forecast increase in restaurant prices was held at 5.5% to 6.5%," Farm Journal noted.
Source: beckernews.com
---
Political/Rights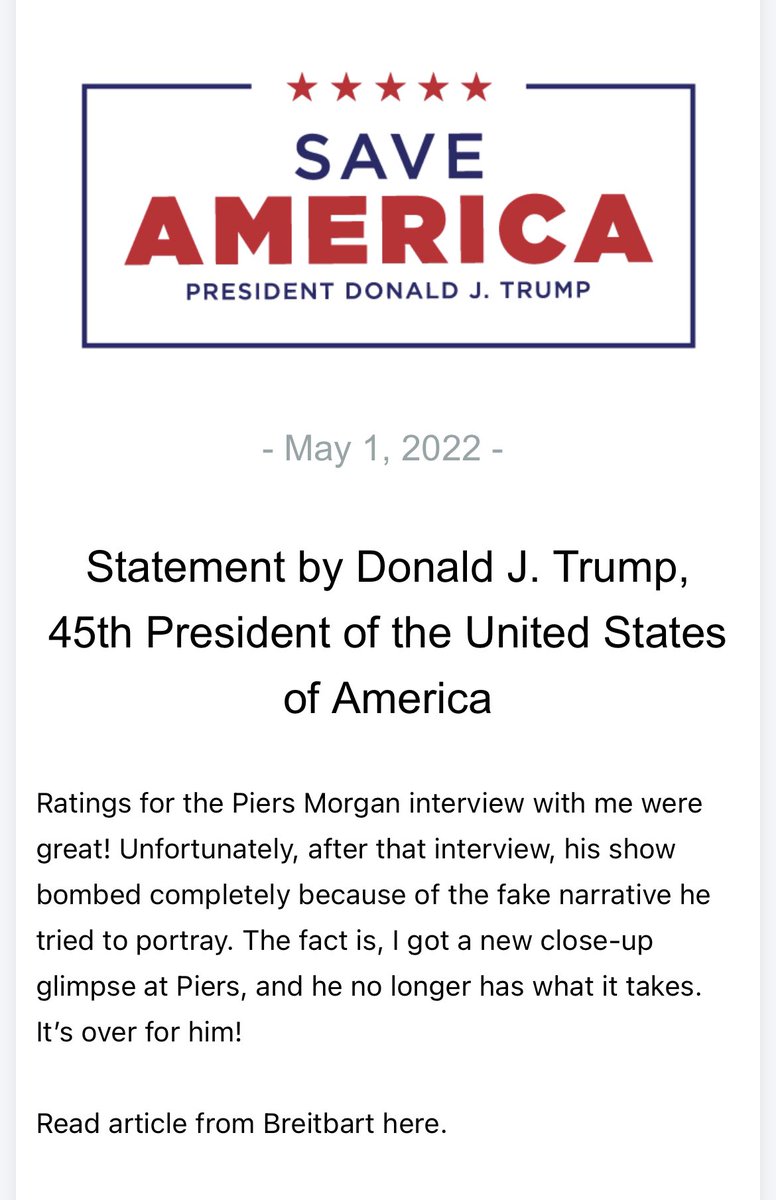 On July 26, 2016, a strategy meeting of the top level of the Hillary Clinton for President campaign took place.
During that strategy meeting, Clinton's top foreign policy advisor presented her with a plan he and others had come up with for her approval.
The plan involved paying political operatives in the campaign's employ to manufacture fake Trump/Russia collusion scandals in order to distract the American public from her ongoing email server scandal.
After having the plan explained to her, Hillary Clinton gave her approval.
Russian intelligence agents very quickly learned what was discussed at this Clinton campaign strategy meeting, and created their own intelligence analysis of the meeting.
The CIA soon learned about this top-level Clinton campaign strategy meeting when it intercepted the Russian intelligence analysis, and CIA Director John Brennan went to the White House to brief President Obama and several members of the National Security Counsel about both the plan to vilify President Trump with fake Russian scandals and Clinton's approval of the plan
The September 2020 investigative referral that the CIA sent to the FBI:
The Ratcliffe letter to Congress in September of 2020 announcing the declassification of both Brennan's briefing notes and the CIA investigative referral:
Ratcliffe's letter to the US Congress that accompanied the declassified documents when they were made public:
How Did The Russians Find Out So Fast?
The one thing **everybody avoids discussing** for the past two years is exactly how Russian intelligence agents were able to so quickly create a detailed analysis of this key Clinton campaign strategy meeting where the dirty trick operation targeting Trump with fake Russia scandals was presented to her and she approved it.
The one question nobody dares ask is: how did the Russians find out almost instantly what was discussed at this meeting and get an analysis of it created, which allowed the CIA to intercept it and then quickly go brief Obama and members of his NSC about it?
IF that Russian intelligence analysis was real, then that means the Hillary Clinton for President campaign either had a Russian agent embedded at a high level or someone at the highest level of the campaign was unwittingly handing the details to a Russian agent.
 
How did a foreign intelligence service get all the details of this Clinton meeting?
Source:  briancates.substack.com
---
Geopolitical/Police State
The Biden administration's new Minister of Truth Nina Jankowicz, a self-professed Russian disinformation expert who called the authentic Hunter Biden laptop 'Russian disinformation,' admitted to Congress in 2020 that she did not believe the government should be in the business of telling the public what is and isn't 'disinformation.' Watch:
"Thank you very much, Congressman," she said. "I totally understand your aversion to the idea that government would fight back against disinformation. In fact, you know, the use of that term has been basically the foundation to some very draconian fake news laws in places like Russia, or even Singapore. I do not believe that government should be in that business either."
Her track record of partisan statements on issues such as the Hunter Biden laptop story show why the government should not be in the business of policing the news media for 'disinformation.'
Source: beckernews.com
Biden is just a front man. Obama, April 21: social media censors "don't go far enough," so the government needs to step in to do the job. Six days later, Homeland Security rolls out the 'Ministry of Truth' (aka Disinformation Governance Board). pic.twitter.com/CHOD4mbE0B

— Tulsi Gabbard 🌺 (@TulsiGabbard) May 1, 2022
Authentication is important, but so is anonymity for many. A balance must be struck.

— Elon Musk (@elonmusk) May 1, 2022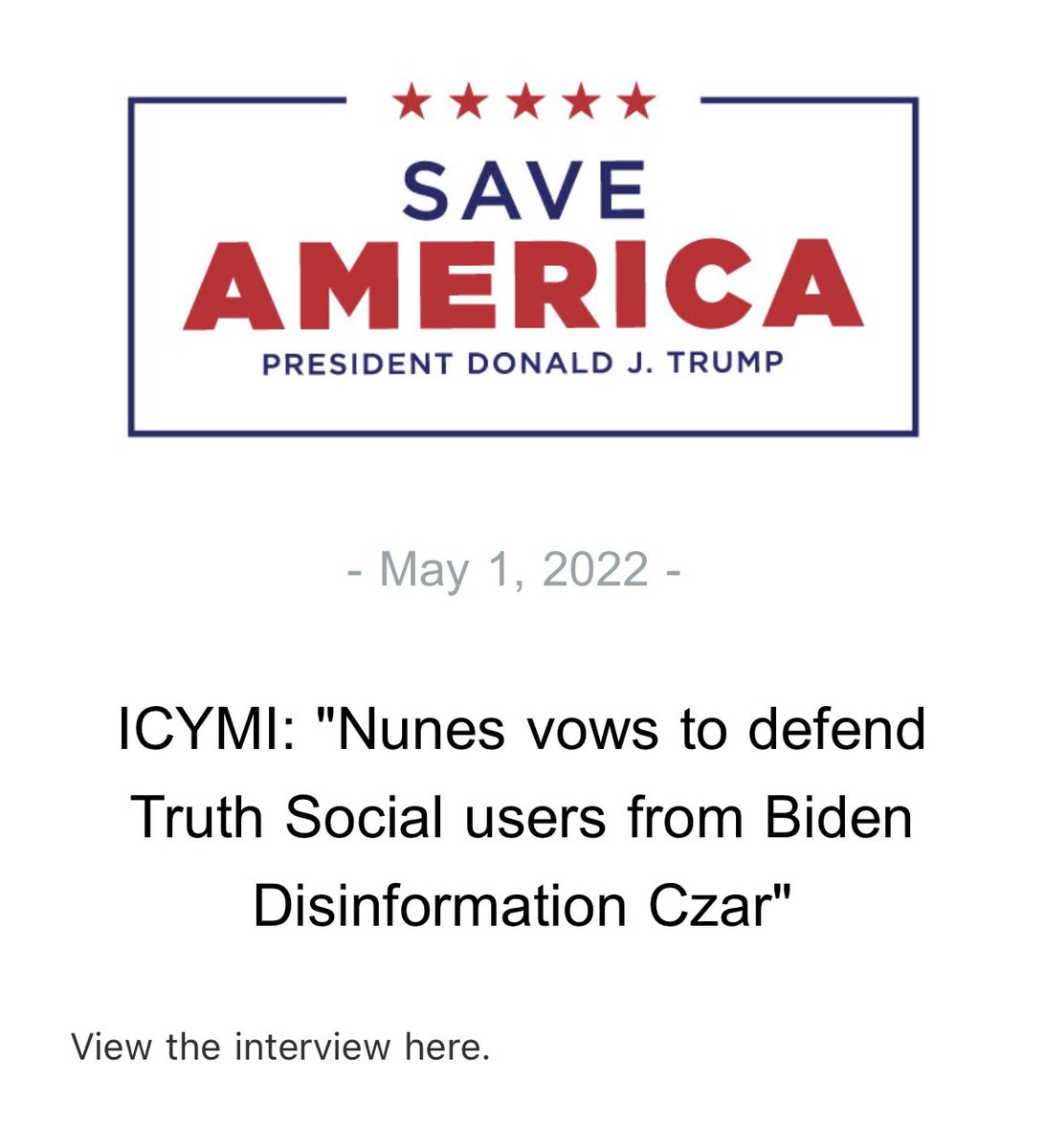 ---
War
Ukraine bragging about arresting people for their social media posts. American media celebrates this. Now, see the Minister Against Misinformation, and you get where this is going. Anyone praising Ukraine should be embarrassed. https://t.co/b3zmy7JpV9

— Robert Barnes (@barnes_law) May 1, 2022
If the U.S. commits to sending troops to Ukraine in the event of a chemical attack, guess what?

There will miraculously be a chemical attack, at just the right time to support Western intervention.

We already saw this play out in Syria. Don't fall for it again. https://t.co/613qyGBHYp

— Clint Ehrlich (@ClintEhrlich) May 1, 2022
Now, as claims that the 'Ghost of Kiev' is dead, Ukraine's own government as well as military social media accounts and historians are accepting that he never really existed.
"The ghost of Kyiv is a superhero-legend, whose figure was created by Ukrainians!"

Ukrainian military historian Mikhail Zhirohov told the BBC the Ghost of Kiev story was simply "propaganda for raising morale".
Source: thenationalpulse.com
President Trump just played this clip at the rally.
"And it got worse, but we don't have all afternoon."
Biden should take a cognitive test!
---
Cyber Attacks
---
False Flags
DC elites, liberal reporters and Hollywood degenerates attended the White House Correspondents' Dinner Saturday night at the Hilton Hotel in DC.
Fauci bailed on the WHCD because of "individual assessment" of personal risk…so he decided to attend the very crowded pre-parties.
A maskless Fauci posed for photos with liberal reporters.
Only the hired help wore masks, because science.
Source: thegatewaypundit.com
Masks in a church but not a giant party in a hotel last night? https://t.co/plCD05vd5t

— Tom Fitton (@TomFitton) May 2, 2022
If ever one day and one incident explained the problem with the elite media in Washington, April 6 seems as good as any. On that day, White House Press Secretary Jen Psaki brandished a binder at the daily press briefing, claiming it contained information regarding Covid spending that the Biden administration had provided to Congress:
This is 385 pages of information we have given to Capitol Hill and briefed them on how COVID funding has been spent, what we need, what the needs are. These are the kind of details we have provided and constantly briefed members on the Hill to make clear to them what the impact will be if we do not get this funding. You can have access to this for a prop if you would like it as well. We'll make copies for you.
Want to take a guess how many "reporters" bothered to ask Psaki for the information she theatrically waved around? A grand total of one.
Hiding Access to Information
The sole reporter who requested copies of information Psaki claimed she would provide, Rachel Cohrs of Stat news,
When Stat took the White House up on the offer, officials refused to make copies of the binder. In fact, it wouldn't even let Stat take photographs of the contents. Instead, the administration gave this reporter one hour to look through the nearly 400 pages of budget tables and congressional correspondence. White House officials offered the review in a small conference room in the Eisenhower Executive Office Building across the street from the White House, under the supervision of a budget office employee.
Source: thefederalist.com
Now Dr. Birx is warning of a new virus surge this summer in the run-up to the 2022 elections.

The Hill reported:
Deborah Birx, a leading member of the Trump administration's White House coronavirus task force, said on Sunday the U.S. should be prepared for another potential COVID-19 surge after a recent uptick in infections in South Africa.
Source: thegatewaypundit.com
The Centers for Disease Control and Prevention (CDC) today released new data showing a total of 1,247,131 reports of adverse events following COVID-19 vaccines were submitted between Dec. 14, 2020, and April 22, 2022, to the Vaccine Adverse Event Reporting System (VAERS). VAERS is the primary government-funded system for reporting adverse vaccine reactions in the U.S.The data included a total of 27,532 reports of deaths — an increase of 183 over the previous week — and 224,766 serious injuries, including deaths, during the same time period — up 1,930 compared with the previous week.Excluding "foreign reports" to VAERS, 810,171 adverse events, including 12,672 deaths and 80,743 serious injuries, were reported in the U.S. between Dec. 14, 2020, and April 22, 2022. 

Source: sott.net
---
Q
George Soros dumped $750,000 into the Democratic Party of Wisconsin already this year.
Source: thegatewaypundit.com
Special grand jury members selected for Trump election probe
On Monday, Fulton County prosecutors selected 23 people for a special grand jury that will ultimately consider whether former president Donald Trump should be charged for his attempts to pressure Georgia officials to overturn the results of the 2020 election, CBS News reports. The district attorney then decides whether to seek an indictment from a regular grand jury. 
If the grand jury charges him, what do you think Trump is going to do, well when it reaches the discovery phase he will turn over important information, what do you think is going to happen next.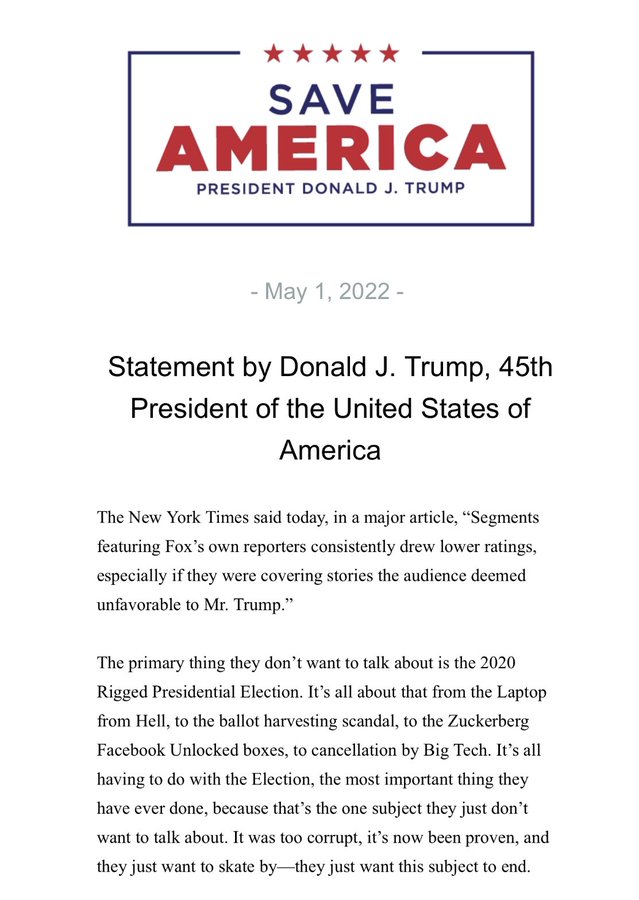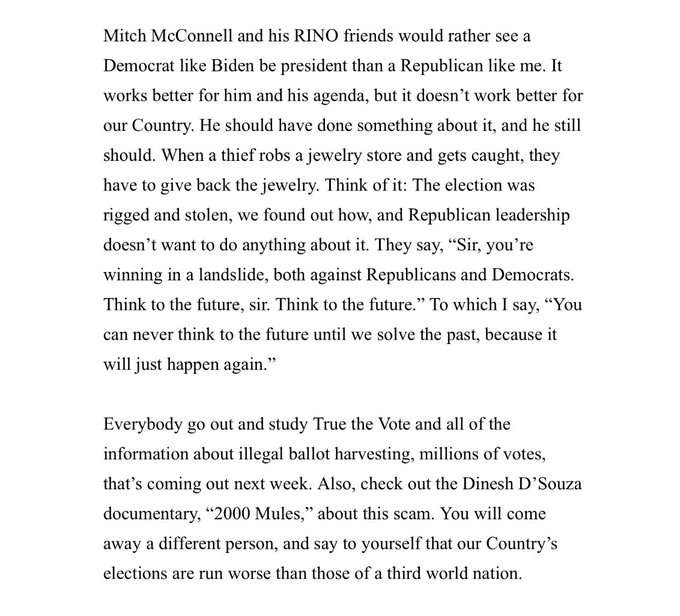 — Dan Scavino Jr.🇺🇸🦅 (@DanScavino) May 1, 2022
Can't wait for the green light.
Teams on standby.
Q
Where is their "client" list? Shouldn't at least one of them go down!?

— Elon Musk (@elonmusk) May 2, 2022
Q

 

!!mG7VJxZNCI

 

ID: dfeded

 No.6482810

Attempts by Dems, FAKE NEWS, and those 'guilty of TREASON' to shape the public narrative [prior to] by providing FALSEHOODS will FAIL.
TRUTH TO LIGHT.
NO SLEEP IN DC.
Q
Q

 

!!Hs1Jq13jV6

 

ID: 79c210

 No.9002095

BOOM WEEK AHEAD.
Treason doesn't pay well in the end.
Q