FISA Is The Start, Think Chess, When Do You Attack The King, Think Optics – Episode 2177
The economy is now reversing, US homebuilder confidence is up, restaurant owners ready to open. Trump had a roundtable meeting with restaurant owners and other business owners on how to open the country. The MSM/[CB] have failed, the economy is coming back. The D's are pushing the next stimulus bill, but the stimulus bill has much more in there that has nothing to do with what the people need or want. The [DS]/MSM event has failed. The [DS] weapons are being used against them. We have now learned that Trump has been taking HCQ. Barr came out and said that as of today he has seen nothing to push criminal charges against Obama, keyword, today. Criminal v Military, the more you know. Optics are important.
Check Out The X22 Report Spotlight YouTube Channel X22Report Spotlight
Please check Newzsentinel.com for the latest news on the economic collapse. The Sentinel Alerts are updated throughout the day.
---
Current News – 05.18.2020
Watch The X22 Report On Video
---
Economy
Confidence among U.S. single-family homebuilders rose in May,
The National Association of Home Builders/Wells Fargo Housing Market Index rose seven points to 37 this month after a record plunge in April.

Other indicators have also hinted at a rebound in housing activity, with mortgage applications rising in recent weeks. Still, homebuilder confidence remains low, suggesting the housing market recovery will be slow amid record unemployment.
"
Source: reuters.com
White House adviser Peter Navarro swatted down the possibility that the coronavirus stimulus package passed by House Democrats would be acceptable by the Trump administration.
 The legislation includes cash assistance for eligible illegal aliens, protections for sanctuary cities and other progressive provisions.
"So, Nancy Pelosi basically lost me with that package when she has $1,200 checks for illegal immigrants — it goes downhill from there," Navarro, 
Source: dailycaller.com
OIL (ENERGY) IS BACK!!!!

— Donald J. Trump (@realDonaldTrump) May 18, 2020
Trump had a roundtable of restuarant owners to get the country back online
---
Political/Rights
 President Barack Obama is finally breaking his silence on Donald Trump because he has had enough of the president's actions — as well as his inaction on the coronavirus pandemic.
The war between the current president and his predecessor broke out over the weekend after Obama took a veiled swipe at Trump during his televised commencement speech for American students, suggesting that the president isn't serious about his job.
Trump, in turn, fired back at Obama on Sunday by calling him "grossly incompetent."
Source: rawstory.com
Source: washingtonexaminer.com
Recent revelations from the Flynn case fit an emerging, more general pattern of questionable prosecutorial tactics.
Justice Department documents released in connection with the withdrawal of charges against retired Lt. Gen Michael Flynn mark the first official unraveling of one of Russia special counsel Robert Mueller's cases.
Based on the filings and conversations with senior Trump administration sources, it now appears that U.S. Attorney John Durham's inquiry into the origins and conduct of the Russia probe is widening, and several senior U.S. officials — Mueller prosecutors as well as top FBI leadership — may be under scrutiny.
The recent revelations raising questions of prosecutorial misconduct in the Flynn case fit an emerging, more general pattern of questionable tactics employed by the Mueller probe, including withholding relevant exculpatory evidence and misrepresenting the government's interactions with investigative targets. Here are some examples:
Misrepresentation of Papadopoulos cooperation:
Silence about Trump Tower meeting exculpatory evidence: 
 
Scope memo used debunked Steele Dossier to set investigative parameters:
Mueller final testimony ignores Steele Dossier:
 
The secret side deal: According to Flynn's current lawyer Sidney Powell, special counsel prosecutor Van Grack made a secret side deal with Flynn's previous counsel. After threatening to indict Michael Flynn Jr., Van Grack agreed not to indict the general's son as a material term of the plea agreement but required that it be kept between himself and Flynn's previous counsel in order to avoid having to disclose it to the courts.. 
Source: justthenews.com
Flynn amicus John Gleeson will file an initial brief by June 10. This will include:

"any additional factual development I may need before finalizing my argument in opposition" to the DOJ Motion to Dismiss.

"Factual development" – he may claim he needs to interview witnesses. pic.twitter.com/ebx8dgkjzl

— Techno Fog (@Techno_Fog) May 18, 2020
#FLYNN Timeline: Exhibit 6 FBI intv summary known as "302" from two agents including Strzok. "Date of entry" 2/14/2017 but Flynn WH interview was three weeks earlier 1/24/2017 (see 'date drafted' bottom right) Flynn attorney still seeking original draft "302," other docs @CBSNews pic.twitter.com/j0rHVfUuqI

— Catherine Herridge (@CBS_Herridge) May 17, 2020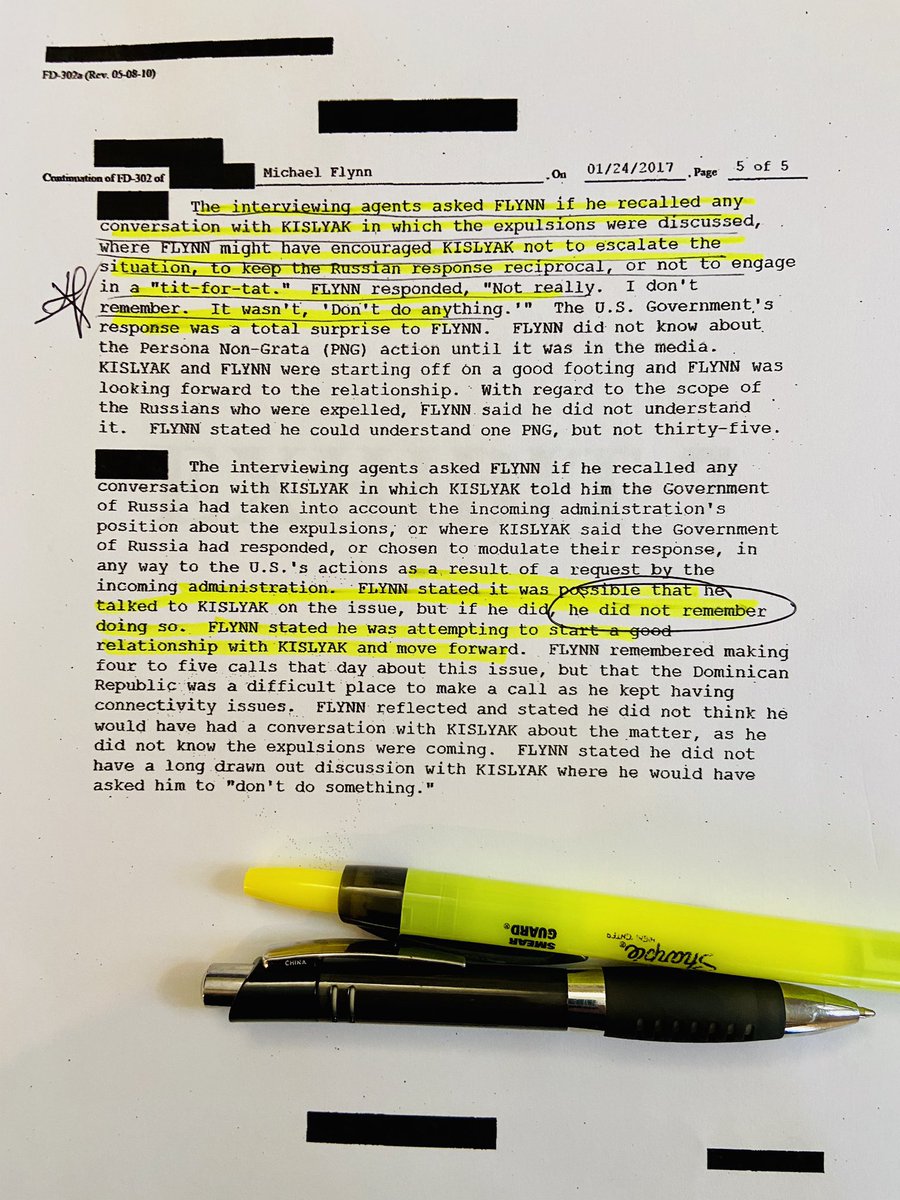 ---
False Flags
So the so-called HHS Whistleblower was against HYDROXYCHLOROQUINE. Then why did he make, and sign, an emergency use authorization? @NorahODonnell said, "He shared his concerns with a reporter." In other words, he LEAKED. A dumb @60Minutes hit job on a grandstanding Never Trumper!

— Donald J. Trump (@realDonaldTrump) May 18, 2020
Just a reminder that @CNN is a total joke:

"Mask-police CNN reporter @kaitlancollins caught removing hers at presser, as soon as she thought cameras were off"

Cc: @brianstelter pic.twitter.com/dTv7d983wQ

— Eric Trump (@EricTrump) May 17, 2020
The beach at the Virginia Beach Oceanfront was closed today. But it was packed.

This photo was taken at 3:42 p.m. this afternoon by Virginian-Pilot photographer Kaitlin McKeown. https://t.co/Ws2EFAF976 pic.twitter.com/x3lLF1wuHT

— The Virginian-Pilot (@virginianpilot) May 17, 2020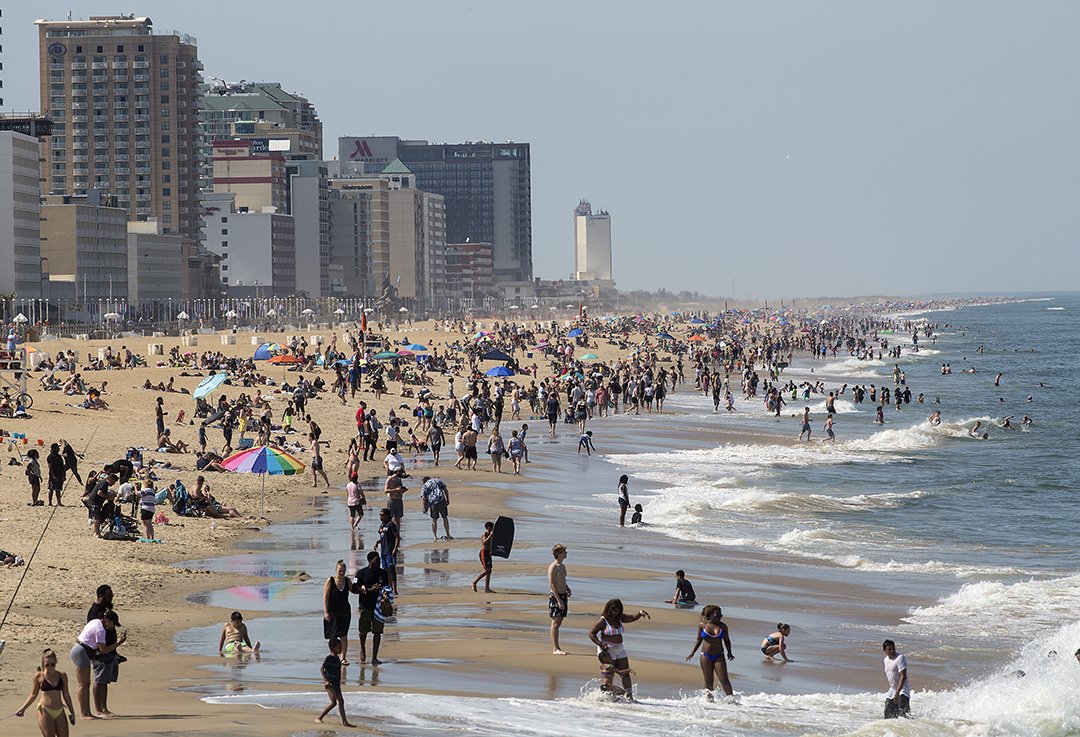 Jersey ain't playin no games!#WRWY!! 🇺🇸#AmericaStrong#OpenAmericaNOW pic.twitter.com/3aSGp9U9jH

— RedCap004BU (@BuCap004) May 18, 2020
You Shouldn't Have To Be A Billionaire Like Elon Musk To Re-Open Your Business
By caving in to Elon Musk's demand to reopen, government officials showed their health orders have been arbitrary and ineffective all along. Elon Musk won his game of chicken against local government bureaucrats last week. His company Tesla opted to reopen its assembly Monday in defiance of the Alameda County public health order. Now, Alameda County has agreed to the reopening. That bureaucrats caved to Musk reveals two important things: Government health orders are arbitrary, and authorities are willing to make exceptions for powerful billionaires, while squelching small businesses.
 Source: thefederalist.com
A group of 54 African nations has joined Australia's push for an inquiry into coronavirus, taking the total number of countries on board to 116.
More than 110 countries have backed Australia's push for an independent coronavirus inquiry which has caused a damaging rift with China.
The African Group's 54 member states will co-sponsor the motion, joining 62 other countries including Russia, Indonesia, India, Japan, Britain and Canada.
The European Union's 27 members are all on board, along with Brazil, South Korea, Mexico, Turkey and New Zealand.
Foreign Minister Marise Payne on Monday said it was encouraging to see so many countries backing the inquiry.
Source:  sbs.com.au
Wow! The Front Page @washingtonpost Headline reads, "A BOOST IN TESTS, BUT LACK OF TAKERS." We have done a great job on Ventilators, Testing, and everything else. Were left little by Obama. Over 11 million tests, and going up fast. More than all countries in the world, combined.

— Donald J. Trump (@realDonaldTrump) May 18, 2020
Paging Dr. Fauci: scientific evidence shows mortality rate for coronavirus approximates the annual flu for people under 60#freeourpeople #openeconomynow

Horowitz: One chart exposes the lie behind universal lockdowns – Conservative Review https://t.co/1FrFWiVBPA

— Senator Rand Paul (@RandPaul) May 17, 2020
What is the true infection fatality rate of COVID-19, broken down by age and health status? 
the chart  prepared by the Economisch Statistische Berichten (ESB), a Dutch economics magazine, quantifying the infection fatality rate for the Dutch population based on age bracket. The data were calculated from an antibody test of 4,000 blood donors conducted by Dutch blood bank Sanquin to see how many have been infected for the purpose of donating blood plasma to those currently suffering from the virus. The data were presented to the Dutch House of Representatives in mid-April by the National Institute for Public Health and the Environment (RIVM).
As you can see, the death rate doesn't even climb above .1% until you reach over 70,
Source: conservativereview.com
The number of Coronavirus cases is strongly trending downward throughout the United States, with few exceptions. Very good news, indeed!

— Donald J. Trump (@realDonaldTrump) May 17, 2020
Source: saracarter.com
Theraputics more important than vaccines take a listen to what trump said. 
Trump is taking HCQ, many front line workers take it, doctors are taking it. Take a listen to what Trump said. 
---
Q
Military tribunals in the United States
A military tribunal is an inquisitorial system based on charges brought by military authorities, prosecuted by a military authority, judged by military officers, and sentenced by military officers against a member of an enemy army.