Brennan On Deck, See Something Say Something, Panic In DC – Episode 2256
The US economy has now added 1.8 million jobs, 3x bigger that last administration. The economy is recovering we are seeing V shape recoveries everywhere. It is time to end the petrodollar war and to pull out. New deals must be made. The patriots are in control, the [DS] is panicking. Brennan is speaking to Durham today, he is going to find out how much he knows. The question is will he make a deal, most likely not. The [DS]/MSM are now trying to trap Trump but the opposite is happening, he knew what they are up to and trapped them.
Check Out The X22 Report Spotlight YouTube Channel X22Report Spotlight
Please check Newzsentinel.com for the latest news on the economic collapse. The Sentinel Alerts are updated throughout the day.
---
Current News – 08.21.2020
Watch The X22 Report On Video
---
Economy
The U.S. economy added 1.8 million jobs in July. That's 3X bigger than ANY month under VP Joe Biden.

President Trump built the best economy in American history before the China virus hit, and he is doing it again! https://t.co/h7Ezb3GGm5

— Trump War Room – Text TRUMP to 88022 (@TrumpWarRoom) August 21, 2020
After a 20.7% MoM surge in June, July's existing home sales were up a stunning 24.7% MoM (crushing expectations of a 14.6% MoM) and sending home sales up 8.72% YoY
Source: Bloomberg
The SAAR rose from 4.70mm to 5.86mm in July, the highest since Dec 2006…
Source: Bloomberg
The median existing-home price for all housing types in July was $304,100, up 8.5% from July 2019 ($280,400), as prices rose in every region. July's national price increase marks 101 straight months of year-over-year gains. For the first time ever, national median home prices breached the $300,000 level.
Source: Bloomberg
Source: zerohedge.com
President Trump has again vowed that all US troops will soon be out of America's second longest occupation in Iraq 
"We were there and now we're getting out. We'll be leaving shortly and the relationship is very good. We're making very big oil deals. Our oil companies are making massive deals. … We're going to be leaving and hopefully we're going to be leaving a country that can defend itself."s
"Make very big oil deals," as Trump underscored Thursday.
 , Energy Secretary Dan Brouillette announced energy agreements worth up to $8 billion between the Iraqi minsters of oil and electricity and five U.S. companies — Honeywell, Baker Hughes, GE, Stellar and Chevron.
Source: zerohedge.com
---
Political/Rights
Boat Parades: "Insane grifters."

Golf Cart Parades: "Impressive and a good sign for Team Biden."

A story in four acts. pic.twitter.com/tYYiPPHEaw

— Andrew Clark (@AndrewHClark) August 21, 2020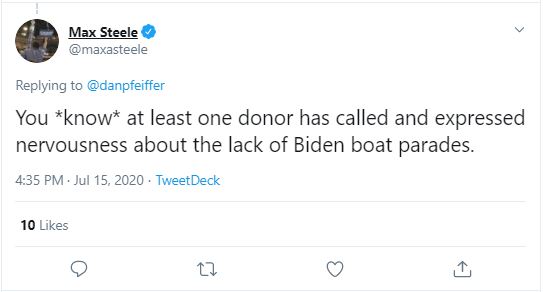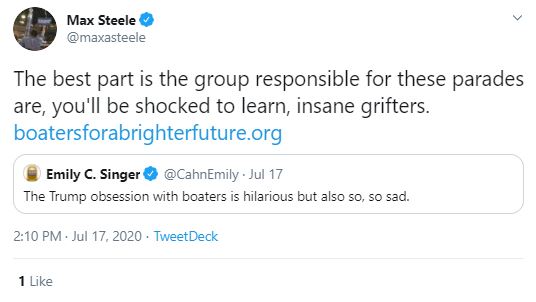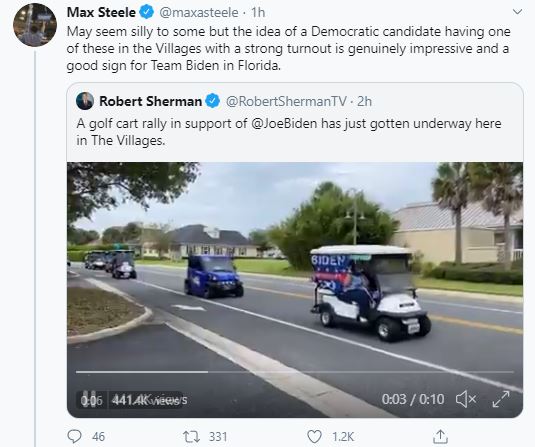 Things to watch as a result of the Durham-Brennan interview:

1) Joseph Mifsud/Azra Turk identity and handlers

2) UK and Australian intelligence used against the campaign

3) Why Trump advisors were constantly invited to London to meet with agents

4) Brennan lying to Congress

— George Papadopoulos (@GeorgePapa19) August 21, 2020
Ghislaine Maxwell update – Letters to the Judge from the DOJ:

The investigations into Maxwell "and other possible co-conspirators of Jeffrey Epstein remain active."

Maxwell and the co-conspirators are subjects of "ongoing grand jury investigations." pic.twitter.com/5tP04oD1y2

— Techno Fog (@Techno_Fog) August 21, 2020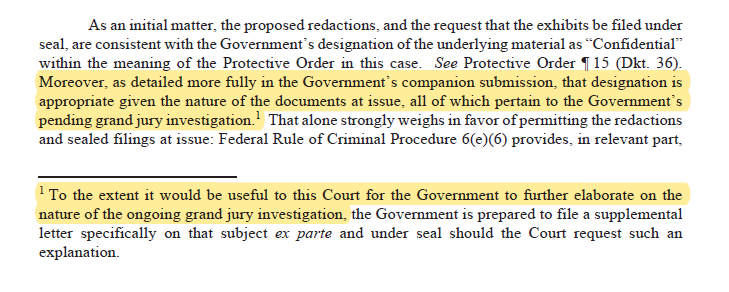 U.S. prosecutors suggest additional charges could be coming in Jeffrey Epstein, Ghislaine Maxwell probe
#BREAKING: Trump says universal mail-in voting could make election uncallable: "Not going to be able to know the end of this election, in my opinion, for weeks, months, maybe never, maybe years but maybe never — 'cause once you go past the first week you're never going to know." pic.twitter.com/KIghW1QlEr

— The Hill (@thehill) August 21, 2020
Trump has also raised concerns about mail-in voter fraud President Trump plans to send law enforcement officers and U.S. attorneys to polling stations in November to prevent voter fraud.
"We're going to have sheriffs, and we're going to have law enforcement. And we're going to have hopefully U.S. attorneys, and we're going to have everybody and attorney generals," the president said Thursday night on Fox News' "Hannity" show, when asked whether he would have the "ability" to prevent voter fraud.
Source: justthenews.com
The Democrats are demanding Mail-In Ballots because the enthusiasm meter for Slow Joe Biden is the lowest in recorded history, and they are concerned that very few people will turn out to vote. Instead, they will search & find people, then "harvest" & return Ballots. Not fair!

— Donald J. Trump (@realDonaldTrump) August 20, 2020
 MSM, Michigan Secretary of State Jocelyn Benson (D) said, "there is absolutely zero difference between voting by mail and voting absentee" 
VERDICT: False. There are major differences between mail-in voting and absentee voting.  
Universal mail-in voting,  does not require a voter to request a ballot. Instead, every registered voter on a county or state's voter rolls is mailed a ballot unsolicited.
In contrast, absentee voting requires a voter to request an absentee ballot before election day. In 34 states and Washington, D.C., voters do not need a reason to be mailed an absentee ballot. In other states, specific excuses are needed to be sent an absentee ballot
Source: breitbart.com
Postmaster General Louis DeJoy   testified in a Senate hearing on the supposed USPS operational changes made during Covid. 
For the last few weeks the MSM have spread wild conspiracy theories about the post office and Louis DeJoy.
Protesters last week showed up to DeJoy's DC home and harassed him with a "noise demonstration."
Mr. DeJoy   set the record straight  
"There has been no changes in any policies with regards to election mail for the 2020 election," DeJoy said.
WATCH:
Postmaster General Louis DeJoy sets the record straight on the Democrats' post office conspiracy theory:

"There has been no changes in any policies with regards to election mail for the 2020 election." pic.twitter.com/yPLHaO9EXc

— Trump War Room – Text TRUMP to 88022 (@TrumpWarRoom) August 21, 2020
Postmaster General Louis DeJoy on the retirement of blue postal boxes and postal sorting machines:
"It's a data-driven method…This is a normal process that's been around for 50 years…
"This has been going on in every election year and every year for that matter."
WATCH:
Source: thegatewaypundit.com
To get into the Democrat National Convention, you must have an ID card with a picture…Yet the Democrats refuse to do this when it come to your very important VOTE! Gee, I wonder WHY???

— Donald J. Trump (@realDonaldTrump) August 21, 2020
---
Geopolitical/Police State
I STAND FOR LAW AND ORDER AND I TOOK ACTION! Operation LeGend has led to the arrest of over 1,000 criminals, including 90 killers, all while Sleepy Joe Biden and the Radical Left excuses violence and crime in their Democrat-run cities. I want safety & security, Joe allows CRIME!

— Donald J. Trump (@realDonaldTrump) August 20, 2020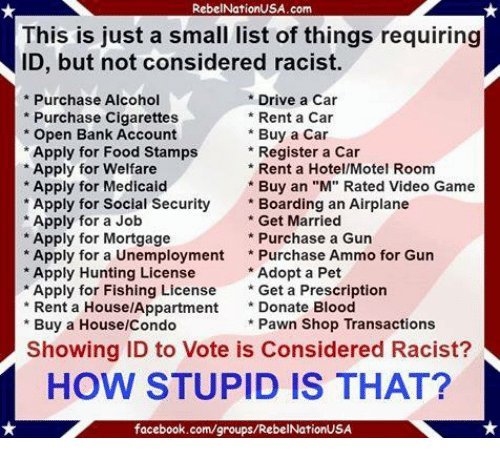 ---
---
False Flags
Mayor Lori Lightfoot defended the Chicago Police Department's ban on protesters being able to demonstrate on the block where she lives, telling reporters  that she and her family at times require heightened security because of threats she receives daily.
 "I think that residents of this city, understanding the nature of the threats that we are receiving on a daily basis, on a daily basis, understand I have a right to make sure that my home is secure," Lightfoot said.
Source: chicagotribune.com
---
Q
PANIC IN DC
A group of 70 Republican national security officials — spanning the administrations of Ronald Reagan through Donald Trump — have released a scathing letter criticizing President Trump's leadership and endorsing Joe Biden.https://t.co/jbXy2LIE0x

— NPR (@NPR) August 20, 2020
With questions about Qanon being asked of POTUS, Pence and McCarthy, the media's plan seems clear.

They intend to get conservative leaders to denounce Q in the hope that it will discourage people from learning about Q for themselves.

— Praying Medic (@prayingmedic) August 21, 2020
This is Antifa/BLM posing as Q supporters.

Book it. https://t.co/9hbBbBN58g

— Julian's Rum 🥃 (@JuliansRum) August 21, 2020
Do you see whats missing, look closely
@lisamei62 When you know their game plan, distract, switch their ready made script while they're distracted. PDJT maneuver them to the Q subject that would cause them to act against QANON's, thus PDJT in reality cleared the decks to get QANON's out of the line of fire, they made all the moves PDJT wanted without him telling them to. Now whatever FF initiated befalls back on them, because they unwittingly cleared the deck and only they will be standing on the decks alone.
QANON's may grumble a bit, but PDJT just moved them away from the line of fire without alerting the enemy.
You can count the people who have the full picture on two hands.
Of those (less than 10 people) only three are non-military.
Why is this relevant?
Game theory.
Outside of a potential operator who has been dialed-in w/ orders (specific to his/her mission) nobody else has this information.
Operators never divulge.
Alice & Wonderland.
Q is forcing the masses into the ultimate choice:

1. Let them think for you
2. Think for yourself

The MSM wants to stop the latter. They're not really attacking Q, they're attacking YOU.

There was only one way the MSM could ever be destroyed:

You choosing 2. It's happening. pic.twitter.com/VpsLxqyCsT

— Julian's Rum 🥃 (@JuliansRum) August 20, 2020