Fifth Column Exposed, Panic In DC, Trapped With No Way Out – Episode 2255
The [CB] is now pushing their agenda in CA, this will fail. The wealth tax has already proven not to work and it does not help the economy. Trump has now poitioned the economy, the instituted the payroll tax holiday and when everything is all said and done it will be forgiven and permanent. The [DS] has fallen right into the trap, they took the bait. We build the wall was a money laundering operation and SB was apart of it. The fifth column has been exposed and DC is now in a panic. Trump did not denounce the '17' movement and the [DS]/MSM are panicking big time.
Check Out The X22 Report Spotlight YouTube Channel X22Report Spotlight
Please check Newzsentinel.com for the latest news on the economic collapse. The Sentinel Alerts are updated throughout the day.
---
Current News – 08.20.2020
Watch The X22 Report On Video
---
Economy
A wealth tax has many problems. While it makes for great "soak the rich" soundbites, in reality, it's ineffective at reducing inequality. What wealth taxes do best is to disrupt the accumulation of capital. Since most wealth is invested and provides capital for innovators and producers to draw upon — and for workers to work with — all Americans would suffer from a wealth tax.
In a recent paper published by the Center for Freedom and Prosperity, economists John Diamond and George Zodrow of Rice University's Baker Institute added to the extensive evidence on wealth-taxation's negative effects.
The authors simulated the Warren wealth tax's economic effects and how that impacts the lifetime earnings of different income groups. They estimate that long-run GDP would be 2.7% lower than it would be without a wealth tax. They also found declines in lifetime wealth from the upper to lower-middle classes.
To gauge the wealth tax's impact, Diamond and Zodrow had to make assumptions about how the money would be used. Paying down the national debt, for instance, has different implications for capital allocation than beefing up welfare programs. Since tax proponents tell us they prefer to do the latter, the simulation assumes that wealth tax revenues would be used for redistribution in similar proportions to current spending. The authors thus found small increases in lifetime per-household wealth for bottom income earners, ranging from $100 to $500.
These very small "benefits" (to use the term rather loosely) come at very high costs. Initial losses in average household income would amount to about $2,500.
Nations like France, which dropped its wealth tax in 2018, learned the hard way that taxpayers don't sit idly by while the fruits of their life's labor are looted. They go elsewhere.
The wealthy are already fleeing California 
Source: thenewamerican.com
The Trump administration is looking to ensure that the payroll tax deferral implemented by executive action is fully forgiven, meaning there would be no liability for the deferred taxes.
"As far as the payback is concerned, you know, you could stretch that out for a long period of time. … You've got a lot of elbow room to get around that issue," White House economic adviser Larry Kudlow said  .
 Trump's claim that he would abolish the payroll tax if reelected in November, explaining that the plan is to forgive the deferred taxes and perhaps extend the cut into next year.
"The payroll tax deferral will be forgiven," Kudlow said   "When he says, 'We'll terminate it,' that's what he is referring to. It will be forgiven."
Source: washingtonexaminer.com
---
Political/Rights
A few thoughts from Clinesmith's Statement of Offense and plea agree. Yes, Clinesmith is "cooperating." 1/ pic.twitter.com/Tfa8V8kjzw

— Margot Cleveland (@ProfMJCleveland) August 20, 2020

2/ So who were those "certain members" who received notice that @carterwpage was a source for the CIA? pic.twitter.com/xZ7eYyqoHM

— Margot Cleveland (@ProfMJCleveland) August 20, 2020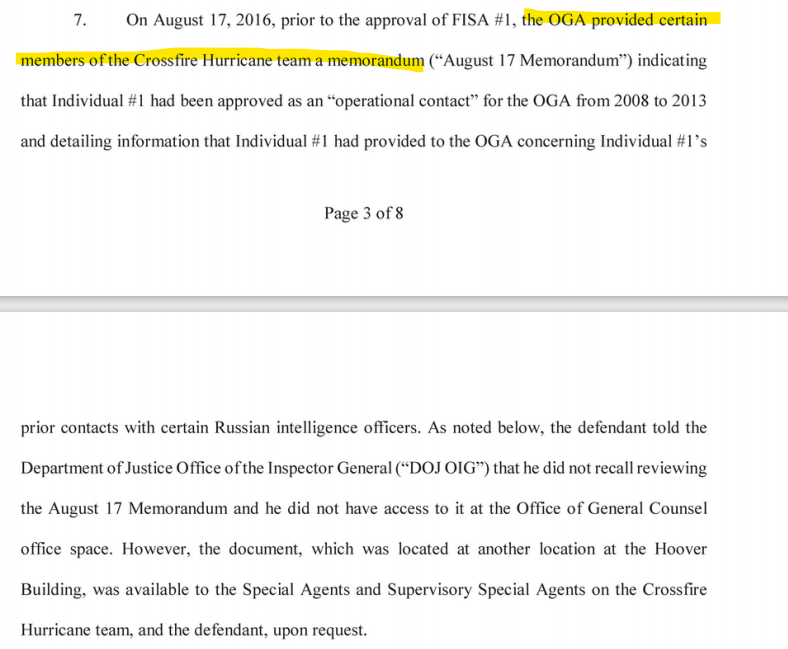 3/ And Statement of Offense for Clinesmith made clear it was knowing at time it was altered. pic.twitter.com/0q7QQ2CsDY

— Margot Cleveland (@ProfMJCleveland) August 20, 2020

A former State Department official destroyed reports he received from former British spy Christopher Steele, according to a Senate report  
Jonathan Winer, who was Steele's point of contact at the State Department, said that Steele asked him to destroy the records in January 2017, the same month that the Trump dossier became public. 
The Senate report also says that Winer initially denied that he arranged a meeting in October 2016 for Steele at the State Department. Winer corrected his statement in a follow-up interview after he was shown State Department visitor logs. 
Jonathan Winer, who served as special envoy to Libya through early 2017, was Steele's contact at the State Department. He arranged a meeting for Steele in October 2016 with another State Department official at Foggy Bottom to share findings from a dossier of research he had compiled on Donald Trump.
Source: dailycaller.com
#BREAKING: Newly Organized National White House Correspondents Association Launches, Offers Counterpoint to 117-Year-Old @WHCA.

"Rion's NWHCA is seeking shared control of WH briefing room and all other delegated press functions with the 117-year-old WHCA"https://t.co/HSheYhGJaa pic.twitter.com/KSCxNSiBPt

— Chanel Rion OAN (@ChanelRion) August 20, 2020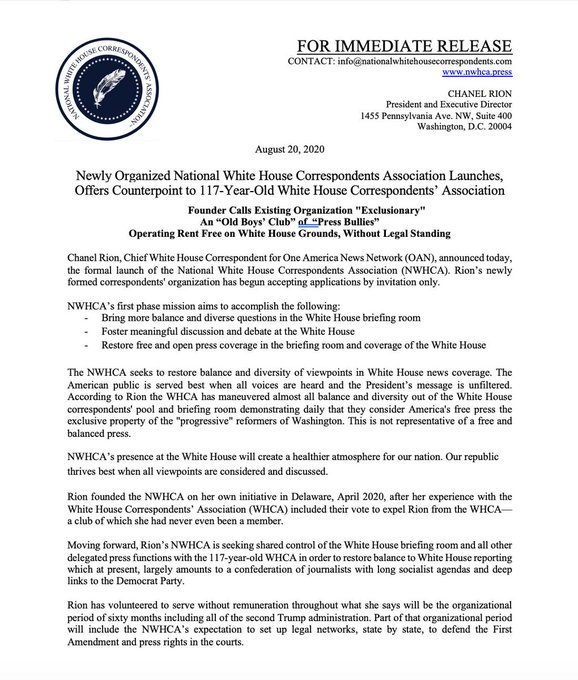 WHY DID HE REFUSE TO ENDORSE SLOW JOE UNTIL IT WAS ALL OVER, AND EVEN THEN WAS VERY LATE? WHY DID HE TRY TO GET HIM NOT TO RUN?

— Donald J. Trump (@realDonaldTrump) August 20, 2020
A federal judge has tossed President Trump's attempt to fight a subpoena by the Manhattan district attorney for his tax records, handing the Commander in Chief a loss in his high-profile legal battle.
The news follows a 7-2 decision by the Supreme Court last month that a New York Grand Jury can have President Trump's tax records – after Manhattan DA Cyrus Vance, Jr. subpoenaed eight years of returns along with other records in connection with an investigation into hush money payments made to porn star Stormy Daniels.
Vance Jr. (whose father was Jimmy Carter's Secretary of State – and who took money from Harvey Weinstein while declining to prosecute him for sexual assault – and who sought a reduced sex-offender status for Jeffrey Epstein) wants to see if Trump's reimbursement of former attorney Michael Cohen for payments to Daniels and another woman violated any laws in New York, and whether Trump's accounting firm falsely accounted for the reimbursements as a legal expense.
Source: zerohedge.com
Leaders Of 'We Build The Wall' Online Fundraising Campaign Charged With Defrauding Hundreds Of Thousands Of Donors
Brian Kolfage, Stephen Bannon, and Two Others Alleged to Have Funneled Hundreds of Thousands of Dollars From the Organization to Kolfage; All Four Defendants Allegedly Profited From Their Roles in the Scheme
Audrey Strauss, the Acting United States Attorney for the Southern District of New York, and Philip R. Bartlett, Inspector-in-Charge of the New York Field Office of the United States Postal Inspection Service ("USPIS"), announced the unsealing of an indictment charging BRIAN KOLFAGE, STEPHEN BANNON, ANDREW BADOLATO, and TIMOTHY SHEA for their roles in defrauding hundreds of thousands of donors in connection with an online crowdfunding campaign known as "We Build the Wall" that raised more than $25 million.  The defendants were arrested this morning.
Acting U.S. Attorney Audrey Strauss said:  "As alleged, the defendants defrauded hundreds of thousands of donors, capitalizing on their interest in funding a border wall to raise millions of dollars, under the false pretense that all of that money would be spent on construction.  While repeatedly assuring donors that Brian Kolfage, the founder and public face of We Build the Wall, would not be paid a cent, the defendants secretly schemed to pass hundreds of thousands of dollars to Kolfage, which he used to fund his lavish lifestyle.
Source: justice.gov
BTW, don't forget, not only did Trump toss Bannon ass-first out of the White House for peddling smears about Jared & Ivanka, Rudy G said he's dropping something BIG today.
#BannonIndicted Law enforcement source tells @CBSNews yacht on which Bannon was arrested is registered to a Chinese billionaire Guo. The yacht is 152 feet long.
US coast guard assisted federal investigators from SDNY + agents from US postal inspection service made the arrest.

— Catherine Herridge (@CBS_Herridge) August 20, 2020
Postal inspectors investigative powers include on-line fraud: Electronic Crimes (18 USC 1029, 1030, 1343, and 2701) "fraud schemes + other crimes that may occur online + involve misuse of the mail..using computer communications in scheme to defraud" #PatMilton #CBSInvestigations

— Catherine Herridge (@CBS_Herridge) August 20, 2020
 All the assets they accrued through this fraud have been seized through asset forfeiture. And then, having raised the money under false pretenses, they then laundered it to try to hide where the money went. Understand: this is TWO federal crimes so far, not just one.
So was Berman protecting Bannon this entire time
---
False Flags
 

Arizona 

has seen a 66% decline since its peak on July 14th,  the four major recent outbreak states (AZ, CA, FL, TX) experiencing a 13% decline since the peak on July 30th.
There's more: as BofA also points out, "we continue to see clear signs the Coronavirus is rolling over in the US as the number of people hospitalized due to COVID-19 declines at a rapid pace of about one percent a day (26% in 23 days)."
Extrapolating, this rate of decline means that there will be zero covid-related hospitalizations around the Nov 3 election day,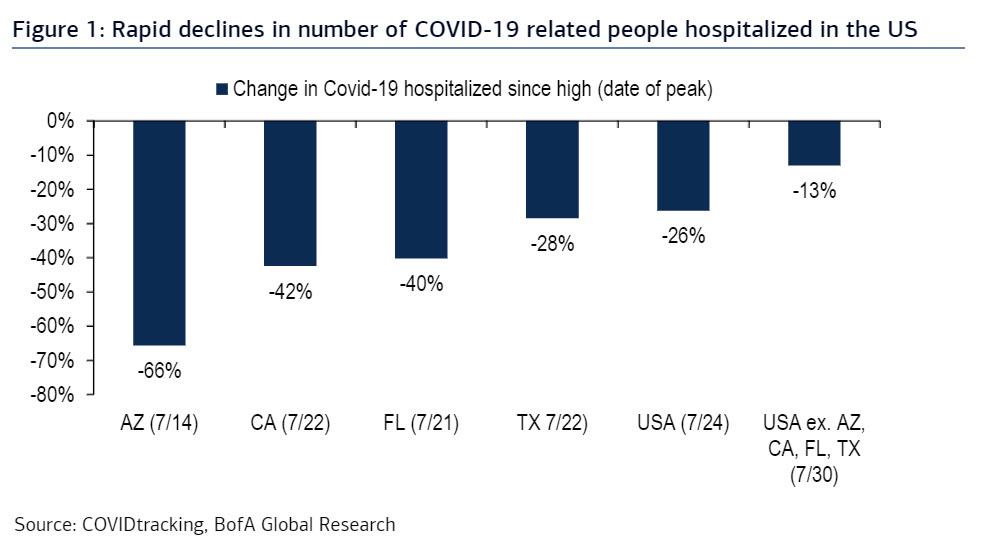 Source: zerohedge.com
Arrest warrant issued for head of Virginia Senate, 13 others in monument attack that resulted in critical injury
Virginia State Sen. Louise Lucas (D), who serves as Senate Pro Tempore, has been charged with felony conspiracy and other charges in an incident where she, along with other conspirators, allegedly damaged a Confederate statue in Portsmouth that also resulted in serious injuries to a protester.
"Sen. Louise Lucas faces charges of conspiracy to commit a felony and injury to a monument in excess of $1,000,
The protester, Chris Green, was critically injured at the scene and is currently under care at a rehabilitation center with permanent injuries. The incident happened in June.
Source: theuswire.com
Trump asks Supreme Court to let him block critics on Twitter https://t.co/eADiFofRGL pic.twitter.com/YwHkCFDzoh

— The Hill (@thehill) August 20, 2020
---
Q
Ask yourself a very simple question –
Why is everything re: 'Q' being censored, banned, and attacked?
When do you expend ammunition [resources]?
Q
Facebook has removed or restricted hundreds of pages, accounts, and groups related to Qanon claiming, without evidence, that the accounts violate its policy regarding "dangerous individuals and organizations."
Why are multi-billion dollar companies expending massive resources to shut down a so-called fringe conspiracy? What threat does Q pose to them?
Trump did not condemn Q, the press, the DS are now panicking
TAKE A LISTEN
Submarine pilot
[unusual]
?
Helicopter pilot?
What benefit might that serve?
Q
The question why would she have these type of skills
They would be used to transfer people and cargo to and from Little St. James Island.
Lobbyist bought tropical land from Biden's brother
Scott Green, a lobbyist with close ties to Joe Biden, purchased Virgin Islands property from James Biden and then extended him a private mortgage.
in 2005, Joe Biden's brother bought an acre of land with excellent ocean views on a remote island in the Caribbean for $150,000. He divided it into three parcels, and the next year a lobbyist close to the Delaware senator bought one of the parcels for what had been the cost of the entire property. Later, the lobbyist gave Biden's brother a mortgage loan on the remaining parcels.   
Water Island is a 500-acre spit of land in the U.S. Virgin Islands. The Department of Defense purchased the island from a Danish company during World War II, using it to protect a submarine base on nearby St. Thomas. Since then, it has become an under-the-radar tropical getaway dotted with several-dozen homes, where the largest beachfront estates can fetch north of a million dollars.
Q
76e5eef37501086b1fd8f2bff51b1537d78acaf84dbc4f504860ccbe041846ae.jpg
The media's fatal attraction to Q is a symptom of Washington DC's fear of the movement.
Every tech platform that "cracks down" on #QAnon content is implicating itself in the #Spygate/#Obamagate megascandal. These are not legitimate content policing policies, they are criminal collusion in a coup attempt. The consequence will be prosecution, regulation, and break up.

— Martin Geddes (@martingeddes) August 20, 2020
FIFTH COLUMN.
Q
Fifth column, clandestine group or faction of subversive agents who attempt to undermine a nation's solidarity by any means at their disposal. The term is conventionally credited to Emilio Mola Vidal, a Nationalist general during the Spanish Civil War (1936–39). As four of his army columns moved on Madrid, the general referred to his militant supporters within the capital as his "fifth column," intent on undermining the loyalist government from within.A cardinal technique of the fifth column is the infiltration of sympathizers into the entire fabric of the nation under attack and, particularly, into positions of policy decision and national defense. From such key posts, fifth-column activists exploit the fears of a people by spreading rumours and misinformation, as well as by employing the more standard techniques of espionage and sabotage.
The panic in DC includes members of the "Fifth Column."