Change Of Batter Coming, At Dawn Trump & The People Will Win, Trump Card Coming – Ep. 3206
Podcast: Download (Duration: 1:23:02 — 35.6MB)
Watch The X22 Report On Video
Germany's push to make everything green is destroying the country. The people will not be able to take this much longer. Trudeau is in trouble in Canada, the economy is imploding. Battery bus lost power and crashed into cars. The people are waking up and they are no longer believing Biden, game over. The patriots needed to show the people the truth, and the only way to do this was to have them experience the plan of the [DS]. As the people walk through it more and more are waking up, the final battle is around the corner. Trump will protect the vote, he is talking about paper ballots with watermarks. Scavino sends a message that at dawn the people and Trump win. Trump sends a message, the Trump card is coming.
---
Economy
Trudeau's inflow will rise from 465,000 in 2023, up to 485,000 in 2024 and then 500,000 per year after, immigration minister Marc Miller said November 1.
The extra "newcomers" per year are needed to build houses and provide healthcare for the migrants already imported by Trudeau's government, Miller said.
The government will legally import "workers to Canada who can help alleviate social pressures in key areas like housing and health care," an October 31 report said.
But Canada's government also hides much additional migration by not counting migrants who are defined as supposedly short-stay foreign students. Roughly 700,000 supposed students arrived in the first six months of 2023. With this sleight of hand, the government pulled in a million migrants in 2022, inflating Canada's total population to 40 million.
Trudeau's long-term immigration plan would annually add five extra permanent migrants — not counting foreign "students" — for every four youths who graduate from Canada's high schools.
Source: breitbart.com
🔊 … Justin Trudeau gets wrecked in this interview 🚨🚨🚨

"Since you took power in 2015, the benchmark housing prices have gone up 70% in this country"

"The average rent is now north of $2000 a month and going up $100 a month"

"Your polling numbers are pretty bad right now"… pic.twitter.com/m7WNDIY0YO

— Wall Street Silver (@WallStreetSilv) November 7, 2023
  "They are as bad as they've ever been for your government"
Google's "100% Battery Electric" bus lost power on a hill in San Francisco, fell backward and crashed into a bunch of cars.

The great electric vehicle revolution in one video. pic.twitter.com/0A9Y385DPM

— Citizen Free Press (@CitizenFreePres) November 6, 2023
How Much Were Groceries in 2001?

This Video Explains How Times Have Certainly Changed
🔥🔥🔥  

— Wall Street Silver (@WallStreetSilv) November 5, 2023
Why does inflation "feel" worse than the numbers report?

In part—we don't calculate it the same way we did in the 1980s

And most of the changes yield artificially LOWER readings pic.twitter.com/nzSL5pzgJ7

— Amy Nixon (@texasrunnerDFW) November 7, 2023
The extra money people saved during COVID is almost gone, per BI: pic.twitter.com/bN9afg7SEi

— unusual_whales (@unusual_whales) November 7, 2023
1st, labor market is still recovering to pre-pandemic trend; 2nd, don't underestimate the Fed's $400+ billion liquidity infusion from Mar which rewound the countdown on job losses, recession, yield curve normalization, etc.
Expect job losses early '24… pic.twitter.com/XWdxEL6WJm

— E.J. Antoni, Ph.D. (@RealEJAntoni) November 6, 2023
🔊 … Did your college lie to you about how successful you would be if you get your degree and even a masters degree?

"they really made it seem like you graduate college, financially you are set. You will never struggle because you are educated"

"I've never had so little money… pic.twitter.com/wpZcGbtdEA

— Wall Street Silver (@WallStreetSilv) November 7, 2023
Switzerland, fresh off a $185 billion bank bailout, is now considering restricting bank withdrawals to lock depositors in next time.

The Fed is not far behind, promoting "friction tech" that would lock us in. Because they're making banks not only too big to fail, they're too… https://t.co/XtME2UIt1A

— Wall Street Silver (@WallStreetSilv) November 7, 2023
 big to bail out. Meaning you get to fund the next bailout.
Less than a quarter of Americans believe they would be financially better off if President Joe Biden wins reelection, a CBS News/YouGov poll found Sunday.
The polling indicates Biden will face a very tough reelection bid against likely opponent former President Donald Trump. Presidential elections are often decided by economic issues.
Just 18 percent say Biden's potential second term would financially benefit them, while 48 percent of Americans believe their financial position would worsen. Thirty-four percent think it would remain the same.

In contrast, 45 percent of Americans say they would be financially better off if Trump wins the 2024 election, 27 points greater than Biden. Only 32 percent believe they would be worse off, 16 points less than Biden. 
Americans believe Biden's economy in 2024 will remain sour:
Only 19 percent say the economy will grow, while 59 percent expect the economy to worsen.

Eighty percent of Americans believe the wealthy are favored over the middle and working-class in Biden's America. Only 14 percent say the middle and working classes are treated the same as the rich under Biden's leadership.
Source: breigbart.com
---
Political/Rights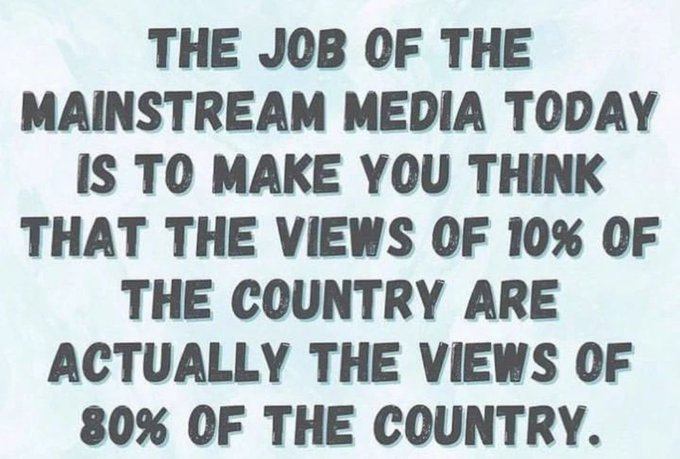 EXCLUSIVE: Former Trump Official Sues Biden Admin Over Committee With Members Who Signed Hunter Biden Laptop Letter
Former Director of National Intelligence (DNI) Richard Grenell along with America First Legal are suing the Biden administration,
The Department of Homeland Security (DHS) announced the formation of the "expert" board to address issues of national security in September to include Former Director of National Intelligence James Clapper, former CIA Director John Brennan and former CIA Operations Officer Paul Kolbe, who all signed an October 2020 letter casting doubt on the legitimacy of the Hunter Biden laptop and suggesting its release was a Russian disinformation ploy. The latest legal action alleges that the group's creation was done in an illegal manner and that it lacks credible members, according to the copy of the lawsuit.
Source: dailycaller.com
House Judiciary Committee Republicans are pressing ahead with sweeping reforms to the government's FISA surveillance powers that among other things would would prohibit the FBI from searching through Americans' phone records without a court-approved warrant.
The effort is on track to be wrapped up by the end of the year when several Patriot Act powers expire. Republicans and Democrats are coming together on this matter in rare bipartisan cooperation, lawmakers told Just the News.
"We've got, I think, strong agreement amongst members of the Intel Committee and members of the Judiciary Committee. And frankly some Democrats as well, that there needs to be stronger penalties if you abuse the system," Judiciary Committee Jim Jordan, R-Ohio, told the "Just the News, No Noise" television show in an interview aired Friday night.
Jordan said he was focused on what is known as the Section 702 system "where they can create this database" of phone communications metadata that currently can be searched by agents without a warrant.
Source: justthenews.com
---
Geopolitical/Police State
New emails released by the House Judiciary Committee reveal the Biden Department of Homeland Security created a Stanford University "disinformation" group that censored Americans' speech before, during, and after the 2020 election. The group, known as the Election Integrity Partnership (EIP), worked with DHS' Cybersecurity and Infrastructure Security Agency (CISA) to flag, suppress and remove online speech in coordination with big tech companies.
 
The EIP, in less than a few months after its launch, was handling millions of takedown requests from mostly governmental agents and actors. Conservatives were their targets.
The New York Post reported:
Source: thegatewaypundit.com
The Department of Homeland Security and CISA created a Stanford University "disinformation" group that censored Americans' speech on Twitter 1.0 before the 2020 election according to @Jim_Jordan and @JudiciaryGOP's @Weaponization Committee.

Individuals targeted include:… pic.twitter.com/OWBK4a38UQ

— ALX 🇺🇸 (@alx) November 7, 2023
According to one EIP member, the EIP was created "at the request of CISA."

The head of the EIP also said that EIP was created after "working on some monitoring ideas with CISA." pic.twitter.com/OREVF7GEw1

— Rep. Jim Jordan (@Jim_Jordan) November 6, 2023
Recent public records request (PRR) documents show the Democrat-controlled Washington State Secretary of State (SOS) paid $147,600 of tax-payer money to an overseas Artificial Intelligence (AI) company based in the UK to surveil anyone using social media platforms that question the partisan narrative of "Free and Fair" elections.
The company, named "Logically" targets people using online social media posts and "Fact Checks" what they deem "Misinformation & Disinformation"- then publishes and sends out regular "Threat Alerts" and bi-weekly "Narrative and Threat Reports" to the SOS based on its AI algorithm preferences.
With so much evidence of election and voter fraud literally being exposed every day, why do election fraud deniers get to be the arbiters of truth? And why are these uninformed people and AI entities deciding what is and what is not TRUTH, misinformation, and disinformation? 
Who is programming into AI, what narrative is true, and what is not?
Regular Logically "mis / dis-information" reports also include, election alerts, threats of violence, threat briefings, flagging Conservative events, etc.
Source: thegatewaypundit.com
Leftists angry that @ElonMusk won't let them scrape @X user data in order to censor and suppress speech. They're also nervous about being held accountable in court for their censorship activities! https://t.co/9lDXtXTcSS

— Tom Fitton (@TomFitton) November 7, 2023
  Source: postmillenial.com
Most of the news media coverage is focused on the leak of the manifesto and ignoring the actual content of the manifesto. Why is that?
Something strange that stuck out to me in the Nashville Trans Terrorist Manifesto

She wrote: "There were several times I could've been caught, especially back in the summer of 2021"

Was she already on the FBI's radar?

Is this why they hid the memo?

Congress should investigate pic.twitter.com/20okDDizac

— DC_Draino (@DC_Draino) November 6, 2023
Holy sh*t! It's possible Biden radicalized the trans Nashville shooter to hate white people with all his rhetoric around "white supremacy." This would make Biden a stochastic terrorist according to the Left's rules. Wow https://t.co/INJ0WGISuT

— Chaya Raichik (@ChayaRaichik10) November 6, 2023
---
War
So Zelensky is postponing the elections, will the [DS] follow 
Stockholm is conquered. pic.twitter.com/qIeDLoUICW

— RadioGenoa (@RadioGenoa) November 6, 2023
An old Jewish man was just murdered by a pro-Palestine protestor in Los Angeles.

This is the current headline on NBC: pic.twitter.com/mpPrVGoUOX

— End Wokeness (@EndWokeness) November 7, 2023
NBC News quietly stealth-edited a headline previously downplaying the death of an elderly Jewish man who died during an altercation with pro-Palestinian counter-protesters.
 xaminer's Office deemed the manner of Kessler's death a homicide.
NBC News intially headlined its report on Kessler's death as "Man dies after hitting head during Israel and Palestinian rallies in California, officials say," according to an archived version of the report. It later changed the headline to read, "Jewish man killed in altercation at dueling pro-Israel and pro-Palestinian rallies in California."
Source: dailycaller.com
BREAKING: Death of Jewish Man Attacked by Pro-Hamas Demonstrator in California Ruled Homicide
Monday November 6th, 2023 :: 07:06 p.m. PST
Just one day after Secretary of State Antony Blinken's meeting with Iraqi Prime Minister Mohammed Shia al-Sudani, a meeting Blinken said was "productive,"  al-Sudani met with Iranian President Ebrahim Raisi and criticized the U.S. and praised Hamas.
From The Daily Caller:
Source:seanhannity.com
Legacy media reporters across the West are failing the public by refusing to disclose the bias that is coming out in reports regarding Hamas' terrorism against Israel, and the Middle East democracy's response, according to a new report.
The problem is that the media, without qualification or explanation, is quoting Hamas' narrative on what is developing in Gaza.
According to an Investigative Project on Terrorism, one problem was with CNN.
That organization said, "As Israel's genocide in the Gaza Strip entered its 17th day today, the death toll climbed to over 5,085, according to latest reports."
But the "source" was the "Palestinian Information Centre," which likely gets its messaging from Hamas.
And then from the BBC, which said, "More than 5,000 Palestinians in Gaza have been killed in air and artillery strikes carried out by the Israeli military in response, according to Gaza's health ministry."
Similar claims came from the Washington Post, CNBC, The Guardian, Euronews and the New York Times, the report said.
"It's also worth noting that none of the [examples] remind readers about the general unreliability of information coming out of Gaza because it is so tightly controlled by a ruthless terrorist organization that swiftly prevents reporters from contradicting its narrative," the report informed.

I
Source: thegatewaypundit.com
🚨Happening now: Thousands pass through the evacuation corridor the @IDF opened for civilians in northern Gaza to move southwards. pic.twitter.com/lq7ZpfMiM4

— COGAT (@cogatonline) November 7, 2023
---
False Flags
"DailyMail has seen new interest in unvaccinated sperm donors on Facebook groups in the US.

Women searching for 'unvaccinated sperm donors' specify 'no Covid vax' on their posts looking to find a baby-making partner." https://t.co/YmrPnodk7X

— Chief Nerd (@TheChiefNerd) November 6, 2023
---
Q
Eric Trump makes a great point. The persecution of President Trump in NY isn't just impacting the Trump family – it's impacting thousands of innocent employees whose jobs are at risk.

"Let's not forget about the thousands of employees. These are maids. These are housekeepers.… pic.twitter.com/mBfl5qyQz8

— TheStormHasArrived (@TheStormRedux) November 7, 2023
These are engineers. These are drivers. These are bell men… There's thousands of people who are collateral damage to Leticia James' games and she doesn't give a damn… These people are cruel. They are cruel, cruel people and they will do anything for their own political power… My father will keep fighting it. I'll keep fighting it. And in the end we will win…" 
"If the Republican presidential primary were held today, which of the following candidates would you vote for?"

Donald Trump-
Men: 51%
Women: 48%
18-39: 47%
40-64: 50%
65+: 54%
White: 50%
Black: 44%
Hispanic: 53%
Dem: 33%
Ind: 46%
GOP: 63%
Conservative: 62%
Moderate: 36%… https://t.co/mh3l52kQCU

— Rasmussen Reports (@Rasmussen_Poll) November 6, 2023
We are a year away from Election Day.

We are continuing our relentless campaign to win over young voters

We won't stop. pic.twitter.com/9hUmt4UDBu

— Charlie Kirk (@charliekirk11) November 6, 2023
Why is Trump 'surging in the polls?'

NY Judge Ergoran shows why – pic.twitter.com/3Q2HK9lgnj

— Rasmussen Reports (@Rasmussen_Poll) November 6, 2023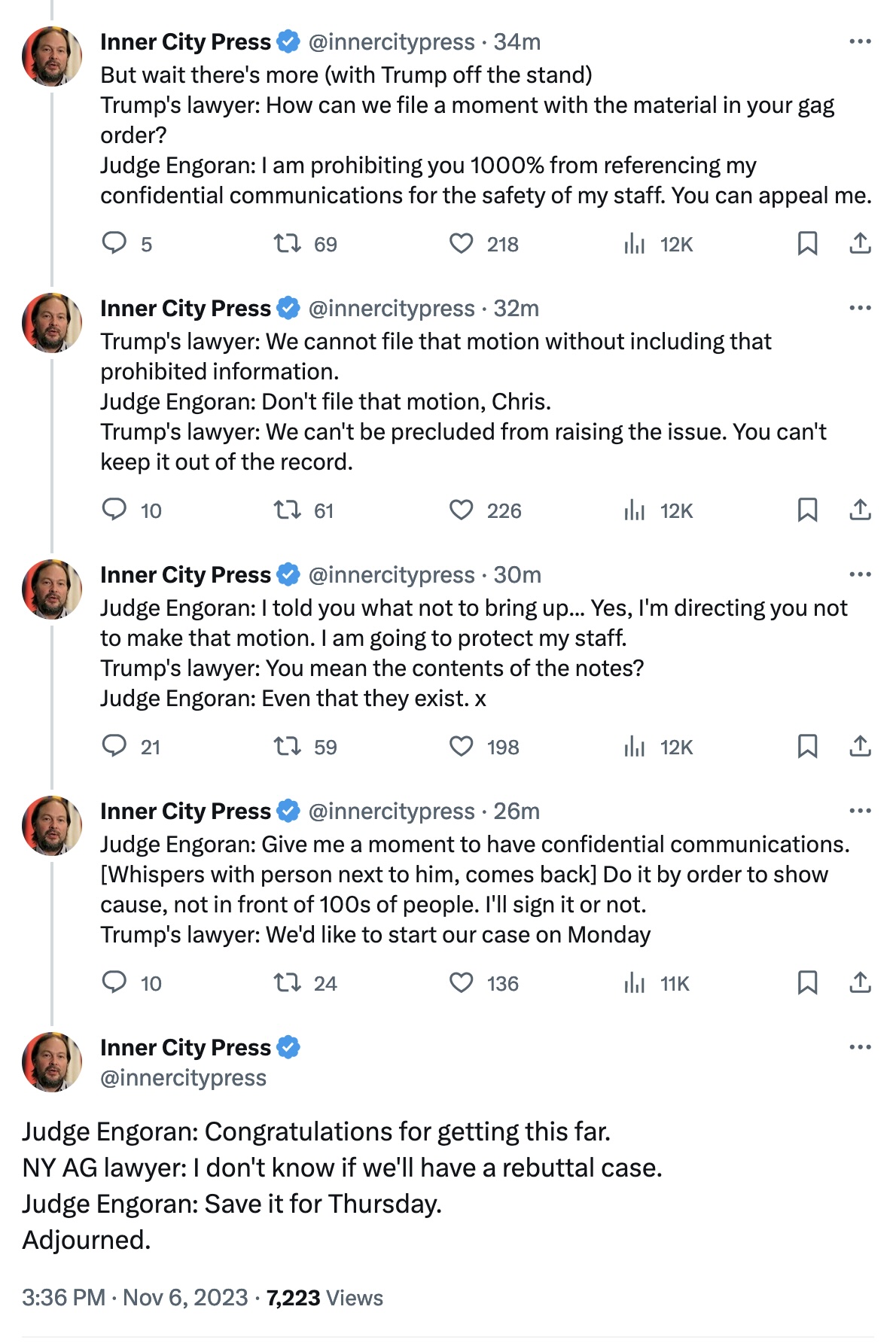 Van Jones now thinks it's time for Biden to consider hanging it up and calling it a career.
While on CNN, where Jones is a political commentator, he made it clear that the beleaguered U.S. president should think about stepping aside for the good of the country.
"I would argue that it's time for him to look at that, looking at these numbers. People say, 'Well, you know, Obama was down.' Joe Biden is not Obama. Obama … still had the legs, he had the charisma. Biden is not there 
Source: beckernews.com
Trump mentioned a special kind of paper and watermark used on paper ballots that are impossible to forge. Now would be a good time to watch my latest Vampire Hunter where I interviewed the great Mike Lindell. He's confident the 2024 elections are safe and there is a plan! 💥 https://t.co/C8DlGlS5Ht pic.twitter.com/mDi9T3CkW7

— LIZ CROKIN (@LizCrokin) November 5, 2023
TAKE A LISTEN
PAPER BALLOTS, ONE DAY VOTING, WATERMARKS TO SECURE THE VOTE
— Dan Scavino Jr.🇺🇸🦅 (@DanScavino) November 7, 2023
The camera focuses on the sun coming up, at dawn, I win
Q

 

!xowAT4Z3VQ

 

ID: 28003e

 No.967331

Anonymous

 

ID: db2d29

 No.967224


>>967123

YOU are being TRACKED.

NO FB account required. WTF? Is it embedded in Android OS?

This is BIGGER than you think.

Agencies attached.

Q
>>967224
Think 'Bridge'.
GOOG.
FB.
TWITTER.
IG.
'Central' algorithm.
The stage had to be set.
Q
Jun 16, 2018 1:50:56 AM EDT
THE BRIDGE: PODESTA GROUP
BRIDGE between media, FBI/DOJ, HRC+
Q

 

!xowAT4Z3VQ

 

ID: 5a1150

 No.1116344

>>1116248
Trap card played…nice work Q
>>1116307
TRUMP card coming.
Q
Nov 08, 2022 11:01:48 PM EST
Endless lies.
Endless wars.
Endless inflation.
Endless 'printing'.
Endless oppression.
Endless subjugation.
Endless surveillance.
Who will put an end to the endless?
Taking control.
Q