Clear You Mind, The Choice To Know Will Be Yours, [Knowingly] – Episode 2150
The [CB] has now pushed the country to the edge, the patriots are now countering it with currency from the [CB]. The plan was about gaining leverage, to bring companies back to the US, by force if necessary. This leverage is undoing they have done to the US economy since 1913. The [DS]/MSM/D's plan has failed, Trump is getting ready to open everything back up. Now we see investigations into where the [V] really originated from. The clock is ticking down. Information is going start to flow out, some we already know, other information will be very difficult to comprehend, the choice will be yours how far down the rabbit hole you want to go. The [DS] knowingly knew exactly what they were doing.
Check Out The X22 Report Spotlight YouTube Channel X22Report Spotlight
Please check Newzsentinel.com for the latest news on the economic collapse. The Sentinel Alerts are updated throughout the day.
---
Current News – 04.16.2020
Watch The X22 Report On Video
---
Economy
After three consecutive weeks of record breaking initial jobless claims, which cumulatively add up to nearly 17 million lost jobs…
Source: zerohedge.com
Pelosi holding up relief for millions of American small businesses, who are on the brink of collapse, in a transparently callous effort to hurt Republicans politically is one of the most grotesque things I've seen in politics.

STOP PLAYING POLITICS WITH PEOPLES LIVES, NANCY!!!

— Donald Trump Jr. (@DonaldJTrumpJr) April 16, 2020
Democrats are blocking additional funding for the popular Paycheck Protection Program. They are killing American small businesses. Stop playing politics Dems! Support Refilling PPP NOW – it is out of funds!

— Donald J. Trump (@realDonaldTrump) April 16, 2020
White House Trade Advisor Peter Navarro Discusses China's Manipulation of WHO, and Use of Defense Production Act…
Additionally, Navarro again outlines the importance of returning our critical U.S. manufacturing back to the United States. Honeywell now making masks and GM making ventilators.  Peter Navarro is a patriot; in the right place for this moment in history.
Source: theconservativetreehouse.com
---
Political/Rights
Former President Barack Obama was one of the central figures behind Sen. Bernie Sanders' (I-VT) exit from the presidential race,
While Obama failed to publicly support his former running mate throughout the primary race, he quietly worked behind the scenes to encourage the Vermont senator to exit the primary race, having several phone conversations with him over the last few weeks,
Nevertheless, it was not until every single one of Biden's Democrat challengers dropped out of the presidential race that Obama publicly stated, "I believe Joe has all the qualities we need in a President right now.
Source: breitbart.com
Stephanie Ruhle of MSNBC recently wondered aloud on the air if Joe Biden should set up a shadow government to hold TV pressers like Trump is doing with the real government.
How do you think she would have reacted if someone suggested this about a Republican candidate when Obama was president?
 Wait
Source: thegatewaypundit.com
Christopher Steele, the man behind the Steele dossier that formed the basis of several FISA surveillance applications, cooperated with the IG's investigations "with the consent of his government," according to the newly declassified information.
2. There Was Potentially A Lot More Spying on the Trump Campaign
It was clear even before yesterday's additional declassifications that the "Obama Administration Spied on the Trump Campaign Big Time." But now we know that in addition to the electronic surveillance of Trump campaign associate Carter Page, the FBI conducted "physical searches targeting Carter Page," which could include "physical premises or personal property," and that the FISA court authorized "overseas surveillance" of Page.
3. U.S. Intelligence Lacked Derogatory Information on Joseph Mifsud
The purported predicate for the launching of Crossfire Hurricane was comments from George Papadopoulos to an Australian diplomat, Alexander Downer, that the Russians had "dirt" on Hillary Clinton. Papadopoulos later revealed that Joseph Mifsud was the source of that information.
4. More Questions About the Predicate
The IG report provided a sketch of how Papadopoulos' comments to Downer—that the Russians had "dirt" on Hillary Clinton—made their way to the FBI. But the sketch remains sketchy.
The report stated that Downer spoke with a U.S. government official on July 26, 2016, and that that official then called the FBI's legal attaché to share that information during an in-person meeting. We now know that there was a "senior intelligence official" at that meeting and that it was the "senior intelligence official" who suggested Papadopoulos' comments "sounds like an FBI matter."
5. More Evidence That Steele Colluded With Russians Than That Trump Did
The declassifications also revealed extensive contacts between Steele and Eurasian oligarchs—something that concerned the FBI's Transnational Organized Crime Intelligence Unit. A 2015 report, the declassification revealed, "noted that from January through May 2015, 10 Eurasian oligarchs sought meetings with the FBI, and 5 of these had their intermediaries contact Steele." The footnote further added "that Steele's contact with 5 Russian oligarchs in a short period of time was unusual and recommended that a validation review be completed on Steele because of this activity."
 7. Did Russian Oligarch 1 Know of Steele's Work for Clinton?
A one-sentence footnote declassified yesterday further strengthens the case of possible Russia disinformation, as well as raising several additional serious questions. "Sensitive source reporting from June 2017 indicated that a person affiliated to Russian Oligarch 1 was possibly aware of Steele's election investigation as of early July 2016," the footnote reads.
8. Bill Priestap Pinkie-Promised To Keep Steele's File Clean
In obtaining the FISA surveillance orders on Page, the FBI swore that Steele was reliable. One of the many problems with the handling of the Page FISA applications the IG found was that Steele's CHS file omitted information agents had gathered in late 2016 when they spoke with individuals "who previously had professional contacts with Steele or had knowledge of his work."
The IG report noted that none of these negative assessments were "memorialized in Steele's Delta file and therefore not considered in a validation review conducted by the FBI's Validation Management Unit." 
Source: thefederalist.com
It's almost laughable, but WaPo, CNN, NBC, ABC, Daily Beast, Politico, and BuzzFeed(!) have not written any stories about the new Steele dossier revelations. NYT hasn't written a fresh story, though they've reported on dossier disinfo in the past. So here: https://t.co/7GXO8U5eqS

— Chuck Ross (@ChuckRossDC) April 16, 2020
So if the Russians were feeding Steele disinformation, that means Hillary was really the one colluding with the Russians to interfere in the 2016 election.

— Margot Cleveland (@ProfMJCleveland) April 16, 2020
Judicial Watch served a subpoena  on Google to produce Hillary Clinton's missing emails from the Google account believed to contain her government emails when she served as Secretary of State.
The subpoena was authorized by a DC federal court. According to documents and testimony Platte River Networks' IT specialist Paul Combetta reportedly "used the Google account to transfer Clinton's emails from a laptop to a Platte River server, then used Bleach Bit to remove any traces of the emails from the laptop."
"Judicial Watch's subpoena seeks all Clinton emails from her time at State, January 21, 2009, to February 1, 2013. Google is requested to produce the emails by May 13," stated a  statement released by Judicial Watch Wednesday.
Tom Fitton, Judicial Watch president, said "a federal court, tired of the State and Justice Departments' gamesmanship authorized Judicial Watch's subpoena to Google to follow a lead on the Clinton emails. DOJ and State are AWOL and covering up for Hillary Clinton, so it is again up to Judicial Watch to do the basic investigative heavy lifting to get at the truth."
Source: saracarter.com
POTUS says he's willing to adjourn both chambers of Congress if they keep playing games with filling positions he has appointments for…
TAKE A LISTEN
The More Controversial Purpose of Pro Forma Sessions
The president is allowed under Article II, Section 2 of the Constitution to make recess appointments during recesses or adjournments of Congress. Persons appointed by recess appointments assume their position without the approval of the Senate but must be confirmed by the Senate before the end of the next session of Congress, or when the position again becomes vacant.
As long as the Senate meets in pro forma sessions, Congress never officially adjourns, thus blocking the president from making recess appointments.
However, in 2012, President Barak Obama made four recess appointments during Congress' winter break, despite a run of daily pro forma sessions called by Senate Republicans. Obama argued at the time that pro forma sessions do not block the president's "constitutional authority" to make appointments. Despite being challenged by Republicans, Obama's recess appointees were eventually confirmed by the Democrat-controlled Senate.
Crazy "Nancy Pelosi, you are a weak person. You are a poor leader. You are the reason America hates career politicians, like yourself." @seanhannity She is totally incompetent & controlled by the Radical Left, a weak and pathetic puppet. Come back to Washington and do your job!

— Donald J. Trump (@realDonaldTrump) April 16, 2020
---
Geopolitical/Police State
A group of sheriffs announced they will not enforce some of Democratic Michigan Gov. Gretchen Whitmer's executive orders on the same day thousands rallied against state-mandated shelter-in-place orders outside the state Capitol in Lansing.
Sheriffs Mike Borkovich, Ted Schendel, Ken Falk, and Kim Cole of Michigan's 101st District released a press statement Wednesday afternoon detailing what they said was their decision to place their oath to the Constitution above the Whitmer's wishes.
"We write today to inform the public for our respective counties of our opposition to some of Governor Whitmer's executive orders. While we understand her desire to protect the public, we question some restrictions that she has imposed as overstepping her executive authority," read the letter signed by each sheriff.
 
Source: washingtonexaminer.com
---
False Flags
Halting funding for the World Health Organization during a world health crisis is as dangerous as it sounds. Their work is slowing the spread of COVID-19 and if that work is stopped no other organization can replace them. The world needs @WHO now more than ever.

— Bill Gates (@BillGates) April 15, 2020
Source: thegatewaypundit.com
Here is a quote from the very first director-general of the World Health Organization.

Ruminate on this one. pic.twitter.com/lqd4KB6OJk

— Jordan Sather (@Jordan_Sather_) April 16, 2020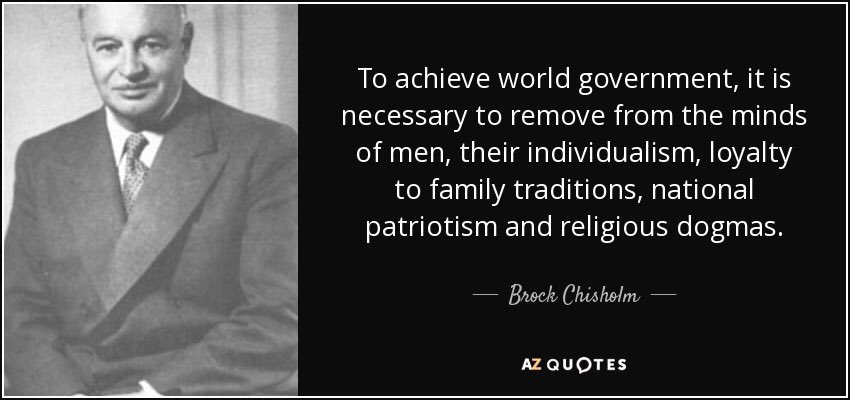 Listen carefully… #QAnon

"You got to look at some timelines"

Sounds like POTUS is pointing out the timing of the virus. pic.twitter.com/XlihQor5NP

— M3thods (@M2Madness) April 15, 2020
The MSM is now trying to get ahead of the story,
U.S. Intel officials believe COVID-19 likely originated in a Wuhan laboratory but not as a bioweapon; other theories also being investigated – Fox News

— Breaking911 (@Breaking911) April 16, 2020
NEW: Facebook says it will begin to alert users when they've been exposed to misinformation about coronavirus. https://t.co/NG32t1G76T

— NBC News (@NBCNews) April 16, 2020
Trump is now pushing for therapies and not vaccines, he is also alluding to cures of the diseases
TAKE A LISTEN
Many people would ignore or try to spin Spygate. But nobody can justify suppression of cures. Everyone in the media-political class involved in that would be (will soon be) toast. Their downplaying of every treatment protocol except vaccine speaks volumes. Public will be enraged.

— Martin Geddes (@martingeddes) April 16, 2020
Transcript And Video: NPR's Exit Interview With President Obama

Think then.
Think now.
Start [15:40]
[Knowingly]
Q
Obama said this right before Trump took office as he [knowingly] had been involved in using foreign entities and US agencies to illegally spy on the Trump campaign…
"With the steps I ordered last month, we are speeding up the training of ISIS forces with Sunni volunteers" ~Obam

a

Who trained/supplied ISIS?

What if

[HRC]

won?

Who destroyed ISIS?

Knowledge is power.

Q
BO could not and would not allow the military to destroy ISIS – why?
How was ISIS formed?
When?
How has POTUS made such progress in the short time he's been President?
Alice & Wonderland.
>>958655

Why did HUSSEIN PROTECT ISIS? POTUS ISIS focus and destroy 1 year? vs HUSSEIN 8 years?  

Q
Making the good pasta, reading through some amazing parts of the satanic verses; the (golden) threads begin to intertwine…

It will be your choice whether to know.

Q
Think Enhance Narcotics mission, think podesta art, think ray chandler
The Harvest [crop] has been prepared and soon will be delivered to the public for consumption.
A Higher Loyalty [Y].
Hunters become the Hunted.
Treason.
Sedition.
How do you remove a liability?
Six o' clock can be dangerous.
Family proud?
Q