Control Has Now Been Transferred To The Patriots, Panic In DC, Information Warfare – Ep. 2967
Podcast: Download (Duration: 1:09:42 — 31.4MB)
Watch The X22 Report On Video
Europe is struggling with inflation, the everyday products that people use are becoming more and more expensive. The people are around the world are starting to push back against the economy and the agenda of the [CB]/[WEF]. Biden admin admit that shutting down Keystone XL pipeline hurt the economy. The [DS] has now lost control. The control has now been transferred to the patriots, panic in DC. The information war is about to be taken to the next level. The information that the patriots are going to put out is going to dwarf the propaganda. The fake news and [DS] will not be able to keep up with it, they will not be able to spin the information. The truth and facts will over take the propaganda, it's time to save America from the [DS].
---
Economy
The ECB reacts to raging inflation, unloads a massive chunk of assets, hikes rates. 
It was another slap in the face that inflation dished out: In December, the Consumer Price Index excluding the energy products that consumers buy (gasoline, diesel, electricity, natural gas piped to the home, heating oil, etc.) rose to a record 7.2% in the 19 countries that use the euro, according to Eurostat. A breath-taking spike: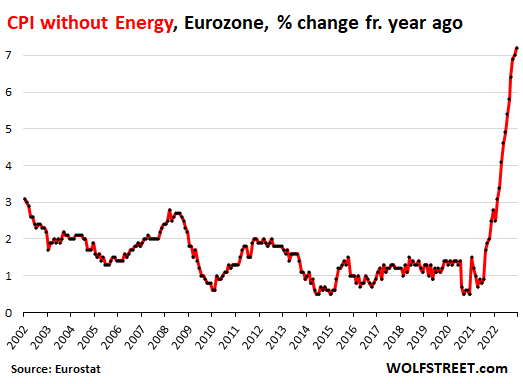 Fuel prices have come down, as fuel commodities have come down and as government fuel subsidies have pushed them down. But other factors, including services, are now driving inflation.
CPI by Eurozone Country, Dec. 2022
1
Latvia
20.7%
2
Lithuania
20.0%
3
Estonia
17.5%
4
Slovakia
15.0%
5
Italy
12.3%
6
Netherlands
11.0%
7
Slovenia
10.8%
8
Austria
10.5%
9
Belgium
10.2%
10
Portugal
9.8%
11
Germany
9.6%
12
Finland
8.9%
13
Ireland
8.2%
14
Greece
7.6%
15
Cyprus
7.6%
16
Malta
7.3%
17
France
6.7%
18
Luxembourg
6.2%
19
Spain
5.6%
Source: wolfstreet.com
NEW – Biden admin quietly admits canceling Keystone XL Pipeline cost up to 59,000 jobs and $9.6 billion.

Meanwhile, Hunter Biden continues to profit from the world's worst polluting Chinese energy companies through his 10% equity stake in Bohai Harvest.https://t.co/cJTSOGkC4U pic.twitter.com/bHRfRRpi4k

— kanekoa.substack.com (@KanekoaTheGreat) January 7, 2023
---
Political/Rights
Breaking:

California's @kevinomccarthy was just elected Speaker of the House in 1/20th the time it took Arizona to count midterm ballots.

— Richard Grenell (@RichardGrenell) January 7, 2023
Two years ago insurrectionists failed to take over the Capitol. Tonight Kevin McCarthy let them take over the Republican Party.

— Rep. Eric Swalwell (@RepSwalwell) January 7, 2023
🚨🚨🚨 Our statement on the Speaker fight

Because of the 20 brave conservatives, the DC cartel in the House was brought to its knees before the American ppl. This is the new paradigm-coalition government.

Conservatives now control the House regardless of who is elected Speaker pic.twitter.com/rxaKKwD5BU

— Citizens for Renewing America (@amrenewcitizen) January 7, 2023
With the rules agreement we negotiated, we will have a powerful Church-style committee to go after the weaponization of the federal government – the FBI, DOJ, DHS, and all the rest.

This is a victory for the Constitutional rights of all Americans.

I'm ready to get to work.

— Rep. Dan Bishop (@RepDanBishop) January 7, 2023
For those who don't know, please share. Remember [they] had 100% narrative control in the mid 70s. They don't now.
•The Church Committee
Why you heard about:
-heart attack guns
-FBI and MLK
-Patriot group infiltration
-confidential human sources in media
-agents at editing desks in MSM
-women's groups infiltration
-CIA drug running
To name only a few.
#SpeakerOfTheHouse #DrainTheSwamp
m.youtube.com/results?sp=mAEA&
 
 the concessions that McCarthy gave to conservatives in an effort to gain their votes.  These were all good.
Members of the conservative House Freedom Caucus got commitments to be added to the Rules panel. The committee exerts tremendous power by setting the terms of debate but usually operates as a tool of the Speaker. (It traditionally has a 9:4 ratio, so the majority never loses).
McCarthy had already agreed to a five-vote requirement to make the motion, which sets up essentially a vote of no-confidence in the Speaker, and agreed to lower it to a single lawmaker.
McCarthy agreed to take a hard line on increasing the statutory debt limit – which Congress must lift to accommodate spending it has agreed to through appropriations.

The holdouts reportedly got a pledge to get floor votes on term limits and border security. The former in particular could drive a wedge through the conference. McCarthy himself was elected to the House in 2006.
Q

 

!!mG7VJxZNCI

 

ID: 2908c7

 No.5538237

>>5537906
Feinstein said this many decades ago, so she is absolutely full of it.
>>5538127
Why is POTUS pushing for TERM LIMITS?
TIME = CORRUPTION.
Q
The Conservative Leadership Fund, a PAC backed by McCarthy, brokered a deal with the Club for Growth that will impact Republicans that join the House in the future.  The CLF committed to stay out of 'open' primaries when a lawmaker vacates a seat. That gives arch-conservatives a chance to prevail in a primary without getting pounded by leadership, which sometimes weighs in on behalf of candidates deemed more 'electable.'

McCarthy reportedly agreed to allow 'open rules' on spending measures, which could lead to lengthy debates and efforts to zero out funding for programs unpopular with Republicans.
Another concession is a cap on discretionary spending, 
Republicans are girding to take on the Biden administration, and the conservatives forced a commitment to set up a committee on the 'weaponization' of the DOJ. The idea had been floated as a subcommittee on the House Judiciary Committee. Its exact structure and membership were uncertain.
A proposed subcommittee to investigate "weaponization" of the federal government — a key demand of House conservatives who delivered Speaker Kevin McCarthy the gavel — would be given sweeping investigatory powers that include explicit authority to review "ongoing criminal investigations."
In addition to this initial list from Friday night, McCarthy announced in his acceptance speech that the left's hiring of 87,000 IRS agents will be tackled first.
Another concession given is that there must be 72 hours given to review bills before they come on the floor. Given the sheer density of some bills that come through, that, again, seems more than fair.
 
Source: thegatewaypundit.com
Stephen Richardson 1776  @richirich1963
BREAKING: Kevin McCarthy has won his bid to be the next Speaker of the House for the 118th Congress on the 15th ballot
---
Geopolitical/Police State
Former White House Press Secretary Jen Psaki in September was ordered to testify on Big Tech censorship, along with Dr. Anthony Fauci and current White House Press Secretary Karine Jean-Pierre.
But on Thursday, the 5th U.S. Circuit Court of Appeals blocked Republican attorneys' general push to depose her in in a lawsuit alleging Biden administration authorities and social media companies colluded to suppress free speech.
The lawsuit, first filed by then Republican Missouri Attorney General Eric Schmitt and Louisiana Attorney General Jeff Landry in May, claimed White House officials colluded with or coerced Big Tech companies to "suppress disfavored speakers, viewpoints, and content" on their platforms with "dis-information," "mis-information" and "mal-information" labels.
The constitutional right to free speech is thus no longer considered an "essential" circumstance, according to the federal court.
Source: beckernews.com
Here, the Biden White House directs Facebook to shut down conservative voices @TuckerCarlson and @TomiLahren (4/9) pic.twitter.com/BlFunGWc3Z

— Attorney General Andrew Bailey (@AGAndrewBailey) January 7, 2023
  the U.S. Court of Appeals for the Fifth Circuit struck down the Bureau of Alcohol, Tobacco, Firearms, and Explosives' (ATF) bump stock ban, noting that a bump stock is not a "machine gun."
 the ATF's finalized ban language on December 18, 2018, at which time the agency was giving bump stock owners 90 days to hand the firearm accessories over. After 90 days, people in possession of the accessories would be committing a crime.
Breitbart News had a copy of the Department of Justice's summary of the ban at the time.
The Fifth Circuit's decision can be appealed to the Supreme Court of the United States. At this time, no indication has been given as to whether or not an appeal will be filed.
Source: breitbart.com
---
War
Ukraine's President Volodymyr Zelensky has congratulated Republican politician Kevin McCarthy on becoming Speaker of the House of Representatives, telling him Ukraine is counting on his "continued support" and more U.S. aid.
"Congratulations to [Kevin McCarrthy] on his election as the Speaker of the [United States] House of Representatives," Zelensky wrote on social media.
"U.S. support in all fields has been vital for [Ukraine's] success on the battlefield. We're counting on your continued support and further U.S. assistance to bring our common victory closer," he added.
Source: breitbart.com
---
False Flags
The 'word' gain of function, so not 3 words??? You get your math lessons from your Uncle Joe? Good thing you were in charge of national health for 100s of millions of Americans
breitbart.com/clips/2023/01/07
Fauci: 'We Don't Even Use the Word Gain-of-Function' — It's So 'Nebulous'

During an interview with CBS' "The Takeout" podcast recorded on Thursday and released on Friday, former NIAID Director Dr. Anthony Fauci claimed that the | Clips

www.breitbart.com
The Centers for Disease Control and Prevention (CDC) has come out with a guide for how we are all to speak and write. This can be found on the website titled, "Preferred Terms for Select Population Groups & Communities." It is clear that this list is being read and distributed broadly – from medical institutions, hospitals, scientific communications, doctor's offices, schools and universities, as well as other US Government agencies and institutes.
The CDC is the arm of the US Government tasked with disease control and prevention. It is not tasked with correcting wrong-speak.
  Here is what the CDC lists as their mission on their website: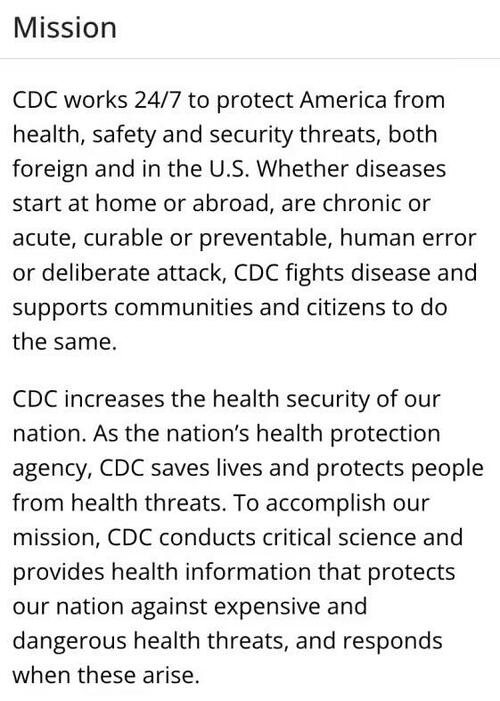 Do you read anything in the above that suggests that political correctness or correcting wrong-speak is part of the CDC mission? When did the CDC decide that they should take on the progressive left's cause to reshape American language (oh, I used that "forbidden" word -"America", which according to Stanford University- that is now verbotten).
According to the CDC, we are no longer to use the word "smoker," as it might offend those who smoke.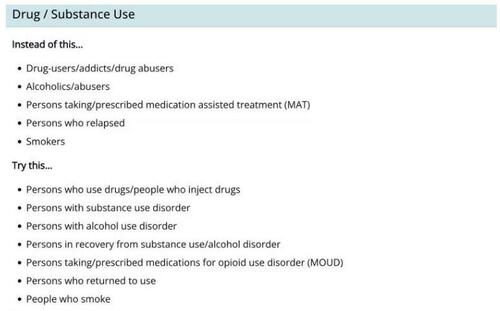 Yet, here are images from the CDC website – using the word "smoker." In fact, they even have a registered trademark for the phase: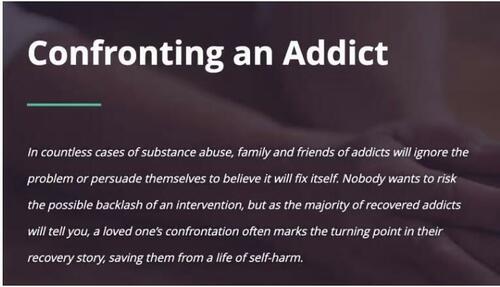 Then of course, there are all those tried and true public health phrases that aren't supposed to be used anymore.
Except the CDC uses these terms also. From the CDC website:

Another group of words what are now wrong-speak is how people who are incarcerated are to be discussed:
From the CDC Website: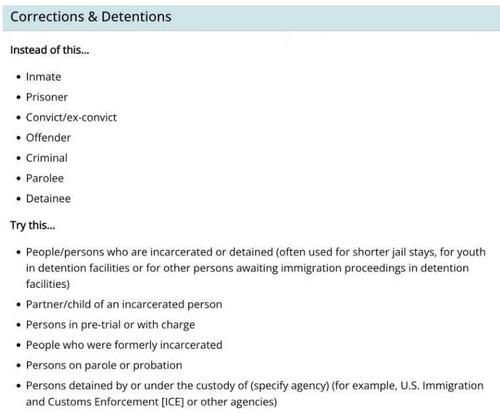 Source: zerohedge.com
2/
That is absolut destruction for the vaccine! Week 21 to
week 52 in New South Wales, Australia, Covid report!#StoptheShots #VaccineDeath "Long Covid" "SARS-COV-2"https://t.co/InWCdolIW4

— Roger Christen (@rodochri90) January 6, 2023
  the DeSantis administration sent a letter to state colleges and universities asking them to make a list of programs and activities related to critical race theory and diversity.
  DeSantis announced the appointment of six conservative board members to the liberal New College of Florida.
Source: thegatewaypundit.com
---
Q
This J6 "investigation" failed to give us any new info on the DNC pipe bomber, why Ray Epps is free when he said he "orchestrated" a Capitol breach, why J6 political prisoners are still being held for crimes that are effectively trespassing, the missing 14,000 hours of J6 video or what the hell the FBI or Nancy Pelosi did to stop the capitol from being overrun by extremists, despite knowing about the threat weeks in advance.
the J6 committee was able to achieve something. It was able to expose nearly 2,000 Social Security numbers of Republicans, GOP governors and their family members in what amounts to a massive "dox."
While the spreadsheet with the numbers was taken down Wednesday, the high-profile nature of the people whose data was exposed probably puts them at an "elevated risk" because the information would be especially useful to intelligence agencies, said James Lee, chief operating officer of the Identity Theft Resource Center, a nonprofit organization that advises victims of identity crimes and compromises.
My lawyers have asked the White House, the U.S. National Archives, and Bennie G. Thompson which of them is responsible for leaking the Social Security Numbers of me, my husband, my 3 kids, and my son-in-law.
What specific measures and remedies will be taken to protect our identities?
Amazing story! The January 6th Committee should be held liable for leaking this incredible amount of Social Security Numbers. These people are devastated by this having been done to them—and for all illegality in not reporting the facts. The only thing that was accurate was their illegally leaking, along with the Radical Archives, almost 2,000 Social Security numbers!
Donald J. Trump@realDonaldTrump
Oopsie! J6 committee exposes nearly 2,000 Social Security numbers of Republicans, GOP governors, family members

At least no one can say that the January 6 committee didn't have an impact! Greg Abbott, Kristi Noem, Henry McMaster, and their families will have to guard against identity theft for the rest of…
All Republican Governors should immediately begin the process of ENDING MAIL IN BALLOTS (which are fraught with corruption, and always will be!) EXCEPT FOR FAR AWAY MILITARY AND PEOPLE WITH A PROVEN ILLNESS, GETTING VOTER I.D. AND SAME DAY VOTING WITH ALL PAPER BALLOTS. This effort should be all out and start immediately. Governors have the power and authority to do this. GET IT DONE, or we will never have honest elections in our Country again!
The United States Constitution was written in such a way as to put mandates on government, not mandates on the American people.
Donald Trump won't be using the slogan "Keep America Great" for his 2024 presidential run, he revealed to an audience at Mar-a-Lago.
Trump explained why in a video posted by Jack Posobiec on Instagram, which has been clipped and transcribed in part below. Watch:
"It is a disgrace what's happening to our country," he said. "We're living in a third world country and we had a thing, 'Keep America Great.' It was going to be a theme. We had Make America Great Again. This was going to be a theme because we did so well. Keep America Great.""And I couldn't use it, because I said, America's not great right now. We're laughed at all over the world. We have inflation that's killing us and just killing everybody. We have all of these problems.""We have that horrible, horrible situation that took place in Afghanistan," he added. "I mean, you take a look at that, nobody's ever seen anything like it."
Source: beckernews.com