Define [FF], Trump, Plan That We're On Now, That's Gonna Make People Very Very Happy – Ep. 2700
Watch The X22 Report On Video
The entire economic system is collapsing on the [CB] and [JB], they believe they are in control but they are not. Inflation will hit the working class people first, they will feel the pain. Fed Chair admits its because the Fed printing this is why we are seeing inflation. [CB] puts more pressure on El Salvador, structure change coming. The [DS] has lost the narrative and is now pushing a distraction and [FF]. The people are rising up around the world and the truth is pouring out and they cannot stop it. The plan is being followed and it's being pushed hard. Trump said the plan we are on now that's gonna make people very very happy. CISA reports that the elections were not the securest elections ever. Tick Tock..
---
Economy
A new analysis from Moody's Analytics reports that the average US household is paying an additional $250 a month thanks to this inflation.
"A lot of people are hurting because of high inflation," Moody's senior economist Ryan Sweet told the Wall Street Journal. "$250 a month—that's a big burden. It really hammers home the point of 'what is the cost of inflation?'"

This disturbing revelation brings into focus something we already knew about inflation: it hurts the working class the most.
Price inflation also erodes Americans' hard-earned savings in a way that's just as painful as the government directly hiking their taxes. As economist Ludwig von Mises colorfully put it, inflation is when "money, like chocolate on a hot oven, [is] melting in the pockets of the people."
The primary cause of today's inflation is the decision by the Federal Reserve, America's central bank which controls the US dollar, to create trillions of new dollars out of thin air to ostensibly "stimulate" the economy during the pandemic.
Federal Reserve Chairman Jerome Powell openly admitted as much in an interview with CBS.
The mystery of Inflation.

"You flooded the system with money."

"Yes, we did." pic.twitter.com/2ClRf97fg7

— Jon Miltimore (@miltimore79) January 17, 2022
"[Is it] fair to say you simply flooded the system with money?" a reporter asked.
"Yes," he responded. "We did. That's another way to think about it. We did."
"Where does it come from? Do you just print it?" the journalist followed up.
"We print it digitally," Powell replied. " 
Source: activistpost.com
One of the largest rating agencies in the U.S., Fitch Ratings, has downgraded El Salvador's long-term default rating deeper into junk status, citing risks from adopting bitcoin as legal tender as a key reason. "The adoption of bitcoin as legal tender has added uncertainty about the potential for an IMF program that would unlock financing for 2022-2023," Fitch detailed.

The International Monetary Fund (IMF) recently urged El Salvador to drop bitcoin as legal tender. The IMF also wants El Salvador to dissolve its fund used for conversion between bitcoin and dollars, noting the costs of adopting bitcoin as a national currency exceed the benefits. El Salvador, however, rejected the IMF's call to abandon bitcoin as legal tender.
Source: bitcoin.com
---
Political/Rights
A judge who is reportedly a possible candidate of Joe Biden's to fill Justice Stephen Breyer's seat on the Supreme Court, gave an arsonist who set a fire that killed a father of five during the 2020 George Floyd riots Minneapolis a reduced sentence to half the time he should have served for the crime.
 Minnesota US District Court Judge Wilhelmina Wright is on Biden's potential list of nominees and meets the President's announced qualifications for the Breyer's replacement by being a black female. Wright became the state's first black female federal judge six years ago.
Last month, Wright sentenced Montez Terriel Lee Jr., of Rochester, New York, to 10 years in federal prison after being convicted for arson that resulted in a man's death. More than two months after the arson, 30-year-old Oscar Lee Stewart was found dead in the rubble. Lee set the blaze during the riots after George Floyd's death.
While sentencing guidelines indicated that Lee should be incarcerated for over 200 months, a memo from the US Attorney's office for the District of Minnesota at the time of sentencing recommended a lesser sentence and Wright agreed. The US Attorney stated that while "Mr. Lee committed a crime that cost a man his life," his motives for setting the blaze should be taken into consideration at sentencing.
Source: postmillenial.com
---
Geopolitical/Police State
Wyden and Heinrich: Newly Declassified Documents Reveal Previously Secret CIA Bulk Collection, Problems With CIA Handling of Americans' Information
Senators Call for Critically Needed Transparency About CIA Bulk Collection; Documents Declassified at Wyden and Heinrich's Request
Washington, D.C. – U.S. Senator Ron Wyden, D-Ore., and Sen. Martin Heinrich, D-N.M., both members of the Senate Intelligence Committee, called for new transparency about bulk surveillance conducted by the Central Intelligence Agency, following the release of documents that revealed a secret bulk collection program and problems with how the agency searches and handles Americans' information.
Wyden and Heinrich requested the declassification of a report by the Privacy and Civil Liberties Oversight Board on a CIA bulk collection program, in a letter sent April 13, 2021. The letter, which was declassified and made public today reveals that "the CIA has secretly conducted its own bulk program," authorized under Executive Order 12333, rather than the laws passed by Congress.
The letter notes that the program was "entirely outside the statutory framework that Congress and the public believe govern this collection, and without any of the judicial, congressional or even executive branch oversight that comes from [Foreign Intelligence Surveillance Act] collection."
"FISA gets all the attention because of the periodic congressional reauthorizations and the release of DOJ, ODNI and FISA Court documents," said Senators Wyden and Heinrich in response to the newly declassified documents.  "But what these documents demonstrate is that many of the same concerns that Americans have about their privacy and civil liberties also apply to how the CIA collects and handles information under executive order and outside the FISA law.  In particular, these documents reveal serious problems associated with warrantless backdoor searches of Americans, the same issue that has generated bipartisan concern in the FISA context."
Source:  wyden.senate.gov
2989
Q
!!mG7VJxZNCI
03/06/2019 23:58:23
 ID: 5de4f4
Archive Bread/Post Links: 5550190 / 5550547
Direct Link: 5550547
---
War
When the raid first happened, President Biden and the Pentagon said ISIS leader Abu Ibrahim al-Hashimi al-Qurayshi blew up himself, his wife, and two children on the third floor of a building once US forces arrived. But other sources said at least 13 people were killed. The UK-based Syrian Observatory for Human Rights said among the 13 killed were four children and three women.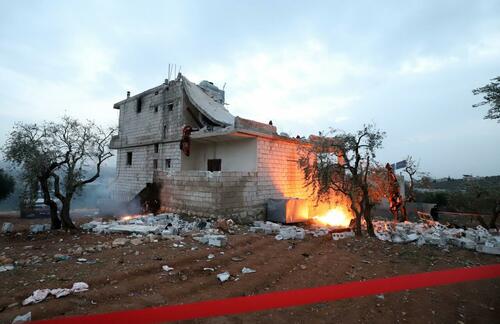 The military officials admitted Thursday that they don't know for certain if al-Qurayshi detonated the bomb that caused the explosion. They insist the blast was caused by someone in the building and wasn't the fault of the US, but they admitted there is no video footage of the raid.
The officials also said they couldn't rule out that more people than al-Qurayshi and his family died. They noted that "multiple bodies" ended up under rubble, and the US forces didn't have time to count them.
 the White House was not being truthful about the raid on al-Qurayshi right after it happened.
Source: zerohedge.com
So is this a distraction from the economy, border, aftgahistan, pandemic, truckers, protests etc.. Most likley, got to keep the news cycles clogged with other stories
Putin is not invading, the only invasion that there will be is the [FF] invasion created by the [DS]
Cyber attack hitting a satellite
Cyber attack, hitting power grid, financial institutions etc
Bomb going off in Ukraine
Missile shot into Ukraine
Plane shot down
Fake troop movement
3113
Q
!!mG7VJxZNCI
03/18/2019 19:17:04
 ID: ebfcff
Archive Bread/Post Links: 5759727 / 5760023
Direct Link: 5760023
---
False Flags
Ontario Premier Doug Ford announced a "state of emergency in Ontario" on Friday over the Freedom Convoy protests. Ford laid out an aggressive plan to put an end to the "siege," while conceding a pathway to remove Covid restrictions on indoor businesses, such as "vaccine passports."
Ford held a press conference, where he claimed that the Covid measures that were put in place were necessary, and required "unthinkable sacrifices." Watch
"[Dr. Kieran Moore] is now working on a plan that will allow us to remove the vaccine passport system," Ford said. "My friends, this is great news and a sign of just how far we've come together in this fight. But this progress doesn't change what we've been through because the truth is this virus forced us to make unthinkable sacrifices."
Source: beckernews.com
Canadian Prime Minister Justin Trudeau, the Little Castro, warned that a crackdown is coming to end the anti-vaccine Freedom Convoy protests that are crippling Canada and disrupting the elites in Ottawa from getting to their city restaurants.
The Biden regime also urged Trudeau to act against the protesters.
Source: thegatewaypundit.com
A new Ipsos poll for Global News CA shows why Canada's provinces are starting to cave to the Freedom Convoy's demands to lift Covid mandates, including "vaccine passports."
The polling shows that despite intense slanted coverage from the mainstream press, nearly half of Canadians have sympathy for the movement's cause, while young people have strong support for the Freedom Convoy's concerns.
"Nearly half (46%) of Canadians say they 'may not agree with everything the people who have taken part in the truck protests in Ottawa have said, but their frustration is legitimate and worthy of our sympathy'," Ipsos reports. It notes, remarkably, that the "proportion of 18-34-year-olds who adopt this point of view is 61%, while those aged 35-54 (44%) and 55+ (37%) are much less likely to agree."
But another key insight from the poll is the breakdown of support for the Freedom Convoy by Canadian province.
"Regionally, those in Alberta (58%) and Saskatchewan and Manitoba (58%) are most likely to align with this argument, while a sizeable minority in Quebec (47%), Ontario (44%), Atlantic Canada (43%), and British Columbia (36%) agree,"
Source: beckernews.com
"Today, the Attorney General brought an application in the Superior Court of Justice for an order pursuant to section 490.8 of the Criminal Code prohibiting any person from disposing of, or otherwise dealing with, in any manner whatsoever, any and all monetary donations made through the Freedom Convoy 2022 and Adopt-a-Trucker campaign pages on the GiveSend Go online fundraising platform."
"This afternoon, the order was issued," the premier said. "It binds any and all parties with possession or control over these donations."
The GiveSendGo campaign for Freedom Convoy 2022 had just cleared 8.4 million dollars.
GiveSendGo had issued a fiery response to the Canadian government.
Know this! Canada has absolutely ZERO jurisdiction over how we manage our funds here at GiveSendGo. All funds for EVERY campaign on GiveSendGo flow directly to the recipients of those campaigns, not least of which is The Freedom Convoy campaign.

— GiveSendGo (@GiveSendGo) February 11, 2022
Source: beckernews.com
The Department of Homeland Security (DHS) issued a warning to U.S. law enforcement and public safety officials on Tuesday that a trucker convoy protesting vaccine mandates could begin on Sunday when the Super Bowl is played in Los Angeles, California, Yahoo News first reported.
According to the outlet, which obtained unclassified internal documents, the DHS warned agencies nationwide that it "has received reports of a convoy of truckers planning to potentially block roads in major metropolitan cities in the United States in protest of, among other things, vaccine mandates for truck drivers."
The agency thinks the protest, similar to the one in Ottawa, Canada, could "severely disrupt transportation, the federal government, and law enforcement operations through gridlock and potential counter-protests."
"The DHS alert says that "the group intends to start in California as early as mid-February and travel to Washington, DC, as late as mid-March, reportedly gathering truckers as they travel across the country," adding that truckers from the protest in Ottawa may also head to Washington to participate," according to the report.
Source: breitbart.com
Randi Weingarten, American Federation of Teachers president, appeared on CNN and expressed confusion at blue states abandoning mask mandates. Watch:
"At least seven states are ending mask mandates in schools over the next several weeks," Alisyn Camerota said. "Two of these states, Connecticut and Massachusetts, will lift masks at the end of this month. Just today, Maryland's governor asked the state Board of Ed. to approve lifting school mask restrictions there, and Nevada's governor just ended his state's mask mandate, 'effective immediately'."
"But the CDC says it's still too soon," she went on. "So what do teachers and doctors think?"
There is also new data from the Office for National Statistics (U.K.) that show decisively that Covid-19 was never more dangerous for young people and children than the seasonal flu.
As a graphic from the Financial Times shared on Twitter shows, Covid is 20%-30% as deadly as seasonal flu for children and young adults. Even more strikingly, the Office for National Statistics also showed that schoolchildren who "never" wear masks were less likely to test positive for Covid as classmates who "never" wore them.
Source: beckernews.com
— Dan Scavino Jr.🇺🇸🦅 (@DanScavino) February 11, 2022
She opened up her comments to the public and it got out of hand quickly. Watch her facial expression as the reactions come streaming in. It is quite glorious.
"Why do you hate kids? Teachers? Cops? Firemen?" one user asked.
"You're ruining the city. End the mandates," another commented.
"When will you stop destroying the city with this mandate," yet another added.
She tries to put on a brave face, but the avalanche of angry remarks eventually leads to cringe under the withering public response.

Advertisements

The video is already making waves on social media.
This is the closest thing to public shaming of clueless politicians that Americans can get nowadays.  
Source: beckernews.com
Pfizer-BioNTech is postponing its rolling application to the Food and Drug Administration to expand the use of its two-dose Covid-19 vaccine for children ages 6 months to 4 years.
The move means that vaccines for this age group will not be available in the coming weeks, a setback for parents eager to vaccinate their young children.
Source: nbc.com
EU investigates reports of menstrual disorders after mRNA COVID shots
 The European Medicines Agency's safety committee said   it was reviewing reports of heavy menstrual bleeding and absence of menstruation from women who had received COVID vaccines from Pfizer (PFE.N)/BioNTech (22UAy.DE)and Moderna (MRNA.O).
---
Q
Oh my. McFadden also denies DOJ attempt (it's in other cases, too) to shield Secret Service from disclosing Pence's exact location during the breach. pic.twitter.com/RxFGBxhd1s

— Julie Kelly 🇺🇸 (@julie_kelly2) February 10, 2022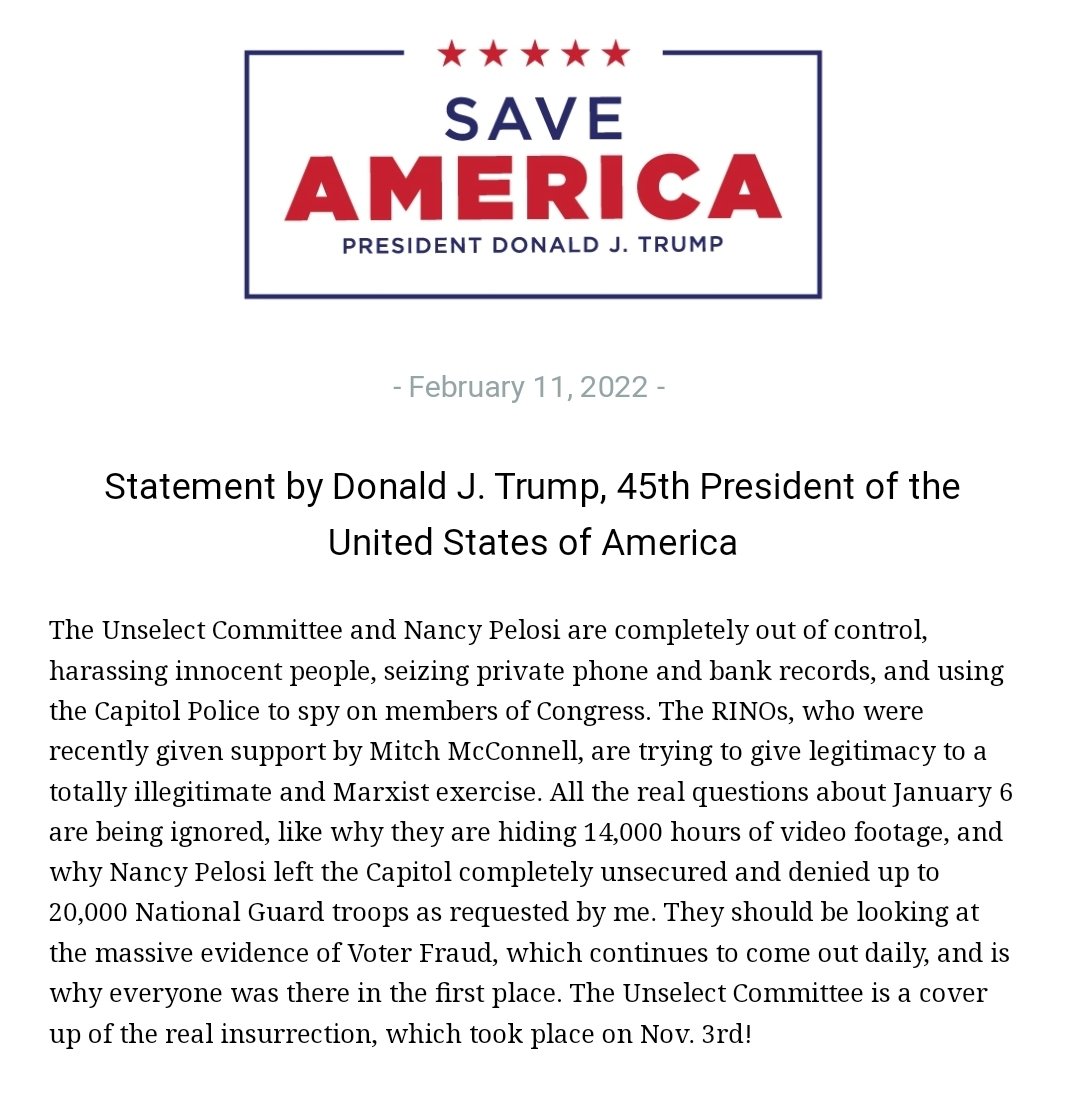 In Wisconsin:

1.5 million illegal voter registrations
155,000 suspected fake voters

"Well over — well over — 50,000 illegally cast ballots that we can prove" from Nov. 3, 2020 pic.twitter.com/aLWkGonUDE

— Liz Harrington (@realLizUSA) February 11, 2022
One apartment complex in Madison that houses less than 700 has 1,631 registered "voters."

The building had a 102% turnout rate on 11/3 pic.twitter.com/7Yh6ZmqYpj

— Liz Harrington (@realLizUSA) February 11, 2022
3,713 "voters" registered to U.S. post offices pic.twitter.com/ZfYHVDFv15

— Liz Harrington (@realLizUSA) February 11, 2022
"How they're doing it, this is one way."

Hudson, WI experienced 10% population growth between 2012 and 2020 but a 128% increase in registered "voters"

"We have been finding this all over…inflated voter registrations" pic.twitter.com/QE7CMPS8CC

— Liz Harrington (@realLizUSA) February 11, 2022
Illegally cast ballot from a "person who doesn't exist"

"We have found thousands of these." pic.twitter.com/CKJ5myc2AX

— Liz Harrington (@realLizUSA) February 11, 2022
Instances of one voter assigned 28 different voter ID numbers pic.twitter.com/rxVjXnRbE5

— Liz Harrington (@realLizUSA) February 11, 2022
2 bedroom apartment has 26 registered "voters"

16 unit building with 290 registered "voters"

Single family home with 19 registered "voters"

"We've found tens of thousands of these." pic.twitter.com/ePnAMtuUfw

— Liz Harrington (@realLizUSA) February 11, 2022
Wisconsin has 4 million adults but 7.1 million voter registrations pic.twitter.com/G89m0rioHq

— Liz Harrington (@realLizUSA) February 11, 2022
Former CISA Direct Chris Krebs told members of Congress this was the most secure election in U.S.History. The expert report by Prof. Alex Halderman says otherwise. The equipment/software in question is in as many as 16 different States. So the risk is not limited to GA. pic.twitter.com/eFjv4X4GNP

— Heather Mullins – Real America's Voice (RAV-TV) (@TalkMullins) February 11, 2022
4951
Q
!!Hs1Jq13jV6
11/12/2020 22:20:17
 ID: b3a95d
Archive Bread/Post Links: 11618439 / 11618946
Direct Link: 11618946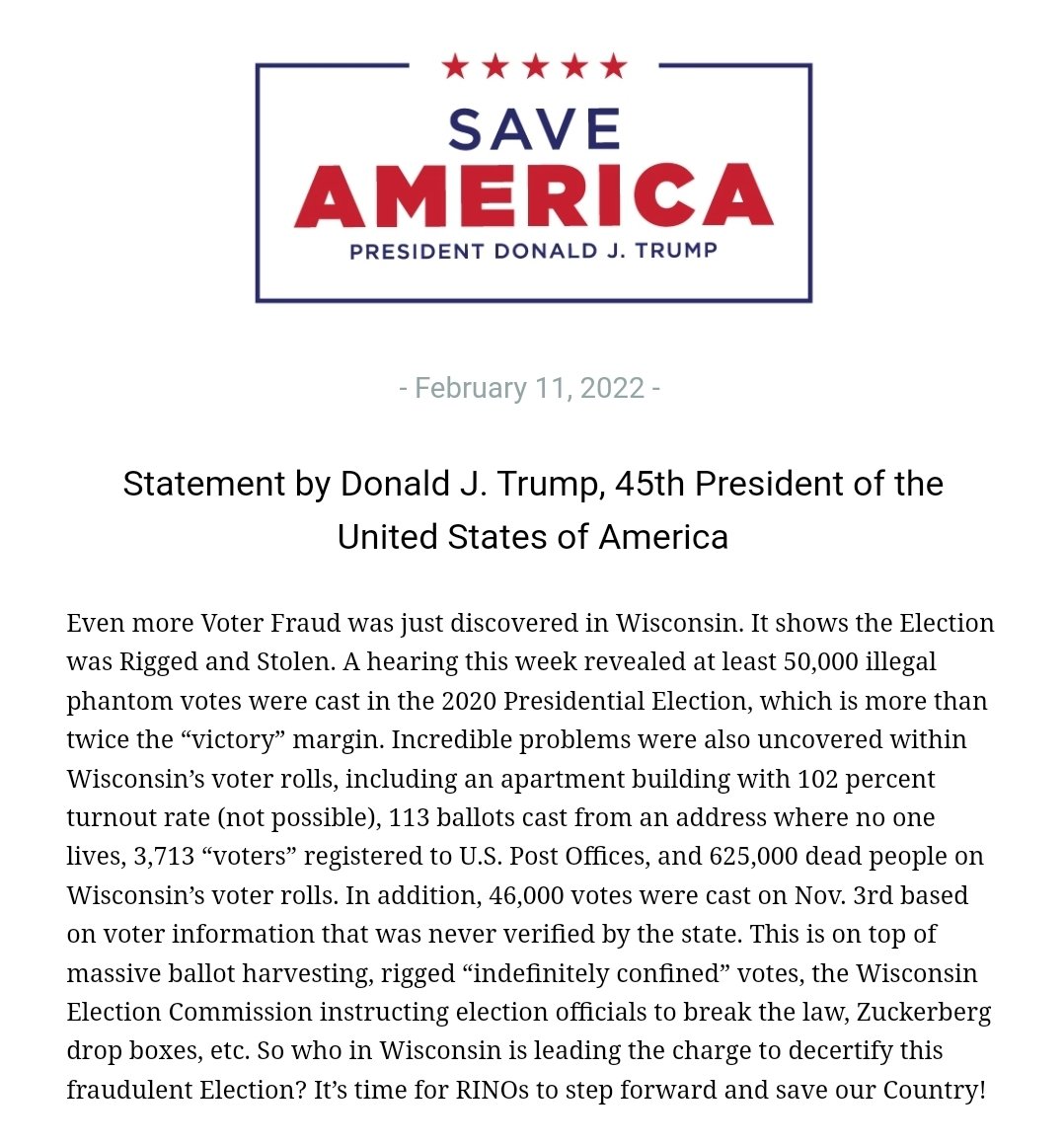 TAKE A LISTEN
2096
Q
!!mG7VJxZNCI
09/05/2018 18:33:59
 ID:
Archive Bread/Post Links: 62 / 194
Direct Link: 194

Image Name:
DWuttxKVwAARaSd.jpg-large.jpg
Filename:
a45c1baf6d9fdca2eb8c892ba6154f26d6e3b0531391bc4a15748e48c09b3a0c.jpg
2700
Q
!!mG7VJxZNCI
02/12/2019 11:34:13
 ID: 539e80
Archive Bread/Post Links: 5140224 / 5140929
Direct Link: 5140929