Countermeasures In Place, Think Emergency Alert System – Episode 2121
Podcast: Download (Duration: 40:14 — 41.5MB)
What we have been witnessing is the greatest transfer of wealth of the [Elite], Think Soros and others, watch the market, tick tock. The [CB] is now completely exposed. Trump and the patriots are now moving very quickly on transitioning the economy, the new economic system is almost complete. Right on schedule Trump points the finger at the Fed, lower rates and more stimulus. The [DS]/D's have used their ammunition now the patriots are preparing to make their move. The patriots have been signaling and putting out messages that the stage needed to be set WW. The patriots have countermeasures in place, Think Emergency Alert System.
Check Out The X22 Report Spotlight YouTube Channel X22Report Spotlight
Please check Newzsentinel.com for the latest news on the economic collapse. The Sentinel Alerts are updated throughout the day.
---
Current News – 03.13.2020
Watch The X22 Report On Video
---
Economy
Great transfer of wealth
Stock market DIVE

[

666

– coincidence?]

.

Soros transfer of wealth.

Q
[

666

]

Signal to POTUS THEY CONTROL THE MARKET?

SIGNAL?

THREAT?

WELCOME TO THE GLOBAL WAR.

Q
SEC. STEVEN MNUCHIN: I can tell you that's on our list of 50 different items we're bringing to the president for a decision, so that will be something that we're looking at. We have lots of authorities. Things were we don't have authorities, we're going to work with both the House and the Senate on a bipartisan basis. I can assure you that the president is all about action, action, action.
Source: breitbart.com
If you want to get money into the hands of people quickly & efficiently, let them have the full money that they earned, APPROVE A PAYROLL TAX CUT until the end of the year, December 31. Then you are doing something that is really meaningful. Only that will make a big difference!

— Donald J. Trump (@realDonaldTrump) March 13, 2020
The Federal Reserve must FINALLY lower the Fed Rate to something comparable to their competitor Central Banks. Jay Powell and group are putting us at a decided economic & physiological disadvantage. Should never have been this way. Also, STIMULATE!

— Donald J. Trump (@realDonaldTrump) March 13, 2020
---
Political/Rights
Police Report: Andrew Gillum Involved in Suspected Crystal Meth Incident
Failed Florida gubernatorial candidate Andrew Gillum (D) was allegedly involved in a suspected crystal meth incident on Friday morning at a Miami Beach hotel, according to a local police report.
Source: breitbart.com
Here is the last page of the report which sites the crystal meth.

Guess Florida made the right move electing Governor Desantis

I am told @AndrewGillum and his buddies were naked when cops arrived, which is the reason a sex orgy is suspected, but not confirmed. pic.twitter.com/p76jUn0soO

— Candace Owens (@RealCandaceO) March 13, 2020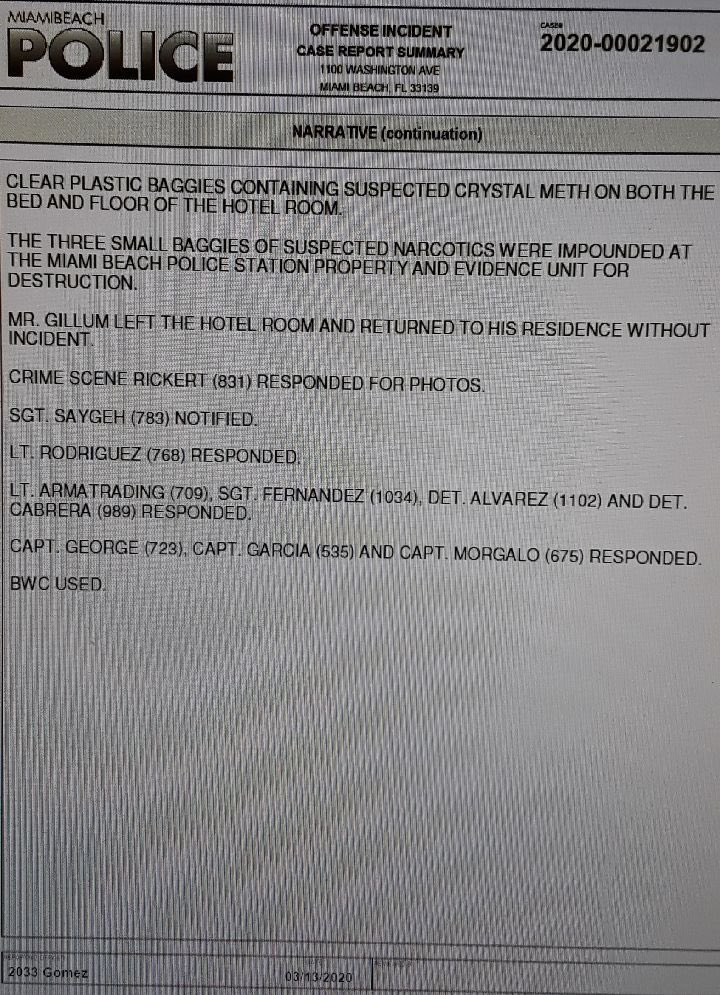 After denying any wrongdoing on his part for nearly two years, prominent Houston pastor Kirbyjon Caldwell, who served as a spiritual adviser to former Presidents Barack Obama and George W. Bush, has admitted to conspiracy to commit wire fraud in connection to his role in a multimillion investment scheme that preyed on the elderly.
Last summer, Caldwell, who was indicted in 2018 for defrauding investors — including elderly members of his Windsor Village United Methodist Church — of more than $1 million, maintained his innocence as his co-defendant, Gregory Alan Smith, pleaded guilty to wire fraud.
Caldwell and Smith reportedly tricked investors into believing that they were buying the Historical Chinese bonds through a Shreveport-based company called Smith Financial Group LLC. The Department of Justice noted that the bonds were issued by the former Republic of China prior to losing power to the communist government in 1949.
"They are not recognized by China's current government and have no investment value. Smith and Caldwell promised high rates of return, sometimes three to 15 times the value of the investments. Instead of investing the funds, the defendants used them to pay personal loans, credit card balances, mortgages, vehicle purchases and other personal expenses," the DOJ said.
Source: christianpost.com
Don't forget these examples: pic.twitter.com/FJchhfjfCy

— Dave (@heyyoudvd) March 12, 2020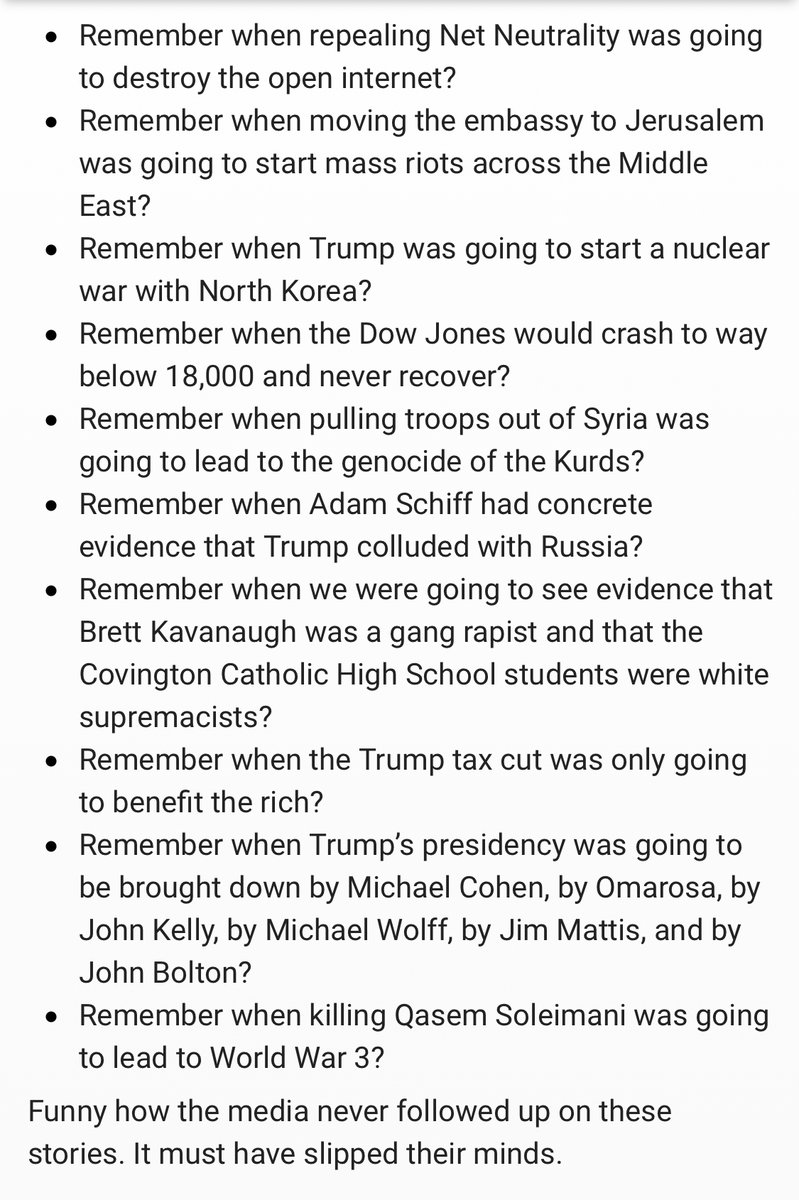 Buried From Trump Tower Meeting: Translator Telling FBI 'No Collusion'
Just days after news of the infamous Trump Tower meeting drew the attention of Robert Mueller's Russia investigation, the translator present told the FBI there was no talk of collusion between the Trump campaign and the Kremlin, a
Anatoli Samochornov, translator, quoted in FBI memo: "There was no discussion of the 2016 United States presidential election or Collusion between the Russian government and the Trump campaign."
This exculpatory evidence – which backed accounts of Donald Trump Jr. and other campaign officials in attendance – was not mentioned in Special Counsel Mueller's final report two years later. And the silence in the interim occurred as sinister theorizing on cable TV and in the press helped shape a public impression of the June 9, 2016 meeting as central to collusion.
The new documents record that on July 12, 2017, four days after the New York Times first disclosed the meeting, relying on government leaks, the FBI interviewed Anatoli Samochornov, a freelance translator with long ties to the U.S. government who had been engaged by the Russian side. Elaborating the day after its initial report, the Times used more leaks to report that Trump Jr. had agreed to the meeting because he was told that a Russian lawyer, Natalia Veselnitskaya, would provide damaging information on Hillary Clinton.
Whatever the suspicions raised by the Trump son's emailed response, "If it's what you say I love it," the meeting didn't live up to the billing, judging from what the translator told the FBI. Bureau notes show he told agents, "There was no discussion of the 2016 United States presidential election or Collusion between the Russian government and the Trump campaign." The agent notes also state, "There was no smoking gun according to Samochornov. There was not a discussion about 'dirt' on Hillary Clinton. Samochornov did not think Hillary Clinton was mentioned by name."
Source: realclearpolitics.com
Sen. Ron Johnson, the chairman of the Senate Homeland Security Committee, plans to directly subpoena a consulting firm linked to Hunter Biden and Burisma Holdings,  
Johnson initially planned to subpoena a former consultant for the firm, Blue Star Strategies, but he altered his strategy after recent briefings from the FBI and protest from Democrats on the committee.
Johnson said he will issue the subpoena "to address the many unanswered questions" about possible conflicts of interest involving Burisma. The subpoena is also aimed at answering whether Blue Star "used individuals with close personal connections to high-level officials within the Obama administration to gain access to and potentially influence U.S. government agencies."  
He is seeking Blue Star's records related to Burisma Holdings since Jan. 1, 2013.  
Source: dailycaller.com
Swamp Draining Update. Grenell Freezes Hiring At ODNI, Evaluates Staffing Cuts.
---
War
#BREAKING NEWS:
General Siamand Mashhadani, one of the #Iranian Revolutionary Guards Top Commander , was killed by the #American airstrike in #Iraq.

مقتل الجنرال سيامند مشهداني أحد قادة الحرس الثوري الإيراني بالقصف الأميركي #BreakingNews pic.twitter.com/b71xzGdPin

— Botin Kurdistani (@kurdistannews24) March 13, 2020
We have effectively destroyed these facilities and expect that they no longer contain the type of advanced Iranian-supplied weapons that were used in the KH attacks.
– Gen Frank McKenzie, CDR CENTCOM pic.twitter.com/ag27fZnCoO

— U.S. Central Command (@CENTCOM) March 13, 2020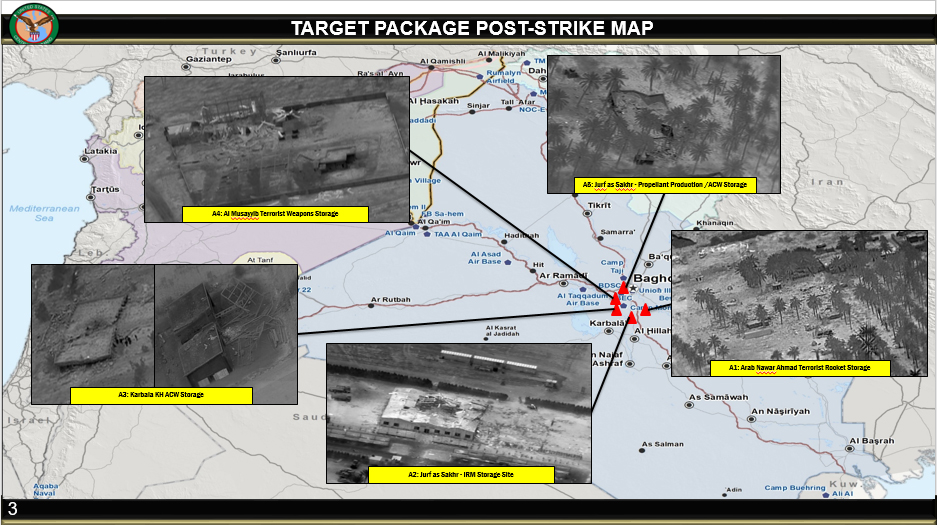 ---
Cyber Attacks
---
False Flags
Corornavirus Pandemic Update: US Deaths Reach 37 and 23 Are From the Same Senior Center – Current US Mortality Rate Minus the Senior Center Is Similar to Flu Numbers 
There have been 40 deaths blamed on the coronavirus in the US.
There have been 1701 confirmed cases of coronavirus in the US.
At least 23 of those deaths were at the Life Care Center in Kirkland, Washington.
The Life Care Center has gone from 120 residents down to 60 in the past month.
At the same time there have been 222,000 confirmed flu cases in the US this season.
And there have been 22,000 flu deaths this flu season.There were 144 children who died from the flu this season.
Source: thegatewaypundit.com
To this point, and because we have had a very strong border policy, we have had 40 deaths related to CoronaVirus. If we had weak or open borders, that number would be many times higher!

— Donald J. Trump (@realDonaldTrump) March 13, 2020
  65-year-old Jerri Jorgensen, a former Diamond Princess cruise ship coronavirus patient, detailed her sickness and the fallout since being diagnosed with the disease.
Jorgenson revealed after running a slight fever and feeling "a bit off" for a few hours on the cruise ship, she is no longer testing positive for COVID-19. She said the "hysteria" since she has gotten back home to Utah has gotten "out of control."
Source: breitbart.com
Prime Minister Justin Trudeau's Wife Tests Positive for Wuhan Virus
Canadian Prime Minister Justin Trudeau's wife, Sophie Gregoire Trudeau, began exhibiting flu-like symptoms after returning from a speaking engagement in the U.K.
Mrs. Trudeau has now been confirmed to be infected with the Chinese Coronavirus.
Source: theconservativetreehouse.com
 Brazilian President Jair Bolsonaro has tested positive for coronavirus, making him the highest ranking political leader in the world to get Covid-19 thus far.
Breaking Update: 2nd test of Brazil's President came up NEGATIVE.
Source: zerohedge.com
Brazil's President Jair Bolsonaro has tested negative for coronavirus, his son Eduardo told Fox News, contradicting earlier reports that the South American leader had tested positive.https://t.co/uTNaDJaBkA

— Rudy W. Giuliani (@RudyGiuliani) March 13, 2020
Former Vice President Joe Biden offered his own plan for the federal government's response to the Coronavirus pandemic  , and it includes a call for more testing immediately.
"The administration's failure on testing is colossal, and it's a failure of leadership, planning and execution. The White House should measure and report each day, each and every day, how many tests have been ordered, how many tests have been completed, and how many have tested positive. By next week the number of tests should be in the millions, not the thousands," Biden said at the press conference where he announced his plan. (emphasis added)
Biden did not specify how he would deal with the critical problem that has been identified as a barrier to making the tests more widely available: the shortage of key materials necessary to produce the tests combined with high demand for tests in other countries.
Biden's assertion that the number of Coronavirus (COVID-19) tests to be conducted in the United States "should be in the millions . . . by next week" appears to significantly beyond any realistic assessment of what is logistically possible.
About 600,000 Coronavirus tests have been conducted in eight countries
As of March 8, the breakdown of the number of tests completed by country, according to Business Insider, is:
320,000 in Guangdong Province China (up to February 28)
189,236 in South Korea
49,937 in Italy
23,513 in the United Kingdom
8,411 in Japan (March 4)
6,000 in the Netherlands
3,451 in Israel
A looming shortage in lab materials is threatening to delay coronavirus test results and cause officials to undercount the number of Americans with the virus. . .
Biden's plan focuses on the need for more testing, echoing a theme first advanced by Speaker of the House Nancy Pelosi 
Source: breitbart.com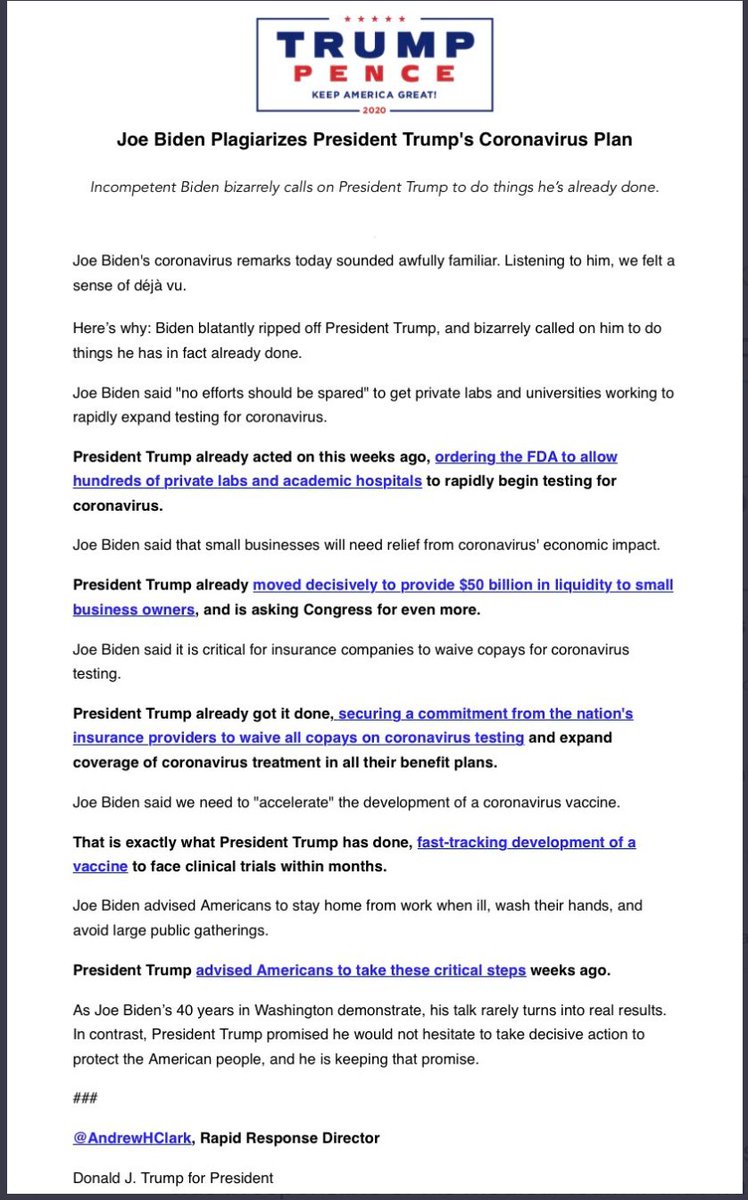 The false positive results for COVID are off the charts, according to this study published in a medical journal.
H/T @mocleirigh_o
.https://t.co/CtZt52gup6 pic.twitter.com/OqyXkHLxxV

— Amazing Polly (@99freemind) March 13, 2020
"The Obama White House had to immediately issue an apology for Joe Biden's remarks, and any alarm that he might have caused, an alarm about a Swine Flu outbreak that took 6 months for President Obama to declare a National Emergency, and that killed 12,000 Americans." @LouDobbs

— Donald J. Trump (@realDonaldTrump) March 13, 2020
Sleepy Joe Biden was in charge of the H1N1 Swine Flu epidemic which killed thousands of people. The response was one of the worst on record. Our response is one of the best, with fast action of border closings & a 78% Approval Rating, the highest on record. His was lowest!

— Donald J. Trump (@realDonaldTrump) March 13, 2020
For decades the @CDCgov looked at, and studied, its testing system, but did nothing about it. It would always be inadequate and slow for a large scale pandemic, but a pandemic would never happen, they hoped. President Obama made changes that only complicated things further…..

— Donald J. Trump (@realDonaldTrump) March 13, 2020
…. Their response to H1N1 Swine Flu was a full scale disaster, with thousands dying, and nothing meaningful done to fix the testing problem, until now. The changes have been made and testing will soon happen on a very large scale basis. All Red Tape has been cut, ready to go!

— Donald J. Trump (@realDonaldTrump) March 13, 2020
The super-rich are preparing to self-quarantine in places that are far off the grid, whether they be on private islands or inside disaster bunkers.
This ultra wealthy group of people plan on taking their personal doctors or nurses on their privately chartered flights with them in the event they become infected and to reduce the risk of becoming infected by being exposed to the virus in a commercial airport or on a commercial flight, 
Once they are off the grid, they enter specially-prepared disaster bunkers — some as far off as New Zealand,
Source: breitbart.com
---
Q
Even without competent presidential leadership, we all have the chance to be public servants.

"These dark days will be worth all they cost us if they teach us that our true destiny is not to be ministered unto, but to minister to ourselves and to our fellow [humans]" — FDR 1933

— James Comey (@Comey) March 12, 2020
translation
"Calling all [family]. △
We're almost out of ammo and strategic assets. We've lost most lines of communication. We face an unprecedented existential crisis. Every one of you must act in your own way. Do not wait for instructions. Remember the code. Remember your oath." https://t.co/1kLpgxz54e

— Joe M (@StormIsUponUs) March 12, 2020
If you're wondering whether it's an overreaction to cancel large gatherings and public events (and I love basketball), here's a useful primer as to why these measures can slow the spread of the virus and save lives. We have to look out for each other. https://t.co/Ld7Uc8sPTQ

— Barack Obama (@BarackObama) March 12, 2020
Trumps saying
We're in this TOGETHER.
BREAKING: The National Guard says troops have been activated in all states, with 1000 expected to be on duty by end of the day in various states.

— Alex Salvi (@alexsalvinews) March 13, 2020
Who controls the NG? 

Normally the states; the state governors.  During peacetime each state National Guard answers to leadership in the 50 states, three territories and the District of Columbia. During national emergencies, however, the President reserves the right to mobilize the National Guard, putting them in federal duty status.

Why was the NG recently activated in select cities within the US? Can the NG work in coordination w/ the marines?   

Yes

Do conditions need to be satisfied to authorize?   

The NG is mainly activated by the states, the POTUS needs Congressional approval to activate the NG. If the states activate them, POTUS can take control of them. This would allow the Marines and the NG to work together under one set of orders. This is shown in the Posse Comitatus Act where by the POTUS can take control.

What former President used the military to save the republic and what occurred exactly? Biggest drop to ever be provided on Pol. Study and prepare. The masses tend to panic in such situations. No war. No civil unrest. Clean and swift.

2793
[Zero-Day]
Countermeasures in place.
[Example]
Think Emergency Alert System.
Think WH controlled *new* RT 'news' website
Think WH controlled *new* video stream platform
Think Here.
Should this occur, immediate steps will be taken to classify each as 'Public Utility' (essential public services) to gain appropriate gov regulation (control).
Why do we make things public?
Q
National Emergency
50 Billion Dollars
Each state emergency centers
Hospital activate emergency plan