Crimes Against Children = Common Denominator, Expect More, Clear Your Mind, Heal – Ep. 2665
Watch The X22 Report On Video
The fake news cannot keep up the lies, one minute the economy is falling apart, the next they get instructions from [JB] White House to say the economy looks great, then they return to the economy is failing. Food shortages coming. The politicians are corrupt, they have the inside track. The [DS] fell right into the patriots trap. What if you know the covid playbook, what if you know they will push testing to get everyone vaccinated, what happens if it exposes the vaccinated as transmitting and getting covid. This is what is happening and the [DS] has no way out, the pandemic is finished. Trump is now inflicting pain on the [DS] showing what they have done was a disaster and it had nothing to do with the virus but their agenda. Maxwell was found guilty, one lead to another and another. Crimes against children= common denominator. It's time for the people to heal and to go after the [DS]. The hunt is on.
---
Economy
suboptimal pic.twitter.com/bADD5ct3Bn

— Jim Cramer (@jimcramer) December 28, 2021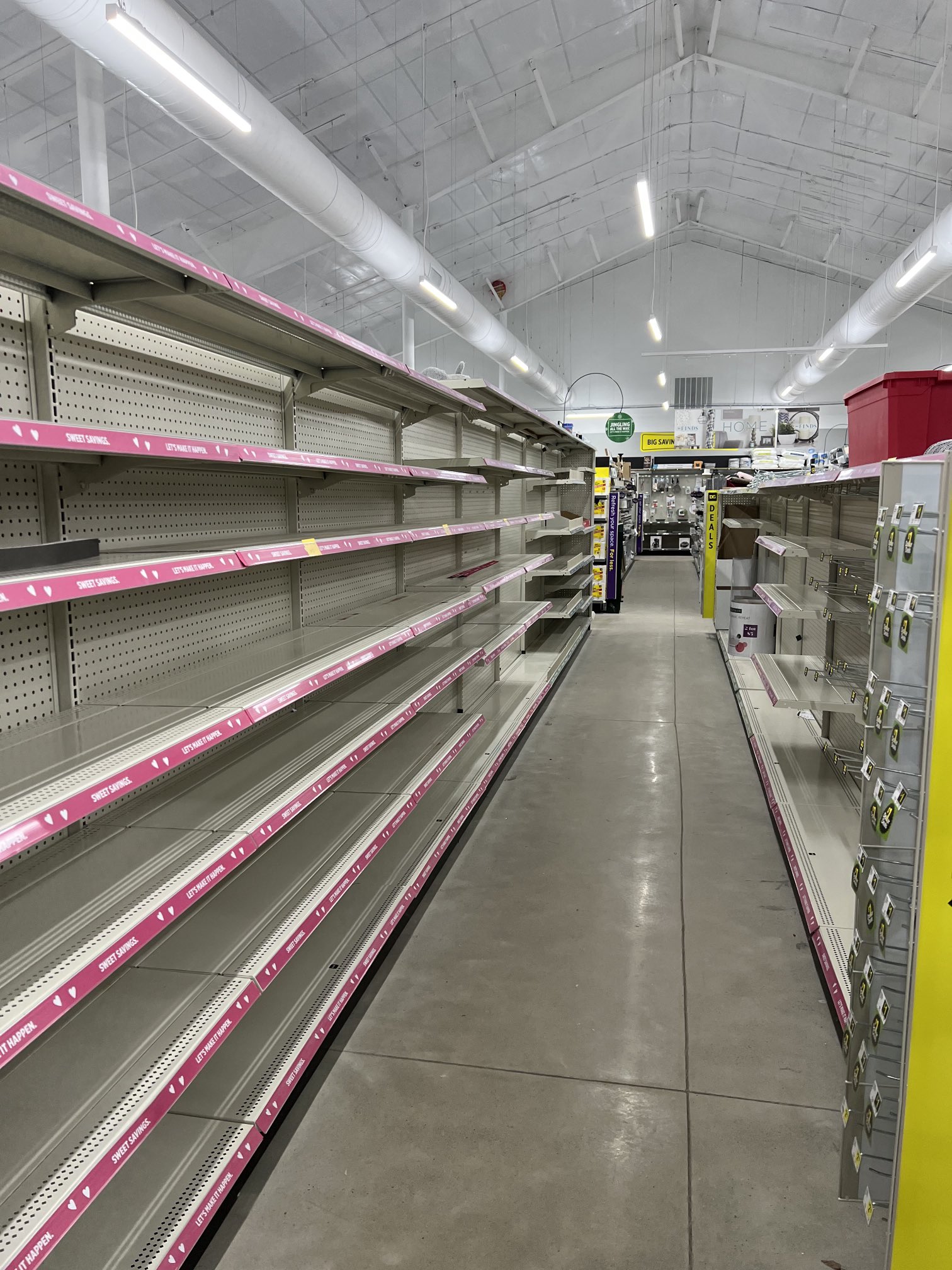 You said a few hours ago that Biden had the best economy in American history you fraud https://t.co/DDChpmHCq9

— Benny (@bennyjohnson) December 29, 2021
Saw this on facebook, and felt it was worth sharing. Get ready, either food prices are going to skyrocket, or farmers are going to go bankrupt. pic.twitter.com/1m0ecDGqMj

— Mike G (@mikegntn) December 30, 2021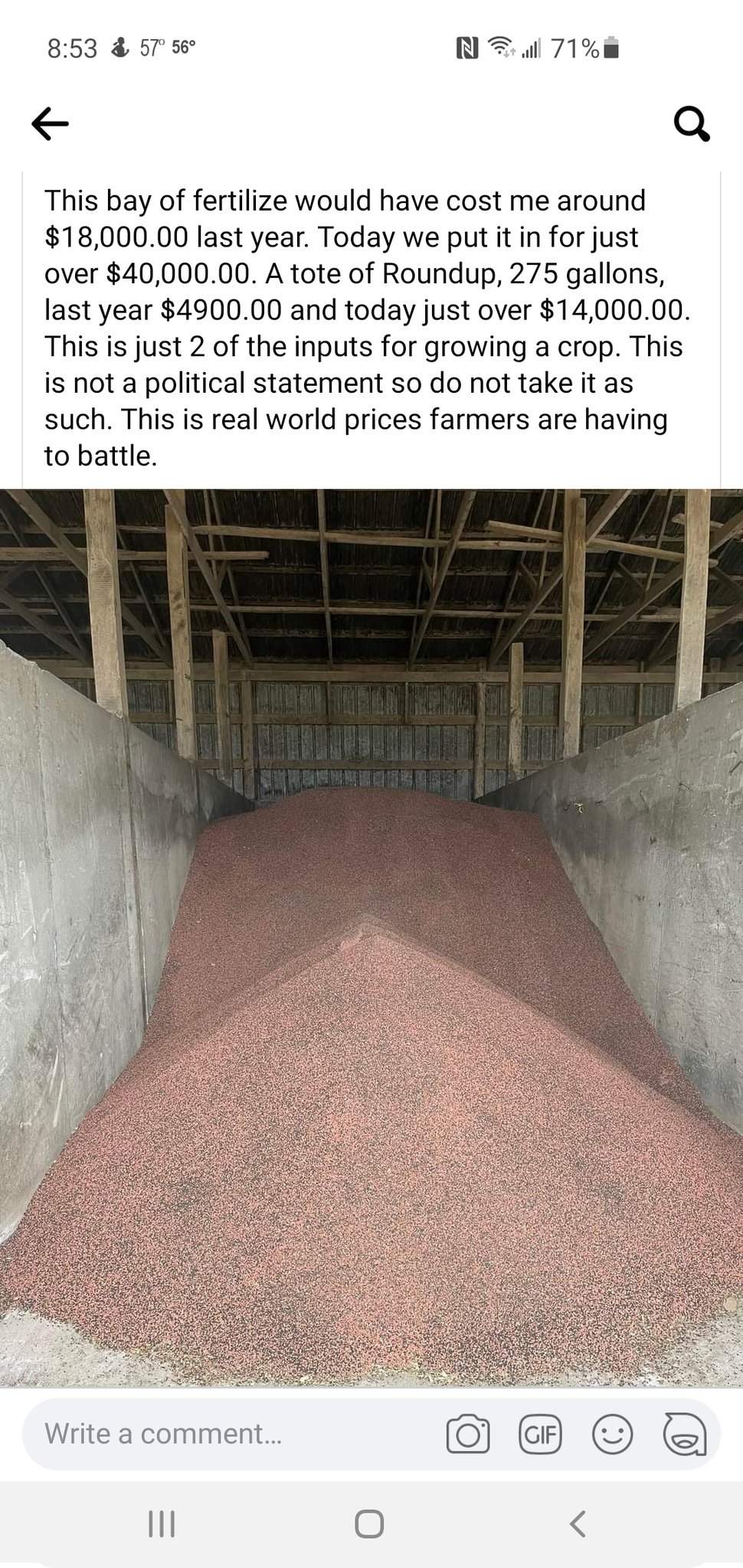 Breaking: Nancy Pelosi buys millions of dollars in call options in $GOOG, $RBLX, and $DIS, among others. (Report edited and condensed). pic.twitter.com/8r6iTPYvqy

— congresstrading.com (@congresstrading) December 30, 2021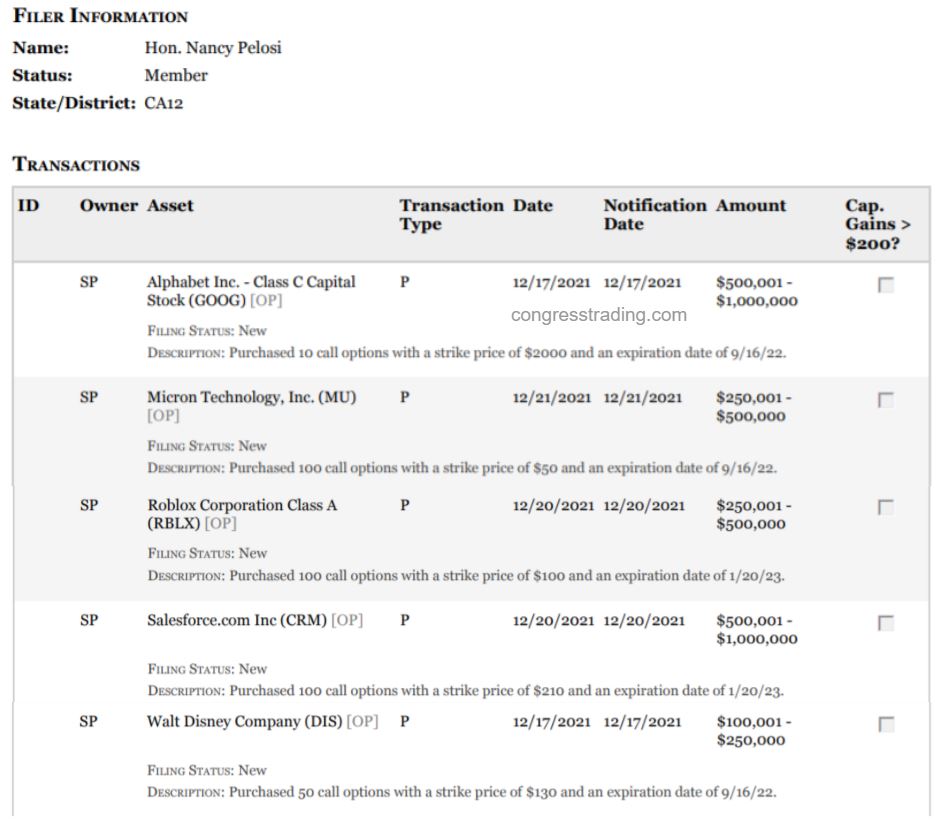 ---
Political/Rights
Per CNN's head of Strategic Communications, Rick Saleeby, the producer for Jake Tapper, has resigned following Project Veritas' exposé.
James O'Keefe confirmed the resignation.
— Eric Spracklen🇺🇸 (@EricSpracklen) December 29, 2021
Source: thegatewaypundit.com
Ghislaine Maxwell was found guilty on Wednesday of 5 of 6 counts.
Maxwell worked as Jeffrey Epstein's pimp for years and the DOJ knew they were running girls as young as 12 but they refused to act.
Maxwell pleaded not guilty to charges stemming from her role as Epstein's 'madam' from 1994 to 2004.
Maxwell faced the following charges:
Count One: Conspiracy to Entice Minors to Travel to Engage in Illegal Sex Acts.
Count Two: Enticement of a Minor to Travel to Engage in Illegal Sex Acts.
Count Three: Conspiracy to Transport Minors with Intent to Engage in Criminal Sexual Activity.
Count Four: Transportation of a Minor with Intent to Engage in Criminal Sexual Activity.
Count Five: Sex Trafficking Conspiracy.
Count Six: Sex Trafficking of a Minor.
Counts Seven and Eight: Perjury (stemming from allegedly false deposition testimony during a civil suit).
The child sex abuser was found guilty on 5 counts and faces 65 years in prison:
 Source: thegatewaypundit.com
Jeffrey Epstein's entire network should be made public and his fortune should go to his victims.

If the fake J6 committee can subpoena innocent people's cell phone data and bank records then Jeffrey Epstein's whole network should be publicized. https://t.co/E86vQE60Bh

— Marjorie Taylor Greene 🇺🇸 (@mtgreenee) December 29, 2021
 
The judge in the Ghislaine Maxwell case has ordered that one document of interest be released.The famed Settlement Agreement with Epstein and Prince Andrew and others has now been ordered to be unsealed and docketed on the public record by 1/3/22 
Here is the order:
Source: thegatewaypundit.com
4566
Q
!!Hs1Jq13jV6
07/02/2020 17:18:30
 ID: 3bbfe0
Archive Bread/Post Links: 9829519 / 9829982
Direct Link: 9829982
3385
Q
!!mG7VJxZNCI
07/09/2019 12:37:54
 ID: 8c9882
Archive Bread/Post Links: 6966555 / 6967208
Direct Link: 6967208
---
Geopolitical/Police State
---
War

---
Cyber Attacks
---
False Flags
JUST IN – Netherlands plans to inject people with "up to six doses" of COVID vaccine – Health Minister (Newsweek)

— Disclose.tv (@disclosetv) December 30, 2021
Netherlands may be moving towards administering "three more booster COVID-19 vaccines," two of which would be in 2022.https://t.co/yKTS4CMjgm

— Disclose.tv (@disclosetv) December 30, 2021
Why so many boosters
"Testing for this month is really important." CNN's @PoppyHarlowCNN speaks with Randi Weingarten, president of the American Federation of Teachers, about the union's stance on mandatory vaccines for students and schools reopening amid the Omicron surge. https://t.co/8revjzyNFT pic.twitter.com/6ND9x8GvT5

— CNN Newsroom (@CNNnewsroom) December 30, 2021
Why testing now
Omicron cases are on the rise, but it's clear that vaccines and boosters are making a difference. Vaccines and boosters help prevent severe illness and death — if you haven't already, go get your vaccine and booster. pic.twitter.com/w6KL27VKrL

— The White House (@WhiteHouse) December 30, 2021
Tests don't work, that cannot distinguish between a  cold, covid, flu etc…
The patriots know the playbook, they know that they will do all out testing, why would the patriots want this? 
This explains the disappearance of Flu cases in the US in 2020. It also inflated the COVID cases as Dr. Fauci and the DC elites knew would happen.
Via Europe Reloaded:
  several months ago that the "health authorities" had reached this decision but were withholding its implementation until the end of 2021. They needed the fake test to keep the fear going in order to achieve as much vaccination, and therefore as much profit, as possible.

It is extraordinary that the CDC's withdrawal of the test received no attention from the media or politicians.
Source: thegatewaypundit.com
Im neuen #RKI-Wochenbericht fehlt die übliche tabellarische Übersicht zur Impfeffektivität. Dafür gibt es die folgenden Impfstatus-Infos zu 4206 von insgesamt #Omikron-Fällen:

– 4020, ergo 95,58 % vollständig Geimpfte (1137 davon geboostert)
– 186 Ungeimpfte (4,42 %) @welt

— Tim Röhn (@Tim_Roehn) December 30, 2021

The usual tabular overview of vaccination effectiveness is missing in the new #RKI weekly report. The following vaccination status information is available for 4206 out of a total of #Omikron cases: – 4020, therefore 95.58% completely vaccinated (1137 boosted) – 186 unvaccinated (4.42 %)
Everyone is now noticing that more vaccinated are turning up positive with the fake tests. 
CDC Director Rochelle Walensky on Wednesday said the agency's updated Covid guidance was based on [as much tyranny] as people would tolerate.
A quick recap of the CDC's sudden shift in the last 48 hours after Biden said "there is no federal solution to Covid":
The CDC was wrong about Omicron and they suddenly shifted their guidelines on quarantine times in just a matter of 24 hours.
The CDC on Monday recommended shorter Covid isolation and quarantine time for all Americans.
The CDC made the decision to cut isolation time from 10 to 5 days in an effort to help Joe Biden and make sure there isn't a total collapse of society under his watch.
The CDC withdrew the use of PCR tests for Covid and finally admitted the test cannot differentiate between Covid and the flu.
The CDC also admitted testing at the end of isolation is no longer needed because the PCR and antigen tests are faulty.
CDC Director Walensky on Wednesday said the decision to update Covid guidelines was in part due to making sure society doesn't collapse.
Then she said this…
"It really had a lot to do with what we thought people would be able to tolerate," Walensky said.
Source: thegatewaypundit.com
So it's an economic decision not a health decision? Hey, I guess economics is a science as well, I just wished they would have been mindful of that science 2 years ago. I guess saving the economy then wouldn't have helped their other goals though?!? https://t.co/WC9M3qHZGT

— Donald Trump Jr. (@DonaldJTrumpJr) December 29, 2021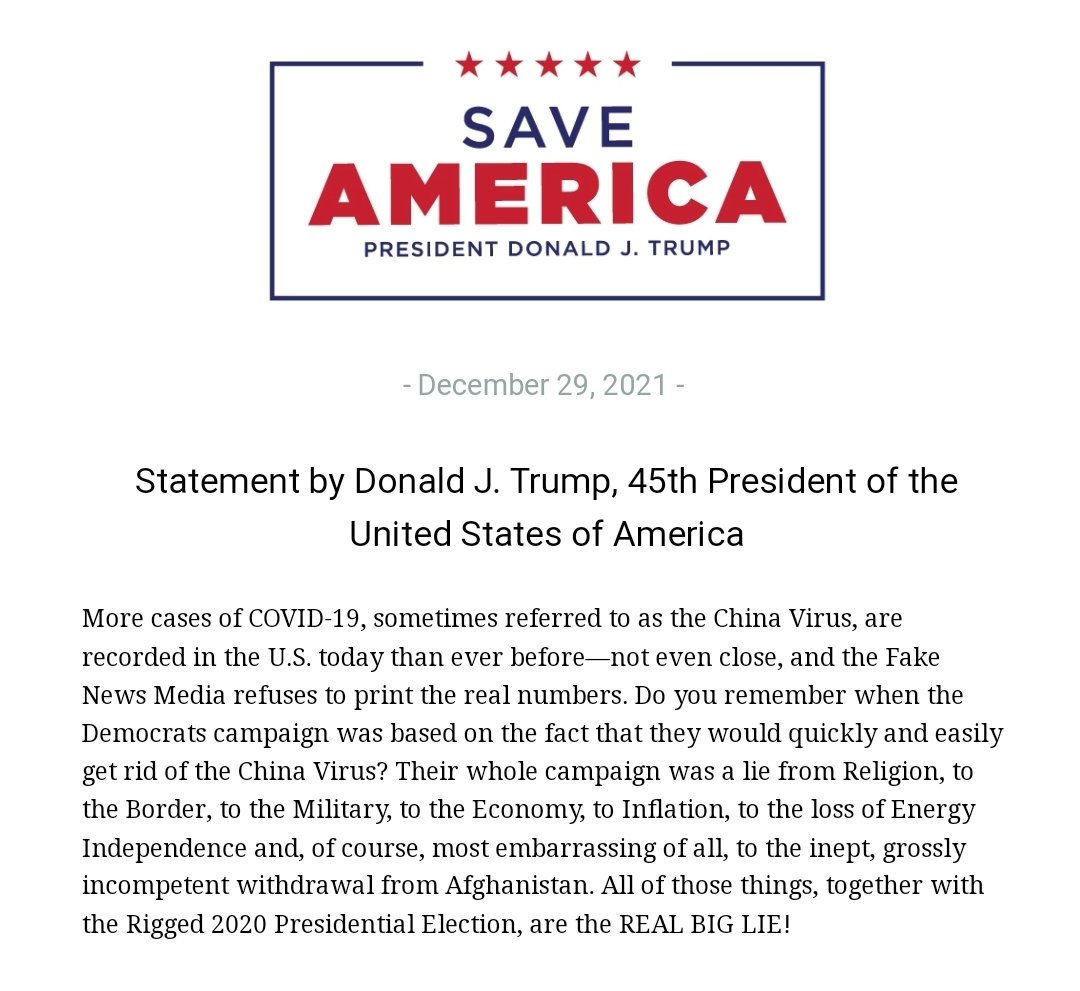 [JB] is feeling the pain, he actually gave up, he admitted defeat as soon as he made the announcement the federal government cannot do anything.
Then we have the case of FDA approved vaccine that does not exist.
I fact checked the fact checkers and couldn't believe what I found. Despite the corporate press, Big Pharma, and the federal government telling us otherwise, it is absolutely true that there is no FDA approved COVID-19 vaccine available in the United States today. And there are no plans to make one available any time soon.
I know it's hard to believe, but it's 100% true. And this reality hints at an incredible scandal within both Big Pharma and the U.S. Public Health bureaucracy.
On August 23, the FDA granted full approval for a COVID-19 vaccine to Pfizer-BioNtech for a specific product sold under the brand name Comirnaty. The landmark moment — the "full approval" endorsement from the FDA — was heralded by the Biden Administration and countless states, and quickly leveraged to coerce millions into taking the shots. This product, Comirnaty, was fully authorized for the "prevention of COVID-19 disease in individuals 16 years of age and older."
Yet Comirnaty itself has never made its way into the United States. The fully-approved version is nowhere to be found within our borders.
A separate product, which remains under emergency use authorization (EUA), is the only "Pfizer shot" available in the United States.
Early on, Pfizer and its government allies seemed to have a reasonable explanation for this issue. They claimed that Comirnaty was not yet available because the EUA shots were still lining the shelves, and claimed that the FDA-approved version would be available to all soon.
Now, it's been over 4 months since full approval, and Comirnaty is still not being distributed.
 the FDA has not explained why they only approved a distinct product named Comirnaty, and not the injection currently being sold under the EUA label. Why won't the FDA approve the EUA product?
Now, back to the trillion dollar EUA question.
Is Pfizer refusing to make the fully authorized version available, while continuing to sell an EUA product because doing so could open up Pfizer and BioNTech to legal liability issues?
An EUA fully protects the drugmaker and grants zero legal recourse to the patient. This surefire protection measure was bolstered by the PREP act and other measures implemented to shield COVID companies from liability.
Due to a law passed during the Reagan Administration, in order for drug makers to be granted more robust legal liability protection for their vaccines, they must first secure full approval for the children's version of their shot. Steve Kirsch has explained this at length last month on his Substack. Additionally, Robert Kennedy Jr mentioned it on a recent podcast with Mikhaila Peterson. I looked into these claims extensively, and they appear accurate. The National Childhood Vaccine Injury Act (NCVIA), which was passed into law in 1986, provides a legal liability shield to drug manufacturers if they receive full authorization for all ages.
Is Pfizer seeking approval for children so that it can protect itself from lawsuits? The company is working with regulators, even clandestinely altering vaccine ingredients (a process that should require them to get full approval for an entirely separate product), in a seeming bid to clear the path to legal indemnity.
If Comirnaty becomes available for all ages, that means Pfizer receives an extensive, additional layer of protection.
 Nobody in the United States is receiving the legally distinct, fully authorized shot. Is it because that shot makes Big Pharma and corrupt regulators more legally vulnerable than they want to be?
Source: dossier.substack.com
  The government was forced to admit that in our recent suit in Florida on behalf of the military members who have a legal right to refuse to be human experiments! 🤬
If you are expecting the [DS]/corrupt politicians/Big Pharam to admit anything, you are going to be waiting a long time, criminals never admit to crimes, they are liers.   
Omicron has changed the game.  It caught the [DS]/Big Pharam off guard, they thought this would assist their plan, but what happened was it exposed the vaccinated and the fake vaccines. 
In the end they will  Omicron to save face, as an "off ramp"  Once the dust settles and the fear is gone people will start to think logically, wait until you see the lawsuits, people who thought they got the fda approved vaccine and didn't, the vaccine mandates with an expermintal vaccine, hcq, ivermectin kept from the public, fda hidden documentation that shows the vaccine doesn't work and it actually creates the pandemic, plus the deaths and side effects. 

Source: theepochtimes.com
look at the date of the post
If you know the [ds] playbook what can you accomplish, what can you show the public
If you know the pcr test do not detect distinguish between the flu/covid and common cold and you know the vaccines are the pandemic what can you show the public
If you know the [DS] will follow the same testing playbook can you show the public that the vaccines don't work
Can you push the [DS] to change the narrative to hide the fact that vaccinated are the ones infected
Can people now see that everything they did had nothing to do with virus, they were pushing an agenda
Can you have them stop the testing when the new tests are released, because it would show the vaccinated are infected
GAME OVER
---
Q
Five men accused of plotting to kidnap Michigan Gov. Gretchen Whitmer want charges DISMISSED because FBI 'invented conspiracy' and informants 'funded and agitated' the movement
Five men accused of hatching plot to kidnap Gov. Gretchen Whitmer say they had no such plan and that it was instigated by federal informants
'Dan' who infiltrated the group, paid for gas, food and lodging for militia-style weekend training
When the five accused men turned down the idea, the informant egged them to do other crimes
Ex-FBI agent that led the case was fired after pleading guilty to hitting his wife following swingers night
Informant was paid $50,000 for his work with federal authorities
Men were allegedly upset with Whitmer's 2020 Covid-19 lockdown 
Prosecutor's will push forward with the case 
Source: dailymail.co.uk
The government case against the guys That was allegedly planning to kidnap governor Whitmer is falling apart. @julie_kelly2 with an update. pic.twitter.com/pq9rbCgbFz

— The Dirty Truth (Josh) (@AKA_RealDirty) December 29, 2021
January 6 committee vice chairwoman Liz Cheney hit back after it was reported the panel stood down on requests for some Trump documents.
The January 6 panel agreed to back down and said it would "defer" its request for the documents.
CNN reported:
The White House said some of the records the House asked for potentially could concern state secrets or executive privilege because they were part of high-level national security deliberations, according to a letter from the White House counsel's office released Tuesday. The House said it would "defer" its requests for those records.

Another set of the documents that the House dropped pursuing may not have been all that helpful anyway because while they were created on dates the committee asked for, they did not pertain to the panel's investigation, the White House letter said. As a result, the committee won't be getting hundreds of pages of National Security Council records at this time.
Liz Cheney threw a tantrum and hit back at Trump.
 .
Source: thegatewaypundit.com
Panic
How many January 6th protesters were actually working for the federal government? In October, I asked AG Garland while he was under oath and he refused to answer. He looked very nervous and worried when I showed him this video in that hearing.pic.twitter.com/lvd9n4mMHK

— Thomas Massie (@RepThomasMassie) December 30, 2021
Epps said he will probably go to jail, but he didn't, they know who he is, they have him on video, and they know where he lives. 
Hillary Clinton is back begging for donations to her scam foundation. You know, the one that had its donations mysteriously drop off after the 2016 election because the Clintons totally weren't selling influence or anything.
Source: redstate.com
SHE MUST BE OUT: Hillary Slams Biden "We Don't Have a White House that We Can Count on to be Sane and Sober and Stable and Productive"
Oh no.  It sounds like Hillary may be out of sweepstakes to be Kamala's VP.  Hillary Clinton made some statements that indicate she suddenly is not happy with the Biden gang. FOX News reports: Former presidential candidate Hillary Clinton took at shot at progressive Democrats this month, appearing to blame them for the inability of the Democrat-controlled…
Armed man with 'hit list' including Biden, Fauci arrested in Iowa on way to White House
Authorities in Iowa have arrested a man who was found during a traffic stop to be carrying a rifle and a "hit list" that included President Biden and Anthony Fauci, the nation's top infectious diseases expert, The Los Angeles Times reported.
Kuachua Brillion Xiong, from Merced, Calif., was taken into custody last week after allegedly telling police who pulled him over for driving aggressively that he was on his way to the White House "to kill persons in power," according to federal court records that were unsealed Tuesday.
  In addition to Biden and Fauci, the Times reported that the list included former Presidents Clinton and Obama and Meta Chief Executive Mark Zuckerberg, among others.
 Apparently, the ultra-wealthy and affluent in Beverly Hills are rushing to purchase firearms at a jaw-dropping rate as they no longer feel safe.   It's worth reading the whole article.
[Beverly Hills] 

– In Beverly Hills, even the purchase of a firearm comes with certain…

expectations. The city's only gun store, Beverly Hills Guns, is a "concierge 

service" by appointment only, for a largely affluent clientele. And business is 

booming.

Since opening in July 2020, the store has seen upscale residents from 

Santa Monica to the Hollywood Hills increasingly in a panic following several 

high-profile smash-and-grab and violent home invasion robberies. The 

apparent siege has brought in a daily stream of anxious business owners and 

prominent actors, real estate moguls and film execs, says owner Russell 

Stuart. Most are arming themselves for the first time.

 
Source: theconservativetreehouse.com