The Pandemic Is Fake, The War Is Real, The Stage Has Been Set, Panic – Ep. 2664
Watch The X22 Report On Video
The [DS]/[CB] are pushing forward with the green agenda. Germany is now shutting down nuclear reactors, this is the push to get the country to go green. Inflation is now picking up and wholesale prices are on the fastest pace on record. People can now see the economic truth.  The [DS]/Big Pharma are now panicking. The people are now waking up and they are starting to understand that the PCR test is flawed and cannot tell you if you have covid, flu or the common cold. The push to get everyone vaccinated is now on, if this fails, which it will it is game over for the them. The stage has been set, the [DS] was blindsided and their fake science policies are not making any sense. Panic all over the place and the fake news is now trying to back track. Enjoy the show.
---
Economy
Wholesale prices rose 9.6% from a year ago, the highest level going back to November 2010.
The pace was even faster than the 9.2% estimate.
 Source: cnbc.com
Everywhere I go these days, people come up to me and say something like this: "I didn't like some of the things Trump said or the way he acted, but I have to admit I like what he did for the economy."
No one has vindicated Trump's "Make America Great Again" policies more persuasively than Biden. High gas prices, the highest inflation rate in four decades, a plan to double the national debt in 12 years, and falling paychecks for workers are waking Americans up to the real broad-based prosperity under Trump.
Trump's strategy was to reduce taxes, slash regulation, massively increase domestic energy production, and overhaul trade deals to get tough with China.
No one in the progressive movement thought it could possibly work. The Washington Post famously claimed before the 2016 election that "Trump could destroy the world economy." Did that turn out to be true?
 Over his first three years in office before COVID hit, the unemployment rate fell below 4 percent, which was near the lowest in half a century. The inflation rate fell to 1 percent, which was even below the target level set from the Federal Reserve. This kept the interest rates on mortgages and many other loans down to the lowest level in modern times.
Poverty rates fell to their lowest levels ever recorded. This was true for women, children, blacks, whites, Hispanics, and Asians. Median household income rose to nearly $68,000, and the $5,000 gain in three years was more than over the second term of George W. Bush and the eight years of Barack Obama.
Here was another remarkable feat: Under Trump, the United States became energy-independent. The month that Trump left office, one year ago, America was importing zero oil from Saudi Arabia, largely because U.S. oil and gas production had surged. Now we have a president who has to beg the Saudis and Iranians to produce more oil. How humiliating.
  
Source: theepochtimes.com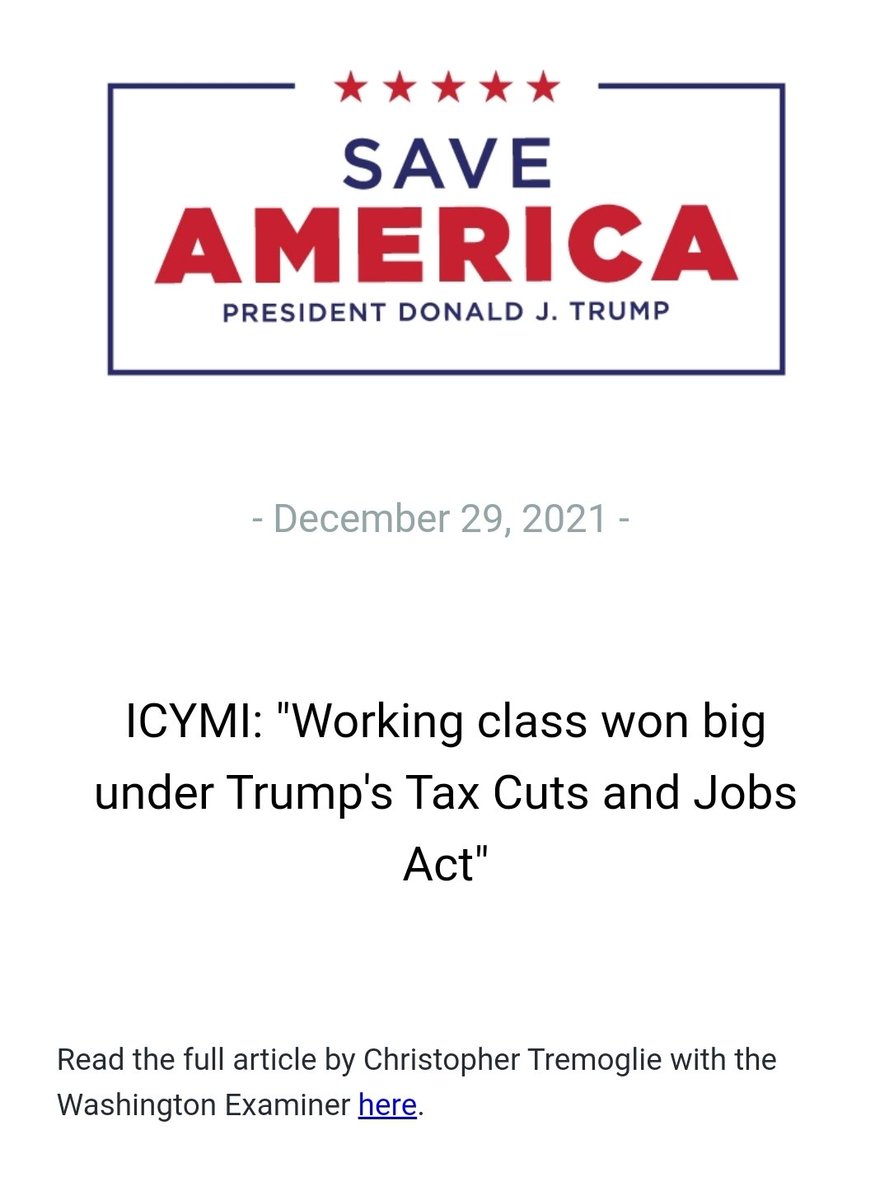 ---
Political/Rights
 Andrew Cuomo was found to have sexually harassed multiple women, AG Letitia James announced in August after a 4-month investigation into the accusations.
According to NY AG Letitia James, Cuomo violated state and federal law.
The Westchester County DA's office investigated two separate allegations against Cuomo and concluded they were credible.
"Our investigation found credible evidence to conclude that the alleged conduct in both instances described above did occur. However, in both instances, my Office has determined that, although the allegations and witnesses were credible, and the conduct concerning, we cannot pursue criminal charges due to the statutory requirements of the criminal laws of New York," District Attorney Mimi Rocah said in a statement.
"This conclusion is unrelated to any possible civil liability which is beyond the scope of a District Attorney's jurisdiction, which focuses solely on criminal laws," she added.
Source: thegatewaypundit.com
The judge presiding over the Ghislaine Maxwell sex trafficking trial has asked jurors to continue attending court ahead of the New Years period, expressing concern over the speed of spread of the Omicron coronavirus variant.
Noting the "astronomical spike" in COVID-19 cases, Judge Alison Nathan requested that jurors be available to deliberate on Dec. 30 and 31, which were originally scheduled as days off for New Years. Additionally, the days will run from 9 a.m. to 6 p.m., instead of finishing at 5 p.m.
She said specifically she was "trying to avoid a mistrial due to the Omicron variant."
The jury is now into their fourth full day of deliberations 
Maxwell faces up to 70 years in prison if convicted on all charges.
Source: zerohedge.com
Judge Nathan reads a new Ghislaine Maxwell jury note.

"May we please have the following transcripts:"

* Shawn
* Cimberly Espinosa
* Amanda Young
* Jason Richards

Also one name she didn't read.

— Adam Klasfeld (@KlasfeldReports) December 29, 2021
---
False Flags
The nation's second largest school district was set to implement a COVID-19 vaccine mandate for students, but once school leaders realized they would have to send home thousands of students to learn online it reversed course.
The Los Angeles Unified School District (LAUSD) delayed its Jan. 10 vaccine deadline to the fall of 2022 once it realized that it would have to send home 30,000 students who faced the choice to either get vaccinated or switch to an "online independent study program." LAUSD was the first school district in the country to announce a vaccine mandate for all students 12 and older attending in person classes for the 2021-22 school year, the school board announced on Sept. 9.
LAUSD said it decided to delay the vaccine requirement due to concerns about how to consolidate classes, reallocate teachers and move 30,000 students to remote learning by the January deadline, Politico reported. On Dec. 7, LAUSD fired almost 500 employees who did not get their first dose of the vaccine by Nov. 15.
Other districts in blue cities across the the U.S., such as Portland, Oregon, New York and Chicago are softening their plans to mandate vaccines as school leaders face pushback for student vaccine requirements before the Food and Drug Administration fully approves the vaccine for the age group, Politico reported.
Source: dailycaller.com
WASHINGTON DC – President Biden said Tuesday he would impose a mandate that Americans be vaccinated against COVID-19 to travel domestically if his medical team recommends it.
 
The idea of mandating coronavirus vaccines for domestic travel has been bouncing around the administration for months, and the emergence of the omicron variant caused the White House to revisit questions over whether to impose it. (read more)
Source: theconservativetreehouse.com
Imagine adding 70M people to the no-fly list for the crime of… making their own healthcare decisions.

— Liz Wheeler (@Liz_Wheeler) December 29, 2021
Biden lifts omicron travel restrictions on South Africa and seven other nations
President Joe Biden on Tuesday revoked travel restrictions placed on eight countries initially aimed at stopping the spread of the omicron coronavirus variant within the United States.
 
Source: washingtonexaminer.com
The travel restrictions will stay in place until 12:01 a.m. on Dec. 31, 2021.
So people can fly from Africa but people in the US won't be able to fly with papers, and this is because omicron is dangerous
TAKE A LISTEN
American troops are being encouraged but not required to get COVID-19 vaccine booster shots, according to a newly published memorandum.
Troops were told earlier this month in the memo, published by the military on Tuesday, that "receipt of a COVID-19 vaccine booster dose is not mandatory."
The military has granted thousands of medical and administrative exemptions but has still not approved a single religious one, something lawyers representing troops say violates federal law.
"I think it shows that the military now believes that it's above the law, that it doesn't have to follow the Constitution or federal law when it comes to enforcing its rules or its policies," Mike Berry, an attorney with First Liberty Institute, told The Epoch Times.