Did You Catch What The Patriots Are Doing, It's PERFECT, Wait For It.. – Episode 1984
The WTO is warning the world that global trade is slowing, translation, the [CB] is exposed and it is collapsing, so we will blame it all on Trump even though the US is doing great. Trump economic numbers are better than Obama's, incomes up. Trump blames the manufacturing slump on the Fed, he has been telling the Fed we need a weaker dollar to compete, lower rates and stimulus, they are not moving fast enough. Trump hits the Fed hard and blames them. The [DS]/MSM is now projecting their panic and fear onto Trump. The whistleblower or leaker narrative is falling apart, the MSM/DS is getting caught in what they did. Sidney Powell and Flynn are battling the DOJ, and she is winning, the DOJ will not produce the evidence she needs. NK talks are back on. Trump has Andrew Jackson hanging on his wall, Jackson removed the [CB] and drained the swamp.
Check Out The X22 Report Spotlight YouTube Channel X22Report Spotlight
Please check Newzsentinel.com for the latest news on the economic collapse. The Sentinel Alerts are updated throughout the day. If you haven't already, go to "The People" and join the community of people who are helping each through the economic collapse.
---
Current News – 01.01.2019
Watch The X22 Report On Video
---
Economy
The [CB] global economy is in trouble, the [CB]s around the world are exposed, they are trying to blame this on Trump, but when you look at the US the stats show the US is doing well, Trump and the Patriots are keeping the [CB] system operational, the rest world was in trouble way before Trump, way before the tariffs, thats why the ECB was pushing stimulus and were continually lowering rates the [CB]s were trying to keep their system operational until the event. The WTO has put out a warning 
 the World Trade Organization (WTO) to reduce its global growth forecasts for 2019 and 2020.
World merchandise trade volumes are expected to only expand by 1.2% in 2019, substantially slower than the 2.6% growth forecast in April. The 2020 global growth forecast is expected to be 2.7%, down from 3% previously.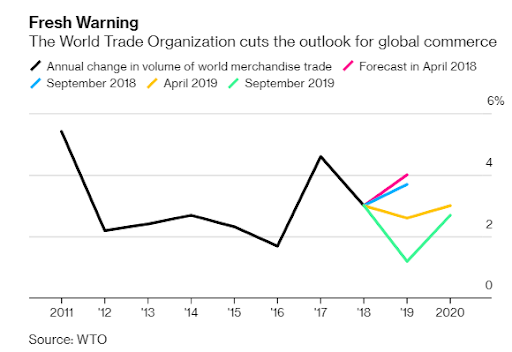 Source: zerohedge.com
We need to remember this is the [CB] globalist system that is failing, this is exactly what the patriots are pushing for, they world will deterioriate first and the US will not, why because it is the reserve currency of the world and Trump is going to use this to his advantage. Look at the stats in the US, he is pushing the economy, cutting taxes, cutting regulations, setting up equal trade.
STUNNING! Trump's Economic Number FOUR TIMES BETTER than Obama — Middle Class Incomes up $3,000 per Year! 
According to US Census Bureau the Real Median Household Income is at its highest level ever at $65,084 per family.
And the real median household income is up $3,000 under President Donald Trump.
After eight years in office Barack Obama was able to raise wages only $1,000 per household,  
I wonder how Trump was able to do this, do you think it was the regulations, the tax cuts, the removal of the OBamacare penalty
Source: thegatewaypundit.com
A stronger dollar makes U.S. exports less attractive to foreign buyers because they become more expensive. The dollar's recent strength–it surged to a 29-month high against a basket of rival currencies
While the Fed has been cutting rates in recent months, so has the European Central Bank.  The Fed's current bench market target is between 1.75 percent and 2 percent, far above the -0.6% of the euro zone.
Source: breitbart.com
Now Trump is not going to let a moment go by where he doesn't hit the Fed hard, he tweeted out the following
As I predicted, Jay Powell and the Federal Reserve have allowed the Dollar to get so strong, especially relative to ALL other currencies, that our manufacturers are being negatively affected. Fed Rate too high. They are their own worst enemies, they don't have a clue. Pathetic!

— Donald J. Trump (@realDonaldTrump) October 1, 2019
Once again the Fed does not have a clue and they are pathetic, Trump continually pushing the narrative that the Fed is the problem, they don't understand the economy, he is right, the don't care about the economy, they care about the private corporation and staying in control, they never cared about the people.
---
Political/Rights
The MSM/DS they are projecting everything they feel onto Trump, they nervous the are panicking because they know they have lost the narrative, did you catch what the patriots have done, they have created an army of digital soldiers to go up against the MSM, everytime the MSM reports the some fake with no sources, the digital army springs into action and researches the facts and counters the MSM stories. This is a no win situation for the MSM, facts against anonymous sources, who will always win that fight, the patriots with the facts. This plan is absolutely PERFECT, but first lets talk about how the MSM/DS are projecting their feeling on Trump
Jim Acosta tweeted out the following
A GOP congressional aide said there is a sense that things are heading in a bad direction for Trump: "We are entering a phase with a lot of unknowns. People are anxious about what else is out there," the aide said about growing feeling among Republicans staffers and lawmakers.

— Jim Acosta (@Acosta) September 30, 2019
I'm calling on the GOP to stop Trump's filthy talk of whistleblowers being spies & using mob language implying they should be killed. Impeachment is not good enough for Trump. He needs to be imprisoned & placed in solitary confinement. But for now, impeachment is the imperative.

— Maxine Waters (@RepMaxineWaters) October 1, 2019

It seems they are afraid of the unknown, why
the intelligence organization is no longer in control and they are not getting the info the were before
the sealed indictments are sealed, so they don't know what is happening their
the investigations have to no leaks, so they are in the dark
they don't understand why their propaganda is not working anymore, digital soldiers
they are anxious, they don't know what is out there, they are afraid of the unknown.
So the D's/DS/MSM want Trump impeached and they are pushing impeachment but Schumer expects Trump to work with them on Gun control, 
What An Idiot: Dems Want to Impeach Trump But Schumer Expects Him to Work With Them On Gun Control
Senate Minority Leader Chuck Schumer  called on President Donald Trump to continue working with Congress on gun control measures
Source: townhall.com
Trump is not going to signoff on anything they are trying to push, why it is not in the interest of the people, the legislation is in the interest of the DS
So Trump went ahead and trolled the D's with a simple tweet
Trump Trolls Crazed Democrats with US Election Map
President Trump today dared the crazed Democrats to move forward with their suicidal plot.
"Try to impeach this."
— Donald J. Trump (@realDonaldTrump) October 1, 2019
Source: thegatewaypundit.com
The House subpoened Pompeo, Pompeo responded to their request.
I'm concerned with aspects of the Committee's request that can be understood only as an attempt to intimidate, bully, & treat improperly the distinguished professionals of the Department of State, including several career FSOs. pic.twitter.com/QRtMaXlhQM

— Secretary Pompeo (@SecPompeo) October 1, 2019
Let me be clear: I will not tolerate such tactics, and I will use all means at my disposal to prevent and expose any attempts to intimidate the dedicated professionals whom I am proud to lead and serve alongside at the Department of State.

— Secretary Pompeo (@SecPompeo) October 1, 2019

Now ask more and more digitial soldiers research they are digging up alot of information on Schiff, Pelosi, the Biden's, Clinton, Brennan etc….
BREAKING EXCLUSIVE: Pelosi NECK DEEP in Ukraine – Female Ukrainian Party Girl Connected to Military and Government is Her Legislative Aide 
Nancy Pelosi    legislative aide, Ivanna Voronovych, is from the Ukraine and is connected to the Ukrainian Embassy, the Ukrainian military, the Ukrainian government and Ukrainian party life.
Young Ivanna Voronovych was a party girl in the Ukraine and somehow managed to make her way into a position as a Legislative Aide to Nancy Pelosi –
Young Voronovych started her career working at the US Embassy in the Ukraine in Kiev.  She worked for Roman Woronowycz, the Kiev Bureau Chief, who is connected to Nancy Pelosi.   As a matter of fact, he is a fan of Pelosi's.  Woronowycz is well connected with with the US Congress as can be seen from the picture below where he was given a tour of the Capital by Voronovych before reportedly meeting up with Pelosi, Schumer and others.  He once posted, "Tell Nancy to keep up the good work!"  (What is he referring to here?)
Voronovych is no friend of President Trump – distributing anti-Trump propaganda about the Trump balloon in London  –
Source: thegatewaypundit.com
Then we move onto Schiff, where he had a staffer visit Ukraine in Aug, he lied to congress and the american people when he created his own phone transcript of Trumps call to Zelensky, which was completely fake, Trump wants to know why he is not brought up on charges. Trump tweeted out the following
Why isn't Congressman Adam Schiff being brought up on charges for fraudulently making up a statement and reading it to Congress as if this statement, which was very dishonest and bad for me, was directly made by the President of the United States? This should never be allowed!
— Donald J. Trump (@realDonaldTrump) October 1, 2019
The Ukraine scandal is much  
MUST READ: Ukraine Burisma Story is Massive – Involves BILLIONS of IMF and US Funds Looted and Lost by Bank Connected to Burisma Holdings!
 more than about the money paid to Hunter Biden for being a Board member at the largest gas producer in the Ukraine, Burisma Holdings.  The real scandal involves billions in funds from the IMF and US in aid that has gone missing.
A controlling shareholder of Burisma is believed to be held by an entity called Privat Group:
The Privat Group, or PrivatBank Group  is a global business group, based in Ukraine. Privat Group controls thousands of companies of virtually every industry in Ukraine, the European Union, Georgia, Ghana, Russia, the United States and other countries. Steel, oil & gas, chemical and energy are sectors of the group's prime influence and expertise. None of the group's capital is publicly traded on any stock exchange.
Privat Group is controlled by Ukraine's largest commercial bank, PrivatBank, whose owner was Igor Kolomoisky.  PrivatBank was later nationalized by the Ukraine in December 2016, taking 100% control of the PrivatBank entity, a month after the 2016 US election:
The international financial agency had rushed the money to Ukraine in April, in response to what IMF managing director Christine Lagarde called a "major crisis." She went on to hail the government's "unprecedented resolve" in developing a "bold economic program to secure macroeconomic and financial stability." Over the next five months the international agency poured the equivalent of $4.51 billion ($2.97 billion in "Special Drawing Rights"—the IMF's own currency) into the National Bank of Ukraine— the country's central bank. Much of this money was urgently needed to prop up the local commercial banks. In theory, the IMF appeared to require direct supervision of how the Ukrainian banks used the aid. In fact, it appears the banks got to select their own auditors." [source]
Kolomoisky's bank, PrivatBank, is later revealed to be a recipient of billions of dollars of IMF funds.  Kolomoisky is believed to have looted those funds:
At one point in time, Kolomoisky had been placed on a US Government Visa ban list due to his questionable business practices; however, shortly after Archer Devon and Hunter Biden joined the board of Burisma, that ban was mysteriously lifted, and there has been no investigation into these missing funds.
Where are the billions of dollars that went missing in the Ukraine?  What do Obama, Biden and Kerry  know about where the money is and are they connected?
There is now a pic of biden and Bursima
Photo reveals Joe and Hunter Biden golfing with top Ukraine gas company executive in 2014  
Source: thegatewaypundit.com
Now we know the ICIG changed the whistleblower complaint form, the ICIG released a statement explaining why this was done. 
Deep State ICIG Releases Statement on Why It Was Necessary to Change Whistleblower Forms to Include: Watercooler Talk, Rumors, Hearsay and Cafeteria Conversations
 ICIG released a statement   on why they found it necessary to change their rules LAST MONTH to include: Watercooler Talk, Rumors, Hearsay and Cafeteria Conversations
ICIG Statement on Processin… by The Conservative Treehouse on Scribd
In the letter Atkinson admits the changes to the form were made at the time of the partisan CIA leaker's complaint.
As Conservative Treehouse notes the changes were made at the same time Rep. Adam Schiff was accusing President Trump, Rudy Giuliani and holding back funding pending assistance with political opponents. (This was already found to be a lie.)
In his letter Atkinson claims the alleged CIA "whistleblower" had direct knowledge of certain alleged conduct
The ICIG argues that the form was changed last month to include rumors and hearsay because there is no such requirement in the statute.
Atkinson and his staff had to work overtime to make the CIA spy's second-hand information to fit the whistleblower laws.
 
Here is Atkinson on changing the rules.
Although the form requests information about whether the Complainant possesses first-hand knowledge about the matter about which he or she is lodging the complaint, there is no such requirement set forth in the statute. In fact, by law the Complainant – or any individual in the Intelligence Community who wants to report information with respect to an urgent concern to the congressional intelligence committees – need not possess first-hand information in order to file a complaint or information with respect to an urgent concern. The ICIG cannot add conditions to the filing of an urgent concern that do not exist in law.
Atkinson also claims the CIA "whistleblower" urgent concerns appeared credible. But the whistleblower's letter does not include any firsthand information.
It is obvious from reading Atkinson's statement that this was a hit on President Trump — and Michael Atkinson is in on it.
Source: thegatewaypundit.com
When looking at the form the whistleblower(or DS agent) lied, they did not have firsthand knowledge but they went ahead and checked the box.  This is from the ICIG release.

As more and more information is released the credibility of the ICIG, the whistleblower is fading away, Trump tweeted out the following
The Fake Whistleblower complaint is not holding up. It is mostly about the call to the Ukrainian President which, in the name of transparency, I immediately released to Congress & the public. The Whistleblower knew almost nothing, its 2ND HAND description of the call is a fraud!
— Donald J. Trump (@realDonaldTrump) September 30, 2019
The DS never expected Trump to release his transcript and have the Ukrainian President confirm it all
Devin Nunes Calls For Inspector General to Preserve Evidence Linked to Changed Whistleblower Rules
Rep. Devin Nunes (R-Calif.) and other house lawmakers this week issued a preservation order for all evidence and records connected to changes made to the whistleblower form.
In a letter addressed to Inspector of the Intelligence Community General Michael K. Atkinson on Sept. 30, Republican Reps. Nunes, Kevin McCarthy (R-Calif.), and Jim Jordan (R-Ohio) asked for the preservation of all evidence linked to secret revisions made to rules submitted to the office.
"[The] timing of the removal of the firsthand information requirement raises questions about potential connections to this whistleblower complaint," the letter reads.
"This timing, along with numerous apparent leaks of classified information about the contents of this complaint, also raise questions about potential criminality in the handling of these matters."
Source: theepochtimes.com
Trump reminds everyone that the call with zelensky was perfect he tweeted out the following
"The congratulatory phone call with the Ukrainian President was PERFECT, unless you heard Liddle' Adam Schiff's fraudulently made up version of the call. This is just another Fake News Media, together with their partner, the Democrat Party, HOAX!

— Donald J. Trump (@realDonaldTrump) October 1, 2019
Now HRC is panicking ,she has been tweeted out how we need to impeach, how Trump is an illegitamate president, she is really talking about OBama when she is saying this, she is projecting it onto Trump and now she brings up the secure server that Trump stored the call on, what is she really going to tell Trump about securing servers.
Hillary Clinton questions Trump's decision to use secure server to store his calls
HRC said the following
"And that's why they immediately, tried to limit the extension of that phone call to be shared with other people…why they put it in a highly classified system…that is used for the most important secrets like Osama Bin Laden raid, continued to explain Hillary Clinton, 
Source: saracarter.com
But, he released the transcript to the public, he only put it on the server to trap you, to make you think that he would never release it to the public, you took the bait and now you have nothing, the plan failed.
HRC has her own problems, Tom Fitton of JW has been working on getting all the information he can on HRC email scandal.
JUDICIAL WATCH: COURT FORCES RELEASE OF CLINTON WIKILEAKS DISCUSSION EMAIL THAT CONFIRMS STATE DEPARTMENT KNEW ABOUT HER EMAIL ACCOUNT
  Judicial Watch announced  that the State Department provided a previously hidden email which shows that top State Department officials used and were aware of Hillary Clinton's email account.
On December 24, 2010, Daniel Baer, an Obama State Department deputy assistant secretary of state, writes to Michael Posner, a then-assistant secretary of state about Clinton's private email address:
Baer: "Be careful, you just gave the secretary's personal email address to a bunch of folks …"Posner answers: "Should I say don't forward? Did not notice"Baer responds: "Yeah-I just know that she guards it pretty closely"
Mr. Posner had forwarded Clinton's email address, which was contained in an email sent to State Department senior leadership, about WikiLeaks.
It appears the State Department produced this email in 2016 in redacted form, blacking out Clinton's personal email address and the discussion about Clinton's wanting to keep her email address closely guarded.
Despite a recent court order requiring production of the email, the DOJ and State Departments only produced it 10 days ago after Judicial Watch threatened to seek a court order to compel its production.
"Judicial Watch just caught the State Department and DOJ red-handed in another email cover-up – they all knew about the Clinton email account but covered up the smoking-gun email showing this guilty knowledge for years," stated Judicial Watch President Tom Fitton.
 a
Source: judicialwatch.com
The DS/MSM has failed on the whistleblower narrative, it is falling apart rapidly so the DS/MSM decided to create another fake story which was debunked  very quickly, 
BREAKING: Australian Ambassador's May 2019 Letter to AG Bill Barr DESTROYS, DEBUNKS Latest NY Times Smear Job on President Trump
According to a leak to the New York Times, President Trump "pushed" the Australian Prime Minister during a recent phone call to help AG Barr gather information that could potentially discredit Robert Mueller's Russia probe.

The New York Times went on to say, "[T]he discussion with Prime Minister Scott Morrison of Australia shows the extent to which Mr. Trump sees the attorney general as a critical partner in his goal to show that the Mueller investigation had corrupt and partisan origins, and the extent that Mr. Trump sees the Justice Department inquiry as a potential way to gain leverage over America's closest allies."
A letter from Australian Ambassador Joe Hockey written to Attorney General Bill Barr back in May of this year destroys the latest New York Times smear job on President Trump.
The Australian Ambassador back in May acknowledged that President Trump announced that Bill Barr will be conducting an investigation into the origins of Spygate and offered Barr assistance.
Mr. Hockey, in a May 28 letter to Bill Barr said: "The Australian government will use its best endeavors to support your efforts in this matter. While Australia's former High Commissioner to the United Kingdom, The Hon. Alexander Downer, is no longer employed by the Government, we stand ready to provide you with all relevant information to support your inquiries.."
Source: thegatewaypundit.com
Graham Says He Plans to Send Letter to Ask Countries to Cooperate With Barr's Counterintelligence Origins Probe
Sen. Lindsey Graham (R-S.C.) said he plans to send a letter asking countries to cooperate with the Justice Department's (DOJ) probe into the origins of the counterintelligence probe into the Russian meddling in the 2016 presidential election.
"This New York Times article about Barr talking to Australia is the beginning of an effort to shut down Barr's investigation to find out how this whole thing started," Graham said during his appearance on Monday.
He continued, "Barr should be talking to Australia. He should be talking to Italy. He should be talking to the UK to find out if their intelligence services worked with our intelligence services improperly to open up a counterintelligence investigation of Trump's campaign. If he's not doing that he's not doing his job."
"So I'm going to write a letter to all three countries and asking them to cooperate with Barr," he added.
Source: theepochtimes.com
Senator Lindsey Graham played a round of golf with President Trump last Saturday.
Senator Lindsey Graham on Spygate: "I Know We're Going To Find Out About That in Two Weeks"…
 Lets move onto the Flynn case
The evidence of prosecutorial misconduct in the Michael Flynn case continues to grow. And with each new court filing by Flynn's new criminal defense attorney, Sidney Powell, the public learns more about the events leading up to Flynn's guilty plea and the government's manipulation of Trump's former national security advisor.
The latest development came on September 30, when Powell filed a supplement status report summarizing the outcome of the criminal case against Flynn's former Flynn Intel Group (FIG) partner, Bijan Rafiekian. Presiding Judge Emmett Sullivan had requested the parties provide the court a statement concerning the impact of the government's decision not to call Flynn as a witness in that case. That provided Powell an opening to inform Judge Sullivan that the prosecution's case against Rafiekian had been tossed.
then Sidney Powell hit the court with this
 "In our endless document review, we now have a draft of the statement of offense that proves the contrary, showing similar language deleted," Powell told the court. This proves extremely significant.
To explain: The Statement of Offense is the document a defendant—Flynn here—signs in pleading guilty to an offense and then later swears to the veracity of in court. The Statement of Offense summarizes the facts for the court to show they are sufficient to establish that the defendant has committed the charged offense.
The Statement of Offense filed in the criminal case against Flynn detailed the various false statements Flynn made to the FBI about his conversation with the Russian ambassador, the charge Flynn pleaded guilty to. Flynn stated that "in truth and in fact, however, Flynn then and there knew that the following had occurred…" The Statement of Offense then listed the content of Flynn's actual conversations with the Russian ambassador.
In his Statement of Offense, Flynn also acknowledged that he had filed multiple documents with the Department of Justice pursuant to FARA "pertaining to a project performed by him and his company, the Flynn Intel Group, Inc. ('FIG'), for the principal benefit of the Republic of Turkey ('Turkey project')." Flynn acknowledged that the FARA filings included "material false statements and omissions," but significantly, he did not also attest to know "then and there" that the statements were false. In other words, Flynn never said in the statement of offense that he had knowingly filed false FARA documents.
Yet Van Grack insisted Flynn had admitting to knowingly filing false FARA statements and when Flynn refused to testify accordingly, Van Grack switched to treating him as a co-conspirator. But from Powell's latest filing, we now know that similar language, i.e., "knowingly filed" or "knowing then or there," was deleted from the original statement of offense!
 Powell then reveals   "The government told defense counsel in the summer of 2017 that it was going to indict the FARA case then, had obtained authorization to target Michael Flynn Jr.—who had a newborn—and had seized all his electronic devices," Powell wrote. But no indictment came once Flynn Sr., pleaded guilty.
Powell also stressed that "the government did not indict the specious Rafiekian case until more than a year after the Flynn indictment—just a few days before Mr. Flynn was to be sentenced in this Court—when the government was concerned that Mr. Flynn would withdraw his plea."
These facts reek of prosecutorial blackmail: Flynn Sr. better plead guilty or the government will charge his son with a FARA violation, even though there was no crime—as the Virginia district court concluded in the Rafiekian case. And, to make sure Flynn didn't balk, the prosecutors showed they were serious by indicting Flynn's FIG partner. Then, to further ensure his cooperation, they sought to have him testify under oath that he too committed a FARA offense.
But when Flynn refused to testify that he knowingly violated the FARA law, the government attempted to retaliate and further threaten Flynn, by naming him a co-conspirator and putting Flynn Jr. on the witness list and having an FBI agent contact the son. What possible purpose for this was there, other than intimidation?
 Powell is steadily building the case that the charges against Flynn should be tossed for egregious prosecutorial misconduct,
Source: thefederalist.com
Prosecution Responds to Flynn Discovery Motion – Government Refuses to Provide Any Additional Evidence…
The DOJ responds today to the Flynn motion for additional evidence; ie. Brady material requested by Flynn's defense.   In the governments' response filing (full pdf below), the DOJ rejects any additional efforts to provide evidence, and requests Judge Emmet Sullivan proceed directly to sentencing:
Source: theconservativetreehouse.com
---
War
North Korea says nuclear talks with U.S. will resume on October 5
North Korea and the U.S. have agreed to resume nuclear negotiations on October 5 
Source: thehindu.com
---
Q
If you ever wondered why TRump has the portrait of Andrew Jackson hanging on his wall it is because he got it rid of the [CB] and he drained the swamp.  JAckson stood up to the Elites and when I go over it just substitute Trumps name for JAcksons, it all starts to make sense.
Here's How Andrew Jackson Stood Up to Unaccountable 'Elites'
Jackson had surrounded himself with thinking men—like Martin Van Buren, Francis Preston Blair, Amos Kendall, a few eccentric "Locofocos" (precursors to modern libertarians), and other leading lights of his day—who gave political and policy form to his Jeffersonian instincts.
 
Jackson embraced the Jeffersonian notion that the government needed to get out of people's way,
While Jackson was not the political theorist and wordsmith that Jefferson was, he did offer a coherent worldview to the American people. And in many ways, he was a far greater leader  .
The basic outline of the Jacksonian creed was simple, but it had a lasting impact on the course of the nation.
The first plank of Jackson's political philosophy was that entrenched interests in places of power can become dangerous to the liberties of the American people.
 Jackson believed that civil servants, who tended to see their office as their own private property, had wiggled their way into comfy positions in Washington, D.C., and had become slothful, incompetent, and in many cases corrupt. He intended to drain the swamp.
In his first annual message to Congress, Jackson explained his philosophy: "In a country where offices are created solely for the benefit of the people no one man has any more intrinsic right to official station than another. Offices were not established to give support to particular men at the public expense."
Jackson's solution was not to give away handouts nor to have the government control business—which he would have seen as economic folly and un-American—but instead to sever the corrupt ties between business and government whenever possible.
Jackson gave one of his most eloquent denunciations of crony capitalism in his message to the nation on his veto of the Second Bank of the United States Charter. Though the national bank did provide financial stability for the economy, Jackson worried that it had become too powerful and unaccountable. Indeed, many politicians were on the bank's payroll.
It is to be regretted that the rich and powerful too often bend the acts of government to their selfish purpose. … When the laws undertake to add to these natural and just advantages artificial distinctions … the humble members of society—the farmers, mechanics, and laborers—who have neither the time nor the means of securing like favors to themselves, have a right to complain of the injustice of their government.
Jackson relied even more heavily on the concept of "peace through strength," to quote a favorite phrase of Ronald Reagan's.
Jackson was willing to threaten to unleash American military force, even against superior foes, in order to get diplomatic concessions out of other countries that he felt were treating the United States unfairly.
 the United States was not embroiled in any major wars during Jackson's presidency, and the country secured more trade agreements than under any previous administration.
The man America's political establishment had called a reckless incompetent was getting things done, and his supporters cheered him on.
Jacksonian populism did not destroy America; it reinvigorated it. While Jackson had his contemporary detractors, the country was stronger when he left the presidency than it had been before his ascent to the office. It had achieved enormous successes. And perhaps just as important, he staved off worrying trends that endangered the Republic.
Jackson  was an honest, dedicated son of the founding who used his presidency to restore what he saw as the original republican vision for the country, while acting as the great protector from both internal and external threats to the Union.