Do You See What Just Happened, Traitor, [DS] Veil Lifted, People Can See It All – Episode 2204
States are opening up, some states are seeing 90% of the economy operational, by next month most of the states will be very close to 100%.  The unemployment numbers are going to reverse, retail will reverse, this is building towards the new economy. The [DS]/MSM are throwing everything they have at Trump, none has stopped him. The patriots have now pushed the word traitor out into the public realm, it has begun. The veil of the [DS] is being lifted each and everyday and the public is seeing the difference between good and evil. The people are watching the [DS] transformation happen right before their eyes. The people need to see, they need to understand, that if We The People do not stop what is happening the country is lost.
Check Out The X22 Report Spotlight YouTube Channel X22Report Spotlight
Please check Newzsentinel.com for the latest news on the economic collapse. The Sentinel Alerts are updated throughout the day.
---
Current News – 06.19.2020
Watch The X22 Report On Video
---
Economy
A

 New Hampshire employment official is optimistic that nearly 90 percent of the state's economy is now open and working,
and  about 90 percent of the state's workforce is actually working, industries in the accommodations sector of the economy have been struggling to get people back to work, even as hotels were allowed to reopen June 5.
Source: washingtonexaminer.com
It was not Ambassador Lighthizer's fault (yesterday in Committee) in that perhaps I didn't make myself clear, but the U.S. certainly does maintain a policy option, under various conditions, of a complete decoupling from China. Thank you!

— Donald J. Trump (@realDonaldTrump) June 18, 2020
---
Political/Rights
Jimmy Kimmel announces he's taking a break from late night talk show https://t.co/LqCxU3mHTd pic.twitter.com/9C8GcGmDVE

— New York Post (@nypost) June 19, 2020
Klobuchar says she is withdrawing from consideration to be Joe Biden's VP Pick:

"I think this is a moment to put a woman of color on that ticket."

"…If you wanna heal this nation right now, this is a helluva way to do it."

— Breaking911 (@Breaking911) June 19, 2020
Q

 

!!Hs1Jq13jV6

 

ID: 1e6b16

 No.9184605

HOW DO YOU CHANGE-OUT [D] PARTY CANDIDATE [OPTION]?
HOW DO YOU CONVINCE [D] PARTY VOTERS TO ACCEPT?Q
So now that the book is coming out, Bolton is leaking details…
 
Trump asked China to help him win reelection.
Trump told China's president that building internment camps was the right thing to do.
Trump offered personal favors to dictators — like looking into the investigation of a Turkish company over potential violations for Turkish President Erdogan.
Trump said he wanted to serve more than two terms as president.
Trump had no idea the U.K. was a nuclear power.
Trump seriously considered quitting NATO.
Trump said it would be "cool" to invade Venezuela.
Secretary of State Mike Pompeo once sent a note to Bolton describing Trump as "full of shit."
 
Does Bolton have the note? Who would throw such a thing away?  
What's more, U.S. Trade Representative Robert Lighthizer, who was in the room at the time, vigorously denied Trump asked Chinese dictator Xi Jinping for reelection help:
"Absolutely untrue. Never happened. I was there. I have no recollection of that ever happening. I don't believe it's true. I don't believe it ever happened."
Source: breitbart.com
I've not read the book, but from the excerpts I've seen published, John Bolton is spreading a number of lies, fully-spun half-truths, and outright falsehoods.

— Secretary Pompeo (@SecPompeo) June 19, 2020
It is both sad and dangerous that John Bolton's final public role is that of a traitor who damaged America by violating his sacred trust with its people. To our friends around the world: you know that President @realDonaldTrump's America is a force for good in the world.

— Secretary Pompeo (@SecPompeo) June 19, 2020
https://t.co/bIC04HK60i pic.twitter.com/C6QGwovtYz

— Mike Pompeo (@mikepompeo) June 19, 2020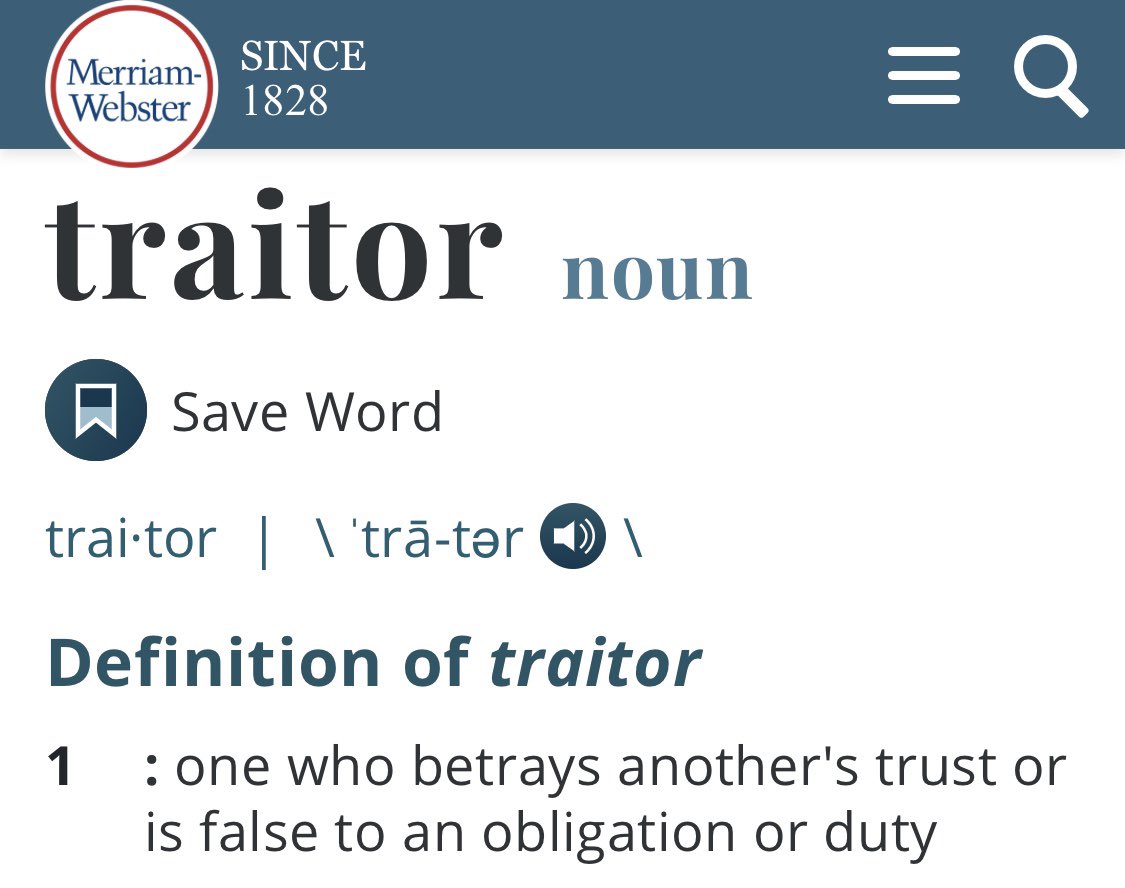 The U.S. Senate voted to confirm a federal judge  .
Justin Walker, 38, won Senate approval to the U.S. Court of Appeals for the District of Columbia Circuit following a mostly party-line 51-42 vote.
Walker was a vocal ally of Supreme Court Justice Brett Kavanaugh during his confirmation battle in the Senate in 2018.
Source: theepochtimes.com
---
Geopolitical/Police State
Trump late Thursday shared a video clip from the memesmith Carpe Donktum showing a black baby running from a white baby.
The initial part of the video was made to look as if was broadcast on CNN, with a chyron saying: "Breaking News: Terrified Toddler Runs From Racist Baby."
The full video was shown right after, making clear the babies ran toward each other and hugged before one started running and the other followed.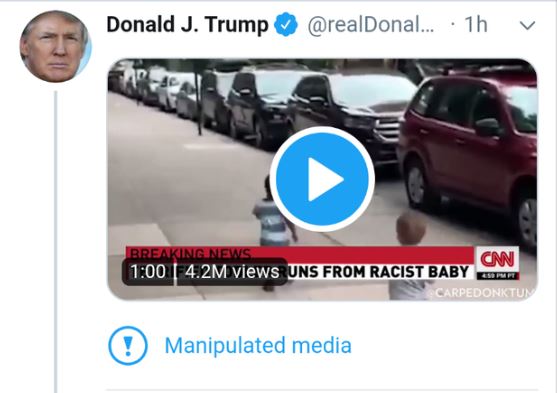 Twitter added a "Manipulated media" label, including an exclamation mark inside a circle.
The platform also created an area featuring reports on the video. "Video being shared of CNN report on toddlers is doctored, journalists confirm," it stated.
Source: theepochtimes.com
Why are the Democrats allowed to make fake and fraudulent ads. They should be called out. They did nothing when they had the chance. I have done FAR more than any President in first 3 1/2 years!

— Donald J. Trump (@realDonaldTrump) June 19, 2020
Hey @twitter, your days are numbered.https://t.co/IImpdRHYlG

— Brad Parscale (@parscale) June 19, 2020
---
False Flags
Dr. Anthony Fauci, director of the National Institute of Allergy and Infectious Diseases, served up harsh criticism of Americans  , asserting that the country suffers from what he described as an "anti-science bias" problem.

"One of the problems we face in the United States is that unfortunately, there is a combination of an anti-science bias that people are — for reasons that sometimes are, you know, inconceivable and not understandable — they just don't believe science and they don't believe authority," Fauci told

"So when they see someone up in the White House, which has an air of authority to it, who's talking about science, that there are some people who just don't believe that — and that's unfortunate because, you know, science is truth," Fauci continued, referring to the White House coronavirus task force's once-daily briefings.
Source: breitbart.com
Once you are exposed as a fraudster your domain expertise counts for nothing. Authority is always on loan, and never owned. The public are entitled to decide for themselves who they consider to be authoritative based on their track record. Science never offers 100% final answers. https://t.co/PxEAbrOdzg

— Martin Geddes (@martingeddes) June 19, 2020
Eric Holder believes all cops are racists, targets 'unconscious bias'
In a 2012 consent decree, Holder ordered Seattle to soften its use-of-force rules and train brass and rank and file alike in "bias-free" policing that recognizes and eliminates "implicit bias," while disciplining any conduct tied to it.
The rules, which fully went into effect this year, have led to "de-policing."
The result? Crime is up in the Emerald City.
Since Holder stepped in, crime is up 13% overall in Seattle. But it's not just minor infractions. It's the biggies — aggravated assaults up 14%, car theft up a whopping 44% and murders up 21%.
More than 120 Seattle police officers, detectives and sergeants have filed a lawsuit against Holder, claiming his de-biasing order has jeopardized their own safety.
"There is evidence of a dramatic decrease in proactive police work to investigate and stop crime," the suit says.
Officers have stopped wearing Tasers and responding to backup calls out of fear their actions will be second-guessed by federal bias monitors. Beat cops have even retreated from suspects "who threatened [them] with death or serious injury."
Source: nypost.com
Nancy Pelosi Orders Confederate Portraits – All Democrats – Removed from U.S. Capitol
House Speaker Nancy Pelosi (D-CA) announced   that four portraits of former speakers who served in the Confederacy — all Democrats — will be removed on Juneteenth, telling reporters that there is "no room" to "memorialize people who embody violent bigotry and grotesque racism of the Confederacy" in the U.S. Capitol.
"
"In observance of that, I've sent a letter … to the clerk of the House directing the clerk to remove portraits of four previous speakers of the house who served in the Confederacy," she continued:
Source: breitbart.com
BREAKING: Nancy Pelosi orders the removal of portraits of racist Democrats.pic.twitter.com/YJg0cP4wM1

— Carpe Donktum🔹 (@CarpeDonktum) June 18, 2020
Antifa rioters on Sandy Blvd. in Portland draped a US flag over a George Washington statue & set it on fire. They then toppled the statue. "Genocidal colonist" & "f— cops" are sprayed on monument. Rioters have began to build another autonomous zone nearby. pic.twitter.com/TrZkhPK9zp

— Andy Ngô (@MrAndyNgo) June 19, 2020
 Before they can create a new world order they need to  UPROOT and DESTROY the old one.   They're not gonna stop with statues of Jefferson & Lincoln, or George Washington, it will then move to books, literature etc.  
🚨CURFEW IN EFFECT FOR DOWNTOWN🚨

As part of our preparations for President Trump's Rally this Saturday, we are working on making the area secure for everyone's safety.

As posted earlier, the area illustrated in this map will need to be free of vehicles and pedestrian traffic. pic.twitter.com/uT76N0IWRc

— Tulsa Police (@TulsaPolice) June 19, 2020
Tulsa Mayor has rcvd info re: "individuals from organized groups who have been involved in destructive or violent behavior in other states are planning to travel to the City of Tulsa for purposes of causing unrest in and around the rally," the order states." https://t.co/ifMXGv7731

— Lisa Mei Crowley 🐸 (@LisaMei62) June 19, 2020
Any protesters, anarchists, agitators, looters or lowlifes who are going to Oklahoma please understand, you will not be treated like you have been in New York, Seattle, or Minneapolis. It will be a much different scene!

— Donald J. Trump (@realDonaldTrump) June 19, 2020
I just spoke to the highly respected Mayor of Tulsa, G.T. Bynum, who informed me there will be no curfew tonight or tomorrow for our many supporters attending the #MAGA Rally. Enjoy yourselves – thank you to Mayor Bynum! @gtbynum

— Donald J. Trump (@realDonaldTrump) June 19, 2020
---
Q
HORROR: A report has uncovered a Berlin government-backed pedophile network that actively sought to place homeless children with pedophiles.
A former Chancellor of West Germany, Berlin senators, bureaucrats, and members of the educational establishment have all been implicated in a network "in which paedophile positions were accepted, supported, and defended", according to a report into the placement of homeless children with known paedophile foster parents by the German government.
For over a year, researchers at the University of Hildesheim have undertaken the examination of thousands of files in the Senate Education Administration in Berlin. The 57-page report, which was published this week, found that a "network of actors in the Senate administration and institutions of educational reforms during the home reform of the 1970s tolerated the establishment of shared apartments and foster homes for paedophile men".
Only when evil is forced into the light can we defeat it.
Only when they can no longer operate in the [shadows] can people see the truth for themselves.
Only when people see the truth [for themselves] will people understand the true nature of their deception.
Difficult truths.
Q
Twitter Allows Pedophiles to Discuss Attraction to Minors: Nov 2019 article
In the past week alone, it was reported that Twitter has suspended journalist Andy Ngo for tweeting inconvenient facts about the purported "epidemic" of transgender deaths, and undercover journalism organization Project Veritas from running recruitment ads. But if you're a pedophile who wants to discuss your attraction to minors — Twitter's just fine with that.
Big League Politics discovered a little-noticed, quietly enacted Twitter rule change from March, which says "Discussions related to child sexual exploitation as a phenomenon or attraction towards minors are permitted, provided they don't promote or glorify child sexual exploitation in any way."
So, if you post politically inconvenient yet accurate statistical facts, as Ngo did, you get suspended. But if you discuss "attraction towards minors," Twitter explicitly allows it.
It goes without saying that Twitter's policy did not arise out of some blanket commitment to free speech. Twitter CEO Jack Dorsey has specifically rejected such commitments, rubbishing the idea that Twitter is the "free speech wing of the free speech party," as one VP at the company described it in 2012.
In an interview with Wired last year, Dorsey said that the "free speech wing" comment was a "joke" that was taken too seriously.
"This quote around 'free speech wing of the free speech party' was never, was never a mission of the company. It was never a descriptor of the company that we gave ourselves," said Dorsey.
The Twitter CEO continued, saying that a commitment to free speech "comes with the realization that freedom of expression may adversely impact other people's fundamental human rights, such as privacy, such as physical security."
In other words, Twitter's decision to allow pedophiles on its platform is something they've chosen to do, not something they have to do.
Difficult truths.
This is not another 4-year election.
Q
Thin_Blue_Line_Flag_United_States_.png
What is the Thin Blue Line? The phrase is borrowed from a military image of the 19th century, in which a "thin red line" of British troops ("redcoats") held off a Russian cavalry charge during the Crimean war. The first appearance of the Thin Blue Line dates back to the early 1900s when The United States Army marched into battle in their blue uniforms. Together, standing alongside, the soldiers formed a blue line, thus beginning the history we know today as the Thin Blue Line. The phrase "Thin Blue Line" was initially mentioned in a 1911 poem by Nels Dickmann Anderson. In the 1950s, the blue line was adopted by law enforcement professionals to represent their courage and sacrifice while protecting the American people.
The Thin Blue Line emblem was established to symbolize all law enforcement personnel similar to the Red Cross symbol representing all medical personnel. The Thin Blue Line embodies the unbreakable component of law enforcement standing as a safety barrier between the law-abiding citizens of America and the criminally inclined.
Ronald Reagan once said, "Evil is powerless if the good are unafraid."
  the "good" spoken in Reagan's quote, while below the line represents the "evil."
With a view to receiving the advice and consent of the Senate to ratification, I transmit herewith the Protocol Supplementary to the Convention for the Suppression of Unlawful Seizure of Aircraft (the "Beijing Protocol"), adopted by the International Civil Aviation Organization International Conference on Air Law (Diplomatic Conference on Aviation Security) in Beijing on September 10, 2010, and signed by the United States on that same date.  I also transmit, for the information of the Senate, the report of the Department of State with respect to the Beijing Protocol.
The Beijing Protocol is an important component of international efforts to prevent and punish terrorism targeting civil aviation.  It supplements the Convention for the Suppression of Unlawful Seizure of Aircraft, done at The Hague on December 16, 1970 (the "Hague Convention"), and fills several gaps in the existing international legal framework for combatting global terrorism.  It will significantly advance cooperation between States Parties in the prevention of the full range of unlawful acts relating to civil aviation and in the prosecution and punishment of offenders.
The Beijing Protocol amends the existing hijacking offense in the Hague Convention to cover hijackings that occur pre- or post-flight and addresses situations in which the offender may attempt to control an aircraft from outside of the aircraft, such as by remotely interfering with flight operation or data transmission systems.  The Beijing Protocol requires States Parties to criminalize these acts under their domestic laws and to cooperate to prevent and investigate suspected crimes under the Beijing Protocol.  It includes an "extradite or prosecute" obligation with respect to persons accused of committing, attempting to commit, conspiring to commit, or aiding in the commission of such offenses.
Some changes to United States law will be needed for the United States to implement provisions of the Beijing Protocol, obligating the United States to criminalize certain offenses, make those offenses punishable by appropriate penalties, and authorize the assertion of jurisdiction over such offenses.  Proposed legislation is being separately transmitted by my Administration to the Congress.
I recommend that the Senate give early and favorable consideration to the Beijing Protocol, subject to a reservation and certain understandings that are described in the accompanying report of the Department of State.
---
Thread:
PRESIDENT TRUMP'S POLITICAL MODEL ISN'T REALLY A POLITICAL MODEL.

It's a LIFE Model.

& it's something he's been SHOWING America for decades.

Right now Americans are being PITTED against one another

by the despicable DC Denizens & their Media Lapdogs pic.twitter.com/phokTBuxRS

— #SOULWAR ✝ (@CatesDuane) June 12, 2020