Patriots Setup Hidden Traps Everywhere, [DS] Continues To Fall Into Them – Episode 2203
The economy is now taking off, and new trade deals are in the works. The US and the UK are not talking trade deal outside of the EU. Retail foot traffic has now increased. Retail traffic is reaching levels we saw a year prior. Unemployment claims are decreasing, the economy is lifting off. Mortgages are bouncing back, auto sales are bouncing back. The [CB] is now controlled by the Treasury and printing press is now controlled. The [DS]/MSM continue to fall into the patriot traps. They have now fell into another one and they are being pushed into a corner. The silent majority is the majority, the MSM/[DS] are the minority and when the time is right the silent majority will not be silent anymore.
Check Out The X22 Report Spotlight YouTube Channel X22Report Spotlight
Please check Newzsentinel.com for the latest news on the economic collapse. The Sentinel Alerts are updated throughout the day.
---
Current News – 06.18.2020
Watch The X22 Report On Video
---
Economy
The United States Trade Representative, Robert Lighthizer, has warned that it will be "almost impossible" for the United Kingdom to secure a finalised trade deal with President Donald Trump before the U.S. election in November.
"It is almost impossible unless the members [of Congress] decided they want to do something extraordinary to have it actually come before the Congress before November," he added, according to The Telegraph. 
Source: breitbart.com
 Retail foot traffic recovered to approach pre-lockdown levels last week and businesses appeared to bring more employees back to the job, according to data from firms that collect cellphone location information and manage employee time for companies.
(GRAPHIC – The U.S. reopening – inline: here)
Cellphone data from Unacast showed foot traffic at retail locations as of last Saturday was just 10% below the level of a year earlier. Similar foot traffic estimates from Safegraph were over 90% of what they were on March 1, before a national state of emergency was declared and widespread lockdowns imposed to curb the spread of the new coronavirus
 
Source: reuters.com
Mortgage Applications Spike 8 Percent in Mid-June 
According to the Mortgage Bankers Association's latest Weekly Mortgage Applications Survey for the week ending June 12, 2020, U.S. mortgage applications increased 8.0 percent from one week earlier.The Market Composite Index, a measure of mortgage loan application volume, increased 8.0 percent on a seasonally adjusted basis from one week earlier.
Source:  worldpropertyjournal.com
Mortgage Applications are Skyrocketing – What It Means for Auto Retail
Applications for mortgages in the United States have increased eight percent over last week, according to the latest Weekly Mortgage Applications Survey by the Mortgage Bankers Association. What's more striking yet is that mortgage applications are 21 percent higher than the same period last year.
What Mortgages Have to Do with Auto Retail
Almost all car buyers in the retail sector borrow for their purchase, whether financing or leasing. Like the real estate industry, customer sentiment is a significant driver for how the industry performs as a whole. Parallels are easily drawn between real estate lending and auto retail lending according to the economy's performance.
With rates dropping, mortgage lenders have recaptured previous clients wishing to save on payments by refinancing. That's a secure strategy for lenders with real estate being a consistent investment that increases in value.
Source: cbtnews.com
The Treasury … will make an equity investment in each SPV and be in a "first loss" position.
What does this mean? In essence, the Treasury, not the Fed, is buying all these securities and backstopping of loans; the Fed is [merely] acting as banker and providing financing….
This scheme essentially merges the Fed and Treasury into one organization 
In effect, the Fed is giving the Treasury access to its printing press. This means that, in the extreme, the administration would be free to use its control, not the Fed's control, of these SPVs to instruct the Fed to print more money so it could buy securities and hand out loans in an effort to ramp financial markets higher going into the election.
Source: thenewamerican.com
---
Political/Rights
Bolton's book, which is getting terrible reviews, is a compilation of lies and made up stories, all intended to make me look bad. Many of the ridiculous statements he attributes to me were never made, pure fiction. Just trying to get even for firing him like the sick puppy he is!

— Donald J. Trump (@realDonaldTrump) June 18, 2020
According to interpreter: Bolton wasn't at the dinner per his own admission https://t.co/P4rWmezzhB

— Julie Kelly (@julie_kelly2) June 18, 2020
Logical thinking, if Trump knows people are listening in, why would he make any of these statements, he wouldn't
DNI Ratcliffe statement on filing declaration in U.S. Government case against John Bolton pic.twitter.com/t1lMcJoZC2

— Office of the DNI (@ODNIgov) June 18, 2020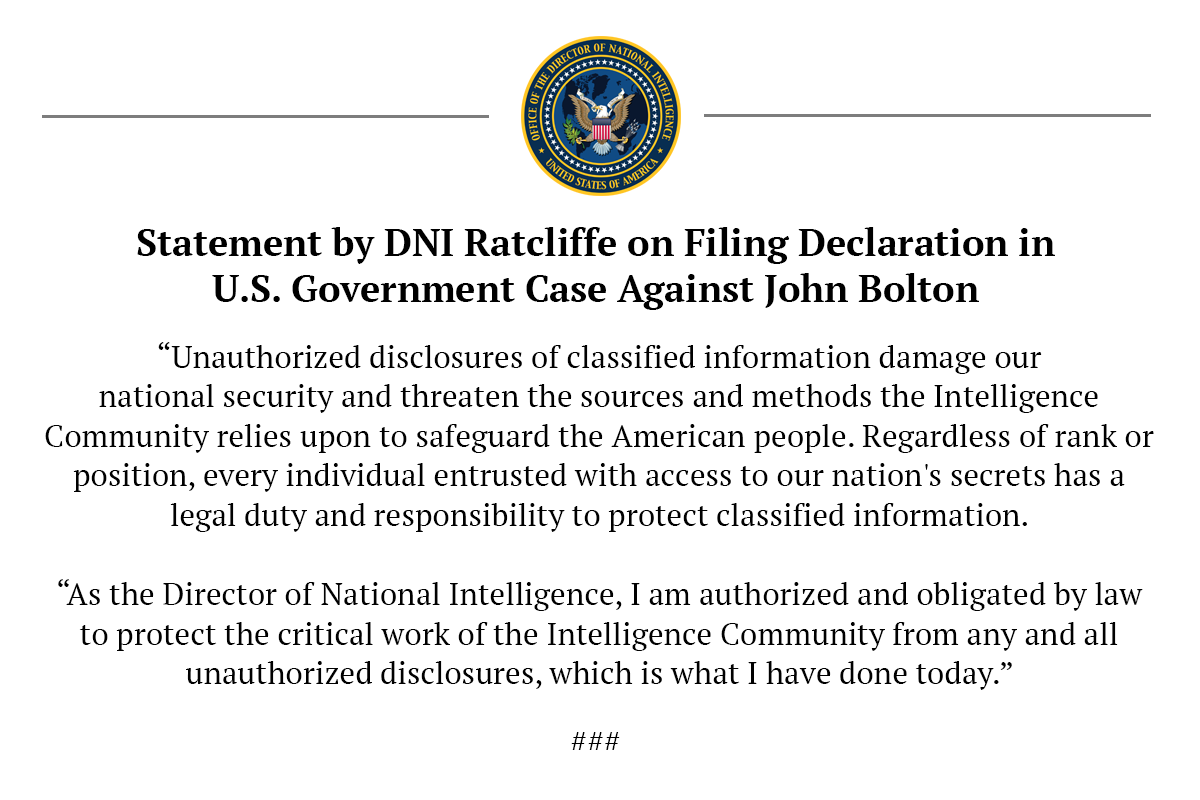 Pelosi: House will make a 'judgment' on whether to subpoena Bolton amid memoir claims
House Speaker Nancy Pelosi said the House will make a "judgment" on whether to subpoena former national security adviser John Bolton, as excerpts from his forthcoming memoir surfaced revealing previously unreported claims about President Trump and members of his administration.
Source: foxnews.com
Did the corrupt D's take the Bait.
How do you legally introduce evidence?
Was Bolton fed, 2nd hand lies
What happens when Bolton testifies under oath,
If he tells the truth, he will say that the information was received 2nd hand or its fake or
If he lies, evidence can be introduced to show it was fake information and he then goes to jail.  
The D's look like fools and Trump comes out on top either way
Former DIA Analyst Sentenced for Leaking Classified Information to Journalists
A former employee of the Defense Intelligence Agency (DIA) was sentenced today to 30 months in prison for leaking classified information to two journalists in 2018 and 2019.
"Frese repeatedly passed classified information to a reporter, sometimes in response to her requests, all for personal gain," said Assistant Attorney General for National Security John C. Demers.  "When this information was published, it was shared with all of our nation's adversaries, creating a risk of exceptionally grave harm to the security of this country.  His conviction and sentence demonstrate the Department's commitment to the investigation and prosecution of such betrayals by clearance holders as part of our mandate to protect our citizens and defend the national security of the United States."
"When Mr. Frese chose to provide classified information to members of the media, he violated his oath to serve the United States as a trusted government employee," said Timothy R. Slater, Assistant Director in Charge of the FBI's Washington Field Office.  "Put in the hands of our adversaries, this information causes damage and harm to our country.  This investigation and today's sentencing serve as a reminder that unauthorized disclosures of classified information is a crime, and will not be tolerated."
 .
According to court documents, Frese and Journalist 1 lived together at the same residential address from January 2018 to November 2018.  Throughout 2018 and 2019, Frese and Journalist 1 "followed" each other on Twitter, and on at least two occasions Frese re-Tweeted Journalist 1's tweets announcing the publications of articles containing NDI classified at the Top Secret level.
Source: justice.gov
Why do many DC journalists (yourself) use & replace 'burner phones' every week?
How do you pass the new number out?
Tweets are very important.
Do you feel safe?
Q
The Supreme Court ruled 5-4    that President Donald Trump could not end the Deferred Action for Childhood Arrivals (DACA) program — at least not the way that his administration had done it.
DACA was a program created by President Barack Obama in 2012 after Congress refused to pass Democrats' version of amnesty for so-called "Dreamers" — illegal aliens brought to the country as minors.  , Obama imposed his own policy by fiat.
  DACA was unconstitutional, because it circumvented the legislature and applied the administration's power of prosecutorial discretion to an absurdly large number of potential defendants (2 million).
DHS created DACA during the Obama administration without any statutory authorization and without going through the requisite rulemaking process. As a result, the program was unlawful from its inception. The majority does not even attempt to explain why a court has the authority to scrutinize an agency's policy reasons for rescinding an unlawful program under the arbitrary and capricious microscope. The decision to countermand an unlawful agency action is clearly reasonable. So long as the agency's determination of illegality is sound, our review should be at an end.

Today's decision must be recognized for what it is: an effort to avoid a politically controversial but legally correct decision.

…

Under the auspices of today's decision, administrations can bind their successors by unlawfully adopting significant legal changes through Executive Branch agency memoranda. n.
Source: breitbart.com
The Supreme Court undermined the Constitution today. Obama's decision to provide amnesty for hundreds of thousands of illegal aliens under the DACA program was unlawful, and the court interfered with the President Trump's duty and absolute right to rescind it. Only Congress can amend the law, not President Obama nor the courts.
Do you get the impression that the Supreme Court doesn't like me?

— Donald J. Trump (@realDonaldTrump) June 18, 2020
The DACA decision, while a highly political one, and seemingly not based on the law, gives the President of the United States far more power than EVER anticipated. Nevertheless, I will only act in the best interests of the United States of America!

— Donald J. Trump (@realDonaldTrump) June 18, 2020
I will be releasing a new list of Conservative Supreme Court Justice nominees, which may include some, or many of those already on the list, by September 1, 2020. If given the opportunity, I will only choose from this list, as in the past, a Conservative Supreme Court Justice…

— Donald J. Trump (@realDonaldTrump) June 18, 2020
…Based on decisions being rendered now, this list is more important than ever before (Second Amendment, Right to Life, Religous Liberty, etc.) – VOTE 2020!

— Donald J. Trump (@realDonaldTrump) June 18, 2020
The corrupt politicians believe they won, but did you see what happened
So Obama bypassed congress and created his own law through an executive order, did Scotus just make congress obsolete 
So SCOTUS is defending OBama unconstitutional law, does this give more power to Trump legally, yes 
So if Trump now has this power, can he create an executive order for voter id, or anything else
The DACA decision, while a highly political one, and seemingly not based on the law, gives the President of the United States far more power than EVER anticipated. Nevertheless, I will only act in the best interests of the United States of America!

— Donald J. Trump (@realDonaldTrump) June 18, 2020
If Hussein was never eligible to serve as POTUS, would it open up a couple SCOTUS seats? https://t.co/sjxZ1tB4gq

— Lisa Mei Crowley 🐸 (@LisaMei62) June 18, 2020
What would happen to all the EO, law decision he made
CC1B1FD7-8B70-4CEB-A4F7-F5….png
>>598223
When we're done he'll claim Kenyan citizenship as a way to escape.
Q
BREAKING: FACEBOOK INSIDER: Company Suspended My Account In H-1B Policy Doc Leak Probe Memo Dated March 2020 stated, "Priority may be given to H-1B applicants from China and Korea"
BREAKING: Facebook Insider receives threatening anonymous phone call demanding he recant his statements to @Project_Veritas@Facebook spokesperson @andymstone refuses to acknowledge the existence of a "Diversity Initiative Board" within the company. #ExposeFacebook pic.twitter.com/YDPTFWD69d

— James O'Keefe (@JamesOKeefeIII) June 18, 2020
Facebook Removes Trump Campaign Content for Alleged Rule Violations
The campaign ran advertisements encouraging people to sign a petition opposing the anarcho-communist Antifa group. The posts included an inverted red triangle used by members of Antifa.
Some critics said the triangle was used by the Nazis.
A Facebook spokesperson said in a statement explaining the removal: "We removed these posts and ads for violating our policy against organized hate. Our policy prohibits using a banned hate group's symbol to identify political prisoners without the context that condemns or discusses the symbol."
In a response to criticism over the triangle, the Trump campaign's main Twitter account said: "This is an emoji. It's also a symbol widely used by Antifa. It was used in an ad about Antifa."
The symbol is also not listed in a database of so-called hate symbols managed by the Anti-Defense League, the campaign noted. It is not in the ADL's Hate Symbols Database.
 Facebook has taken down Trump ads "for violating our policy against organized hate," it said.
---
War
 North Korea's Kim Jong-un wants to signal to his counterparts in Seoul and Washington that he will blow up what's left of their relationships unless his regime receives more concessions, so … he has literally blown up the liaison office, built and paid for by South Korea, that sat in the demilitarized zone between the two Koreas.
The days of Trump shooting for big, beautiful deals are over. The best we can hope for between now and January 2021 is that his administration will manage to anticipate and defuse international conflicts before they explode into yet another crisis.
Source: nymag.com
---
False Flags
We have the toxicology report for the man who was given fish tank cleaner by his wife.

Chloroquine blood test: 17,000 ng/mL (well over fatal dose)

Calls into question (1) wife's claim they took the same amount; and (2) that he was only given a "teaspoon" pic.twitter.com/uV2B6B8JfG

— Techno Fog (@Techno_Fog) June 17, 2020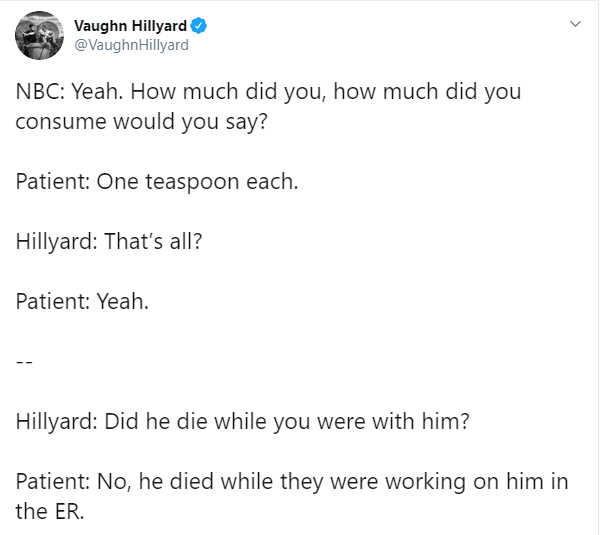 CALIFORNIA GOVERNOR ORDERS ALL CITIZENS TO WEAR FACE MASKS – https://t.co/vplqulJ53D pic.twitter.com/2xckOWCCvv

— Breaking911 (@Breaking911) June 18, 2020

1. Mandate masks
2. Defund the police
3. Who is going to enforce this
A mayor from Washington state who has been supportive of the Black Lives Matter movement — even as it has, at times, descended into rioting, looting, arson, and killing in the aftermath of George Floyd's death — cried "domestic terrorism" after vandals damaged her home.
Eventually, the group made its way up Capitol Way and into the South Capitol neighborhood to the home of Olympia Mayor Cheryl Selby (shown), where they chanted "abolish the police" and one participant sprayed her front porch and door with "BLM."
Selby and her family were not home at the time of the incident, but her neighbors began texting her about it when the mob arrived on site.
"I'm really trying to process this," she told The Olympian over the phone. "It's like domestic terrorism. It's unfair."
source: thenewamerican.com
First thing the anarchists did upon taking over Seattle was "BUILD A WALL". See, I was ahead of our times!

— Donald J. Trump (@realDonaldTrump) June 18, 2020
---
Q
Redpill after redpill. Truth
Q
5b44016794207ff068c101d4668d7bb3.png
George Floyd: high on fentanyl and trying to use a counterfeit bill after 9 prison stints.

Rayshard Brooks: drunk-driving while on probation for beating his wife & kids.

Why don't you COWARDS stop pretending these people were changing their lives?

STOP SANCTIFYING CRIMINALS.

— Candace Owens (@RealCandaceO) June 17, 2020
'Blue flu' sweeps Atlanta police after officer charged in Rayshard Brooks killing https://t.co/XoN0NKxFc0 pic.twitter.com/cVhkcGC3wg