[DS] Already Knows They Lost,They Are Preparing For The Loss,Countermeasures In Place – Episode 2260
The economy is now gaining steam, we are seeing a V take shape in durable goods. Mortgage demand is spiking because of low rates and pent up demand. During the pandemic Americans paid bills and saved money. Trump brought back the iron age in MN. The Fed is now trapped, there is now way out, people will not accept inflation. The [DS] is now preparing for their loss. They know it is coming. The DOJ is now investigating those Gov that pushed people into nursing homes. The people are waking up and now the [DS]/MSM are panicking. The people are not buying the peaceful protests, they see the riots and they see how the country is being burned to the ground. The patriots know the playbook, countermeasures are now in place.
Check Out The X22 Report Spotlight YouTube Channel X22Report Spotlight
Please check Newzsentinel.com for the latest news on the economic collapse. The Sentinel Alerts are updated throughout the day.
---
Current News – 08.26.2020
Watch The X22 Report On Video
---
Economy
  July data,   shot up and durable goods hit 11.2% MoM (against expectations of a 4.7% rise).
Source: Bloomberg
Year-over-year, durable goods orders remain down 5.0%, but the "V" is filling in fast…
Source: Bloomberg
Source: zerohedge.com
Mortgage demand from homebuyers spikes 33% annually, signaling no end to summer spree
Mortgage applications to purchase a home rose just 0.4% last week from the previous week but were a remarkable 33% higher than a year ago, according to the Mortgage Bankers Association.
Pent-up demand from the disastrous spring market and the new stay-at-home mindset combined to send more consumers rushing to either buy homes for the first time or upgrade what they already have.
Low mortgage rates are only adding fuel to the fire.
Source: cnbc.com
About half of all Americans say they are saving money and paying down debt amid the coronavirus pandemic, according to an Associated Press poll published Tuesday.
Roughly 45% of Americans surveyed said they saved more money than usual amid the pandemic, according to the poll. Nearly 30% of respondents in the poll said they are paying down debt faster than they were before the coronavirus pandemic, the poll showed.  
Source:dailycaller.com
  as a result of Trump's 25 percent tariffs on foreign steel, brought an employment boom and economic stability to Minnesota's Iron Range communities.
"[China] — and other supposed trade partners — dumped steel into our markets and slapped tariffs on us, tipping the scales in their favor. And what did our leaders do? Nothing,"  "Then to make matters worse, the Obama-Biden administration crushed us with environmental regulations."
"  thousands of jobs were lost . . . a 70% drop from 14,000 to 4,000.   young people who had to move out of the area to find a livelihood."
 the Iron Range is roaring back to life and we have one man to thank: President Donald Trump,"
"
Mines and logging companies are hiring, small businesses are expanding and Minnesota's Iron Range is bouncing back from the mine and production facility closures that hit hard just a few years ago. [Emphasis added]…Iron ore exports were up 42 percent in the third quarter of 2018 compared to the previous year, the forecast states.
Source: breitbart.com
---
Political/Rights
RealClearInvestigations has found that as an employee of the government affairs and public relations firm APCO Worldwide, Winer also worked on behalf of the Russian government's nuclear agency in 2010 and 2011. Winer also drummed up business for Steele among lobbyists he knew from his work promoting Russia's nuclear interests.
Source: thefederalists.com
Senator Lindsey Graham issued a stark challenge to former FBI boss James Comey this week; daring the ex-Trump official to come to Congress and testify "under oath" instead of making statements on social media.
"If you want to find common ground between Hillary Clinton, and Donald Trump and Lindsey Graham, we all think James Comey was a disaster. So I am going to give him a chance to explain to the country about Crossfire Hurricane — one of the most corrupt investigations in the history of the FBI," said Graham.
"He signed a warrant against Carter Page in April of 2017. I find it hard to believe that the director of the FBI did not know that in January in March of 2017, the Russian sub source disavowed the reliability of the dossier, which was critical to getting a warrant against Carter Page," Graham said.
"You got a lot to say, James Comey. Come in under oath and say it," he concluded.
Source: hannity.com
 
 Ratcliffe,   amplified the sense of urgency felt by the Trump administration to counter the broad reach of the Chinese Communist Party's efforts to disrupt an unfavorable status quo.
"China poses a greater national security threat to the U.S. than any other nation — economically, militarily and technologically," Ratcliffe said. "That includes threats of election influence and interference."
He said China is "concerned" that Trump being reelected would "lead to a continuation of policies that they perceive to be 'anti-China.'"
Source: washingtonexaminer.com
If Trump straight up steals the election, I hope the media reaction isn't the same shrug as we've gotten after Trump broke all these other laws coupled with takes about why Trump voters don't care that he stole the election. But that's exactly what will happen.

— Ben Rhodes (@brhodes) August 26, 2020
Didn't Obama say that it was impossible to steal a presidential election due to the decentralized nature of the electoral system?  
Hillary Clinton says Biden must not concede defeat on election night – https://t.co/FQORd3Vxus #OANN pic.twitter.com/fasdSimUbg

— One America News (@OANN) August 26, 2020
Suddenly prominent Democrats and their media surrogates are building the narrative that if Trump wins, it's not legitimate because somehow he stole the election or rigged the election or cheated. Trump winning is now in their heads. That wasn't there a month ago. They're worried.

— Paul Sperry (@paulsperry_) August 26, 2020
Remember the guided missile they found in Florida, it had a live war head on it but it was not armed.
South Korean officials claimed this week that Kim Jong-un has been in a coma for months as some suggest the leader could be replaced by his adviser and sister Kim Yo-jong. Former aid to the South Korean President Kim Dae-jung, Chang Song-min said this week: "I assess him to be in a coma, but his life has not ended. "A complete succession structure has not been formed, so Kim Yo-jong is being brought to the fore as the vacuum cannot be maintained for a prolonged period." South Korea's spy agency, the National Intelligence Service (NIS), reported last week that Kim will gradually transfer authority to his sister "to ease stress", despite his young age. However, the North Korean leader appeared today at a party meeting, the third time this year he has emerged after a long withdrawal from public view.
Source:  express.co.uk 
China fires missiles in South China Sea 'in warning to US' after plane entered no-fly zone
CHINA has launched two missiles in the South China Sea in a furious warning to the United States.
Beijing has launched two medium-range missiles into the South China Sea in a scathing warning to the United States, as tensions between the superpowers soar, triggering World War 3 fears in the region. The move came on Wednesday morning, one day after China said a US U-2 spy plane entered a no-fly zone without permission. A source close to the Chinese military is understood to have told local media the missile launch was intended to send a warning to the United States.

USMS Director Donald Washington and Georgia law enforcement officials will announce the results of Operation Not Forgotten, an operation resulting in the location, rescue or recovery of 39 children, tomorrow 1pm EST at the USMS Southeast Regional Fugitive Task Force Headquarters.
---
False Flags
Department of Justice Requesting Data From Governors of States that Issued COVID-19 Orders that May Have Resulted in Deaths of Elderly Nursing Home Residents
Today the Justice Department requested COVID-19 data from the governors of states that issued orders which may have resulted in the deaths of thousands of elderly nursing home residents. New York, New Jersey, Pennsylvania, and Michigan required nursing homes to admit COVID-19 patients to their vulnerable populations, often without adequate testing. 
For example, on March 25, 2020, New York ordered: "No resident shall be denied re-admission or admission to [a nursing home] solely based on a confirmed or suspected diagnosis of COVID-19. [Nursing homes] are prohibited from requiring a hospitalized resident who is determined medically stable to be tested for COVID-19 prior to admission or readmission."
"Protecting the rights of some of society's most vulnerable members, including elderly nursing home residents, is one of our country's most important obligations," said Assistant Attorney General for Civil Rights Division Eric Dreiband. "We must ensure they are adequately cared for with dignity and respect and not unnecessarily put at risk."
According to the Centers for Disease Control, New York has the highest number of COVID-19 deaths in the United States, with 32,592 victims, many of them elderly. New York's death rate by population is the second highest in the country with 1,680 deaths per million people. New Jersey's death rate by population is 1,733 deaths per million people – the highest in the nation. In contrast, Texas's death rate by population is 380 deaths per million people; and Texas has just over 11,000 deaths, though its population is 50 percent larger than New York and has many more recorded cases of COVID-19 – 577,537 cases in Texas versus 430,885 cases in New York. Florida's COVID-19 death rate is 480 deaths per million; with total deaths of 10,325 and a population slightly larger than New York.
Source: justice.gov
869ebf8313f54d2cecd9fe66a0c0c06b51887ead526121712d1bc758d8be2815.png
104337228_975584242892006_2319316124361702836_n.jpg
NEW: POTUS says he will call for drug tests for both Joe Biden and himself before the first debate on September 29th.
Hennepin County Attorney's Office released this document. Dr. Andrew Baker, the Chief Hennepin County Medical Examiner who reviewed #GeorgeFloyd's blood test, says the substances found lead him to conclude it was an overdose death. #BlackLivesMatter. Read: pic.twitter.com/xyaQvHDpQw

— Andy Ngô (@MrAndyNgo) August 25, 2020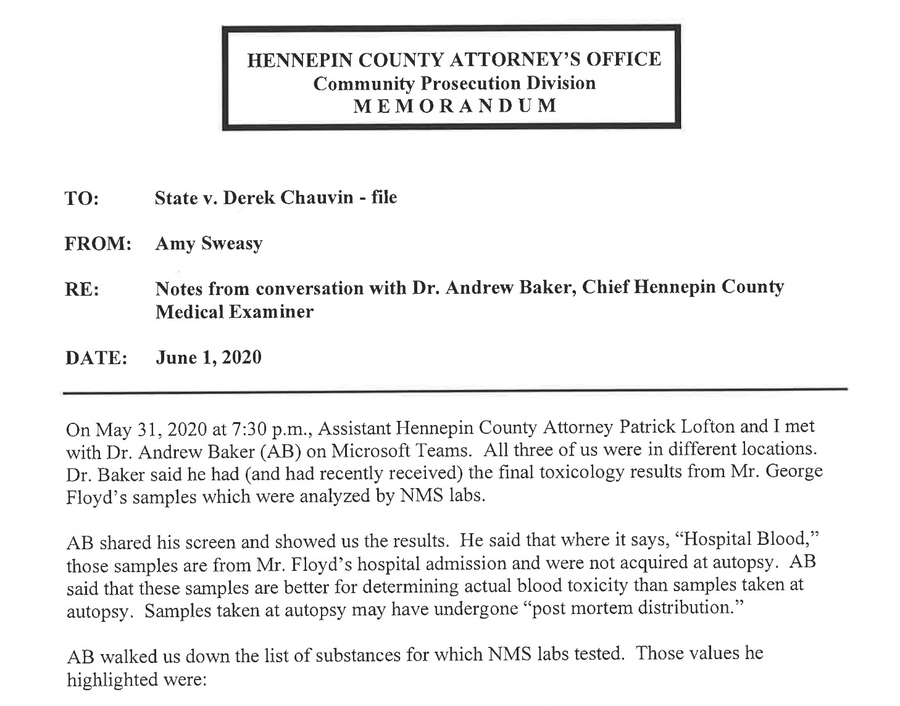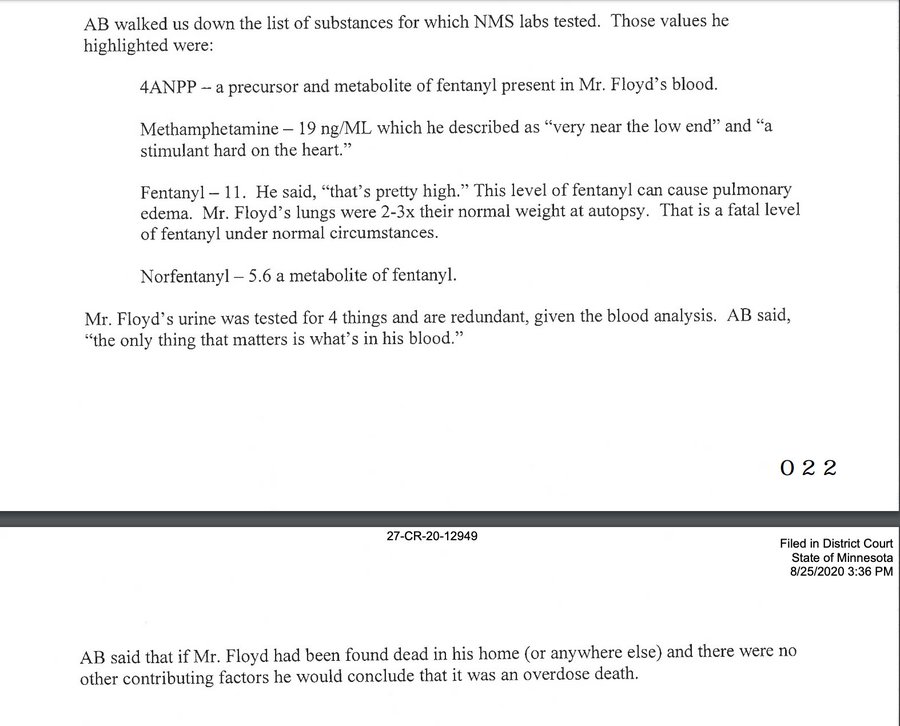 BREAKING: Full George Floyd autopsy reveals his blood concentration of the powerful street opioid fentanyl was 4 times the level known to cause "fatalities." Floyd also had speed & marijuana in system.First arresting officer on scene saw "foam" around mouth,asked if "on anything"

— Paul Sperry (@paulsperry_) June 4, 2020
Seeing is Believing. Sometimes you can't tell the public the truth. YOU MUST SHOW THEM. ONLY THEN WILL PEOPLE FIND THE WILL TO CHANGE. It had to be this way. This is not another 4-year election. GOD WINS." -Q pic.twitter.com/PCTeBwXOyt

— Julian's Rum 🥃 (@JuliansRum) August 26, 2020
An American flag was just burned outside the Kenosha County Courthouse. One woman screams, "Death to America!" and kicks the fence. pic.twitter.com/vI8U6EOGBv

— Julio Rosas (@Julio_Rosas11) August 26, 2020
 " Rep. Bryan Steil (R-WI) stated that local law enforcement in Kenosha, WI are "very concerned large numbers of people are coming up from Chicago and trying to disrupt the public safety in the community of Kenosha," in the wake of the shooting of Jacob Blake.
Source: zerohedge.com
Don Lemon wants you to know that the rioting and violence has to stop because it's helping Trump's poll numbers and man that's not good.pic.twitter.com/PRboEa9tLH

— Jason Howerton (@jason_howerton) August 26, 2020
TAKE A LISTEN
18 people killed by protesters, over 900 law enforcement casualties, and roughly a billion in property damage wasn't enough to make Democrats and leftwing media denounce the riots…

…but once the focus groups and polls don't like it, IT'S PANIC TIME!! https://t.co/mYLI0r3utJ

— Steven Crowder (@scrowder) August 26, 2020
Weren't we all told since the beginning that there was no rioting, Nadler said it was a myth, we were told it was peaceful protesting and the police are to blame.  
They have always known, they thought the American people would be behind this movement, they thought they could hide the riots from the American people, they always knew what was happening, they are now in trouble, the silent majority does not agree with what is happening, they MSM/[DS] are in trouble
they are now mentioning it because they are realizing the silent majority knows, they are awake, polls are revealing  this
The Governors and mayors have just received the memo, 
Let me be clear: It's time for the violence and vandalism to end so Portland can focus on the important work to be done to achieve real change for racial justice. Those who have committed acts of violence will be held accountable.

— Governor Kate Brown (@OregonGovBrown) August 25, 2020
D.C. Mayor Bowser condemns protesters seen in viral video heckling diners
Eventually ARMED CITIZENS were going to step in when DEMOCRATIC GOVERNORS AND MAYORS for **political reasons** would not protect their city, their businesses, their homes and their neighborhood.
Flashback to Trump tweet
Looting leads to shooting, and that's why a man was shot and killed in Minneapolis on Wednesday night – or look at what just happened in Louisville with 7 people shot. I don't want this to happen, and that's what the expression put out last night means….

— Donald J. Trump (@realDonaldTrump) May 29, 2020
….It was spoken as a fact, not as a statement. It's very simple, nobody should have any problem with this other than the haters, and those looking to cause trouble on social media. Honor the memory of George Floyd!

— Donald J. Trump (@realDonaldTrump) May 29, 2020
We will NOT stand for looting, arson, violence, and lawlessness on American streets. My team just got off the phone with Governor Evers who agreed to accept federal assistance (Portland should do the same!)…

— Donald J. Trump (@realDonaldTrump) August 26, 2020
…TODAY, I will be sending federal law enforcement and the National Guard to Kenosha, WI to restore LAW and ORDER!

— Donald J. Trump (@realDonaldTrump) August 26, 2020
A man has been arrested after he was accused of firing gunshots at a crowd of President Donald Trump supporters nearby a road in South Carolina.
The man, Marquise Damarius Asomani, of Charlotte, North Carolina, was arrested  erogatory remarks and yelling obscenities at them" from their car.
source: breitbart.com
---
Q
EgCocuoXsAANrRi.jpg
Two Democrat Caucus Meetings removed "UNDER GOD" from the Pledge of Allegiance. It sounded not only strange, but terrible. That's where they're coming from!, look at the time on the tweet it says 9:11
One party discusses God.
One party discusses Darkness.
One party promotes God.
One party eliminates God.
Symbolism will be their downfall.
The Great Deceiver(s).
When was the last time you witnessed a
[D]
party leader being Patriotic
[exhibiting National Pride (love of Country)]
?
When was the last time you witnessed a
[D]
party leader 'speak out against' the riots
[violence in the streets]
?
When was the last time you witnessed a
[D]
party leader support those who took an oath to protect and defend?
When was the last time you witnessed a
[D]
party leader support and call for UNITY across our Nation?
ALL ASSETS DEPLOYED.
INFORMATION WARFARE.
INFILTRATION.
DESTRUCTION OF AMERICA.
Have Faith in Humanity.
Have Faith in Yourself.
UNITED WE STAND.
GOD WINS.
Q
---