[DS] Begins The Push To WWIII, The People Are Being Brought To The Precipice, Buckle Up – Ep. 3190
Podcast: Download (Duration: 1:41:11 — 43.6MB)
Watch The X22 Report On Video
The D's/[CB]/[DS] are pushing the same agenda, now the Gov of NM who pushed gun control is now saying all cars will be electric in 2035, big fail. The corporations are now hiding inflation. The [CB] has now accelerated the collapse of the economy, the 30 year mortgage is now 8%. The [DS] is now pushing WWIII. The [DS] is slowly pushing war and this will continue into 2024. The people are will be brought to the precipice. The precipice is going to consist of the collapse of the economy, open border and war. The people will have to make a decision, do they want war or peace. At this point the people will have to look deep to make this change.
---
Economy
New Mexico Governor Michelle Lujan Grisham sure likes mandating things. When she's not trying to abuse her power by taking away people's gun rights, she's making demands about electric vehicles.
Grisham has decided that all state vehicles in New Mexico must be electric by 2035.
Is she planning to still be governor 12 years from now?
FOX News reports:
Another blue state unleashes electric vehicle mandate: 'Walking the walk'
Source: thegatewaypundit.com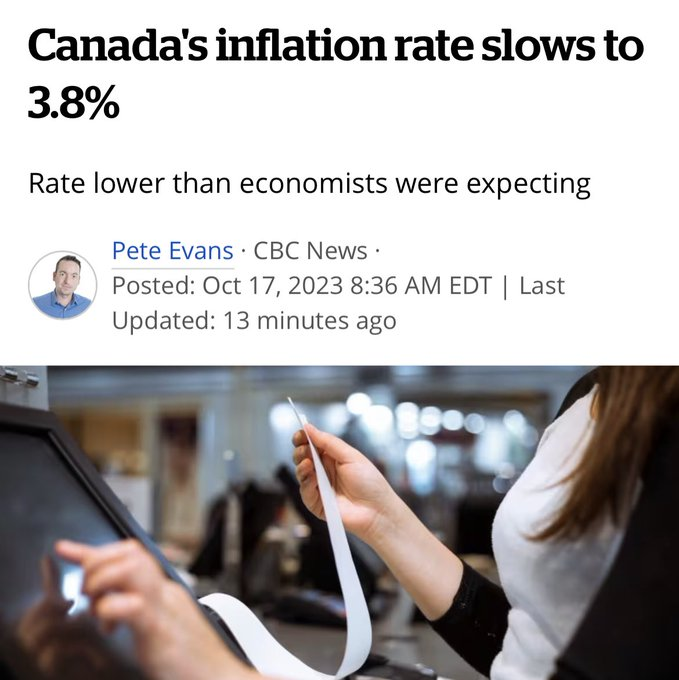 Shrinkflation … 😡

My new iron supplement has ten fewer tablets.
The new bottle has iron deficiency. pic.twitter.com/xnKei6kjg7

— Wall Street Silver (@WallStreetSilv) October 18, 2023
The average rate on the popular 30-year fixed mortgage rate hit 8% Wednesday morning, according to Mortgage News Daily. That is the highest level since mid-2000.
The milestone came as bond yields soar to levels not seen since 2007. Mortgage rates follow loosely the yield on the 10-year U.S. Treasury.
Number of foreign-born workers in the US workforce is at an all time high, per WSJ: pic.twitter.com/sRzFMRg8Wc

— unusual_whales (@unusual_whales) October 18, 2023
Big layoff announcements this week (% of workforce):

– Linkedin 3%
– Bank of Nova Scotia 3%
– Rolls-Royce 6%
– Flexport 20%
– Qualcomm 2.5%

Even the FED announced layoffs in September for the first time in more than a decade.

Buckle up – it's about to get bumpy!

— Genevieve Roch-Decter, CFA (@GRDecter) October 18, 2023
NEW: 🇺🇸 Gas station in Florida becomes first in the U.S. to accept #Bitcoin Lightning payments 🙌 pic.twitter.com/9Z4Re7pwqj

— Bitcoin Magazine (@BitcoinMagazine) October 18, 2023
---
Political/Rights
/2 FARA requires each agent of a foreign principal to register with the DOJ, and the DOJ to make that registration readily available to the public. To date, Hunter Biden has not registered, despite DOJ's clear awareness of his activities. pic.twitter.com/0ODSubxKCL

— America First Legal (@America1stLegal) October 18, 2023
The Internal Revenue Service recently awarded a lucrative contract to help modernize its computer databases to the same Washington firm, Booz Allen Hamilton, that employed the man who pleaded guilty last week to stealing and leaking thousands of private tax returns of wealthy Americans, including former President Trump, according to records reviewed by RealClearInvestigations.
Cyber-thief Charles "Chaz" Littlejohn was working on an IRS contract for Booz Allen in 2018 when he stole more than two decades of Trump's personal tax records from IRS computers. He later leaked them to the New York Times, which published negative stories on Trump's long-sought returns several weeks before the 2020 election, which Trump narrowly lost in a handful of battleground states. 
Source: thegatewaypundit.com
BREAKING: Leaker of Trump Taxes Worked for Biden Beltway Donor That Just Won a Big New IRS Contracthttps://t.co/aQwueUC2vS

— Paul Sperry (@paulsperry_) October 18, 2023
---
Geopolitical/Police State
 Joe Biden, in some form or fashion, has joined President Trump's social media platform TruthSocial today.  The Biden campaign account, BidenHQ, Truthed for the first time this afternoon:
The account currently has 1.25k followers and is following just one account:  @RealDonaldTrump (although this is probably default setting).  Podcaster and citizen journalist Behizy appears to be the first to respond on the Biden page by saying "The 2020 election was rigged and Trump won":
The follow-up Truth from the Biden camp takes a shot at President Trump using a clip from Ron DeSantis regarding adding $7.8T to the national debt.  The post doesn't consider the $3.1 trillion added during the "pandemic".
FOX News reported that the Biden campaign says "they are 'injecting [their] message' into GOP primary coverage and plan to combat 'mis and disinformation' about…Biden that may appear on the social media platform."
Source: thegatewaypundit.com
---
War
President Joe Biden announced  that the United States will be sending $100 million in aid to the West Bank and Gaza just days after the terrorist organization Hamas stole humanitarian supplies.
"Let me be clear, if Hamas diverts or steals the assistance, they will have demonstrated once again that they have no concern for the welfare of the Palestinian people, and it will end," Biden said. "As a practical matter, it will stop the international community from being able to provide this aid.
Source: dailycaller.com
Joe Biden says he is working with the region's leaders to get the hostages returned.

In other news, the region's leaders have cancelled meetings with the Biden team.

— Richard Grenell (@RichardGrenell) October 18, 2023
The U.S. Gov't Hired A Pro-Hamas PLO Spokeswoman To Handle Asylum Claims https://t.co/jH1sleEigC

— Tom Fitton (@TomFitton) October 18, 2023
Former Ambassador to the United Nations (UN) Nikki Haley, running in the Republican presidential primary, is backtracking after suggesting support for resettling Palestinians across American communities.
 
I believe that those in the region should take them. I said that about Syria then, that's why Jordan and Turkey took the bulk of the refugees there and I think honestly that Hamas-sympathizing countries should take these Gazans now … there is no reason for any refugees to come to America. My record is very clear on that. [Emphasis added]
Source: breitbart.com
Canada Prime Minister Justin Trudeau was amongst the first to rush to blame Israel for a deadly explosion at the Ahli Baptist Hospital in Gaza City on Tuesday.
In the hours afterwards Trudeau reportedly called the situation "absolutely unacceptable." Speaking in French, he told reporters that "it's not legal" to bomb a hospital.
"The news coming out of Gaza is horrific," the prime minister said, Reuters reports.
"International humanitarian and international law needs to be respected in this and in all cases. There are rules around wars and it's not acceptable to hit a hospital."
Source: brietbart.com
Protesters start fires outside the US Embassy in Beirut.
THOUSANDS OF PROTESTERS targeted the US Embassy in Jordan on Tuesday night after a deadly strike on a hospital in Gaza.
Protests broke out in various Arab countries, including Lebanon, where protesters march on the US and French embassies, following the hospital bombing.
Protests broke out in Jordan, Lebanon, Morocco, Turkey, Syria, Iraq, Qatar and Tehran.
At one point the police started firing smoke cannisters at the massive crowds.
Source: thegatewaypundit.com
Looks like the [DS] was trying to start chaos and War across the world.
For those of you still questioning what happened at the al-Ahli Hospital in #Gaza last night, we have receipts.

Watch: pic.twitter.com/n7yN68WyAv

— Israel ישראל 🇮🇱 (@Israel) October 18, 2023
This is the tragic result of firing rockets from densely populated neighborhoods. pic.twitter.com/7iAxwLUQzV

— Israel Defense Forces (@IDF) October 18, 2023
Other footage of the same strike:

POV: 31.566770, 34.537364

GeoLocated by @kr007t https://t.co/IPd4StdtIc

12/X

— GeoConfirmed (@GeoConfirmed) October 17, 2023
So after all the drama yesterday it turns out the Gaza hospital wasn't bombed, the parking lot was, and 500 people didn't die. Oh and the rocket wasn't from Israel, it was from a failed rocket that Palestinian terrorists shot at Israel. Absolutely insane. pic.twitter.com/Eet1eExuGx

— Robby Starbuck (@robbystarbuck) October 18, 2023
So let's walk through it.

We now have video of the scene showing the explosion is from the parking lot and the buildings are in tact. There is no crater, no building demolished. This is inconsistent with the type of bomb many were suggesting yesterday. pic.twitter.com/HFKKxS8kvr pic.twitter.com/SpgG3Ktbiy

— AG (@AGHamilton29) October 18, 2023
عاجل:

السعودية:

على السعوديين مغادرة لبنان بشكل فوري وحاليًا.

— أخبار السعودية (@SaudiNews50) October 18, 2023
urgent: Saudi Arabia: Saudis must leave Lebanon immediately and now.
US forces in Iraq thwart drone attack at air base housing American troops https://t.co/UnHt41UvYl pic.twitter.com/BbO1JsPOqK

— New York Post (@nypost) October 18, 2023
The viral post below uses an AI-generated image to falsely claim it shows a baby in Gaza. https://t.co/ZL1YecZiuy pic.twitter.com/T2VOrQ7HJM

— Andy Ngô 🏳️‍🌈 (@MrAndyNgo) October 18, 2023
Majority in poll fear Israel-Hamas conflict will grow into larger Middle East war
A majority of voters said that they are concerned that the violence between Israel and Hamas will escalate into a larger war in the Middle East.
A new Quinnipiac poll found that 85 percent of voters said they are either very concerned or somewhat concerned that the fighting will expand into a war in the Middle East. Thirteen percent are either not so concerned or not concerned at all, according to the poll.

More than three-fourths of voters also said that supporting Israel is in the national interest of the United States, including 84 percent of Republicans and 76 percent of Democrats.
Source: thehill.com
---
Cyber Attacks
---
False Flags
It's safe
It's effective
It protects you, your family, and others
It's free
It's your responsibility to society to take it
It's the only way to restore the economy
It's irresponsible to question the science
–
–
–
–
It's time for Nuremberg Style Criminal Trials 👇 https://t.co/y8cwIdQh95

— Rasmussen Reports (@Rasmussen_Poll) October 17, 2023
Incredible video. Randi Weingarten in her own words: https://t.co/A7OYN5KE7N

— Libs of TikTok (@libsoftiktok) October 18, 2023
ACT test scores fall to lowest levels in 32 years, per Axios: pic.twitter.com/4CMkSBNV7c

— unusual_whales (@unusual_whales) October 18, 2023
Crime: Voters Trust GOP More on Issue

Forty-nine percent (49%) of voters trust Republicans more to handle crime and law enforcement issues, while 38% trust Democrats more. Fourteen percent (14%) are not sure.

More At Rasmussen Reports:https://t.co/TdmzZMAIXE pic.twitter.com/nEOIiGNEmj

— Rasmussen Reports (@Rasmussen_Poll) October 18, 2023
---
Q
Today, Republicans may make Jim Jordan the Speaker.

Jordan would preside over the counting of electoral votes in the next election.

After he was deeply involved in trying to overturn the last one.

Just when you think they can't be more irresponsible, they prove you wrong.

— Adam Schiff (@RepAdamSchiff) October 17, 2023
The Gateway Pundit reported earlier today that Jordan had to win over at least 15 of these 20 RINOS who did not vote for him in the first vote if he is to become Speaker.
He did not succeed.
Here are the 22 RINOS who turned their backs on We the People and voted against Jordan. One idiot, Mike Kelly, voted for former RINO Speaker John Boehner!
Don Bacon (NE-2nd)- Kevin McCarthy
Linda Chavez-Deremer (OR-5th)- McCarthy
Anthony D'Esposito-(NY-4th) Lee Zeldin
Vern Buchanan (FL-16th)- Byron Donalds
Andrew Garbarino (NY 2nd) -Zeldin
Jake Ellzey (TX-6th) – Mike Garcia
Jen Higgins (VA-2nd) – McCarthy
Drew Ferguson (GA-3rd)- Steve Scalise
Ken Buck (CO-4th)- Zeldin
Mario Diaz-Balart (FL-26th)- Scalise
Nick Lalota (NY-1st)- Zeldin
Kay Granger (TX-12th) – Scalise
Mike Lawler (NY-17th)- McCarthy
Marinette Miller-Meeks (IA-2nd) – Kay Granger
John James (MI-10th)- Candice Miller
Tony Gonzales (TX-23rd)- Scalise
Carols Gimenez (FL-28th)- McCarthy
Mike Kelly (PA-16th) – John Boehner!
John Rutherford (FL-5th) -Scalise
Mike Simpson (ID-2nd)- Scalise
Pete Stauber (MN-8th) – Bruce Westerman
Steve Womack (AR-3rd)- Scalise
Source: thegatewaypundit.com
 Kevin McCarthy needed 15 rounds?  
Boehner is back.
Former House Speakers Newt Gingrich and John Boehner are backing McHenry for interim Speaker.
Rep. Patrick McHenry (NC) was appointed as Speaker Pro Tempore after McCarthy was ousted earlier this month.
Gingrich promoted Acting Speaker Patrick McHenry Tuesday night and said if House Republicans can't elect a permanent Speaker, McHenry should be empowered to run the House through at least the end of the year.
Source: thegatewaypundit.com
Looks like the narrative is already being seeded – "With RFK Jr in the race, it was too much for Trump to overcome, just as our pre-election polls predicted."

Is this how they try to steal 2024? pic.twitter.com/2jsDNaGStg

— Patri0tsareinContr0l (@Patri0tContr0l) October 18, 2023
"I would like to see the Independent numbers because they make or break national elections."

28% of Independents will vote for RFK, Jr as an Independent
50% of Independents now say they will vote for Trump https://t.co/Xlo9vH8B9a

— Rasmussen Reports (@Rasmussen_Poll) October 17, 2023
Oct 19, 2020 12:56:10 AM EDT