[DS] Building Cyber Attack Narrative,Can You Serve From Jail?Playbook Known,We Must Fight – Ep. 3095
Podcast: Download (Duration: 1:31:13 — 41.4MB)
Watch The X22 Report On Video
The Fed has now paused the rates, they have already tipped the economy over the edge, they will continue to raise rates in the background. They [CB] needs a cover story so the cyber attack that [WEF] predicted is now coming into focus, they will use this to blame the crash of the economy. The [DS] is now building the narrative of a cyber attack shutting down communications. The [DS] is now moving to place Trump under arrest during the election, playbook known. Trump sends a message that the people need to fight. The [DS] is panicking they are not in control the patriots are leading them down the path of destruction.
---
Economy
 A US recession is very likely, but what this forward-looking framework shows is that manufacturing – one of the first sectors that went into a recession – is likely to be one of the first out of it.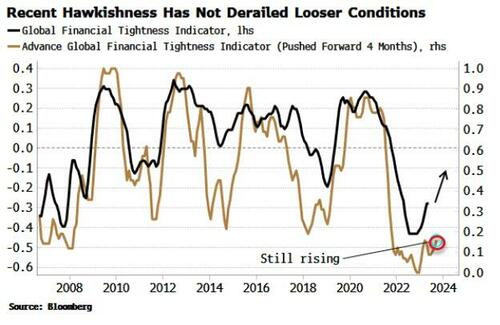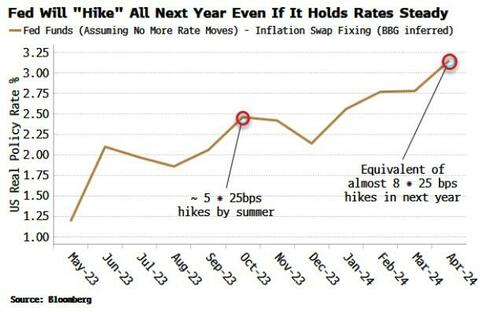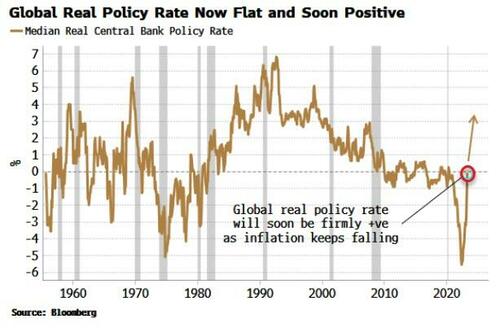 This shows the banks have already done a lot of the heavy lifting, and now the mechanical effects of slowing inflation will take on the tightening burden, soon taking the global real rate significantly positive, and therefore more restrictive.
The banks can therefore afford to step back. And the sooner they pause – and the longer – the more likely it morphs into a rate cut as the economy weakens further.
Source: zerohedge.com
He is wrong

— Elon Musk (@elonmusk) June 15, 2023
The three hacker groups declared their intention to unleash a massive cyber onslaught on the European banking system, threatening to bring it to its knees within "48 hours"(the information was relevant as of yesterday), Russian online newspaper Lenta.ru reported Wednesday.
In a published video, KillNet, a pro-Russian hacktivist group, made a chilling declaration, stating that their upcoming cyber attack is not a warning but a mere fact. "You have not faced such issues yet," the representative of KillNet stated, indicating the severity of the planned attack.
"This is not a DDoS attack, games are over. "No money – no weapons – no Kyiv regime" – this formula will work," the masked man in the video warned.
Source: thegatewaypundit.com
A global cyberattack exploiting a flaw in widely-used software has struck several US federal government agencies, triggering an immediate and rigorous response from cybersecurity officials.
Source: thegatewaypundit.com
---
Political/Rights
Delaware Supreme Court Questions University Of Delaware's Refusal To Release Biden Senate Docs

KATELYNN RICHARDSON
CONTRIBUTOR
June 14, 2023
1:06 PM ET

Delaware Supreme Court justices heavily questioned the University of Delaware's rationale for refusing to release President…

— Tom Fitton (@TomFitton) June 15, 2023
Delaware Supreme Court justices heavily questioned the University of Delaware's rationale for refusing to release President Joe Biden's Senate papers during oral arguments   The Daily Caller News Foundation and Judicial Watch filed an appeal with the Delaware Supreme Court in January after the Superior Court held that the university had satisfied the burden of proof needed to justify denying the records, along with related communications and agreements, which they had requested in 2020. During Wednesday's hearing, Justice Abigail Legrow pushed back on the university's argument by reading part of the Supreme Court's prior opinion, which she noted "seems to say something else." "Unless it is clear on the face of the request that the requested records are not subject to FOIA, the public body must search for responsive records," the decision said, requiring the university to create a document that would allow the Superior Court to determine on remand whether it "performed an adequate search." "You didn't perform a search," she said. "How can this Court ever conclude that what you did is consistent with this prior decision?"   "The public has a right to know who is paying for the Biden Documents and how they are being kept," Bekesha added. The records have been housed at the University of Delaware Library since 2012, when Biden provided them with the understanding that they would not be publicly released until "they have been properly processed and archived," according to the university's website. Information contained in the records could relate to Tara Reade, who accused Biden of sexually assaulting her while working in his senate office in 1993, or the president's son, Hunter Biden, who is under investigation for alleged failure to pay taxes and lying on a federal firearms form. The FBI searched the university twice earlier this year in relation to its investigation into President Biden's handling of classified documents. "The Biden papers are of incredible public interest," Green told the Court. "We just need to know if state funds are used and how they were funded. It seems implausible that the gift agreement does not relate to the expenditure of state funds."
A highly trusted confidential source told the FBI that Burisma's president was rattled by Trump's victory, fearing an investigation would reveal the Burisma executive's bribes to the Biden family, which included a $5 million payment to Hunter Biden and a $5 million payment to Joe…

— Sean Davis (@seanmdav) June 15, 2023
According to the source, whose recollections are contained in a report the FBI tried to hide, the Burisma executive said the Bidens had "coerced" him into paying the bribes, and that he had recordings of his conversations with Joe Biden himself.
Sen. Chuck Grassley revealed a foreign national — identified by individuals with knowledge of the matter as Burisma founder Mykola Zlochevsky — allegedly possessed 17 recordings implicating the Bidens in a pay-to-play scandal. While 15 of the audio recordings consisted of phone calls between Zlochevsky and Hunter Biden, two were of calls the Ukrainian had with then-Vice President Joe Biden, according to the FD-1023.
The Federalist has now learned the FD-1023 reported the CHS saying the Bidens "coerced" Zlochevsky to pay the bribes. Sources familiar with the investigation also explained the context of Zlochevsky's statements, and that context further bolsters the CHS's reporting.
I
Yet, not a single mainstream news outlet has reported on the crime of the millennium. New York Times, Washington Post, USAToday, CNN, ABC, NBC, CBS refuse to allow mention of Biden's felony 
What's more, the DOJ rushed to indict Trump on the day the proof of Biden's corruption broke. This was an intentional move by Biden, AG Merrick Garland, and prosecuting thug Jack Smith to give the media cover. Biden ordered the phony arrest of his leading political opponent in order to whitewash news of his own felony.
Source: thegatewaypundit.com
NYC Mayor Eric Adams Forced to Admit His Offer to House Illegals in Gracie Mansion was Just "Symbolic"
Earlier this month, New York Mayor Eric Adams said he would be happy to open up the Mayor's residence, Gracie Mansion, to illegals.
He made the boast after suggesting that illegals in the city be housed in private residences.
But now, surprise, the Mayor is now distancing himself from the offer by blaming "legal issues." But he still wants credit for the important "symbolism" of a political gesture that means absolutely nothing.
"I think leading the challenge of the migrant problem is both substantive and symbolic and as I always said, 'Good generals lead from the front,'" he told reporters Thursday at City Hall.
Source: thegatewaypundit.com
---
Geopolitical/Police State
If you believe the entire "fact-checking" industry is rigged to push the political agenda of the Democratic Party, you're not wrong. There's more evidence in addition to the voluminous amount of biased and even laughable "fact checks" to support that conclusion.
A new study from the Washington Free Beacon analyzing political contributions from U.S. employees who call themselves "fact checkers" reveals that an astounding 99.5% of their donations went to Democrats. That's right — nearly 100 percent.
That means that the policing of the Internet for "facts" is being carried out by partisan Democrats who nearly exclusively target conservatives and independents for "fact checks," thereby doing massive damage to the reputation and financial backing of journalists who seek to hold the powerful and privileged accountable.
The study examined political donations over the past four election cycles and discovered that out of the total $22,683 donated, only $22,580 went to Democrats, while a meager three donations were made to Republicans.
These findings raise major concerns about the supposed neutrality and impartiality of those responsible for "fact-checking" and censorship within our society. Despite claiming to be unbiased, these individuals showed a clear partisan preference. The study even revealed that fact checkers donated ten times more money to socialist Bernie Sanders alone than to all Republican politicians combined.
The U.S. government is violating the Constitutional rights of Americans. The Congress should also pass legislation explicitly banning the federal government's participation in America's marketplace of ideas. No propaganda, no censorship, and no "fact-checking." This would go along way to restoring Americans' rights in our Constitutional republic.
1/🚨🗣️ EXPOSED — A secret list of journalists pushing propaganda on behalf of the US govt has been revealed as a result of our litigation against the State Dept to uncover the dark truth about the Global Engagement Center (GEC).

Read on to see the secret list below:

— America First Legal (@America1stLegal) June 14, 2023
Bill Gates To Meet One-On-One With China President Xi Jinping: REPORT
Microsoft founder Bill Gates is scheduled to meet with Chinese President Xi Jinping during a visit to China on Friday, according to Reuters.
The sources gave no information about what the two will discuss, Reuters reported. Gates tweeted on Wednesday that he "arrived in Beijing for the first time since 2019" and will visit with "partners who have been working on global health and development challenges" with the Bill and Melinda Gates Foundation for over 15 years.
Xi met with Gates in China in 2015, and in 2020 he wrote a letter thanking Gates and the Foundation for giving China $5 million in COVID-19 assistance, according to Reuters. Xi did not travel abroad for approximately three years after China closed its borders during the COVID-19 pandemic.
Source: dailycaller.com
---
War
North Korea fires two short-range ballistic missiles, Seoul says
North Korea fired two short-range ballistic missiles, South Korea's military  , shortly after Pyongyang warned of an "inevitable" response to ongoing US-South Korea joint military drills.
Tokyo also confirmed the launch, with a defence ministry official telling reporters that the two missiles had landed in waters within Japan's exclusive economic zone.
Source: thehindu.com 
---
False Flags
A newly-unearthed State Department cable suggests that the military wing of the Chinese Communist Party (CCP) was operating so-called "shadow labs" at the Wuhan Institute of Virology (WIV).
The heavily redacted State Department cable from Aug. 2020, now obtained by the watchdog group U.S. Right To Know, has a section labeled "Cyber Evidence of PLA Shadow Labs at WIV and Bioengineering University." PLA refers to the People's Liberation Army, China's military.
The details of the evidence are redacted, but other sections include "PLA Contractor Involved in the Construction of the Wuhan Institute of Virology," "PLA Presence Continued After Construction Completed" and "WIV Personnel with Possible PLA Ties."
Source: dailycaller.com
Americans have soured on the Black Lives Matter street riot movement.
A new Pew Research survey indicates that support for the movement has reached its lowest point since the 2020 death of George Floyd.
 
Support for the movement most declined in age demographics above the age of 30.
The American perception of Black Lives Matter appears to have changed considerably since 2022.

Do you believe that America is an inherently racist country?

Support declined 5 percent and opposition increased by 4 percent during that timeframe, according to the poll.
It's not hard to see why Black Lives Matter support is ebbing. The organization has been the subject of scandals related to its spending — including high-end real estate purchases — and hiring and payment practices that have benefitted its leaders, their families and their friends.
Meanwhile, it appears to be failing to make the racial climate of the country any better.
A strong majority of Americans polled — 61 percent — said the movement has failed to improve relations between Americans of different races.
In addition, 57 percent of those questioned stated that the movement hadn't been successful in improving the lives of black Americans, with only 33 percent saying it had.
Source: thegatewaypundit.com
Adults in a Burlington, Massachusetts, community are calling for "action" in response to middle school children tearing down Pride banners and chanting "U.S.A. are my pronouns." The principal of the school reacted to the students' choice of rebelling against pride month by saying, "When one individual or group of individuals' beliefs and actions result in the demeaning of another individual or group, it is completely unacceptable."
"The Burlington community is calling on town leaders to take action in the wake of a recent middle school incident during which students disrupted a Pride event," reported Boston.com.
Source: breitbart.com
---
Q
Newly unsealed court documents reveal that Georgia election officials have been aware of vulnerabilities in the state's voting software for over two years but have decided not to update the system until after the 2024 election. The vulnerabilities pertain to certain Dominion Voting machines, and their existence has been confirmed by federal cybersecurity officials who have advised election officials nationwide to update their systems.
Lawyers representing Georgia's Secretary of State, Brad Raffensperger, stated in a recent federal court hearing that they would forego installing Dominion's security patches until after the next presidential election. Election officials in Georgia maintain that the vulnerabilities are unlikely to be exploited in real attacks and claim to have implemented several security recommendations without the need for software updates.
According to Mike Hassinger, a spokesperson for the Georgia Secretary of State's office, upgrading the system would be a massive undertaking, and officials are currently assessing the project's scope and timeframe.
The report, which was released this week after being sealed for two years, was commissioned by a coalition of election integrity advocates involved in a long-standing lawsuit against the Georgia Secretary of State's office regarding concerns related to Dominion's electronic voting systems.
Source: beckernews.com
Texas Governor Greg Abbott signed a significant bill on Tuesday that intensifies the state's stance against election fraud.
The new law, known as House Bill 1243, has reinstated election fraud as a serious criminal offense – a felony that carries a potential sentence of up to 20 years in prison.
Source: thegatewaypundit.com
Election Integrity: Most Voters Expect Cheating Will Affect 2024 Outcome 
A majority of voters continue to suspect widespread election fraud, and expect cheating at the ballot box to influence the 2024 presidential election.
The latest Rasmussen Reports national telephone and online survey finds that 54% of Likely U.S. Voters believe cheating is likely to affect the outcome of the next presidential election, including 30% who think it's Very Likely. Forty-one percent (41%) say election cheating is unlikely to affect the 2024 outcome, including 24% who consider it Not At All Likely. (To see survey question wording, click here.)
Source: rasmussenreports.com
I am a former Assistant U.S. Attorney, worked on two Supreme Court confirmations, and clerked for two federal appellate judges.

The indictment and case against President Trump is outrageous and shocking.

But let's get into the details.

Here are my 6 key points on the case:

— Will Scharf (@willscharf) June 15, 2023
(2) Classification and National Defense Information

I want to reiterate this point because it's really important:

Just because something is classified—even Top Secret, SCI, NOFORN, FISA, pick your alphabet soup—does not mean that it is National Defense Information (NDI) within…

— Will Scharf (@willscharf) June 15, 2023
(4) Attorney Client Privilege

The indictment relies on a significant amount of information received, in one form or another, from one of Trump's lawyers, Evan Corcoran, who was compelled to testify in front of the grand jury. According to news reports, the argument for breaching…

— Will Scharf (@willscharf) June 15, 2023
(6) Jack Smith: Why him?

If you could pick any lawyer in the country to handle a controversial case against a former president, a case involving an aggressive, unprecedented use of the Espionage Act, a controversial law in and of itself, what lawyer would you pick?

You'd…

— Will Scharf (@willscharf) June 15, 2023
It's been pointed out to me that the final vote on McDonnell v. United States was 8-0, not 9-0, because Justice Scalia passed away before the opinion was issued.

My point still stands. The Supreme Court unanimously said that Smith overstepped and smacked him down for it.

— Will Scharf (@willscharf) June 15, 2023
🧵

Trump announcing the indictment on June 8th was NOT what DOJ/SCO wanted. I'll show you.

The very first document on the docket is the motion to seal the indictment. It says that the grand jury returned an indictment on June 8th, 2023. (wish it gave a time, but it doesn't) pic.twitter.com/y1atGRKaH9

— Just Human (@realjusthuman) June 15, 2023
Anchor Joy Reid said, "What are the chances that Donald Trump, and I had not thought about until you said it, that instead of going through with this trial he takes a plea with the vowed to not run for president again like Spiro Agnew did in the 70s."
Source: breitbart.com
Jill Biden was shocked that Trump supporters were still supporting him, 
The [DS] why isn't this working, we must move to the next phase
So lets review
Bragg indicted Trump on a case where the statute of limitations ran out, there is no case and no evidence they know this, they thought the Trump supporters would not support him anymore, it didn't work, Trumps polls went up and more people flocked to him.
So the [Ds] had to up their game, lets get him on federal charges, we have nothing that we can use on the classified docs, if we bring charges inregard to the classified docs people will start questioning how Biden is getting away with it, so lets use the espionage act and let hur never stop investigating, if anyone asks we can not answer because their is an on going investigation.
They are trying to get Trump to take a deal and bow out of the Presidential race, this will not work, so now they will indict him again and most likely throw him into jail. Talk about that in a sec.
 Lets go back to post
Q

 

!!mG7VJxZNCI

 

ID: fd6f58

 No.2758908

WITCH HUNT.
No deals.
Q
Everything the DS has done has backfired and Trump is rubbing it in their face.
REALLY BIG FUNDRAISING, EVEN GREATER POLLS, SINCE THE RADICAL LEFT INDICTMENT HOAX WAS INITIATED BY THE MISFITS, MUTANTS, MARXISTS, & COMMUNISTS! THANK YOU !!!
the people see the truth
Like him or not, Lindsey Graham is standing firmly behind President Trump. Everything he says is spot on, especially the part about how much they fear DJT.
They are terrified right now. Expect more indictments. They aren't gonna go out without a fight, but they will be defeated.
Former FBI Director James Comey predicted on Sunday that former President Trump "could be wearing an ankle bracelet" when accepting the GOP nomination if he wins it in 2024, as the former president faces a number of legal challenges.
Comey said on MSNBC's "Inside with Jen Psaki" that he doesn't "want to" but "could" envision Trump getting the Republican nod.
"I mean, it's this crazy world that Donald Trump has dragged this country into, but he could be wearing an ankle bracelet while accepting the nomination at the Republican convention," Comey said.
"You would be rejected if you put it in a script for a show, but you could have a president who is potentially incarcerated when he is elected president," he added.
Source: thehill.com
Corrupt prosecutor Andrew Weissmann on Wednesday floated additional and more serious federal charges against Trump in New Jersey.
Jack Smith reportedly hit a roadblock and was unable to bring certain charges in DC since Mar-a-Lago is located in West Palm Beach so he empaneled a grand jury in Florida to 'get Trump.'
Source: thegatewaypundit.com
What they really want is to get Trump in DC, so they will now push charges there, what event occurred in DC Jan 6
Q

 

!4pRcUA0lBE

 

ID: 91120f

 No.1419607

>>1419464

Its apparent to us Anons what crimes Preet is complicit in…. I dont know how these people keep thrusting themselves into the spotlight when they are pure evil
>>1419514
What do you notice?
They all drop hints they are considering future elected positions.
Why?
Claim interference?
Attack on opposition party?
Protection?
Can you serve from jail?
Q
Russia now has free hand to destroy undersea communications cables – Putin ally 
 A close ally of Russian President Vladimir Putin said there was no reason for Moscow not to destroy its enemies' undersea communication cables given what he said was Western complicity in the Nord Stream pipeline blasts.
Source: yahoo.com
A global cyberattack exploiting a flaw in widely-used software has struck several US federal government agencies, triggering an immediate and rigorous response from cybersecurity officials.
The US Cybersecurity and Infrastructure Security Agency (CISA) confirmed the attacks in a statement to CNN.
"We are providing support to several federal agencies that have experienced intrusions affecting vulnerable software exploited by the hackers," said Eric Goldstein, CISA's Executive Assistant Director for Cybersecurity. "We are working urgently to understand impacts and ensure timely remediation."
Source: thegatewaypundit.com
Chinese spies breached hundreds of public, private networks, security firm says
Suspected state-backed Chinese hackers used a security hole in a popular email security appliance to break into the networks of hundreds of public and private sector organizations globally, nearly a third of them government agencies including foreign ministries, the cybersecurity firm Mandiant said Thursday.
"This is the broadest cyber espionage campaign known to be conducted by a China-nexus threat actor since the mass exploitation of Microsoft Exchange in early 2021," Charles Carmakal, Mandiant's chief technical officer, said in a emailed statement. That hack compromised tens of thousands of computers globally.
The hackers sent emails containing malicious file attachments to gain access to targeted organizations' devices and data, Mandiant said. Of those organizations, 55% were from the Americas, 22% from Asia Pacific and 24% from Europe, the Middle East and Africa and they included foreign ministries in Southeast Asia, foreign trade offices and academic organizations in Taiwan and Hong Kong. the company said.
Source: apnews.com