[DS] Change Of Batter, Charlie Monitors & Protects Election, Cyber Attack Attempts – Ep. 3118
Podcast: Download (Duration: 1:30:18 — 38.8MB)
Watch The X22 Report On Video
The people are watching the economic system breakdown right in front of them. As people find it difficult to make ends meet the people will begin to push back. Yellen has now signaled that a recession is coming. She is using the same playbook as Bernanke did in the 2008-2009 great recession. The [DS] is now preparing the change of batter. They know Biden is a liability and they need to get the people back on their side, they will remove Biden and push [KH] into acting President and then [MO] will the candidate to take over Biden's nominee. Trump and the patriots planned on this. The elections will be monitored this time around so the [DS] cannot cheat. The [DS] will push a cyber attack.
---
Economy
BREAKING: The Bank of England warned that some 4 million households will face a sharp increase in mortgage costs, with the average borrower paying almost £3,000 a year more.

— unusual_whales (@unusual_whales) July 17, 2023
11 million Canadians are eligible for a grocery rebate (about 1 week of groceries) if your income is under $38,000

38 million people live in Canada …

So about 30% of Canadians live in poverty … 🔥🔥🔥

— Wall Street Silver (@WallStreetSilv) July 16, 2023
It's not the government or the central bankers fault for inflationary policies …

It's your fault for asking for a raise 🤪

They will never admit to what they did to us.

— Wall Street Silver (@WallStreetSilv) July 17, 2023
Yellen Says China Slowdown Risks Spillovers But No US Recession
Treasury secretary speaks in interview while attending G-20
Yellen has sought to de-escalate tensions with China

Treasury Secretary Janet Yellen said China's economic slowdown risks causing ripple effects across the global economy, though she doesn't expect a recession in the US.

"Many countries do depend on strong Chinese growth to promote growth in their own economies, particularly countries in Asia — and slow growth in China can have some negative spillovers for the United States," Yellen said in a Bloomberg Television interview Monday hours aft
Source: bloomberg.com
---
Political/Rights
'It's outrageous': New disturbing info on non-binary Biden official who stole luggage
The controversial nonbinary former senior Department of Energy (DOE) official Sam Brinton was on a taxpayer-funded trip when he was involved in a high-profile luggage theft case last year, according to Fox News.
"It's outrageous that tax dollars transported Brinton to and from the scene of a crime, putting the American public unwittingly at the wheel of the getaway car," watchdog group Functional Government Initiative spokesman Peter McGinnis told Fox News Digital in a statement.
Source: wnd.com
Black Georgia state rep who left the Democrat party reveals shockingly racist blowback from disappointed donkeys
A few days ago Georgia State Representative Meisha Mainor, an African American who represents a deep blue district, announced her decision to leave the party of slavery and become a Republican.
 
Evidence that racism is at the heart of the Democrats' political doctrine was not slow in appearing on Twitter. And rather than cowering in fear or retreating into self-pity, Rep. Mainor has shared her responses to the appalling reactions she has received.
Dear Florida Democrat,
Sorry you feel this way about Black Americans & Haitians. Democrats have a long unfavorable relationship with Haitians, your sentiment isn't surprising. I pray you find support at the Univ of Central Florida for your hate and anger. https://t.co/mJKyY6Z8XQ pic.twitter.com/qPGXZjWtr3

— Rep. Mesha Mainor (@MeshaMainor) July 16, 2023
Source: americanthinker.com
This weekend Jen Rubin wrote a hate-filled hit piece on Florida. Rubin trashed Florida for its commonsense politics that are driving hundreds of thousands of Americans to the state from far-left failing states.
They let anything get published at the WaPo anymore.
Rubin claimed in her piece that 674,740 Americans left the state of Florida in 2021.
 Florida had 674,740 move TO THE STATE in 2021.
She had the numbers switched!
In fact, Jen Rubin took the line from Business Insider who also got it wrong earlier in the week.
Rubin still ran with it.
Charles W. Cooke ate her lunch.
Source: thegatewaypundit.com
Are Blackrock and Vanguard are the shadow government?

— Wall Street Silver (@WallStreetSilv) July 16, 2023
Gal Luft was paid by CEFC, the same CCP-linked company that paid the Bidens.

In fact, Hunter claimed his father was in the room when he demanded payment from a CEFC associate.

We didn't choose the Bidens' associates. The Bidens did. https://t.co/Sq3aUad014

— Oversight Committee (@GOPoversight) July 16, 2023
🚨 RESPONSE TO DEM DISINFO 🚨

Today, Democrats put out a cherry-picked memo that manipulates the facts contained in the over 850 pages of testimony from Chief Patrol Agents that Republicans have obtained. Their assessment of the border crisis is not grounded in reality.

The… pic.twitter.com/ouGWK1ryuO

— Oversight Committee (@GOPoversight) July 14, 2023
The right-wing government has been ruthless in its immigration reforms since coming to power in September last year…
The Swedish government on Thursday announced plans to tighten the requirements for family immigration in an attempt to make Sweden a less attractive destination for asylum seekers and reduce the number of new arrivals into the country.
The new proposals are also backed by the right-wing populist Sweden Democrats who keep the Moderate-led coalition in a majority through a confidence-and-supply agreement. One measure would raise the age for when the government can refuse a residence permit for a spouse or common-law partner from 18 to 21 to deter young migrant couples and prevent forced marriages.
"This corresponds to the highest age limit allowed under EU law," said Swedish Migration Minister Maria Malmer Stenergard who claimed "a paradigm shift is now being implemented in Swedish migration policy."
The government also proposed limiting the issuance of residence permits on humanitarian grounds, which would remove the possibility of granting permits to children and certain adults in particularly distressing circumstances.
"The proposals aim to reduce the number of asylum seekers who apply to Sweden," Sweden Democrats' Party Secretary Bäckström Johansson told Swedish newspaper A
Migrants wanting to come to Sweden to work will need to secure employment with a salary of 26,560 Swedish krona (€2,347.15) per month, more than double the current requirement of SEK 13,000.
Source: zerohedge.com
And in May The Epoch Times reported that Reid Hoffman was a guest at Jeffrey Epstein's island home and his apartment in New York City.
The Epoch Times reported:
The Democrat megadonor who funded a lawsuit accusing former President Donald Trump of defamation met with Jeffrey Epstein at the sex offender's home.

Reid Hoffman, the co-founder of LinkedIn, who has donated millions to Democrats over the years, went to Epstein's notorious island in the U.S. Virgin Islands.

Hoffman was also scheduled to sleep at Epstein's townhouse in New York City in 2014.
Reid Hoffman is back in the news this week. The Democrat megadonor gave nearly $700,000 to the Biden Campaign Fund.
Source:thegatewaypundit.com
---
Geopolitical/Police State
---
War
National security adviser: It wouldn't be a surprise if North Korea conducts another nuclear test
Source: thehill.com
NEW – The Kerch Bridge connecting Russia and the Crimean Peninsula has been closed after explosions this morning damaged portions of the bridge.

Last week, a Ukrainian official acknowledged that Ukraine had launched an attack on the bridge last October, with the intention of… pic.twitter.com/LyYYJEA0af

— KanekoaTheGreat (@KanekoaTheGreat) July 17, 2023
At 3am Moscow time of this Monday, a suspected surface water drone filled with explosives hit the Crimea bridge. The 'emergency' led to the closing of the passage.
Sputnik reported:
"Kremlin spokesman Dmitry Peskov on the Crimean Bridge terror attack:
▪The Kremlin has no illusions about the West's possible involvement in the terrorist attack on the bridge;
▪The attack on Crimean Bridge didn't affect the grain deal's extension;
▪The Kremlin knows who is behind the attack, and is aware of Kiev's insidious nature;
▪President Putin handed down instructions to start repairs and restoration work on the Crimean Bridge;
 ▪ Source: thegatewaypundit.com
Russia 'knows' who ordered Crimean Bridge terror attack – Kremlin
---
Cyber Attacks
---
False Flags
A new analysis of studies in the Centers for Disease Control and Prevention's (CDC) flagship scientific journal found the agency promoted the effectiveness of masks using unreliable data with conclusions unsupported by evidence.
The preprint, published July 11 on MedRxiv, found the CDC's Morbidity and Mortality Weekly Report (MMWR) made positive findings about the efficacy of masks 75 percent of the time, despite only 30 percent of studies testing masks, and less than 15 percent having "statistically significant results."
No studies were randomized, yet the CDC in over half of their MMWR studies, made misleading statements indicating a causal relationship between mask-wearing and a decrease in COVID-19 cases or transmission, despite failing to show evidence of mask effectiveness.
The inappropriate use of causal language in MMWR studies was directly adopted by then CDC director Dr. Rochelle Walensky to promote masks and recommendations urging Americans to mask up. 
Of the 77 reviews cited in the agency's MMWR used to promote masks, researchers found the following:
Only 23 of 77 studies assessed the effectiveness of masks, yet 58 of 77 studies claimed masks were effective.
Of the 58 studies, 41 used "causal language," and 40 misused causal language. Causal language is where an "action or entity is explicitly presented as influencing another" and should not be used in observational studies because these types of studies merely identify "associations" and cannot establish that the "associations identified represent cause-and-effect relationships."
According to the analysis, the 40 studies that used causal language indicated with certainty that masks lower transmission rates, despite the fact their results, at most, found a correlation. In addition, 25 of the 40 studies didn't even assess the effectiveness of masks. The one remaining study used causal language related to particle filtration on mannequins with "unknown relevance for human health."
Of the 58 studies referenced above, only one mentioned conflicting data on mask effectiveness—the authors noted it was an international study primarily focused on influenza.
Four of the 77 studies had more cases in the mask group than in the comparator group, yet all four studies concluded masks were effective.
None of the 77 studies assessed after 2019 were randomized, and none cited randomized data.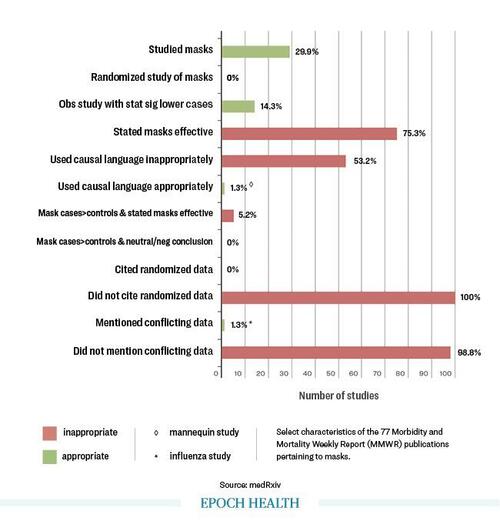 Randomized studies are the "gold standard" for determining whether an intervention or treatment is effective. Instead, the CDC most commonly used observational studies without controls or comparison groups.
Read more here…
Source: zerohedge.com
In-N-Out Burger is reportedly banning employees from sporting masks while on the clock unless they have a doctors note. 
t.
Source: dailycaller.com
An investigation led by House Energy and Commerce Committee Chair Cathy McMorris Rodgers (R-WA) uncovered a failure to properly reappoint 14 National Institutes of Health (NIH) officials, including Dr. Anthony Fauci, as required by law.
Rodgers (R-WA) revealed on Monday that 14 NIH employees, including former NIAID Director Dr. Anthony Fauci, were not lawfully reappointed to their positions in December of 2021, as required by law.
"We have uncovered that Sec. Becerra failed to follow the Constitution and the law to reappoint top NIH officials when their terms expired in December 2021. As a result, 14 NIH officials held unlawful positions and exercised authority they didn't have," Rodgers wrote.
Under the 21st Century Cures Act, passed with bipartisan support in 2016, NIH Institute and Center (IC) Directors are considered inferior officers of the United States. The law stipulates that these directors must be appointed and reappointed according to specific guidelines outlined in Section 2033, titled "Increasing Accountability at the National Institutes of Health." The HHS Secretary is responsible for these appointments, with the NIH Director having the authority to recommend candidates.
However, the investigation found that the NIH IC Directors, including Dr. Fauci, were not reappointed in December 2021 as required. Instead, the NIH handled the reappointments internally, with an NIH human resources director signing off on the process. Only after extensive discussions with the Committee did HHS Secretary Xavier Becerra attempt to reappoint the directors in June 2023 through signed appointment affidavits, nearly eighteen months after their terms had expired.
"The failure to reappoint the above NIH IC Directors jeopardizes the legal validity of more than $25 billion in federal biomedical research grants made in 2022 alone," the committee wrote.
"HHS has produced no documentation showing that Dr. Fauci and Dr. Glass were reappointed as NIAID Director and Fogarty International Center Director, respectively.
WATCH:
Source: thegatewaypundit.com
German MP Christine Anderson last week shredded the World Health Organization, calling it a group of "globalitarian misanthropists" who she – and a group of seven other MPs, have vowed to dismantle in order to oppose the WHO supplanting democratically elected governments.
"An unelected body like who is controlled and run by multi-billionaires should never be allowed to act in place of a democratically elected government," she said during the Citizen's Initiative conference in Brussels.
Anderson says she'll expose and name any individuals, including government officials and parliamentarians, who support the WHO 'power grab' and disrespect democracy.
"It is you [WHO] that is the small fringe minority," she continued. "You are the ones who do not have the right to dictate to the people what they want and what they don't want."
"So take it from me … take it from the millions and millions of people around the world. We will bring you down, and we will not tire until we have done just that. So brace yourselves. We are here, and the fight is on. So let's have the fight."
Source: zerohedge.com
EXCLUSIVE: University of Florida officials 'lied through their teeth' by massively downplaying their DEI work in filing to DeSantis: Claimed to have 30 diversity schemes costing $5million a year – when the real total was more than 1,000
University of Florida officials massively downplayed the scale of their Diversity, Equity, and Inclusion (DEI) programs in official filings to Ron DeSantis, one of the governor's appointees has alleged to DailyMail.com.
Christopher Rufo, a DeSantis education hire, accused university bosses of 'lying through their teeth to the governor' by declaring they had some 30 DEI schemes costing $5million a year – when they were really running more than 1,000.
According to Rufo, university officials were understating their DEI initiatives to 'conceal the radicalism inside the campus' that DeSantis was trying to defund and shut down.
Christopher Rufo says the University of Florida tried to mislead the governor with bogus filings about DEI work
Source: dailymail.co.uk
Good Morning !

Coming Up This AM:

Supreme Court's Affirmative Action Ruling Approved by Most Voters

( … including 52% of Democrats. Shhh … ) pic.twitter.com/ZazOW3Kwu3

— Rasmussen Reports (@Rasmussen_Poll) July 17, 2023
---
Q
Arizona Republican gubernatorial candidate Kari Lake filed an appeal to the state's Supreme Court in her election case as she claimed that thousands of machines weren't configured properly during last year's governor's race.
Source: theepochtimes.com 
Sounds like this could use a longer conversation. We just asked @GovChristie to sit down and explain his views on Ukraine. He refused. You hate to think that Chris Christie is a blustery coward who plays the tough guy with sycophants at ABC but won't answer real questions, but… pic.twitter.com/6khc5xi3Co

— Tucker Carlson (@TuckerCarlson) July 16, 2023
Just heard that I (WE!) won the big Turning Point Straw Poll in a BLOWOUT, getting 85.7% of the Vote. Ron DeSanctimonious came in a solid 3rd with 4.3%, Vivek got 2%, and Sloppy Chris Christie, as usual, got a big, fat, ZERO! Turning Point put on a GREAT event in West Palm Beach, setting all kinds of records, including in attendance!
Kari Lake didn't even attend Turning Point's conference this weekend and was the clear favorite to be Trump's VP at 30.8% https://t.co/kWDIET7rjG pic.twitter.com/ZJgEbJJqwo

— DC_Draino (@DC_Draino) July 16, 2023
IF I'M BEING PROSECUTED OVER DOCUMENTS, AND I SHOULDN'T BE IN THAT I COME UNDER THE PRESIDENTIAL RECORDS ACT, WHY IS JOE BIDEN NOT BEING PROSECUTED??? HE WAS EGREGIOUS!
Roger Stone broke the news on Sunday.
"As a veteran of many years in American politics, I'm going to tell you something somewhat shocking," Stone told a full house at yesterday's Turning Point USA event in Florida, "Joe Biden will not be the nominee of the Democratic Party in 2024."
Stone said that while he expects Kamala Harris to serve a brief stint as President, her tenure wouldn't be long lasting.
"The only way, in their (Democrat) party that they can replace a woman of color, is with another woman of color,"  "The democratic nominee for President will be Michelle Obama."
California Governor Gavin Newsom has already shown what he's willing to do for political gain
"But the Obamas will hold him up for six or eight hundred million dollars to do so," Stone elaborated bluntly, "When Steve Bannon says it 

in three weeks

 remember I said it first."
Source: thegatewaypundit.com
What happens if the 25th Amendment is invoked on dementia-ridden Biden? 
  Because the 25th has never been invoked, there is some confusion about whether or not a new vice president would need to be appointed.
 under the terms of the Amendment's Section 3, no official vacancy is created in the office of Vice President:
Whenever the President transmits to the President pro tempore of the Senate and the Speaker of the House of Representatives his written declaration that he is unable to discharge the powers and duties of his office, and until he transmits to them a written declaration to the contrary, such powers and duties shall be discharged by the Vice President as Acting President.
This means that the Vice President remains in office as VP and only becomes "Acting President." While all the "duties and powers" (Section 4) of the presidency devolve upon the Acting President, there is no vacancy in the office of Vice President.  So, there is no need or ability to appoint a new Vice President.
 
 how long does an "acting president" remain in office remain as a kind of super-veep, with all the "powers and duties" of the president without actually being sworn in a president?  The answer is found in Section 4:
…when the President transmits to the President pro tempore of the Senate and the Speaker of the House of Representatives his written declaration that no inability exists, he shall resume the powers and duties of his office unless the Vice President and a majority of either the principal officers of the executive department or of such other body as Congress may by law provide, transmit within four days to the President pro tempore of the Senate and the Speaker of the House of Representatives their written declaration that the President is unable to discharge the powers and duties of his office. Thereupon Congress shall decide the issue, assembling within forty-eight hours for that purpose if not in session. If the Congress, within twenty-one days after receipt of the latter written declaration, or, if Congress is not in session, within twenty-one days after Congress is required to assemble, determines by two-thirds vote of both Houses that the President is unable to discharge the powers and duties of his office, the Vice President shall continue to discharge the same as Acting President; otherwise, the President shall resume the powers and duties of his office.
Should Biden, or Dr. Jill, or the puppet masters submit a written declaration that for the first time in history, dementia has been reversed, Kamala reverts to the "powers and duties" of the vice president. UNLESS, that is, a majority of the cabinet and a two thirds majority of both Houses of Congress disagree. In that case, the veep remains acting president and no vacancy exists in the office of vice president.
Source: americanthinker.com
"What they did is so terrible. The only thing I can say is we've seen now how bad it is…how bad their policies are.
So, in one way…that's the ONLY WAY…but in one way we're showing the world…we're showing the country how bad they are."
I thought it was odd that 45 said "Charlie" was going to be in charge of elections in certain states. Made no sense to me that Charlie Kirk would be in charge of elections.
@HereIsWisdom229 mentioned "Charlie Company" in the comments of my original post, so I looked up "Charlie Company" for the Marines and thought this was interesting…
"When I get back into the Oval Office, I will totally obliterate the deep state," Trump pledged Saturday at a Turning Point USA conference in Florida, taking aim at the alleged group of federal officials working against his agenda.
"We will create a Truth and Reconciliation Commission to declassify and publish all documents on deep state spying, censorship and all of the corruption that's gone on in America," he said.
Former President Donald Trump pledged to end corruption in Washington, D.C., by obliterating the deep state and creating a "Truth and Reconciliation Commission" that would declassify all information about government spying, censorship and corruption.
Many different governments, including in South Africa, Canada, Australia and Germany, have used official Truth and Reconciliation Commissions to discover past government wrongdoings and resolve conflict. Similarly, congressional Republicans have pledged to create a Church-style committee to probe systemic problems in the Justice System.
Source: justthenews.com
Source: theleadingreport.com 
Q

 

!CbboFOtcZs

 

ID: f6ee4f

 No.1798425

well it's pretty cryptic so here is a wild guess…D

→ ??? the demiurge ??? just kidding, I don't know. Someone involved in space programs and 'majestic 12' type of intel.

Morning sun brings heat.
→ predetermined code / command for initiation of a plan, authenticity check. Likely, multiple governments are responding to this call for initiation, hence dropped here.

Full moon coming.
→ proper revelation of nature of the moon and other bodies in our solar system

Undiscovered stars learned.
→ this refers to gifted anons figuring something out, which was the condition upon which something about our solar system or moon would be revealed to public.

Missions forward.
→ a particular plan for missions is being initiated, proceed (in part a message to anons)

Q
>>1798338
Ability to share [open].
(Heat) on who?
(Full) transparency _ DECLAS?
(Undiscovered) facts emerge?
Ability to move forward?
Occam's Razor.
Q
Q

 

!CbboFOtcZs

 

ID: 079dd1

 No.1925332

IMG_2222.PNG

This tweet struck me as odd.. almost as if it were a marker of sorts
>>1925226
If you continue to proceed down this dangerous path only know that we are prepared.
You should know this based on earlier drops re: SA / Nat Guard / MIL Assets activate US soil.
The game is over when the public knows.
The fight to keep the LIGHTS OFF is all that matters to you.
You will FAIL.
The AMERICAN PEOPLE are AWAKE.
You lost CONTROL.
SHEEP NO MORE.
You underestimated their resolve and their ability to free-think away from the pipeline narrative.
We will DECLAS.
We will shine LIGHT.
THERE IS NOWHERE TO HIDE.
No amount of money, influence, or power can stop this.
Our rights to secure and protect at all costs then become justified.
We stand at the ready.
RED WAVE.
WHITE SQUALL.
IN GOD WE TRUST.
Q
Will China knock out the USA's power grid with cyberattacks before invading Taiwan? You better read all these clues now.https://t.co/cbpKc1AiPX

— Emerald Robinson ✝️ (@EmeraldRobinson) July 17, 2023
Is China Preparing To Attack The United States?
Experts warn: China may attack America in order to invade Taiwan  Defense expert Brandon Weichart warned recently that a new report by the NSA and the Five Eyes Intel network has admitted: China is ready and able to shut down America's critical infrastructure networks at any time. This operation is called "Operation Volt Typhoon." China has inserted "electronic time bombs" throughout our computer networks (using a weakness in Windows) on a scale never seen before.