[DS] Deploys All Assets, Trap Has Been Set, Flynn's Calls Released, No Deals – Episode 2186
Trump is now rebooting the economy, he has everything in place, trade deals are ready to go, the USMCA is ready to go online in June, more businesses are opening. Trump has control over the [CB], control over interest rates and stimulus, he now just cut the strings to China. The [DS]/MSM knew that there pandemic event was coming to an end and the needed another event to clog the news cycles, they have deployed all assets and are using ammunition, this will fail, people are waking up and Trump has already begun the investigation into what really happened. The Flynn calls have been released, what do they show, nothing, more to come. The trap has been set, the [DS]/MSM are continually being pushed in the corner, no deals, pain coming.
Check Out The X22 Report Spotlight YouTube Channel X22Report Spotlight
Please check Newzsentinel.com for the latest news on the economic collapse. The Sentinel Alerts are updated throughout the day.
---
Current News – 05.29.2020
Watch The X22 Report On Video
---
Economy
Trump also said the U.S. government will now investigate whether companies owned or run by the communist Chinese government should be delisted from U.S. securities markets.
In addition, Trump said the U.S. government will sanction communist Chinese officials responsible for violating the agreement to keep Hong Kong free and eliminate special legal and economic treatment afforded to the previously independent Hong Kong.
---
Political/Rights
Breaking! All of the good guys have just entered amicus on behalf of @GenFlynn! Including, @McAdooGordon @ProfMJCleveland @RonColeman @TGowdySC and more! Reading now. pic.twitter.com/DovrJiVomw

— Tracy Beanz (@tracybeanz) May 29, 2020
According to Attorney Ty Clevenger, the NSA, knows exactly who sent the records to Wikileaks. So does the FBI.
Today it is now suspected that the CIA had a more prominent role in the fabrication that Russians hacked the DNC and "fingerprints" were identified in the purported hacking.  A non-profit group by the name of 'The Transparency Project" is requesting data from the CIA related to these actions.

After several years of investigative reporting we now know there is no evidence Russia hacked the DNC and sent the hacked emails to WikiLeaks. 
Attorney Ty Clevenger asserts the DNI has been covering up for 4 years the fact that they have communications between Seth Rich and WikiLeaks.  Now it looks like the CIA had a more prominent role in the cover-up than previously known as well. 
Source: thegatewaypundit.com
---
Geopolitical/Police State
Federal prosecutors unsealed a 50-page indictment charging dozens of individuals who they accuse of illegally transferring more than $2.5 billion through the global financial system to North Korea's foreign exchange bank since 2013 in an effort to skirt U.S. sanctions.
The grand jury indictment charged 28 North Koreans and five Chinese nationals with propping up "over 250 front companies" to launder payments that "transited through the United States," after the Foreign Trade Bank had been sanctioned by the U.S. Treasury Department over its support of North Korea's nuclear and ballistic missile programs.
The indictment identifies covert branches created by the bank and operating in China, Russia, Thailand, Libya, Austria and Kuwait that prosecutors said helped to facilitate the payments.
The case has been under seal since February and none of the officials charged in the indictment are currently in U.S. custody.
Source: abcnews.go.com
Twitter escalated its feud with President Trump   censoring a tweet on the Minneapolis riots in which Trump warned he would send national guard troops to save the city from its incompetent radical Mayor Jacob Frey if the President had to.  Frey has allowed his city to be looted and set aflame by protesters angry about the death in police custody Monday of George Floyd.
Twitter slapped a warning on Trump's tweet that it was being violating the rules by "glorifying violence" but would be allowed to remain because it is in the "public's interest"to see the tweet 
Source: thegatewaypundit.com
Serious question for @Twitter: Do these tweets from Supreme Leader of Iran @khamenei_ir violate "Twitter Rules about glorifying violence"? pic.twitter.com/oEkCC8UzFV

— Ajit Pai (@AjitPaiFCC) May 29, 2020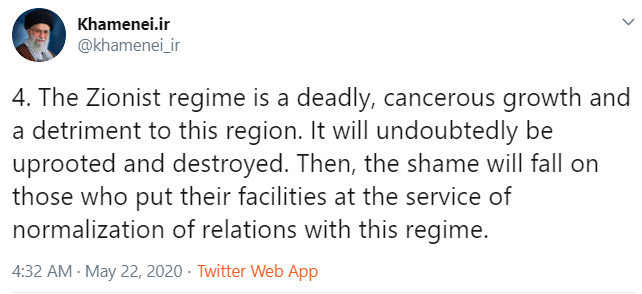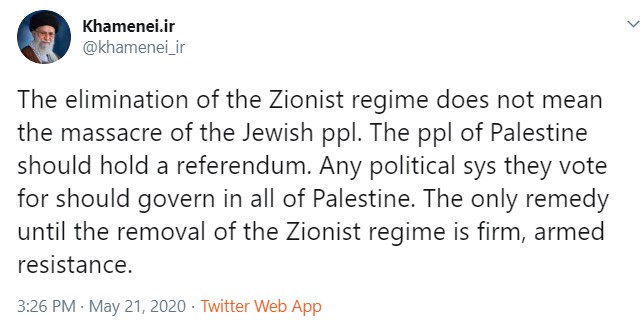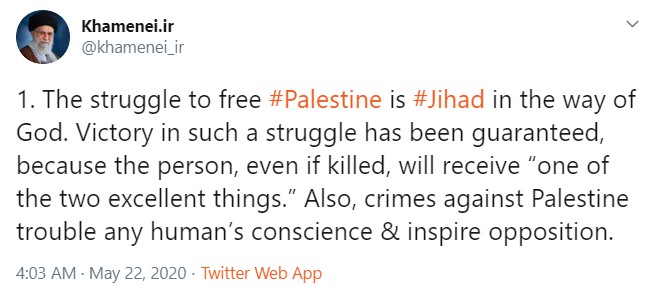 Twitter is doing nothing about all of the lies & propaganda being put out by China or the Radical Left Democrat Party. They have targeted Republicans, Conservatives & the President of the United States. Section 230 should be revoked by Congress. Until then, it will be regulated!

— Donald J. Trump (@realDonaldTrump) May 29, 2020
"Regulate Twitter if they are going to start regulating free speech." @JudgeJeanine @foxandfriends Well, as they have just proven conclusively, that's what they are doing. Repeal Section 230!!!

— Donald J. Trump (@realDonaldTrump) May 29, 2020
Q

 

!UW.yye1fxo

 

ID: 969386

 No.579328

#internetbillofrights
Q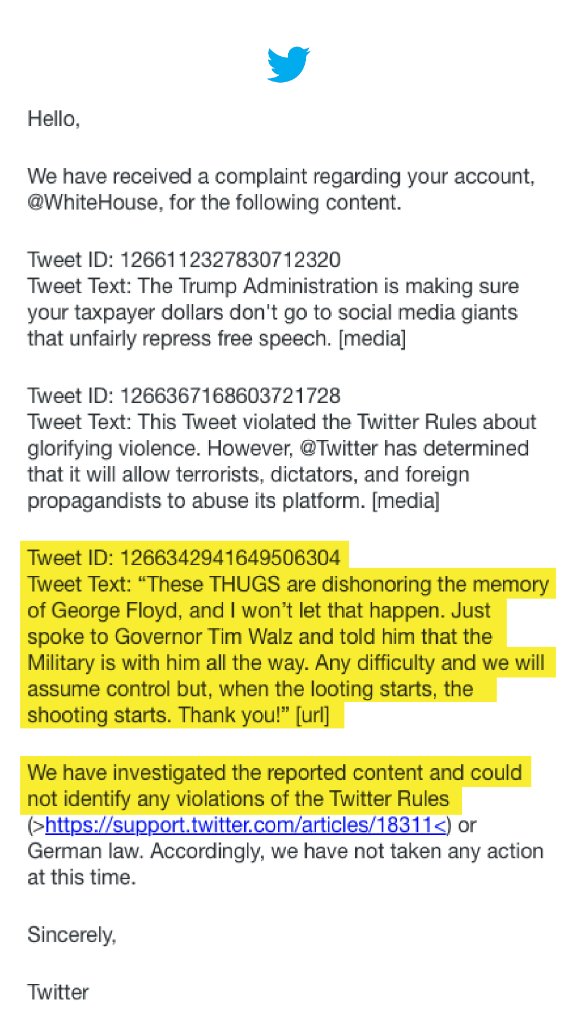 ---
False Flags
JUST IN: @ABC looked at 21 states that eased restrictions May 4 or earlier & found no major increase in hospitalizations, deaths or % of people testing positive in any of them. [SC, MT, GA, MS, SD, AR, CO, ID, IA, ND, OK, TN, TX, UT, WY, KS, FL, IN, MO, NE, OH] via @AMitrops

— Eric M. Strauss (@ericMstrauss) May 28, 2020
WHO guidance: Healthy people should wear masks only when 'taking care of' coronavirus patients
The World Health Organization is recommending healthy people, including those who don't exhibit COVID-19 symptoms, only wear masks when taking care of someone infected with the contagion, a sharp contrast from the advice given by American public health officials who recommend everyone wear a mask in public.
"If you do not have any repository symptoms such as fever, cough or runny nose, you do not need to wear a mask," Dr. April Baller, a public health specialist for the WHO,   "Masks should only be used by health care workers, caretakers or by people who are sick with symptoms of fever and cough."
The recommendation has not changed and differs from the Centers for Disease Control and Prevention (CDC), which urges individuals to wear a mask or face covering in public settings, regardless of infection or not, to limit the spread of the virus.
Source: foxnews.com
POTUS: "We will terminate our relationship with the World Health Organization."
Dereck Chavin was arrested and brought into custody
Attorney General William P. Barr's Statement on the Death of Mr. George Floyd
Attorney General William P. Barr has issued the following statement:
"The video images of the incident that ended with death of Mr. Floyd, while in custody of Minneapolis police officers, were harrowing to watch and deeply disturbing.  The state prosecutor has been in the process of determining whether any criminal charges are appropriate under state law.  On a separate and parallel track, the Department of Justice, including the FBI, are conducting an independent investigation to determine whether any federal civil rights laws were violated.  Both state and federal officers are working diligently and collaboratively to ensure that any available evidence relevant to these decisions is obtained as quickly as possible.  Under our system, charging decisions must be, and will be, based on the law and facts.  This process is proceeding quickly.  A
At this point if the [DS] wanted to push their agenda how would they do this,
Have the police officer arrested
then find him not guility
What would happen, we would see the same thing we saw with Rodney King. 
Trump know this, he is onto the [DS], this is why he expideted the investigations
If you noticed the MSM coverage of the pandemic is dying down, places are opening up, so with this event that are now slowly shifting away from the pandemic into the event, so everytime there is a presser they will try to keep kaleight busy with the latest event.   
That's not a protestor pic.twitter.com/7OrKbIEQ5W

— 👨🏻‍🏭 (@Seanxsolo) May 28, 2020
— Karli Q ⭐️⭐️⭐️ – Text TRUMP to 88022 (@KarluskaP) May 29, 2020
Something spooky going on:

The next door neighbors of Derek Chavin are on video saying they had NO IDEA he was a cop. pic.twitter.com/hFbDjxK8JT

— Zach Vorhies (@Perpetualmaniac) May 28, 2020
Vice President of the Minneapolis City Council Andrea Jenkins says George Floyd and Officer Chauvin worked at the same restaurant together for seventeen years.

"They were coworkers for a very long time."pic.twitter.com/O1doBbhHlX

— Daily Caller (@DailyCaller) May 29, 2020
I can't stand back & watch this happen to a great American City, Minneapolis. A total lack of leadership. Either the very weak Radical Left Mayor, Jacob Frey, get his act together and bring the City under control, or I will send in the National Guard & get the job done right…..

— Donald J. Trump (@realDonaldTrump) May 29, 2020
….These THUGS are dishonoring the memory of George Floyd, and I won't let that happen. Just spoke to Governor Tim Walz and told him that the Military is with him all the way. Any difficulty and we will assume control but, when the looting starts, the shooting starts. Thank you!

— Donald J. Trump (@realDonaldTrump) May 29, 2020
I guess all those triggered over @realDonaldTrump saying "THUGS" don't remember this from the Baltimore protests in 2015… pic.twitter.com/zEwIAG2ecO

— M3thods (@M2Madness) May 29, 2020
Looting leads to shooting, and that's why a man was shot and killed in Minneapolis on Wednesday night – or look at what just happened in Louisville with 7 people shot. I don't want this to happen, and that's what the expression put out last night means….

— Donald J. Trump (@realDonaldTrump) May 29, 2020
….It was spoken as a fact, not as a statement. It's very simple, nobody should have any problem with this other than the haters, and those looking to cause trouble on social media. Honor the memory of George Floyd!

— Donald J. Trump (@realDonaldTrump) May 29, 2020
The president of the United States is calling for violence against American citizens.

That is so wrong. We need honest reckoning and reconciliation.

If you haven't already joined the work to replace him in November, start now.

— Hillary Clinton (@HillaryClinton) May 29, 2020
Barack Obama threw gas on the fire   and used the death of George Floyd to condemn America as racist.
Obama tacitly encouraged more riots by refusing to condemn the looters and rioters for destroying businesses.
"I want to share parts of the conversations I've had with friends over the past couple days about the footage of George Floyd dying face down on the street under the knee of a police officer in Minnesota," Obama said.
"[We] have to remember that for millions of Americans, being treated differently on account of race is tragically, painfully, maddeningly "normal" – whether it's while dealing with the health care system, or interacting with the criminal justice system, or jogging down the street, or just watching birds in a park," Obama said.
He continued, "This shouldn't be "normal" in 2020 America. It can't be "normal." If we want our children to grow up in a nation that lives up to its highest ideals, we can and must be better."
My statement on the death of George Floyd:
Source: thegatewaypundit.com
So I just want to get this straight.
If I don't want to wear a mask, we the people are called murderers,
If people are looting, burning ruining peoples lives and shooting people, why is this ok.  
Armed anti-lockdown protesters "storm" capitol, shoot no one. Burn nothing.
Media: THEY'RE PUTTING EVERYONE AT RISK AND WE'RE ALL GOING TO DIE OF COVID.

Protesters burn Minneapolis to the ground, drive police out of their precincts, and shootings occur.
Media: THIS ISN'T A RIOT.

— Virginia Kruta (@VAKruta) May 29, 2020
We have activated more than 500 soldiers to St. Paul, Minneapolis and surrounding communities. Our mission is to protect life, preserve property and the right to peacefully demonstrate. A key objective is to ensure fire departments are able to respond to calls.

— MN National Guard (@MNNationalGuard) May 29, 2020
Anybody who encourages the citizens of Minneapolis who are predominantly black people to loot and burn down their community is part of the problem not the solution.

Destroying where you live does not bring justice to George Floyd!

— Diamond and Silk® (@DiamondandSilk) May 29, 2020
---
Q
Q

 

!!Hs1Jq13jV6

 

ID: 8fe25a

 No.9351444
 

NEW
JB was replying to a tweet by the WaPost
Wapo – None of these 195 countries — the U.S. included — is fully prepared for a pandemic, report says
We are not prepared for a pandemic. Trump has rolled back progress President Obama and I made to strengthen global health security. We need leadership that builds public trust, focuses on real threats, and mobilizes the world to stop outbreaks before they reach our shores.
Coincidence or foreknowledge?
Q
Q

 

!!Hs1Jq13jV6

 

ID: 7b4897

 No.9363013
 

NEW
"We're not a cult. We're not conspiracy theorists, we're conspiracy analysts," announces QAnon researcher Kevin Bushey in a YouTube video after discussing a recent "Q drop" about the mainstream media "expending ammo" writing about QAnon's growth. 
Specifically, Bushey tied the drop to the burgeoning popularity of a "QAnon church," one that holds weekly services on YouTube that blend Q mythology with Biblical theology.
Fear.
Panic.
Loss of narrative control.
You are the news now.
Q
Q

 

!!Hs1Jq13jV6

 

ID: 479676

 No.9365367 

NEW
DNI Ratcliffe issues statement on declassification of transcripts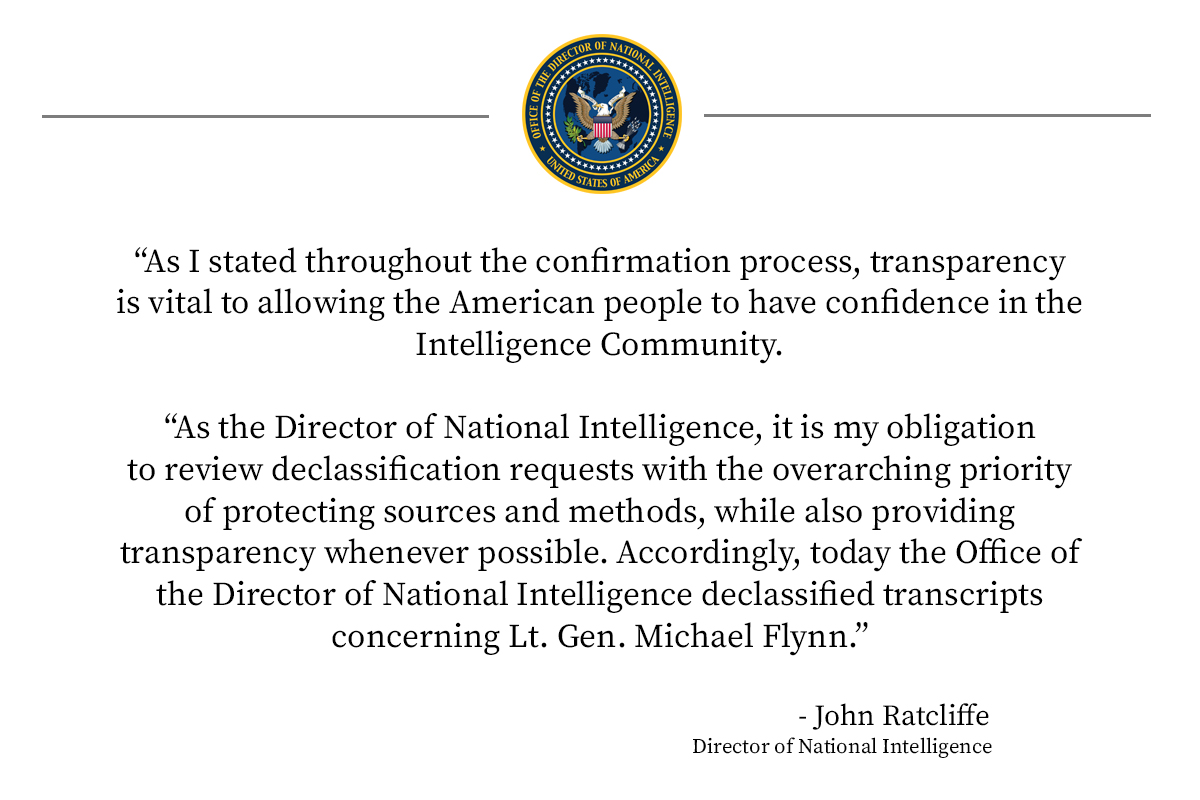 The Intelligence Community has sent a new tranche of declassified transcripts to Congress, detailing conversations between retired Lt. Gen. Michael Flynn and Russia's ambassador to the U.S.
Q
There are zero things wrong with this Dec 29 call between Kislyak and
@

GenFlynn
. And the tone of the conversation is clearly about expulsions, not the wider economic and political sanctions. That
@

Comey
and the Obama admin wanted to Logan Act this is a disgrace
As you read theses docs, bear in mind that the FBI was closing their investigation into
@

GenFlynn
on Jan 4, 2017 – having found no wrongdoing. Strzok then intervened noting "7th Floor [FBI] involved" On Jan 5th, Comey voiced "concerns" re: Flynn to Obama.