[DS] Never Thought She Would Lose,Now They All Lose,Timing Left Up To The Patriots – Ep. 2543
The [CB]/[DS] is now setting up the supply chains to explain away inflation. They are now reporting China will be locking down because of Covid. The infrastructure bill includes wording to track cryptos. The IMF is preparing to push the new currency SDRs. Will this push the US to move to the Gold standard?  The [DS] is panicking and preparing for the fallout of the forensic audit in AZ. Cuomo investigation is complete and the Ds are calling on Cuomo to resign. Are they trying to control the narrative. Codemonkey Z releases a video displaying how the election systems are connected to the internet and Dominion has access to the system. The [DS] never thought she would lose, now they all lose, the patriot's will control the timing of events. Time is ticking down and the [DS] knows this, buckle up the ride is going to get bumpy.
Watch The X22 Report On Video
---
Economy
Expiring unemployment benefits and the Delta variant add uncertainty to a recovery that has brought strong growth but an unusual labor market.
The U.S. economy is heading toward an increasingly uncertain autumn as a surge in the Delta variant of the coronavirus coincides with the expiration of expanded unemployment benefits for millions of people, complicating what was supposed to be a return to normal as a wave of workers re-entered the labor market.
That dynamic is creating an unexpected challenge for the Biden administration and the Federal Reserve in managing what has been a fairly swift recovery from a recession  .
Source: nytimes.com
Shipping braces as China goes into lockdown mode
Shipping will need to start to make contingency plans if cases of Covid-19 continue to escalate in China, the world's most important nation for shipping movements.

The delta variant has broken through the country's virus defences, which are some of the strictest in the world, and reached nearly half of China's 32 provinces in just two weeks. While the overall number of infections — more than 360 so far — is still lower than Covid resurgences elsewhere, the wide spread indicates that the variant is moving quickly with many millions of Chinese now in lockdown.

Source:  splash247.com
A nationwide chlorine shortage is forcing public swimming pools to close in the heat of the summer, adding frustration to a season that was supposed to bring a return to normal in the wake of the coronavirus pandemic.
The price of chlorine has skyrocketed as supply has dwindled, adding to inflation and putting a clean pool out of reach for many residential and public facilities.
Source: breitbart.com
'Wither away and die:' U.S. Pacific Northwest heat wave bakes wheat, fruit crops
  An unprecedented heat wave and ongoing drought in the U.S. Pacific Northwest is damaging white wheat coveted by Asian buyers and forcing fruit farm workers to harvest in the middle of the night to salvage crops and avoid deadly heat.
The extreme weather is another blow to farmers who have struggled with labor shortages and higher transportation costs during the pandemic and may further fuel global food inflation.
Source: reuters.com
Is it really that hot
The forthcoming Senate draft of Biden's infrastructure bill—a 2,000+ page bill designed to update the United States' roads, highways, and digital infrastructure—contains a poorly crafted provision that could create new surveillance requirements for many within the blockchain ecosystem. This could include developers and others who do not control digital assets on behalf of users.
While the language is still evolving, the proposal would seek to expand the definition of "broker" under section 6045(c)(1) of the Internal Revenue Code of 1986 to include anyone who is "responsible for and regularly providing any service effectuating transfers of digital assets" on behalf of another person. These newly defined brokers would be required to comply with IRS reporting requirements for brokers, including filing form 1099s with the IRS. That means they would have to collect user data, including users' names and addresses.
The broad, confusing language leaves open a door for almost any entity within the cryptocurrency ecosystem to be considered a "broker"—including software developers and cryptocurrency startups that aren't custodying or controlling assets on behalf of their users. It could even potentially implicate miners, those who confirm and verify blockchain transactions. The mandate to collect names, addresses, and transactions of customers means almost every company even tangentially related to cryptocurrency may suddenly be forced to surveil their users.
How this would work in practice is still very much an open question. 
Make no mistake: there is a clear and substantial harm in ratcheting up financial surveillance and forcing more actors within the blockchain ecosystem to gather data on users. Including this provision in the infrastructure bill will:
Require new surveillance of everyday users of cryptocurrency;
The Senate should act swiftly to modify or remove this dangerous provision
Source: eff.org
IMF's $650 billion in pandemic relief will mostly go to rich countries 
The International Monetary Fund (IMF) has approved its largest-ever distribution of monetary reserves totaling $650 billion to help the global economy recover from the Covid pandemic and ease the mounting debt of member states.
The Fund will credit the new SDRs to its 190 member countries proportionally to their current IMF quotas. Around 58%, or $375 billion, will go to advanced economies, and 42%, or $275 billion, to "emerging markets and developing countries, including low-income countries." The IMF also claims it will work with members to find ways for the better-off countries that receive SDRs to channel them to poorer states and those which suffered most from the Covid-19 pandemic.
SDRs are international reserve assets, first introduced by the IMF in 1969 to support its member countries' official reserves. SDRs are the Fund's unit of exchange, not equivalent to but backed by major global currencies, including US dollars, euros, yen, sterling, and yuan.
Source: rt.com
With most central banks virtually "out of ammo"
And it all comes down to what might happen this October when the International Monetary Fund (IMF) meets, between Oct. 12 and Oct. 18, to revalue its special drawing rights (SDR)—the world's reserve currency waiting in the wings. Essentially, a new "Bretton Woods" is in the making.
A New Bretton Woods Minus the Dollar?
Well, here we go again. The IMF knows that SDRs are unpopular, but they also know the world is desperate for liquidity right now during the COVID-19 pandemic. To exploit this crisis, the elites are thinking big about a new Bretton Woods-style conference, a new international financial system, and a global tax system. SDRs would eventually replace the U.S. dollar as the global reserve currency.
President Trump's move to halt funding for the World Health Organization (WHO) took the world by surprise. Secondly, the U.S. Treasury Department made it clear that, according to news site Foreign Policy, it wasn't going along with "the SDR bandwagon,"
  IMF may opt to remove the United States from the global SDR basket, effectively reducing the United States' veto rights from the world stage. SDRs would then be a step closer to replacing the greenback as the world's reserve currency.
With the IMF attempting to pull off a fiscal reckoning minus the U.S. dollar, President Trump may (as his adviser Judy Shelton has advocated and as President John F. Kennedy tried to do in 1963) pull off a global reckoning of his own, by issuing U.S. Treasury notes backed by gold.
The new dollars would be pegged to gold, possibly at a modest starting point of $10,000 or even higher, effectively returning the gold standard.
So, following a massive plunge in dollar values, we'd see a surge in gold prices and, with the new dollars, a surge in gold-backed dollar values as well.
Source: theepochtimes.com
2619
Q
!!mG7VJxZNCI
12/12/2018 19:01:15
 ID: 089200
Archive Bread/Post Links: 4280570 / 4281049
Direct Link: 4281049
Anonymous
12/12/2018 18:57:57
ID:376ff2
Archive Bread/Post Links: 4280570 / 4280876
Direct Link: 4280876
>>4280189
---
Political/Rights
New York State Attorney General Letitia James specifically said at the beginning of her remarks releasing the investigative findings of a 5 month investigation: "The independent investigation has concluded, and Governor Andrew Cuomo sexually harassed multiple women and in doing so violated federal and state law."
Moments later one of the investigators, the former federal prosecutor from Manhattan, Joon Kim, said: "we find that the governor, on numerous occasions, engaged in conduct that constitutes unlawful sex based harassment," as outlined in the extensive investigation [168-page report pdf HERE].
During their press briefing the investigators Ann Clark and Joon Kim outlined the evidence provided by 11 sexual harassment victims and the 5 month investigation which corroborated those accusations, including the interviews of 179 witnesses.  Yet despite their words, neither the State Attorney General nor the U.S. Attorneys' general, will bring any criminal charges against Governor Cuomo.
New York Attorney General Letitia James, said at the conclusion of their press conference:
…"the document is now public, and the matter is civil in nature and does not have any criminal consequences."
Source: theconservativetreehouse.com
Entire NY Democratic congressional delegation now calling for Cuomo's resignation
The entire Democratic congressional delegation of New York has called on Gov.
House Speaker Pelosi and Senate Majority Leader Schumer are calling on NY Gov. Cuomo to resign.
JUST IN – Biden calls NY Gov. Cuomo to resign.
BREAKING: Albany District Attorney says New York Gov. Cuomo is part of an "ongoing criminal investigation," requests materials from NY AG's office – https://t.co/aW70nG40lM pic.twitter.com/voMeOuOPNB

— Breaking911 (@Breaking911) August 3, 2021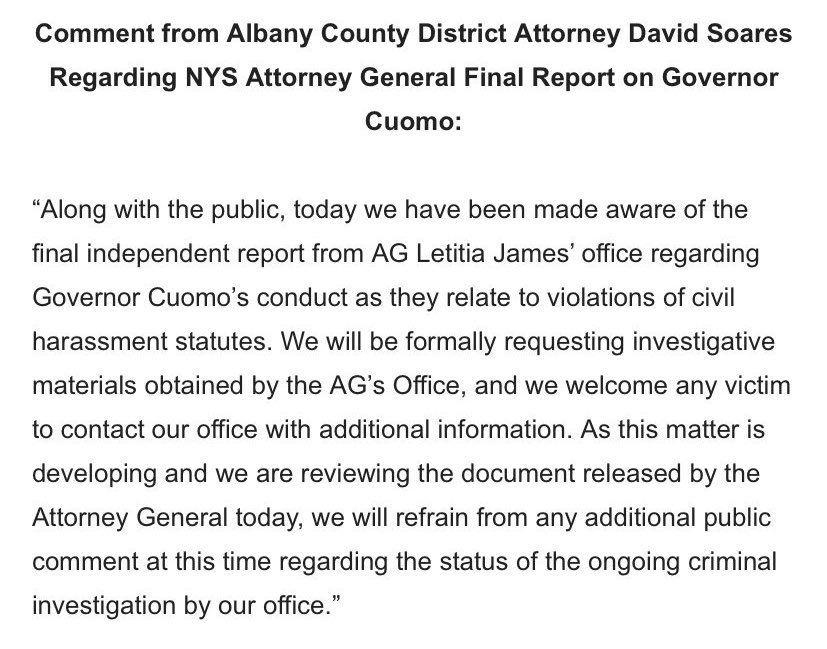 Andrew Napolitano out at Fox News amid allegations of sexual harassment https://t.co/e5bolOkjVE pic.twitter.com/iyEsFoMojH
— The Hill (@thehill) August 3, 2021
---
War

---
False Flags
Mask Mandate Reinstated in San Francisco Bay Area Amid COVID Surge
As part of the new program, New York City will create a health pass called the "Key to NYC Pass" to provide proof of vaccination required for workers and customers at indoor dining, gyms, entertainment and performances.
Source: zerohedge.com
School districts in Florida have altered their mask mandates for students after Gov. Ron DeSantis (R-Fla.) issued an executive order that the state will deny funding to any districts enforcing such rules.
The Broward County Public Schools (BCPS) said in a statement on Monday it will reverse the mask requirement and "intends to comply" with the governor's latest order, but they will keep encouraging everyone in schools to wear masks and get vaccinated against the CCP (Chinese Communist Party) virus.
Source: theepochtimes.com
"The Biden Administration is knowingly admitting hundreds of thousands of unauthorized migrants, many of whom the federal government knows full well have COVID-19," Abbott said in response to the lawsuit
Source: justthenews.com
Dr. Michael Osterholm, an epidemiologist who is a member of President Joe Biden's COVID-19 Advisory Board, said on CNN Monday that many face masks are ineffective at preventing the spread of the virus.
Osterholm said that the country is in an "unfortunate situation" and that the most important thing to focus on is vaccinating as many people as possible. He said that he wants to "get rid of the term masking" because it "implies anything you put in front of your face works."
"And if I could just add a nuance to that, which hopefully doesn't add more confusion, we know today that many of the face cloth coverings people wear are not very effective in reducing any of the virus movement in or out," Osterholm added. "Either you're breathing out or you're breathing in."
He said that it's important to "talk about better masking" and explained that n-95 masks would do a lot to protect people from COVID-19.
Source: dailycaller.co
White House press secretary Jen Psaki said during a   briefing that the country wouldn't be going back to the lockdowns of 2020, but didn't rule out some sort of shutdown.
Source: dailycaller.com
Why haven't they, they are looking so see how they can
Texas Attorney General Ken Paxton argued that he doesn't believe the federal government can order mandatory COVID-19 vaccinations or mask-wearing.
"I don't think the federal government can order this, and so it's going to be up to the states to decide what they're going to do," Paxton told  adding that he believes federal law stipulates people can't be forced to disclose health information around COVID-19, including their vaccination status.
He added: "I don't know under what law they would have to operate under, but they certainly can't tell the American public that they have to be vaccinated."
Source: theepochtimes.com
---
Q
 
A majority of voters said that they believe the House investigative committee on the Jan. 6 Capitol riots is biased, according to a new Harvard CAPS-Harris Poll survey.
58 percent  voters said they believed the committee was biased, while 42% said they thought the committee was fair 
Source: dailycaller.com
Judicial Watch: New Documents reveal the Office of the Chief Medical Examiner Submitted a Request to Cremate Ashli Babbitt Two Days after Gaining Custody of Her Body 
 Judicial Watch announced today that it received 1160 pages of documents from Washington, DC's Office of the Chief Medical Examiner (OCME) related to Air Force veteran and San Diego native Ashli Babbitt. These new documents reveal that OCME submitted a request for permission to cremate Babbitt only two days after taking custody of her body and that 'due to the "high profile nature" of Babbitt's case, Deputy Chief Medical Examiner Francisco Diaz requested that a secure electronic file with limited access be created for Babbitt's records. 
Additionally, Babbitt's fingerprints were emailed to a person supposedly working for the DC government, which resulted in Microsoft "undeliverable" messages written in Chinese characters being returned. 
Source: judicialwatch.com
Soros-funded Colorado Secretary of State, Jena Griswold, is moving quickly to crack down on free, fair and open elections in the state.
page 2

source: thegatewaypundit.com
The 1487 request to the Arizona Attorney General has been filed against the Maricopa Board of Supervisors by @SonnyBorrelli on behalf of the Arizona Senate. I support this and hope the @GeneralBrnovich lays the smack down. Throw the book at them! pic.twitter.com/vJkfoTvozp

— Wendy Rogers (@WendyRogersAZ) August 3, 2021
— Wendy Rogers (@WendyRogersAZ) August 3, 2021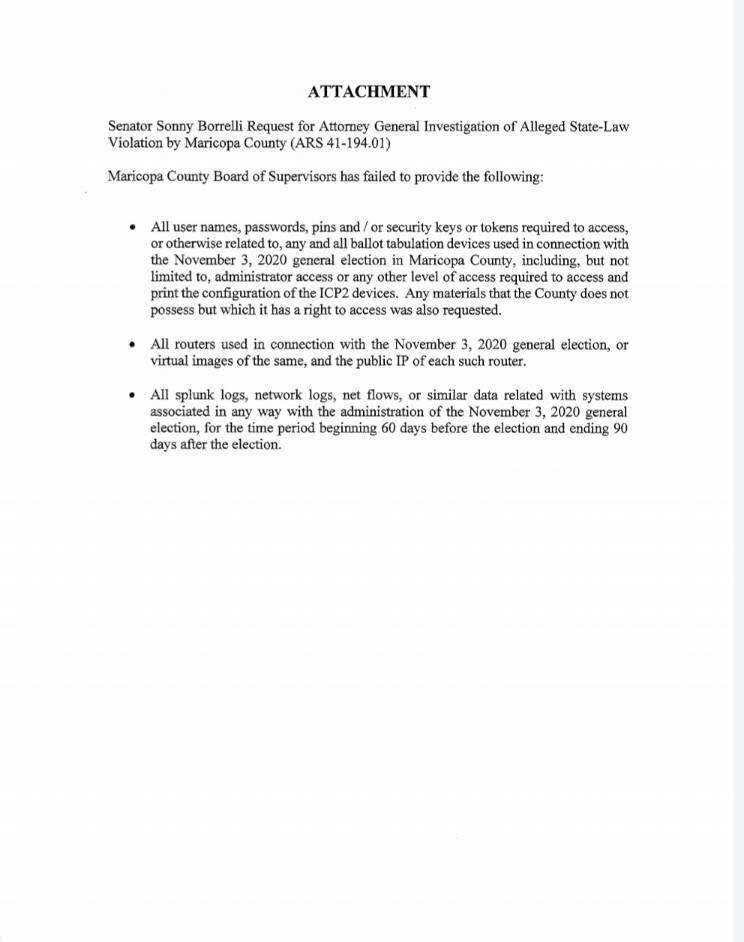 The heart of Maricopa County's elections is a system called VRAS, the Voter Registration Access System. It provides critical election functions, like real-time access to voter registration data, ballot and voting info, polling maps, candidate financial reports, ballot preparation, and polling location management, agreements, and so on. It includes a database to generate reports like the bilingual pollworker report. Or create lists of early voter information, or military voter information. It supplies the data needed by Runbeck Election Services to print the hundreds of different ballots for precincts. Runbeck also packs, distributes, and tracks all the ballots while updating VRAS.
VRAS was built internally, not by the Maricopa Board or it's Office of Enterprise Technology (OET). It was created years ago by skilled software developers in the smallish IT Department of the County Recorder's Office. Other than its SQL database, they used very little "off the shelf parts". Not much is known about VRAS because of this approach. In May 2019 a working group hired by MCBOS released their findings about election structure and technology. It recommended the VRAS software be updated "just in case there's an audit".
 
Unfettered access to VRAS would be "the keys to the kingdom" for those wanting to manipulate Maricopa elections.
Source: thegatewaypundit.com
 CodeMonkeyZ — released several photocopies  released to him from an alleged Dominion Voting Systems employee.
The documents prove that Dominion has remote access to their equipment during the elections.
According to Code Monkey Z:
Our whistleblower is not from Arizona.
Our whistleblower is from one of the many other states that used the Dominion software.
Our whistleblower went to excruciating effort to detail and archive everything possible.
Our whistleblower was trusted enough to be given instructions on how to modify the BIOS.
Here is more from the Dominion whistleblower.
On Tuesday CodeMonkeyZ published a video that PROVES that Dominion CEO John Poulos lied under oath about remote access.
This is an EXPLOSIVE DEVELOPMENT!
Via CodeMonkeyZ:
 the whistleblower initially discusses with a Dominion employee about who holds the BIOS password and it is discovered that the STATE is keeping the password – not Dominion, and not the county.

Later, the whistleblower asks the Dominion employee about connectivity and whether or not the machines can be connected to the internet…

With just 1 minute and 17 seconds, we expose their most egregious lie.

FRAUD VITIATES EVERYTHING.
Source: thegatewaypundit.com
TAKE A LISTEN 
Build the case , set the trap, and boom the Maricopa lies will come back to haunt them. https://t.co/fyAdNeTetQ

— Karen Fann (@FannKfann) August 3, 2021
Retired Army intelligence captain, elections data expert, and former baseball analyst Seth Keshel released his final national fraud numbers over the weekend.
Seth Keshel examined the final vote counts in all 50 states compared to the estimated numbers based on changing state dynamics and trends to come up with his estimated voter fraud in each state.
He published his results on his popular Telegram page.
Keshel confirms President Trump won: PA, MI, WI, NV, AZ, GA and MN.
And Keshel also believes cyber-flipping may have affected the results in NM, VA, NJ, and NH.
According to Keshel's investigation there were conservatively 8,144,000 excess Joe Biden votes recorded in the 2020 election.
My estimates are always lenient, and do not account for cyber flipping of votes.

Trump won: PA, MI, WI, NV, AZ, GA, MN

Likely/Possible Trump if cyber flipping occurring: NM, VA, CO, NJ, NH

Closer than you thought: WA, OR, RI, CT, HI
Source: thegatewaypundit.com
This seems relevant. From DOJ filing dated 7/30/21:

"Multiple defense counsel have inquired about investigations into officers who were alleged to have been complicit in the January 6 Capitol Breach. We have received copies of investigations into officer conduct, have finished…

— Julie Kelly 🇺🇸 (@julie_kelly2) August 3, 2021
reviewing them, and plan to disclose the relevant materials shortly."

So police officers are under investigation for what happened January 6. Should be interesting to see what we find out—if anything.

— Julie Kelly 🇺🇸 (@julie_kelly2) August 3, 2021
Q

 

!!Hs1Jq13jV6

 

ID: c7e053

 No.9599384

EZlRSs1WoAAZ7lS.jpg
Only when evil is forced into the light can we defeat it.
Only when they can no longer operate in the [shadows] can people see the truth for themselves.
Only when people see the truth [for themselves] will people understand the true nature of their deception.
Seeing is Believing.
Sometimes you can't tell the public the truth.
YOU MUST SHOW THEM.
ONLY THEN WILL PEOPLE FIND THE WILL TO CHANGE.
It had to be this way.
This is not another 4-year election.
GOD WINS.
Q
Q

 

!!mG7VJxZNCI

 

ID: 7390a9

 No.5271872

The DECLASSIFICATION of all requested documents (+ more) will occur.
This is not a game.
Do not let personal (emotional) desires ("do it now""now""what is taking so long""NOW!") take over.
Logical thinking and strategy should always be applied.
Game-Theory.
WE ALL WANT TO SEE EQUAL JUSTICE UNDER THE LAW.
NEW THREATS (investigations by [SDNY], [AS], [MW] in an effort to delay/prevent release ('insurance extension') WILL FAIL.
TRANSPARENCY is the only way forward.
Define the following:
Treason.
Sedition.
Subversion.
Conspiracy to commit…
Do you understand and fully appreciate the GRAVITY of the situation?
Do you understand and fully appreciate what POTUS endures each and every singly day?
He loves this County.
He loves you.
WE MUST STAND TOGETHER IN THIS FIGHT.
There is EVIL in this world.
There is DARKNESS in this world.
There are those in POWER who wish to CONTROL (enslave) you.
To keep you sedated.
To keep you unaware.
To keep you blind.
This will be on our timetable.
(….AND WE WILL DELIVER).
(Transparency and Prosecution)
There is simply no other way.
[Except 1]
Q
Shall we play a game?
[N]
othing
[C]
an
[S]
top
[W]
hat
[I]
s
[C]
oming
NCSWIC
https://www.cisa.gov/safecom/NCSWIC
Who stepped down today
[forced]
?
https://www.cisa.gov/bryan-s-ware
More coming?
Why is this relevant?
How do you 'show' the public the truth?
How do you 'safeguard' US elections post-POTUS?
How do you 'remove' foreign interference and corruption and install US-owned voter ID law(s) and other safeguards?
It had to be this way.
Sometimes you must walk through the darkness before you see the light.
Q