[DS] Playbook Revealed, Ammunition Running Low, Shields Up – Episode 2208
The patriots are now making other countries pay their fare share, Trump says Germany owes the US 1 Trillion in NATO obligations. Trump is now helping Maine with relief, just like he helped the farmers. Unemployment claims are dropping, they are declining rapidly. Durable goods bounce back. Message was sent that gold is the standard and silver is not bad either. The [DS]/MSM prepare their next event the patriots already know what it is, why because they know the [DS] playbook. Flynn is free, gaga order lifted, who knows where the bodies are buried. The people are now seeing first hand what the [DS] true agenda is, it's not about build up the US, it's about tearing it down.
Check Out The X22 Report Spotlight YouTube Channel X22Report Spotlight
Please check Newzsentinel.com for the latest news on the economic collapse. The Sentinel Alerts are updated throughout the day.
---
Current News – 06.25.2020
Watch The X22 Report On Video
---
Economy
"The United States is defending a lot of countries that are delinquent in what they are supposed to be paying," the president said. Confirming that the US would be withdrawing troops from Germany, Trump claimed that Germany owed "close to a trillion dollars" to Nato "when you add it all up."
While he claimed that the US had secured an extra $400 billion in new spending from NATO members, he said "we will be only satisfied when all members are paying their fair share".
Source: zerohedge.com
Trump directs aid to Maine lobster industry crushed by tariffs
President Trump ordered the Department of Agriculture to offer a lifeline to the struggling Maine lobster industry that has been hit hard by his trade policies with China.
 Trump all but directs the Agriculture Department to extend a $30 billion farm bailout program to Maine's commercial fishers. The program previously sent cash to corn, soybean, pig and other farmers, primarily in the Midwest,
Pres. Obama destroyed the lobster and fishing industry in Maine. Now it's back, bigger and better than anyone ever thought possible. Enjoy your "lobstering" and fishing! Make lots of money!

— Donald J. Trump (@realDonaldTrump) June 25, 2020
Source: thehill.com
 
Numbers Steadily Decreasing
Good news is, the number of claims filed each week have been steadily declining since they peaked the week of March 28 at 6.867 million, the Labor Department's data show.
They dipped below three million the week ending May 9, and then below two million by the end of the month when they hit 1.897 million.
Since then, they've declined 22 percent. The decrease since March 28 is 78 percent. (Numbers below in thousands)
March 7 — 211
March 14 — 282
March 21 — 3,307
March 28 — 6,867
April 4 — 6,615
April 11 — 5,237
April 18 — 4,442
April 25 — 3,846
May 2 — 3,176
May 9 — 2,687
May 16 — 2,446
May 23 — 2,126
May 30 — 1,897
June 6 — 1,566
June 13 — 1,540
June 20 — 1,480
Total: 47.72
The department also tracks increases and decreases in claims filed across the state. The states with the largest increase in unemployment claims for the week ending June 13 were:
Oklahoma — 7,254
Texas — 5,047
New Jersey — 3,272
New York — 1,351
Louisiana —1,243
The states with the largest decreases were these:
Florida — 24,013
Maryland — 18,188
Massachusetts — 14,731
California — 14,412
Michigan — 6,543
Source: thenewamerican.com
After March and April's collapse, US Durable Goods Orders were expected to rebound strongly in May and according to preliminary data, they did as headline data soared 15.8% MoM – the most since July 2014.
The MoM rise of 15.8% was better than the expected 10.% rise (but off a revised lower -18.8% drop in April)…Is the 'V' you've been looking for? 
Source: zerohedge.com
Gold is the standard, but silver linings are pretty great too ✨ #NeverSettle #TrumpLasVegas pic.twitter.com/xpiMDJr7W9

— Trump Vegas Hotel (@TrumpLasVegas) June 24, 2020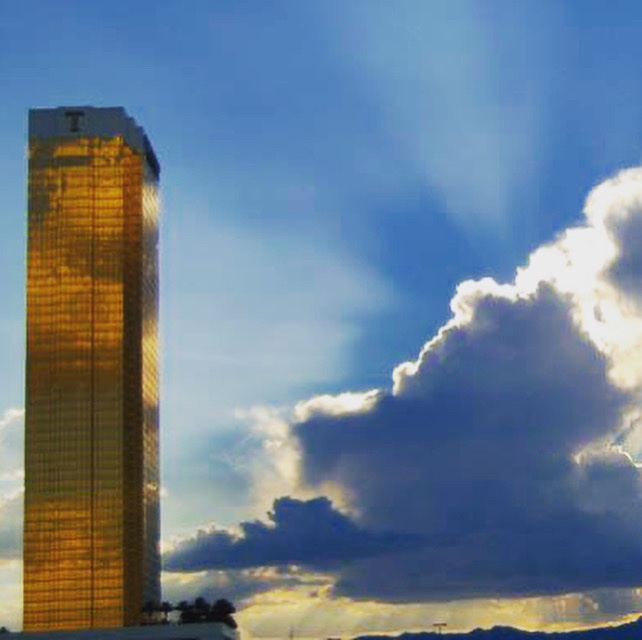 ---
Political/Rights
Joe Biden will accept the Democrat nomination in August in a 'virtual' convention in Milwaukee.
The delegates were told to stay home over Coronavirus concerns.
Source: thegatewaypundit.com
Biden is not the candidate.
1. How do you build candidate up, FAKE POLLS
2. How do you make the public accept the new candidates?
3. How do you introduce the first. Protests over Race
4. How do you introduce the second. Illness
Flynn GAG order lifted, 
Who knows where the bodies are
buried
?
FLYNN is safe.
We protect our Patriots.
Q
Source: thenewamerican.com
WikiLeaks Founder Charged in Superseding Indictment
New Allegations Assert Assange Conspired With "Anonymous" Affiliated Hackers, Among Others
A federal grand jury returned a second superseding indictment today charging Julian P. Assange, the founder of WikiLeaks, with offenses that relate to Assange's alleged role in one of the largest compromises of classified information in the history of the United States.
The new indictment does not add additional counts to the prior 18-count superseding indictment returned against Assange in May 2019.  It does, however, broaden the scope of the conspiracy surrounding alleged computer intrusions with which Assange was previously charged.  According to the charging document, Assange and others at WikiLeaks recruited and agreed with hackers to commit computer intrusions to benefit WikiLeaks.
Source: justice.gov
>>6572364
(/pb)
Under protection.
Threat is real.
Key to DNC 'source' 'hack' '187'.
Q
Court upholds the government's ability to deport unauthorized immigrants near the border.
The Supreme Court   ruled that the expedited removal of illegal immigrants apprehended near the U.S. border does not violate the Constitution.
The court upheld the government's ability to deport illegal immigrants on an expedited basis, if they are found within two weeks of entering the country and are less than 100 miles from the border.
A caveat to the ruling is that under the Convention Against Torture, the United States is not permitted to send unauthorized immigrants back to countries where they will likely be tortured. Individuals who illegally cross the border with such fears are allowed to request an interview with an asylum officer.
Source: justthenews.com
---
Geopolitical/Police State
AG Barr: "We have antitrust investigation of all the major internet platforms…I expect to be making decisions in the next few weeks about actions on that…"

Full: https://t.co/Efko120SVB pic.twitter.com/QvcNxB6EOw

— M3thods (@M2Madness) June 25, 2020
---
False Flags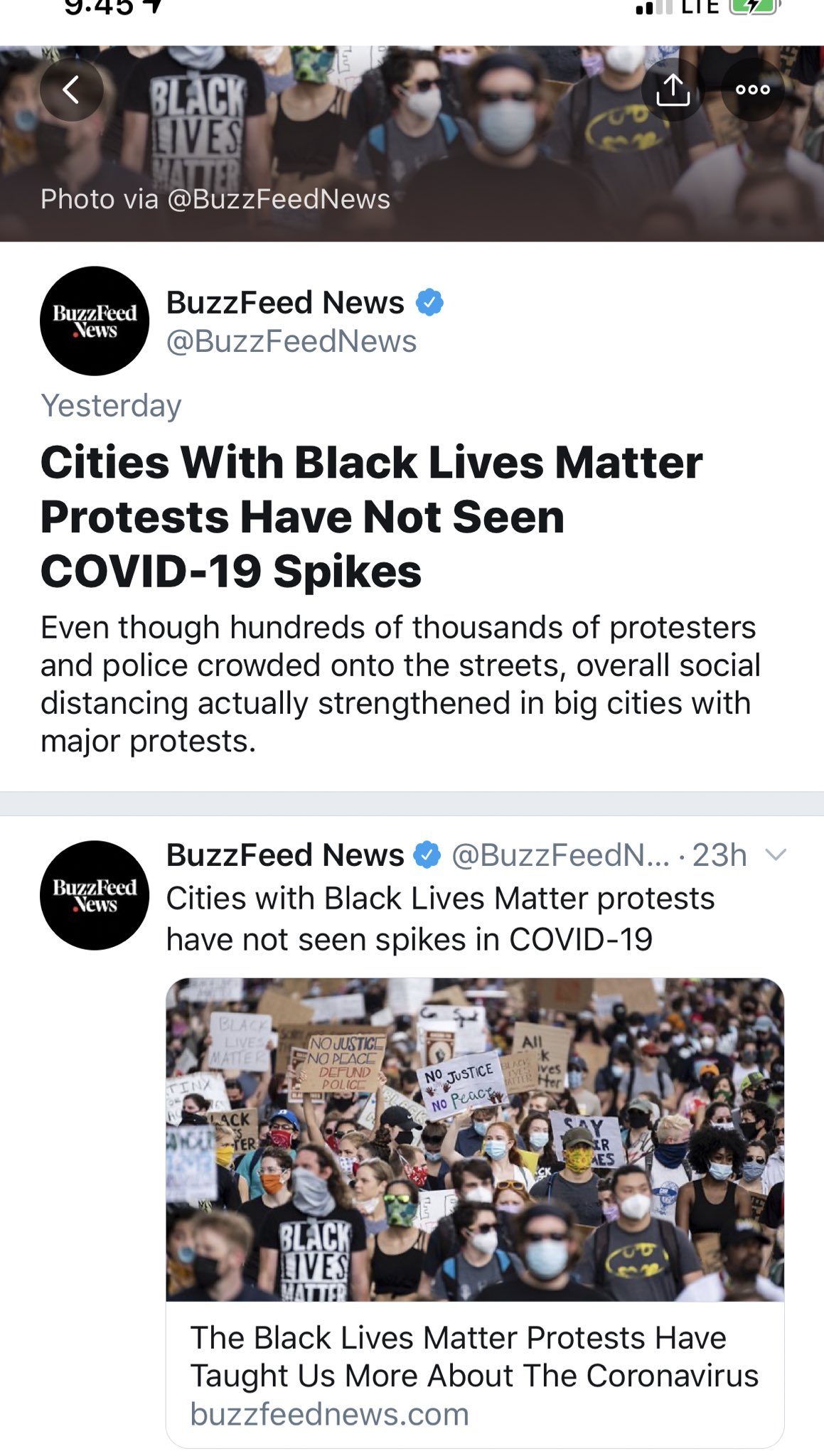 The decision comes after N.Y. Governor Cuomo harshly criticized President Trump for suggesting a quarantine on the tri-state area in late March.
New York Gov. Andrew Cuomo announced  that New York, as well as New Jersey and Connecticut, will begin enforcing quarantine orders on travelers from nine other states. Travelers from Alabama, Arkansas, Arizona, Florida, South Carolina, North Carolina, Utah, Texas and Washington will have to self-isolate for two weeks after entering the tri-state area.
In  March, Gov. Cuomo criticized President Trump for suggesting a state-based quarantine order that would restrict travel for residents of the tri-state area. When the New York City area was the "epicenter" of the coronavirus pandemic, Trump suggested a two-week quarantine order on residents of New York, Connecticut, and New Jersey. Cuomo called it anti-American
Source: breitbart.com
New York City will paint 'Black Lives Matter' on street in front of Trump Tower
New York City appears set to receive a "Black Lives Matter" street mural outside Trump Tower in midtown Manhattan, according to a statement from Mayor Bill de Blasio's (D) office.
"The president is a disgrace to the values we cherish in New York City. He can't run or deny the reality we are facing, and any time he wants to set foot in the place he claims is his hometown, he should be reminded Black Lives Matter," Julia Arredondo 
 So why are they attacking Trump, why did they paint BLM in DC and now in NY in front of Trump tower. Shouldn't they be blaming the mayors and governors of where this is happening, is this really about race or is it about attacking the President
Source: thehill.com
Told that @NYCMayor Bill de Blasio wants to paint the fabled & beautiful Fifth Avenue, right in front of Trump Tower/Tiffany, with a big yellow Black Lives Matter sign. "Pigs in a Blanket, Fry 'Em Like Bacon", referring to killing Police, is their chant. NYC Police are furious!

— Donald J. Trump (@realDonaldTrump) June 25, 2020
The riots took place in   Democrat-led cities around the country were coordinated and related to three main groups: 1)  US based Islamist Organizations, 2) Domestic terrorists, and 3) Others related to the Democrat Party.
Today we uncover a fourth major contributor, a Clinton pardoned member of the Weather Underground, S

usan Rosenberg

.
 
 BLM was raising money using ActBlue as a resource. BLM is not a non-profit organization and nonprofit organization (Thousand Currents) said it provides 'fiduciary oversight, financial management, and other administrative services to BLM.
Candice Owen reported on the BLM – ActBlue relationship and was targeted by a bogus fact-checker. Tom Fitton from Judicial Watch jumped in and stated that the findings confirmed what we and Candice Owen reported:
Ha. Confused and misleading leftist "fact-check" being used to censor @RealCandaceO confirms Black Lives Matter Global Network is NOT yet a recognized IRS charity but raises money under the "fiscal sponsorship" of another group, Thousand Currents. https://www.politifact.com/factchecks/2020/jun/17/candace-owens/how-black-lives-matter-global-network-set/ … https://twitter.com/TomFitton/status/1271076303740055554 …

PolitiFact – How the Black Lives Matter Global Network is set up

PolitiFact is a fact-checking website that rates the accuracy of claims by elected officials and others on its Truth-O-Meter.

politifact.com

This is an interesting issue. ActBlue Charities is the fundraising charity that purports to raise money for other charities, which in this case is "Black Lives Matter Global Network." No IRS info with this organization's name is avail online. https://twitter.com/RealCandaceO/status/1271062636315193346 …
Transparency? So if you want to make a tax-deductible charitable donation directly to Black Lives Matter, you can't. You donate to Act Blue Charities. Act Blue Charities sends this money, allegedly, to another charity, Thousand Currents, which runs BLM as a "fiscal sponsorship."
3,700 people are talking about this
Thousand Currents is apparently a non-profit organization and Susan Rosenberg serves on its Board
   Susan Rosenberg was a member of the Weather Underground terrorist group, which included Obama friend Bill Ayers.  In January of 2001, the New York Times reported that many politicians, including Democrat Chuck Schumer, were critical of a pardon President Clinton gave to her on his last day in office:An unusual combination of New York political and law enforcement leaders have condemned former President Bill Clinton's pardon of Susan L. Rosenberg, a one-time member of the Weather Underground terrorist group who was charged in the notorious 1981 Brink's robbery in Rockland County that left a guard and two police officers dead.
So contributions to BLM are funneled through ActBlue, the major resource for Democrat donations, and then funneled to an organization ran by a member of the Weather Underground terrorist group.
 riots around the country are not spontaneous. They are coordinated and planned. These riots are related to the same individuals involved in similar activities for years.
 Source: thegatewaypundit.com
Only about one-in-six protesters over the last month are black Americans, while the plurality are white, according to Pew Research Center analysis.
 only 17 percent of protesters have been black, while 46 percent are white, 22 percent are Hispanic, and eight percent are Asian,
The protesters are overwhelmingly Democrats as well. Almost four-in-five of the protesters said they are Democrats or Democrat-leaning voters. Less than 17 percent of the protesters said they are Republicans.
Very sad to see States allowing roving gangs of wise guys, anarchists & looters, many of them having no idea what they are doing, indiscriminately ripping down our statues and monuments to the past. Some are great works of art, but all represent our History & Heritage, both….

— Donald J. Trump (@realDonaldTrump) June 25, 2020
Black Lives Matter leader states, "If U.S. doesn't give us what we want, then we will burn down this system and replace it". This is Treason, Sedition, Insurrection!

— Donald J. Trump (@realDonaldTrump) June 25, 2020
A man who got shot in CHAZ now wants to sue the police for not responding fast enough to the "autonomous zone" where they have up barricades barring the police from entering.pic.twitter.com/6udR8zekik

— Jason Howerton (@jason_howerton) June 24, 2020
DEVELOPING: More than a dozen businesses inside CHOP zone, on Seattle's Capitol Hill, file 56-page class action lawsuit against the City of Seattle. They're seeking unspecified damages, to be determined at trial. pic.twitter.com/RPlsW3DuNv

— Preston Phillips (@PrestonTVNews) June 25, 2020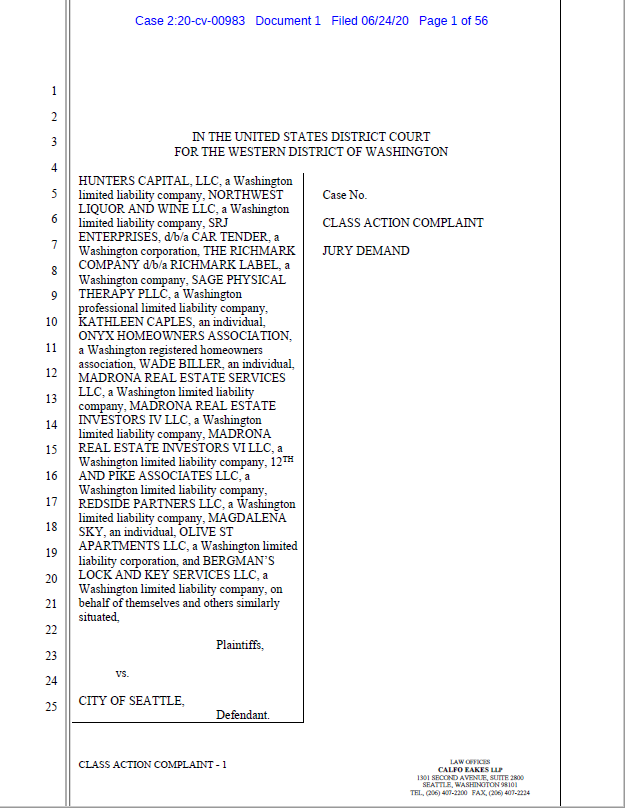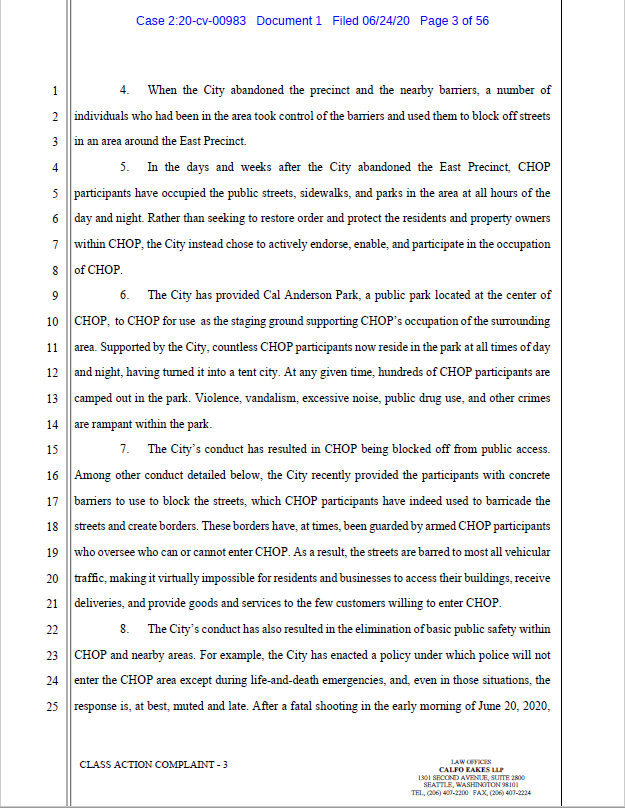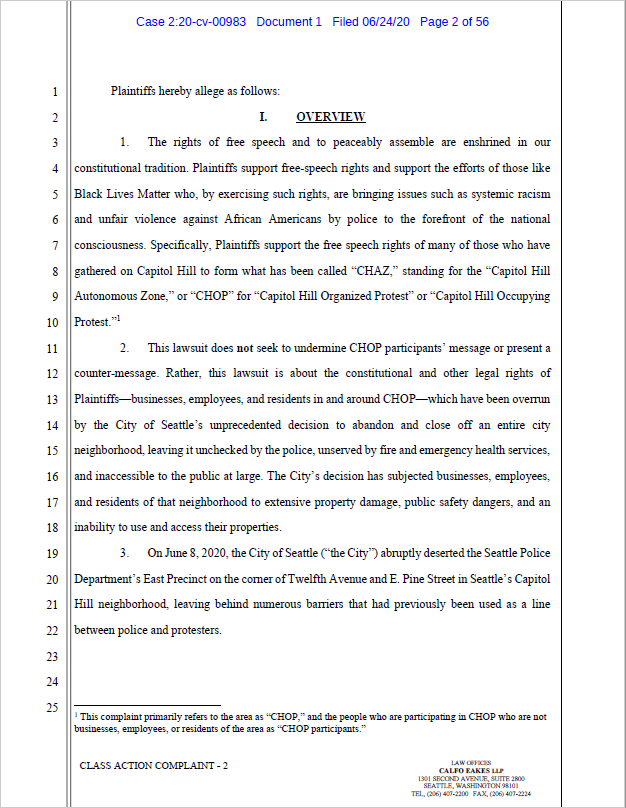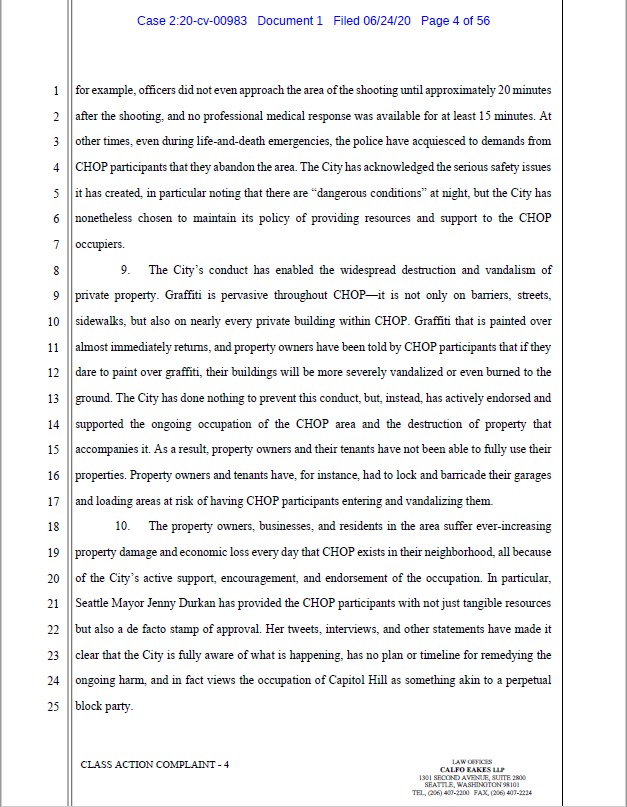 a Venezuelan woman who warns: Don't think "it" can't happen here.
Elizabeth Rogliani, a Venezuelan actress living in the United States, has seen "it" — a left-wing revolution — before. "Why do I even worry about some silly little statues coming down or some silly little street names changing? Why do I care?" she asked rhetorically in her video.
"It's because the last time I didn't care about this, I was a teenager," she explained. "I have already lived through this thing, when I was living in Venezuela."
"Statues came down, [socialist leader Hugo] Chávez didn't want the history displayed," Rogliani continued. "And then he changed the street names, then came the curriculum [in schools], then some movies couldn't be shown on certain TV channels. And so on, and so forth."

Venezuelans recognize signs of a communist takeover better than almost anyone

(p.s. that accent is )
Source: thenewamerican.com
---
Q
Waiting outside a lunch place in silicon valley today I overhear a middle aged woman calming explaining QANON to her friend and how it's all part of some grand plan by Trump to rebuild the US government. Jarring to run across this in the real world here.
Interesting this was prioritized
[routed]
.
GOOG threat analysis group _entry catalog.
Deep dreaming, young dragonfly.
Q
WWG1WGA.png
Took the oath! WWG1WGA!
WWG1WGA!!!
Q
104337228_975584242892006_2319316124361702836_n.jpg
MUST READ → New Jersey health department workers slam Governor Murphy's deadly nursing home policies: "An unmitigated failure" that led to "preventable deaths." He must be held accountable.
Scathing letter from health department insiders says N.J.'s pandemic failures led to 'preventable deaths'
The letter lays out a searing indictment of the state's handling of the public health crisis, from its lack of transparency on how decisions are being made in reopening the economy, to the failure to devote enough testing and personal protective equipment to protect the most vulnerable — the elderly in long-term care facilities.
"In other words, we believe the leadership failures of Commissioner Persichilli led to preventable deaths," the letter said.
The group also questioned whether the administration in an effort to reopen the economy was "making things up as they proceed, or making decisions and justifying them on the back end. That is both dangerous and the worst type of cynical politics — right smack in the middle of the worst pandemic in modern history."
Difficult truths.
Q
EbTQIj_WoAYxTwX.jpg
https://www.congress.gov/bill/116th-congress/house-bill/7297?r=1&s=1
📁
Worth tracking.
https://www.rand.org/content/dam/rand/pubs/monograph_reports/MR1251/MR1251.AppD.pdf
📁
"The Posse Comitatus Act, 18 U.S. Code, Section 1385, an original intent of which was to end the use of federal troops
[TO POLICE STATE ELECTIONS]
in former Confederate states, proscribes the role of the Army and Air Force in executing civil laws and states."
KEY EXCEPTIONS TO THE POSSE COMITATUS ACT
"Pursuant to the presidential power to quell domestic violence, federal troops are expressly exempt from the prohibitions of Posse Comitatus Act, and this exemption applies equally to active-duty military and federalized National Guard troops."
What is Adam Schiff trying to prevent?
Everything you are witnessing [past & present
[future]]
centrally revolves around the Presidential Election of 2020.
Win by any means necessary
[self-preservation]
.
Q
What is the DS planning, mass riots and chaos during the elections, they want to limit Trump authority
But
@

realDonaldTrump
has invoked the Stafford Act. Months ago. It allows the regular armed forces to engage in law enforcement. Special-operations units.
Q

 

!!Hs1Jq13jV6

 

ID: 19f964

 No.9744605 

NEW
$21 Million NYC Field Hospital Closes After Never Seeing a Single Patient
A Brooklyn field hospital closed without seeing any patients, city officials confirmed this week.
New York City Mayor Bill de Blasio (D) announced the construction of the multimillion-dollar field hospital at the end of March — the day after the USNS Comfort docked at Manhattan's Pier 90.
"They are going to set it up rapidly and we're then going to go to the next site, the next site, the next site to meet our goal," de Blasio said, detailing the 670-bed plus site at the Brooklyn Cruise Terminal in Red Hook. He also announced another overflow facility at the Billie Jean King Tennis Center in Flushing. That 350-bed facility only saw 79 patients, according to THE CITY. However, the Red Hook facility never saw a single patient, and both locations ended up costing over $40 million combined.
THE CITY reported:
Earlier this month, the makeshift hospital at the tennis center closed after taking in 79 patients, according to City Hall officials. It cost $19.8 million to construct and revert back, the officials said.

The lower-profile Red Hook terminal hospital was slated to open in mid-April but wasn't ready for service until May 4. By then, citywide hospital utilization had already fallen by half its April 12 highpoint, to about 6,000 patients.

City officials say the $20.8 million site, constructed by Texas-based contractor SLSCO under a no-bid emergency contract, is now being demobilized after seeing no medical activity.
Similarly, the USNS Comfort, which was originally slated to take pressure off New York hospitals by taking non-coronavirus patients, departed after seeing just 182 patients over its month-long stay. Even though ship agreed to designate 500 of its 1,000 beds for coronavirus patients, it never came close to reaching capacity.
Worth remembering.
Why were elderly COVID-19[2] positive patients forced [pushed] into nursing homes [known hot zones] if ample capacity existed to support locally?
Can you logically explain why select [D] gov(s) made decisions re: elderly push into hot zones which [knowingly] contradicted federal guidelines and as well as general common sense [think annual influenza death rate(s) re: age group 65+]?
Evil surrounds us.
Q
Obama/Biden scandals:

-Fast & Furious
-Solyndra
-Benghazi
-IRS targeting
-Opperation Choke Point
-Spying on journalists
-VA waiting lists
-Cash payments to Iran
-Clinton emails
-Unmasking of political rivals
-Crossfire Hurricane/Russia Hoax
-Crossfire Razor/Flynn

Don't forget!

— Rep. Jim Jordan (@Jim_Jordan) June 25, 2020

Trump responded 
The Obama/Biden Administration is the most CORRUPT in HISTORY! https://t.co/kWa3SZnqPY

— Donald J. Trump (@realDonaldTrump) June 25, 2020
Patriots continue to educate the people about human trafficking
This year's Trafficking in Persons Report highlights governments that have failed to fulfill their commitments to protect victims, and instead are acting as traffickers themselves. Watch the release of the #TIPReport June 25 at 2:00 PM EDT. https://t.co/T9DBimTZYn pic.twitter.com/ONzA7UoTCn

— Department of State (@StateDept) June 25, 2020
Trump tweeted law and order again today
I can't help but hope every time POTUS tweets this, it means another criminal has been indicted. Kinda like the cannon blast on Hunger Games every time someone was taken out. https://t.co/WdjdRVIyFG

— Lisa Mei Crowley 🐸 (@LisaMei62) June 25, 2020
There is only one opportunity to "drop the hammer" and permanently change the course of history. It will take out the #FakeNews and the power of criminals to brainwash the public into ignoring their crimes. I am sure it will be unmissable when it happens — with perfect timing.

— Martin Geddes (@martingeddes) June 25, 2020