[DS] Playbook Used Against Them, Think Warp Speed, Looking Glass Was The Signal – Episode 2293
The patriots are now in control the economic narrative, once Trump brought the unemployment numbers down to 7.9% it is game over for the [CB]/MSM, they can no longer use this as talking point. The politicians voted on their paychecks very quickly but took their time when it came to the people receiving stimulus. The economic narrative controls how people will vote. The [DS]/MSM moved forward with their latest plan, use the virus to get Trump off debate circuit, stop the SC confirmation and use fear and chaos. This all failed, the patriots already knew the playbook and Trump is now using this to his benefit. Is this about the virus or the election, is this about the riots or the election, it's all about the election. How do you remove fear, how do you counter everything the [DS] is trying to do, you introduce the cure.
Check Out The X22 Report Spotlight YouTube Channel X22Report Spotlight
Please check Newzsentinel.com for the latest news on the economic collapse. The Sentinel Alerts are updated throughout the day.
---
Current News – 10.04.2020
Watch The X22 Report On Video
---
Economy
Just wanted to take a second to point out members of Congress were able to hash a deal avoiding a government shutdown, guaranteeing their paychecks, but can't agree on a stimulus to help the people they were elected to represent. Pls stop voting for these clowns. November 3rd
This week the House Democrats passed the $2.2 TRILLION Pelosi "Heroes Act."
This monstrosity will bailout all of the poorly run Democrat states.
But it will not fund the police during a time of Democrat rioting, looting and mass violence.
Democrat mobs have cost more than $1 billion in damages in the past four months and probably more.
Thousands of businesses have been destroyed in riots, thousands more by Democrat politicians during the lockdowns.
But Pelosi took out all funding for police in her legislation. Those earlier versions included $300 million for Community Oriented Police Services Programs, whose funds go toward hiring additional officers, and $300 million for Byrne Justice Assistance Grants, which allow local departments buy personal protective equipment.
Source:thegatewaypundit.com
---
Political/Rights
Ds/MSM are calling for a delay of Amy Barrett hearing
Senate floor proceedings will be postponed until October 19th. The @SenJudiciary confirmation hearings for Judge Barrett's nomination to the Supreme Court will convene on October 12th as scheduled by Chairman Graham. My full statement: pic.twitter.com/7ThKZPJBZG

— Leader McConnell (@senatemajldr) October 3, 2020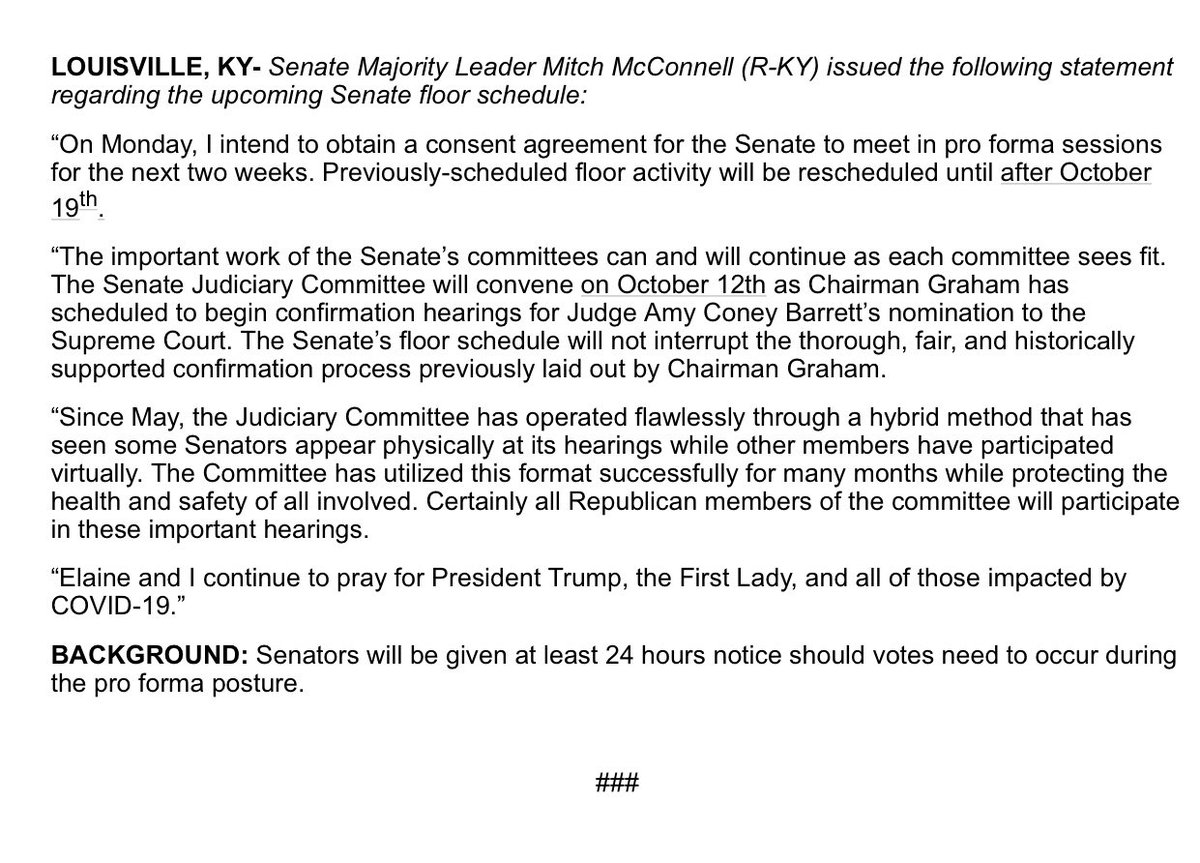 Please refer your contact on Next Door to us; happy to follow up. For reference, all returned, voted mail ballots require signature verification prior to being cleared for processing — a safeguard built into CA Election Law.

— Los Angeles County Registrar-Recorder/County Clerk (@LACountyRRCC) October 3, 2020
responded
What a disgrace. You want to do cleanup after the ballots were sent to very old lists?!

Why didn't you do this BEFORE they were mailed out?

This is a scandal. https://t.co/stS97knNoL

— Richard Grenell (@RichardGrenell) October 3, 2020
I am calling for an investigation into @GavinNewsom's election interference. This is a scandal. It's being ignored by the media. It's happening everyday!

Here are two ballots mailed to two people who have been dead for more than 10 years! pic.twitter.com/wHHUqy4l3X

— Richard Grenell (@RichardGrenell) October 3, 2020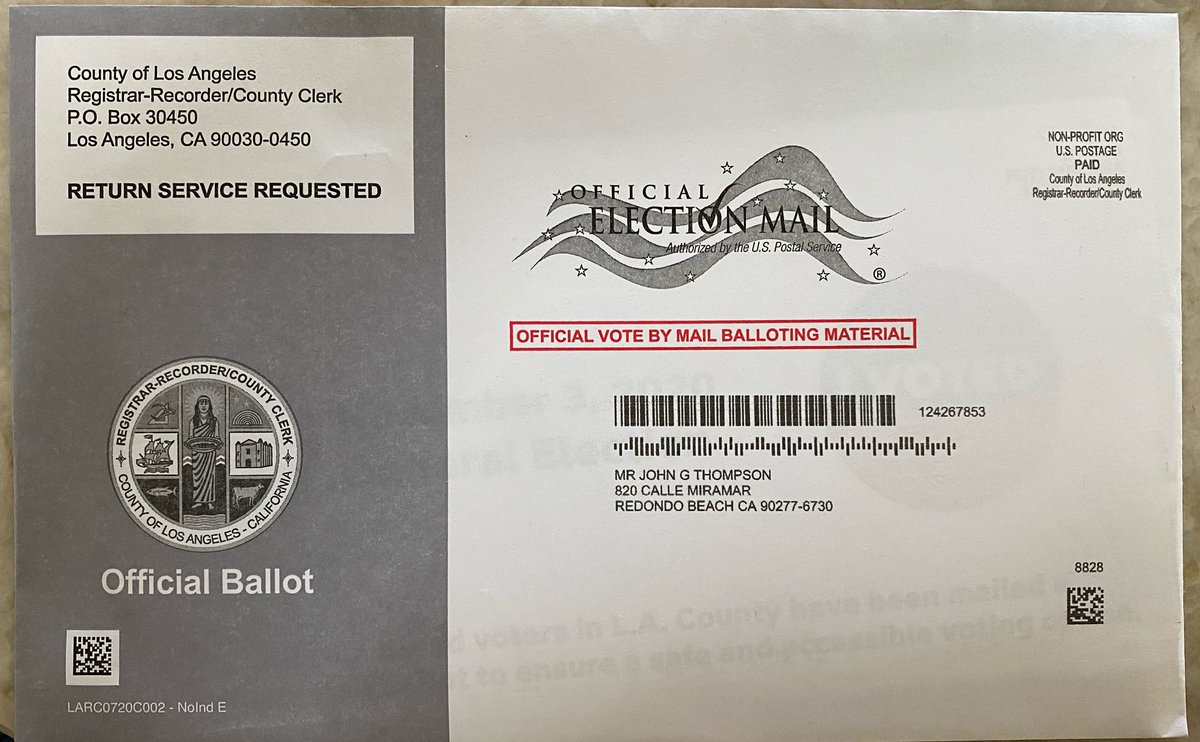 This is the RNC's FIFTH legal win just this week.

Courts have sided with the GOP in:

✔️Iowa
✔️Ohio
✔️Maine
✔️New Hampshire
✔️Arizona

We will continue to fight back against Democrat assaults on our elections!
https://t.co/ImFKSGcJLU (3/3)

— Ronna McDaniel (@GOPChairwoman) October 2, 2020
This MAGA parade in Denver is over a mile and a half long. Check the guy out in front !!!!! pic.twitter.com/VYSPZmbfws

— All 50 News (@All50News) October 3, 2020
Here is a view from on top of an NYPD barrier. Line of cars goes from 56th street up to 59th street. @NY1 pic.twitter.com/AhAwEBi67z

— Alyssa Paolicelli (@APaolicelli17) October 4, 2020
Hawaii is going crazy for @realDonaldTrump.

Democrat states are pushing hard for flipping their state for Trump. pic.twitter.com/R4QjebtawC

— Richard Grenell (@RichardGrenell) October 4, 2020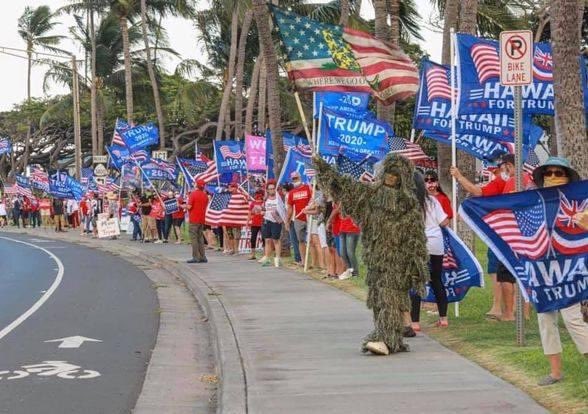 ---
Geopolitical/Police State
A federal court ordered Los Angeles to hand over more than $100,000 to the National Rifle Association after ruling that the city had violated the gun-rights group's First Amendment rights.
Federal district court judge Stephen Wilson struck down a city ordinance aimed at punishing prospective contractors with ties to the NRA as an infringement on the right to free speech and association. On Tuesday, he ordered city officials to pay for the Second Amendment group's attorney fees, which totaled nearly $150,000.
Source: freebeacon.com
---
False Flags
Pence ordered borders closed after CDC experts refused
  Vice President Mike Pence in March directed the nation's top disease control agency to use its emergency powers to effectively seal the U.S. borders, overruling the agency's scientists who said there was no evidence the action would slow the coronavirus,
The top Centers for Disease Control and Prevention doctor who oversees these types of orders had refused to comply with a Trump administration directive saying there was no valid public health reason to issue it, 
So Pence intervened in early March. The vice president, who had taken over the Trump administration's response to the growing pandemic, called Dr. Robert Redfield, the CDC's director, and told him to use the agency's special legal authority in a pandemic anyway.   
Source: apnews.com
'It never happened': Cuomo denies causing 6,500 nursing home deaths
  Gov. Andrew Cuomo denied this week that his state Health Department's controversial March 25 order saying nursing homes could not bar admission or readmission to a resident based on a positive COVID-19 test had anything to do with the over 6,500 deaths in those facilities related to the virus."That's not why they lost a loved one in a nursing home. Your question — the premise of your question is just actually wrong. People were lost in nursing homes, were lost because that's where the virus preys.
Cuomo has defensively pointed to an internal report conducted by his own state Health Department and widely criticized by medical experts, politicians and family members who lost loved ones in facilities to the virus.
Source: nypost.com
Also curious – why hasn't the homeless population been decimated by COVID since most of them aren't don't social distancing, don't wear masks or talk behind plexiglass, don't use hand sanitizer and don't wash their hands all throughout the day?

Why don't we ever hear about them.

— DeAnna Lorraine 🇺🇸 (@DeAnna4Congress) October 2, 2020
After high court decision, Michigan AG will not enforce COVID orders
Attorney General Dana Nessel will no longer enforce Gov. Gretchen Whitmer's executive orders after the Michigan Supreme Court ruled Friday that one of the laws underpinning the orders was unconstitutional.
Nessel's decision comes as Whitmer's team has argued that her orders would stay in effect for 21 days after the ruling, a reference to a 21-day period in which parties can ask for reconsideration. 
But opponents have said the 21-day rule doesn't apply to rulings issued in response to a federal certified question as was the case in Friday's Supreme Court decision. 
Further, the language of the order, clearly calling all orders issued after April 30 to be unconstitutional seems to support immediate effect.
Nessel's office on Sunday made clear the department "will no longer enforce the governor's executive orders through criminal prosecution."
Source: detroitnews.com
The four progressive Democratic congresswomen known as "The Squad" expressed surprise when Twitter posted about its policy against wishing harm or death to someone in light of President Trump's Covid-19 diagnosis. https://t.co/in5m0zwijR

— CNN (@CNN) October 3, 2020
I am seeing so many ugly tweets from liberals asking Trump if he thinks the virus is real now. Just because you understand that COVID has been manipulated for political purposes and that masks are not effective, does not mean you deny COVID exists.

— Molly McCann (@molmccann) October 2, 2020
1+2. President & Melania Trump
3. Bill Stepien, Trump campaign mgr
4. Hope Hicks
5. Kellyanne Conway
6. Sen. Ron Johnson
7. Sen. Mike Lee
8. Sen. Thom Tillis
9. Ronna McDaniel
10. Notre Dame Pres. Jenkins
11-13. Three WH reporters
14-24. Eleven staffers from Cleveland debate
25. Chris Christie
26. Nick Lunas
Source: zerohedge.com
MSM assumes lack of mask-wearing was the cause of last Saturday's "super spreader event" in Rose Garden, but some who tested positive, including Sen. Thom Tillis, clearly were wearing masks. The virus more likely spread through contact with fomites, then face, not through the air

— Paul Sperry (@paulsperry_) October 4, 2020
A MASSIVE crowd sending "get well soon!" wishes to President @realDonaldTrump! 🙏🇺🇸 pic.twitter.com/55MO1mTkSr

— Jake Schneider (@jacobkschneider) October 3, 2020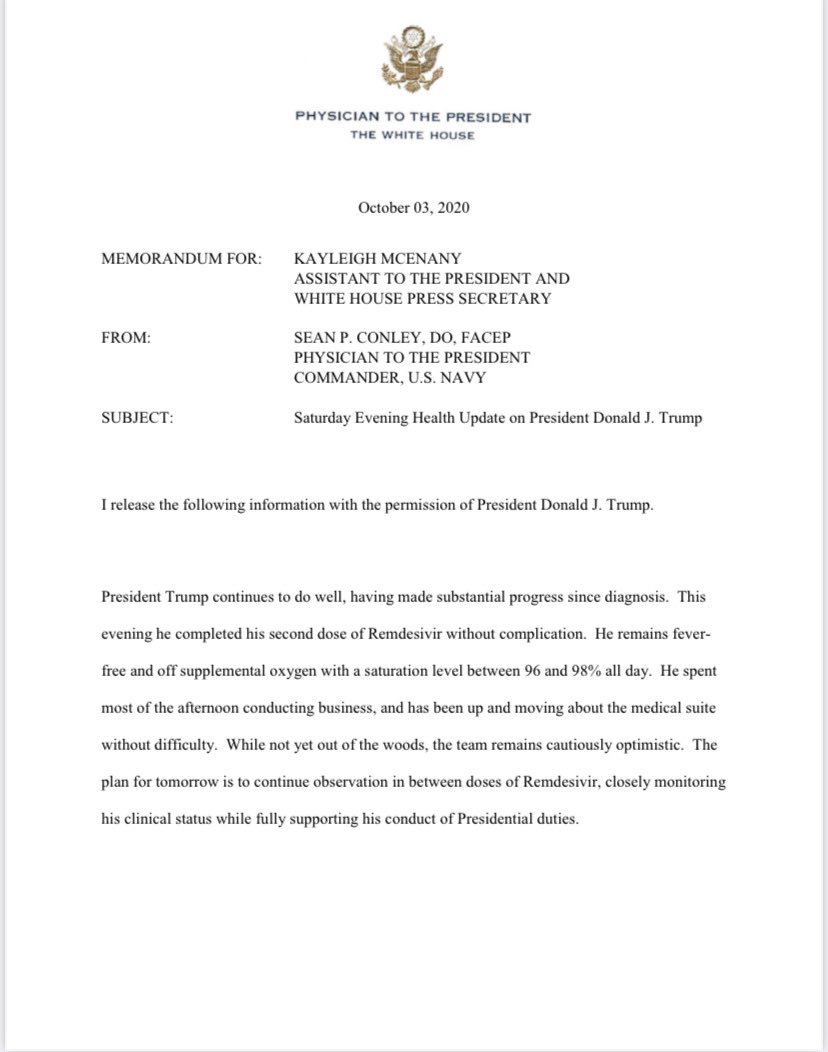 — Donald J. Trump (@realDonaldTrump) October 3, 2020
TAKE A LISTEN
Was wondering if anyone noticed this yet?

Operation Looking Glass

Only 2 posts mention looking glass and they seem relevant especially the 2017 one

Haiti before the elections?#ProjectLookingGlass pic.twitter.com/MmA2kI7yCd

— Watcher of the Dead (@WatcherDead) October 3, 2020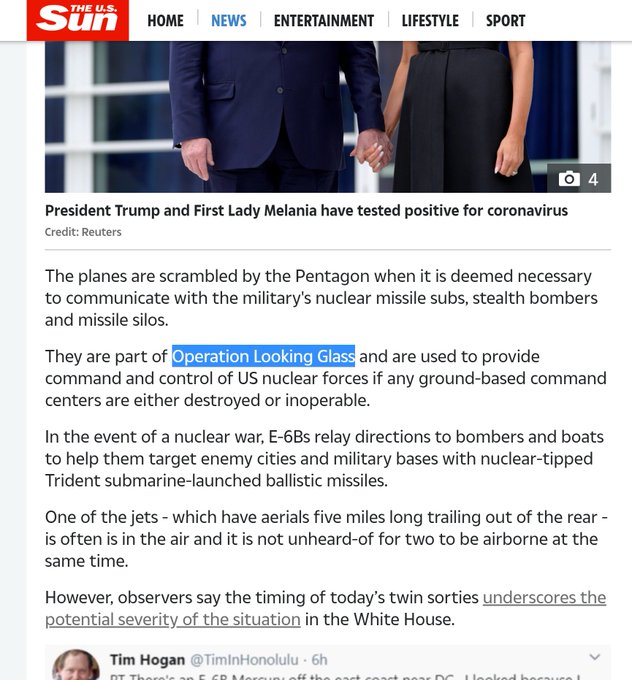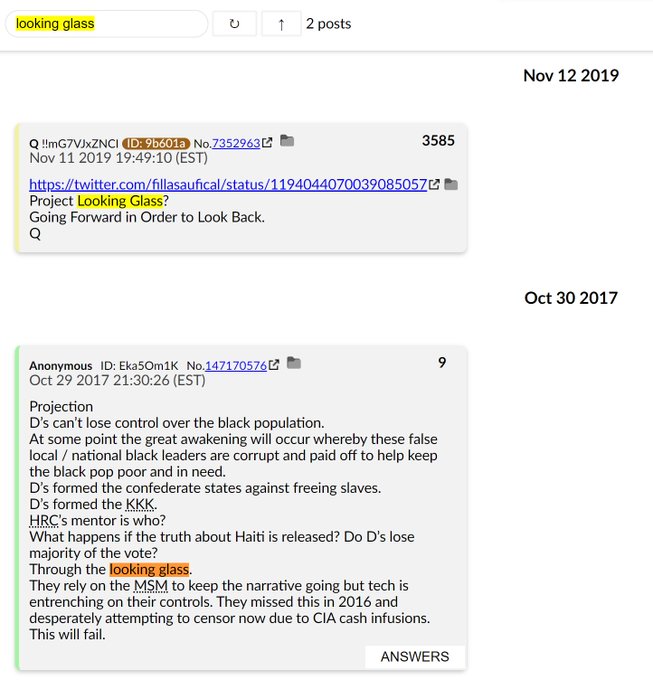 From Joe M
Thread:
1. Trump's Operation Warp Speed bypassed the corrupt globalist WHO that were planning on unleashing the Bill Gates poison onto us all.
2. Warp Speed was about to announce its results amid what would have been a firestorm of suspicion and criticism from politicized anti-vaxxers in the Democratic establishment who want us to remain sick.
3. But then Trump himself became "infected", and he announced publicly the "experimental" treatment he was taking (Regeneron with zinc, vitamin D and the generic version of the heartburn treatment Pepcid).
4. He is the most important man on earth, so he is going to be taking only the most effective treatment known.
5. Look what he just did. He insulated himself from criticism from the fake news who know how it looks to attack a sick person, he tells us what Warp Speed is working on before it is formally announced, he gets better as proof it works, and Harris …
---
Q
---
Stand strong America.
God Bless the USA. #BeNotAfraid

⁦@lofly727⁩
⁦@TJHproject⁩
⁦@SidneyPowell1⁩
⁦@BarbaraRedgate⁩
⁦@GoJackFlynn⁩
⁦@JosephJFlynn1⁩
⁦@flynn_neill⁩
⁦@FieldofFight⁩ pic.twitter.com/lXzWsjh2Kz

— General Flynn (@GenFlynn) October 4, 2020