[D]s Trying To Regain Power, The Path Forward Is Being Set,Think Precedent, Do Not Fear – Ep. 3024
Podcast: Download (Duration: 1:15:11 — 33.7MB)
Watch The X22 Report On Video
The [CB]/[WEF] are now putting everything in position and as they do this they are making the people of the world angry. The banking system is fragile and the [CB] is now consolidating the banks. Biden just vetoed a bill that will destroy the economy. The Fed will be restructured in the end. The [DS] is panicking, all assets deployed to get Trump, they are now trying to create chaos and a civil war. They want the Trump supporters on the street so they can infiltrate the protest. Trump has been baiting them this entire time, he controlled the narrative and now he is pushing them to arrest him to set a precedent to be used later on, to arrest the former Presidents of the US. Do not fear the patriots are in control, Flags out.
---
Economy

2021 California had a drought. Now it's record rainfall and the state can't capture the water. Once summer hits, the lack of water will be blamed on "global warming." https://t.co/4krFdn0Mfs

— Cernovich (@Cernovich) March 20, 2023
  Wall Street Journal – Economists are now estimating that 186 US banks may be prone to the same risks as Silicon Valley Bank. This number is likely higher as the pressures that regional banks are facing are ramping up.
This number comes from a recent economic study published on March 13.
Treasury Secretary Janet Yellen told the US Senato on Thursday that not all uninsured deposits would be protected in future bank failures, ONLY those banks that pose systemic risks. Regional banks will get screwed.
The Biden regime is picking winners and users and it will be the Biden regime that forces a run on the banks.

 source: thegatewaypundit.com
The Bank of Canada, the Bank of England, the Bank of Japan, the European Central Bank, the Federal Reserve, and the Swiss National Bank are today announcing a coordinated action to enhance the provision of liquidity via the standing U.S. dollar liquidity swap line arrangements.
To improve the swap lines' effectiveness in providing U.S. dollar funding, the central banks currently offering U.S. dollar operations have agreed to increase the frequency of 7-day maturity operations from weekly to daily. These daily operations will commence on Monday, March 20, 2023, and will continue at least through the end of April.
The network of swap lines among these central banks is a set of available standing facilities and serve as an important liquidity backstop to ease strains in global funding markets, thereby helping to mitigate the effects of such strains on the supply of credit to households and businesses.
Source: federalreserve.go
The Federal Reserve is expected to raise interest rates another 25 basis points – or 0.25% next week amid the banking crisis.
Two US banks failed in the last week after they were unable to produce enough cash for depositors.
Silicon Valley Bank and Signature Bank collapsed within the last week.
Moody's cut the outlook for the entire US banking sector after the banks failed.
source: thegatewaypundit.com
One investor just bet $1 million dollars that Bitcoin will skyrocket over the next 90 days. 
This isn't your typical fractional reserve situation. The problem is that there isn't enough in the banks on a mark-to-market basis to cover withdrawals. They knew this through all of last year, and communicated it internally in their coded language.

It's obvious from the graphs (see below). The central banks, the banks, and the banking regulators all knew a huge crash was coming — the phrase is "unrealized losses" [1,2,3,4,5]. But they never notified you, the depositor.
Source: thegatewaypundit.com
They are trying to collapse the smaller banks into the bigger banks
Given that the Federal Reserve often causes the very thing it was designed to prevent, perhaps it's time to revisit its structure and role. https://t.co/vCwekGCHd9

— Mike Lee (@BasedMikeLee) March 19, 2023
---
Political/Rights
Democrats have a more favorable view of Senate Minority Leader Mitch McConnell (R-KY) than Republicans do, a Rasmussen Reports survey released Thursday found.
The survey examined the likability of three Republican leaders: Former President Donald Trump, House Speaker Kevin McCarthy (R-CA), and McConnell.
The survey showed 52 percent of likely voters with a favorable view of both Trump and McCarthy.
Of those, 31 percent view Trump "very" favorably, while 22 percent view McCarthy "very" favorably. However, McConnell struggles to see a positive favorable rating across the board, as 60 percent hold an unfavorable view, while 31 percent have unfavorable view. Just nine percent view the 81-year-old "very" favorably.
Source: breitbart.com
Comer: Hunter Biden Revelations 'Just the Beginning'
During an appearance on Fox News Channel on Sunday, House Oversight Committee chairman Rep. James Comer (R-KY) said recent findings by the House Republican investigation into the Biden family's business dealings were "just the beginning."
"So there's evidence in the laptop that shows that Hunter Biden was communicating with them and had had interactions and done things for them while his father was vice president. So this is very concerning. Again, the White House hasn't been truthful about this from day one. I don't think the White House ever dreamed we would get bank records. I have got bad news for the White House. This is just the beginning. We're going to get a lot more bank records, and they're going to have to continue to backpedal and come up with some type of reason why the Biden family has received millions and millions of dollars from our adversaries."
Source: breitbart.com
🤥🤥🤥🤥

We've got the bank records. https://t.co/1wH1XzZ2JD pic.twitter.com/yDYPcOxKYW

— Oversight Committee (@GOPoversight) March 20, 2023
The US Virgin Islands hit back against JPMorgan's claim earlier this month that CEO Jamie Dimon had no clue that Jeffrey Epstein was breaking the law.
"Jamie Dimon knew in 2008 that his billionaire client was a sex trafficker," argued US Virgin Islands attorney Mimi Liu during a late Thursday hearing in front of Manhattan US District Judge Jed Rakoff, referring to the year Epstein was first criminally charged with sex crimes, CNBC reports.
"If Staley is a rogue employee, why isn't Jamie Dimon?" Liu said during the hearing to discuss the bank's efforts to have the USVI lawsuit against the bank dismissed.
"Staley knew, Dimon knew, JPMorgan Chase knew," Liu continued, noting that there were several cash transfers and wire transfers made by the prolific pedophile (Epstein), including several hundreds of thousands of dollars paid to several women which should have been flagged as suspicious.
"They broke every rule to facilitate his sex trafficking in exchange for Epstein's wealth, connections and referrals," said Liu, adding "This case was not just Jes Staley … there will be numerous documents that go far beyond his office to the executive suite."
In their suit against Staley, a lawyer for JPMorgan said "all roads go to Mr. Staley," adding "He will be at the center of this case whether there is one or two."
Source: zerohedge.com
A US judge on Monday said JPMorgan Chase must face a lawsuit by the US Virgin Islands accusing the bank of enabling the late financier Jeffrey Epstein's sex trafficking.
The judge also said JPMorgan and Deutsche Bank must face lawsuits by two women who said Epstein sexually abused them, and who also accused the banks of enabling his sex trafficking.
The judge said he would explain his reasons for the rulings in due course.
Source: nypost.com
Let me tell you my theory about why you haven't seen any public action on the Epstein/Maxwell black book client list yet.
Q followers will understand this better than those who are not.
The people **holding** the compromising evidence over the elites who were doing what they were told to do – or else! – changed when Epstein was taken down.
All the compromising blackmail evidence CHANGED HANDS.
Patriots are in control & are now giving the orders to these compromised assets.
Q

 

!!mG7VJxZNCI

 

ID: 20edf2

 No.5795457

Bill-Clinton.jpg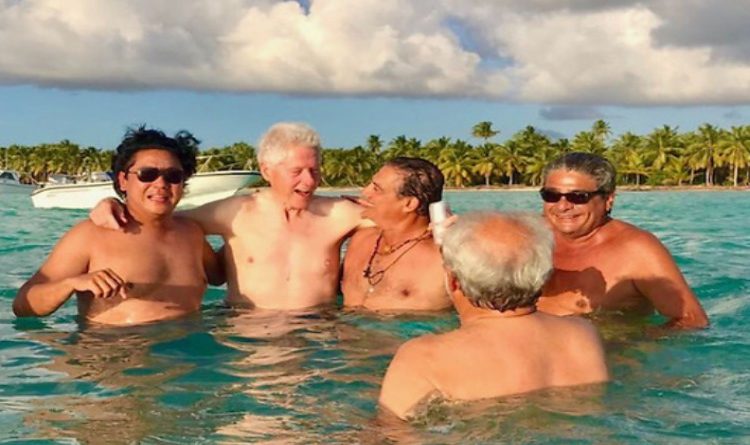 Q

 

!!mG7VJxZNCI

 

ID: 9ba2be

 No.5801092

Q

 

!!mG7VJxZNCI

 

ID: 9ba2be

 No.5801012


>>5800988
WHO IS RACHEL CHANDLER?
Q
>>5801012
WHAT HIGH-PROFILE 'ELITE' PEOPLE FUND AND PROVIDE RACHEL W/ HER PHOTOGRAPHY STUDIO?
WHAT IS THE STUDIO USED FOR?
WHAT IS THE STUDIO REALLY USED FOR?
WHO HAS RC BEEN PICTURED WITH?
THIS GOES FAR BEYOND SPIRIT COOKING MODELS.
Q
---
Geopolitical/Police State
Former President Donald Trump on Friday made his first post on Facebook since his account was banned in 2021.
"I'M BACK," Trump posted along with a twelve-second video clip from his 2016 election night victory speech.
Source: breitbart.com
February saw a continuation of the trend of Americans buying firearms, with the 43rd straight month of gun sales exceeding one million.
Firearms were still in hot demand, despite the slight dip in sales compared to February 2022, with over 1.3 million units sold last month. The numbers were based on retail data and FBI background checks and were adjusted by the National Shooting Sports Foundation, a firearm industry trade association.

 Source:  ussanews.com
---
War
Source: breitbart.com
A warrant was issued Friday by the International Criminal Court for the arrest of Russian President Vladimir Putin, accusing him of war crimes including an alleged scheme to deport Ukrainian children to Russia.
The court called for Putin's arrest on suspicion of unlawful abduction and deportation of children, along with the illegal transfer of people from Ukraine to Russia, in its first warrant related to the Kremlin's brutal, year-long invasion.
Source: nypost.com
Same movie, different showing time. pic.twitter.com/cz6iyu0B4r

— Dave (@davespace_) March 20, 2023
China, Russia, Iran, North Korea and other Nations of a less than friendly nature, are busy "CARVING UP THE WORLD" as our once great United States of America sits back and watches. We are a Failing Nation, with Open Borders, Fake Elections, and a horrible Inflation Riddled Economy. We no longer set the standard, the standard sets us. Our so-called "Leader" does NOTHING except Eat, Sleep, and S..t! Where have you gone Joe DiMaggio?"

"Where have you gone, Joe DiMaggio?" — the line in Simon and Garfunkel's 1968 No. 1 hit "Mrs. Robinson" — annoyed the Yankee legend until he understood it.
Paul Simon, a Yankee superfan, told Fran Healy for MSG's "The Game 365" that the line in the song came to him out of nowhere and that he never expected he would have to explain its meaning to DiMaggio himself.
"I happened to be in a restaurant and there he was," recalls Simon. "I gathered up my nerve to go over and introduce myself and say, 'Hi, I'm the guy that wrote "Mrs. Robinson," ' and he said 'Yeah, sit down . . . why'd you say that? I'm here, everyone knows I'm here.' I said, 'I don't mean it that way — I mean, where are these great heroes now?' He was flattered once he understood that it was meant to be flattering."
---
False Flags
Pfizer, CDC Withheld Evidence of Myocarditis After COVID Shots, New Documents Reveal
Pfizer and the Centers for Disease Control and Prevention (CDC) withheld evidence that COVID-19 vaccinations were causing myocarditis, according documents obtained by Children's Health Defense via a Freedom of Information Act request to the CDC, and documents leaked this week to Project Veritas.
 
Pfizer and the Centers for Disease Control and Prevention (CDC) withheld evidence that COVID-19 vaccinations led to an increased risk of myocarditis, especially in young males, according to two sets of documents made public this week.
Confidential Pfizer documents leaked Thursday by Project Veritas show the company had "evidence that suggests patients who receive a COVID-19 vaccine are at an increased risk of myocarditis."
And heavily redacted CDC documents obtained by Children's Health Defense (CHD) via a Freedom of Information Act (FOIA) request indicate the agency provided an undercounted figure of post-COVID-19-vaccination myocarditis cases to Israel's Ministry of Health in early 2021.
The latest revelations come as Germany, Japan and other governments are raising questions about the significant numbers of severe adverse events recorded in individuals following administration of the COVID-19 vaccines.
According to researchers at the National Organization for Rare Disorders, myocarditis can result from infections, or it may result directly from a toxic effect such as a toxin or a virus.
"More commonly the myocarditis is a result of the body's immune reaction to the initial heart damage," researchers said.
Severe myocarditis can permanently damage the heart muscle, possibly causing heart failure.
Internal documents contradict Pfizer claim of 'low incidence of myocarditis' 
An internal Pfizer document leaked to Project Veritas on Thursday, updated Feb. 11, 2022, and authored by eight scientists in Pfizer's Drug Safety Research & Development division, indicates that the drugmaker was aware of a connection between mRNA COVID-19 vaccines and higher incidence rates of myocarditis within two weeks of vaccination — particularly following the second dose of the primary series.
 
Source:  childrenshealthdefense.org
---
Q
Left wing infiltrator sentenced to prison after pepper-spraying police officers and breaking a window on January 6th at the Capitol.

This was one of many leftist agitators there that day, yet we have been told by the media, FBI and Jan 6th Committee that none were present. pic.twitter.com/bVXaDmEWAu

— Gain of Fauci (@DschlopesIsBack) March 20, 2023
Fulton County DA Fani Willis is considering RICO and conspiracy charges against Trump over his efforts to challenge the 2020 election, according to a leak to CNN.
 
Fani Willis is now considering racketeering and conspiracy charges against Trump because there is so-called 'evidence' that Trump's effort to challenge the election in Georgia did not originate in the state as a grassroots movement.
CNN reported:
Source: thegatewaypundit.com
It seems kind of important to remember and share this right now…

"Porn star Stormy Daniels denies having an affair with Trump" pic.twitter.com/URGOGpDdZf

— Gain of Fauci (@DschlopesIsBack) March 19, 2023
Woooooow, Ron DeSantis declares the far left takeover of the judiciary, leading to the potential arrest of a former president, not a "real issue". https://t.co/K91NXZzQvv

— Raheem J. Kassam (@RaheemKassam) March 20, 2023
Actually people do care about this because it is crossing a point of no return, turning the greatest nation on earth into a third world nation.
Florida's Voice on Twitter
"WATCH: DeSantis says he will not get involved in "manufactured circus" from "Soros DA" in reference to Trump indictment rumors "He's trying to do a political spectacle […] I can't spend my time worrying…
Ron DeSanctimonious will probably find out about FALSE ACCUSATIONS & FAKE STORIES sometime in the future, as he gets older, wiser, and better known, when he's unfairly and illegally attacked by a woman, even classmates that are "underage" (or possibly a man!). I'm sure he will want to fight these misfits just like I do!
He is playing both sides right now.
Want some examples? Alvin Bragg gave a misdemeanor to a man who committed an anti-Semitic assault in Times Square, to a man who robbed a drug store at knifepoint, and to a man with 36 priors charged with grand larceny who proceeded to assault a woman on the street. pic.twitter.com/gcXISVBbWd

— Greg Price (@greg_price11) March 18, 2023
The Manhattan DA doesn't have the ability to come up with the comingled mess of a case that his office is attempting against the President of the United States, Donald Trump. He's just not too bright.  So he needed lots of help.
Reports are that his Chief Assistant DA Meg Reiss is the mastermind but was this really her insane and sadistic idea?
This looks and smells like an Andrew Weissmann special.  Weissmann, a little man with a secret personal life, was behind numerous prosecutorial crimes in large cases since his early days in New York in the 1990s.  He has a horrible track record of prosecutorial abuse.
Andrew Weissmann was intimately involved in some of the most egregious corruption scandals in US history. Weissmann was involved in FBI activities with the mob in New York in the 1990s.  He was a key member of the Enron Task Force in the early 2000s and also was involved in the sale of Uranium One under Obama.  After all of his corrupt acts, he then led the corrupt Mueller Special Counsel. 
In all of these scandals, Weissmann's actions have been consistently corrupt and abhorrent. 
Source: thegatewaypundit.com
Remember this?
The FEC in 2022 fined Hillary Clinton and the DNC for lying about funding the fake Russia dossier.
The FEC fined Clinton and said her campaign violated the rules because they failed to disclose payments funneled to Fusion GPS through DNC law firm Perkins Coie.
Hillary Clinton got a light slap on the wrist for her crimes.
Hillary Clinton skated after she paid more than $1 million for a fake dossier and gave it to the FBI/CIA to spy on her political opponent, Donald Trump.
"The FEC, in a memo to the Coolidge Reagan Foundation, which filed its complaint over three years ago, said it fined Clinton's treasurer $8,000 and the DNC's treasurer $105,000." the Washington Examiner reported last year.
Trump was also accused of violating campaign finance law when he allegedly paid Stormy Daniels a 'hush payment' in 2016, but instead of fining him, a Soros-backed District Attorney is threatening to arrest him on a felony indictment.
Source: thegatewaypundit.com
FBI's Comey says 'no reasonable prosecutor' would bring a case against Clinton for emails-2016
FBI Director James Comey said his office is not recommending prosecutors bring charges against Hillary Clinton for her handling of classified information in connection with private email servers while secretary of state.
"Although the Department of Justice makes final decisions on matters like this, we are expressing to Justice our view that no charges are appropriate in this case," Comey said Tuesday.
Source: cnbc.com
Biden wants to pretend he has nothing to do with the Manhattan D.A.'s Assault on Democracy when, in fact, he has "stuffed" the D.A.'s Office with Department of Injustice people, including one top DOJ operative from D.C. who is actually running the "Horseface" Witch Hunt. Bragg is a (Soros) Racist in Reverse, who is taking his orders from D.C. I beat them TWICE, doing much better the second time, and despite their DISINFORMATION campaign, they don't want to run against "TRUMP" or my GREAT RECORD!
May 31, 2020 8:47:15 PM EDT
YOU ARE WITNESSING THE GREATEST
[COORDINATED]
DISINFORMATION
CAMPAIGN TO EVER BE LAUNCHED AGAINST THE AMERICAN PEOPLE.
INFORMATION WARFARE.
INFILTRATION V INVASION INSURGENCY.
IRREGULAR WARFARE.
[D] EFFORTS TO REGAIN POWER.
Q
THE LEAD PROSECUTOR FOR THE CORRUPT MANHATTAN D.A.'s OFFICE WORKED AS A LAWYER FOR CROOKED HILLARY CLINTON AND HER LAW FIRM, LEFT THIS DEMOCRAT FIRM WITH OTHERS TO VOLUNTEER TO "GET DONALD TRUMP" AT THE D.A.'s OFFICE, FOR FREE. HE QUIT IN A HUFF WHEN D.A. BRAGG SAID THERE WAS NO CASE HERE. HE THEN UNETHICALLY & ILLEGALLY WROTE & PUBLISHED A BOOK ABOUT THE CASE WHILE IT WAS GOING ON. THIS IS UNHEARD OF "STUFF." THE CASE IS NOW COMPLETELY COMPROMISED & REPORTS ARE THAT MARK POMERANTZ IS IN TROUBLE
 He isn't above the law
"And some believe that he did organize them as they attacked our Capitol on January 6," she went on. "This president has conducted himself in a way that he does not deserve not to be arrested. He should be arrested. He should be indicted. And the charges that he's being indicted on are minimal, as opposed to the charges that I believe he could have been indicted on. I don't know what's going to happen when he announces himself. It's almost like he's attempting to organize his domestic terrorists to show up and to resist him being arrested. You have to be careful with him."
"I just wanted to, you know, have you to understand that perhaps he was trying to organize domestic terrorists, to protest his arrest," she added. "And I think we have to be careful about him making that announcement. He's doing it for a reason."
"
Source: beckernews.com
New Yorkers! If they try to January 6th a NY Courthouse, show up with bats! Time to put these Maga MFers in their place!

I'm donating $1 million toward ARMED security. No more fkn around. If we're gonna take this prick down, we have to do it together!https://t.co/VY0Qx8S8mD

— 🇺🇸 John Anthony Castro (@realJohnACastro) March 17, 2023
"Echoing January 6"? So you mean feds are planning to infiltrate any peaceful protests to stoke violence and then blame patriots so they can arrest and imprison more of their political opponents?
McCarthy Orders Immediate Investigation After Donald Trump Floats Forthcoming Arrest
House Speaker Kevin McCarthy (R-CA)  alled for an immediate investigation following former President Donald Trump's assertion that he will be arrested next week based on "illegal leaks" from the Manhattan District Attorney's Office.

" 
Q

 

!!mG7VJxZNCI

 

ID: ebfcff

 No.5760023

What occurred the last time a countdown was presented?
[FF]
Do you believe in coincidences?
Never interfere with an enemy……..
Ammunition is hard to come by.
Q
Source: breitbart.com
There was no "misdemeanor" here either. There was no crime, period. All other of the many Democrat law enforcement officers that looked at it, took a pass. So did Cy Vance, and so did Bragg. But then, much latter, he changed his mind. Gee, I wonder why? Prosecutorial Misconduct and Interference with an Election. Investigate the Investigators!
·

They are MANY years beyond the Statute of Limitations which, in this instance, is TWO YEARS. More importantly, THERE WAS NO CRIME!!!
CAN YOU IMAGINE THE GREAT NEW YORK CITY POLICE DEPARTMENT, CORRECTLY REFERRED TO AS "NEW YORK CITY'S FINEST," WHO, FOR THE FIRST AND ONLY TIME IN HISTORY, ENDORSED A PRESIDENT, ME, & HONORED ME AS "MAN OF THE YEAR," HAVING TO DEFEND & PROTECT THE "DEFUNDERS" & "COP HATERS" OF THE RADICAL LEFT THAT WANT TO PUT THEIR GREATEST CHAMPION & FRIEND IN PRISON FOR A CRIME THAT DOESN'T EXIST…ALL THE WHILE THE SOROS BACKED D.A. ALLOWS MURDERERS & OTHER VIOLENT CRIMINALS TO FREELY ROAM THE SIDEWAKS OF N.Y.?
 Trump attorney says 'there won't be a standoff at Mar-a-Lago' if he's indicted in NY
Trump countered what they were trying to do. 
They were going to come in with helicopters, police and make the arrest TV worthy,to shock the world. Trump countered this by sending out the message that he was going to be arrested.
REMEMBER, THE SAME ANIMALS AND THUGS THAT WOULD DO THIS TO PERHAPS 200 MILLION PEOPLE, BUT ACTUALLY ALL AMERICANS, ARE THE COMMUNISTS, MARXISTS, RINOS, AND LOSERS THAT ARE PURPOSEFULLY DESTROYING OUR COUNTRY!
🕰️

— Elon Musk (@elonmusk) March 19, 2023
If this happens, Trump will be re-elected in a landslide victory

— Elon Musk (@elonmusk) March 18, 2023
Think about what Trump has been doing this entire time. He baited them, they keep saying that nobody is above the law, not even the President or former President
Q

 

!!mG7VJxZNCI

 

ID: 0ad5ef

 No.5791828

Let's take a journey back to January 18, 2018:
They're trying to stop him from what he'll do when he becomes president in 2024
Mar 21, 2020 10:32:03 PM EDT
Do not fear.
Q
Flags out, every house, every car, every bus, every train, every building,every person, let them see us
Tell your brothers sisters mother father cousin, friend us social media, dm, text,use the phone let the world see who the true president of the US is.
Take a picture of your flag post it everywhere.
For our President, for our country
If Trump is arrested on Tuesday, I will be releasing a special video.