[DS] Worst Nightmare, A United People, The Plan Is In Motion – Episode 2201
The [CB]/MSM are now feeling the pain, the economy is now opening up and it is coming back to life. Homebuilder sentiment has posted its biggest monthly surge. Retail sales increase by 17% this month and Trump and his administration are preparing for stimulus. The [DS]/MSM worst nightmare is coming true, the silent majority is now becoming united, the country will soon see that the country is actually united not divided. What we are witnessing now is the country going through withdrawal from the [DS]. Does this mean that they are finished pushing events, no, but as they push more and more of these events the people see the truth.
Check Out The X22 Report Spotlight YouTube Channel X22Report Spotlight
Please check Newzsentinel.com for the latest news on the economic collapse. The Sentinel Alerts are updated throughout the day.
---
Current News – 06.16.2020
Watch The X22 Report On Video
---
Economy
Homebuilder sentiment posts biggest monthly surge ever
A faster-than-expected turnaround in homebuyer demand,  
Builder sentiment jumped a striking 21 points in June to 58, the largest one-month increase ever, on the National Association of Home Builders/Wells Fargo Housing Market Index. Any reading above 50 indicates a positive market. In April, it plunged a record 42 points to 30.
Meanwhile, mortgage applications to purchase a newly built home jumped 10.9% annually in May, according to the Mortgage Bankers Association.
Of the homebuilder index's three components, current sales conditions jumped 21 points to 63. Sales expectations in the next six months rose 22 points to 68. Buyer traffic more than doubled from May to June, from 22 to 43. This last component was surprising, given how many builders reported more online inquiries and virtual tours during the pandemic.
Source: msn.com
Retail sales jumped higher in May as consumers returned to stores as coronavirus lockdowns were lifted across the United States.
Retail sales surged 17.7 percent compared with the prior month, according to Commerce Department data released Tuesday, easily beating expectations for an 8 percent gain.
Retail sales are now down 6.1 percent compared with a year ago
Still, the better than expected figures for May indicate that consumers are confident enough about the economy and the pandemic to spend their income.
Source: breitbart.com
---
Political/Rights
Many of America's leading universities failed to disclose funding from the Chinese government to the Department of Education, reigniting concerns about the communist regime's expanding influence on campuses across the country.
According to  federal records, only 30 percent of colleges that host or have hosted Chinese-financed Confucius Institutes have disclosed their financial ties to Beijing.
Confucius Institutes are programs underwritten by China's government with the declared aim of teaching Chinese culture and language to American learners.
Source: thenewamerican.com
---
Geopolitical/Police State
Trump nominee for key Pentagon spot is a 'conspiracy theorist who called Obama a terrorist leader': Democrats
President Donald Trump has nominated retired Army Brig. Gen. Anthony J. Tata for a key position in the Pentagon, but Democrats on the Senate Armed Services Committee, 
  Tata was vehemently critical of the Obama Administration's deal with Iran and claimed that it came about because of Obama's "Islamic roots." Obama, Tata claimed, did more to "help Islamic countries than any president in history."
See Anthony J. Tata's other Tweets
In May 2018, Tata attacked former CIA Director John Brennan and tweeted, "Might be a good time to pick your poison: firing squad, public hanging, life sentence as prison b*tch, or just suck on your pistol. Your call. #Treason #Sedition #crossfirehurricane #Obamagate." 
---
War
 For decades, the U.S. Navy's leading supplier of high-strength steel for submarines provided subpar metal because one of the company's longtime employees falsified lab results — putting sailors at greater risk in the event of collisions or other impacts, federal prosecutors said in court filings Monday.
The supplier, Kansas City-based Bradken Inc., paid $10.9 million as part of a deferred prosecution agreement, the Justice Department said. The company provides steel castings that Navy contractors Electric Boat and Newport News Shipbuilding use to make submarine hulls.
Bradken in 2008 acquired a foundry in Tacoma, Washington, that produced steel castings for the Navy. According to federal prosecutors, Bradken learned in 2017 that the foundry's director of metallurgy had been falsifying the results of strength tests, indicating that the steel was strong enough to meet the Navy's requirements when in fact it was not.
Source: defensenews.com
"We're putting the number down to 25,000 soldiers," Trump said at the White House.
"We're protecting Germany and they're delinquent. That doesn't make sense," the president continued, referring to Germany's failure to attain a goal set by all NATO members in 2014 to spend at least two percent of gross national product on defense by 2024. Germany says it hopes to reach two percent by 2031.
"Until they pay, we're removing our soldiers, a number of our soldiers," Trump said, noting America bears the burden of militarily defending Europe and gets precious little in return.
.@NATO, very unfair to the United States!
 In the current plan, at least some Germany-based troops are expected to be shifted to Poland.
Source: breitbart.com
.  On June 13, in an address to the US Military Academy at a West Point graduation ceremony, he proclaimed, "It is not the duty of US troops to solve ancient conflicts in faraway lands that many people have never heard of.  We are not the policemen of the world."
Source:  orientalreview.org
Seoul's Unification Ministry said the building in the North Korean border town of Kaesong was destroyed at 2:49 p.m.
It said that the detonation of the liason office had already been preannounced by the North, and that Seoul was seeking more details to access the situation, according to Yonhap.
---
False Flags
The Michigan Department of Health and Human Services revealed on Monday that 34 percent of all coronavirus deaths in the state are linked to nursing homes.
According to the Detroit News, there have been "1,947 deaths among patients in nursing facilities and 20 deaths among staff."
Last week, Whitmer defended her policy of sending coronavirus patients to nursing homes to WXYZ.
"There hasn't been one nursing home that has taken a COVID-19 patient that they didn't think that they were prepared to care for," Whitmer said.
Source: breitbart.com
Q

 

!!Hs1Jq13jV6

 

ID: 6b4788

 No.9345963

Expanding on last drop:
USA v Japan
Apply:
43% of 100% [nursing home] [death]
CDC conflate 34-57% COVID-19 deaths data [include: pneumonia-influenza]?
Avg pneumonia-influenza death(s) per season?
Why is the data constantly changing [past]?
Sometimes a wayback machine can find many easter eggs [CDC data then vs now].
Ignorance is a choice.
Q
🚨 Just sent letters to the Democrat governors of NY, NJ, CA, PA, and MI demanding they explain why they ignored protocols and forced COVID-19 patients into nursing homes.

The outcome was devastating.

Families who lost loved ones deserve answers. This tragedy was avoidable. pic.twitter.com/jfizJJSyfV

— Steve Scalise (@SteveScalise) June 15, 2020
who lost loved ones deserve answers. This tragedy was avoidable.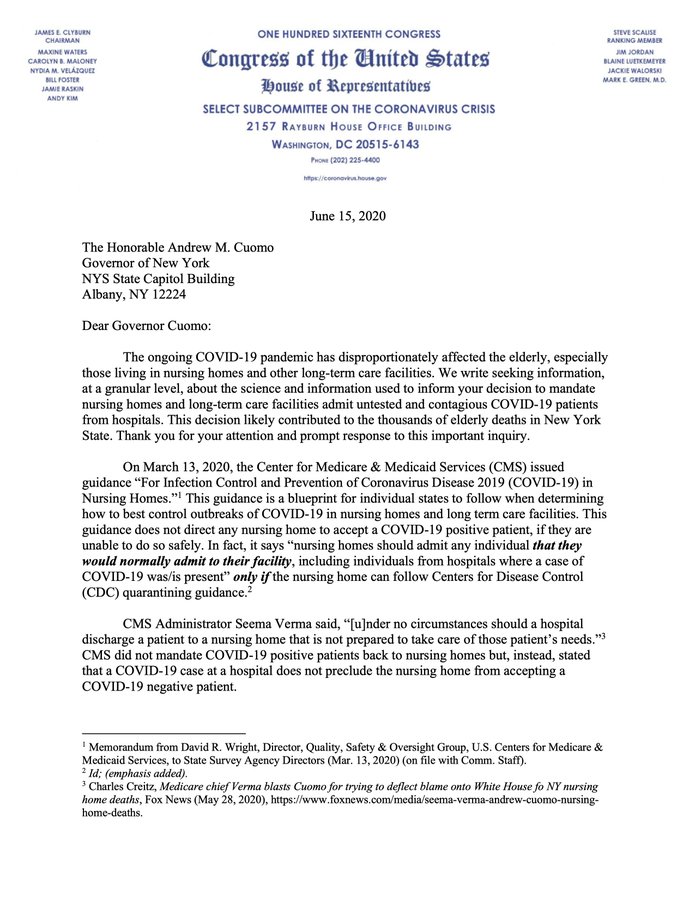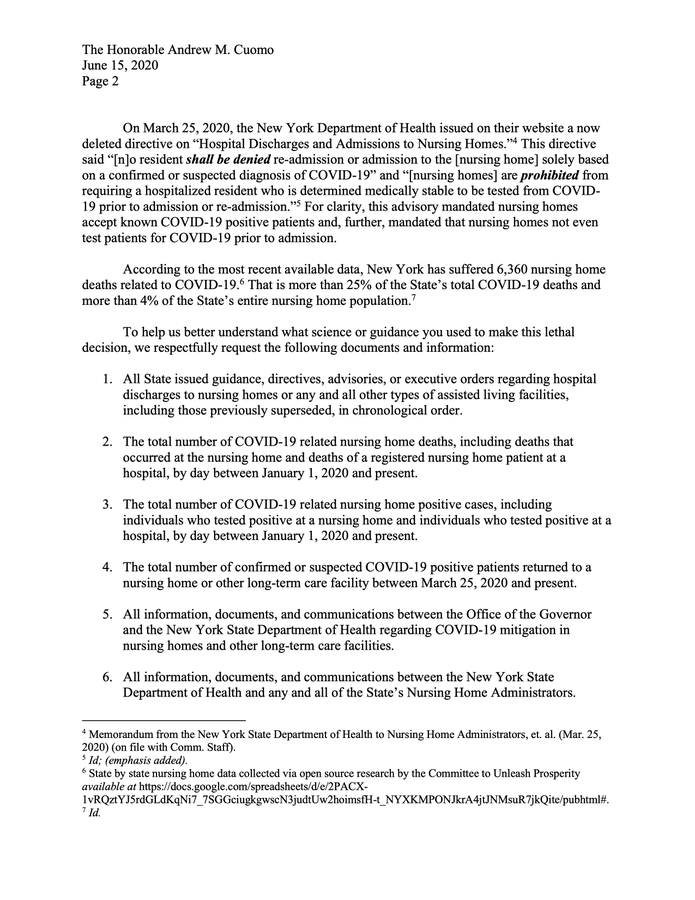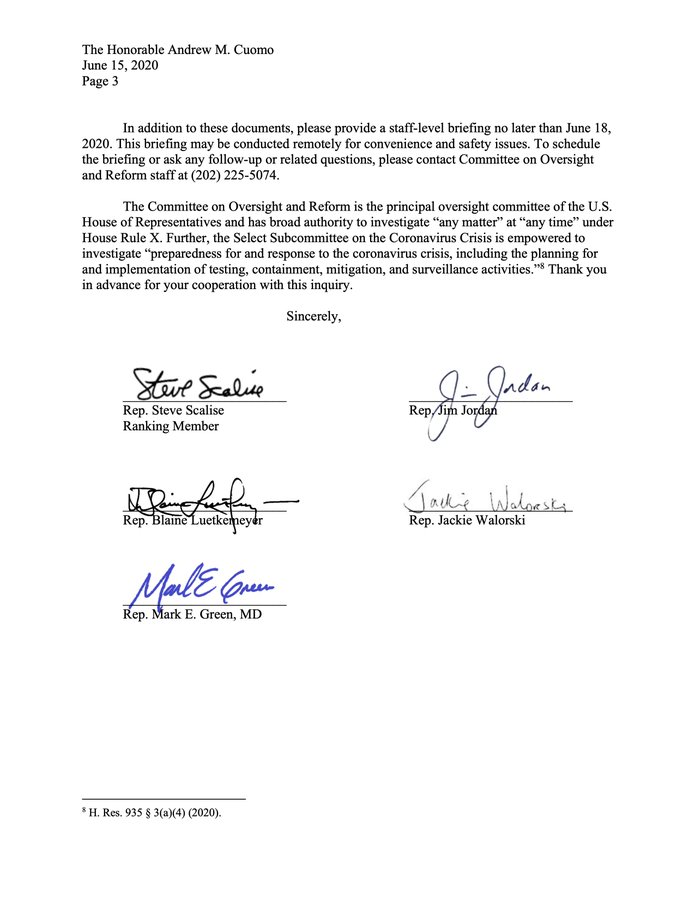 The [DS] is now pushing the the second save very hard
Lockdowns expanded in Beijing amid new coronavirus outbreak
Source: dailycaller.com
They are just repeating everything again, they believe the world will fall for it a second tim
God Bless the @nypost pic.twitter.com/uxzM0AEWtZ

— Janice Dean (@JaniceDean) June 16, 2020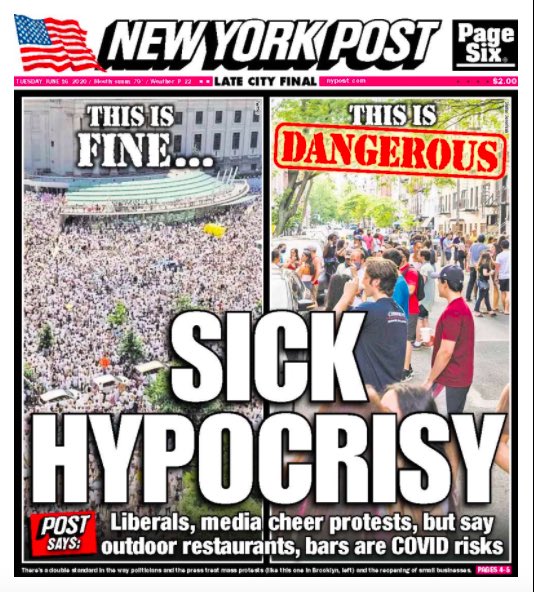 The graph from the CDC shows that we are in a decline
Local doctors have opposing take on using hydroxychloroquine to treat COVID-19 patients
At Houston's United Memorial Medical Center, dozens of COVID-19 patients have taken the drug, according to Dr. Joseph Varon, chief medical officer.
"Hydroxychloroquine works," Dr. Varon said. "I know a number of people think that it doesn't but we have treated more than 100 patients in the hospital with hydroxychloroquine and the patients have done well."
Source: click2houston.com
Emergency restrictions taken off #Hydroxychloroquine pic.twitter.com/uTwL8Zc5Uj

— Karli Q ⭐️⭐️⭐️ (@KarluskaP) June 15, 2020
TAKE A LISTEN
Listen to the FDA, not this president. https://t.co/CA7V0JBmqm

— Hillary Clinton (@HillaryClinton) June 16, 2020
Tonight, three of our brothers in blue were intentionally poisoned by one or more workers at the Shake Shack at 200 Broadway in Manhattan. After tasting the milk shakes they purchased they became ill, making it necessary for them to go to an area hospital. Fortunately, our fellow officers were not seriously harmed.
Source: nycdetectives.org
Which "boys" you talking about ? pic.twitter.com/Y1KecJ7WVn

— l E T 17 (@Inevitable_ET) June 16, 2020
"The #FirstAmendment does not permit people to use a protest as cover to commit arson, destroy property or incite violence. Any protestors who cross this line should know that we will use every tool at our disposal to find you and prosecute you." @USAttyBrady https://t.co/BemGXgxIXa

— U.S. Attorneys (@USAttorneys) June 3, 2020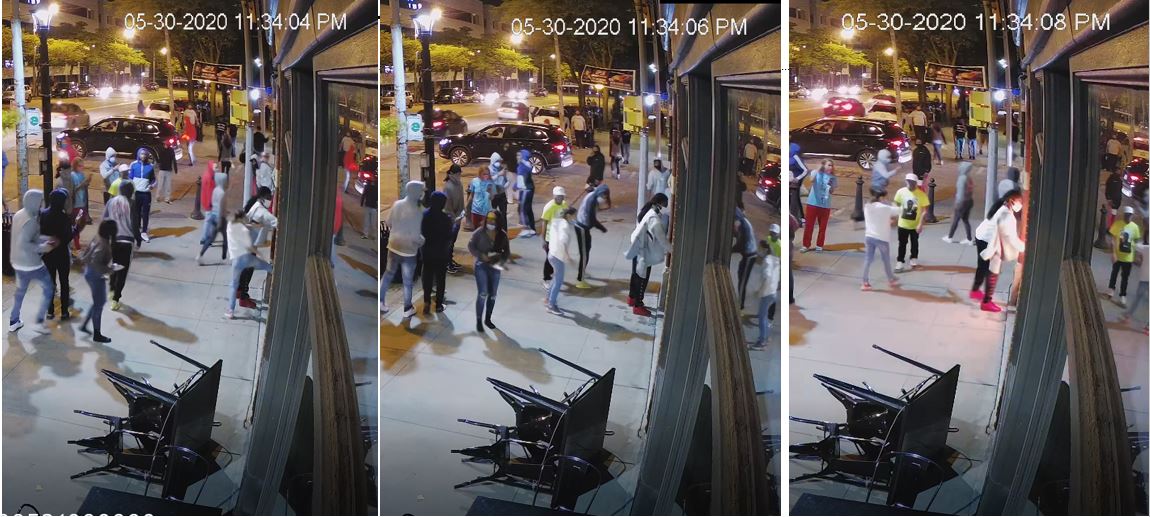 Attorney General William P. Barr's Statement on Riots and Domestic Terrorism
Attorney General William P. Barr has issued the following statement:
"With the rioting that is occurring in many of our cities around the country, the voices of peaceful and legitimate protests have been hijacked by violent radical elements.  Groups of outside radicals and agitators are exploiting the situation to pursue their own separate, violent, and extremist agenda.
It is time to stop watching the violence and to confront and stop it.  The continued violence and destruction of property endangers the lives and livelihoods of others, and interferes with the rights of peaceful protestors, as well as all other citizens.
It also undercuts the urgent work that needs to be done – through constructive engagement between affected communities and law enforcement leaders – to address legitimate grievances.  Preventing reconciliation and driving us apart is the goal of these radical groups, and we cannot let them succeed.
It is the responsibility of state and local leaders to ensure that adequate law enforcement resources, including the National Guard where necessary, are deployed on the streets to reestablish law and order.  We saw this finally happen in Minneapolis last night, and it worked.
Federal law enforcement actions will be directed at apprehending and charging the violent radical agitators who have hijacked peaceful protest and are engaged in violations of federal law.
To identify criminal organizers and instigators, and to coordinate federal resources with our state and local partners, federal law enforcement is using our existing network of 56 regional FBI Joint Terrorism Task Forces (JTTF).
The violence instigated and carried out by Antifa and other similar groups in connection with the rioting is domestic terrorism and will be treated accordingly."
source: justice.gov
Executive Order on Safe Policing for Safe Communities
President Trump:

"Without police, there is chaos. Without law, there is anarchy. Without safety, there is catastrophe."

"Reducing crime and raising standards are not opposite goals. They are not mutually exclusive. They work together." pic.twitter.com/etLfztA0QD

— Daily Caller (@DailyCaller) June 16, 2020
President Trump: "They've come up with the AIDS vaccine." pic.twitter.com/JF6zCdmPYC

— The Hill (@thehill) June 16, 2020
>>342895
Q, how long will we have to wait for the cures of cancer and other sicknesses?
>>342919
Chatter amongst those in control has begun.
They know we know which means the public will know.
Release prior to cover up.
Public informed and collapse.
Which option?
Q
---
Q
external hack attack are coming from all around the US for the T-Mobile outage. Verizon, AT&T, and Sprint users are also reporting issues today as well but the biggest impact to service seems to be with T-Mobile and Metro PCS so far. We need to stop depending on China
Source: thegatewaypundit.com
Why would the cell system go down, does the NSA monitor, can they hear chatter, bringing the cell system down in certain areas allows the [DS] to do what, coordinate their next move
Don't they go dark right before a FF
Q
!!Hs1Jq13jV6
It's going to be a very hot
[spring/summer]
.
Q
Important to understand.
MSDNC [+social media] projection we are the minority is false.
WE ARE THE MAJORITY AND GROWING EVERY SECOND OF THE DAY.
MSDNC [+social media] projection we are divided is false.
WE ARE UNITED AND ONLY GETTING STRONGER.
People are awake and see what is happening.
Patriots have no skin color.
Humanity is good.
Q