Swamp Creatures Exposed, Prepare For Shockwave, Silent Majority No More – Episode 2200
The [CB]/MSM are pushing their agenda to bring the economy down again, the second wave is here but the people are not buying it, businesses are opening up and people are going back to work. May retail numbers are going to look a lot better than April. Trump is getting ready to cut taxes and promote stimulus for going back to work. The [DS]/MSM event push has failed again, people are awake, they see what is going on. The FDA has now ended HCQ emergency use, it is not what you think. The silent majority is no more, the people are ready to stand with each other, the time has arrived. The swamp creates are exposed, more shockwaves coming.
Check Out The X22 Report Spotlight YouTube Channel X22Report Spotlight
Please check Newzsentinel.com for the latest news on the economic collapse. The Sentinel Alerts are updated throughout the day.
---
Current News – 06.15.2020
Watch The X22 Report On Video
---
Economy
Dallas Fed Chair Sparks Market Crash After Fear-Mongering on Second Wave of COVID-19 and Mask-Wearing (VIDEO)
  Robert Kaplan, the Dallas Federal Reserve President,  started lecturing on masks and a second wave to the coronavirus.
 
Kaplan is not a doctor and was sharing his own uneducated opinion on the virus.
On Monday the US stock market is down by nearly 600 points off of Kaplan's comments.
Source: thegatewaypundit.com
Retail sales in May expected to rebound amid COVID-19 pandemic
The May retail sales report will peel back the curtain on the health of the U.S. consumer amid one of the worst global pandemics in modern history. The consumer is expected to have rebounded following April's record plunge in retail sales.
Economists surveyed by Bloomberg expect headline retail sales rose 8%, up from a 16.4% decline in April.
Source: news.yahoo.com
White House: U.S. Economy in 'Recovery Stage'
White House economic adviser Larry Kudlow said  the U.S. economy, the world's largest, is "now in a recovery stage" from the debilitating effects of the coronavirus pandemic that closed thousands of businesses,
   Trump administration is envisioning "some kind of bonus to return to work" for those who have been laid off, although not as much as the weekly federal unemployment compensation supplements that have been paid for 2 ½ months. Some lawmakers have suggested a one-time $1,200 stipend might be paid to returning workers.
Source: english.chosun.com
White House favors $2 Trillion dollar Phase 4 Stimulus. Focusing on Payroll Tax Relief and decoupling from China by bringing manufacturing back to the US.
---
Political/Rights
The MSM/Ds are continually projecting that Trump will not accept the election results, Biden is saying, think about what happened back in 2016, they are saying the same thing again,
"Trump isn't going to accept the 2020 election results," these are the same people who still haven't accepted the 2016 election results.
That started the Russian Collusion investigation because they haven't accepted the election results
That started ism because they haven't accepted the election results
That started the impeachment because they haven't accepted the election results
That started the pandemic because they haven't accepted the election results
That started the riots because they haven't accepted the election results
On Flag Day and throughout National Flag Week, we pay tribute to the American flag, the most recognizable symbol of the principles for which our Republic stands.  For more than 200 years, the Stars and Stripes has represented liberty, justice, and the rule of law.  Recently, as our Nation has come together to respond to the coronavirus pandemic, our flag has been a reminder of the courage, tenacity, and loyalty that define the indomitable American spirit.Our great flag causes us to reflect humbly on the immeasurable price that has been paid to keep it "so gallantly streaming."  Throughout our Nation's history, proud patriots have nobly answered the call of duty when our country needed them most.  The Star Spangled Banner serves as an everlasting remembrance of the sacrifices heroes of every generation have made in conflicts from the Revolutionary War to the wars in Iraq and Afghanistan.  Our flag ensures that we never forget the incredible sacrifices our men and women in uniform have made to defend our liberty and way of life.This year, Old Glory has waved over millions of brave Americans fighting the invisible enemy, often at risk to their personal health and wellbeing.
---
False Flags
Cuomo Threatens to Reverse New York Reopenings After Receiving 25,000 Complaints
New York Gov. Andrew Cuomo has warned that the state's phased reopening may have to be reversed after tens of thousands of complaints of violations of social distancing and other emergency requirements were received statewide.
The governor revealed Sunday during a daily press briefing that more than 25,000 complaints were made against businesses in New York—the state hardest hit by the CCP virus—with the majority of the complaints in Manhattan and the Hamptons, affluent beach communities on the east end of Long Island.
We have received 25,000 complaints of reopening violations.

Bars or restaurants that violate the law can lose their liquor license.

People with open containers in the street can be fined.

Police & protesters not wearing masks can be fined.

Local gov't must enforce the law.
27.3K people are talking about this
Source: theepochtimes.com
NYC COVID-19 Contact Tracers Not Asking About George Floyd Protest Participation, Despite Fears of New Virus Wave
Over the two last weeks, Mayor Bill de Blasio and others have voiced concerns that packed police brutality protests across the city could trigger a new wave of COVID-19 infections.
Whether or not that's the case, however, remains unknown — and de Blasio's team won't be directly trying to find out.
The hundreds of contact tracing workers hired by the city under de Blasio's new "test and trace" campaign have been instructed not to ask anyone who's tested positive for COVID-19 whether they recently attended a demonstration, City Hall confirmed to THE CITY.
"No person will be asked proactively if they attended a protest," Avery Cohen, a spokesperson for de Blasio, wrote in an emailed response to questions by THE CITY.
Source; thecity.nyc
Little over an hour apart. pic.twitter.com/K2a7fGRNDd

— Mark Hemingway (@Heminator) June 15, 2020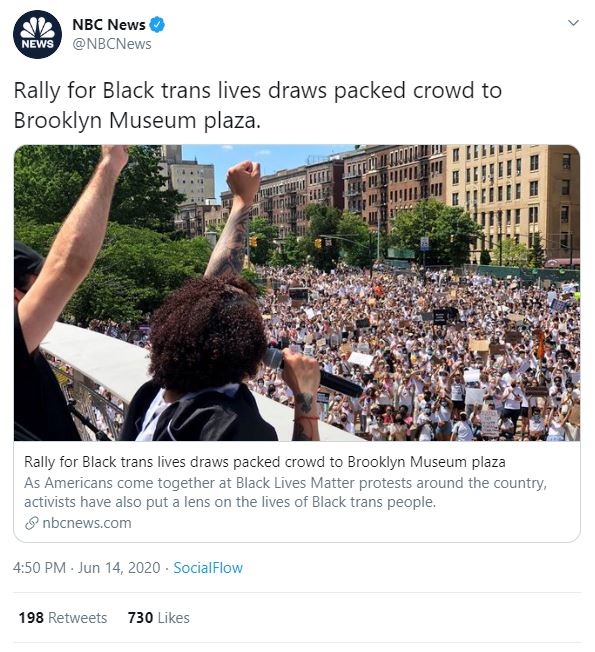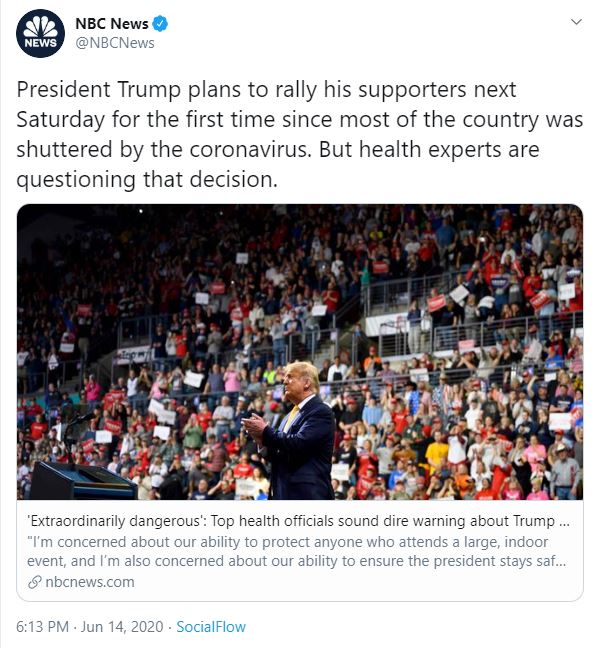 Just some "mostly peaceful" BLM protestors here in NYC, sharing their policy opinions and being responsible, law-abiding citizens pic.twitter.com/zTo7ZcVAmU

— Buck Sexton (@BuckSexton) June 15, 2020
On Friday we learned that summer sleepaway camps would not open in NY. Kids are being turned away from playgrounds in Brooklyn. Yet just a few miles away, this rally occurred today. The lockdown is over, except for the camps, schools & stores that are forced to comply with it. pic.twitter.com/iAXKOERkee

— Joel M. Petlin (@Joelmpetlin) June 14, 2020
My family can't open their restaurants, but this can happen.
Unreal https://t.co/XSVBRYU8Dd

— Will Ricciardella (@WillRicci) June 14, 2020
My mom passed away this morning and I wasn't able to say goodbye last night. https://t.co/CRtljXk4GD

— Autumn Johnson (@LegallyAutumn) June 15, 2020
A huge percentage of the country was told they couldn't hold funerals for loved ones, worship together, or even open businesses for months. Many of those restrictions still stand even now.

The distrust and resentment from this double standard will far outlast this pandemic. pic.twitter.com/v10v1Hs9z2

— James Hasson (@JamesHasson20) June 15, 2020
You are a degenerate soulless lowlife.

2 weeks ago my grandmother, a 90 year old Holocaust survivor died alone in the hospital, she was afraid, she begged us to be with her, but you wouldn't allow that, you wouldn't even allow us to attend her funeral.

We will never forgive you https://t.co/YivkjD9UpG

— Reagan Battalion (@ReaganBattalion) June 15, 2020
MSM still predicting a Covid APOCALYPSE, but their web of lies is collapsing around them
The mainstream media is still trying to drum up fear and hysteria on the basis of cherry-picked statistics. A glance at the figures is enough to prove them liars. Someone should let them know: no one is listening anymore.
The US has recently surpassed 2 million cases, according to official figures, representing almost one-third of the world's coronavirus infections. Much of the reporting on recent statistics features words like 'spikes', 'surges', and 'hot spots', but patterns in the statistics suggest that some areas have dwindling levels of the virus, while it is only now beginning to spread in others.
What can I say? They're lying. There has been a clear and persistent drop in cases ever since the peak towards the end of April, about six weeks ago. This is just another example of MSM outlets publishing half-truths, cherry-picked statistics, and agenda-driven stories in order to push their narrative. Your best bet for getting good information is alternative outlets like this one and various lone voices on Twitter.
One such voice is that of former New York Times reporter turned novelist and pundit Alex Berenson, who tweeted on Friday to dispel this tired MSM narrative.
1/ Hey, wonder why @cnn and the rest of Team Apocalypse are screaming so hard about new "cases" (aka positive tests, which are actually falling nationally, btw)? It might because daily US Covid deaths have fallen two-thirds in six weeks. True story, not that you've heard it…
1,730 people are talking about this
Source: rt.com
FDA ends emergency use of hydroxychloroquine for coronavirus
After reviewing new information from large clinical trials the agency now believes that the suggested dosing regimens "are unlikely to produce an antiviral effect," FDA chief scientist Denise Hinton said in a letter announcing the decision.
The Food and Drug Administration on Monday withdrew emergency use authorizations for two coronavirus treatments promoted by President Donald Trump despite concerns about their safety and effectiveness.
Source: politico.com
So lets think about this for a second,
1 Trump has pushing HCQ since the beginning of the pandemic
2 the MSM attacked the drug
EXM5NBpWsAAPRNh.jpg
The MSM said it would kill you if you take it
The MSM pushed a lancet report to prove their point
The Lancet report turned out to be fake and they retracted it
Trump was taking HCQ
The FDA is now removing it for emergency use
https://twitter.com/VincentCrypt46/status/1261122553461923840
📁
Listen carefully.
Why are possible
[treatments][cures]
being banned?
Why are possible
[treatments][cures]
being attacked?
Why are possible
[treatments][cures]
being targeted?
Evidence overwhelming?
HOW DO YOU KEEP PEOPLE LIVING IN FEAR?
HOW DO YOU KEEP PEOPLE DIVIDED?
HOW DO YOU JUSTIFY VOTE-BY-MAIL?
HOW DO YOU JUSTIFY STATE BAILOUT(S)?
HOW DO YOU MAKE PEOPLE STARVE
[DEPENDENT ON GOV]
?
HOW DO YOU JUSTIFY ANYTHING NON_COVID RELATED TO BE A POLITICAL ATTACK
[FISA_UNMASK]
?
HOW DO YOU CREATE A DIVERSION?
HOW DO YOU SHIFT THE NARRATIVE?
HOW DO YOU KILL POTUS ECONOMIC GAINS?
HOW DO YOU KILL POTUS UNEMPLOYMENT RECORD(S)?
HOW DO YOU PREVENT POTUS RALLY
[IES]
?
HOW DO YOU DELAY USA_CHINA TRADE NEGOTIATION [PREVENT
[FIXED] BILLION(S) CLAWBACK]
?
HOW DO YOU SHELTER
[BIDEN]
FROM DEBATES?
HOW DO YOU SHELTER & PROTECT
[BIDEN]
?
HOW DO YOU PUSH_DELAY
[D]
PARTY CONVENTION?
WHY IS PUSHING CONVENTION CLOSER TO ELECTION DAY NECESSARY?
HOW DO YOU CHANGE-OUT
[D]
PARTY CANDIDATE
[OPTION]
?
HOW DO YOU CONVINCE
[D]
PARTY VOTERS TO ACCEPT?
HOW DO YOU TRAP
[INSTALL MEDICAL ADVISORS_SKY_IS_FALLING]
POTUS INTO ENDORSEMENT OR FACE WW MEDICAL-SCIENCE-MEDIA FULL ASSAULT?
IS THIS ABOUT THE ELECTION OR THE VIRUS?
WHO BENEFITS THE MOST?
Time to end the horror show?
Time to term
[select]
science advisors?
Time to term
[select]
gov controls by legal challenge?
Time to stand?
Q
EVlSHCjWAAIELXW.jpg
There's a lot of confusion around what the FDA's "Emergency Use Authorization" for HCQ actually did and what rescinding it means. The EUA was never meant to expand the use of HCQ and it only applied to the supply donated to the National Strategic Stockpile (NSS). (thread) pic.twitter.com/jbUnRgZNt5

— AssocAmerPhys&Surg (@AAPSonline) June 15, 2020
In fact, the EUA was put in place to improperly restrict use of the donated drugs to only hospitalized patients. The now infamous "whistle-blower" Rick Bright, PhD, admits that he pushed for the EUA to impede use (not expand it).
The Trump Administration wanted to make the donated HCQ available for early treatment outside of hospital settings, but Rick Bright pushed for an EUA to restrict use to hospitals where it is often too late for the treatment to be beneficial.
Today's revocation of the EUA by the FDA is, in a sense, an admission that the agency erred by limiting the supply in the NSS to use in hospitalized patients.
A good outcome of today's FDA order is that it states that the NSS supply of HCQ "can be distributed in interstate commerce." This means it could be available for off-label early treatment, instead of limited to only hospitalized patients.
So rescinding the EUA does NOT meant that HCQ cannot be used for early treatment of COVID-19 patients. It means that the supply of the drug stuck in the stockpile is now free from the EUA's retractions (restrictions), once it is released into the consumer supply chain.
Will it then be shown that HCQ does not kill people as reported by the MSM, did Trump just setup the biggest lawsuit ever
And for those who are worried that nothing is being done
In Other News because the MSM will not Report on it.
Donald J. Trump did the following.
– Made vaccines voluntary not mandatory
– Defunded the WHO and wants investigation into it.
– Cancelled the Democrats HR6666 bill
– Cancelled Bill Gates project known as ID2020
ream more …. pic.twitter.com/gTRyMwOBNd

— Qtime (@AQtime) June 15, 2020

– Opened a complaint platform to report censorship
– EO to reopen States, Gov who refuse will be sued.
– EO for W.H. to take over all Electric Grids, internet ect.
– Declares places of worship Essential Services

And many more and people still doubt nothing is happening. WWG1WGA pic.twitter.com/5oJH0arC3E

— Qtime (@AQtime) June 15, 2020
Lets move onto the other event the [DS] is pushing, remember these politicians have been in office for 35-60 years and they have fixed nothing,why are they there , they are not working for the people take a look at NP district
Nancy Pelosi does not want you to see this.
This is her district. Filmed this morning. Pelosi can kneel and pander in DC — but this is how a many black people live in the district she has represented for 33 years.
Tent cities.
Filth.
Drugs.
I hope she sees this in her mansion: pic.twitter.com/CtZqbELNoo

— Benny (@bennyjohnson) June 15, 2020
This self-described "no cop co-op" is being portrayed as a romantic liberal utopia by those on the left and a lawless anarchical affront to law and order by the right.
 .
CHAZ is protected by a strongly held barricade around its border. Residents must show identification to prove they belong there, and the borders are protected by armed guards there to ensure that no one enters other than members of CHAZ or Seattle residents whose homes are within the six blocks. Not only are there borders, but the group and its leaders hold right to refuse prospective residents.
Throughout the 2020 primary, however, Democrat candidates pushed for lax immigration restrictions and increasing mobility across our borders. Further, many media outlets have decried Trump's proposed border wall as abhorrent and racist. Strong borders and strict immigration are apparently alright for an insurgent autonomous zone, but not for the United States.
Source: thefederalist.com
Representatives of CHAZ exuberantly welcome a foreign envoy, an African American carrying his national flag. Calls of "race traitor ass bitch" and "fascist, go home" rise above the din. In Chazanian culture, these greetings are the highest honor bestowed upon a foreign dignitary. pic.twitter.com/Eq0rlLwEAy

— Mike (@Doranimated) June 14, 2020
Angry mobs are tearing down and defacing monuments across America. They make no distinction between Confederate and Union, abolitionist and pro-slavery, 15th-century figures and 20th. They don't care when a monument was erected, who built it, or why. They have not come to debate or persuade their fellow citizens to relocate these statues to museums or private property. They believe the debate is over and that they have won.
The Confederacy Isn't the Target
Their target is not the Confederacy. It is the United States. They mean to destroy symbols of American history writ large, because to them all of American history is racist and genocidal. Their goal is not to cleanse a nation they love of monuments to Confederate traitors who tried to secede, but to cleanse their consciences of ever having loved such an evil and irredeemably racist country in the first place.
That is why you see mobs defacing statues of abolitionists like Matthias Baldwin and Union war heroes like Adm. David Farragut and Gen. George Thomas. That is why the Tomb of the Unknown Soldier of the American Revolution in Philadelphia was vandalized this past weekend with the words "committed genocide." That is why statues of Christopher Columbus were torn down or beheaded in three cities last week. That is why officials in Dallas recently removed a Texas Ranger statue from Love Field Airport. That is why a mob of college students toppled two statues of American pioneers on the University of Oregon campus. That is why Black Lives Matter protesters in San Antonio, Texas, are threatening to march on the Alamo.
To suppose this has anything to do with the Confederacy or the Civil War is to misunderstand completely the nature of what is happening right now in America. The people who are pulling down monuments, defacing statues, and demanding U.S. military bases be renamed do not have a limiting principle. They don't distinguish between those who fought for freedom against the British Empire and those who fought for union against the slave states of the South 
There's a reason, for example, the anarchists and Antifa rioters in Seattle's "autonomous zone" set up barricades and hung a sign saying, "Now Leaving The United States."
These people don't want to improve America.   they want to tear it down.
source: thefederalist.com
Interesting how ANTIFA and other Far Left militant groups can take over a city without barely a wimpier from soft Do Nothing Democrat leadership, yet these same weak leaders become RADICAL when it comes to shutting down a state or city and its hard working, tax paying citizens!

— Donald J. Trump (@realDonaldTrump) June 14, 2020
Does anyone notice how little the Radical Left takeover of Seattle is being discussed in the Fake News Media. That is very much on purpose because they know how badly this weakness & ineptitude play politically. The Mayor & Governor should be ashamed of themselves. Easily fixed!

— Donald J. Trump (@realDonaldTrump) June 14, 2020
---
Q
We are now in week 7:

1. 5/3
2. 5/10
3. 5/17 (Sunday)
4. 5/24
5. 5/31
6. 6/7
7. 6/14 <—- TODAY
8. 6/21
9. 6/28
10. 7/5 (Sunday)

Thank Q @mikebravodude @JerseyQ13 #WWG1WGA https://t.co/eimumy6xgW pic.twitter.com/X4upUmJ1a1

— BLUEPRINT 🇺🇸 ⭐⭐⭐ (@BLUEPRINT_Q) June 14, 2020
THE SILENT MAJORITY IS STRONGER THAN EVER!!!

— Donald J. Trump (@realDonaldTrump) June 14, 2020
With Nearly a Million Americans Signed Up for President Trump's Rally Next Saturday, Tulsa Health Director Sounds the Alarm
Q

 

!!mG7VJxZNCI

 

ID: f71ada

 No.277320

>>2773040

AMEN Q!!!!!!!!!!!!

For those of us who have stayed the course for 20+ years, we have gone alone. We have stood firm in the defense of the truth, yet many of us have very few friends and couldn't do much in the real world. The penalties for speaking up for truth have been severe for decades, and I've lived life in the shadows. It wasn't worth speaking out until now.

THANK YOU Q!!!!!!!!!!
>>2773113
The World is NOW UNITED.
HISTORY BOOKS.
FAKE NEWS suppression creates a FALSE REALITY.
This movement is BIGGER than you can imagine.
SILENT MAJORITY NO MORE.
Q