Durham On Deck, Done In 30, Darkness Gives Way To Light, Think Article II – Ep. 2340
The [CB]s have accelerated their plan, they are now doing what ever they can to bring down the economy in the US. To do this they need to destroy the small business and this is exactly what they are trying to do. The global debt has reached a point where the [CB] system cannot operate. Trump has pushed them to accelerate their plan, this will not work in the [CB] favor. The [DS]/MSM have tried everything to steal the election, it has not worked, now the people are starting to realize that there is election fraud, which is very different than voter fraud. Trump is now proceeding with the rule of law and holding the public hearings so the legislature can hear the case where they can pick their electors.Flynn is free and 30 days from the point where Flynn was freed is Xmas, the same time GW used a Durham boat to attack.
Watch The X22 Report On Video
😀Invest In Your Health, Purify & Ionize Your Indoor Air:😀
http://www.amazingcleanair.com
---
🌿 Get My Favorite Turmeric Extract For 51% Today!
😍 Get 51% Off by Clicking Here http://agewithx22.com
---
---
Economy
NYS Assemblymember urges Gov. Cuomo to avoid shutdown of small retailers
 Monica Wallace, Assemblymember of Erie County's 143 District, sent a letter to Governor Andrew Cuomo asking him not to shut down small retailers during the holiday season.
Wallace urged the governor to universally allow both big-box and small retailers to stay open if a shut down was to occur again.
"Instead of enacting restrictions based upon what goods are sold (essential vs. non-essential), I urge you to consider restrictions that would apply universally and allow all retailers to operate, such as rigorous enforcement of masks, dressing room closures, and occupancy limitations. I believe those steps will operate more fairly and evenhandedly toward all retailers."
Source: wivb.com
Detroit mayor: "If you make a commitment to the masks, we don't have to shut the economy down" https://t.co/CQHEQ7J5rx pic.twitter.com/t00yLENIy4

— The Hill (@thehill) November 29, 2020
---
Political/Rights
 More than 2,000 fake votes were found at the Wisconsin Recount in Dane County on Friday!
* On Black Friday, there were so many Trump observers that two dozen of them had nowhere to sit, and had to back upstairs and watch on closed circuit TV.

* Thousands of fake votes were found! 
The signature "MLW" was used on the the fake votes.
These initials were found on thousands of "votes" by "indefinitely confined" people.
In this final photo, the fake votes are the two piles on the right.
Source: thegatewaypundit.com
The Wisconsin recount is not about finding mistakes in the count, it is about finding people who have voted illegally, and that case will be brought after the recount is over, on Monday or Tuesday. We have found many illegal votes. Stay tuned!

— Donald J. Trump (@realDonaldTrump) November 28, 2020
The lawsuit complaint, filed on Nov. 27 on behalf of Wisconsin voter Dean Mueller (pdf), argues that the Plaintiff's right to a "safe, free, secure and transparent presidential election" was violated "in that his vote has been diluted by the counting of thousands of illegal votes placed in illegal ballot drop boxes across the State of Wisconsin."
The suit says over 500 ballot drop boxes were installed in 72 counties in the state in violation of the law, arguing the Wisconsin Elections Commission (WEC) did not have the authority to approve their use. The commission's endorsement of drop-box use amounted to enacting a new elections law, the suit argues, noting that the U.S. Constitution accords such power only to Congress or state legislatures.
"By doing so, the WEC gave the newly created voting process of using ballot drop-boxes, the imprimatur of legality," the suit states. "But these ballot drop-boxes are part of a procedure and process that was never created through legislation by the Wisconsin legislature. By leaving election officials in all Wisconsin Counties the impression that the use of ballot drop-boxes was legal, members of the WEC violated Wisconsin election laws and encouraged county clerks to do so, also,"
Source: theepochtimes.com
Pennsylvania Supreme Court Tosses Challenge to Vote-by-Mail Because It Came Too Late
  the Pennsylvania Supreme Court issued a brief, three-page order dismissing an election lawsuit brought by Sean Parnell and several other qualified Pennsylvania voters challenging the constitutionality of Pennsylvania's recently-enacted state law governing mail-in voting. In doing so, the Pennsylvania Supreme Court also vacated a lower court judge's preliminary injunction preventing the Pennsylvania Secretary of State from certifying the results of the 2020 General Election pending resolution of the lawsuit.In dismissing the lawsuit, the Pennsylvania Supreme Court did so on the narrowest of grounds: that Parnell and the other voters waited too long to file it. By styling their decision thus, the Pennsylvania Supreme Court avoided having to decide the case on the actual merits: Is the Pennsylvania mail-in voting law unconstitutional under the Pennsylvania state constitution? As we shall see below, the answer is most likely "yes."
What Happens Next?If other lawsuit litigation is any predictor, Parnell and the other voters will now seek an expedited petition for a writ of certiorari. They will most likely also apply to Justice Alito—as Circuit Justice for the Third Circuit—for an emergency injunction barring the Pennsylvania Secretary of State from certifying the results of the election pending resolution of the cert petition. To obtain the Court's review, Parnell and the other voters must show that the Pennsylvania Supreme Court's decision somehow violates federal law. While the Pennsylvania Supreme Court's decision is rooted in state law, a good argument can be made that it involves a federal question.
. On to SCOTUS.
Specific allegations were made, and we have massive proof, in the Pennsylvania case. Some people just don't want to see it. They want nothing to do with saving our Country. Sad!!!

— Donald J. Trump (@realDonaldTrump) November 28, 2020
The number of ballots that our Campaign is challenging in the Pennsylvania case is FAR LARGER than the 81,000 vote margin. It's not even close. Fraud and illegality ARE a big part of the case. Documents being completed. We will appeal!

— Donald J. Trump (@realDonaldTrump) November 28, 2020
This was posted on our Department of State dashboard but had since been deleted. pic.twitter.com/bDmvCK0kDB

— Senator Doug Mastriano (@SenMastriano) November 27, 2020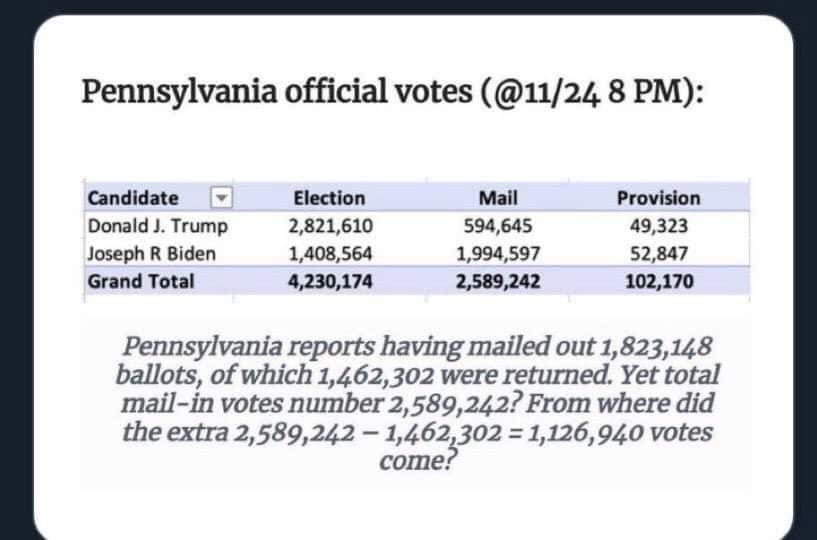 Responded
The 1,126,940 votes were created out of thin air. I won Pennsylvania by a lot, perhaps more than anyone will ever know. The Pennsylvania votes were RIGGED. All other swing states also. The world is watching! https://t.co/zmnk34Ny23

— Donald J. Trump (@realDonaldTrump) November 28, 2020
Matt Braynard has the receipts to show people voted in multiple states. And he's testifying in AZ.

"I can show you the names of people who voted in multiple states in the raw data states make available, so this isn't speculative, it's what the data shows"pic.twitter.com/Q8uZFmORmi

— Rising serpent 🇺🇸 (@rising_serpent) November 28, 2020
TAKE A LISTEN
Update:

– The @FBI has proactively and directly requested from me the VIP findings that indicates illegal ballots.

– By Tuesday, we will have delivered to the agency all of our data, including names, addresses, phone numbers, etc.

— Matt Braynard (@MattBraynard) November 29, 2020
– While there has been legit criticism of the actions of leaders of the agency over the last several years, I can personally attest to the many patriots within the rank-and-file who are fighting on the side of the Constitution and Law and Order.

— Matt Braynard (@MattBraynard) November 29, 2020
Note: everything I pass on to local/state/fed law enforcement, litigants, legislatures, journalists, etc, is always a copy.

And despite sharing it with individuals from all of those groups, there's never guarantee of a productive result.

— Matt Braynard (@MattBraynard) November 29, 2020
WVW-TV Exclusive: Lt. General Michael Flynn's First Interview Since President Trump's Pardon 
TAKE A LISTEN
The dominion system was not designed for this type of landslide so they needed to stop the vote count and use mail ballots to make up the difference.
TAKE A LISTEN
It's in the Code: Hanky-Panky in Virginia's Votes
"Pede's" analysis of "votes switched" from Trump to Biden, and of "votes lost" (thrown away) — mostly votes for Trump, and my own analyses to detect imaginary "votes added" for Biden, I have decided to continue examining states where everylegalvote.com says ballot fraud occurred in the 2020 presidential election.
"Pede" identified two states — Virginia and Minnesota — where there were hundreds of thousands of "votes lost," a sure indicator of fraud, even though those states' votes are not being recounted, nor are there legal challenges.
Translating the code in the graphic above, we see that at 11:03 PM EST on November 3, total votes were 2,724,165, and Trump had 1,419,290 votes (52.1%), Biden had 1.258,564 votes (46.2%), other candidates had 46,311 votes (1.4%).
Between 11:14 and 11:42 came a big Biden vote dump. At 11:43, when the dump had ended, total votes were 3,368,181, and Trump had 1,512,627 votes (45.8%) and Biden had 1,771,663 votes (52.6%). During this half-hour period when the fraudsters switched the lead from Trump to Biden, Trump gained 93,337 votes (a 6.58% increase), and Biden gained 513,099 votes (a 40.77% increase). That is, there were about 5.5 Biden votes for every Trump vote during this interval.
Before the dump, during the heat of the count, Trump votes were rolling in at the rate of almost 8,000 per minute. After the dump (in the half-hour that followed), Trump votes accumulated at the rate of about 1,900 per minute. During the dump, Trump votes piled up at the rate of 2300 per minute, so it appears to me that those Trump votes were being counted more-or-less honestly, without any "votes switched" or "votes lost". So, Biden's outsized vote tally I rate as "votes added", and by my calculation this means about 479,337 fraudulent votes were created for Biden.
Now we come to the real craziness that happened just after midnight on November 4. Here is the JSON code from the New York Times between 12:04 AM and 12:01 PM EST:
And here is the line-by line description of the "events" that the code identifies
1.     12:04 AM, total votes 3,524,459; Trump 1,617,727 votes (45.9%), Biden 1,846,817 votes (52.4%).
2.     12:07 AM, total votes 3,572,807; Trump, 1,643,491 votes (46.0%), Biden 1,872,151 votes (52.4%).
3.     12:12 AM, total votes 3,199,165; Trump, 1,605,981 votes (50.2%), Biden 1,541,998 votes (48.2%).
4.     12:26:21 AM, total votes 3,390,813; Trump, 1,678,452 votes (49.5%), Biden 1,654,717 votes (48.8%).
5.     12:26:48 AM, total votes 3,782,386; Trump, 1,758,890 votes (46.5%), Biden 1,963,058 votes (51.9%).
6.     12:30 AM, total votes 3,390,813; Trump, 1,678,452 votes (49.5%), Biden 1,654,717 votes (48.8%).
7.     12:38 AM, total votes 3,439,609; Trump, 1,699,167 votes (49.4%), Biden 1,685,408 votes (49.0%).
8.     12:42 AM, total votes 3,441,979; Trump, 1,700,338 votes (49.4%), Biden 1,686,570 votes (49.0%).
9.     12:43 AM, total votes 3,442,999; Trump, 1,700,841 votes (49.4%) Biden 1,687,070 votes (49.0%).
10.  12:58 AM, total votes 3,488,507; Trump, 1,709,368 votes (49.0%), Biden 1,719,834 votes (49.3%).
11.  1;34 AM, total votes 3,498,592; Trump, 1,717,808 votes (49.1%), Biden 1,724,806 votes (49.3%).
12.  2:17 AM, total votes 3,894,363; Trump, 1,795,301 votes (46.1%), Biden 2,032,857 votes (52.2%).
13.  4:00 AM, total votes 4,157,392; Trump, 1,916,558 votes (44.8%), Biden 2,224,204 votes (53.5%).
14.  4:59 AM, total votes 4,312,181; Trump, 1,927,545 votes (44.7%), Biden 2,315,641 votes (53.7%).
15.  8:02 AM, total votes 4,312,181; Trump, 1,927,545 votes (44.7%), Biden 2,315,641 votes (53.7%).
 , the explanation for the screwy stuff that was going on between midnight and 4 AM on November 4:
 Trump had a huge lead of 500,000-plus votes which the crooks had to eliminate; thus between 11:14 and 11:43 they created an enormous, out-of-thin-air surge of almost a half-million votes for Biden which, at 11:33 PM on November 3, suddenly flipped the lead in the race from Trump to Biden.
But this fraudulent maneuver had two problems. First, it was hard to believe, a sudden vote swing of 4.5% in just 8 minutes; and second, those half-million fake Biden votes might show more "votes" cast than there were registered voters to cast them, making the fraud immediately obvious. So the crooks had to lower the overall vote total to bring it more into line with the 2016 and prior presidential elections.
In Line 2 you see what was probably the running count of the total votes before the fakers got to work — 3,572,807 votes.
In Line 3, at 12:12 AM, the fraud began, by calling up data that looks like was from an hour earlier. Total votes suddenly shrank to 3,199,165, a loss of 373,462 votes.
In an honest election the vote totals never go backwards. They always get larger, because votes are continually being counted and added to the totals. This is prima facie evidence of fraud being committed, by humans directly intervening in the tabulation of votes, in real time. Software "algorithms" don't work this way; the do their dirty work surreptitiously, in small increments.
However, the old data in Line 3 also flipped the election back to Trump (50.2%) from Biden (48.2%) — definitely not what the crooks wanted. Also, from Line 2 to Line 3 Biden lost 37,510 votes, and it was important to the fraudsters to recover those. So in Lines 4 and 5 they got to work, restoring Biden's lead (51.9%) by adding 421,060 Biden votes compared to Trump's (46.5%) additional 152,909 votes.
But this action inflated the overall vote total to 3,782,386, which re-created the problem of too many total votes. So the crooks backtracked. They "deleted" Line 5 by "restoring" the data in Line 4. If you look at Line 4 and Line 6 (highlighted in yellow), you will see that they have identical data, except for the timestamp.
Thereafter, the vote thieves proceeded more cautiously, slowly bleeding votes from Trump and adding them to Biden (Lines 7 through 14) until, at 5 AM, the race was over.
 the 372,462 votes that were thrown away at 12:12 AM never came back, except to the extent the fraudsters created votes out of thin air for Biden.
Virginia
November 21 unofficial vote totals: Trump — 1,958,619, Biden — 2,384,014.
Deduction for fraudulent electronic votes added to Biden: — 479,337.
Adjusted totals: Trump — 2,629,289 (56.5%), Biden — 2,023,030 (43.5%).
Trump wins (13 electoral votes).
Source: americanthinker.com
Judge Timothy C. Batten, Sr. issued an order on Sunday to freeze ALL Dominion voting machines in the state of Georgia.
Via Attorney Linn Wood: "Defendants are ordered to maintain the statue quo & are temporarily enjoined from wiping or resetting any voting machines in the State of Georgia until further order of the Court."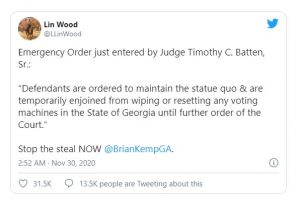 Source: thegatewaypundit.com
1) Biden won a record low 16.7% of counties in the US but had the most votes of any presidential candidate ever. 10 million more than Obama.
2) Voter turnout for every election in the past 100 years fell within 2 standard deviations but 2020 was above 3 standard deviations. This should happen roughly 1 in every 2,666 elections and is 99.7% indicative of voter fraud.
3) Republicans won all 27 "contested" House seats but lost the presidency?
4) The winner has always carried 15 or more of the 17 Bellwether counties but Biden won just 1 of them.
5) Trump had the highest % of non-white votes of any Republican in history.
6) Biden was down more than 10% in NY but up huge in very specific large cities –but only in the cities in battleground states.
7) 450,000+ ballots in battleground cities had a vote for only Biden. No down ballot votes cast, no independents, green party or write in candidates voted for on those ballots.
Source: thegatewaypundit.com
Now lets go out to CA
@realDonaldTrump Tonight, Orange County, Ca AGAIN told @gavin Newsom what we think of his draconian UNCONSTITUTIONAL Curfew. We had, at MINIMUM, 18 Rallys Statewide. We demand an Audit of California Votes! #BidenCheated @pnjaban @Barnes_Law @SidneyPowell1 #WeWillNotComply pic.twitter.com/Njk0QKamY9

— Official Source President Elect 🇺🇸 ⭐⭐⭐ (@pissed_red) November 29, 2020
Responded
And you should demand a full audit of #CA
Lots of voter and election fraud in #CA
More to come!@realDonaldTrump @LLinWood @GenFlynn @abigailcfrye https://t.co/pZhiCtgRhS

— Sidney Powell 🇺🇸⭐⭐⭐ (@SidneyPowell1) November 29, 2020
Did you know that Pres Trump gained 500k new voters and improved his electoral margin by 4% vs 2016…in Los Angeles County?#LatinosForTrump pic.twitter.com/qs4QtW9RAR

— Steve Cortes (@CortesSteve) November 27, 2020
TAKE A LISTEN 
Q

 

!!mG7VJxZNCI

 

ID: 62138c

 No.4281478

>>4280189
Will voter fraud in CA ever be brought to light?
>>4281387
Yes.
"Watch CA" was deliberate.
Q
Almost half (47%) of U.S. likley voters now believe there was enough fraud to ensure Biden would win in the recent elections, including 75% of Republicans & 30% of Democrats. Please retweet. https://t.co/7BLJLfLQaJ

— Rasmussen Reports (@Rasmussen_Poll) November 29, 2020
The narrative of the MSM and the social media companies are failing, people no longer believe and this percentage is going to grow just like the riots. Now we see the MSM preparing for what is coming.
Now we have the MSM explaining the Constitution, take a listen to the CNN explain what happens next. Are they getting ahead of what is about to happen
Plot twist: Here's CNN actually admitting (among other things) that state legislatures have the constitutional authority to select their delegates. ⬇️ https://t.co/SrfEdP65LS

— Jenna Ellis (@JennaEllisEsq) November 28, 2020
TAKE A LISTEN
Drain the SWAMP!

— Jenna Ellis (@JennaEllisEsq) November 29, 2020
The constitution is the only way forward and Article II gets us there, 
---
Geopolitical/Police State
Weeks ago, @Facebook censored a post of mine which truthfully stated that @JoeBiden is NOT the President-elect.
So I got lawyers involved.
Conclusion? @PolitiFact uncensored the post & admitted that they LIED by rating my post false.
The fact-checkers are lying for Democrats. pic.twitter.com/l2rrLxzku7

— Candace Owens (@RealCandaceO) November 28, 2020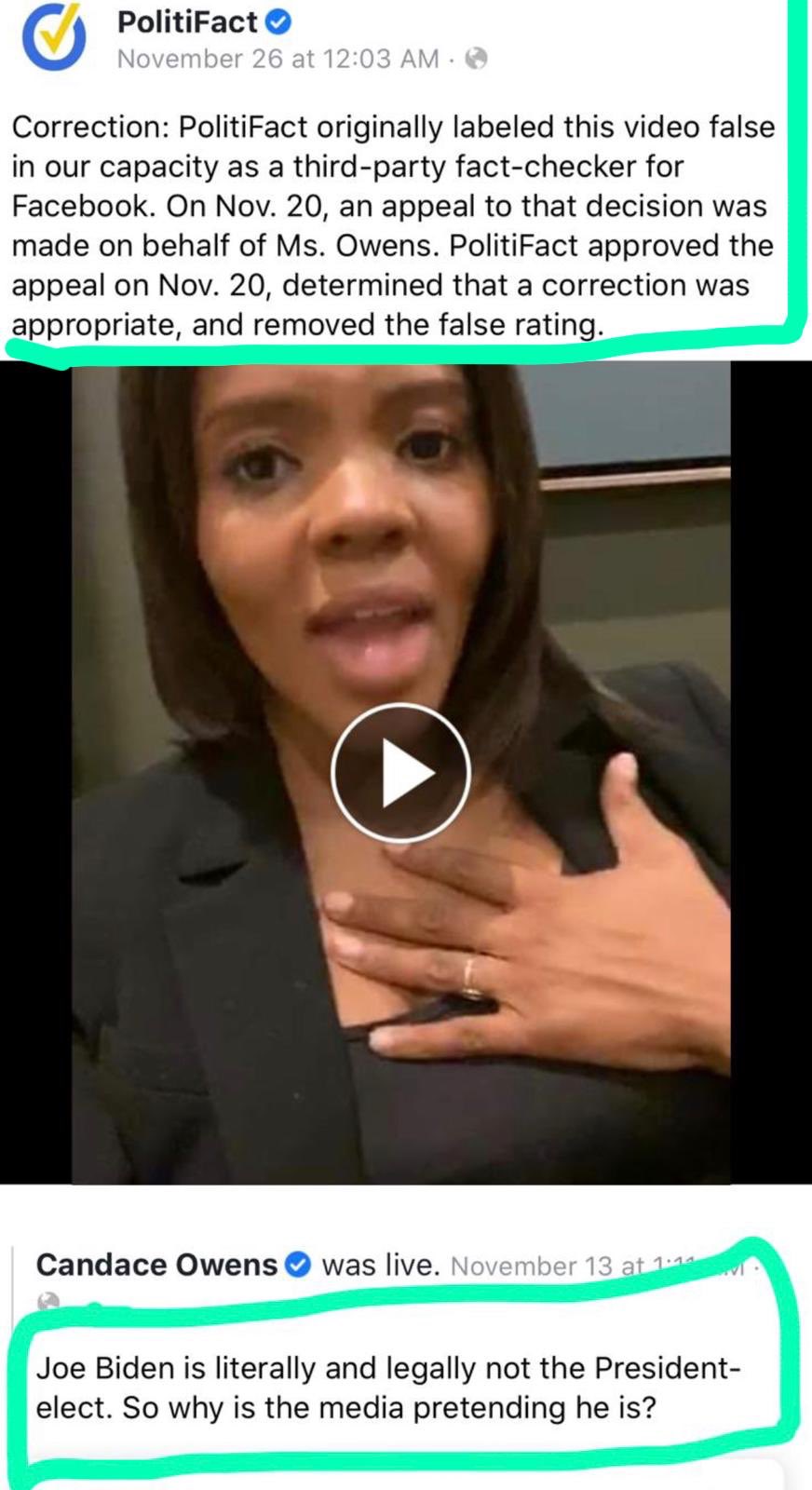 There's only one explanation for Twitter allowing this to trend and pushing it to the What's Happening page. It's a ban trap. pic.twitter.com/zNK2oD8n83

— Shem Horne (@Shem_Infinite) November 28, 2020

---
---
False Flags
First it was the War on Easter.

Then came the War on Independence Day.

The War on Thanksgiving just ended.

And the War on Christmas has started.

The radical left, aided by allies in the mainstream media & the bureaucracy, have used COVID-19 to try to overturn our society.

— Rep Andy Biggs (@RepAndyBiggsAZ) November 29, 2020
Doncha just hate it when a fact sneaks into a perfectly good scare story? Here's @journalsentinel doing its best to insist that young folks are rilly rilly at risk from the ro, and down at the bottom we find out that 3,571 of the 166,000,000 Americans under 40 have died so far… pic.twitter.com/DBE9BMxLdp

— Alex Berenson (@AlexBerenson) November 28, 2020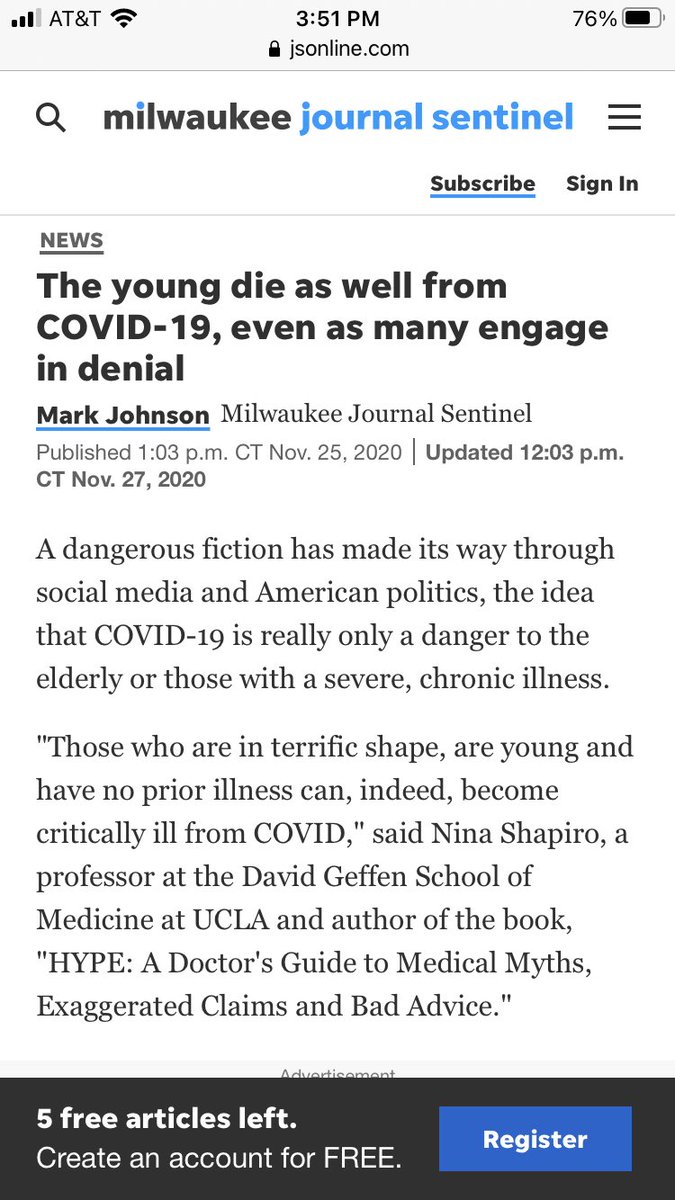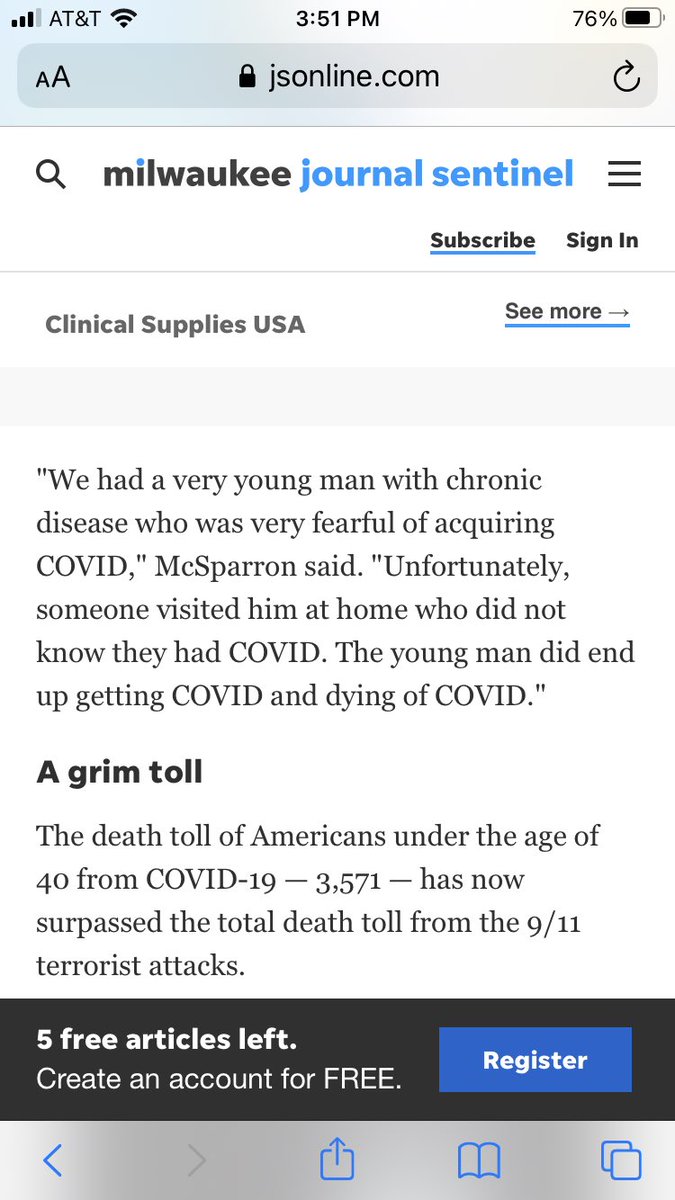 That's a death toll of 0.002% this year. Or roughly as many Americans in that age range as die of overdoses every month.

No points for guessing how many of those folks had severe comorbidities or were simply misclassified.

— Alex Berenson (@AlexBerenson) November 28, 2020
PSA: Arizona hospitals are always at full capacity in the winter.

— Dr. Kelli Ward 🇺🇸 (@kelliwardaz) November 29, 2020
Johns Hopkins University keeps a tracker of covid cases around the world and the US.  This site is used to scare people into staying in their homes and shut off from the real world.  So when a study from Johns Hopkins comes out, showing no increase in deaths in 2020 related to prior years, the study has to be taken down.
 the CDC only 6% of all deaths labeled as COVID deaths are solely related to the virus.  The remaining deaths have on average at least 2 – 3 comorbidities present
According to study, "in contrast to most people's assumptions, the number of deaths by COVID-19 is not alarming. In fact, it has relatively no effect on deaths in the United States."
After retrieving data on the CDC website, Briand compiled a graph representing percentages of total deaths per age category from early February to early September, which includes the period from before COVID-19 was detected in the U.S. to after infection rates soared.

Surprisingly, the deaths of older people stayed the same before and after COVID-19. Since COVID-19 mainly affects the elderly, experts expected an increase in the percentage of deaths in older age groups. However, this increase is not seen from the CDC data. In fact, the percentages of deaths among all age groups remain relatively the same…

…When Briand looked at the 2020 data during that seasonal period, COVID-19-related deaths exceeded deaths from heart diseases. This was highly unusual since heart disease has always prevailed as the leading cause of deaths. However, when taking a closer look at the death numbers, she noted something strange. As Briand compared the number of deaths per cause during that period in 2020 to 2018, she noticed that instead of the expected drastic increase across all causes, there was a significant decrease in deaths due to heart disease. Even more surprising, as seen in the graph below, this sudden decline in deaths is observed for all other causes.
 
The American public is not being given all of the facts.
Source: thegatewaypundit.com
THE SUPRESSION OF HYDROXYCHLOROQUINE WAS A CRIME AGAINST THE PEOPLE OF THIS PLANET.

Thousands died is what is actually Murder by Fake News.

It was part of the covert deep state attack on @realDonaldTrump. https://t.co/sx95DjJMyO

— CAMELOT CASTLE – TOTAL FREEDOM IS THE GRAIL (@JohnMappin) November 27, 2020
Responded
This is painfully true. https://t.co/Qp9JX8gcSL

— Rudy W. Giuliani (@RudyGiuliani) November 29, 2020
---
Q
*BIDEN WILL BE EXAMINED BY DOCTOR AFTER TWISTING ANKLE AT HOME *PRESIDENT-ELECT SLIPPED SATURDAY WHILE PLAYING WITH HIS DOG
Last week the MSM reported
Joe Biden Makes an Unexpected Style Choice With Fun Dog-Print Socks for Meeting
President Donald Trump said pace of Justice Department investigation into the origins of the Trump-Russia probe, while praising a lawsuit that his former campaign aide Carter Page filed against the FBI and Justice Department on Friday as "good news."
"What happened to Durham? Where's Durham?" Trump asked.
Source: dailycaller.com
https://t.co/vPGYF6jGdo
30 days from Flynn's pardon lands on Christmas.
The day Washington used the Durham boats…

— ENoCH (@elenochle) November 29, 2020
Durham.
Q
Q

 

!UW.yye1fxo

 

ID: 62d7b8

 No.162785

72E0C7D9-EB8A-49A7-8367-1190ACAD8F9F.jpeg