The Hunters Become The Hunted, Tide Is Turning, Final Stage – Ep. 2339
The [CB]/[DS] are moving forward with their reset, Trump has used the chaos to remove the blocks to allow him to bring the economy back to the people. During the pandemic companies realized they needed to move operations out of China and more companies are now doing this. The [DS]/MSM never had the narrative, the people are now realizing it and the tide is now turning. DS put up a video of a lion, the hunted becomes the hunter. Trump is now positioning everything to move forward with the plan. Flynn is free and innocent of all crimes, the [DS] is panicking, the final stage is coming.
Watch The X22 Report On Video
🌿 Get My Favorite Turmeric Extract For 51% Today!
😍 Get 51% Off by Clicking Here ➡️http://agewithx22.com 
---
😀Invest In Your Health, Purify & Ionize Your Indoor Air:😀
http://www.amazingcleanair.com
---
---
---
Economy
 Foxconn, formally known as Hon Hai Precision Industry, has been ordered by Apple to shift some iPad and MacBook production lines to Vietnam from China.
The lines will also take some production from China, the person said, without elaborating how much production would shift.

"The move was requested by Apple," the person said. "It wants to diversify production
Source: zerohedge.com
---
Political/Rights
 
Joe Biden delivered a Thanksgiving Day Teleprompter message 
Only 1,000 people watched his statement live.
What a complete joke!
The Democrat liars want you to believe Joe Biden had 80 million votes this year.

 
Source: thegatewaypundit.com
REPORT: Biden's Thanksgiving Day Address gets just 1000 views online, a record low. Observers say a candidate with "80,000,000" votes would get many more online viewers. Numbers don't lie, or add up! @OANN

— Donald J. Trump (@realDonaldTrump) November 27, 2020
The Pennsylvania state legislature on  held a hearing on the 2020 election issues and irregularities.
One very credible witness described how he personally observed dozens of USB cards being uploaded to voting machines which resulted in 50,000 votes for Joe Biden in a short period of time.
The witness introduced himself: "My name is Gregory Strenstrom, I am from Delaware county, former Commanding Officer in the Navy, veteran of foreign wars, CEO of my own private company, a data scientist and forensic computer scientist and an expert in security and fraud."
"I was told that every election they leave a couple of USBs in the voting machines…after talking to law enforcement I found out that was not the case, that more than two [USBs] is unusual — so, they denied they did it but as of today, 47 USB cards are missing and they're no where to be found…so I was told personally that these cards that were uploaded…they didn't update the vote live in real time," Strenstrom said.
He continued, "They only uploaded about once every 2 or 3 hours. I demanded they updated the vote so I could see what the result was and it was 50,000 votes — and as a computer scientist, an American and a patriot it doesn't matter who those 50,000 votes were — I'll tell you they were for Biden but what was shocking to me as an American and someone who has gone to sea, gone to war that could even happen."
WATCH:
Strenstrom said, "In all cases the chain of custody was broken."
"It was broken for the mail in ballots, the drop box ballots, the election day USB card flash drives, in all cases they didn't follow any of the procedures defined by the Board of Delaware County of Elections," he said.
Source: thegatewaypundit.com
PENNSYLVANIA.🗳️

"We just learned that… all chain of custody logs, records, yellow sheets, *everything* was gone. All forensic evidence, all custody sheets"…

If you care about U.S. election security, *STOP* what you're doing and watch this 🔻https://t.co/shKHnKQxf0

— Kyle Becker (@kylenabecker) November 25, 2020
TAKE A LISTEN
Trump Attorney Phillip Kline announced a new Georgia lawsuit on Wednesday afternoon!
The Armistad Project, a part of the Thomas More Society, filed lawsuit contesting GA results, citing expert opinion "that well over 100,000 illegal votes were improperly counted, while tens of thousands of legal votes were not counted." 
Source: thegatewaypundit.com
Wow! Twitter bans highly respected Pennsylvania State Senator Doug Mastriano after he did a great job of leading a hearing on the 2020 Election fraud. They and the Fake News, working together, want to SILENCE THE TRUTH. Can't let that happen. This is what Communist countries do!

— Donald J. Trump (@realDonaldTrump) November 27, 2020
 Attorney Sidney Powell Filed a 104 Page BOMBSHELL COMPLAINT of Massive Fraud in the 2020 Georgia Election
  Attorney Abigail Frye posted the following:
The Kraken came down to Georgia on this Thanksgiving Eve in the form of a 104 pg BOMBSHELL complaint exposing the massive fraud that overwhelmed the 2020 Georgia Elections. Georgia, you are most certainly on our minds. Link to filing to come, stay tuned!
More from Sidney–
On page 3  of the filing the purpose of the fraud is stated – to make certain Joe Biden won the 2020 election:

Then on page 8 of the filing we noted this bombshell –

This is consistent with our prior reporting on the false water main break in Atlanta:
But in addition to our reporting, Powell states that there is a video of unsupervised election workers unchallenged working on the computers!
BOOM – these actions appear criminal as well as being sufficient to meet the burden of proof standard for fraud.
Source: thegatewaypundit.com
Trump supporters in Georgia consider boycotting election https://t.co/tPCA4FzfFZ pic.twitter.com/ZgbVu5w9eW

— Newsmax (@newsmax) November 26, 2020
No, the 2020 Election was a total scam, we won by a lot (and will hopefully turn over the fraudulent result), but we must get out and help David and Kelly, two GREAT people. Otherwise we are playing right into the hands of some very sick people. I will be in Georgia on Saturday! https://t.co/1ziqFq9S6O

— Donald J. Trump (@realDonaldTrump) November 27, 2020
MICHIGAN.🗳️

"Biden achieved 97% of all additional new votes above 2016 election total & achieved 151% more new votes than… new registrations…"

These statistical anomalies would keep political scientists up at night if it were against any president *not* named Trump🔻 pic.twitter.com/Dmzb4JtS3X

— Kyle Becker (@kylenabecker) November 27, 2020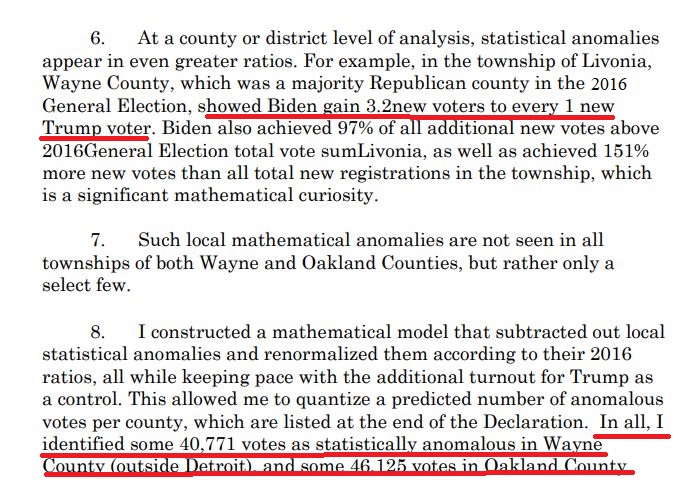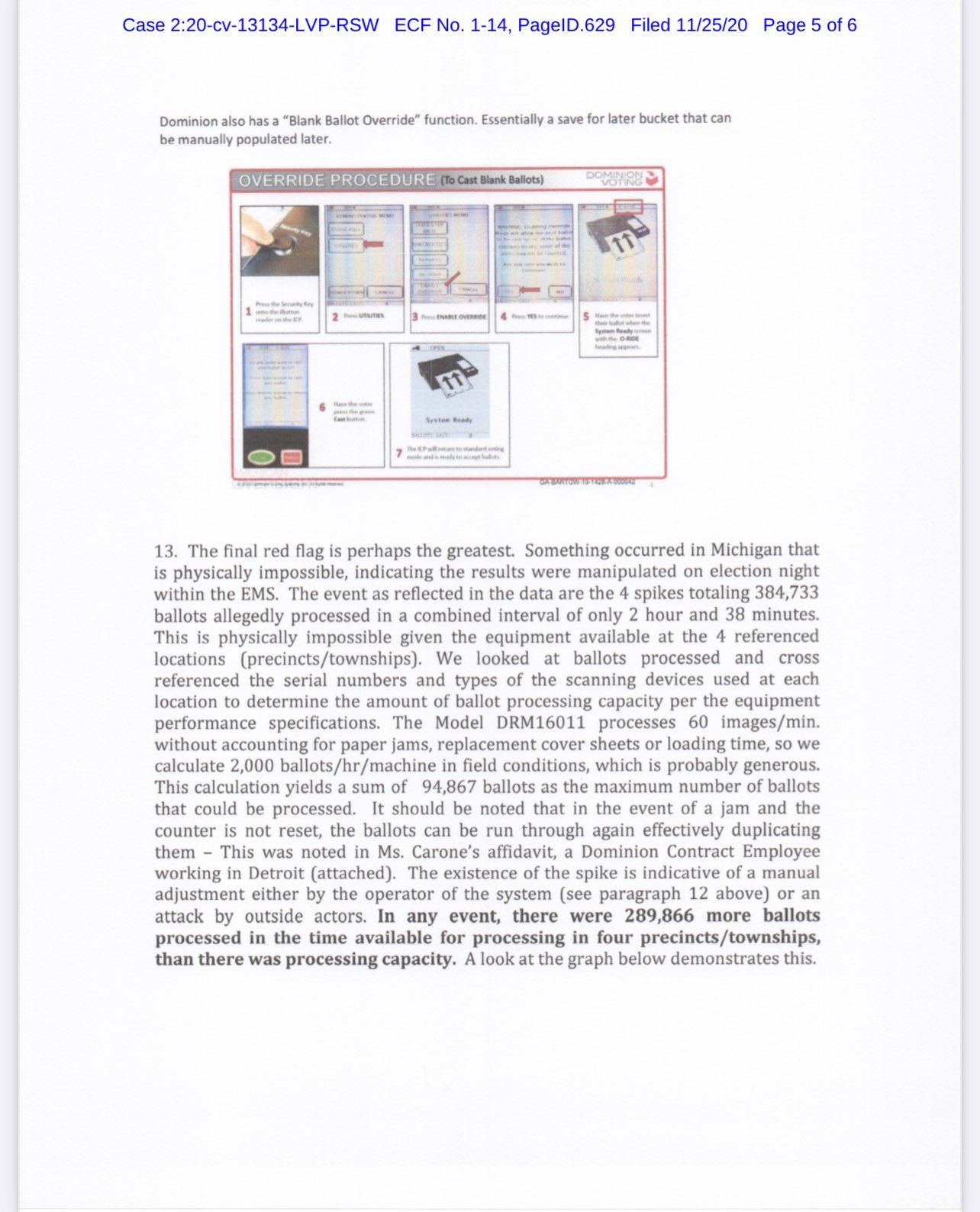 1. 80 Million Votes
Holy moly! A lot of Americans turned out for a Washington politician who's been in office for nearly 50 years. Consider this: no incumbent president in nearly a century and a half has gained votes in a re-election campaign and still lost.
President Trump gained more than ten million votes since his 2016 victory, but Biden's appeal was so substantial that it overcame President Trump's record support among minority voters. Biden also shattered Barack Obama's own popular vote totals, really calling into question whether it was not perhaps Biden who pulled Obama across the finish lines in 2008 and 2012.
2. Winning Despite Losing Most Bellwether Counties
Biden is set to become the first president in 60 years to lose the states of Ohio and Florida on his way to election. For a century, these states have consistently predicted the national outcome, and they have been considered roughly representative of the American melting pot as a whole. Despite national polling giving Biden a lead in both states, he lost Ohio by eight points and Florida by more than three.
For Biden to lose these key bellwethers by notable margins and still win the national election is newsworthy. Not since the Mafia allegedly aided John F. Kennedy in winning Illinois over Richard Nixon in 1960 has an American president pulled off this neat trick.
Even more unbelievably, Biden is on his way to winning the White House after having lost almost every historic bellwether county across the country. The Wall Street Journal and The Epoch Times independently analyzed the results of 19 counties around the United States that have nearly perfect presidential voting records over the last 40 years. President Trump won every single bellwether county, except Clallam County in Washington.
3. Biden Trailed Clinton Except in a Select Few Cities
Patrick Basham, a pollster with an accurate track record and the director of the Democracy Institute in D.C., highlighted two observations made by fellow colleagues, polling guru Richard Baris of Big Data Poll and Washington Post election analyst Robert Barnes. Baris noted a statistical oddity from 2020's election returns: "Biden underperformed Hillary Clinton in every major metro area around the country, save for Milwaukee, Detroit, Atlanta and Philadelphia."
Barnes added that in those "big cities in swing states run by Democrats…the vote even exceeded the number of registered voters." I
4. Biden Won Despite Democrat Losses Everywhere Else
Randy DeSoto noted in The Western Journal that "Donald Trump was pretty much the only incumbent president in U.S. history to lose his re-election while his own party gained seats in the House of Representatives." Now that's a Biden miracle!
In 2020, The Cook Political Report and The New York Times rated 27 House seats as toss-ups going into Election Day. Right now, Republicans appear to have won all 27. Democrats failed to flip a single state house chamber, while Republicans flipped both the House and Senate in New Hampshire and expanded their dominance of state legislatures across the country.
5. Biden Overcame Trump's Commanding Primary Vote
In the past, primary vote totals have been remarkably accurate in predicting general election winners. Political analyst David Chapman highlighted three historical facts before the election.
First, no incumbent who has received 75 percent of the total primary vote has lost re-election. Second, President Trump received 94 percent of the primary vote, which is the fourth highest of all time (higher than Dwight Eisenhower, Nixon, Clinton, or Obama). In fact, Trump is only one of five incumbents since 1912 to receive more than 90 percent of the primary vote.
Third, Trump set a record for most primary votes received by an incumbent when more than 18 million people turned out for him in 2020 (the previous record, held by Bill Clinton, was half that number). For Biden to prevail in the general election, despite Trump's historic support in the primaries, turns a century's worth of prior election data on its head.
Joe Biden achieved the impossible. It's interesting that many more journalists aren't pointing that out.
Source: thefederalist.com
A must read. Impossible for Biden to have overcome these, and even greater, odds! https://t.co/cmYFY0va6p

— Donald J. Trump (@realDonaldTrump) November 27, 2020
LOL Dems panicking and saying this "wasn't a real hearing."

Sorry, libs, Article II is very real. #Pennsylvaniahearing

— Jenna Ellis (@JennaEllisEsq) November 25, 2020
What is the strategy of the Trump team,Hold public hearings in red states where Biden cheated, expose the fraud to the legislators, use Article II Section 1 Clause 2 
Section 1

Clause 2

Each State shall appoint, in such Manner as the Legislature thereof may direct, a Number of Electors, equal to the whole Number of Senators and Representatives to which the State may be entitled in the Congress: but no Senator or Representative, or Person holding an Office of Trust or Profit under the United States, shall be appointed an Elector.
The legislatures are going to ignore the popular vote, because it was rigged, the votes were manipulated, the  state legislators will choose pro-Trump electors on Dec 8th.
When @BarackObama challenged whether signatures matched, guess what the average rejection rate was? 62%! @realDonaldTrump only needs a rejection rate of 1% to 2% for election results to not be certified for Biden. pic.twitter.com/n399sAt96h

— Robert Barnes (@Barnes_Law) November 27, 2020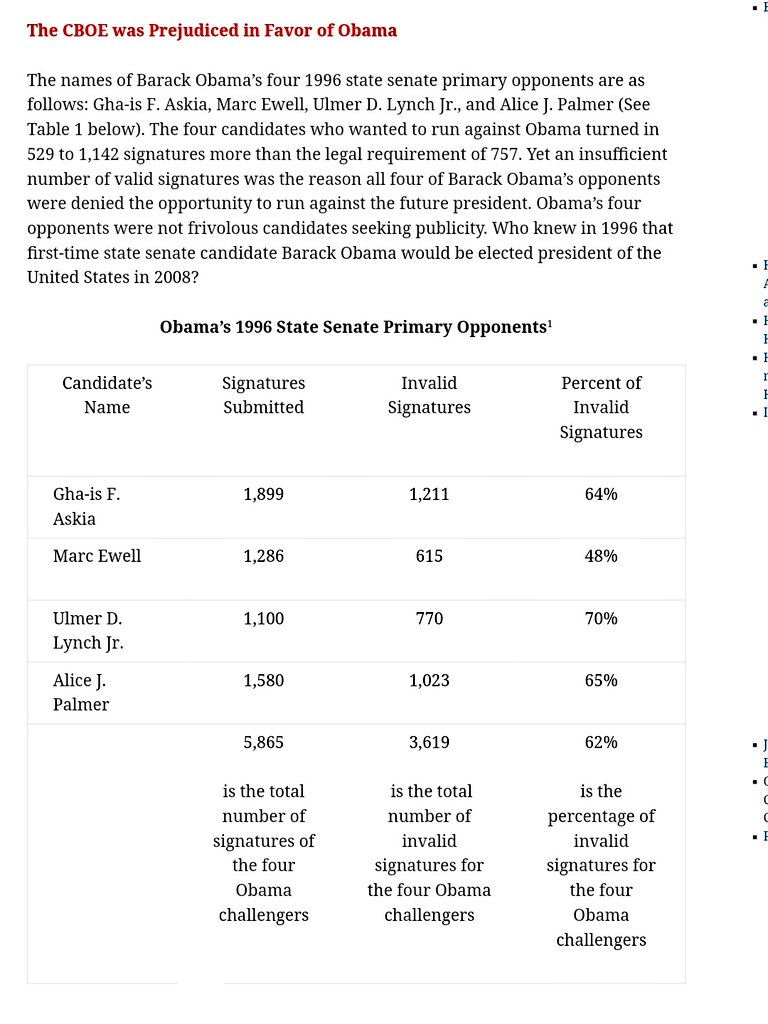 Biden can only enter the White House as President if he can prove that his ridiculous "80,000,000 votes" were not fraudulently or illegally obtained. When you see what happened in Detroit, Atlanta, Philadelphia & Milwaukee, massive voter fraud, he's got a big unsolvable problem!

— Donald J. Trump (@realDonaldTrump) November 27, 2020
The [DS] is panicking their entire plan is falling apart and now Flynn is Free and he can speak freely, who knows where the bodies are buried.
Donald Trump is the most corrupt President in American history. https://t.co/hZePQ8IwXx

— Elizabeth Warren (@SenWarren) November 25, 2020
Trump's abuse of the pardon power undermines the crown jewel of our democracy: the rule of law.

— Andrew Weissmann (@AWeissmann_) November 25, 2020
Responded
Weissmann protests b/c the Flynn case implicates the corrupt Special Counsel.

They didn't prosecute Flynn b/c they thought he was guilty (FBI agents didn't think Flynn lied).

Team Mueller went after Flynn so they could build an obstruction case against Trump.

Corrupt motive. https://t.co/T8Su9ikIMD

— Techno Fog (@Techno_Fog) November 26, 2020
HUGE!

President Trump didn't just pardon @GenFlynn

By Presidential proclamation, declared him INNOCENT. pic.twitter.com/jBfdV5yY9G

— Major Patriot (@MajorPatriot) November 26, 2020
---
Geopolitical/Police State
Twitter is sending out totally false "Trends" that have absolutely nothing to do with what is really trending in the world. They make it up, and only negative "stuff". Same thing will happen to Twitter as is happening to @FoxNews daytime. Also, big Conservative discrimination!

— Donald J. Trump (@realDonaldTrump) November 27, 2020
Big Tech and the Fake News Media have partnered to Suppress. Freedom of the Press is gone, a thing of the past. That's why they refuse to report the real facts and figures of the 2020 Election or even, where's Hunter! https://t.co/8lRglItLJt

— Donald J. Trump (@realDonaldTrump) November 27, 2020
For purposes of National Security, Section 230 must be immediately terminated!!!

— Donald J. Trump (@realDonaldTrump) November 27, 2020
US Attorney General Bill Barr has remained quiet since before the 2020 election.   There is no evidence his Department of Justice (DOJ) is involved in reviewing any election fraud committed by the Democrats.  So what is he up to?
So what is AG Barr up to?  
A veteran police lieutenant was reassigned last week after a one-day trip to Chicago by Attorney General William Barr caught Chicago Police Department leadership and the mayor's office by surprise.
Source: thegatewaypundit.com
Optics are important, the DOJ is most likely will not get involved, this has to come from the people, but the question is what other things is Barr up to
---
War
Iran's nuclear program chief Mohsen Fakhrizadeh assassinated
Head of Iran's nuclear program Mohsen Fakhrizadeh, 59, was assassinated in Damavand, east of Tehran, local Iranian news reported on Friday.
Iran later confirmed the reports. "The nuclear scientist Mohsen Fakhrizadeh was assassinated today by terrorists," the Iranian Defense Ministry wrote in a statement, while not blaming any specific entity for the incident.
However, Iran's foreign minister Mohammad Javad Zarif later stated on Twitter that "serious indication" pointed to Israeli involvement and urged the international community to condemn the attack.
Source: jpost.com
Trump sent a message to the [DS] and China
All newly rebuilt military! https://t.co/EFwUReJgcD

— Donald J. Trump (@realDonaldTrump) November 27, 2020
---
False Flags
In a 5-4 ruling  the U.S Supreme Court barred the state of New York from imposing strict attendance limits on religious services, in a major win for religious freedom.
Orthodox Jewish group Agudath Israel of America and the Roman Catholic Diocese of Brooklyn sued New York Gov. Andrew Cuomo for discriminatory targeting of religious groups with COVID restrictions, as houses of worship were being held to far more stringent standards than neighboring businesses.
Source: thefederalist.com
---
Q
The Trump administration removed globalists and warhawks from the Defense Policy Board on Wednesday including Madeleine Albright, Henry Kissinger, Jane Harman and Eric Cantor.
Madeleine Albright is famous for bribing the North Korean dictators with US cash in a failed peace agreement.
She also famously argued that killing 500,000 Iraqi children was a good foreign policy move.
Source: thegatewaypndit.com
  the tide is turning    
Pennsylvania
 GOP members of the Pennsylvania legislature held a very lengthy hearing at a hotel in Gettysburg. Multiple witnesses testified to election fraud and illegality. Trump attorneys Rudy Giuliani and Jenna Ellis were there to answer questions, and the President himself—who had been scheduled to appear in person—phoned in to provide his own input.
The benefit of this hearing is two-fold.
First, it starts to get the evidence of fraud out to the American people. Americans need to hear what actually happened in this election, and demand for election integrity has to grow in volume. As national outrage builds, our chances of pulling this win back will increase.
Second, the hearing begins to prime the legislature to act, if necessary. It is the legislature's duty (in PA and around the country) to guard against "cabal, intrigue, and corruption" in the selection of the President of the United States. If there was intrigue and corruption at play in these various states—as the evidence strongly suggests there was—and the vote of the people has been tainted beyond repair, it is the duty of the legislatures to step in and choose their own electors.
Michigan
  Constantino is the case brought by private plaintiffs that sought, among other things, to enjoin the Wayne County certification and to undertake a results audit of the election pursuant to a relatively new constitutional amendment in Michigan that allows voters to request an audit. Since the suit was filed, though, the Wayne County Board certified the election results. First they didn't certify, then they did certify, and finally the Republicans tried to rescind their votes to certify. Michigan, however, is moving forward assuming the recission is null.
The Michigan Supreme Court refused to hear the appeal from the denial of the injunction, but it wasn't a sweeping or final denial. The plaintiffs will still be able to fight for their audit and the court retained jurisdiction to expedite appeal.  
These are a few important points, though. First, the concurrence and dissent both noted the disturbing evidence of fraud that was brought forward by this suit. That's very good. It is good to hear a court worry out loud and on the record, and it sends signals to the legislature to perk up and pay attention. Second, the concurrence made much of the fact that despite the division over the election, the people of Michigan democratically passed this constitutional amendment two years ago, and the transparency and process it provides are obviously something the people of Michigan value and want.
  The Michigan Supreme Court is currently majority Republican. Unfortunately, on January 1, 2021, 
Wisconsin
As you know, there is an ongoing recount happening in Milwaukee and Dane Counties in Wisconsin. I have been hearing positive reports that suggest Republicans are getting a chance to step in and challenge a lot of votes, but at the end of the day, I think Wisconsin can probably only be dealt with via a lawsuit over the illegal votes. The Trump campaign is probably looking to expedite a suit once the recount is complete.  Only approximately 20,000 votes separate Biden and Trump in Wisconsin.
Georgia
Sidney Powell is dropped her first suits right before thanksgiving
This is the beginning
 The certification is procedural and yes in the past they were reversed.
  In 1960, it appeared that Richard Nixon had won Hawaii by approximately 115 votes. The state certified the election for Nixon, the governor affixed his signature, and off the results went. A recount that dragged on to late December  ended with a new result: Kennedy won. The state certified the election results a second time (but for Kennedy), the governor affixed his signature, and off the second results went to Congress. Congress accepted the second certification for Kennedy.
Source: mollymccann.com
SP responded to this 
Answer: Yes. But actually it was always a tsunami in favor of Trump. The evil media, big tech, and Left conspired to make the American people believe otherwise to cover their massive fraud. @realDonaldTrump @Scavino45 @marklevinshow @GenFlynn @abigailcfrye https://t.co/i7MG00uJ96

— Sidney Powell 🇺🇸⭐⭐⭐ (@SidneyPowell1) November 26, 2020
THe PA courts shotdown Trump case
.@RudyGiuliani and me on Third Circuit's opinion:

The activist judicial machinery in Pennsylvania continues to cover up the allegations of massive fraud.

We are very thankful to have had the opportunity to present proof and the facts to the PA state legislature.

On to SCOTUS!

— Jenna Ellis (@JennaEllisEsq) November 27, 2020
Has anyone else noticed that the argument went from "they have no evidence…" to "the evidence isn't enough to overturn" to "look at the typos…" They are attempting to change the narrative. And we won't let them.
Election EO = National Security

Cyber command activated

DOD unexpectedly realigned

Election fraud occures

Historic SOF realignment (leaks, CIA, swamp eliminated)

Keystone (PA) revealed + GA-MI

Fraud and foreign backdoor forensically evidenced

DOD Policy Board cleaned out pic.twitter.com/LrtIMQM7tz

— BLUEPRINT 🇺🇸 (@BLUEPRINT_Q) November 27, 2020
Then DS tweeted out a video of a lion
— Dan Scavino🇺🇸🦅 (@DanScavino) November 21, 2020
So much truth! https://t.co/KGBQDEPEkV

— Donald J. Trump (@realDonaldTrump) November 27, 2020
Q

 

!xowAT4Z3VQ

 

ID: 1a8912

 No.815876

Anonymous

 

ID: 4a2d44

 No.815836

>>815836
Done in 30.
House cleaning.
WH secured.
Final stage.
Q