Election Fraud Exposed, Media Blackout, [HRC] Trapped, White Swan Event – Ep. 2758
Watch The X22 Report On Video
Consumer confidence in the UK is even lower than in 2008 financial crisis. The people are hitting the precipice. The [CB]/[DS] push to bring us into the green new deal and the great reset has failed. They have admitted that the sanctions are having the opposite effect. Another country decides to make bitcoin legal tender. The [DS] /[HRC] are panicking, the patriots have caught them in a cover up scheme. There is no escape from this, the more they push the worse it gets. Trump at the rally points out that the election fraud is being exposed. The people are seeing the truth and EM is pulling the bull horn away form the [DS]. Scavino drops clues, a video of a white swan.
---
Economy
Slowdown in retail sector feared as public gripped by pessimism about the economy as well as personal finances
Fears that Britain is heading for a marked slowdown in consumer spending have intensified as it emerged that the public is gloomier about the economy than when banks were on the brink of collapse during the financial crisis of 2008.
A combination of rocketing energy prices, higher taxes and a surge in the annual inflation rate to its highest level in three decades meant confidence was in freefall, according to the latest monthly snapshot of sentiment.
Source: theguardian.com
 EU companies may be able to work around Russia's demand to receive gas payments in roubles without breaching sanctions if they pay in euros or dollars which are then converted into the Russian currency, the European Commission said on Friday.
The companies would also need to seek additional conditions on the transactions, such as a statement that they consider their contractual obligations complete once they have deposited the non-Russian currencies.v
Brussels said in the document that there were options that could allow companies to continue lawfully paying for gas.
The EU's sanctions regime does not prohibit companies from opening accounts with Gazprombank, or engaging with the bank to attempt to seek a solution, the document said.
Source: reuters.com
A measure of inflationary pressures faced by manufacturers hit its high mark in nearly 43-years this month, according to data released Thursday by the Federal Reserve Bank of Philadelphia.
The Philly Fed's manufacturing survey showed that its index of prices paid rose four points in April to a score of 84.6 percent, the highest reading since June 1970. More than 85 percent of manufacturers reported increases in input prices.
The index for prices charged for finished goods also moved up from 54.4 to 55.0, with almost 57 percent of manufacturers saying they were paid more for their goods. That was short of the record high hit in the second half of last year.
The high inflationary pressures revealed in the Philly Fed survey, which was conducted between April 11 and April 18, suggest that inflationary pressures have not subsided and inflation may continue to rise in the months ahead. Some economists have said that inflation may have peaked in March, largely because core CPI—which excludes food and energy—declined on a month-to-month basis.
Source: breitbart.com
Nomura now expects the Fed to hike interest rates by 75 basis points in both June and July, after a 50 point increase in May.
That would be one of the fastest tightening cycles in history, as the Fed grapples with red-hot inflation.
Fed officials, including Chair Jerome Powell, have heavily suggested that they want to move faster in raising interest rates.
Source: businessinsider.com
The Central African Republic has become the first country in Africa to adopt Bitcoin as a payment currency. In a worldwide first, the National Assembly unanimously adopted the bill to help put the country's plan for economic recovery and peacebuilding on track.
The minister of digital economy, post services and telecommunications, Gourna Zacko, and the minister of finance and budget, Calixte Nganongo, initiated and submitted the draft law establishing both the legal framework for cryptocurrency regulation and Bitcoin as an official currency in the Central African Republic.
Source: forbes.com
There comes a time when ideology runs headfirst into the monolith of unwavering reality.  Today, during a press briefing as a part of the IMF World Bank Meetings [TRANSCRIPT HERE], Treasury Secretary Janet Yellen was forced to admit the sanctions against Russia have hurt the EU more than Vladimir Putin and the Russian economy.
Source: theconservativetreehouse.com
---
Political/Rights
Most Americans feel as though the country is headed in the wrong direction under Biden, an AP/NORC survey 
As Americans face record inflation and continue to deal with gas prices, their view of the country's direction is sour, as 70 percent said it is headed in the wrong direction, well into the second year of Biden's presidency. That opinion is shared by 93 percent of Republicans, 72 percent of independents, and 49 percent of Democrats.

 
Source: breitbart.com
Florida Governor Ron DeSantis signs today: (1) the new FL congressional map that creates four new GOP leaning districts; (2) a bill to remove Disney's special districting exemption status; and (3) the "Stop Woke Act," a bill banning discrimination, woke indoctrination and Critical Race Theory in schools, universities, and corporations.
FLORIDA – "No one should be instructed to feel as if they are not equal or shamed because of their race," said Governor Ron DeSantis. "In Florida, we will not let the far-left woke agenda take over our schools and workplaces. There is no place for indoctrination or discrimination in Florida."
"By signing this legislation, which is the first in the nation to end corporate wokeness and Critical Race Theory in our schools, we are prioritizing education not indoctrination," said Lieutenant Governor Jeanette Nuñez. "We will always fight to protect our children and parents from this Marxist-inspired curriculum." (Press Release)
Full Video Below:
Source: theconservativetreehouse.com
Wikipedia editors removed the entry for Rosemont Seneca Partners earlier this week on the ground that it was "not notable," archived comments from its Talk Page reveal.
The deletion happened Wednesday. The investment company co-founded by Hunter Biden has been at the heart of numerous questions surrounding his overseas business dealings.
"This organization is only mentioned in connection with its famous founders, Hunter Biden and Christopher Heinz," said a Wiki editor identified only as Alex who additionally warned that "keeping it around" ran the risk of the page becoming "a magnet for conspiracy theories about Hunter Biden."
Arguments to merge the story with Hunter Biden's official wikipedia page were also overruled.
Source: nypost.com
Prosecutors subpoenaed Hunter Biden's paternity documents and tax records – both personal and business.
"They wanted every record relating to Hunter Biden we had," Lunden Roberts' lawyer Clint Lancaster told CBS News.
The federal investigation of Hunter Biden centers on the "flow of money" from the Biden family's overseas business deals, Catherine Herridge reported.
The request for records spanned from January 2017 to present.
There was another subpoena that was sent out to a major US bank seeking records of James Biden, Joe Biden's slimy brother.
James Biden's records went back to 2014 while Joe Biden was Vice President.
CBS News' Catherine Herridge reported:
A December 2020 subpoena from the U.S. Attorney's office in Delaware, obtained by CBS News, requested all documents "regarding [Hunter] Biden's income, assets, debts, obligations, and financial transactions… and all personal and business expenditures." The request specified January 2017 to the present.

The subpoena also requested a wide range of tax documents pertaining to Hunter Biden.

"All federal, state, local and foreign tax documentation related to Biden," the subpoena reads, "including but not limited to, IRS Forms 1099, income and payroll tax returns, state tax returns, and amended tax returns."

Hunter Biden's personal and business conduct have been the subject of scrutiny — and the target of Republican political attacks — since the earliest days of the 2020 presidential campaign.

The move by federal authorities to obtain these records offers a new, if narrow, glimpse into the long-running investigation into the president's son — a probe that began as a tax inquiry several years ago.
Source: thegatewaypundit.com
Former Democrat presidential candidate Hillary Clinton on April 20 argued that a lawsuit filed against her and some 30 others by her former rival, ex-President Donald Trump, should be dismissed.
In the motion to dismiss, Clinton lawyer David Kendall said the alleged crimes cannot be adjudicated because too much time has passed since they were said to have been committed.
"Even were plaintiff's claims timely, they are still meritless. To be clear, Clinton vigorously disputes the allegations in the complaint. But even taking those allegations as true, plaintiff fails to plead any cognizable legal causes of action," Kendall wrote.
Clinton is asking U.S. District Judge Donald Middlebrooks, the Bill Clinton appointee overseeing the case, to toss all claims against her with prejudice, or leaving no ability for Trump to refile the suit.
As of now, a jury trial in the case is slated to start on May 8, 2023.
Source: theepochtimes.com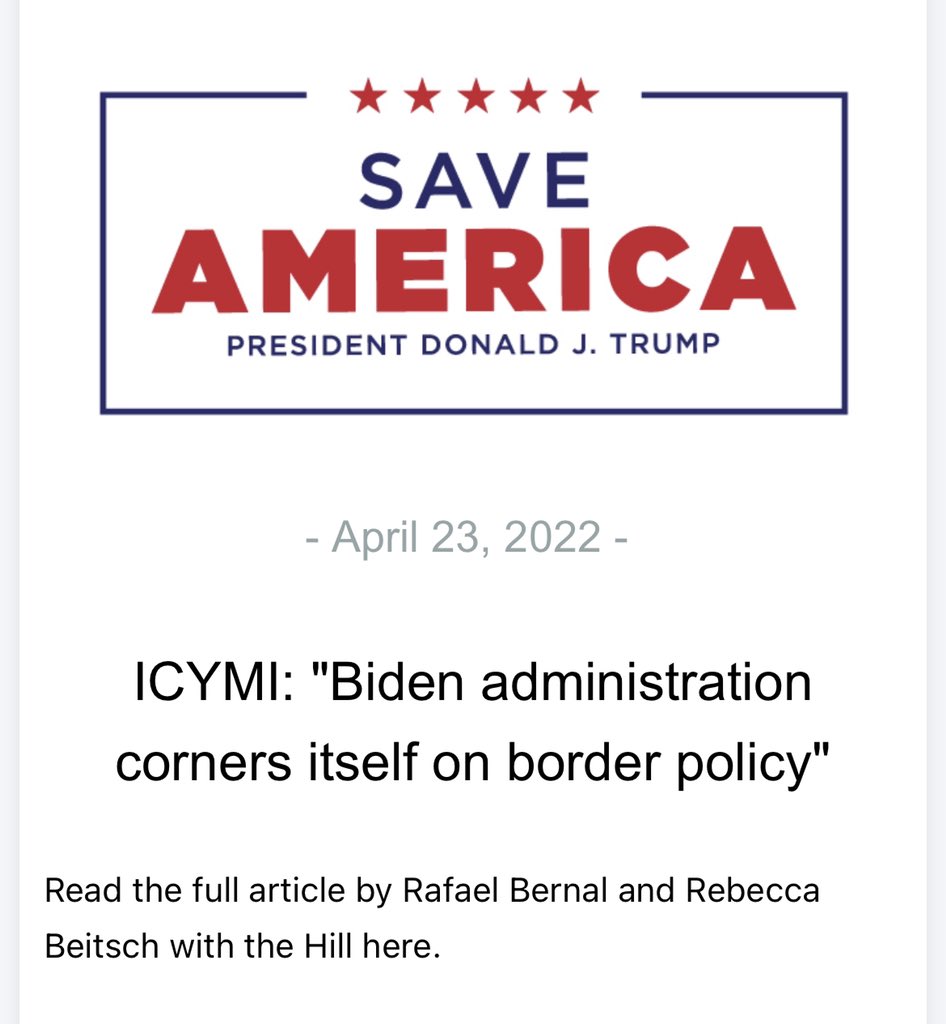 ---
Geopolitical/Police State
Barack Obama and Hillary are pushing for government censorship.  To hell with individual rights. freedom of speech, and the US Constitution. 
Source: thegatewaypundit.com
So apparently Bill Gates hit up @elonmusk to discuss "philanthropy on climate change" but Elon asked if he still had a half billion dollar short position on $TSLA.

Bill said he hasn't closed it out, so Elon told him to get lost. No idea if this is true lol pic.twitter.com/iuHkDG3bAd

— Whole Mars Catalog (@WholeMarsBlog) April 22, 2022
Yeah, but I didn't leak it to NYT. They must have got it through friends of friends.

I heard from multiple people at TED that Gates still had half billion short against Tesla, which is why I asked him, so it's not exactly top secret.

— Elon Musk (@elonmusk) April 23, 2022
Elon Musk explained the meaning behind his tweet this morning "Moving on…"
Elon Musk tweeted "Moving on…" this morning and this left many questioning what he meant.  Did this mean he was no longer pursuing purchasing Twitter and redesigning it as a free speech platform?
  Musk shared that his tweet was related to his tweet about Bill Gates:
On Friday Musk reported on Bill Gates in some really humorous and shocking tweets.  These tweets made Musk even more of a legend.  They were historic.
Source: thegatewaypundit.com
Musk Secures $46.5 Billion Funding to Buy Twitter, Says Ready for Tender Offer
Billionaire Tesla CEO Elon Musk has secured the required financing to buy Twitter and take the company private, according to a new regulatory filing. Musk is also exploring a tender offer to buy shares directly from stockholders.
The document shows that Musk has received $46.5 billion in commitment to help finance the proposed deal. If he decides to go ahead with a tender offer, he will approach Twitter shareholders and offer to buy their shares within a specific time frame. He's still considering whether to launch a tender offer for Twitter, according to the filing.
Source: theepochtimes.com
JUST IN – Twitter re-examines Elon Musk's bid. The two sides are meeting Sunday to discuss takeover bid, the WSJ reports.
Globalist incumbent President Emmanual Macron has won reelection as France's president, defeating French nationalist candidate Marine Le Pen, according to France 2 projection.
Initial projections show Macron defeated far-right Marine Le Pen for the second time with 58.2% of the vote.
Macron is the first French president to win reelection in 20 years since 2002.
Source: thegatewaypundit.com
---
War
---
Cyber Attacks
---
False Flags
According to Fauci, the CDC bureaucratic science should supersede any constitutional, legal or limiting positions by the legislative or judicial branches of government.  In essence he's saying the CDC is above the law.  WATCH:
The CDC is a subservient regulatory agency just like every other agency within government and is just as subject to the laws and legal limitations of the constitution as any other agency would be.  However, in the worldview of Fauci and the Branch Covidians, the power of science puts them above the law.
Source: theconservativetreehouse.com
1. The CDC isn't a legislative branch of government.
2. When you enact something unconstitutional, the courts get involved and strike it down.
3. Stop giving this tyrant air time..

— Trevor 🇺🇸 (@SoCal4Trump) April 21, 2022
Obama emerged from the shadows to urge Americans to get vaccinated. We are now over two years into this Covid 'pandemic.'
The problem with his vaccine sales pitch? It spreads Covid misinformation. Watch:
"And yet, despite the fact that we've now essentially clinically tested the vaccine on billions of people worldwide, around one in five Americans is still willing to put themselves at risk and put their families at risk rather than get vaccinated," Obama claimed. "People are dying because of misinformation."
There is plenty of misinformation packed into this one line. First of all, getting the vaccine does literally nothing to stop the spread of Covid-19. It does not put your family "at risk" if you do not get the shot. That lie has been so completely obliterated that dishonest and corrupt "fact checkers" don't even bother to fact check it anymore. It's done.
But just to bury this myth, let's turn to one of the most comprehensive international studies ever performed on the subject. A Harvard study of 68 nations and 2,947 counties in the United States published in the European Journal of Epidemiology shattered the argument that the mRNA prophylactic therapeutic drugs marketed as "vaccines" do anything significantly to stop the spread of Covid-19. Here are their findings:
At the country-level, there appears to be no discernable relationship between percentage of population fully vaccinated and new COVID-19 cases in the last 7 days (Fig. 1). In fact, the trend line suggests a marginally positive association such that countries with higher percentage of population fully vaccinated have higher COVID-19 cases per 1 million people.
Critically, the claims that the vaccines slow the spread by hypothetically decreasing symptoms and thereby lowering transmission rate was also debunked. The correlation between vaccination rates and case rates was shown to be slightly positive.
That doesn't mean "good." That means the higher the vaccination rate, the likelihood there will be a higher case rate. Correlation isn't causation, but it shows that the vaccines are worse than useless against transmission.
The second aspect of misinformation in Barack Obama's pharmaceutical sales pitch is the existence of natural immunity.
A comprehensive Johns Hopkins University study produced evidence that 99% of people with prior infections have natural immunity that lasts at least 650 days with no decrease in immunity.
Source: beckernews.com
#BREAKING: Philadelphia health officials will end mask mandate just four days after it was reinstated — business owners and residents resisted the restrictions

— Breaking911 (@Breaking911) April 22, 2022
---
Q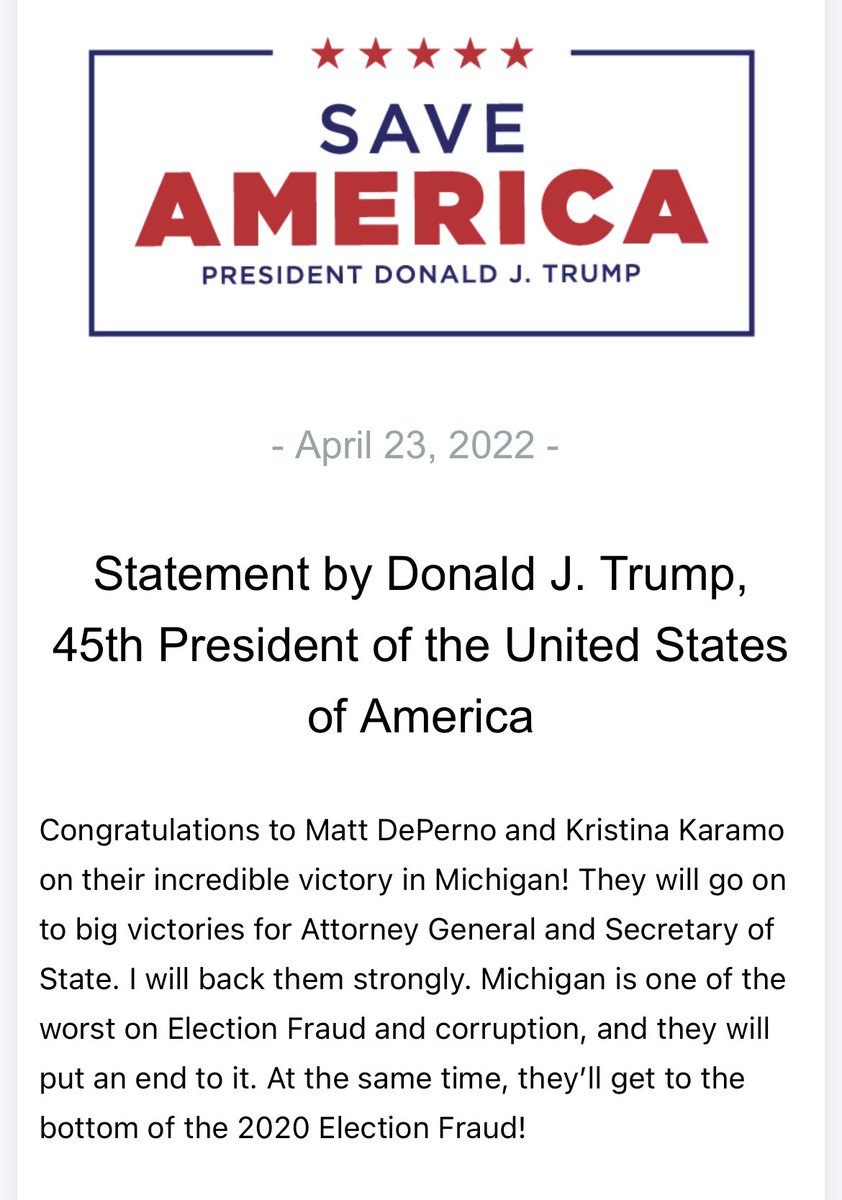 You just can't make this stuff up.
White House Press Secretary Jen Psaki said Joe Biden gets frustrated when his passions aren't being heard and digested.
Americans just aren't smart enough to see how brilliant Joe Biden is and how wonderful his policies are for the country.
"There are limitations that have been imposed upon him…[that] have not allowed people to see, at all times, what his magic is," Psaki said to NBC News White House Correspondent Kelly O'Donnell on Wednesday.
Source: thegatewaypundit.com
tAKE  A LISTEN
TAKE A LISTEN
— Dan Scavino Jr.🇺🇸🦅 (@DanScavino) April 22, 2022