Everything Stated By Trump Will Be Made Public, Follow The Leader – Ep. 2555
The [CB] are now showing the people the way, they will prove it is better to hold gold and crypto. Everyone is watching Afghanistan, this will show the way forward. Palantir is now buying gold preparing for what is coming. The patriots are in total control, Afghanistan crisis is now showing the people that the Biden administration is not in control and what they are saying is not making sense, why is this, there are different factions trying to control the situation but there is one player that is calling the shots, CHINA. Trump and the patriots are now exposing it all, nothing is by accident, preplanned from the beginning. Every statement Trump made will be made public.The [DS] never was in control and each day that passes it gets worse and worse, never interfere with an enemy while they in the process of destroying themselves.  Follow the leader.
Watch The X22 Report On Video
---
Economy
Conveniently, overnight Reuters provided a handy breakdown of the international reserves owned by the DAB (as the Afghani central bank is called). The most recent financial statement posted online shows DAB holds total assets of about $10 billion, including $1.3 billion-worth of gold reserves and $362 million in foreign currency cash reserves, according to currency conversion rates on June 21, the date of the report. Notably, a big chunk of the reserves aren't held in the country as we observed yesterday.
Digging deeper, the DAB's June statement stated that the bank owned investments worth $6.1 billion. While the latest report did not provide details of those investments, a breakdown in the year-end report showed that the majority of those investments were in the form of U.S. Treasury bonds and bills, most likely held by proxy at the Fed where they make up a portion of the $3.5 trillion in securities held in custody by the US central bank.
This is important because as we also learned yesterday, the US Treasury imposed a freeze on all Afghan reserves, depriving the Taliban – who remain on US international sanctions lists – of much needed cash. An Bidn admin official confirmed as much telling Reuters: "Any central bank assets the Afghan government have in the United States will not be made available to the Taliban."
But most notably, the central bank's consolidated statement revealed that the New York Fed's gold vault located hundreds of feet below street level, held gold bars worth 101,770,256,000 afghanis – or some $1.32 billion – on behalf of the Afghan central bank at end-2020. And since this gold is effectively non-recourse to Afghanistan's new Taliban government, we asked publicly if this means that the Afghan gold has now been effectively confiscated.  
 the acting central bank head notes, "The amount of such cash remaining is close to zero due a stoppage of shipments as the security situation deteriorated, especially during the last few days."
  banks placed very large USD bids as customer withdrawals accelerated.
It is then that the currency collapse and the dollar run began in earnest because as Ahmady notes, "for the first time, I therefore had to limit USD access to both banks and dollar auctions to conserve remaining DAB dollars  
Source: zerohedge.com
  There is no new $ coming in.
There are bank runs, people can't get to their money
Economy falling apart, inflation hitting
Could bitcoin have helped Afghans keep their savings? RT's Boom Bust investigates
Source: rt.com
Global crypto adoption among retail investors surges 881 percent
The top countries adopting crypto in the past year are Vietnam, India, Pakistan and Ukraine, crypto-analysis firm Chainalysis said.
Global crypto adoption among ordinary investors has surged in the past year, according to crypto-analysis firm Chainalysis.
Using factors like peer-to-peer exchange trading volume and value received, Chainalysis said global crypto adoption has risen by more than 881% in the past year.
Source: .aljazeera.com
Palantir buys $50M worth of gold bars to counter 'black swan event'
Data analytics firm Palantir, best known for its secretive work with the Central Intelligence Agency and other government bodies, has bought $50 million worth of gold bars in preparation for another "black swan event."
The Colorado-based company purchased $50.7 million worth of 100-ounce gold bars sometime in August, Palantir said in a short note buried in its 93-page second-quarter earnings report last week.
Bloomberg also reported that Palantir will accept payment from its customers in gold.
The company previously announced that it would accept bitcoin as a form of payment,
Investing in gold is seen as a way to hedge against negative events in the future as well as inflation, as proponents see gold retaining its inherent value throughout any economic downturn.
Source: nypost.com
Interesting. Peter Thiel is the CEO of Palantir and very close friends with President Trump. During the beginning stages of C19, Thiel was constantly with Trump in the business meetings on how to keep the economy afloat.
---
Political/Rights
Newsom Sells His NorCal Home for $5.9 Million Ahead of Recall Election
California Governor Gavin Newsom (D) sold his home just outside of San Francisco for $5.895 million – above his most recent asking price – in the months leading up to his recall election.
Newsom sold his 4,000 sq ft home in May after it became clear he would be facing a recall election later this year.
Source: thegatewaypundit.com
FBI Told Informant in Whitmer Kidnapping Case to Lie, Frame Innocent Man and Delete Text Messages
The Governor Whitmer kidnapping case, which we now know was comprised of virtually all FBI agents and informants took another devastating hit.
Michael Hills, an attorney for Brandon Caserta, one of the six defendants, produced text messages showing an FBI field agent telling an informant to lie, frame an innocent man and delete text messages.
This is why federal prosecutors are refusing to hand over text messages and laptops from FBI informants in the Whitmer kidnapping case.
Hills requested the government hand over all communications between "Dan" and the FBI.
In the Governor Whitmer kidnapping case –

Here is the text message from an FBI Agent to their informant telling him to "delete these" text messages.

— Techno Fog (@Techno_Fog) August 17, 2021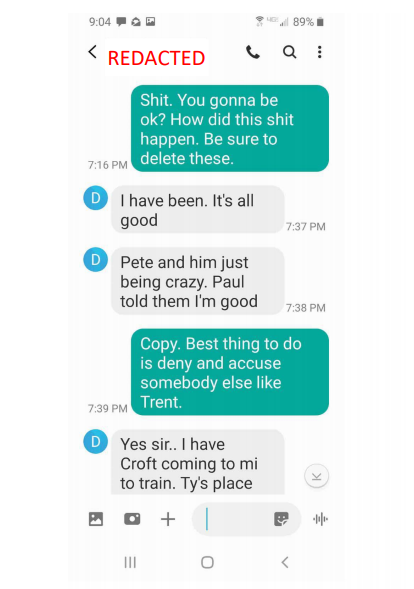 Source: thegatewaypundit.com
---
Geopolitical/Police State
---
War
  the deal that Trump had worked out was conditioned on a variety of promises that the Taliban broke — they were supposed to work on a power-sharing agreement with the Afghan government. They didn't.
Biden withdrew anyway and gave up Bagram airbase despite their failure to comply. That wasn't Trump — that was Biden. So Biden wasn't even adhering to the deal which Trump had worked out. That base would have been vital to helping get people out safely, as Sen. Ben Sasse (R-NE) explained.
Source: redstate.com
Stunning Poll Reveals Trump Would Win Election Held Today, As Nearly 1 In 10 Democrats 'Regret' Their 2020 Vote.
Stunning new poll numbers from Rasmussen Reports suggest nearly 1 in 10 Democrats regret their vote in the 2020 Presidential election, with 12 percent of 'Moderates' saying the same, and 14 percent of Black Americans expressing regret. 
Furthermore, asked how people would vote if a presidential election were held today, just 37 percent said they would vote for Joe Biden, down from 45 percent who said they did. Forty-three percent said they would vote for Donald Trump.
The Rasmussen Reports numbers shine a new light on just how poorly Joe Biden has performed in his first few months as President of the United States.
 

Good morning! Do you think Joe Biden's national security advisor Jake Sullivan is really as incompetent as the Afghanistan debacle makes him out to be?

…or was this all on purpose? A short thread to help you decide: https://t.co/xZKYq1rKRe

— Raheem J. Kassam (@RaheemKassam) August 18, 2021
So, as you can see from the link above Sullivan has some pretty sketchy links to the CCP, who are champing at the bit to expand their influence in Afghanistan.

It gets weirder: https://t.co/afpg6B0HU9

— Raheem J. Kassam (@RaheemKassam) August 18, 2021
Maybe it's a grift. Or maybe they're literally traitors. Who else would claim they were on the same side as Al Qaeda? https://t.co/KdB1CkaEIT

— Raheem J. Kassam (@RaheemKassam) August 18, 2021
Finally, let's put this rancid cherry on the cake of shit that is the Biden regime.

Jake Sullivan, in his own words, talking about how much he wants China ascendant: https://t.co/2CL1K87nCM

— Raheem J. Kassam (@RaheemKassam) August 18, 2021
"We helped create the conditions of stability and security in East Asia that allowed China to have this remarkable economic rise. So that it's rising, in a way, is not the failure of American foreign policy; it's the success of creating those stable conditions."

— Jake Sullivan

— Raheem J. Kassam (@RaheemKassam) August 18, 2021
So, you know, we can all jump to making fun of the folks around Biden for ballsing this up.

But don't discount the fact that these people literally worked for CCP funded think tanks and have consistently promoted Chinese Communist geopolitical interests.

Just sayin.

— Raheem J. Kassam (@RaheemKassam) August 18, 2021
EXC: Joe Biden's State Dept Halted A Trump-Era 'Crisis Response' Plan Aimed At Avoiding Benghazi-Style Evacuations Just MONTHS Before Taliban Takeover.
Joe Biden's State Department moved to cancel a critical State Department program aimed at providing swift and safe evacuations of Americans out of crisis zones just months prior to the fall of Kabul, The National Pulse can exclusively reveal.
The "Contingency and Crisis Response Bureau" – which was designed to handle medical, diplomatic, and logistical support concerning Americans overseas was paused by Anthony Blinken's State Department earlier this year. Notification was officially signed just months before the Taliban's takeover of Afghanistan.

 

"SENSITIVE BUT UNCLASSIFIED," an official State Department document from the Biden State Department begins, before outlining the following move the quash the Trump-era funding for the new bureau.
The document is from the desk of Deputy Secretary of State Brian P. McKeon, confirmed in March by the United States Senate.
The document is dated June 11, 2021, though The National Pulse understands the decision to pause the program may have come as early as February, both undermining the original Trump-era date for the withdrawal of troops from Afghanistan, and certainly giving the Taliban time to threaten American assets and lives on the run up to Joe Biden's September 11th date of withdrawal.
  
Source: thenationalpulse.com
President Donald J. Trump:

"My Administration prioritized keeping Americans safe, Biden leaves them behind. Canceling this successful Trump Administration program before the withdrawal that would have helped tens of thousands Americans reach home is beyond disgraceful.

— Liz Harrington (@realLizUSA) August 18, 2021
The Taliban didn't TAKE the country; the Taliban was GIVEN the country.
Former President Barack Obama didn't listen to Pentagon officials when they told him Taliban mullah Khairullah Khairkhwa was too dangerous to release. Instead, he freed the group that came to be known as the 'Gitmo five' — Khairkhwa alongside four of his buddies — from the Guantanamo Bay prison in 2014 in exchange for a U.S. soldier who deserted his post.
Obama all but guaranteed that Khairkhwa and the four other men would be sent to Qatar, where their movements would be restricted and where they could do no harm. As it turns out, the Taliban isn't as trustworthy as the former president thought
Now, Khairkhwa has resurfaced as one of the masterminds behind the Taliban's takeover of Kabul, the New York Post reported Tuesday.
Source: thefederalist.com
Joe Biden currently has 40,000 Americans trapped in the Middle East and will not take questions on it but he can come out and make a direct attack on the children of this nation! 
Is the DS visible for everyone yet? Are you paying attention? This isn't just about control over YOU, it's about control over your children you love and would die for. These people are sick!
---
False Flags
"Don't Talk to Your Neighbors" – New Zealand Enters Nationwide Lockdown Over ONE New Covid Case (VIDEO)
New Zealand went into a nationwide lockdown on Tuesday after ONE PERSON tested positive for Covid-19.
People scrambled to stock up on food and flooded supermarkets
 Prime Minister   told New Zealanders not to talk to each other after the country's first Covid case in 6 months was reported.
"Don't talk to your neighbors. Please, keep to your bubbles,"
Source: thegatewaypundit.com
This seems to be a common theme, don't talk to people, are they trying to stop the spread of information, think about a communication blackout
Anecdotal evidence detailed by former Google software engineer Mike Hearn strongly suggests that most restaurants, cafes and other businesses in France are not enforcing the country's controversial vaccine passport system.
 on the first day the new program was in place, police were visibly patrolling bars and cafes demanding customers show proof they've had the jab.
 Hearn said "I decided to do a simple experiment to find out: always present an expired test even though I had a valid negative one, and see what happens,"  
"Over a four day stay I was required to show a valid pass exactly zero times; that includes at the airports in both directions. Compliance is absolutely min viable and often lower."
"At small businesses enforcement was non-existent: sometimes the pass requirement was ignored entirely, other times we were asked "do you have a pass" and our answer wasn't checked.

One restaurant had come up with a clever way to detect police stings without requiring customers to actually present a pass. As expected, enforcement was stricter by larger firms, however even there we saw the following:

– Test certificates being checked once and then swapped for a token that doesn't expire.
– Expired tests being accepted.
– People accepting paper test certificates without scanning them.
– Scanning tests and then not looking at the screen to see the results.
– Accepting QR codes that failed to scan."
Hearn also reveals how mask mandates in theme parks and other venues are also not being followed, despite signs everywhere ordering people to cover their faces, while social distancing is also a "forgotten memory."
I 
Source: zerohedge.com
Hollywood Celebrities Scold Greg Abbott After He Tests Positive for COVID-19: 'Eat S**t for Eternity'
Hollywood celebrities wasted little time making fun of Texas Gov. Greg Abbott (R) after he tested positive for the Chinese coronavirus, calling him a "selfish prick" and telling him to "eat shit."
Stars including Bette Midler, George Takei, Rosanna Arquette, Ethan Embry, and comedian Paula Pell attacked the Texas governor
Source: breitbart.com
Moderna Co-Founder Sees Potential for Annual Covid-19 Boosters
With governments around the world debating whether to authorize Covid-19 vaccine booster doses, Moderna Inc. co-founder Noubar Afeyan envisions a time when the shot could become routine.
"
"My guess is that given enough time, we may well end up in a situation where we have, let's say at a minimum, yearly vaccinations, just like the flu," said Afeyan, who also serves as chairman.
Source: bloomberg.com
Trump claims COVID booster shots are a 'money-making operation' for Pfizer and he can 'see the dollar signs' in CEO Albert Bourla's eyes
'If you're a pure businessman you'll say, "You know what, let's give them another shot, $10 billion of money coming in,"' Trump told Fox Business' Maria Bartiromo
Trump,   said he could 'see the dollar signs in their eyes,' calling out the CEO of Pfizer 
 
 
Source: dailymail.co.uk
The Biden Administration is expected to extend the travel mask mandate through January 18, 2022.
The current travel mask mandate expires September 13, 2021.
" Source: thegatewaypundit.com
  The New Civil Liberties Alliance is pleased to announce today that George Mason University (GMU) has granted a medical exemption from its mandatory Covid-19 vaccination policy to NCLA client Todd Zywicki, George Mason University Foundation Professor of Law at Antonin Scalia Law School. NCLA is delighted with Prof. Zywicki's victory for freedom. His brave determination to fight the university's misguided and scientifically unsound vaccination mandate has garnered nationwide attention. GMU and other universities must stop ignoring science and cease forcing mandatory vaccines on even those with naturally acquired immunity (especially if only approved under a federal Emergency Use Authorization statute).
source:  nclalegal.org
---
Q
  Georgia's State Election Board on   took a step toward a possible eventual takeover of elections in the state's most populous county under a process outlined in the state's sweeping new voting law that critics argue could open elections up to political interference.
The board voted unanimously Wednesday to approve a bipartisan, three-person review panel to examine Fulton County,
Source: apnews.com
Ken Bennett went on The John Fredericks show this afternoon and discussed the timing of the AZ audit report. 
He said that the first meeting to review the draft report is next Wednesday and estimates that the report will be ready for public release by the first or second week of September. 
What if it is proven that a foreign government/invisible enemy helped Biden cheat in the election, then that same foreign government/invisible enemy was instructing Biden on domestic and foreign policies. How would the people react?
Infiltration from within
An Act of War
TWITTER SAYS TESTING FEATURE TO LET USERS REPORT "MISLEADING" TWEETS IN EFFORT TO "IMPROVE THE SPEED AND SCALE OF OUR BROADER MISINFORMATION WORK" https://t.co/ixuBScuJaG

— The Bias (@thebias_news) August 17, 2021