How Do You Know When Something Big Is About To Drop,Shall We Play A Game, Wargames – Ep. 2556
The [CB] have set their plan up for the great reset, but the economy is not shutdown, small businesses have not disappeared. [CB]s are now in the endgame. Xi pushes the [CB] agenda, wealth will now be redistributed. PA is looking to mine bitcoin. The [DS] fell right into the patriot trap, Trump, Miller put together a wargame, their plan worked. If they planned the wargame for Afghanistan did they do this for devolution. The [DS]/fake news is in trouble, the [DS] getting ready to use the 25th on Biden, the world is turning on the [DS]. Trump and the patriots are exposing it all. The [DS] is now setting up the narrative for [FF], slowly but surely we will see more people pushing a revolution and the story will morph and the fake news will say it's Trump supporters that are pushing this.
Watch The X22 Report On Video
---
Economy
Amazon plans to open large physical retail stores in U.S. – WSJ
Source: reuters.com
Use the pandemic to shutdown small businesses, have the small businesses suffer and go out of business, now bring big controlled stores, those that will follow social credit scores, vaccine passports.
 the dollar has lost 98% in real terms (GOLD) since 1971.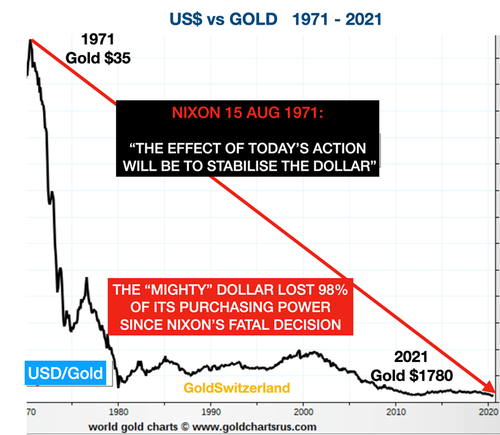 WE ARE NOW IN THE CENTRAL BANK ENDGAME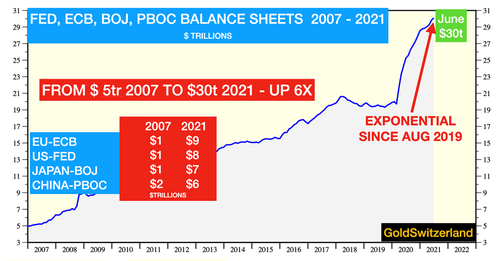 As the graph shows, since the Great Financial Crisis started in 2006, the balance sheets of the four biggest central banks have gone up 6X. Since the current crisis accelerated in 2019, the growth is now EXPLOSIVE!
But it is not just central banks blowing bubbles. Because the whole world has become a bubble: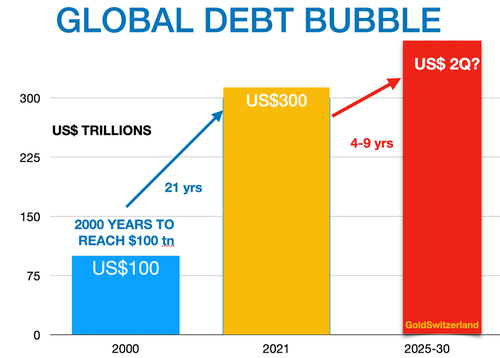 Source: zerohedge.com
 President Xi had put the country's wealthiest citizens "on notice" that he was planning some redistributive policies to aid in the "common prosperity". These policies will include income "regulation and redistribution", according to Xinhua.
 Officials vowed to "strengthen the regulation and adjustment of high income, protect legal income, reasonably adjust excessive income, and encourage high-income groups and enterprises to give back to society more,"
Source: zerohedge.com
Bitcoin mining comes to Pennsylvania coal country—and raises tough questions
Source: fortune.com
BREAKING: Liquid exchange hacked to the tune of $80 million
Over $80 million worth of digital assets has been removed from Liquid Global exchange. KuCoin has responded by blacklisting the addresses that received stolen funds.
Withdrawals and deposits have been suspended on Liquid, with the exchange promising to provide regular updates as its investigation unfolds.
Source:  cointelegraph.com
---
Political/Rights
EXCLUSIVE: Is this the proof that Ilhan Omar married her own brother to bypass US immigration rules? Conservative group's DNA test from 'congresswoman's cigarette butt' purports to show 99.99% match to her second husband Ahmed Elmi
It has long been rumored that Omar and Elmi are siblings, but because of a lack of paperwork in war-torn Somalia, positive proof has never been uncovered 
A supposed DNA match between Rep. Ilhan Omar and her second husband Ahmed Elmi allegedly proves that the two are siblings 
The match says that Omar's DNA was taken from a cigarette butt, while Elmi's DNA purportedly came from a drinking straw
Although Omar is not known to be a smoker, a grainy photo appears to show her smoking outside of her Washington, DC home   
Republican strategist Anton Lazzaro posted the results hours before he was arrested and charged with trafficking underage girls for sex 
Omar's spokesperson is already discrediting the report due to Lazzaro's involvement 
 
The results of the test assert that there is a 99.999998% chance that Omar and her second husband Ahmed Elmi are siblings.
The report, drawn up by Endeavor DNA Laboratories does not name either Omar or Elmi, instead referring to them as 'Sibling 1' and 'Sibling 2.' DailyMail.com understands that Omar is Sibling 1.
Source: dailymail.co.uk
CA Governor Recall Race: Brazen Ballot Theft Caught on Camera
Earlier this week, a security camera caught 2 women in Valley Village, CA reportedly stealing CA Governor Recall Election ballots out of apartment mailboxes using a USPS master key. Another man was caught with hundreds of ballots in Torrance as well.
GHISLAINE MAXWELL is causing MASS PANIC for the deep state! 
This is an entire separate investigation that started under whose watch? Trump. Ghislaine is panicking and wanting to alert her co-conspirators but the prosecutors are saying "your going to keep your mouth shut!". 
When Ghislaine Maxwells case breaks open you're going to see names you never imagined
---
Geopolitical/Police State
New Cuban decree tightens controls on social media, sparking outrage
– Cuba introduced tighter controls on the use of social media this week, including a ban on publications that might damage "the country's prestige," angering many citizens and international rights activists.
Decree 35, published in the official gazette on Tuesday, comes a month after the most widespread anti-government protests in the Communist-run country in decades, which spread in part due to information shared on social media.
The legislation bans the spread of false news or messages and content deemed offensive or which "incite mobilizations or other acts that upset public order." It also provides a channel for Cubans to inform on potential contraventions.
Those who have attempted to "subvert the constitutional order" will be considered cyberterrorists. It does not say what the penalties will be for violations.
"Our Decree 35 goes against misinformation and cyber lies," said President Miguel Diaz-Canel, who has blamed the July 11 protests on an online campaign by U.S.-backed counter-revolutionaries.
Source: reuters.com
---
War
During his interview with George Stephanopoulos, President Joe Biden contradicted statements he made in July when he deflected blame for the debacle in Afghanistan by saying chaos from the U.S. withdrawal was inevitable.
"We're going to go back in hindsight and look, but the idea that somehow, there's a way to have gotten out without chaos ensuing, I don't know how that happens," he told Stephanopoulos.
"So, for you, that was always priced into the decision?" asked Stephanopoulos.
"Yes," replied Biden.
In the same interview, Biden defended the withdrawal and did not believe it was a failure:
I don't think it was a failure. When you had the government of Afghanistan, the leader of that government getting into a plane and taking off and going to another country. When you saw the significant collapse of the Afghan troops we had trained, that was — you know I'm not — that's what happened. That's simply what happened.
Biden's insistence that he anticipated a chaotic withdrawal from Afghanistan stands in stark contradiction to statements he made in July when he promised that it would not be another repeat of Saigon in 1975.
"Mr. President, some Vietnamese veterans see echoes of their experience in this withdrawal in Afghanistan. Do you see any parallels between this withdrawal and what happened in Vietnam?" Biden was asked on July 8. Biden replied:
Biden's contradicting his own words was so blatant that even CNN had to call him out on it:
To make matters worse, when George Stephanopoulos confronted Biden on the harsh reality currently unfolding in Afghanistan – where Americans remain stranded behind enemy lines and desperate Afghans cling to planes flying off the tarmac to escape the Taliban – the president coldly (and falsely) brushed that reality off as if it were water under the bridge.
"That was four days ago, five days ago!" Biden said.
The first images of Afghans clinging to departing planes occurred on Monday – two days before Biden's interview with George Stephanopoulos.
Source: breitbart.com
UK Parliament Holds Biden in Contempt for Afghanistan Withdrawal
The United Kingdom's Parliament on held President Joe Biden in contempt for his withdrawal of American troops from Afghanistan, calling the move "catastrophic" and "shameful."
Members of Parliament, including some who served alongside U.S. soldiers in Afghanistan, accused Biden of "throwing us and everybody else to the fire" with his decision to withdraw. They also attacked Biden for his "shameful" criticism of the Afghan National Army and said it was "dishonourable" to blame Afghanistan's fighting force for the Taliban's takeover.
Source: freebeacon.com
The US Embassy in Afghanistan under the direction of Joe Biden on Wednesday sent out a second security alert to stranded Americans in Kabul:
"THE UNITED STATES GOVERNMENT CANNOT ENSURE SAFE PASSAGE TO THE HAMID KARZAI INTERNATIONAL AIRPORT."
You are on your own.
Source: thegatewaypundit.com
— Dan Scavino🇺🇸🦅 (@DanScavino) August 18, 2021
TAKE A LISTEN 
Statement by Donald J. Trump, 45th President of the United States of America
First you bring out all of the American citizens. Then you bring out ALL equipment. Then you bomb the bases into smithereens—AND THEN YOU BRING OUT THE MILITARY. You don't do it in reverse order like Biden and our woke Generals did. 
No chaos, no death—they wouldn't even know we left!
Trump's Pledge to Exit Afghanistan Was a Ruse, His Final SecDef Says
Chris Miller now says talk of a full withdrawal was a "play" to convince a Taliban-led government to keep U.S. counterterrorism forces.

President Donald Trump's top national security officials never intended to pull all U.S. troops out of Afghanistan, according to new statements by Chris Miller, Trump's last acting defense secretary.

Miller said the president's public promise to finish withdrawing U.S. forces by May 1, as negotiated with the Taliban, was actually a "play" that masked the Trump administration's true intentions: to convince Afghan President Ashraf Ghani to quit or accept a bitter power-sharing agreement with the Taliban, and to keep some U.S. troops in Afghanistan for counterrorism missions.

  Miller   commissioned a wargame that determined that the United States could continue to conduct counterterrorism in Afghanistan with just 800 American military personnel on the ground. And by the end of 2020, when he was acting defense secretary, Miller asserted, many Trump administration officials expected that the United States would be able to broker a new shared government in Afghanistan composed primarily of Taliban officials. The new government would then permit U.S. forces to remain in country to support the Afghan military and fight terrorist elements.
 If they wargamed Afghanistan, don't you think they would have wargamed a foreign adversary successfully aiding a political party to steal election?  This was all JB, by taking instructions from CHINA and handing Afghanistan to CHINA it all goes beck to JB. I wonder if this was all captured by Millitary Intelligence. 
 
When the [DS] invaded Afghanistan they put a puppet government into place, Just like Iraq, Lebanon etc..
Taliban is who Trump had made a deal with. The Afghan gov't is who Biden, the media, and the CCP want in charge because its their puppet government
568
Q
!UW.yye1fxo
01/19/2018 17:49:21
 ID: ee2415
Archive Bread/Post Links: 97364 / 97753
Direct Link: 97753
Anonymous
01/19/2018 17:46:59
ID:9b8d2a
Archive Bread/Post Links: 97364 / 97724
Direct Link: 97724
>>97705
 Since China is calling the shots, they will most likely have Biden do the same thing in other countries where we have troops stationed.

---
False Flags
Data from the Centers for Disease Control and Prevention (CDC) has demonstrated what anonymous administration officials described to Politico as a "worrying drop" in coronavirus vaccine efficacy over time, leading to the Biden administration's conclusion to push vaccine booster shots.
SCOOP: Bank of America Corp. teaches employees that the United States is a system of "white supremacy," promotes "the abolishment of the police," and instructs workers to "decolonize [their] mind[s]" and become "woke at work."

The whistleblower documents will shock you.🧵

— Christopher F. Rufo ⚔️ (@realchrisrufo) August 18, 2021
Earlier this year, Bank of America and the United Way implemented a race reeducation program called United in Action, encouraging employees to participate in a "Racial Equity 21-Day Challenge," built on the principles of critical race theory and intersectionality. pic.twitter.com/lsWk8xwCdT

— Christopher F. Rufo ⚔️ (@realchrisrufo) August 18, 2021
On day one, Bank of America teaches employees that the United States is a "racialized society" that "use[s] race to establish and justify systems of power, privilege, disenfranchisement, and oppression, which "give[s] privileges to white people." pic.twitter.com/QFaYBB3e2M

— Christopher F. Rufo ⚔️ (@realchrisrufo) August 18, 2021
According to the training program, all whites—"regardless of one's socioeconomic class background or other disadvantages"—are "living a life with white skin privileges." Even white toddlers are guilty and must be "taught to recognize and reject the 'smog' of white privilege." pic.twitter.com/Sh3FsGSivu

— Christopher F. Rufo ⚔️ (@realchrisrufo) August 18, 2021
Over the next three days, Bank of America teaches that whites are more likely to "have more limited imagination," "experience fear, anxiety, guilt, or shame," and "contribute to racial tension, hatred, and violence."

People of color, on the other hand, cannot be racist. pic.twitter.com/P5oXyfepBK

— Christopher F. Rufo ⚔️ (@realchrisrufo) August 18, 2021
Next, Bank of America instructs white employees to deconstruct their racial and sexual identities and confront their "white privilege" and "white fragility," in order to "discover where [they] are on the privilege spectrum" and "if [they] exhibit 'white fragility' traits." pic.twitter.com/GskFzjyEEh

— Christopher F. Rufo ⚔️ (@realchrisrufo) August 18, 2021
Later, Bank of America teaches that the policing system was founded on white supremacist "slave patrols" and, according to activists, can be solved through "the defunding and even the abolishment of the police." pic.twitter.com/bxIKlrn4T4

— Christopher F. Rufo ⚔️ (@realchrisrufo) August 18, 2021
In the final days, BofA tells employees to "decolonize [their] mind[s]" and become "woke at work." Participants must admit that "[their] words and actions are inherently shaped and influenced by systemic oppression" and must "cede power to people of color." pic.twitter.com/7p8s4vgXoR

— Christopher F. Rufo ⚔️ (@realchrisrufo) August 18, 2021
---
Q
BREAKING BIG — Jovan Pulitzer: Arizona Audit Report Will be Delivered to Senate on Friday, Results Will Be Earth-Shattering
  Jovan Pulitzer dropped  HUGE bombs.
jovan Pulitzer said the results of the audit will be earth-shattering!
 
Source: thegatewaypundit.com
On August 6, Arizona Attorney General Mark Brnovich began an investigation into Maricopa County's noncompliance with legislative subpoenas.
The Arizona Senate has subpoenaed the County multiple times with ongoing noncompliance. The materials requested are necessary to finish the full forensic audit of Maricopa County's 2020 election.
Arizona State Senator Sonny Borrelli requested AG Brnovich to investigate the County's noncompliance with the legal and enforceable subpoenas.
In a notice to Maricopa County, the Attorney General's office requested a written response by Friday, August 20. 
Maricopa County responded yesterday, claiming innocence and asking the Attorney General to take no further action.
VIA FIRST-CLASS MAIL AND E-MAIL

Re: Response to Legislator Request for Investigation

Dear Deputy Solicitor General Catlett:

On behalf of the Maricopa County Board of Supervisors ("MCBOS"), we respond to your letter dated August 6, 2021 regarding Senator Sonny Borrelli's Request for Investigation (the "Request") as to MCBOS' alleged "failure to comply with valid and enforceable legislative subpoenas that originated from the AZ State Senate." [Request, Exhibit A]. Specifically, Senator Borrelli claims that MCBOS is acting in conflict with A.R.S. §§ 41-1151, 1153-54 and 16-624 [see Ex. 1 at 1] by failing to produce certain documents and electronic materials requested in a legislative subpoena issued on July 26, 2021 (the "Subpoena"). [Ex. A at Attachment; see also Subpoena, Exhibit B].

The allegations in the Request are without merit. The Senate's authority to enforce the Subpoena through its statutory contempt powers expired on June 30, 2021 with the adjournment of the legislative session. Accordingly, any action taken by MCBOS in relation to the Subpoena did not "violate[] state law or the Constitution of Arizona," and we respectfully ask that your Office "take no further action" regarding the Request. A.R.S. § 41-194.01(A), (B)(3).1
 
Their new excuse is that Sine Die (sine ay di ay), adjournment of the legislature terminates the Senate's authority to enforce the subpoenas.
Arizona Legislators already knew this, and this is why the Attorney General needs to enforce these legal subpoenas. 
Source: thegatewaypundit.com
The RNC is panicking over the AZ audit
Exclusive: Report confirms 2020 abuses and RNC deploys 'year-round' election integrity unit
A monthslong investigation into the 2020 presidential vote has found that Democrat-run cities and states used the COVID-19 crisis to change the rules that likely helped Joe Biden's ascent to the White House.
The Republican National Committee report found several cases in which Democrats used the virus as an excuse to scuttle voter identification rules, flood mailboxes with ballots, and limit poll watching and vote-count observations.
"The pandemic brought chaos and comprehensive changes to voting processes beginning in the spring primaries and lasting through the post-election process," said the 23-page report from the RNC's Committee on Election Integrity, created by party Chairwoman Ronna McDaniel.
Source: washingtonexaminer.com
Police identify suspect who surrendered after claiming to have a bomb near US Capitol
"We don't know what his motives are at this time," he said.
Video has been posted on Facebook by the suspect, a law enforcement official told CNN. A video that lasts about a half hour shows an individual from inside a truck, holding a cannister that he says is a bomb and speaking about a "revolution."
Source: cnn.com
NY police gave the all clear
More than 40 GOP senators signed on to a letter to Attorney General Merrick Garland demanding that Special Counsel John Durham's investigation be allowed to continue and the report be made public.
The letter comes amid questions about whether Durham will have funding to continue his investigation past the end of the government's fiscal year on Sept. 30.
"The Special Counsel's ongoing work is important to many Americans who were disturbed that government agents subverted lawful process to conduct inappropriate surveillance for political purposes," the letter reads. "The truth pursued by this investigation is necessary to ensure transparency in our intelligence agencies and restore faith in our civil liberties. Thus, it is essential that the Special Counsel's ongoing review should be allowed to continue unimpeded and without undue limitations."
Source: yahoo.com
DWuttxKVwAARaSd.jpg-large.jpg

Fellow Patriots:
What you are about to learn should not only scare you, but intensify your resolve to take back control
[Freedom]
. The information that will become public will further demonstrate the criminal & corrupt
[pure evil]
abuse of power that the Hussein administration undertook in joint efforts w/ domestic and foreign dignitaries. The snowball has begun rolling – there is no stopping it now. D5.
Stay the course and trust the plan.
Protective measures are in place.
Remain BRAVE.
We knew this day would come.
https://www.youtube.com/watch?v=G2qIXXafxCQ
United We Stand (WW).
WWG1WGA.
We FIGHT.
Conspiracy no more.
Q

 

!!mG7VJxZNCI

 

ID: 02b17c

 No.2907565

46480B2E-DF10-4118-975A-1A34DD7B626F.jpeg

HEADS UP: Nationwide Emergency Alert System Test Planned – breaking911.com/heads-up-natio…
>>2907383
Q

 

!!mG7VJxZNCI

 

ID: fd0a4a

 No.2950995

>>2950820
Q KNOWLEDGE IS POWER.
Thanks & Godspeed.
>>2950906
How do you know when something VERY BIG is about to drop?
ATTACKS INCREASE FROM ALL DIRECTIONS.
READY THE MEMES.
[FISA CORRUPTION]
You have more than you know.
KEEP UP THE GOOD FIGHT.
WE STAND TOGETHER.
Q