Flynn Ready To Go Free, Egregious Government Misconduct, Covfefe, In The End We Win – Episode 2012
Podcast: Download (Duration: 43:35 — 44.5MB)
The bad guys in the [CB] are becoming desperate, they are now letting the world know that the Fed will not be cutting rates anymore, no matter how much Trump tells them too. Why because they know the economy would take off and the patriots would control the economic narrative completely. The [DS] is now struggling to keep the fake impeachment moving forward, the public is not buying what they are selling. The people already see the phone transcript, all other witnesses are just part of the [DS] and they are voicing their opinions, which is meaningless. The whistleblower needs to show his identity but if this happens it is game over for the entire sham. Assange is very important to the patriots case against the DS, they are keeping him safe. Flynn's lawyer wants all charges dropped, because of egregious government misconduct. The Mueller operatives are now trapped in their own case against Flynn. Trump never mistyped the word covfefe, it was done on purpose, the meaning, in the end we win.
Check Out The X22 Report Spotlight YouTube Channel X22Report Spotlight
Please check Newzsentinel.com for the latest news on the economic collapse. The Sentinel Alerts are updated throughout the day. If you haven't already, go to "The People" and join the community of people who are helping each through the economic collapse.
---
Current News – 11.04.2019
Watch The X22 Report On Video
---
Economy
Now we know that the market is not a gauge of the economy, the MSM/CB has been using the market to convince the people that this is the gauge of the economy and Trump and the patriots are using this to show the people that the economy is doing well, the Fed cut rates again, stimulus is pumping, the China phase 1 trade deal is going to be signed and Trump and the patriots now control the economic narrative. Didn't the MSM and other financial pundits tell us that if the Fed cuts rates the market would crash, seems like the opposite is happening
The MSM is now making the case that the Fed is satisified with where the rates are and that Trump is now going to get angry with the Fed if they do not cut again. 
Fed Risks More Trump Anger With Message That Rates Are on Hold
Federal Reserve policy makers are satisfied with the stance of monetary policy even if President Donald Trump isn't.
 central bank officials hammered home the message that policy is on hold after three cuts in interest rates this year.
"We have a favorable outlook for the economy," Fed Vice Chairman Richard Clarida said Friday in a Bloomberg Television interview. "We think the economy is in a good place, we think monetary policy is in a good place."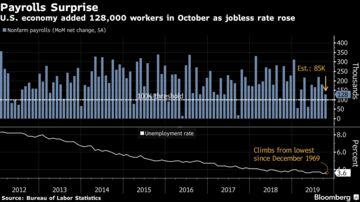 Source: bloomberg.com
Fed's Kashkari calls for no more rate hikes until inflation hits 2%
The Federal Reserve shouldn't raise interest rates again until inflation accelerates, Neel Kashkari, the president of the central bank's Minneapolis district, told CNBC on Monday.
While Kashkari also said he wouldn't be looking to cut rates, he added that the Fed can be patient now until there are stronger signs of wage growth and some important economic headwinds such as the trade war and Brexit pass.
Source: cnbc.com
---
Political/Rights
The [DS] is now having major problems, their push to remove Trump is now running out of steam, look at what has failed so far, Mueller, Russian Collusion, Obstruction, the whistleblower case is now having troubles, the [DS] is struggling to keep the identity a secret, but this won't last forever and its becoming tougher and tougher to do, everyone as a right to face their accuser and people are now calling for the whistleblower identity to be revealed… The case against Flynn is quickly falling apart, we will be talking about how Sidney Powell is pushing to have the entire case thrown out, the patriots are exposing all of it, and that was the entire point, show the world how these people lie, have secret hearings, falsify documentation, hide exculpatory evidence, spy on the President then try to cover it up, we will be talking about this a little bit later in this report, but first we are now seeing more people get fired or resign
BREAKING: McDonald's Fires CEO Steve Easterbrook
McDonald's Corp. said it had fired Chief Executive Steve Easterbrook because of his consensual relationship with an employee, 
McDonald's said that its board voted Friday to terminate Mr. Easterbrook after investigating his relationship with the unnamed employee. Easterbrook also resigned from McDonald's board. He said in an email to McDonald's employees on Sunday that he had violated company policy on personal conduct.
Source: newsbreakinglive.com
BREAKING: NYPD Commissioner James O'Niel has just submitted his resignation to Mayor DeBlasio.

— NYC Scanner (@NYScanner) November 4, 2019
BREAKING: NYPD Commissioner James O'Niel has just submitted his resignation to Mayor DeBlasio.

Right after @Project_Veritas announced that an insider has provided them with secret video recordings on the Epstein Coverup..

Coincidence?🤔 #Epsteindidntkillhimself

— Collin 🇺🇸 (@CollinRight) November 4, 2019

Now we know the 2020 election is approaching and the [DS] realizes that they do not have a candidate that can beat Trump, this is a problem for them, so far everything they tried to get rid of him has not worked, and we know the fake impeachment will fail also, we will talk about that later, but they are resorting to their old tactics, polls and they are trying to convince the people that Biden, HRC are either beating Trump or very close to his poll numbers., Biden has his own problems, Ukraine, China, Romania Quid Pro Quo with Obama and Ukraine, plus he has the creepy vibe with young children and women
He Just Can't Help It: Creepy Joe Biden Gets His Sniff On at Des Moines Stop (VIDEO)
Former Vice President Joe Biden held a very small campaign event in Des Moines this past weekend.
It looked like about 50 people turned out to see Creepy Joe.
During the event Joe Biden took some time to sniff some young girl's hair.
He just can't help himself.
Source: thegatewaypundit.com
Then we have the MSM, letting us know that HRC would beat Trump if she runs, they are trying everything
FOX NEWS SHOCK POLL: Hillary Clinton Beats Trump (If She Runs)… BTW: FOX Had Hillary Up 4 Pts. on Election Day
 Fox poll, conducted a poll from Oct. 27-30, found that Trump is running behind Clinton, 43% to 41% in a hypothetical race. The Republican incumbent also lags behind all the other top Democrats, trailing former Vice President Joe Biden 51-39, Sen. Elizabeth Warren 46-41 and Sen. Bernie Sanders 49-41, the poll found. Trump is losing to all of these people, does that sound right, why didn't they add in Beto, and Kamala while they were at it.
 Lets flashback to the 2016 election remember when FOX News  had Hillary Clinton winning by 4 points on Election Day in 2016.
Source: thegatewaypundit.com
So Yale, Moody's and Oxford Polls show Trump winning in a landslide in 2020
BREAKING: Yale, Moody's and Oxford Economic Polls Show President Trump Winning in Landslide in 2020 EVEN IN A RECESSION (VIDEO)
In October Moody's Analytics released shocking numbers on the 2020 presidential race.
Moody's found that President Trump wins the 2020 election in three different models.
Trump wins in the "Pocketbook Model" 351 to 187 electoral votes.
Trump wins in the "Stock Market Model" 289 to 249 electoral votes.
Trump wins the "Unemployment Model" 332 to 206 electoral votes.
Via Lou Dobbs Tonight:
And Yale and Oxford have joined Moody's in predicting a huge Trump win in 2020.
Source: thegatewaypundit.com
The Fake Impeachment, the fake whistleblower are not convincing anyone, Trump and the patriots want this exposed, want the people to see how far the [DS]/dems will stoop to remove and elected President, we come to find out that those who spied on Trump and tried to set him up were CIA assets and/or were a source for the MSM
SCOOP: CIA, FBI Informant Was Washington Post Source For Russiagate Smears
the now-outed CIA and FBI informant Stefan Halper served as a source for Washington Post reporter David Ignatius, providing more evidence that the intelligence community has co-opted the press to push anti-Trump conspiracy theories. In addition, an email recently obtained by The Federalist from the MI5-connected Christopher Andrew bragging that his long-time friend Ignatius has the "'inside track' on Flynn" adds further confirmation of this conclusion.
In last week's court filing, Powell highlighted how the CIA, FBI, Halper, and possibly James Baker used the unnamed and unaware Lokhova and the complicit Ignatius to destroy Flynn. This James Baker is not the one who worked under James Comey at the FBI, but a James Baker in the Department of Defense Office of National Assessment.
Powell wrote:
Stefan Halper is a known long-time operative for the CIA/FBI. He was paid exorbitant sums by the FBI/CIA/DOD through the Department of Defense Department's Office of Net Assessment in 2016. His tasks seem to have included slandering Mr. Flynn with accusations of having an affair with a young professor (a British national of Russian descent) Flynn met at an official dinner at Cambridge University when he was head of DIA in 2014. Flynn has requested the records of Col. James Baker because he was Halper's 'handler' in the Office of Net Assessment in the Pentagon, and ONA Director Baker regularly lunched with Washington Post Reporter David Ignatius. Baker is believed to be the person who illegally leaked the transcript of Mr. Flynn's calls to Ignatius. The defense has requested the phone records of James Clapper to confirm his contacts with Washington Post reporter Ignatius—especially on January 10, 2017, when Clapper told Ignatius in words to the effect of 'take the kill shot on Flynn.' It cannot escape mention that the press has long had transcripts of the Kislyak calls that the government has denied to the defense.
Source: thefederalist.com
The [DS] plan to trap Trump and his adminitration is falling apart very rapidly, as Sidney Powell digs more and more evidence is being brought out into the light, even the fake impeachment is now hitting road blocks, Trump tweeted out the following
False stories are being reported that a few Republican Senators are saying that President Trump may have done a quid pro quo, but it doesn't matter, there is nothing wrong with that, it is not an impeachable event. Perhaps so, but read the transcript, there is no quid pro quo!

— Donald J. Trump (@realDonaldTrump) November 4, 2019
If Shifty Adam Schiff, who is a corrupt politician who fraudulently made up what I said on the "call," is allowed to release transcripts of the Never Trumpers & others that are & were interviewed, he will change the words that were said to suit the Dems purposes. Republicans…

— Donald J. Trump (@realDonaldTrump) November 4, 2019
….should give their own transcripts of the interviews to contrast with Schiff's manipulated propaganda. House Republicans must have nothing to do with Shifty's rendition of those interviews. He is a proven liar, leaker & freak who is really the one who should be impeached!

— Donald J. Trump (@realDonaldTrump) November 4, 2019
What I said on the phone call with the Ukrainian President is "perfectly" stated. There is no reason to call witnesses to analyze my words and meaning. This is just another Democrat Hoax that I have had to live with from the day I got elected (and before!). Disgraceful!

— Donald J. Trump (@realDonaldTrump) November 4, 2019
The Whistleblower gave false information & dealt with corrupt politician Schiff. He must be brought forward to testify. Written answers not acceptable! Where is the 2nd Whistleblower? He disappeared after I released the transcript. Does he even exist? Where is the informant? Con!

— Donald J. Trump (@realDonaldTrump) November 4, 2019
The American people are not buying it, they don't believe the Dems, the phone transcript has been produced and none of these witnesses have anything to report, because if they truly had evidence the facts would be plastered all over the MSM, instead they are pushing opinion, feeling, what they think, propaganda, remember the whistleblower
Source: thegatewaypundit.com
Attkisson: If Sperry Reporting Correct CIA 'Whistleblower' Likely Worried Trump Admin Is Getting Close to Uncovering DNC Ukrainian Crimes 
The fake news media knows who the Schiff Anti-Trump leaker is — They just don't want to report it because it will ruin their narrative in the impeachment investigation.
The Democrat media knows the truth will destroy them.
** The so-called "whistleblower" Eric Ciaramella is a Democrat who had a "professional" tie to a 2020 Democrat.
** Ciaramella  coordinated and took guidance from Adam Schiff's staff and Schiff lied about it.
** Schiff's staff recommended attorneys for the so called "whistleblower."
** Ciaramella was kicked out of the White House for leaking negative stories about Donald Trump in 2017.
** Trump-hater Ciaramella was behind the fake story that Putin told Trump to fire Comey — a COMPLETE FAKE NEWS STORY from 2017!
** Ciaramella's attorneys worked for James Clapper, Hillary Clinton, Chuck Schumer, and donated to Joe Biden.
** An attorney for Ciaramella is a member of the #Resistance.
** Ciaramella  worked with Joe Biden in the executive branch when he was Vice President.
** Ciaramella had no problem with the Joe Biden and Hunter Biden's million dollar pay-for-play scandal with Ukraine.
** Ciaramella traveled with Joe Biden to the Ukraine.
** Ciaramella worked with DNC operative Alexandra Chalupa in the creation of the Trump-Russia collusion hoax.
** A former associate of James Clapper, Charles McCullough, assisted Ciaramella with his complaint against Trump.
** And Adam Schiff's aides, Abigail Grace and Sean Misko worked with Ciaramella in the White House.
Source: thegatewaypundit.com
This brings us to Julian Assange and why the [DS] needed him arrested and taken care of
Why John Brennan, Peter Strzok and DOJ Needed Julian Assange Arrested – And Why UK Officials Obliged…
  Julian Assange is a risk to CIA interests,
The initial operations to target Flynn, Papadopoulos and Page were all based overseas.  This seemingly makes the CIA exploitation of the assets and the targets much easier.
One of the more interesting aspects to the Durham probe is a possibility of a paper-trail created as a result of the tasking operations. 
However, there is an aspect to the domestic U.S. operation that also bears the fingerprints of the CIA; only this time due to the restrictive laws on targets inside the U.S. the CIA aspect is less prominent.  This is where FBI Agent Peter Strzok working for both agencies starts to become important.
  the CIA was openly involved in constructing a political operation that settled upon anyone in candidate Donald Trump's orbit.
All of this engagement directly controlled by U.S. intelligence; and all of this intended to give a specific Russia impression.  This predicate is presumably what John Durham is currently reviewing.
The key point of all that background is to see how committed the CIA and FBI were to the constructed narrative of Russia interfering with the 2016 election.  The CIA, FBI, and by extension the DOJ, put a hell of a lot of work into it.  Intelligence community work that Durham is now unraveling.
We also know specifically that John Durham is looking at the construct of the Intelligence Community Assessment (ICA); and talking to CIA analysts who participated in the construct of the January 2017 report that bolstered the false appearance of Russian interference in the 2016 election.  This is important because it involves Julian Assange and Wikileaks.
On April 11th, 2019, the Julian Assange indictment  was unsealed in the EDVA.  From the indictment we discover it was under seal since March 6th, 2018:
On Tuesday April 15th more investigative material was released. Again, note the dates: Grand Jury, *December of 2017* This means FBI investigation prior to….
The FBI investigation took place prior to December 2017, it was coordinated through the Eastern District of Virginia (EDVA) where Dana Boente was U.S. Attorney at the time.  The grand jury indictment was sealed from March of 2018 until after Mueller completed his investigation, April 2019.
Why the delay?
What was the DOJ waiting for?
Here's where it gets interesting….
The FBI submission to the Grand Jury in December of 2017 was four months after congressman Dana Rohrabacher talked to Julian Assange in August of 2017: "Assange told a U.S. congressman … he can prove the leaked Democratic Party documents … did not come from Russia."
Julian Assange told a U.S. congressman  he can prove the leaked Democratic Party documents he published during last year's election did not come from Russia and promised additional helpful information about the leaks in the near future.
Knowing how much effort the CIA and FBI put into the Russia collusion-conspiracy narrative, it would make sense for the FBI to take keen interest after this August 2017 meeting between Rohrabacher and Assange; and why the FBI would quickly gather specific evidence (related to Wikileaks and Bradley Manning) for a grand jury by December 2017.
Within three months of the grand jury the DOJ generated an indictment and sealed it in March 2018.  The EDVA sat on the indictment while the Mueller probe was ongoing.
As soon as the Mueller probe ended, on April 11th, 2019, a planned and coordinated effort between the U.K. and U.S. was executed; Julian Assange was forcibly arrested and removed from the Ecuadorian embassy in London,
  The Weissmann/Mueller report contains claims that Russia hacked the DNC servers as the central element to the Russia interference narrative in the U.S. election. This claim is directly disputed by WikiLeaks and Julian Assange, as outlined during the Dana Rohrabacher interview, and by Julian Assange on-the-record statements.
The CIA holds a massive conflict of self-interest in upholding the Russian hacking claim.  The FBI holds a massive interest in maintaining that claim.  All of those foreign countries whose intelligence apparatus participated with Brennan and Strzok also have a vested self-interest in maintaining that Russia hacking and interference narrative.
Julian Assange is the only person with direct knowledge of how Wikileaks gained custody of the DNC emails; and Assange has claimed he has evidence it was not from a hack.
Now, if we know this, a  well, then certainly AG Bill Barr knows this, the patriots are keeping him safe, the patriots need Assange, the [DS] on the other hand would like to 187 just like Seth Rich and Epstein
Source: theconservativetreehouse.com
This brings us to the Flynn case and Sidney Powell is doing it,its happening, techno fog tweeted out the following
Flynn case update: @SidneyPowell1 responds to the latest DOJ motion re: production of evidence.

Full doc here: https://t.co/MsdvF7E6MF pic.twitter.com/Ht2ibuA6mU

— Techno Fog (@Techno_Fog) November 4, 2019
Where is the original Flynn 302?

"It is in the FBI's system" and DOJ lawyer (and Mueller Special Counsel) Van Grack has an obligation to "obtain it."

"Van Grack does not deny that such information is, in fact, available."

cc @KerriKupecDOJ pic.twitter.com/Z9SW9ljD9U

— Techno Fog (@Techno_Fog) November 4, 2019
Material edits to the 302 – without support from the FBI agents' notes, and perhaps suggested by Lisa Page.

Argument: Flynn is entitled to compare the Lisa Page edits with the Strzok changes.

More good work from @molmccann and Powell. pic.twitter.com/4kNNpjXNA1

— Techno Fog (@Techno_Fog) November 4, 2019
Requested relief:

1) Court order compelling the gov't to produce the additional Brady evidence.

2) "At the appropriate time, Flynn will file a separate motion asking that the Court dismiss the prosecution for egregious gov't misconduct and in the interest of justice." pic.twitter.com/q8bUcOU0T2

— Techno Fog (@Techno_Fog) November 4, 2019
Now the [DS] is trying every angle to get Trump out of office, they have been trying to get his tax returns for a while now, I do believe that his tax returns are perfectly clean, I believe the patriots went through everything before he was chosen, the reason Trump is fighting the release of taxes is because there is no reason to give them, it is not a law and just because the DS says produce them he doesn't have to, I do believe he wants to produce them on his own terms, to set the [DS] up later
A federal appeals court has ruled that President Donald Trump's tax returns must be turned over to a local grand jury in Manhattan — a legal blow for the president's attempts to stymie a broad array of investigations.
A three-judge panel of the 2nd Circuit Court Appeals unanimously ruled that the president is not immune from investigative steps taken by state prosecutors, such as a grand jury subpoena. Trump now plans to go to the Supreme Court to try to block the disclosure,
---
War
North Korea's Kim eyeing December summit with Trump, Seoul spy agency says
A new round of U.S.-North Korea working-level talks on denuclearization was likely to be held this month or early next month,
Source: japantimes.co.jp
---
Q
Donald Trump Cheers Winning Race Horse Named 'Covfefe'
President Donald Trump cheered on a race horse named Covfefe, named after a mysterious message he posted on Twitter in 2017.
The horse 'Covfefe' won a Breeder's Cup event at Santa Anita on Saturday, the sixth win in eight career starts.
#Covfefe https://t.co/32jXfgoPg8

— Mitch Roschelle (@Mitch_Roschelle) November 2, 2019
Trump responds
Great! But how do you know it was a "mistweet?" May be something with deep meaning! https://t.co/00EXMCgQLp

— Donald J. Trump (@realDonaldTrump) November 4, 2019
 Prayingmedic tweeted the following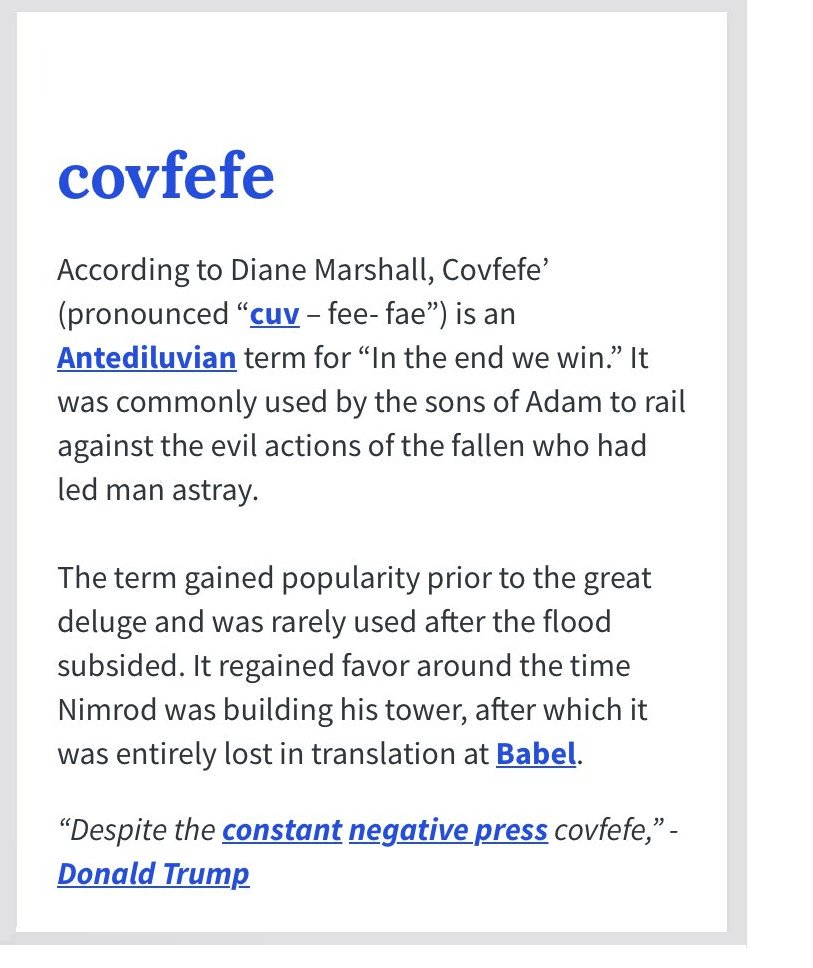 Source: breitbart.com