Foundation Being Built,Indictments,Arrests,& Declass Will Force WW Coverage,Panic In DC – Ep. 2704
Watch The X22 Report On Video
Inflation hit a 30 year high in Canada. Here in the US inflation is continuing to move higher, the Fed will only have one option in the end, raise rates. Biden blaming energy prices on Ukraine. People ability to use their banking cards in Canada suspended. [CB] panicking, ban crypto now. States are the leading the way. The [DS] is in panic mode, [HRC] trying to spin the indictments, but the facts are going to take her down and in the end people will see her as a treasons criminal. The foundation is being built, the building will start to rise and the indictments, arrests and declas will force WW coverage, panic in DC.
---
Economy
Psaki is still trying to give Biden credit for gas prices going "down by about ten cents" back in December, despite gas prices currently at their highest in SEVEN years. pic.twitter.com/nrxAudinkE

— RNC Research (@RNCResearch) February 15, 2022
---
Political/Rights
A left-wing political operative tried to blame the attempted assassination of a Democratic candidate for mayor in Louisville, Kentucky, on conservatives in a Tuesday tweet.
Cliff Schechter, a former ad writer for then-candidate Joe Biden's presidential campaign, blamed "conspiratorial right-wing rhetoric" for the assassination attempt on Democratic mayoral candidate Craig Greenberg.
The alleged suspect, Quintez Brown, is an anti-capitalist activist who praised Che Guevara and Mao Tse-Tung in a post on Twitter.
Brown also pushed for gun control in an appearance on Joy Reid's weekend MSNBC show.
Source: dailycaller.com
I shared a tweet from account today, and now that account is suspended. Here are screenshots of the tweet and the account: pic.twitter.com/Dc7mj2Lz00

— Thomas Massie (@RepThomasMassie) February 16, 2022
MORE:

"Mazars has been threatened, harassed, and insulted like virtually no other firm has ever been. They were essentially forced to resign from a great long-term account by the prosecutorial misconduct of a highly political, but failed, gubernatorial candidateLetitia James…"

— Liz Harrington (@realLizUSA) February 16, 2022
---
Geopolitical/Police State
Step 1: US "intelligence" alleges on *background* with no evidence that @zerohedge is publishing "Russian propaganda"

Step 2: Twitter places a "warning" on all links to Zerohedge giving no reason as to why pic.twitter.com/8xWQgRHf56

— Saagar Enjeti (@esaagar) February 16, 2022
Texas Attorney General Ken Paxton secured yet another victory against the Biden Administration, this time halting implementation of a climate change agenda handed down by executive order. Attorney General Paxton joined several other states in a Louisiana-led suit challenging Biden's directives to bureaucrats to include the "social cost" of carbon emissions when regulating pollution. If left in place, the regulation would increase energy costs and hurt key states that rely on energy production. What's more, the method by which these harmful regulations were imposed violated federal law. The federal judge agreed with Paxton and his fellow attorneys general and issued a nationwide injunction on Biden's order.
---
War
White House Press Secretary Jen Psaki was asked why the State Department told Americans fleeing Ukraine through Poland to show proof of Covid vaccination when Poland doesn't even have the requirement in place.
Of course Psaki didn't have an answer.
Source: thegatewaypundit.com
---
False Flags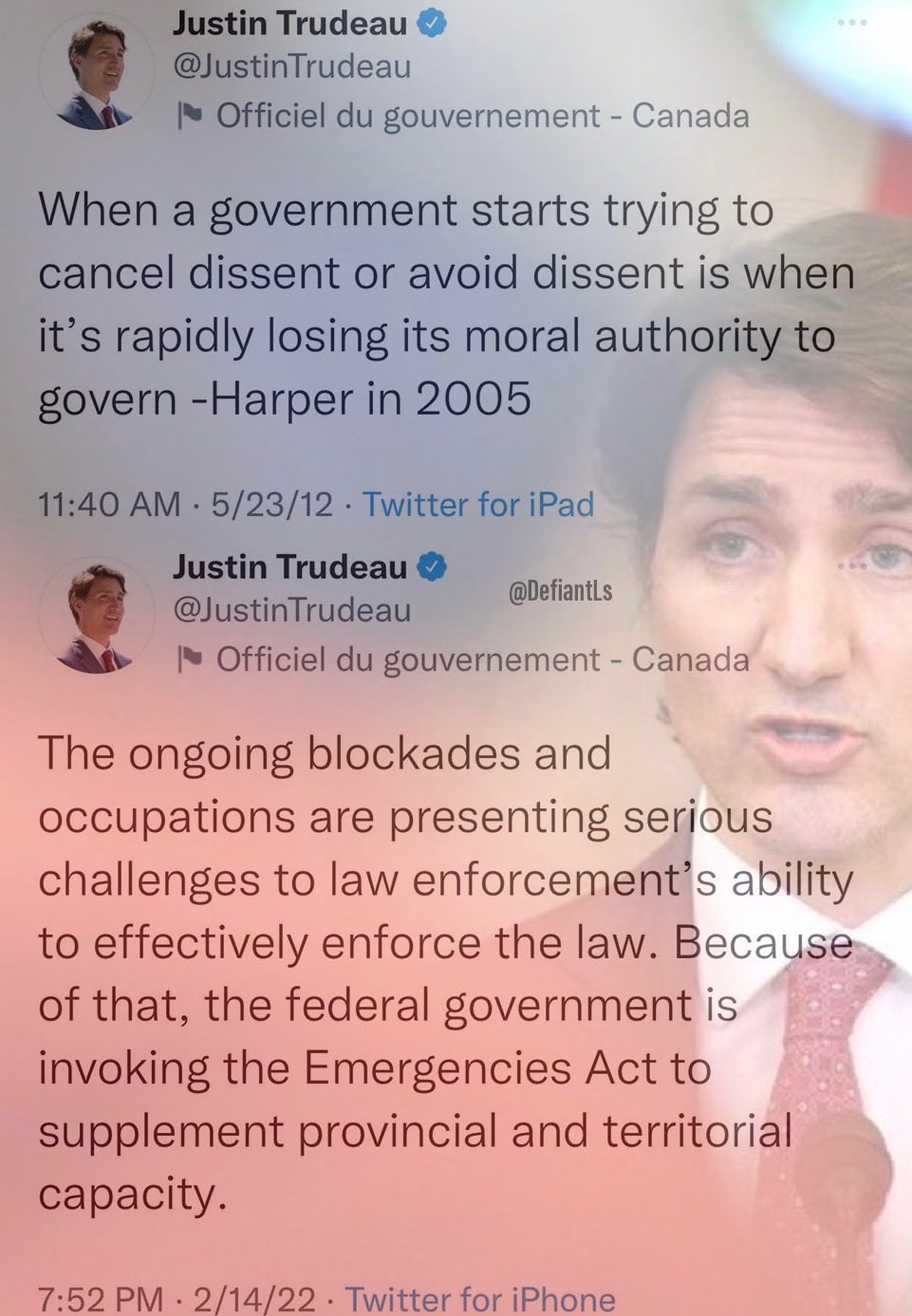 The CBC reported:
 This all played out nicely for Justin Trudeau and his planned announcement, also on Monday, to invoke the never-before-used Emergency Act to crack down on the Freedom Protests in Canada.
Source: thegatewaypundit.com
California is set to drop its mask mandate for schools in two weeks.
California's statewide mask mandate (for the vaccinated) ended today, 
School children in California have been protesting the mask mandates since Governor Newsom was spotted at a Rams game without a mask on.
Maskless celebrities were also enjoying the Super Bowl at SoFi Stadium in Los Angeles on Sunday but the tyrants won't stop abusing the children.
There is ZERO science behind masking children in schools.
Source: thegatewaypundit.com
"Biden wants to inoculate as many people as possible," the video shows Cole saying before jumping ahead in the video. "So you have to get an annual shot. I mean, it hasn't been formally announced yet, so you don't want to like, rile everyone up."
"The drug companies, the food companies, the vaccine companies…. so they pay us hundreds of millions dollars a year to hire and keep the reviewers to approve their products," Cole said in another part of the video. "If they can get every person required to get an annual vaccine that is a recurring return of money going into their company."
""I think… what's going to happen is, it's going to be a gradual thing," Cole said. "Schools are going to mandate it."
"Why do they need the third one?" he was asked.
"Well, the same reason that you, or I would be… so the three will bolster your, your system and then there will be an annual, eventually an annual, just like the flu shot," he added.
Source: beckernews.com
A highly acclaimed professor of medicine at the University of Leeds is touting that recent findings on Covid natural immunity have made the vaccine mandates irrelevant. Furthermore, the mandates are unnecessarily exacerbating labor shortages in the medical field, which is harming patient care.
The Lancet letter is attributed to Dr. Dennis G. McGonagle, who is a professor at the Leeds Institute of Rheumatic and Musculoskeletal Medicine at the University of Leeds.
Dr. McConagle laid out the recent findings on natural immunity and how they stack up with vaccinated immunity.
"First, it is well established that for single stranded RNA viruses such as influenza, natural immunity after recovery from infection provides better protection than vaccination, which needs to be undertaken annually because of waning vaccine immunity," the letter reads. "The same has been shown for SARS-CoV-2; in one study, individuals exposed to natural infection were ten-times less likely to be reinfected compared with vaccinated individuals without natural infection (adjusted hazard ratio 0·02, 95% CI 0·01–0·04 for previous infection vs 0·26, 0·24–0·28 for vaccination). Individuals exposed to natural infection were also less likely to be admitted to hospital with COVID-19."
Source: beckernews.com
Asked to provide a legal opinion on hospitals in the state banning doctors from prescribing certain treatments for COVID-19, South Carolina Attorney General Alan Wilson concluded doctors have the authority to prescribe drugs for the disease "off-label," such as ivermectin and hydroxychloroquine.
"Our doctors, as well as their patients, need to know that doctors have the right to make important medical decisions, as long as they have the informed consent of their patients," Wilson said in a statement announcing the opinion, as FITSNews reported.
Source: wnd.com
"San Francisco residents recalled three members of the city's school board Tuesday for what critics called misplaced priorities and putting progressive politics over the needs of children during the pandemic," the AP reported.
"Voters overwhelmingly approved the recall in a special election, according to tallies by the San Francisco Department of Elections," the AP noted.
"
It was the first recall in San Francisco in nearly 40 years. In 1983, there was a failed attempt to remove then-Mayor Dianne Feinstein.
While Democrats insist that their Covid policies are 'keeping children safe,' the overwhelming preponderance of evidence shows that they are pointless and inflicting psychological distress on children.
Source: beckernews.com
T

he national organization for Black Lives Matter appears to have used an unusual accounting maneuver to further delay reporting what became of its $60 million bankroll from 2020, a move one charity watchdog called "the worst transparency issue" she has ever seen.
Black Lives Matter Global Network Foundation, the charity that serves as the face of the national BLM movement, quietly changed its 12-month accounting cycle to July through June. By going from a calendar to a fiscal year, BLM has until mid-May to report what it did with the millions that flooded into its coffers beginning in the second half of 2020. The move enabled BLM to report a sparse, short-year Form 990 to the IRS that covered its activities during only the first half of 2020, when the entity was entirely dormant as a fiscally sponsored project of the California charity Thousand Currents.
BLM revealed in its short-year 2020 Form 990 that its books were now in the care of Elias Law Group, the law firm run by Democratic mega-lawyer Marc Elias.
Source: washingtonexaminer.com
#EXCLUSIVE: Black Lives Matter filings reveal prominent Democratic lawyer Marc Elias and another longtime ally of former Secretary of State @HillaryClinton have taken on key roles in the charity amid scrutiny over its leadership and finances.https://t.co/o8XBUYDdWk

— Washington Examiner (@dcexaminer) February 16, 2022
 Minyon Moore, a longtime top ally of both Bill and Hillary Clinton, is now listed as part of BLM's board of directors in the charity's filings.
Hillary Clinton's Onward Together PAC was reportedly incorporated by Elias in April 2017, and Elias is listed as a "Governor" for the Clinton PAC in a business filing for the Department of Consumer and Regulatory Affairs. Moore was listed as the "Director/President" at Onward Together for the fiscal years of 2017, 2018, and 2019.
Clinton posted on Facebook in May 2020 that Onward Together would "partner with" Elias's Democracy Docket to "protect Americans' right to vote by mail." And she posted in June 2020 that her followers should "join Onward Together and Marc Elias in the fight for voting rights by signing up for Democracy Docket."
Source: washingtonexaminer.com
---
Q
  a year later, not only has a suspect not been identified or caught, the pipe bomb story gets weirder and weirder.
Politico recently reported that Kamala Harris was inside the DNC headquarters at the same time the explosive sat outside the building. Harris, who inexplicably left the Capitol around 11:30 a.m. on January 6 after attending an intelligence briefing, choosing not to participate as a U.S. senator in the certification of her own historical election, was evacuated out of the DNC headquarters by the Secret Service at 1:14 p.m., several minutes after Capitol police inspected the building after the RNC bomb was found.
That shocking revelation means one of two things: The Secret Service, in a security sweep of the DNC building and exterior grounds prior to her arrival, missed what the FBI insists was a viable explosive device—a scenario that seems deeply unlikely considering the city was in a state of heightened alert and agents presumably would be extra cautious.
Or, the FBI is lying.
Given what we know about the FBI's politically motivated malfeasance during the Trump era, the likelihood the pipe bomb story was another FBI hoax instead of a legitimate threat becomes more conceivable each day.
Which leads us to the woman who "found" the pipe bombs outside the RNC right just before the joint session gaveled in on January 6. Karlin Younger is described in news reports as a "resident" of D.C. or an employee of the Department of Commerce.
But Younger's résumé is a bit more detailed. On January 6, when she took a midday walk to the laundromat and found the first pipe bomb, Younger was a project manager for FirstNet Authority, a public-private partnership between AT&T and first responders to prioritize emergency communications during an attack or disaster. Standing board members for FirstNet include the attorney general and secretary of Homeland Security. Several federal agencies, including the Justice Department, use FirstNet services.
And a few weeks before January 6, FirstNet received its largest-ever commitment from a law enforcement agency, a $92 million contract for FirstNet's services.
That agency was the FBI.
Now, perhaps one could write off as coincidence Younger's ties to a government-connected agency that just received a massive investment from the FBI. But in a media interview, Younger almost tipped her hand. "You're on that edge of, 'I don't want to bother anybody . . . I want to make sure this is real, right?'" Younger told a Wisconsin television station on January 18, 2021. "You don't want to go down as the person who evacuates a city block for a hoax but at the same time there was just enough of that gut instinct that said 'this isn't a place you would put a hoax.'"
Biden Orders Archives to Release Trump White House Visitor Logs to Jan. 6 Panel
Biden determines that Donald Trump's claim of executive privilege isn't justified
 Biden is directing the National Archives to release White House visitor logs to a House panel investigating the Jan. 6 attack on the U.S. Capitol, dismissing former President Donald Trump's request to shield the information under executive privilege.
Source: wsj.com
Meanwhile, the media completely ignores Democrat President Joe Biden refusing to release his Senate records, which include his interactions with world leaders like Putin. https://t.co/lP0XmM1ewO

— Ryan Saavedra (@RealSaavedra) February 15, 2022
2959
Q
!!mG7VJxZNCI
03/04/2019 15:39:34
 ID: 588bf0
Archive Bread/Post Links: 5503451 / 5504293
Direct Link: 5504293
National Security Adviser Jake Sullivan's role in pushing claims of Trump campaign collusion with Russia is under fresh scrutiny after a recent special counsel court filing suggests those claims were cooked up by the Hillary Clinton campaign.
On October 31, 2016, about a week before the 2016 presidential election, Sullivan, who was working on the Clinton campaign at the time, pushed a Slate report "showing that the Trump Organization has a secret server registered to Trump Tower that has been covertly communicating with Russia."
Sullivan wrote: "This could be the most direct link yet between Donald Trump and Moscow. Computer scientists have apparently uncovered a covert server linking the Trump Organization to a Russian-based bank."
He wrote, without adding any disclaimer: "This secret hotline may be the key to unlocking the mystery of Trump's ties to Russia. It certainly seems the Trump Organization felt it had something to hide, given that it apparently took steps to conceal the link when it was discovered by journalists."
Source: breitbart.com
"The Biden campaign paid nearly $20,000 to a cybersecurity firm at the center of Special Counsel John Durham's investigation into the origins of the Trump-Russia probe," Chuck Ross reported at the Free Beacon.
 Biden campaign paid Neustar Information Services $18,819 in 2020 for 'accounting and compliance work.'
Source: beckernews.com
A reporter from The Daily Mail asked her about the court filings from Special Counsel John Durham, but Clinton completely ignored the questions.
"Hillary Clinton refused to answer questions about allegations that her allies spied on the Trump campaign as the controversy continued to engulf her Tuesday," The Daily Mail reported. "Exclusive pictures and video obtained by DailyMail.com show a stoney faced Clinton silently waving away repeated questions of whether she spied on Donald Trump."
WATCH:
 Source: foxnews.com
Trump & Fox are desperately spinning up a fake scandal to distract from his real ones. So it's a day that ends in Y.

The more his misdeeds are exposed, the more they lie.

For those interested in reality, here's a good debunking of their latest nonsense.https://t.co/iYY8Uxuogx

— Hillary Clinton (@HillaryClinton) February 16, 2022
Soon They Won't Be Able To Walk Down The Street
W

ith the launch of former President Donald Trump's new social media platform, TRUTH Social, originally planned for Feb. 21 but now delayed until late March, Trump's ability to galvanize conservative social media users in support of the venture could soon be tested. Its initial press has claimed it will "stand up to the tyranny of Big Tech." But experts say the inherent nature of the site—i.e., catering to a specific idealogical viewpoint—will likely prevent it from reaching the same heights as mainstream platforms like Facebook, Twitter, or Discord.
Social media platforms become more useful to the public as the number of people using them increases, says Joshua Tucker, co-director of NYU's Center for Social Media and Politics.
Source: time.com
TAKE A LISTEN
2804
Q

 

!!mG7VJxZNCI

 

ID: 809f7f

 No.5257446

Q

 

!!mG7VJxZNCI

 

ID: 809f7f

 No.5257078


Look for 'Placeholder' updates @ /PatriotsFight
Indictments, arrests, and DECLAS will force WW coverage.
Leaks, bribery, collusion re: media will force resignations w/ follow up criminal prosecution.
Q
>>5257078
[First Placeholders]
OIG report, DECLAS, other released facts re: 18 U.S. Code Chapter 115 – TREASON, SEDITION, AND SUBVERSIVE ACTIVITIES.
Q