Trump Never Conceded, Space Force Going To Be Very Important, Caught Them All – Ep. 2597
Watch The X22 Report On Video
The people are waking up as the economy continues to decline under [JB] watch. Inflation is picking up and the people are not worried about covid, they are worried about the economy. Trump sends message we have all the cards. This will force the [CB] into the light. [JB] begins to push back on Crypto. The [DS] is panicking, they cannot tell which direction is moving in. They are now trying to get him on the Jan 6th fake insurrection. Trump laid out the plan during is rally, the people are now behind him. The space force was created under Trump and at his rally the space force is going to be very important. This is not about the election, this is about taking back the country and destroying the [DS] and the system. Everything is building and the [DS] is feeling the pain, the people are fighting back because they lost control of the narrative.
---
Economy
The GDP Growth rate under Biden has fallen to an abysmal 1%.  Biden's economy is a self-made disaster.
The Atlanta Fed is now reporting an expected annual GDP growth rate of 1% based on today's horrible jobs report:
The GDPNow model estimate for real GDP growth (seasonally adjusted annual rate) in the third quarter of 2021 is 1.3 percent on October 8, unchanged from October 5.
Source: thegatewaypundit.com
Americans are more concerned with jobs and the economy than the Chinese coronavirus, an Ipsos survey released Thursday found.
The survey asked respondents to rate the "most important problem facing the U.S. today."
A plurality, 22 percent, chose the "economy, unemployment, and jobs," as the leading problem facing America. Thirteen percent chose public health, disease, and illness, followed by immigration (12 percent), the healthcare system (9 percent), the environment and climate (8 percent), inequality and discrimination (6 percent), crime or corruption (6 percent), terrorism and extremism (4 percent), and education (4 percent). The remaining causes saw three percent support or less.
Source: breitbart.com
Source:  business-standard.com
 The Biden administration is weighing an executive order on cryptocurrencies as part of an effort to set up a government-wide approach to the white-hot asset class, according to people familiar with the matter.
The proposed directive would charge federal agencies to study and offer recommendations on relevant areas of crypto — touching on financial regulation, economic innovation and national security, said the people, who asked not to be named discussing plans that are still under consideration.

The initiative will also aim to coordinate agencies' work on digital currencies throughout the executive branch, the people said. The plan would push departments that have given scant attention to crypto to focus on it. Officials have also considered appointing a White House crypto czar to act as a point person on the issue, one person said.
Source: zerohedge.com
---
Political/Rights
White House Press Secretary Jen Psaki   blamed unvaccinated Americans for Joe Biden's collapsed poll numbers.
"What do you make of these really terrible polls?" a reporter asked Psaki. "This is a really tough time in our country. We're still battling Covid and a lot of people thought we'd be through it – including us! And uh, because of the rise of the Delta variant… We still have 20% of the country who've decided not to get vaccinated."
VIDEO:
Source: thegatewaypundit.com
JB administration blames the people (unvaccinated) and climate crisis for the the problems
---
---
False Flags
Southwest Airlines has become the latest major U.S. airline to mandate that employees receive the Covid-19 vaccination or lose their jobs. The airline is immediately suffering the consequences due to a reported mass 'sickout' that is causing severe delays and hundreds of flight cancellations.
The major airline carrier is now suffering severe operational disruption due to widespread reports.
"Southwest Airlines is suffering an operational meltdown this weekend as hundreds upon hundreds of flights have been delayed or canceled outright," the Points Guy reported.  "The airline is blaming weather and an air traffic control issue from Friday for the domino effect of cancellations."
"Thousands of passengers have been stranded at airports, been forced to wait in long lines, or spent hours on hold trying to rebook their flights," the report continued.
Southwest Airlines, however, is providing cover for the operational distruption by claiming there were "ATC issues" and "disruptive weather."
Source: beckernews.com
In what appears to be one of the first cases of a union pushing back against the new COVID vaccination requirements handed down by the Biden Administration, a union representing pilots at Southwest Airlines is suing to stop the vaccine requirement from being forced until a lawsuit is resolved.
Bloomberg reports that the union representing Southwest's pilots has asked a court to grant a temporary stay against the federal vaccination rules until an ongoing lawsuit over what they allege are violations of US labor laws is resolved.

 "The new vaccine mandate unlawfully imposes new conditions of employment and the new policy threatens termination of any pilot not fully vaccinated by December 8, 2021," the legal filing said. "Southwest Airlines' additional new and unilateral modification of the parties' collective bargaining agreement is in clear violation of the RLA."
Source: activistpost.com
Hundreds of thousands of U.S. service members remain unvaccinated or only partially vaccinated against the coronavirus as the Pentagon's first compliance deadlines near, with lopsided rates across the individual services and a spike in deaths among military reservists illustrating how political division over the shots has seeped into a nonpartisan force with unambiguous orders.
 Source: ct.com
They all shifted very uncomfortably in their seats when he served the lawsuit. pic.twitter.com/WxyPF79YJv

— Ian Miles Cheong @ stillgray.substack.com (@stillgray) October 9, 2021
T

he left-wing education company co-founded by Merrick Garland's son-in-law used a training session for teachers focused on "systemic racism," recommending an article that referred to Trump rally-goers as "examples of white supremacy" akin to the Ku Klux Klan.
Source: washingtonexminer.com
The abrupt reversals have come in response to rising levels of crime, the exodus of officers and political pressures.
---
Q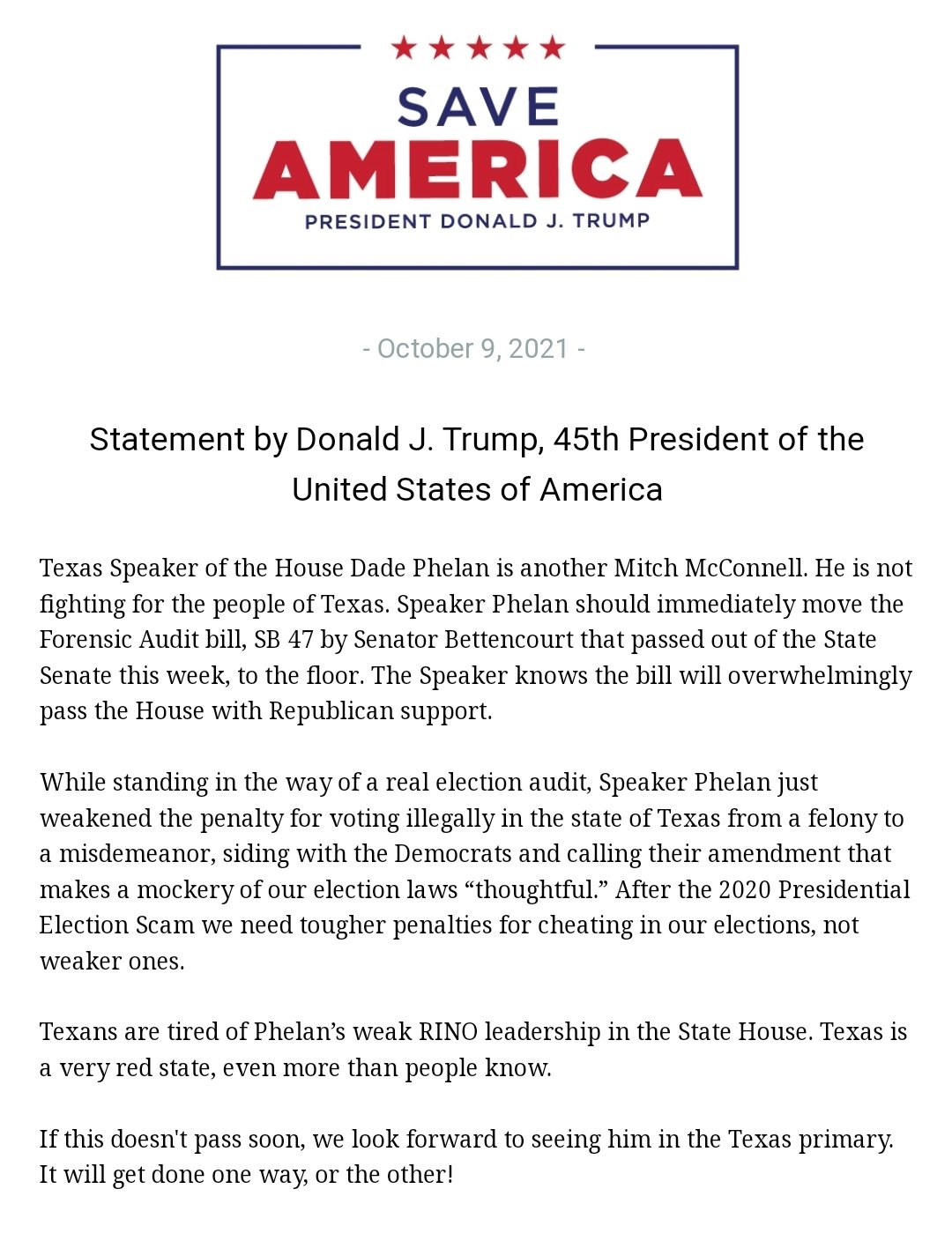 It has now been two weeks since the Arizona audit presentation exposed massive amounts of fraud and elections law violations.
The unredacted, uncensored audit report and all evidence of criminality have been delivered to Arizona Attorney General Mark Brnovich.
Since this delivery was made, Brnovich has issued a litigation hold notice on the County.
However, we have still seen no real action out of Attorney General Mark Brnovich.
Today, Wendy Rogers tweeted,
Rogers: Everyone is asking what is going on with the AG in Arizona. I have no idea. I will work on finding out but no news in this business is bad news.
Rogers: I am about to go scorched earth if I don't see progress from the Arizona AG soon.
Source: thegatewaypundit.com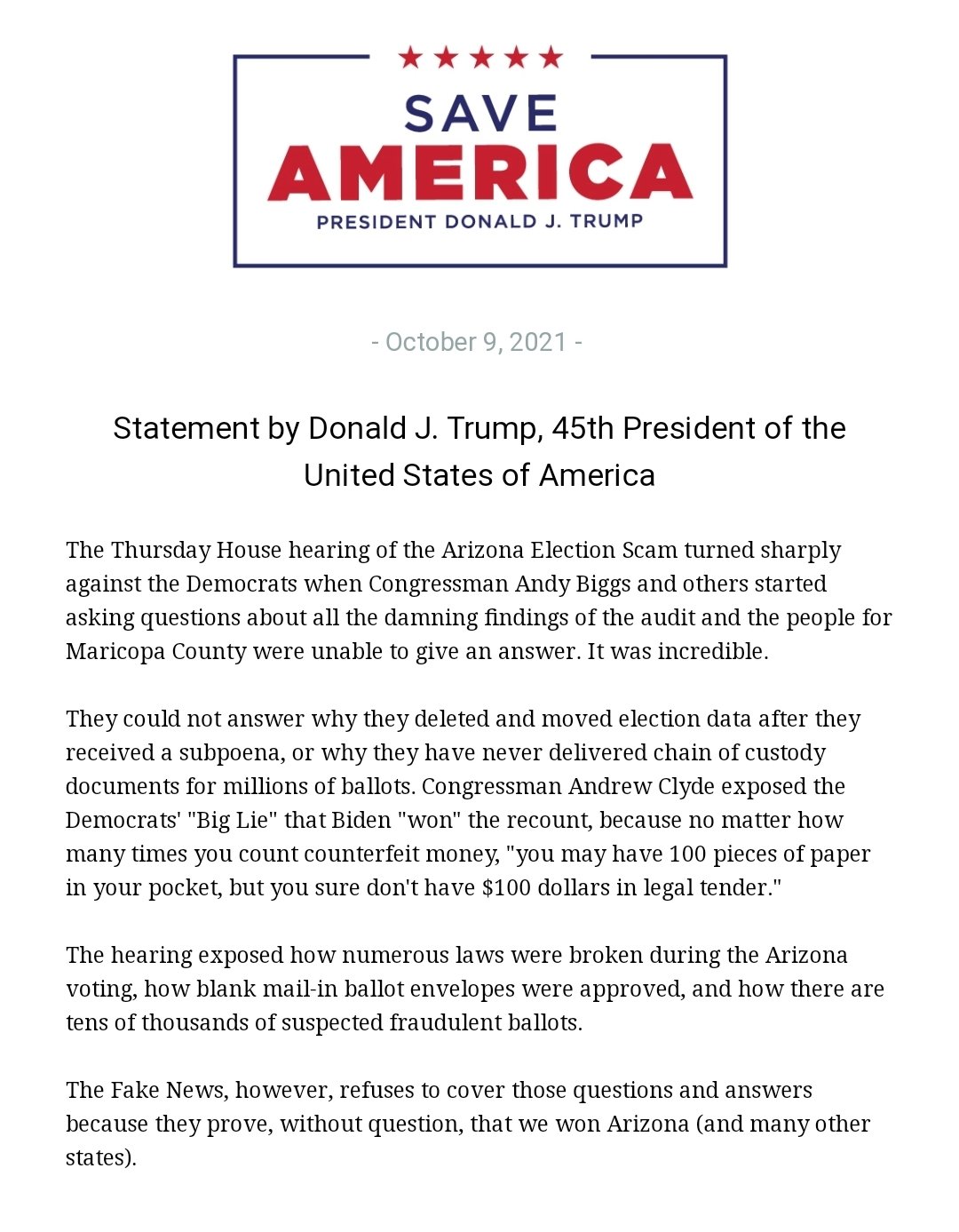 Meanwhile, President Joe Biden has waived executive privilege on an initial batch of Trump White House documents requested by the National Archives.
"After my consultations with the Office of Legal Counsel at the Department of Justice, President Biden has determined than an assertion of executive privilege is not in the best interests of the United States, and therefore is not justified as to any of the Documents," wrote White House counsel Dana Remus in a letter to Archivist of the United States David Ferriero in a letter obtained by Politico..
White House counsel Dana Remus justified the decision to reject Trump's request to assert executive privilege by referring to the House Jan. 6 investigation as "unique and extraordinary."He issued a hyperbolic, inaccurate statement on the decision.
Trump now has 30 days to challenge the decision prior to the National Archives releasing them to the Jan. 6 panel, Politico reported. Donald Trump earlier issued a letter that stated the January 6 committee is seeking materials that are covered by executive and other privileges.
Source: beckernews.com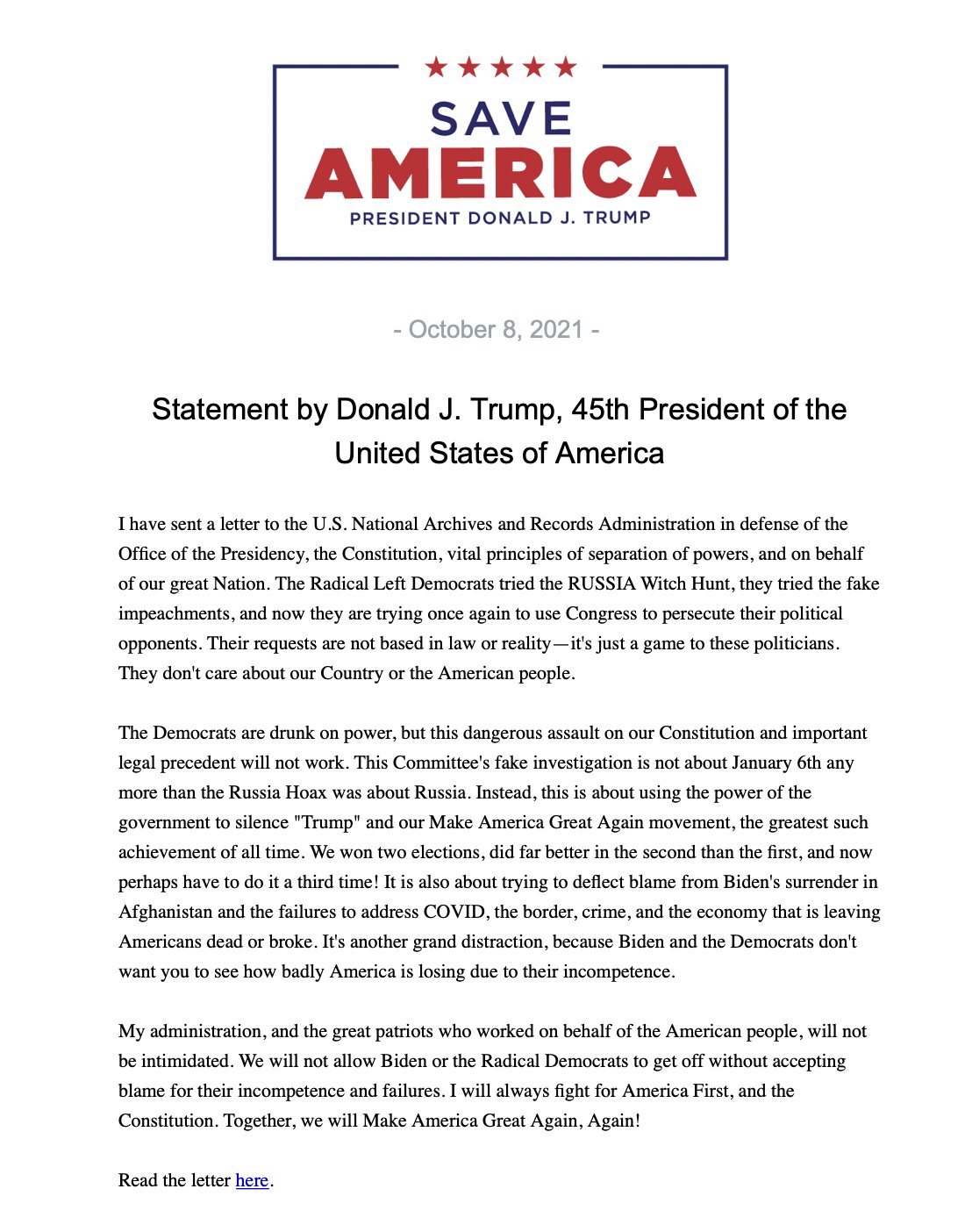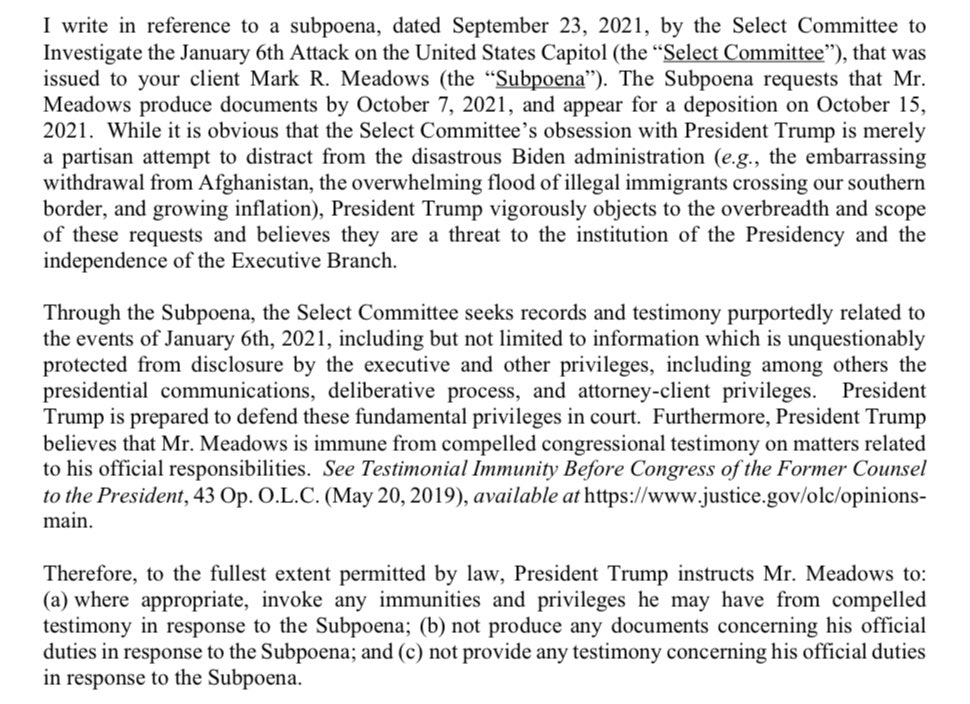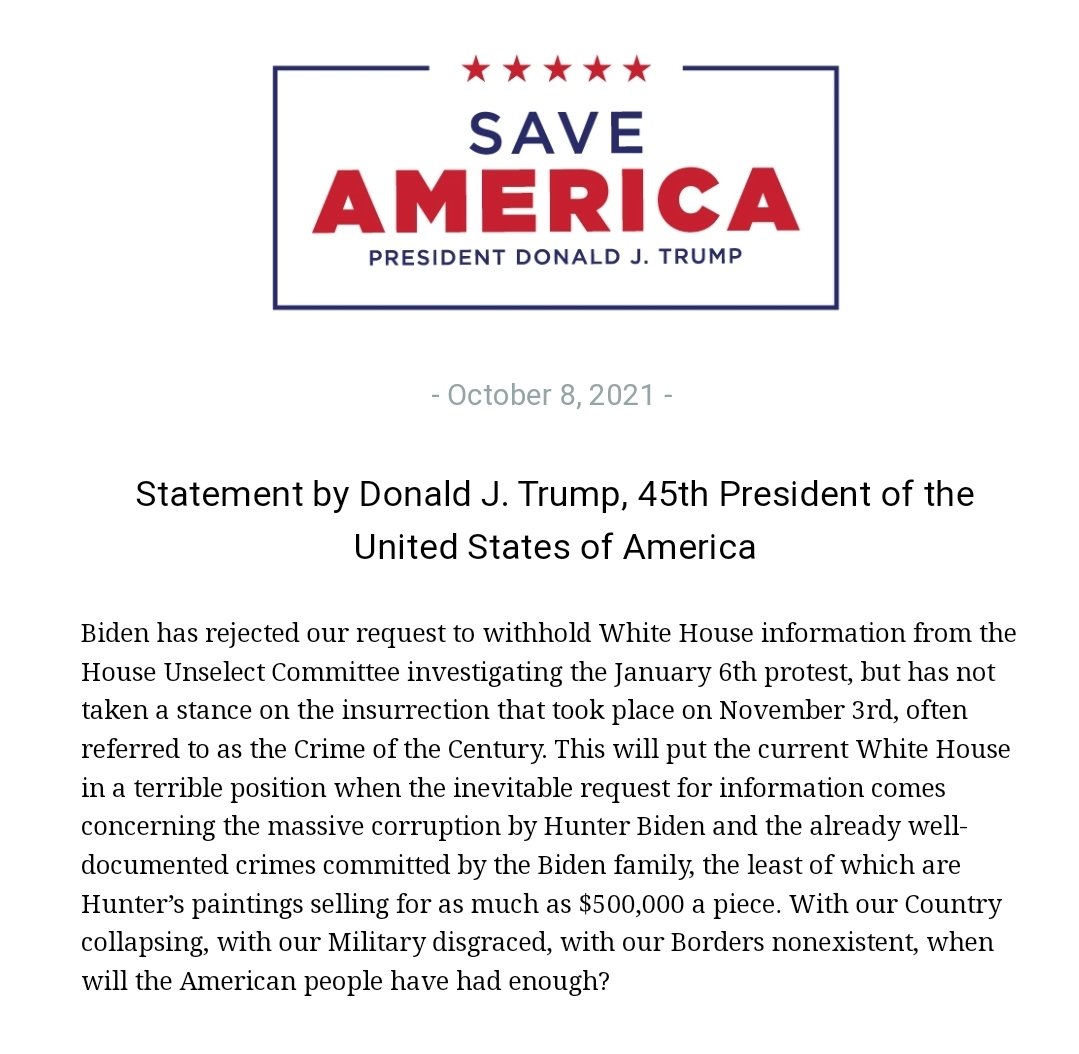 President Trump spoke on Saturday at the "Save America Rally" in Des Moines, Iowa.
President Trump laid out perfectly Joe Biden and the Democrat majority's record of total destruction.
President Trump: After just nine months under Biden —
** Violent criminals and bloodthirsty gangs are taking over our streets
** Illegal aliens and deadly drug cartels are taking over our borders
** Inflation is taking over our economy
** China is taking over our jobs
** The Taliban has taken over Afghanistan
** Lunatic leftists are taking over our schools
** Radical socialists are taking over our country
Trump nailed it.
Democrats would not do a single thing differently if they were openly trying to destroy America.
It's clear. Submit a Correction
Source: thegatewaypundit.com
President Trump has given @ChuckGrassley his "complete and total endorsement for reelection!" #SaveAmericaRally #GrassleyWorks pic.twitter.com/94kzXIHPA3

— RSBN 🇺🇸 (@RSBNetwork) October 10, 2021
2274
Q
!!mG7VJxZNCI
09/23/2018 19:43:32
 ID:
Archive Bread/Post Links: 62 / 294
Direct Link: 294
"I just want to say the United States of America will not tell you how to live, how to think, what to do.

"You will not be bossed by incompetent, dishonest, disgusting politicians, by Big Tech tyrants by left wing bullies or anybody else.

"We are born free. We will live free." pic.twitter.com/CbKoJAwLX9

— Liz Harrington (@realLizUSA) October 10, 2021
In December of 2019 Trump created the Space Force.
The Actual Theory
President Trump, with assistance from the United States Military, caught our foreign adversaries aiding the democrats with the theft of an election. This is bigger than just mere corruption and scandal.
This is war.
They let Biden assume office but it doesn't mean anything. Any damage done can and will be reversed. They are basically playing house. Their time "in office" will only lead to more people wanting Trump back. Biden has no meaningful operational control over the military (I will cover that in a future post) and they won't let any real harm come to us while the battlefield is prepped for whatever reveal is coming.
If you look at actions Trump took leading up to the election he was prepared for anything the democrats might pull. Our military intelligence (Space Force) monitored and captured the true vote count. I believe the audits will be eye-opening and kick everything off.
"If Trump had the vote count, why didn't he do anything? Why haven't we seen any "real" proof of voter fraud"?
Covid changed everything. When Trump said Covid was an attack, he stated that it was "worse than Pearl Harbor." If PDJT had information that the Democrats would steal the election with help from China, that would be considered an act of war. Do you think that is something Trump would allow? Would our military let China install a puppet as President? We prepared for Devolution after gathering information on the lab leak and activated it sometime between November 3rd and January 20th.
Let go back to the color revolution, this has not ended, the DS is still pushing it, but the patriots have countermeasuers in place. 
22
Anonymous
11/01/2017 00:57:15
 ID: grTMpzrL
4chan Thread/Post: 147433975 / 147445681
Direct Link: 147445681