How Do You Expose Treason,Sedition To A Larger Audience,Keep Watching,Enjoy The Show – Episode 2290
The [DS]/[CB] just showed the American people their true agenda, destroy the economy. During the debate JB brought up the economy and blamed Trump for destroying it. This failed, people see improvement as the economy opened. The [DS] believes the debates are going to expose Trump, its the other way around. The patriots are using the debates to bring the corruption to a larger audience, to have people think and question. While all of this is happening JC is being questioned by the Senate Judiciary Committee. This is not about have JC tell the truth, this is about getting him on record under oath. This will be used against him later on. The patriots are in total control, Trump mission will to break Biden during the debates, enjoy the show.
Check Out The X22 Report Spotlight YouTube Channel X22Report Spotlight
Please check Newzsentinel.com for the latest news on the economic collapse. The Sentinel Alerts are updated throughout the day.
---
Current News – 09.30.2020
Watch The X22 Report On Video
---
Economy
commercial real estate market continues to implode and nowhere more so than the epicenter in New York City, where nearly 6,000 business closures, has resulted in a 40% eruption in bankruptcy filings across business districts of all five boroughs this year, reported Bloomberg.
"When they close, we don't just lose our beloved Main Street businesses. We lose jobs, tax revenue and the economic backbone of our city," Stringer said.
Source: zerohedge.com
CLAIM: President Trump said Joe Biden (D) would "close down the whole country" again to combat the Chinese coronavirus.
VERDICT: True. Biden said last month that he would, indeed, shut the country down again if scientists recommended he do so.
  During an August interview with ABC News, Biden did not take the option off the table, stating that he would "be prepared to do whatever it takes to save lives."
"I would shut it down; I would listen to the scientists," Biden told ABC's World News Tonight anchor David Muir.
"
That same month, Biden called for a nationwide mask mandate.
Source: breitbart.com
WALLACE: "You propose $2 trillion in green jobs, you talk about new limits, not abolishing, but new limits on fracking. Ending the use of fossil fuels to generate electricity by 2035 and zero net emission of greenhouse gases by 2050. The President says a lot of these things would tank the economy and cost millions of jobs." BIDEN: "He is absolutely wrong."
FACT: Biden's energy plan would cost trillions of dollars and hundreds of thousands of jobs.
BIDEN: "That is not my plan. The Green New Deal is not my plan."
FACT: Joe Biden has embraced the Green New Deal in all but name.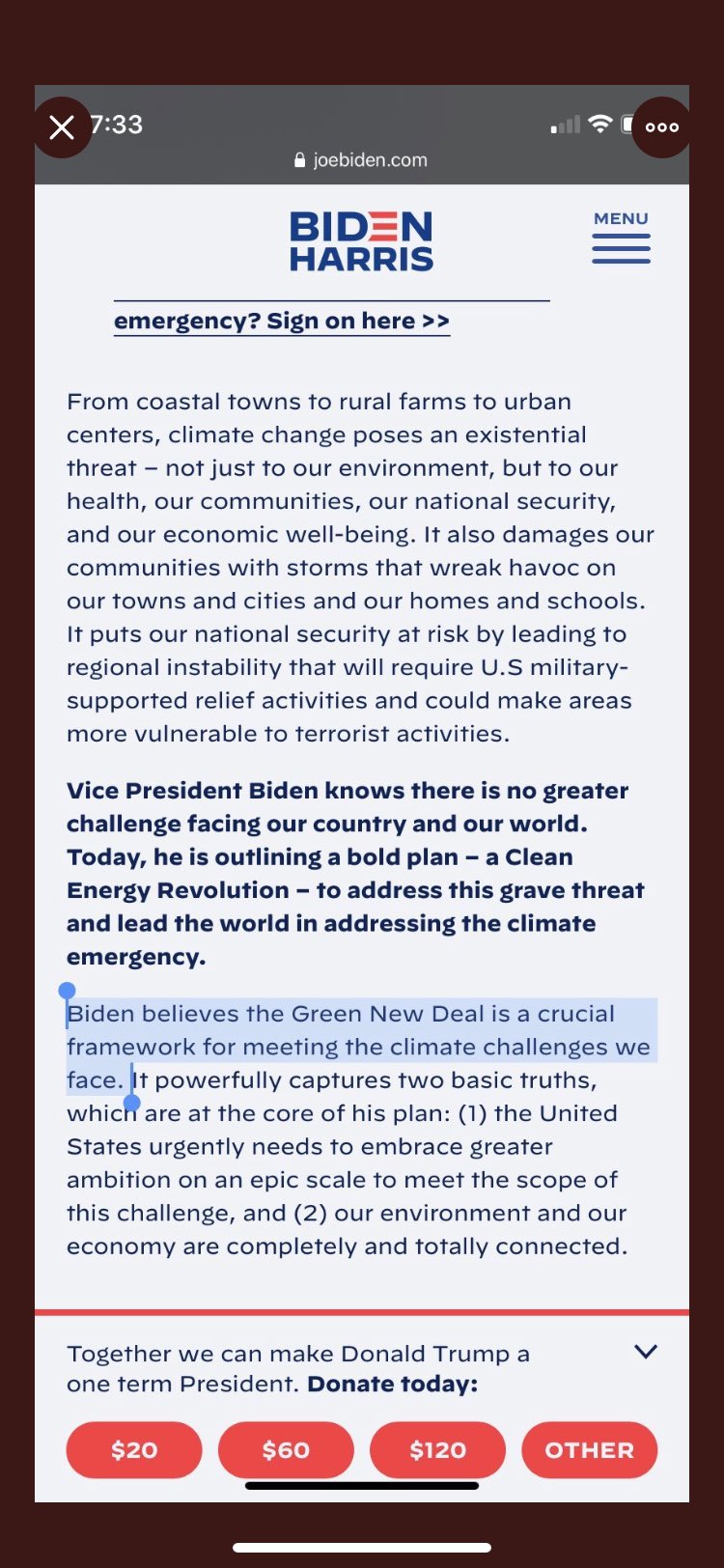 ADP Employment Beats Expectations
ADP reports a 749,000 increase in jobs in September (better than the 649k expected and close to payrolls 800k expectation for Friday).
Source: Bloomberg
For some perspective on that 'rebound', this is the same level of employment as at Dec 2014…
Source: Bloomberg
Medium- and Large-businesses dominated the hiring with only education seeing a drop in employment…
Transportation and Manufacturing saw the biggest job gains…
Source: zerohedge.com
CLAIM: Joe Biden said during the first presidential debate  that President Donald Trump has done "nothing to help small businesses" during the coronavirus pandemic.
VERDICT: FALSE. Trump's "centerpiece" of his coronavirus relief effort was the Paycheck Protection Program.
Alfredo Ortiz, president and CEO of the Job Creators Network (JCN), said in a statement following the debate that Joe Biden made "one of the biggest gaffes in debate history by claiming Trump has done nothing to help small businesses during the pandemic.
He explained:
Maybe he forgot the Paycheck Protection Program – the centerpiece of President Trump's COVID relief efforts that delivered over $500 billion to small businesses and saved 51 million jobs. On top of that, President Trump's record tax cuts and regulatory relief created the best economy in history before the pandemic struck.
Ortiz said Trump is now working to reopen the country,  
Source: breitbart.com
Fact check: Joe Biden lied when he said U.S. manufacturing went "in the hole" under President Trump.

"The Trump Administration actually added around 443,000 manufacturing jobs from January 2017 to this February, before the pandemic hit." pic.twitter.com/ynhCld0KXQ

— Trump War Room – Text TRUMP to 88022 (@TrumpWarRoom) September 30, 2020
---
Political/Rights
#new More delays from Judge Sullivan:

Judge #Sullivan is asking parties to submit briefs by October 7 indicating he will likely not rule on the #Flynn case until sometime after that date. See below order: pic.twitter.com/ayvG2S1gmz

— Kevin Corke (@kevincorke) September 29, 2020
4770
Q !!Hs1Jq13jV6 09/25/2020 16:06:03 ID: bb2ffa
Archive Bread/Post Links: 10786398 / 10786969
Direct Link: 10786969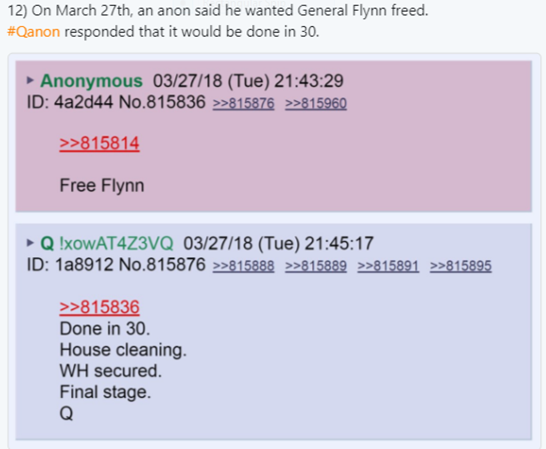 Image Name:
EitlDXsWkAILHFg.png
Filename:
06bf22372c592334c308ce4ec6b3d6c40fd90edaa88f5a641548372352bab376.png
Yesterday was the debates and Joe Biden tweeted this out. 
It's debate night, so I've got my earpiece and performance enhancers ready. pic.twitter.com/EhOiWdjh1b

— Joe Biden (@JoeBiden) September 29, 2020
You're a liar @jorgeramosnews.

President Trump said TWICE last night that he is willing to condemn white supremacists.

You should be ashamed of yourself. All you ever do is lie to Hispanics and impose your garbage leftist ideology on our communities.pic.twitter.com/3gWKFbw6mm https://t.co/22XM32TNh9

— Equipo Trump – Text VAMOS to 88022 (@EquipoTrump) September 30, 2020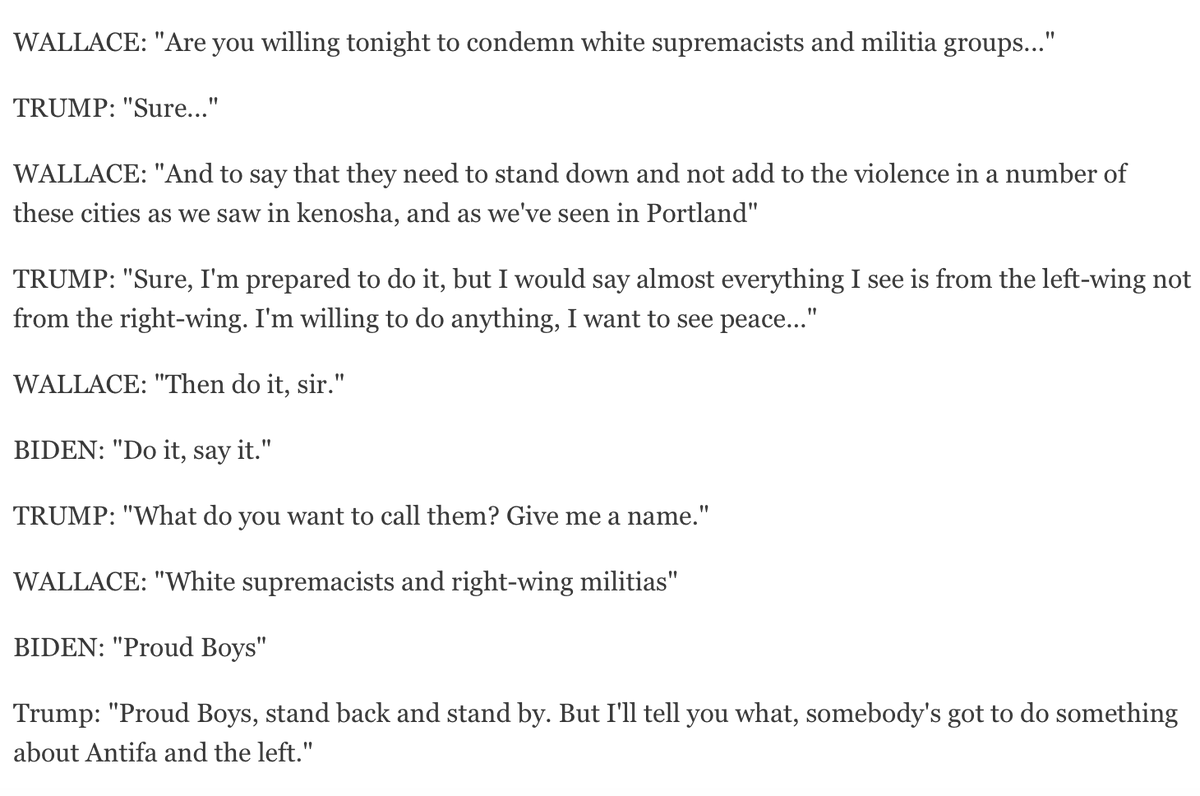 "Antifa is an idea, not an organization," said former Vice President Joe Biden t
Source: breitbart.com
Does and idea have a flag
Does an idea have a name
Does an idea run around cities destroying businesses and hurting people
Why didn't Chris Wallace ask Joe Biden to condemn ANTIFA and BLM inc?
So when Trump asked Biden to say law and order he had a problem, plus Trump asked him to name a single law enforcement agency anywhere in the nation that endorses him.  He couldn't
Then Trump brought up Hunter Biden, What did Biden do he brought up his other son Bo   to deflect Trumps assertions about Hunter.  Trump wasn't talking about Bo, he was talking about Hunter, who received 3 + millino from someone in russia
Teachers earn $58,050 Firefighters earn $50,850 Hunter Biden received:
$3,500,000 from Russian billionaire
$701,979 from Ukrainian gas company
$100,000 shopping spree from China
Chris Wallace did everything possible to help Biden tonight. He pushed all the hoaxes that have been debunked already  , the "very fine people" hoax. Transformed "defund the police" to "community policing" Lied about critical race theory. 
  Chris Wallace claimed that President Donald Trump is ending "racial sensitivity training."
VERDICT: FALSE.
Trump banned a specific kind of racial insensitivity training, which involves "Critical Race Theory."
Critical Race Theory is the idea that the major institutions of the United States are tainted by slavery and racism because they were founded when slavery was still legal in parts of the country. According to the late Derrick Bell, who founded Critical Race Theory, the very institution of private property is tainted by racism because of slavery. Even the Civil Rights movement was regrettable to some extent, Bell believed, because it created an illusion of racial equality. Only a massive redistribution of wealth, driven by the creation of socioeconomic rights, can cure American society of its systemic racism, the theory holds.

On a practical level, Critical Race Theory teaches that social interactions are guided by "white supremacy," and that society is corrupted by "systemic racism," according to which black Americans must always be victims — even if unconsciously so. Critical Race Theory is the ideology animating the Black Lives Matter movement that has brought unrest to America's cities.

Christopher Rufo, a contributing editor for the Manhattan Institute's City Journal, recently exposed the fact that some federal agencies were using Critical Race Theory in their diversity training. In response. President Trump ordered federal agencies to stop using the doctrine, and the Office of Management and Budget issued a memorandum " directing all federal agencies "to begin to identify all contracts or other agency spending related to any training on "critical race theory," "white privilege," or any other training or propaganda effort that teaches or suggests either (1) that the United States is an inherently racist or evil country or (2) that any race or ethnicity is inherently racist or evil."
Nothing in Trump's executive order bans racial sensitivity training in general.
Source: breitbart.com
Just FYI, critical race theory is NOT "racial-sensitivity training," contra Chris Wallace's ill-informed framing.

Here's a taste of what went on in the trainings Trump ended, per Chris Rufo's reporting in The Post. https://t.co/EiQhKvOrOs pic.twitter.com/qevQjqMXRK

— Sohrab Ahmari (@SohrabAhmari) September 30, 2020
 floating the idea that Biden skip the next two debates: "I think Biden has a decision to make."
They wouldn't be saying this if they actually thought Joe Biden won! https://t.co/LBbTZozaBa

— Trump War Room – Text TRUMP to 88022 (@TrumpWarRoom) September 30, 2020
BIDEN: "I'm not opposed to the Justice."
FACT: Biden and Harris have both publicly opposed Judge Amy Coney Barrett's nomination to the Supreme Court, despite glowing reviews from the legal community and her colleagues.
BIDEN: "There's a hundred million people with preexisting conditions and [their insurance will] be taken away as well."
FACT: Biden's claim has been called "misleading," and President Trump has said he will always protect Americans with pre-existing conditions.
BIDEN: "So the thing that should happen is we should wait. We should wait and see what the outcome of this election is, because that is the only way the American people get to express their view, who they elect as president and who they elect as Vice President."
FACT: History is on the side of filling the Supreme Court vacancy now, and Joe Biden previously said the President had an obligation to name a nominee, even in an election year.
BIDEN: "He's been promising a health care plan since he got elected. He has none, like almost everything else he talks about. He does not have a plan. He doesn't have a plan."
FACT: President Trump has a health care plan.
TRUMP: "You agreed with Bernie Sanders to the manifesto and now you're disavowing it." BIDEN: "There is no manifesto."
FACT: There is a manifesto, and Biden's campaign worked with Sanders' associates to write it.
Source:  donaldjtrump.com
Why did Trump win the Presidency, is it because he speaks like a politician, no. Is he going to tell you something just to get elected, no, he is not a smooth snake oil salesman that is going to tell you whatever you want to hear to get elected or relected. He is fighting for the people, he acts likes we the people and he speaks like we the people 
So what was Trump plan during the debates, he knew that Biden was going to coached, he knew Wallace was going to help him anyone he could, the questions were loaded against Trump. So Trump to hit Biden hard, interrupt, he wanted him to crack, but who blocked, Wallace, he made sure that Biden would be able to calm down and compose himself before he had a mental breakdown 
Today we had Comey testify, remember Comey is never going to admit to anything, these public hearing are just to get him on record so it can be used against him later on. 
For example
Comey just flat out denied he received the investigative referral to look at Hillary for concocting the Russia hoax. This is directly contradicted by yesterday's revelation as well as by an Sep 7, 2016 memo that Lindsey just read out.
#Durham @ Senate Judiciary hearing @comey told @LindseyGrahamSC he had no recollection of the August 2016 CIA notification that @carterwpage had provided intel to the Agency about Russia. Comey appeared to distance himself from FISA saying Page surveillance warrants were just

— Catherine Herridge (@CBS_Herridge) September 30, 2020
a "slice" of overall Russia investigation. WHY THIS MATTERS:
FBI lawyer Clinesmith recently pleaded guilty to altering CIA email to wrongly state Page had no prior relationship with the CIA. @CBSNLive @CBSNews

— Catherine Herridge (@CBS_Herridge) September 30, 2020
The Justice Department attorney who signed the four surveillance warrant applications against Carter Page says they would not have done had they known of the information withheld by the FBI,
 The attorney, who works in the Justice Department's Office of Intelligence (OI), is not identified in the letter. The attorney signed all four of the Foreign Intelligence Surveillance Act (FISA) warrants granted against Page.
Stephen Boyd, the assistant attorney general for legislative affairs, sent the document to Graham on Sept. 16.  
"The OI attorney advises that had he/she been aware of the significant errors and omissions identified by the OIG and the errors in the Woods process, he/she would not have signed the filed Page FISA applications,"
Source: dailycaller.com
Rep. Doug Collins sends letter to FBI Director Chris Wray urging him to resign. pic.twitter.com/ylcKiSYs5Z

— Josh Caplan (@joshdcaplan) September 30, 2020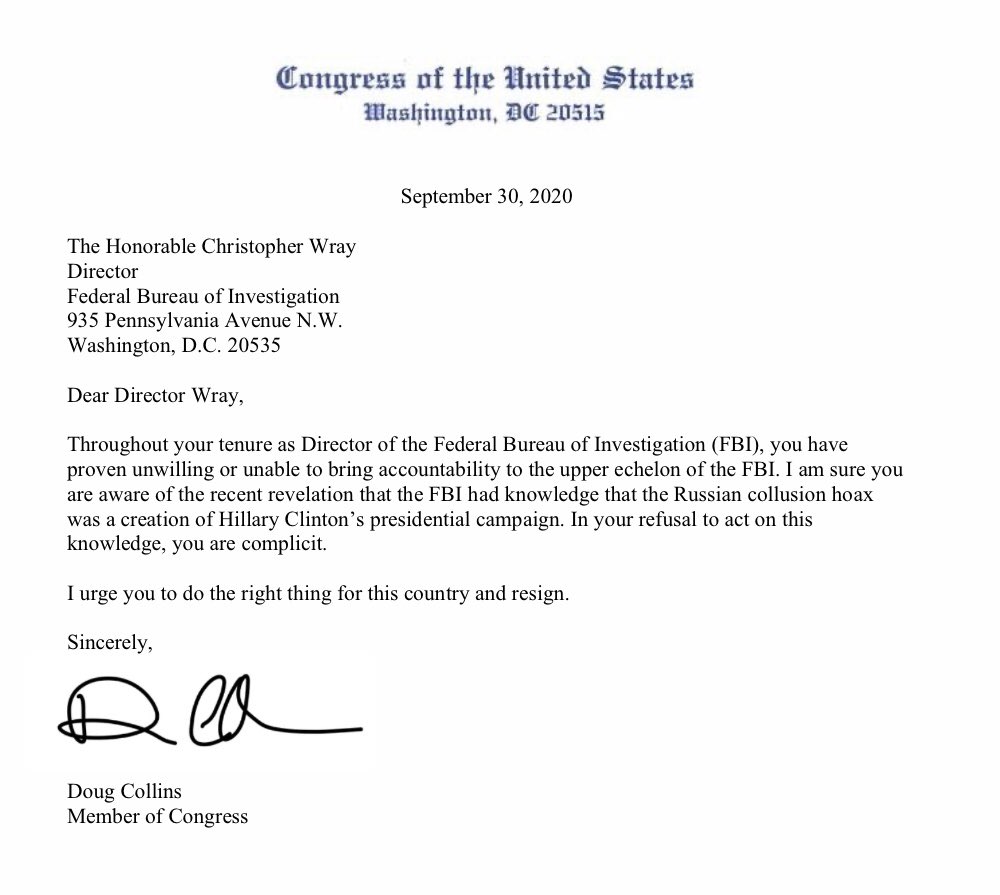 NEW: @JudicialWatch will appeal the liberal-dominated appeals court ruling that overturned court order that Hillary Clinton testify about her emails and #Benghazi attack documents. In meantime, DOJ/State are trying shut down the entire lawsuit. https://t.co/LUhXYgjIAI

— Tom Fitton (@TomFitton) September 30, 2020
Wow! 100,000 Mail In Ballots in New York City a total MESS. Mayor and Governor have no idea what to do. Big Fraud, Unfixable! Cancel Ballots and go out and VOTE, just like in past decades, when there were no problems!

— Donald J. Trump (@realDonaldTrump) September 30, 2020
---
Geopolitical/Police State
"Now the social networks are facing an even bigger challenge — finding QAnon content on their platforms that doesn't mention Q, QAnon or any of the related hashtags and catchphrases."https://t.co/2zJIR5W9FY

— The Bias News (@thebias_news) September 30, 2020
---
False Flags
The Trump administration will start to distribute millions of coronavirus tests this week and recommend the governors use them so that schools can reopen, officials announced at the White House Monday.
Adm. Brett Giroir, a member of the White House coronavirus task force, said in a press briefing that the Trump administration will distribute 6.5 million tests this week along with "continuing support to other priorities, like nursing homes," according to a transcript of the event.
Source: dailycaller.com