Less Than 10 Know The Full Story, The Shot Heard Around The World – Ep. 2557
Watch The X22 Report On Video
The [CB] is now doing everything they can to control the economic narrative. The people are not listening, they are not following what they want. Trump has laid the trap and now the people are going to see this first hand. The [DS] fell right into what the patriots wanted, they laid the ground work and the [DS] did exactly what they thought they would do. Now the people can see it all and they will see much more. World leaders are now angry at [JB] and the puppet masters, the world is turning against them. Devolution is now in play, CM tells everyone that one day people will no the full story of what was planned. This will be the shot heard around the world, it will be a week to remember.
---
Economy
Bitcoin price surges despite being targeted by the US Federal Reserve again
 Kashkari also pointed a direct finger at Bitcoin, claiming that the currency has largely been used for illegal funding activities. Lastly, despite the Federal Reserve showcasing its intent to unwind its US $120-billion monthly purchases of Treasury and mortgage-backed securities, the crypto market has continued to remain strong, another bullish indicator which suggests that BTC may be able to break past the $50k threshold soon.
Source:  .finder.com.au
TAKE A LISTEN TO TRUMP
---
Political/Rights
Ronald Brierley: Disgraced businessman begs not to be jailed over child abuse material stash
Former knight and disgraced businessman Ronald Brierley has begged not to be sent to jail as it's revealed what was inside his vile child abuse material stash.

 Ronald Brierley says he did not know he was doing anything wrong when he amassed a cache of child abuse material as he asked not to be sent to jail, a court has been told.

However, the prosecution has attacked the 84-year-old's suggestion that he did not know the images were illegal, pointing out he was found with a picture of a young girl exposing her genitalia.

The New Zealand-born corporate raider is facing up to 10 years in jail after being caught with a trove of child abuse images on his laptop when he was stopped at Sydney Airport in 2019.
---
War
Taliban suicide bombers marched during its military parade at Zabul, #Afghanistan today.
The bombers showed off their US-made weapons. Suicide bombers are also considered the special forces of the Taliban.
Today the Taliban have American Assault rifles with thermal sights and night vision goggles thanks to Joe Biden and his woke generals.
In Kabul a Taliban commander showed off a fleet of US humvees captured by the Taliban or left behind by the woke US generals.
Source: thegatewaypundit.com
Joe Biden is staying in DC tonight amid reports the situation in Afghanistan is rapidly deteriorating.
Biden was scheduled to fly to his Delaware basement tonight but he's staying in Washington 
Source: thefederalist.com
 why did he pull all U.S forces (including counterterrorism forces) out of the country?
47
Anonymous
11/02/2017 13:08:46
 ID: zGyR4tyi
4chan Thread/Post: 147591553 / 147636035
Direct Link: 147636035
The US citizens stuck in Afghanistan will be forced to pay for their flights back to America. According to the State Department, flights can be "$2,000 or more" I wonder how much the thousands of Afghanis had to pay to be flown on US-Taxpayer funded aircraft?
BREAKING: Biden administration considering launching airstrikes on equipment left behind by US troops in Afghanistan – @Axios

— Breaking911 (@Breaking911) August 19, 2021
Yesterday, the White House said that Joe Biden has not taken any calls with world leaders in regards to Afghanistan.

Justin Trudeau stated that he spoke with Hillary Clinton yesterday about Afghanistan.

What is going on? Why is the US President not taking calls but Hillary is? pic.twitter.com/nFn4t97M2K

— Amy Tarkanian (@MrsT106) August 18, 2021
TAKE A LISTEN
The UK, France and Germany are now sending special forces to rescue their citizens trapped outside of Kabul airport.
The British Government is sending Para Troops in vehicles through the center of Kabul to rescue their citizens.
The UK sent paratroopers to Kabul to help rescue the 4,000 stranded Brits and Afghans in the city. They were told to "prepare for face-to-face combat."
French forces have made multiple trips back and forth from their embassy over the last few days to extract over 200 French citizens out of the region.
Two German special forces helicopters have also arrived in Kabul to rescue citizens.
Joe Biden however is allowing tens of thousands of Americans to be at the mercy of a very dangerous terrorist faction.
Source: thegatewaypundit.com
Impressive French rescue convoy in Kabul, Afghanistan…pic.twitter.com/d2qGcUCyxu

— Dan Scavino🇺🇸🦅 (@DanScavino) August 20, 2021
---
False Flags
Nicole Kidman has been allowed to skip quarantine to film a TV series despite having been in virus-ravaged Sydney, and people aren't thrilled.

— news.com.au (@newscomauHQ) August 19, 2021
Earlier this month Bill de Blasio announced what is essentially a city-wide vaccine passport.
The Independent Restaurant Association along with several restaurants and gyms are suing New York City and Mayor Bill de Blasio for the executive order mandating vaccines for indoor activities.
 
A coalition of restaurants and gyms filed a lawsuit in New York Supreme Court on Wednesday.
  Independent Restaurant Owners Association are seeking an injunction against de Blasio's executive order.   
Source: thegatewaypundit.com
NYT Admits Plastic COVID Barriers Provide False Sense Of Security, Could Make Things Worse
You know those plastic Covid-19 barriers which sprung up everywhere to physically separate us for the past 18 months? It turns out they probably don't help, and may make things worse.
In short, what may work for droplets does not work on an aerosolized virus.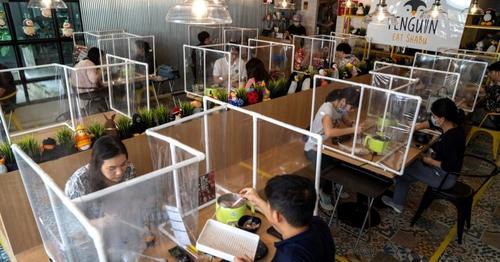 Under normal conditions in stores, classrooms and offices, exhaled breath particles disperse, carried by air currents and, depending on the ventilation system, are replaced by fresh air roughly every 15 to 30 minutes. But erecting plastic barriers can change air flow in a room, disrupt normal ventilation and create "dead zones," where viral aerosol particles can build up and become highly concentrated. -NYT
Source: zerohedge.com
Ivermectin, a potential anticancer drug derived from an antiparasitic drug
Ivermectin effectively suppresses the proliferation and metastasis of cancer cells and promotes cancer cell death at doses that are nontoxic to normal cells.

Ivermectin shows excellent efficacy against conventional chemotherapy drug-resistant cancer cells and reverses multidrug resistance.

Ivermectin combined with other chemotherapy drugs or targeted drugs has powerful effects on cancer.

The structure of crosstalk centered on PAK1 kinase reveals the mechanism by which ivermectin regulates multiple signaling pathways.

Ivermectin has been used to treat parasitic diseases in humans for many years and can quickly enter clinical trials for the treatment of tumors.
Source: science.com
735
Q
!UW.yye1fxo
02/11/2018 19:38:19
 ID: 540a54
Archive Bread/Post Links: 342541 / 343019
Direct Link: 343019
Anonymous
02/11/2018 19:32:20
ID:91a1c7
Archive Bread/Post Links: 342541 / 342919
Direct Link: 342919
Sweden's 7-day average COVID deaths have been at ZERO for about a month now.

I feel like its only a matter of time before the very existence of a place called Sweden is scrubbed from the internet. pic.twitter.com/O3ivyGmpvp

— Brumby (@the_brumby) August 17, 2021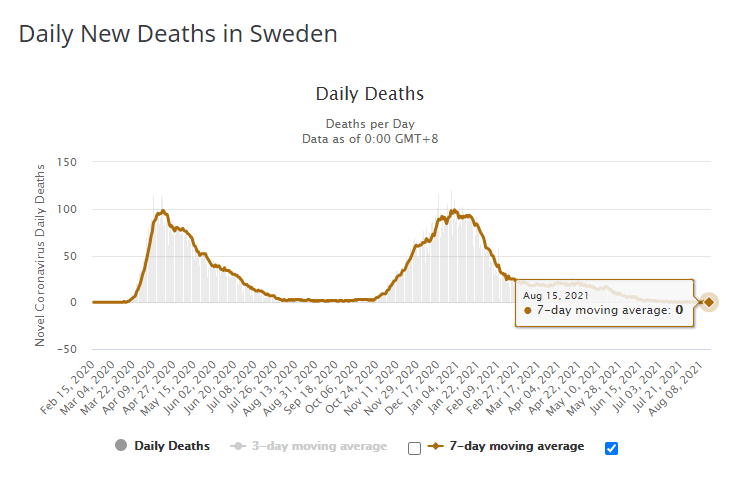 This Colorado Springs father denounces critical race theory and says that "racism in America would be dead today if not for certain people and institutions keeping it on life support"—including public education.

Following his testimony, the school board voted 3-2 to ban CRT. pic.twitter.com/sK1TLS69MQ

— Christopher F. Rufo ⚔️ (@realchrisrufo) August 19, 2021
---
Q
 
The FBI admitted this week there was "scant evidence" the US Capitol "attack" was coordinated.
We knew this when it happened. 
Source: thegatewaypundit.com
JUST IN – Capitol Police officer who shot and killed Ashli Babbitt during the January 6 riot at the U.S. Capitol has been formally exonerated (NBC)
 Capitol police are not regular police, who controls them, NP, are they subject to the same rules, no, can you request to see docs using the FOIA, no 
Before taking a victory lap here, understand what the feds are doing with this admission…

This Fed announcement is 100% about the FBI getting an excuse to justify kneecapping their "investigations" into militia leadershiphttps://t.co/oaP4xnjd0r

— Darren J. Beattie 🌐 (@DarrenJBeattie) August 20, 2021
Responded 
VERY important.

The game you're watching isn't the game being played.

FBI doesn't exonerate people – especially Stone/Jones types.

Today's narrative change is ALL about protecting FBI assets in militia groups who animated the acuity of criminality on J6.

How many, Dir. Wray? https://t.co/Q5m5APvLTV

— Matt Gaetz (@mattgaetz) August 20, 2021
Jovan Pulitzer uncovers more than watermarks.
Yesterday Jovan Pulitzer reported that the Arizona Audit Report of the 2020 Election in Maricopa County will be provided to the Arizona Senate on Friday:
But on Wednesday Pulitzer released something nearly as significant.  It was a Pulitzer Surprise! It Wasn't Watermarks They've Been Looking For.  It's Much, Much Better!
Jovan Pulitzer surprised us all once again and likely scared the hell out of any election fraudsters in the process.  In a video he released Wednesday on Twitter, Jovan explained that identifying markings are in fact on the ballots and are exactly what they were looking for during the audit!  He explained it wasn't bamboo paper as audit detractors claimed, and it wasn't secret "watermarks" either.
It was, however, a secret printer identifying protocol established years ago by the Secret Service to help catch counterfeiters.
The matrix decodes the placement of the markings and reveals the precise identity of the printer by serial number along with the exact date and time the document was printed.
This goes to show that there is more than just "bean counting" involved in a forensic audit.  An example of the printed microdots:
Source: thegatewaypundit.com
❌ Russia hoax
❌ Ukraine hoax
❌ Jan 6 hoax
❌ Bat origin hoax
❌ Gaetz sex trafficking hoax

But they're definitely telling the truth about the election results 🤣

— Raheem J. Kassam (@RaheemKassam) August 20, 2021
"This is for America!" QAnon Believer Admits To Paintball Attack on U.S. Servicemembers at Reserve Center – https://t.co/eMc0RTGQUS pic.twitter.com/ae0S8ambqH

— Breaking911 (@Breaking911) August 19, 2021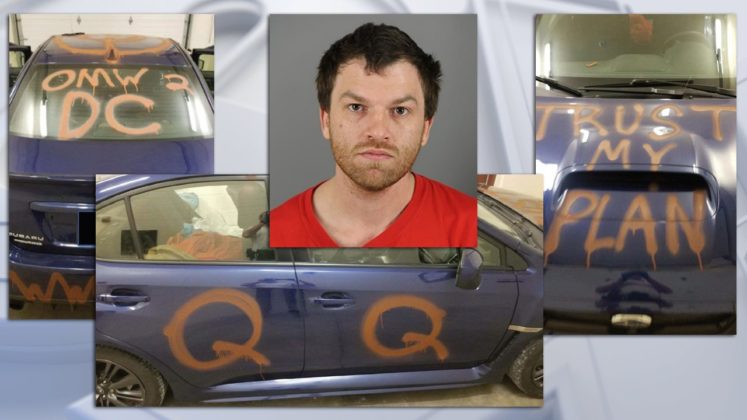 On Thursday morning, a 49-year-old man named Floyd Ray Roseberry from Grover, North Carolina, parked a pickup truck on a sidewalk near the Library of Congress and U.S. Capitol and threatened to set off a bomb.   Roseberry began recording at around 7:30 a.m. and was able to keep broadcasting until Facebook cut the stream off and took down his account shortly before 1 p.m. During the stream, Roseberry went on a tirade about a coming "revolution," accused President Joe Biden of providing military equipment to the Taliban, and lamented about lack of access to health care while claiming that Afghan refugees would obtain it. Days earlier, he had posted another video about former President Donald Trump being reinstated to the White House.
Source: slate.com
Twitter user AbcdentMinded compiled a damning series of clips from Roseberry's 30-minute Facebook livestream strongly indicating he is just the latest mentally ill person undercover FBI agents decided to entrap for political gain.

"Great news gang," AbcdentMinded said, "remember that rambling guy who said he'd been given a bomb and 'chosen' for his mission, who had a vague impression of multiple other accomplices hiding nearby with bombs of their own? They got him! And it wasn't a bomb after all. The counter-terrorists win 🎉🎉🎉."

…Roseberry's ex-wife told the media on Thursday that "he's always been mentally unstable, volatile" and was diagnosed with bipolar disorder and put on medication.
 
It appears that once again there is more to this story than what was originally reported.
Would anyone be surprised if the FBI was behind this stunt just like their previous operations?
Source: thegatewaypundit.com
TAKE A LISTEN
Economy – Tanking
Covid Narrative – Failing
Jan 6th Narrative – Crumbling 
Federal agencies – Exposed
Media – Scrambling
Afghanistan – Disaster
Durham – Coming
572
Q
!UW.yye1fxo
01/21/2018 14:28:00
 ID: