[HRC] Is A Puppet Her Strings Were Cut, She Is On Her Own,Durham Is Bringing The Pain – Ep. 2619
Watch The X22 Report On Video
[JB] is now moving forward with the vaccine mandates, this is going to effect the trucking industry, which in turn will add to the supply chain issue. In Ca they are now changing the stacking rule to more than two. The Fed just signaled when they are going to begin the economic crisis, timing is everything. The patriots are now bringing the pain, the [DS] is panicking and Durham just arrested another player in the Russia collusion hoax. All roads lead to [HRC]. Those who lied to congress in impeachment hoax 1 are now panicking they thought they would be protected. [HRC] sends a message, PANIC is everywhere. The people are now learning the truth, people are seeing the swamp and how they operate. Buckle up is going to get very bumpy.
---
Economy
I'm told Biden vax mandate for private sector DOES NOT include carve-out for truckers. So all the biggest trucking companies in America – who already face major driver shortages – will see a % of their workforce quit. Supply chain crisis is going to get much worse – very soon.

— Tom Bevan (@TomBevanRCP) November 4, 2021
Long Beach Limits Rules On Container Stacking To Ease The Backlog Of Cargo Ships Waiting To Unload
 The city of Long Beach has announced that they will relax the current set of rules they have in place as far as container stacking goes.
In an effort to ease the current backlog of ships waiting to unload cargo, they will waive enforcement of their current restrictions for at least 90 days. Their current code limits containers stacking to no more than two containers, no more than eight-feet tall. This is normally mandated to reduce the visual impact of the port on surrounding areas.
Now, up they will allow up to four stacked containers, with potential for five if a request is approved by fire officials.
The City of Long Beach released a statement, in which they said:
"The city will work during the next 90-day period to assess the situation and effectiveness of this solution and any impacts on the surrounding areas… City staff anticipates presenting information on this topic to the city council in November to receive further input on the solution as well as consideration for impacts to the areas where these operations are located."
Source:  losangeles.cbslocal.com
Treasury Secretary Janet Yellen estimated that the world would need to devote $100-150 trillion, more than the entire world's annual gross domestic product, to fighting climate change over the next three decades.
Yellen signaled that the world economy will need to undergo a complete transformation in order to prevent devastating climate change in the future, during a speech Wednesday at the ongoing United Nations climate conference in Glasgow, Scotland. The Treasury secretary delivered the remarks during the summit's "finance day" opening event.
Source: dailycaller.com
The Federal Reserve said it will begin dialing back its bond-buying stimulus program this month, reducing purchases by $15 billion this month and next month.
The Fed announced on Wednesday that the size of reductions in the future could be adjusted depending on economic conditions. For now, it plans on reducing Treasury purchases by $10 billion a month and mortgage security purchases by $5 billion. At that pace, the Fed would end the program in June.
The announcement of the "taper" was widely expected. But it was somewhat unclear when the reduction would begin. As well, the Fed's decision to announce two months worth of taper at the November meeting, when there is another meeting in December, was unexpected.
Source: breitbart.com
---
False Flags
Children have a greater chance of drowning, dying in a car wreck or dying from the flu than from the coronavirus.
But Pfizer sees a new market potential of one billion humans for their experimental product. And they're going for it.
Pfizer released this disturbing ad telling children they'll get superpowers if the get the COVID jab.
God, what sick, evil people.
Source: thegatewaypundit.com
Every single time. https://t.co/g9RLEnqjPf pic.twitter.com/VlzJzOU82R

— Rising serpent 🇺🇸 (@rising_serpent) November 4, 2021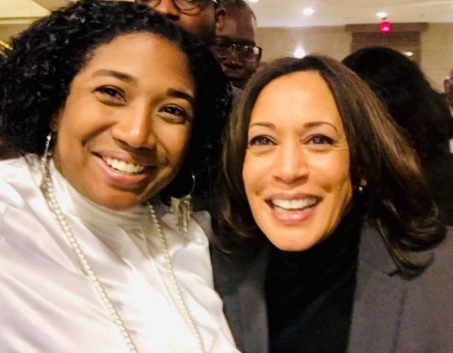 In October the Sheet Metal, Air, Rail and Transportation Union (SMART) with 203,000 members announced they were taking a stand against the Biden regime's forced vaccines.
 Union Pacific announced unvaccinated employees will not be removed on the December 8, 2021 deadline.  These members will continue to work.
 
This is a major victory for UP workers and for the country.
This comes after only 44% of the Union Pacific workforce took the experimental vaccine.
Source: thegatewaypundit.com
"US regulators finalize rule requiring Americans who work at big companies to get vaccinated by Jan. 4 or test weekly," the AP reported on
The Occupational Safety and Health Administration will also be policing workplaces nationwide to ensure compliance with the unlawful mandate.
"OSHA, which polices workplace safety for the Labor Department, will provide sample implementation plans and fact sheets among other materials to help companies adopt the new rules," CNBC reported.
"OSHA will also conduct on-site workplace inspections to make sure companies comply with the rules, a senior administration official said. Penalties for noncompliance can range from $13,653 per serious violation to $136,532 if a company willfully violates the rules," the report added.
"The vaccine mandate, which covers 84 million people employed in the private sector, represents the most expansive use of federal power to protect workers from Covid-19 since the virus was declared a pandemic in March 2020," it continued.
Twenty-four state attorney generals in mid-September threatened to sue the Biden administration over the federal vaccine mandate after it was announced by executive order.  
Source: beckernews.com
OSHA Changes Rule to Cover Up Vaccine Injuries
OSHA Rule Change Covers Up Vaccine Injuries
According to OSHA rules (29 CFR 1904

3

), employers must record and report work-related illnesses, injuries and fatalities, whether the employer was at fault or not. As reported May 26, 2021, by employment law firm Ogletree Deakins,

4

 this recording requirement initially also applied to adverse reactions suffered by employees who had to get the COVID shot as a requirement for employment.
The original guidance stated that employers were required to record an employee's adverse reaction to the COVID jab if the shot was a) work-related, 2) a new case under 29 C.F.R. 1904.6 and 3) met one or more OSHA general recording criteria set out in 29 C.F.R. 1904.7. OSHA specified that an adverse reaction to the jab would be considered "work-related" if the shot was required for employment.
Then, in late May 2021, OSHA suddenly revoked this guidance, saying it will not enforce the recording requirement if the injury or fatality involves the COVID jab, even if required for employment. The nonenforcement will remain in place through May 2022, at which time the agency will reevaluate its position.
Source: lewrockwell.com
Our office will file a lawsuit tomorrow morning once OSHA rules are officially published that will mandate COVID-19 vaccine requirements for private employers with more than 100 or more employees.

Arizona will again take action to protect hard-working taxpayers. pic.twitter.com/H64tvsN1Fd

— Mark Brnovich (@GeneralBrnovich) November 4, 2021
Two subordinates of Dr. Anthony Fauci raised concerns in May 2016 that taxpayer dollars may be funding gain-of-function experiments on bat coronaviruses at a Wuhan lab, but dropped the issue after nonprofit group EcoHealth Alliance downplayed the concerns, documents show.
The National Institutes of Allergies and Infectious Diseases staffers reversed course after requesting EcoHealth Alliance President Peter Daszak submitted a "determination" to the agency that downplayed the risks of his proposed experiments, the records show.
"The NIH, incredibly, accepted EcoHealth's belief that this work would not be considered gain of function, and accepted EcoHealth's rationale for this belief," Rutgers University professor Richard Ebright told the DCNF.
Daszak also notified NIAID staffers in a June 27, 2016, email that he was reliant on Wuhan Institute of Virology researcher Shi Zhengli, who has known ties with the Chinese military, to notify him if their lab-created viruses exhibited enhanced replication.
The records were obtained by the White Coat Waste Project as the result of a Freedom of Information Act lawsuit  
"This is terrific!" Daszak emailed Greer on July 11, 2016. "We are very happy to hear that our Gain of Function research funding pause has been lifted."
Senator Paul then called on Dr. Fauci the megalomaniac to resign.
Source: thegatwaypundit.com
Republican Ann Davison was elected City Attorney of Seattle on Tuesday, a rare Republican win in the liberal city — just over a year after parts of it were taken over by left-wing activists in the "Capitol Hill Autonomous Zone" (CHAZ).
The Seattle Times reported:
Source: breitbart.com
Italian Higher Institute of Health Adjusts Number of Deaths Due to Covid Alone Since February 2020 Downwards From Over 130,000 to under 4,000
  interesting story in Il Tempo, an Italian newspaper. The Italian Higher Institute of Health had adjusted downwards its estimate of the number of people who've died from Covid, as opposed to with Covid, from over 130,000 to under 4,000. Yes, you read that right. Turns out 97.1% of deaths attributed to Covid were not due directly to Covid.
According to its latest report on Covid mortality, the Institute says COVID-19 has killed fewer people than the average bout of seasonal flu.
Source:  dailysceptic.org/
A full 72 percent of Americans agree America's fascist cancel culture is "out of control."
Rasmussen asked the following question, "Has cancel culture gotten out of control" and a whopping 72 percent said yes, while only 15 percent said no.
When asked which is more important, "Protecting people from speech that is offensive or protecting freedom of speech," a full 75 percent chose freedom of speech, while only 15 percent said "protecting people from speech that is offensive."
 
Source: breitbart.com
---
Q
On the anniversary of the 2020 election steal, Republican lawmakers Rep. Marjorie Taylor Greene and Rep. Louie Gohmert visited the DC Gitmo to see the Jan. 6 political prisoners.
They were denied entry.
Several American citizens are being held in DC Gitmo for participating in the Jan. 6 protests at the US Capitol — where four Trump supporters lost their lives, one being shot in cold blood.
These prisoners are denied their God-given rights under the US Constitution and are beaten, abused and placed in isolation for their political beliefs — in America.
Source: thegatewaypundit.com
A case of illegal election misconduct was caught on camera by undercover agents belonging to Project Veritas, breaking two election laws in the process.
In the video below, you can see two election workers discussing who can and can't vote as a man stating that he is not a New Jersey resident asks for a ballot. Originally, the official told the man that she doesn't see how he could vote, but is quickly reminded by a colleague that he can.
"Remember, we were allowing anyone to come in," one official said to the other.
The man, a Project Veritas journalist in disguise, claimed he voted during the presidential election and one worker even said she recognized him. The official relented and told the man he could fill out a ballot, but told him she didn't know if it would actually count.
"I'll let you fill out completely a ballot now. Whether or not it's going to count, I don't know," she said.
As Project Veritas pointed out, this is in violation of NJS 19:4-1 which states "non-citizens cannot vote for even register to vote."
Source: redstate.com
To put yesterday in context: in NJ, GOP legislative candidates outperformed the '20 Biden/Trump margin in their districts by a median of 10.8 pts.

If that swing were superimposed nationally, Rs would pick up 44 House seats in 2022 (before even factoring in redistricting).

— Dave Wasserman (@Redistrict) November 3, 2021
In VA, GOP House of Delegates candidates outperformed the '20 Biden/Trump margin in their districts by a median of 12.3 pts.

If that swing were superimposed nationally, Rs would pick up 51 House seats. That's how awful the political environment is for Dems right now.

— Dave Wasserman (@Redistrict) November 3, 2021
The Republican National Committee (RNC) is deploying at least 20 lawyers to New Jersey as part of its expanded election integrity push in the state  
The 20 extra lawyers being deployed now "to help supervise the vote counting processes and to ensure only legal votes are counted"—it is unclear what will happen in the coming days, and whether New Jersey will head to a recount or some other kind of a challenge whichever side wins—comes in addition to increased efforts from the national GOP in the state this year.
"
Source: breitbart.com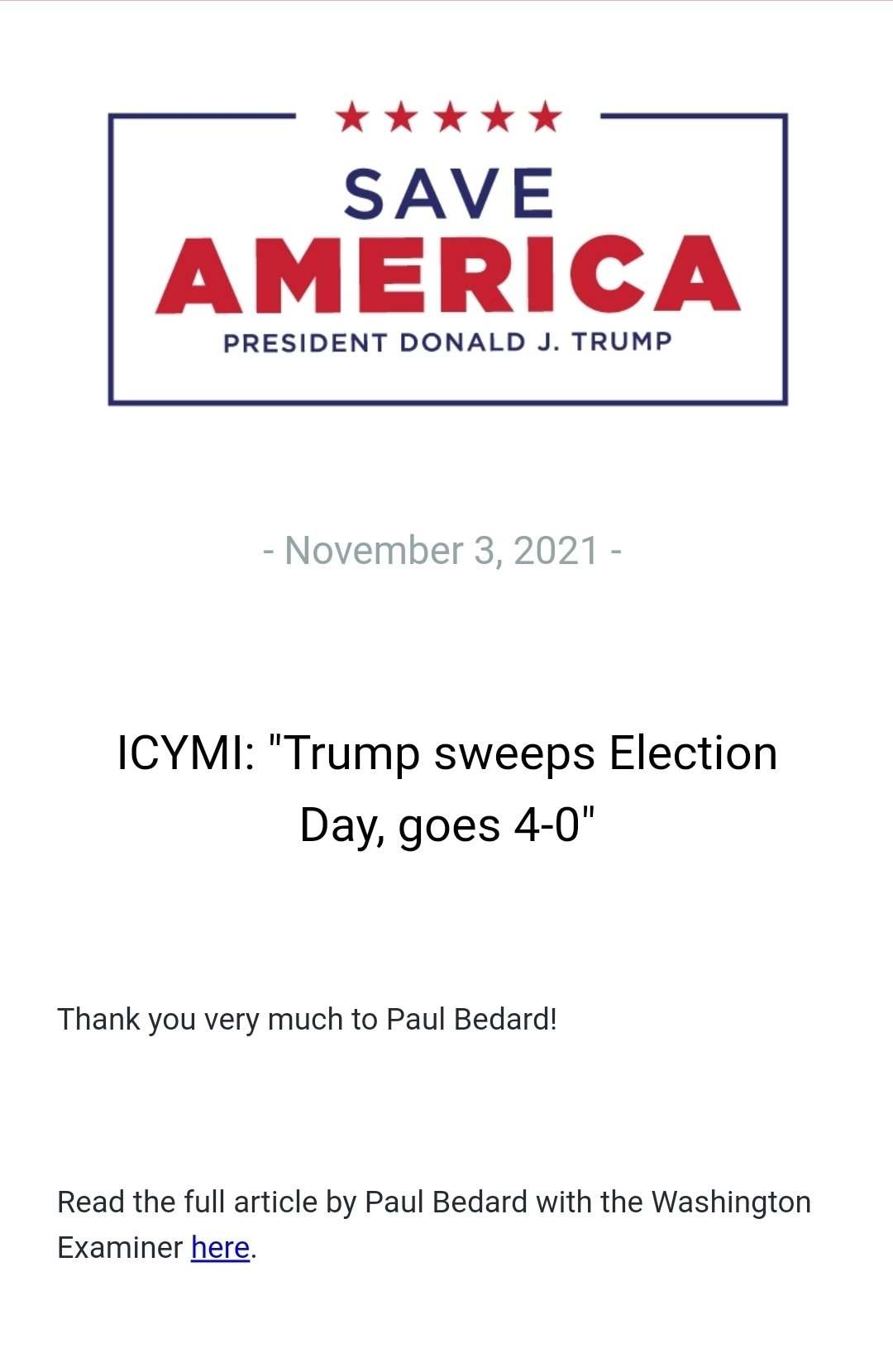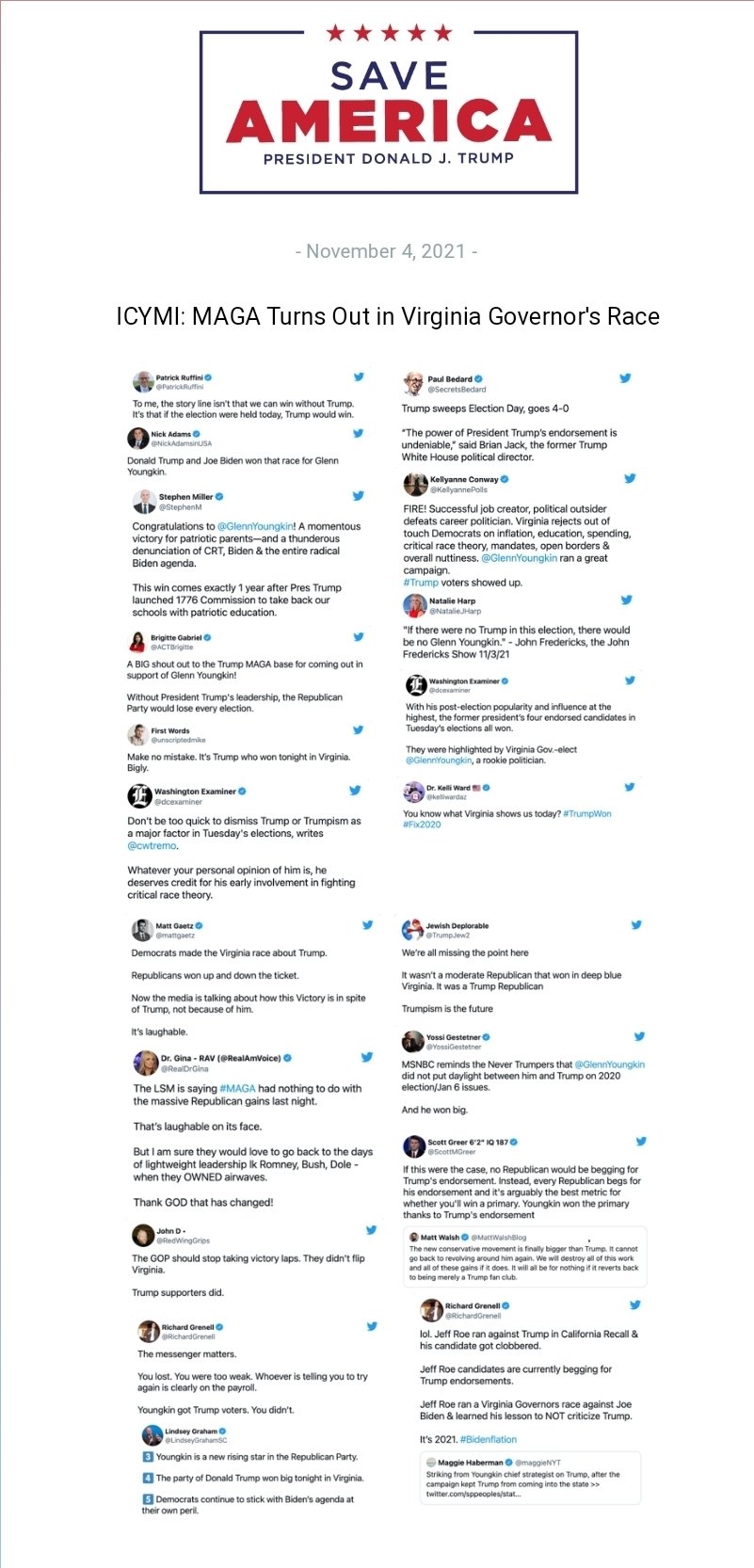 Igor Danchenko, a Russia analyst who worked with Christopher Steele, the author of a dossier of rumors and unproven assertions about Donald J. Trump, was taken into custody as part of the Durham investigation.
Source: nytimes.com
The Danchenko Indictment
John Durham has another scalp. On November 3, 2021, Igor Danchenko – Christopher Steele's primary subsource – was arrested by federal authorities.
Now we have his indictment. Danchenko has been charged with false statements to federal officials during his 2017 interviews with the FBI.
According to the indictment, Danchenko lied about his contacts with "Russians," his travels to Russia, and the identity of his sources. (Those are just some of the lies.) In John Durham's words:
For purposes of background on the second charge, Danchenko alleged he received a call from from Russian reporter/businessman Sergei Millian alleging a Trump/Russia conspiracy. Millian has long-denied placing this call. This call was important because it was the basis, in part, of the FISA warrants against Carter Page. Durham's investigation revealed Danchenko "never received such a phone call or such information from" Millian.
More from the Indictment:
Danchenko kept "PR Executive-1" – an influential Democrat – updated of his "Kompromat" research. We have learned from a person smarter than us that this is likely Charles Dolan Jr.
The Democrat PR Exec (Dolan): "I think [Danchenko] worked for FSB." (Federal Security Service of the Russian Federation.)
The "Russian Sub-Source-1" of Danchenko was a Hillary Clinton supporter and was gifted an autobiography of Hillary Clinton.
"Russian Sub-Source-1" had a personal interest in a Hillary Clinton victory, stating that the Democrat PR executive (Dolan) would "take me to the State Department if Hillary wins."
Durham alleges that Danchenko – the Steele source – and the Democrat "PR Executive" (Dolan) worked together to gather intel/dirt on Trump. From their e-mails:
The Democrat PR Executive (Dolan) later admitted to the FBI he fabricated this information to Danchenko.
Danchenko later falsely denied to the FBI that the Democrat PR Executive (Dolan) had provided him with information.
Danchenko further lied about his claims of staying in a Moscow Hotel in June 2016. He didn't stay at the Moscow Hotel until October. This is material because Danchenko purportedly gathered information from sources during the June 2016 stay (which never occurred).
Here's an important observation: Danchenko wasn't a necessarily a source – he was a go-between, providing Steele with information from the Democrat PR Executive (Dolan).
And then Danchenko lied about the Democrat PR Executive (Dolan) not being his source.
Overall, Danchenko faces five false statement charges:
Falsely denying he didn't talk to the Democrat PR executive (Dolan) about the dossier allegations.
Falsely stating he took a 2016 call from Russian Sergei Millian (whom he says alleged a Trump/Russia conspiracy).
Falsely stating in another FBI interview that he took the 2016 call from Millian.
Falsely stating he talked to Millian more than once over the phone.
False in another FBI interview about his conversations with Millian.
Source:  technofog.substack.com 
Fiona Hill introduced Danchenko to Chris Steele as well as to this PR executive pic.twitter.com/PYYUBo97hy

— Chuck Ross (@ChuckRossDC) November 4, 2021
Fiona hill implicated in the steele dossier
Trump impeachment hearings Day 5: Fiona Hill and David Holmes testify
On Day 5 of the House impeachment hearings, Fiona Hill, a former Russia expert on the National Security Council, and David Holmes, a political counselor at U.S. embassy in Ukraine, testifed following a day of explosive testimony on Wednesday.
Source: abc.com
Holy moly. Steele's ostensible sources were actually clients of Hillary's clandestine PR guy, rumored to be Charles Dolan. https://t.co/L34mCq48p7 pic.twitter.com/VGxOXzNGI5

— Hans Mahncke (@HansMahncke) November 4, 2021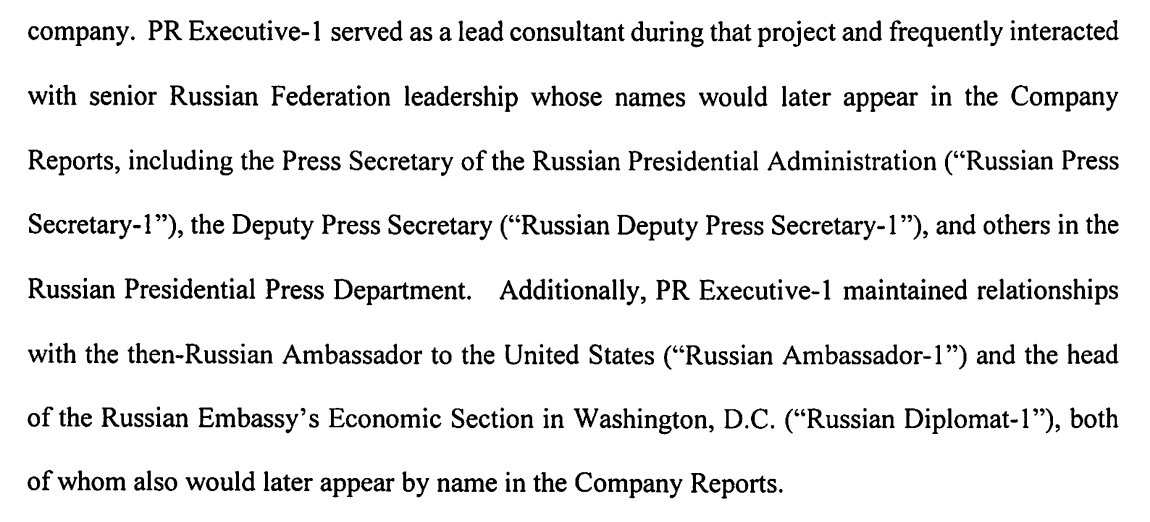 Think about how remarkable this paragraph is considering where the media coverage of the Russian collusion hoax started 5 years ago.

The corporate media truly is the enemy of the people. pic.twitter.com/T04WWB6xbr

— Donald Trump Jr. (@DonaldJTrumpJr) November 4, 2021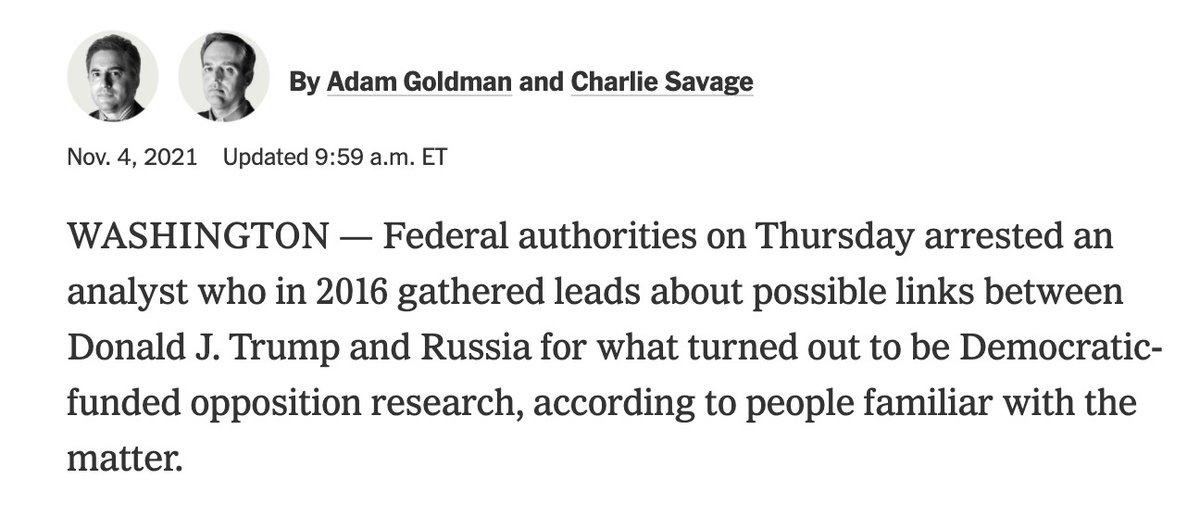 The Danchenko Indictment Shows the FBI Knew the Steele Dossier Was a Lie and Probably Russian Influenced Since 2017
So  Hillary Clinton was the one who colluded with the Russians the whole time.  And that includes Russian govt figures here in the United States.  
All roads lead to HRC and who else, he pushed the lie, Fake News, Big Tech, Mueller, he knew, but wait there is more, this is going to lead ot Obama and Biden 
Remember timing is very important. 
Another flashing red warning sign for the health of our democracy. https://t.co/bEDzObXmHY

— Hillary Clinton (@HillaryClinton) November 4, 2021
93
Anonymous
11/05/2017 02:06:00
 ID: cS8cMPVQ
4chan Thread/Post: 148019103 / 148032210
Direct Link: 148032210
2442
Q
!!mG7VJxZNCI
11/06/2018 16:16:21
 ID:
Archive Bread/Post Links: 62 / 422
Direct Link: 422
Q
4952
Q
!!Hs1Jq13jV6
11/13/2020 00:20:55
 ID: 518aba
Archive Bread/Post Links: 11620776 / 11621106
Direct Link: 11621106