Those Who Are Blind Will Soon See The Light, One Step At A Time – Ep. 2620
Watch The X22 Report On Video
Inflation has always been here, the [CB] did there best to hide it, college tuition increased 2700% in the last 50 years. [PB] needs 5 trillion to reduce inflation, this is like pouring gas on a fire. The [CB] is now preparing to to raise rates, playbook known. Durham is bringing the pain, the [DS] is panicking and they trying to get ahead of the indictments by telling their side of the story. Document, facts will destroy their stories as propaganda. [HRC] is the initial target, Durham is coming after her, the hunters have now become the hunted, next it will be Obama and Biden. Devolution is now in full swing. The blind will soon see the light, one step at a time. Truth and facts will rise and the people will understand how the country was infiltrated from within.
---
Economy
College Costs Increased 2700% in the Last 50 Years
 Thanks to the Clintons repealing Glass-Steagall, student debt is non-dischargeable even in the case of bankruptcy. The costs for college continue to rise. According to a non-profit group called the College Board, college tuition would cost between $10,000 and $20,000 annually if it rose at the same rate as inflation. Instead, the cost for public tuition is now between $22,690 for in-state students to $39,510 for out-of-state students, while private schools cost around $51,690. This means that the average cost of college has increased by 2700% in the past 50 years!
Joe Biden vowed to erase some college tuition debt as a campaign promise designed to attract young voters. Unfortunately, he had no financial plan to do such a thing, and most who are educated and well-read (there is a difference), knew it was an empty promise.
Source: armstrongeconomics.com
.@PeteButtigieg says Biden's proposed ~$5 trillion in new spending will reverse the inflation crisis pic.twitter.com/oP6v8nSkIQ

— Tom Elliott (@tomselliott) November 5, 2021
Joe Biden's America:

US businesses are subject to a $14,000 fine per employee if they "willfully" disregard OSHA's vaccine mandate but illegal aliens are entitled to a $450,000 payout each if they willfully disregard America's immigration laws.

This is outrageous.

— Charlie Kirk (@charliekirk11) November 4, 2021
---
Political/Rights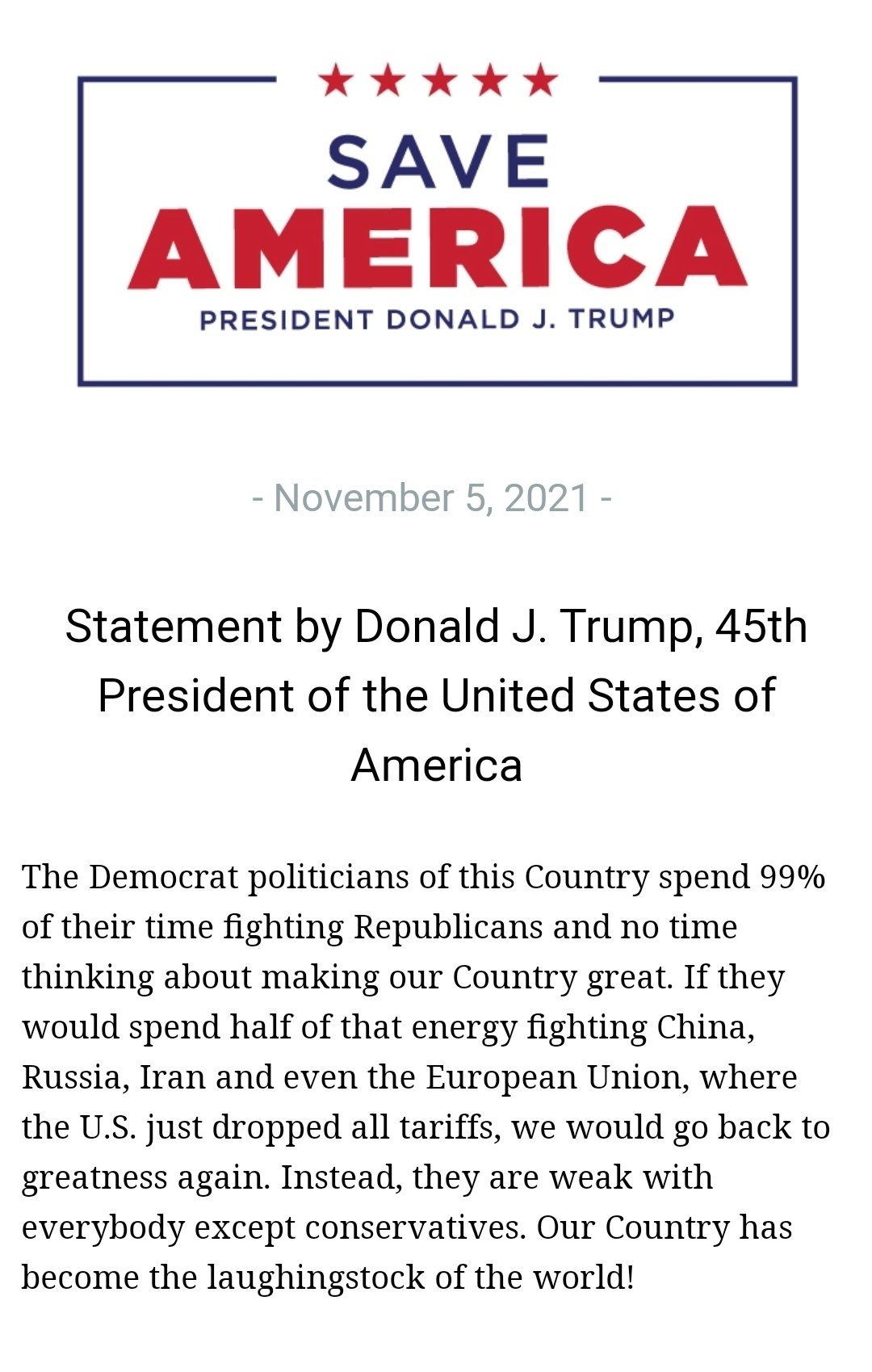 ---
Geopolitical/Police State
---
War

---
Cyber Attacks
---
False Flags
 something very weird is happening in the state of Western Australia (WA) home to a population of almost 3 million people.  The WA state has been locked down and isolated from the COVID-19 impacts in the eastern states.
 There are very few COVID cases in locked down Western Australia, which has allowed them time to prepare for the potential arrival of the virus which includes a massive vaccination effort.  The state has modeled an anticipated arrival of the COVID virus in early 2022, early next year.  However, as the vaccination rates increase, the hospitals are being overwhelmed with new patients and the Premier cannot explain why.
The issue is apparently worsening.  In an interview yesterday (Wed, Nov 3rd), Premier McGowan announced a massive expansion of hospital capacity due to an existing and undefined current influx in patients that is overwhelming hospital capacity.
.
Obviously something is very wrong:
COVID-19, or any variant therein, is non-existent in the Western Australia population.
The Western Australia population is being vaccinated.
The hospitals in Western Australia are now overwhelmed, and not by COVID-19.
What else could the problem be other than the vaccinations causing hospitalizations?
Source: theconservativetreehouse.com
Dem Governor Signs Executive Order to Turn Away Unvaccinated from Hospitals and Prioritize Treatment to Vaccinated Patients
Colorado Governor Jared Polis has signed an executive order that constitutes a flagrant assault on medical ethics, as well as a human rights violation. The executive order would turn those who have decided to remain unvaccinated for Covid-19, whether for reasons of freedom of conscience or for natural immunity, and to prioritize medical treatment to the vaccinated.
"Hospitals in Colorado are being allowed to turn away patients as the state experiences its worst Covid surge in a year," NBC reported.
"An order signed Sunday by Gov. Jared Polis gives health care professionals the authority to prioritize crisis care under the direction of the state health department," the report continued.
Source: beckernews.com
 Texas Attorney General (AG) Ken Paxton over its COVID-19 vaccine mandate.
Texas, along with several other allied states and corporations, is suing over what they call the 'illegal and unconstitutional' soon-to-be vaccine mandate imposed on some private companies. The new rules will impact more than 100 million U.S. workers.
 
Source: insidepaper.com
Florida Governor DeSantis Announces Lawsuit Against Biden's "Unconstitutional" Employer Vaccine Mandate
Florida Gov. Ron DeSantis announced on Nov. 4 that he is suing the Biden administration over its "unconstitutional" employer vaccine mandate being issued through the Occupational Safety and Health Administration (OSHA).
DeSantis said in a statement that the lawsuit against the administration would be filed with the United States Court of Appeals for the Eleventh Circuit as soon as OSHA's "unlawful" emergency temporary standard (ETS) is published in the Federal Register.
Source: zerohedge.com
Attorneys general in 11 states filed a lawsuit Friday against President Joe Biden's administration in a challenge against a new vaccine