Hunters Become Prey, Timing Is Everything,Freedom Of Information [Truth] = END – Ep. 2582
Watch The X22 Report On Video
The [CB] is now panicking, they know if the debt ceiling is not raised the economy will begin to suffer. The government will not be able to pay for the debt, the entitlement programs etc. This will have an effect on the US economy in the long run. No matter which move the [CB] makes they are doomed. Scavino has been sending message after message, warning the people to buckle up, it's going to be a bumpy ride. The military is the only way forward, it is so corrupt that the [DS] players needed to be trapped. We are now entering a harvest moon and soon a hunters moon. The hunters have become prey, once the truth is exposed this will be the end. The [DS] is building the narrative against the AZ forensic audit, this will fail because it is pure propaganda and it is not based on truth and facts. Any rioting will be swiftly cleaned up, the patriots know the playbook and are in control.
---
Economy
Yellen Says Failing To Raise Federal Debt Limit Will Trigger 'Historic Financial Crisis' https://t.co/JmUI0wqZjO pic.twitter.com/5DuYrAFopv

— The Daily Wire (@realDailyWire) September 21, 2021
---
Political/Rights
 Prime Minister Justin Trudeau's Liberal Party won, but his gamble to win a majority of seats failed and nearly mirrored the result of two years ago.
Source:  apnews.com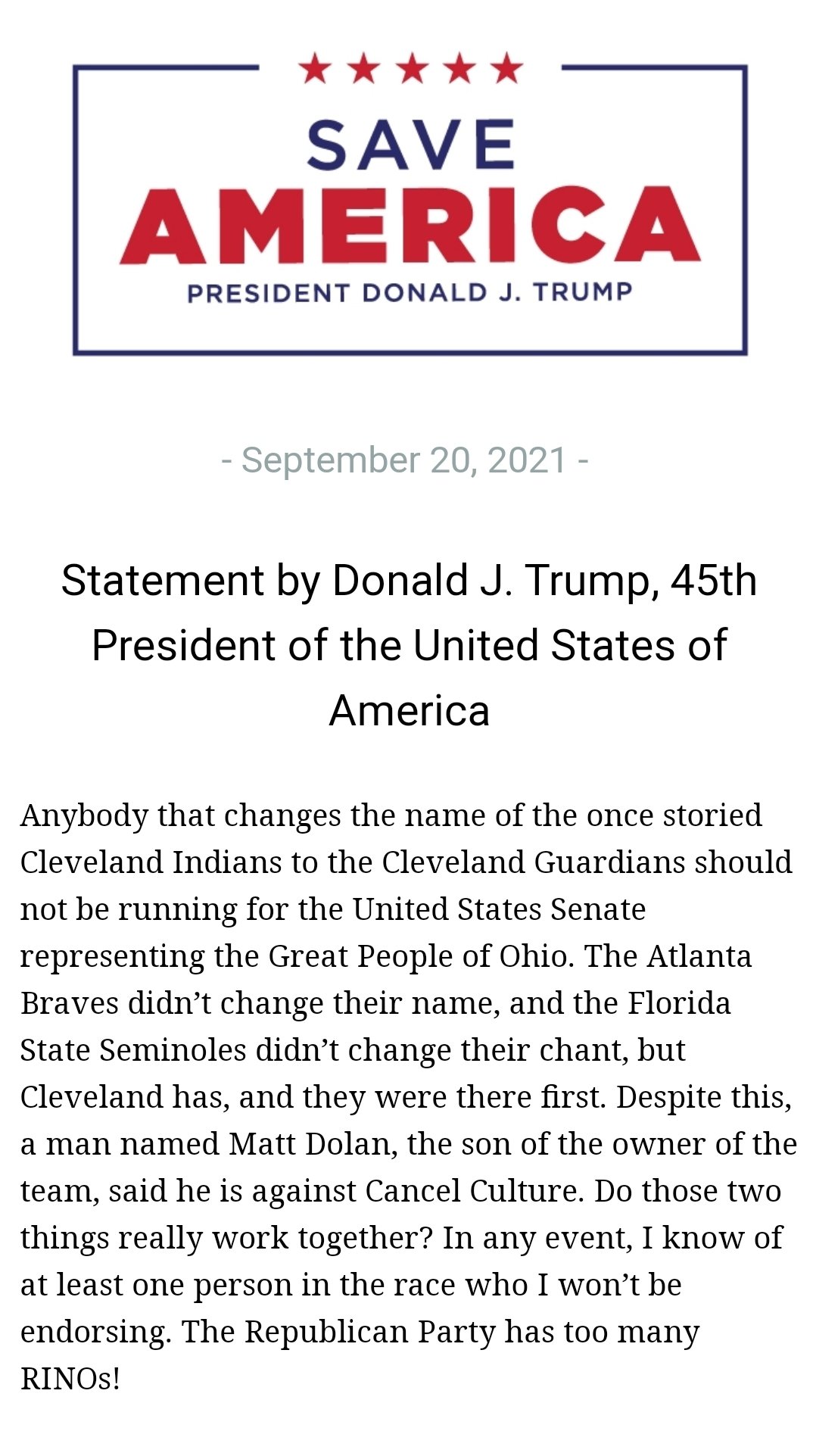 Michigan Gov. Gretchen Whitmer's (D) job approval is crashing in her state, as she has lost the support of the majority of independent voters.
Less than half (48 percent) of registered voters in Michigan approve of the governor, according to the poll from Glengariff Group. The poll also found that 46 percent of registered voters disapprove of her.
A significant part of the governor's decline in numbers is from independent voters. The poll found the majority (51 percent) disapproves of the governor. Only 39 percent approved of Whitmer.
T
Source: breitbart.com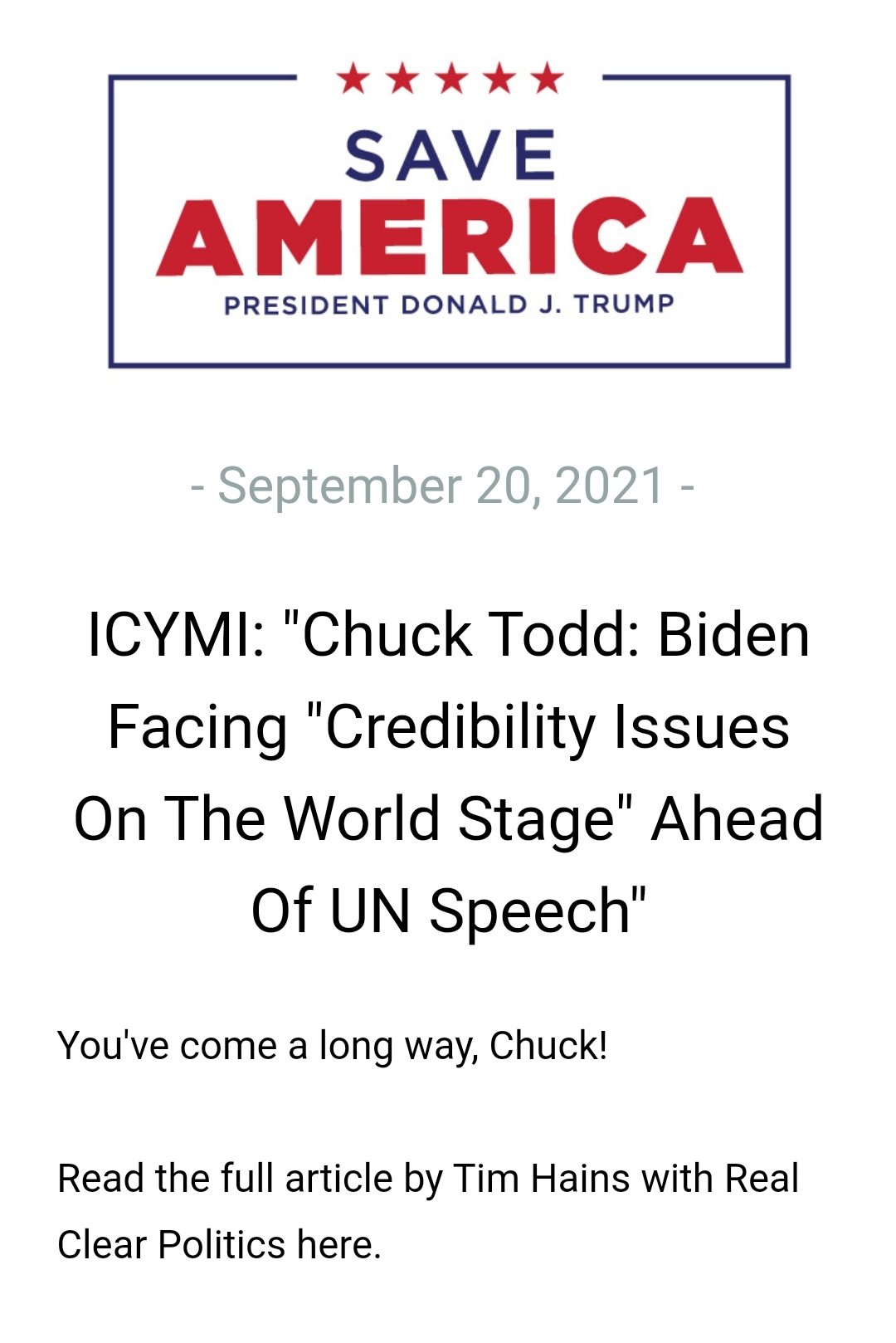 Flashback:
How the Fake News Lied
Of course it's true. They don't have to censor lies. pic.twitter.com/bT3IxSIQjp

— Liz Harrington (@realLizUSA) September 21, 2021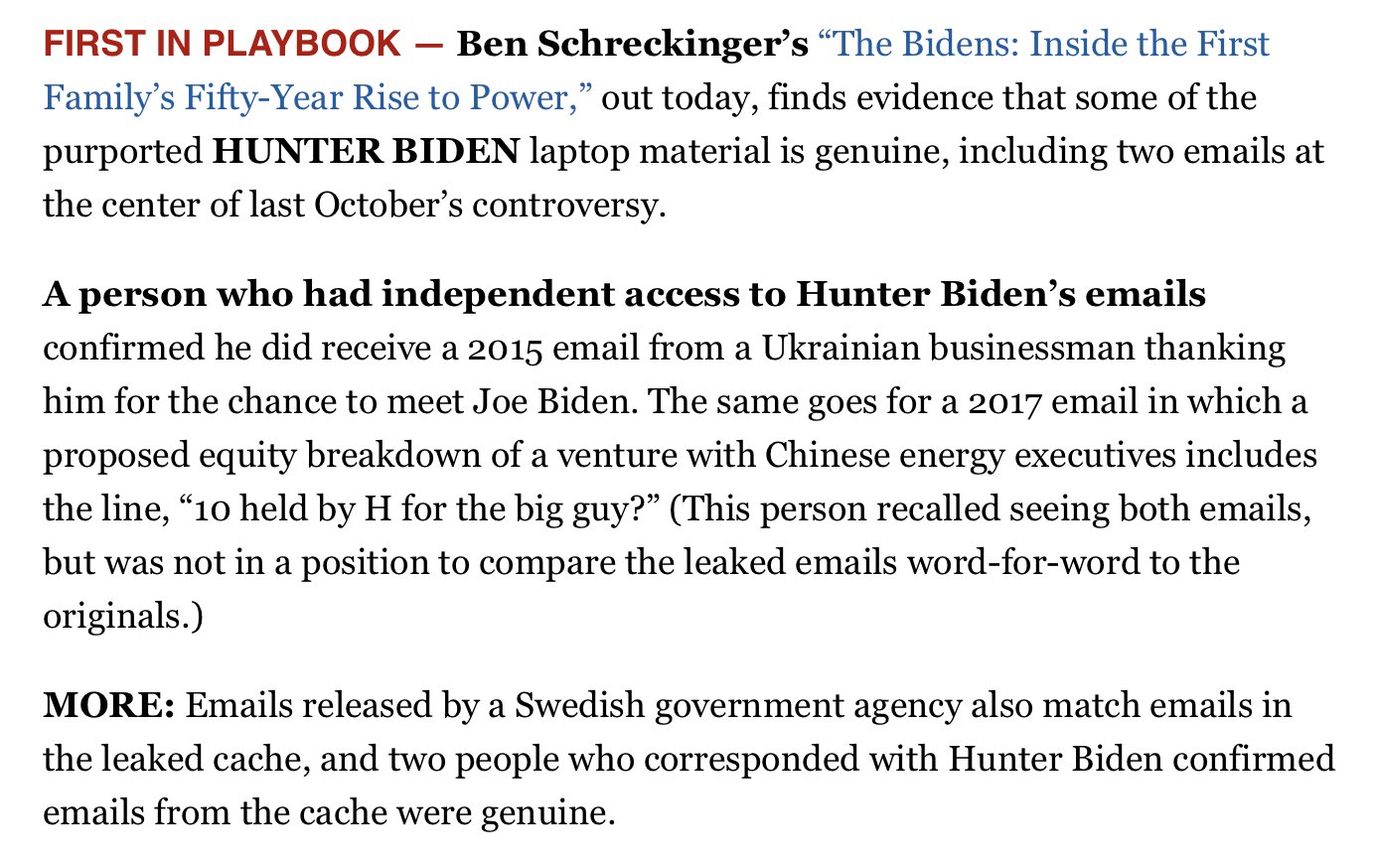 DHS Chief Alejandro Mayorkas told US senators  he was "horrified" at the images of Border Patrol agents on horseback in Del Rio — but Mayorkas is NOT horrifed by the 15,000 Haitian squatters under a bridge at the Bidenville squatters camp in Texas.
Source: thegatewaypundit.com
Gullible idiots in the press published this fake story. The White House gave it legs. Big Tech promoted it. A conspiracy of misinformation. pic.twitter.com/jCs7bNRhaP

— J.D. Vance (@JDVance1) September 21, 2021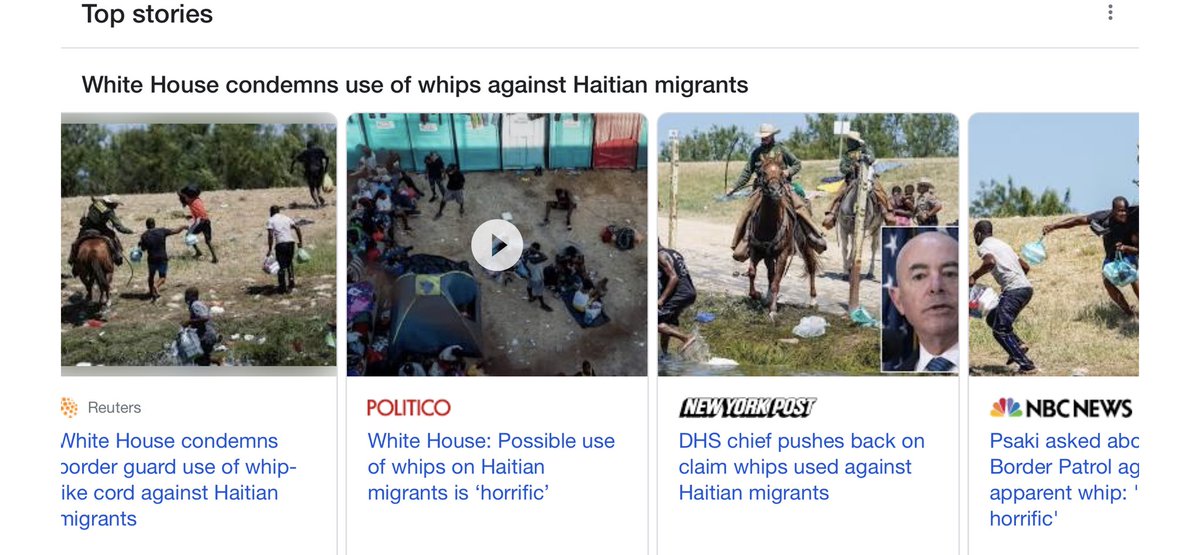 .@ChrisCuomo must have missed the Hispanic border patrol agents.

I'd love to see Chris say these things to these guys in person. https://t.co/tpBskBJXul pic.twitter.com/7XkguoHCT1

— Jeremy Redfern (@JeremyRedfernFL) September 21, 2021
Reporter: "Mr. President, what's your reaction to the images from the southern border?"

Biden: "We will get it under control" https://t.co/wyVMUdJkV3 pic.twitter.com/scoHbzLDWC

— Bloomberg Quicktake (@Quicktake) September 21, 2021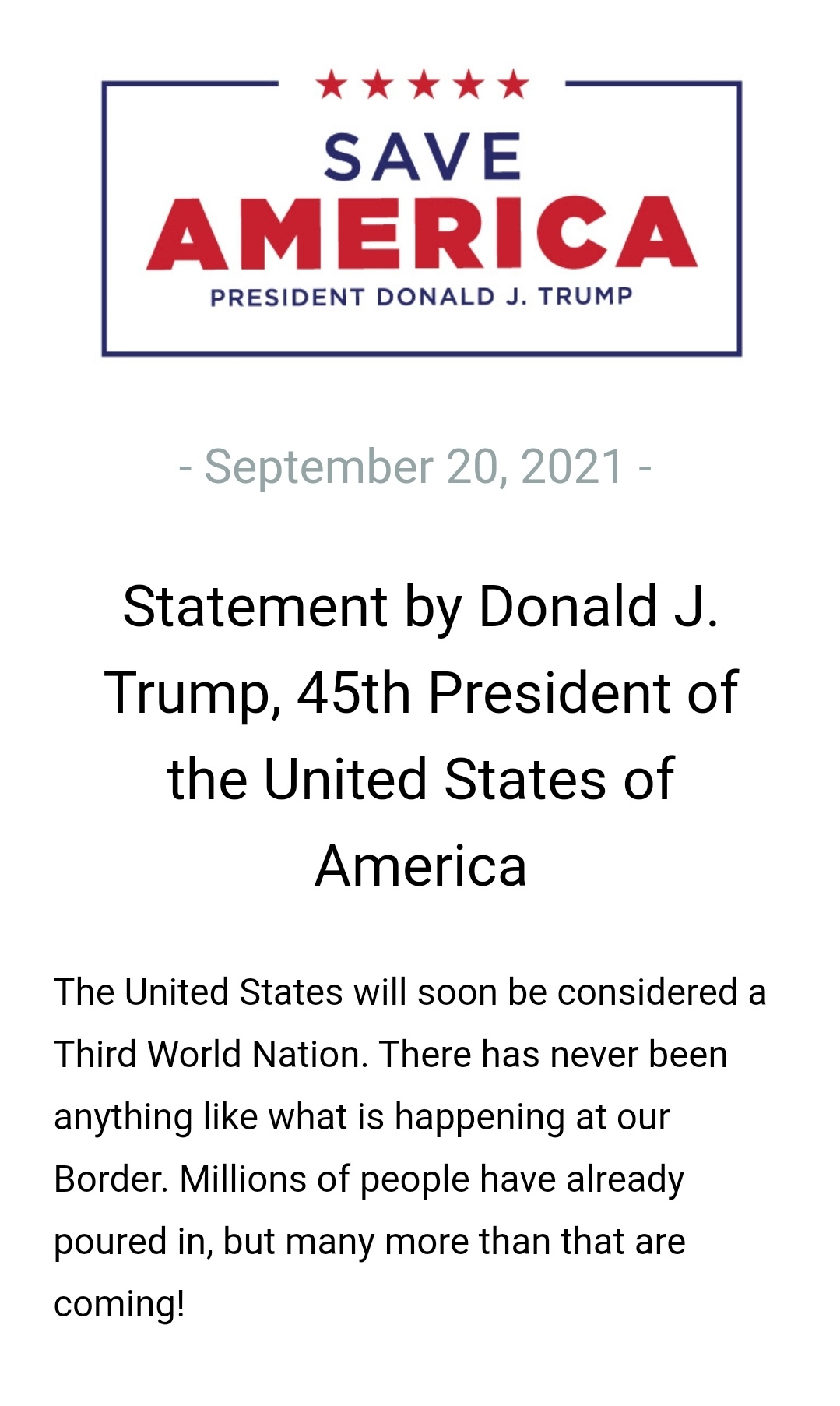 ---
War
UNITED NATIONS: US President Joe Biden told the United Nations General Assembly on Tuesday that the United States would return to the Iranian nuclear deal in "full" if Tehran does the same.
He said the United States was "working" with China, France, Russia, Britain and Germany to "engage Iran diplomatically and to seek a return to" the Joint Comprehensive Plan of Action, which America left in 2018.
"We're prepared to return to full compliance if Iran does the same," he added.
Source:  dailystar.com.lb
---
False Flags
New: LA County Department of Public Health tells me that the mask-less Emmys were not in violation of the county's mask mandate because "exceptions are made for film, television, and music productions" since "additional safety modifications" are made for such events. pic.twitter.com/6S105zYjbJ

— Oliver Darcy (@oliverdarcy) September 20, 2021
If illegal aliens don't have to take the vaccine to cross the border, you do not have to comply either.

If the 'celebrities' at the Emmys don't have to wear their masks, you do not have to comply either.

If Congress can be exempt from vaccine mandates, so can you—do not comply.

— Charlie Kirk (@charliekirk11) September 20, 2021
Data from John Hopkins COVID-19 Tracker shows that several states with the highest vaccination rates like Maine, New York, and Vermont have the highest increased rate in COVID-19 cases last week.
And the state with the greatest decreased rate in COVID-19 cases was Texas.
Vermont, leading the country with the highest vaccination rate of 71.30% (fully vaccinated) had a 34.07% increase rate in COVID-19 cases last week.
Maine is another state that has the highest vaccination rate of 67.92% (fully vaccinated).  It also saw a record-high 100% increase rate of COVID-19 cases last week.
New York ranked 8th has a vaccination rate of 62.18% fully vaccinated. The rate of increase over the past week reached 43.13%.
Source: thegatewaypundit.com
Multiple public officials in Colorado are warning that the state's official COVID-19 death count is skewed due to the practice of conflating patients who have died directly due to the disease with those who have merely tested positive for it prior to death.
Data experts and health officials have long struggled to separate out those two key data points in government tallies of COVID deaths, leading to accusations that the death rate for the disease is being inflated modestly or even significantly.
Multiple public officials in Colorado, meanwhile, said that they had personally observed death tallies that erred on the side of COVID, leading to death counts that were effectively misleading to the public.
Brenda Bock, the county coroner for Grand County, said that in November she processed a murder-suicide case "and the very next day it showed up on the state website as COVID death."
"And they were gunshot wounds," she continued. "And I questioned that immediately because I had not even signed off the death certificates yet, and the state was already reporting them as COVID deaths."
Bock even claimed that authorities counted as COVID deaths two individuals who were very much not dead.
Source: justthenews.com
Project Veritas  released part 1 of their #CovidVaxExposed series.
Jodi O'Malley, a federal whistleblower who works for the Health and Human Services went public with secret recordings revealing the truth about the Covid vaccines.
'The government doesn't want to show the COVID vaccine is full of sh*t,' an ER doctor who works for the HHS said. 'They want to shove adverse effect reporting 'under the mat.'
A registered nurse was recorded saying she has seen "a lot" of vaccinated people get sick with side effects but "no one is writing the VAERS report because it takes a half an hour to write the damn thing."
WATCH PART 1:
Additional Project Veritas video in case Twitter deletes:
Source: thegatewaypundit.com
---
Q
As TGP reported over the weekend there were more police, reporters and undercover intelligence agents than protesters at the J6 rally in Washington DC.
The only armed person arrested on Saturday was a federal officer.
Police surrounded a masked man who was armed with a firearm.
The masked man told officers where his gun was and pulled out a badge.
 
 the armed man arrested at the rally is indeed a federal officer from New Jersey.
 The 27-year-old New Jersey man is an officer with U.S. Customs and Border Protection.
Source: thegatewaypundit.com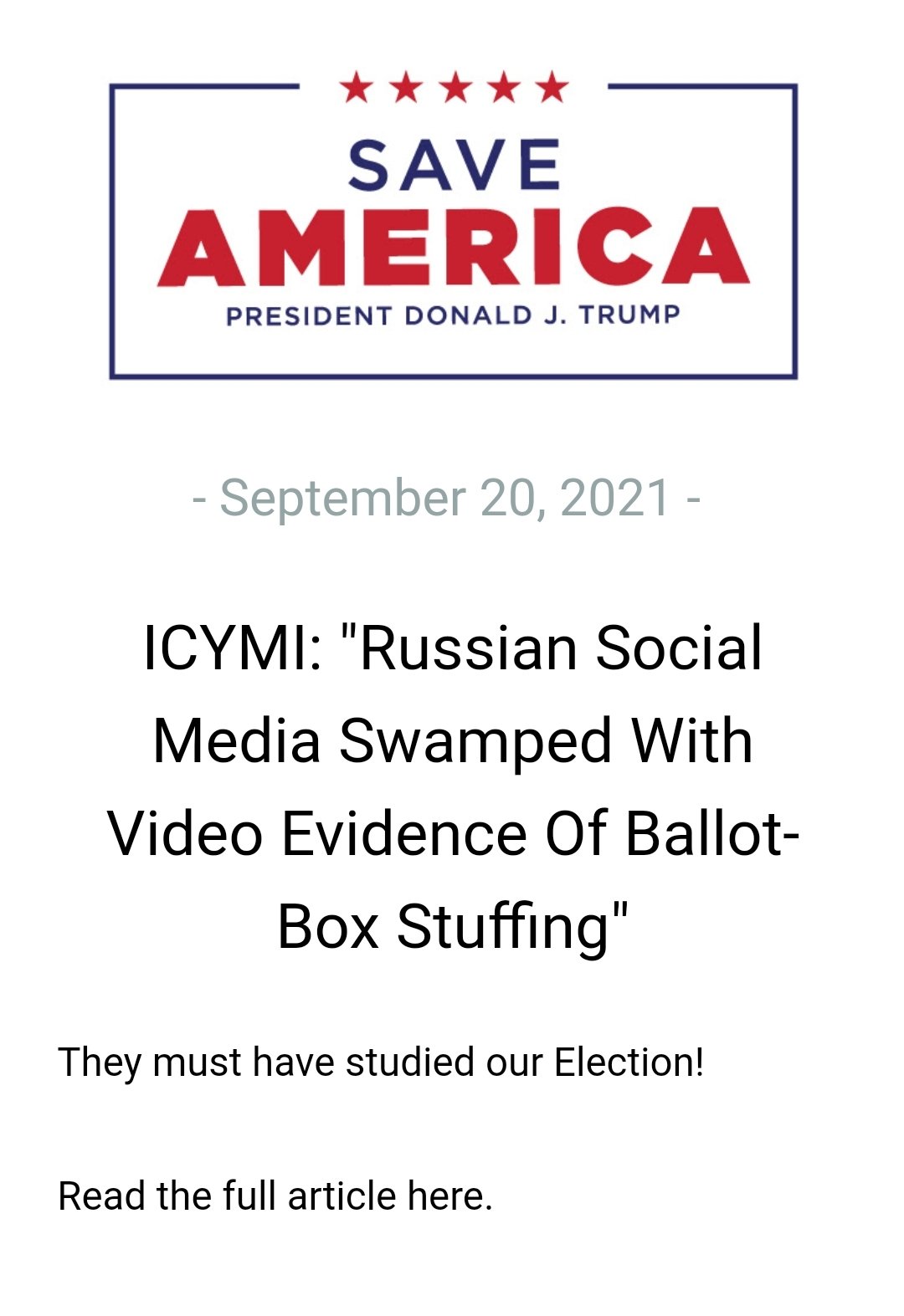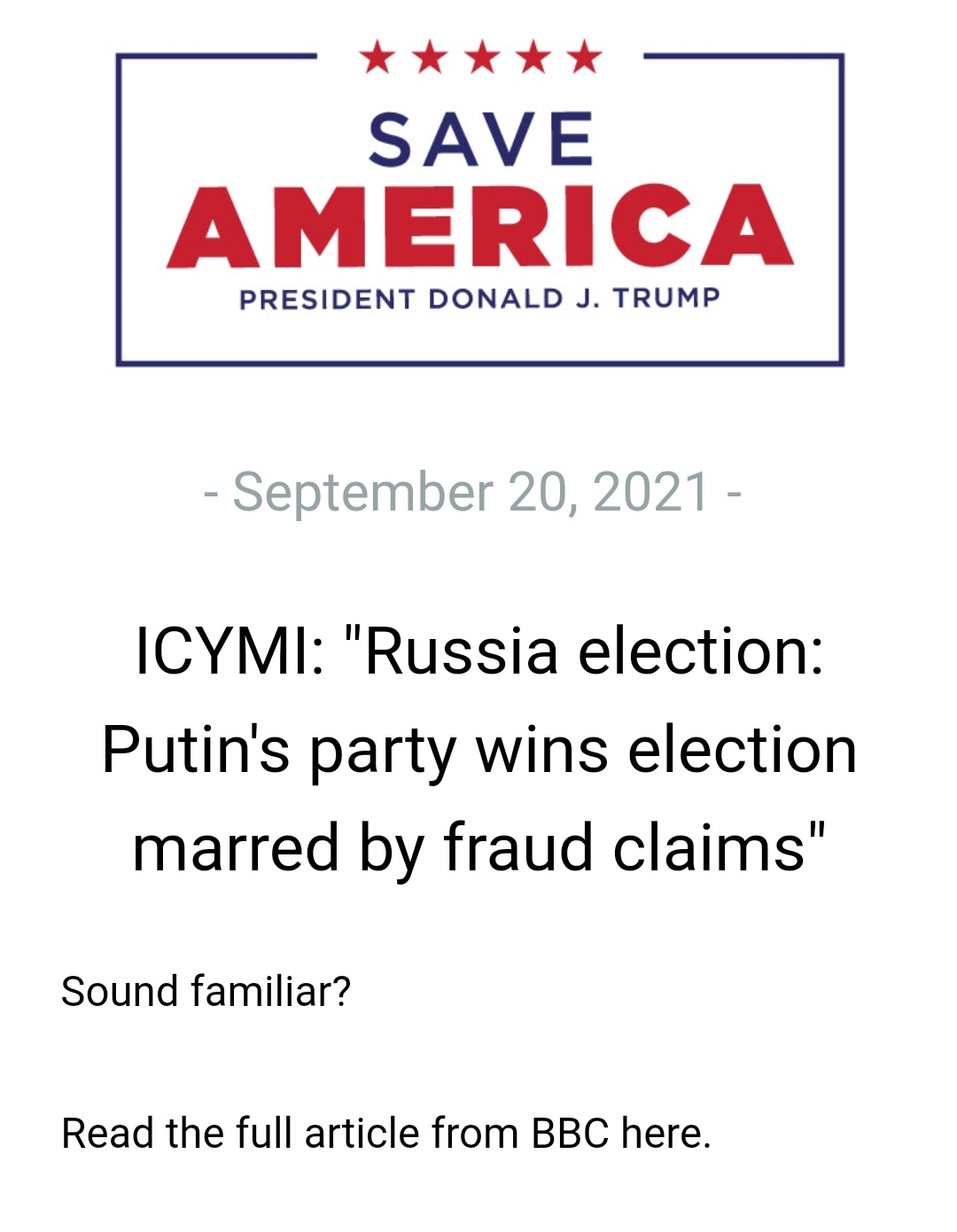 The State Department condemned the Russian government's crackdown on opposition groups during this weekend's parliamentary elections, saying in a statement Monday that the vote "took place under conditions not conducive to free and fair proceedings."
 
 
Organizations affiliated with Navalny have been outlawed and declared "extremist groups" by the Russian government. Apple and Google deleted Navalny's tactical voting app from their app stores last week after the Kremlin threatened to arrest their employees.
Major gains by opposition groups were erased Monday after the electoral commission added millions of online votes, a delayed count that drew calls of foul play for its lack of transparency.

 

Source: axios.com

READ: Trump lawyer's memo on six-step plan for Pence to overturn the election(

CNN)John Eastman, a conservative lawyer working with then-President Donald Trump's legal team, outlined in a two-page memo a scheme to try to persuade then-Vice President Mike Pence to subvert the Constitution and throw out the 2020 election results on January 6.
The memo was obtained by The Washington Post's Bob Woodward and Robert Costa, the authors of "Peril," and which was subsequently obtained by CNN.
Read the memo:

Source: cnn.com

Days before lawyers allied with Donald Trump gave a news conference promoting election conspiracy theories, his campaign had determined that many of those claims were false, court filings reveal.
  Mesa Co. Clerk and Recorder Tina Peters presented the Mesa Co. Board of Commissioners with alleged evidence of a significant loss of data found within the Mesa Co. voting systems.
Peters explained in an interview that, ""Behind my back and contrary to prior representations, these records were destroyed by the Secretary of State and the vendor. And, preventing any audit of the 2020 election. This appears to be a serious crime. But thanks to my arranging for a forensic image, that the ems servers, just beforehand, those records are preserved." According to Peters, this information was lost during a routine election system maintenance operation called a "trusted build" on May 25, 2021.
The evidence Peters gave to the board is an 83-page report of forensic examination and analysis. According to Peters, it was prepared by Doug Gould, the cyber forensic expert retained to advise her in accordance with her duties as the county's Chief Election Official.
The Colo. Sec. of State Jena Griswold has stripped Clerk Peters of her election supervision authorities. In Aug., the Mesa Co. Board of Commissioners appointed Wayne Williams as the county's Designated Election Official. Mesa Co. had to replace its voting equipment after Griswold decertified citing security compromises. The county's new voting systems have since been certified. According to Peters, ""The report also shows that these machines cannot meet certification requirements of the State of Colorado, and should not have been certified for use. This is why I had to arrange for these images to be made. It was the only way I could find if the records were in fact destroyed, and whether the machines were designed to accurately tabulate the votes. And it turned out my suspicions were correct."
The report claims, "forensic examination found that election records, including data described in the Federal Election Commission's 2002 Voting Systems Stands (VSS) mandated by Colorado law as certification requirements for Colorado voting systems, have been destroyed on the Mesa County's voting system, by the system vendor and the Colorado Secretary of State's office." 
Source: msnbc.com
 
On March 22nd, 2021, Steve Robinson and Shelby Busch met with Steve Chucri to push for Maricopa County's cooperation with a full forensic audit by the Arizona Senate.
These brave Patriots have decided that it is time to release the tapes now that the audit report is in preparation and the county officials will not stop lying.
Chucri was the only Supervisor willing to meet with residents of Maricopa County to discuss serious election concerns, which he shared.
Chucri seemed to agree with the majority of voters who were calling for an audit.
We The People AZ Alliance is a citizen-led organization that has played an extreme role in pushing elected officials to act on election concerns with a full forensic audit.
They are not connected to the Arizona Senate audit investigation. They are private, concerned citizens in the grassroots movement, who want to see elected officials fight for the people.
Throughout the meeting, Chucri ripped his colleagues for not standing up for voting rights or cooperating with the Senate.
Chucri even said that the county's audit, led by the companies that certified the equipment, was "bullsh*t" and said he thinks his colleagues are afraid of an audit because of how close their races were.
Chucri also met with Rudy Guliani, Col. Phil Waldron, Shelby Busch, and Steve Robinson in December.
In another recording, Chucri said, "I like Col. Waldron, I don't think he's a crazy nut job. That guy's

 pretty

 sharp. Very sharp… He's not a bad actor."
Steve Chucri knew that this audit was not up to shape and that this election had serious issues. He also states that his colleagues could be opposing an audit in order to stay in office.
source: thegatewaypundit.com
In a March 22nd meeting with We The People AZ Alliance, Chucri told Shelby Busch and Steve Robinson that his colleague Clint Hickman "didn't have the guts" to do a real audit.
"I should have never believed what I was being told", Chucri said after believing that they could only audit approximately 47,000 ballots out of nearly 2.1 million.
Chucri knew that Maricopa County needed a comprehensive full forensic audit to find the truth.
In a recorded phone call on January 22, Chucri shared what he really thinks happened before he agreed to perform an audit of only 2% of the ballots, and fought against audit efforts in unity with the Maricopa County Board of Supervisors.
Chucri: I think it was done through dead people voting. I think it was multifaceted.

Busch: They threw everything but the kitchen sink at these elections. The information, the data we have is incredible. USA Today has put out a hit piece on our organization stating that the information we provided at our rally was conspiracy and unfounded truth. We have the evidence. We have the voter rolls. We have it, but they don't want to admit it and you're right it was multi-layered. It was dead voters

Chucri: Ballot harvesting, ballot harvesting!
Steve Chucri knew exactly what types of security issues were encountered, yet he did nothing to look into this.
Instead, he continues to aid the Supervisors and crooked Secretary of State Katie Hobbs in their cover-up of this fraudulent election.
They tried to prevent a canvass because they knew we would find issues like lost votes, and ghost votes, or phantom voters.
Chucri knew that this was a fraudulent election.
Chucri needs to come forward.
Source: thegatewaypundit.com
I am here to sound the alarm: The world must wake up.
We are on the edge of an abyss — and moving in the wrong direction.
Our world has never been more threatened.
Or more divided.
We face the greatest cascade of crises in our lifetimes. @antonioguterres pic.twitter.com/jfBp1i0MU5

— UN News (@UN_News_Centre) September 21, 2021
See the harvest moon shine in the night sky tonight, 2 days before the autumnal equinox 
The full moons and their names, according to The Old Farmer's Almanac:
• September 20: harvest moon
• October 20: hunter's moon
Source: cnn.com