[Swamp] Fighting Back To Weather The Storm,We Are At The Precipice,Patriots Are Ready – Ep. 2583
Watch The X22 Report On Video
The [CB]/Ds are still trying to push the UBI, this will fail, the people do not want to be controlled. The US does not have a labor shortage, what happens when you bring more people into the country. FedEx & UPS are raising prices, it has begun. The house votes to fund the Gov until Dec, Trump put out a statement and tells the Rep to use the debt ceiling has leverage. The [CB] is building the narrative of supply chain issues. The WEF makes its move with a carbon based credit card, this has failed before it even gets started, the people will reject this just like the vaccine mandates.  The [DS] is ready to fight back they have certain events in place to try to weather the storm, we are now at the precipice and the patriots are ready. The forensic audit will be released within 2 days, prepare for a [FF] or distraction event. The people are now seeing though the [DS] agenda, they see the border crisis,economy, Afghanistan, the push to control the people via the plandemic. The world is now fighting back and the [DS] does not know how to stop it.
---
Economy
Chicago Mayor Lori Lightfoot (D) wants to test a basic universal income-style program by paying $500 a month to 5,000 low-income families, the Associated Press reported.
Lightfoot pitched the idea during her budget address on Monday. The program, which would last a year, would be a part of the city's proposed $16.7 billion budget.
The mayor described the $31.5 million "cash assistance program" as a way to help "hard-hit, low income households in need of additional economic stability."
"The idea has been discussed before in Chicago, including earlier this year by city aldermen. Similar pilot efforts, called universal basic income, have been tested elsewhere including in California and New York," according to the report.
Between 18 percent and 20 percent of Chicagoans live in poverty, according to U.S. Census Bureau estimates. However, other government financial assistance in the city — especially welfare — has been accused of exacerbating the city's poverty problem.
Source: breitbart.com
To wit: There are 7.3 million men between the ages of 25 and 54 who not only aren't working, they're not even looking for work, per Bureau of Labor Statistics survey data.

That's not a "labor shortage." It's a civilizational crisis. https://t.co/4VlEQ6McRu

— Sean Davis (@seanmdav) September 22, 2021
FedEx Corp. and rival United Parcel Service Inc are raising shipping rates for customers at the fastest pace in nearly a decade, which begs the question if inflation is not "transitory" but rather structural.
On Monday, FedEx announced it would begin to raise shipping rates on Nov. 01. The bulk of the rate increases would occur throughout January by around 5.9% or 7.9%, depending on the service.
A company press release explained the new surcharge changes for FedEx shipping services:
*Effective Nov. 01, 2021, a fuel surcharge increase will be applied to FedEx Express (U.S. domestic package and freight services), FedEx Ground, and FedEx Freight shipments.

*Effective Jan. 17, 2022, FedEx Freight will introduce a No Shipment Tendered surcharge that applies when a pickup is performed and no shipment is tendered to the carrier.

*Effective Jan. 17, 2022, the International Out-of-Delivery-Area Surcharge and International Out-of-Pickup-Area Surcharge rates will be determined based on the corresponding tier of the ZIP code, postal code, or city of the shipment's origin and/or destination location for International Express Freight and Parcel services.

*Effective Jan. 17, 2022, a Delivery and Returns Surcharge will be assessed on packages that are delivered or returned using FedEx Ground Economy services.

*Effective Jan. 24, 2022, Additional Handling Surcharge and Oversize Surcharge rates for U.S. Express Package Services and U.S. Ground Services will be determined based on the shipment's zone.
As for UPS, 2022 shipping rate increases are expected to be announced in the coming weeks. WSJ quoted Transportation Insight LLC, a supply-chain management and logistics firm, who said both FedEx and UPS "will move in lockstep with their annual price increases since at least 2010."
The above-average increase from FedEx and what's likely to be announced by UPS shortly is more evidence that inflation is quickly spreading across the global supply chain and becoming structural.
Source: zerohedge.com
Sales of previously owned homes in the U.S. fell in August as prices climbed to record highs and first-time purchases plunged, the National Association of Realtors said Wednesday.
Total existing-home sales dropped 2.0 percent from July to a seasonally adjusted annual rate of 5.88 million in August. That was slightly below the consensus forecast. Sales fell 1.5 percent from a year ago.
"Sales slipped a bit in August as prices rose nationwide," said Lawrence Yun, NAR's chief economist. "Although there was a decline in home purchases, potential buyers are out and about searching, but much more measured about their financial limits, and simply waiting for more inventory."
Source: breitbart.com
U.S. House votes 220-211 to pass legislation that would fund the government through Dec. 3 and extend the debt limit until after the 2022 election; the bill faces an uphill climb in the Senate, where Republicans have promised to filibuster. https://t.co/LbWTZkH5Ot

— Breaking News (@BreakingNews) September 22, 2021
Americans will blame Democrats and not Republicans for the impending debt default and possible shutdown, a Wednesday Morning Consult/Politico poll revealed.
Registered voters were asked, "If the United States were to default on the national debt, would you tend to blame the Democratic party more, the Republican party more, or both parties equally?"
Thirty-three percent said they would blame Democrats. Sixteen percent said they would blame Republicans while 42 percent said they would blame both parties. Nine percent said they did not know.
Source: breitbart.com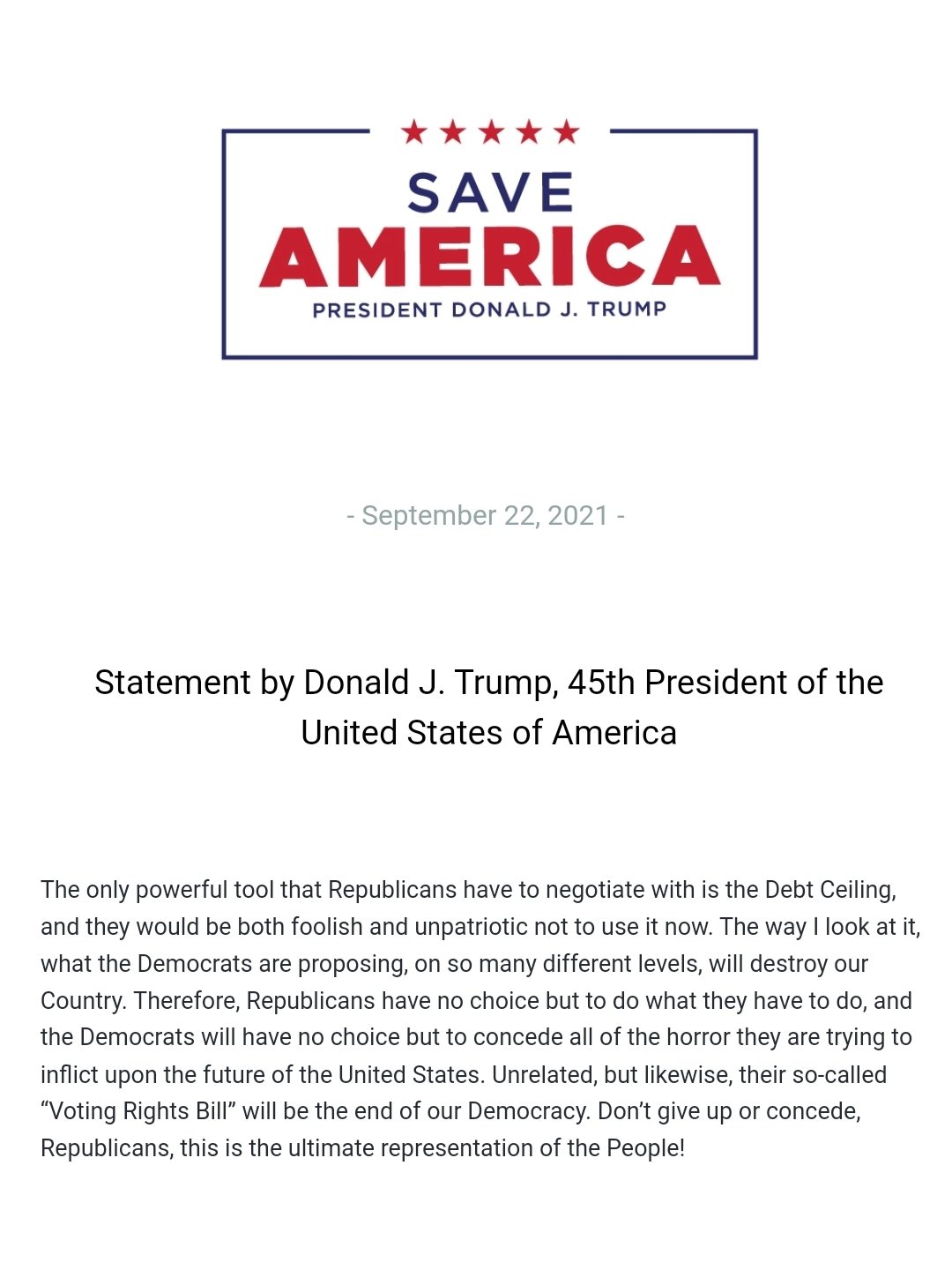 Some 65 cargo ships have been forced to queue outside two of America's biggest ports, in the latest sign of supply chain disruption hitting the US.
The ships are stuck outside the ports of Los Angeles and Long Beach, California, which handle 40% of all cargo containers entering the country.
Before Covid, it was unusual for more than one to wait for a berth.
The backlog is linked to surging demand for imports as the US economy has reopened.
Retailers and manufacturers have rushed to place orders and restock their inventories, but the global shipping system is struggling to keep up.
It's contributed to shortages of children's toys, timber, new clothes and pet food, while also pushing up consumer prices.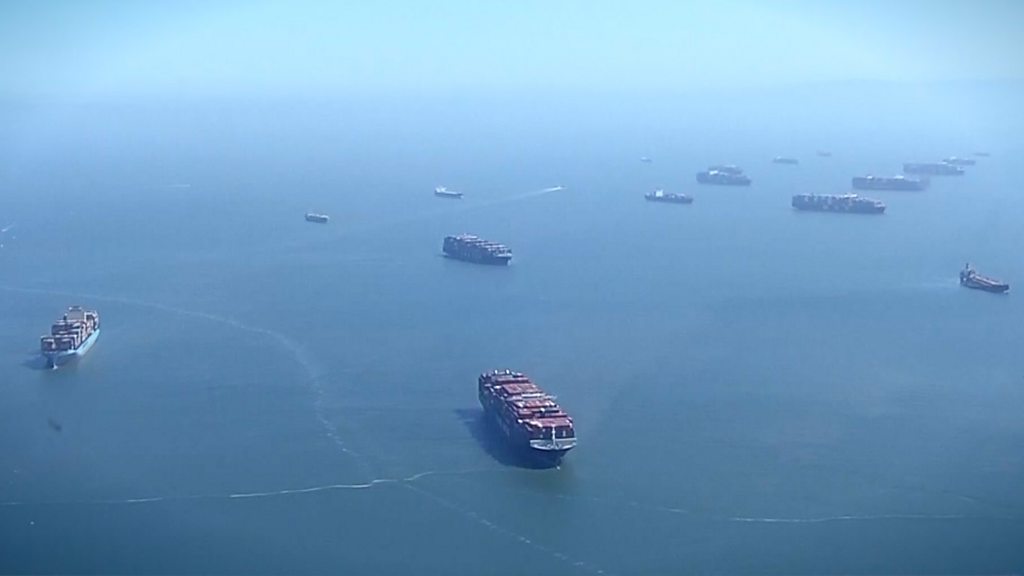 ---
Political/Rights
Flashback, Hunter Biden Laptop
"To me, this is just classic textbook Soviet Russian tradecraft at work," former Director of National Intelligence James Clapper says as authorities are investigating if recently published emails are tied to a Russian disinformation effort targeting Biden. https://t.co/shyMNnJ7Yr pic.twitter.com/GFSeIWXeY4

— CNN (@CNN) October 17, 2020
Why didn't CNN ask Clapper for any proof of this?
House Republicans Deliver Three Articles of Impeachment Against Joe Biden 
Rep. Bob Gibbs (R-OH) introduced three articles of impeachment against President Biden   for mishandling the deadly Afghan evacuation, creating the southern border crisis, and attempting to usurp the Supreme Court ruling to expand the federal moratorium on evictions.
The first article of impeachment speaks to Biden's violation of "his constitutional oath to faithfully execute the office of President," regarding the southern border crisis.
The second article concerns trashing the separation of powers by illegally attempting to extend the federal moratorium on evictions. "Despite the clear warning from the U.S. Supreme Court" and "with no legislative directive from the U.S. Congress," Biden violated a key principle of American republicanism, Gibbs wrote.
"He's not capable of being commander-in-chief, and that's obvious by the actions since Day One when he took the presidency back in January," Gibbs explained.
The final article of impeachment asserts Biden "failed to act responsibly as Commander in Chief with regard to the withdrawal of United States forces from Afghanistan."
Source: breitbart.com
Anchor Judy Woodruff said, "You had a number of meetings with Jeffrey Epstein, who — when you met him 10 years ago — he was convicted of soliciting prostitution from minors. What did you know about him when you were meeting with him, as you've said yourself, in the hopes of raising money?"
Gates said, "You know, I had dinners with him. I regret doing that. He had relationships with people he said would give to global health, which is an interest I have. Not nearly enough philanthropy goes in that direction. Those meetings were a mistake. They didn't result in what he purported, and I cut them off. You know, that goes back a long time ago now. So there's nothing new on that."
Woodruff said, "It was reported that you continued to meet with him over several years and, in other words, a number of meetings. What did you do when you found out about his background?"
Gates said, "I said I regretted having those dinners, and there's nothing, absolutely nothing new on that."
Woodruff pressed, "Is there a lesson for you, for anyone else looking at this?"
Gates said, "Well, he's dead, so. You know, in general, you always have to be careful. And you know, I'm very proud of what we've done, very proud of the work of the foundation. That's what I get up every day and focus on."
Source: breitbart.com
  Trump filed a $100 million lawsuit against The New York Times and his niece Mary Trump on Tuesday, alleging his confidential tax documents were improperly shared.
The lawsuit, which was filed in the New York Supreme Court, alleged that New York Times reporters Susanne Craig, David Barstow and Russell Buettner pressured Mary Trump to share the former president's tax documents for an article they were working on in 2018, the Associated Press reported.
"The brazenness of the defendants' actions cannot be understated," the lawsuit said. "A group of journalists with The New York Times, in the middle of an extensive crusade to obtain Donald J. Trump's confidential tax records, relentlessly sought out his niece, Mary L. Trump, and convinced her to smuggle the records out of her attorney's office and turn them over to The Times."
Trump's lawsuit stated that the reporters understood their actions were illegal since they used burner phones to communicate about the story and offered Mary Trump anonymity as a source.  
Source: dailycaller.com
3383
Q
!!mG7VJxZNCI
07/08/2019 23:36:13
 ID: 3a3d46
Archive Bread/Post Links: 6961828 / 6961951
Direct Link: 6961951
Image Name:
DpARa2LU8AEQt_g.jpg
Filename:
1e9805e60274e4725c0c878d3e0fa6e798f80edd9e291c06bc34fb1fb4821f57.jpg
  15,000 Haitians were squatting under a bridge in Del Rio, Texas.
Today there are less than 10,000 left at the squatters camp.
So where did they all go?
To a community near you — paid for by your tax dollars.
Biden is flying the fake refugees from Haiti across the country now.
What pandemic?
Source: thegatewaypundit.com
Import hundreds of thousands of illegal aliens.
Allow squatters camps in southern Texas.
Then investigate your own administration for treatment of illegal alien squatters in southern border camps.
And Border Czar Kamala Harris will lead the investigation.
Wait until she finds out who was in charge
They're not worried about the insanitary conditions or the absolute filth. They're not worried about the COVID carrying illegal migrants.
They're worried about fake horse whips.
Source:thegatewaypundit.com
Judd explained agents are trained for crowd control by the Homeland Security Department to "twirl the reins" if humans start approaching their horses to keep them away from getting injured, and the reins are never used to strike or harm people."We have to keep those individuals away from the horses," he explained. "If they get too close to the horses, the horses could step on them and they could break bones. They could kick them. They can get kicked in the head. It could cause death. -JTN
Texas Gov. Greg Abbott said  the state will be parking Texas National Guard and Texas Department of Public Safety vehicles along the border to create a "steel barrier."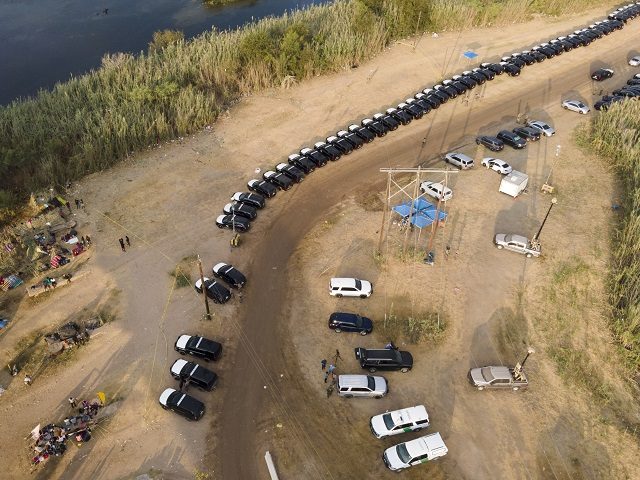 "They have created a steel barrier preventing people from being able to cross the border," Abbott said, according to the outlet. "One day there were countless people coming across the border, then the DPS put up all these DPS vehicles, and suddenly, in an instant, people stopped crossing the border in this location. That strategy is working."
Source: dailycaller.com
𝐒𝐄𝐏𝐓𝐄𝐌𝐁𝐄𝐑 𝟐𝟎𝟏𝟗… pic.twitter.com/9PBOYnVOhL

— Dan Scavino🇺🇸🦅 (@DanScavino) September 22, 2021
---
Geopolitical/Police State
---
War

---
Cyber Attacks
---
False Flags
  Biden notes it will take a "collective act of political will" to deal with a public health emergency. 
TRANSCRIPT – "Bombs and bullets cannot defend against COVID-19 or its future variants. To fight this pandemic, we need a collective act of science and political will. We need to act now to get shots in arms as fast as possible and to expand access to oxygen, tests, treatments to save lives around the world.
And for the future, we need to create a new mechanism to finance global health security that builds on our existing development assistance, and Global Health Thr- — and a Global Health Threat Counc- — Council that is armed with the tools we need to monitor and identify emerging pandemics so that we can take immediate action.
The "vaccine" is the variant creating system.  Joe Biden is bragging about how we are distributing the variant to the world.  The vaccine creates the variant, that requires a vaccine, that requires a passport, that requires permission…. that opens the door for government to control everything.
Source: theconservativetreehouse.com
Dr. Joseph Ladapo, the new Surgeon General and Secretary of the Department of Health for the state of Florida, denounced coronavirus hysteria on Tuesday, alleging it uses fear to rob people of their personal autonomy.
After stepping up to the podium, Ladopo declared that the Sunshine State is "done with fear."
Source: breitbart.com
The pandemic is to force you to get the vaccine.

The vaccine is to force you to get the vaccine passport.

The vaccine passport is to force you into the social credit system.

The social credit system is to force you into obeying the government.

— Emerald Robinson ✝️ (@EmeraldRobinson) September 21, 2021
The media keeps saying it's false that Bill Gates is "funding microchips in vaccines" because it's true that Bill Gates is funding quantum dot tattoos in vaccines.

And there's a Rice University press release to prove it.https://t.co/FEoZNtevVB

— Emerald Robinson ✝️ (@EmeraldRobinson) September 22, 2021
Quantum-dot tattoos hold vaccination record
Rice bioengineer reveals dissolving microneedles that also embed fluorescent medical info
Keeping track of a child's shots could be so much easier with technology invented by a new Rice University professor and his colleagues.Kevin McHugh, an assistant professor of bioengineering at Rice since this summer, and a team at his previous institution, the Massachusetts Institute of Technology, report in a cover story in Science Translational Medicine on their development of quantum-dot tags that fluoresce with information after they're injected as part of a vaccination.

Instead of ink, this highly specific medical record consists of copper-based quantum dots embedded in biocompatible, micron-scale capsules. Their near-infrared dye is invisible, but the pattern they set can be read and interpreted by a customized smartphone.

"The Bill and Melinda Gates Foundation came to us and said, 'Hey, we have a real problem — knowing who's vaccinated,'" said McHugh, who was recruited to join Rice with funding from the Cancer Prevention and Research Institute of Texas. "They said, 'We go on vaccination campaigns where people get into Hummers, drive to a rural village, set up a tent and start immunizing people, but they don't always know who's been immunized before and what vaccines are still needed."
Source:  news.rice.edu
Former President Donald Trump and former Secretary of State Mike Pompeo reaffirmed that they believe COVID-19 originated from the Wuhan Institute of Virology in comments aired in a documentary Tuesday.
"I think that it escaped from the lab through incompetence," Trump told Australian Sky News host Sharri Markson in the documentary  , He does not think the virus's release was on purpose since that would "essentially be war" and China suffered too.
Asked if U.S. officials spoke to Chinese defectors from the lab, Trump said he could not discuss that. "Some of the intelligence is classified and I can't talk about it," he told Markson.
There is "compelling intelligence" the virus originated from the lab but it has not been declassified because it would endanger the people who shared it and expose other sources, former Director of National Intelligence John Ratcliffe said in the documentary.
Nonetheless, the time is right for the Biden administration to declassify appropriate intelligence to put more pressure on China, he added.
 
Pompeo said "there were 14 American diplomats on the ground in Wuhan at this time who were watching and observing …. I hope one day we will be able to get that information out more broadly."
Based on the intelligence he has seen, the first cluster of COVID-19 occurred at the Wuhan lab, Pompeo said.
Source: thefederalist.com
 Trump said his top medical adviser Dr. Anthony Fauci did not reveal what he knew about research conducted at the Wuhan Institute of Virology.
Markson asked Trump: "Did he (Fauci) ever once mention to you that the Wuhan Institute of Virology was genetically manipulating coronaviruses?"
Trump responded: "Well no he didn't and you know Anthony has been in government for many, many years. He's a bureaucratic kind of guy, a very great promoter. I give him an A+ as a promoter and probably a C or a D as a doctor."
Source: worldtribune.com
"Wuhan scientists were planning to release enhanced airborne coronaviruses into Chinese bat populations to inoculate them against diseases that could jump to humans, leaked grant proposals dating from 2018 show."https://t.co/nXuNKU9aHt

— Richard H. Ebright (@R_H_Ebright) September 21, 2021

Board of Governors Professor of Chemistry and Chemical Biology @RutgersU
"They also planned to create chimeric viruses, genetically enhanced to infect humans more easily, and requested $14million from the [US] Defense Advanced Research Projects Agency (Darpa) to fund the work."

— Richard H. Ebright (@R_H_Ebright) September 21, 2021
"The bid was submitted by British zoologist Peter Daszak of EcoHealth Alliance, the US-based organisation, which has worked closely with the Wuhan Institute of Virology (WIV) researching bat coronaviruses. Team members included..Shi Zhengli, the WIV researcher dubbed 'bat woman'"

— Richard H. Ebright (@R_H_Ebright) September 21, 2021
"Darpa refused to fund the work, saying: 'It is clear that the proposed project led by Peter Daszak could have put local communities at risk', and warned..the team had not properly considered..dangers of enhancing..virus (gain of function research) or releasing a vaccine by air."

— Richard H. Ebright (@R_H_Ebright) September 21, 2021
"Viscount Ridley..called for..investigation..in..House of Lords..'For more than a year I tried..to ask questions of..Daszak with no response. Now it turns out he..authored this vital piece of information about..work in Wuhan but refused to share it with the world. I am furious.'"

— Richard H. Ebright (@R_H_Ebright) September 21, 2021
"So should the world be."

— Richard H. Ebright (@R_H_Ebright) September 21, 2021
* The proposal calls for aerosol delivery of recombinant SARSr CoV spike proteins in nanoparticles or in orthopoxviral vectors. Not aerosol delivery of SARSr CoVs.

— Richard H. Ebright (@R_H_Ebright) September 22, 2021
---
Q
A former top House Intelligence Committee investigator instrumental in revealing secrets behind the "Russiagate" controversy suggested the latest grand jury indictment in special counsel John Durham's inquiry offers a view into a broader charge that may follow in the future.
Kash Patel, believes a "very well-laid out" conspiracy charge is in the making that will envelop people in and around Hillary Clinton's 2016 presidential campaign.
 Source:  blabber.buzz
Maricopa County Supervisor Steve Chucri has announced his resignation from office effective November 5.
 Resignation is not good enough. Steve needs to come clean.
Source: thegatewaypundit.com
BREAKING – LEAKED AUDIO: Maricopa County Supervisor Steve Chucri Admits: "I DON'T FEEL COMFORTABLE WITH DOMINION" – And County Recorder Stephen Richer AGREES!
TAKE A LISTEN
So was Stephen Richer bullied or paid off?
REPORT: 'BALLOT TRAFFICKING WILL SOON BE EXPOSED ON A MASSIVE SCALE' IN ARIZONA, GEORGIA, MICHIGAN, PENNSYLVANIA, WISCONSIN
True the Vote, an election integrity group conducting an investigation into voter fraud in the 2020 presidential election, says massive ballot trafficking occurred in multiple states across the country and will soon be exposed.
"Our findings reveal overwhelming evidence of ballot trafficking," Catherine Engelbrecht president of True the Vote said earlier this month. "This is a massive undertaking."
"Once all six states are completed to the best of our ability," she said, referring to Arizona, Georgia, Michigan, Pennsylvania, and Wisconsin, "and if at that point law enforcement still has not acted, we will publicly release it all."
Using mobile and GPS data, True the Vote was able to undercover, "the travel patterns of ballot traffickers to ballot dropboxes," in the six different states considered hotspots for voter fraud in the 2020 election.
"To test our trafficking theory, we acquired over ten trillion location-based cell signals in major metropolitan areas across six states," Engelbrecht added. "Initially, we worked with whistleblowers and witnesses, but soon enough, the data alone told the tale. Using mobile and GPS data, we mapped the travel patterns of ballot traffickers to ballot dropboxes."
The election integrity group has obtained video surveillance data and is "successfully finding video evidence that corroborates the digital data and supports the need for full investigations by law enforcement."
Source: rsbn.com
Arizona makes history in 2 days. Get ready.

— Mark Finchem for AZ Secretary of State (@RealMarkFinchem) September 22, 2021
[FF]
2251
Q
!!mG7VJxZNCI
09/21/2018 13:29:34
 ID:
Archive Bread/Post Links: 62 / 279
Direct Link: 279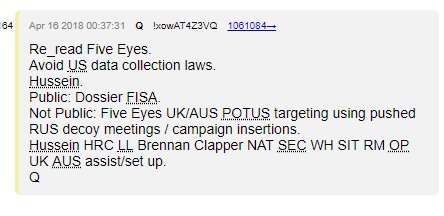 Image Name:
Da7CHimVMAAhNvL.jpg
Filename:
95aff0ad5e57fc4b06c0967796f18b168efff06804e3d1d052de4cc1fec64778.jpg
We are at the PRECIPICE.
FAKE NEWS ABOUT TO SHIFT NARRATIVE AGAINST THEIR MASTERS IN EFFORT TO WEATHER THE STORM?
2266
Q
!!mG7VJxZNCI
09/21/2018 19:41:59
 ID: cbe23c
Archive Bread/Post Links: 3128342 / 3129182
Direct Link: 3129182Anonymous 09/21/2018 19:37:12 ID:6f487a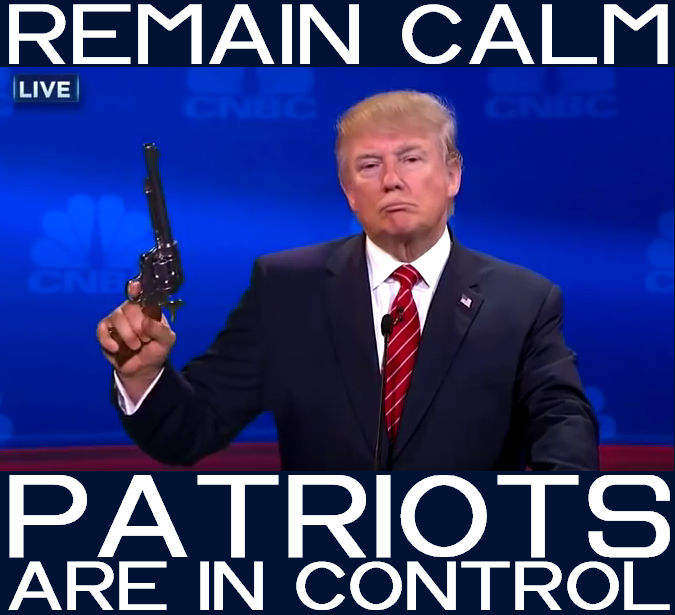 Image Name:
trump remain calm

patriots

are in control.png
Filename:
43d25c26ba10142139a4b0c03b2197a794fae13c6f86a78fe1e39c2c2f7d57b6.png
Filename:
5006e4febfe392522b935a7fd3980aea358093a2d984110237a66f332b4439eb.png