Indictments Coming, We Are Now Nearing T Minus Zero – Episode 2019
Podcast: Download (Duration: 48:50 — 49.1MB)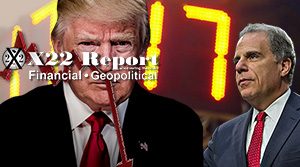 The establishment is now warning the parties in the UK that they will be targeted by hackers on a daily basis. Optimism in Small Business rises and the fear of recession is now fading away, the patriots plan is working. Trump gave a speech at the Economic Club of NY and he put the [CB] and the world on notice. Everything is about to change. The [DS] is doing exactly what the patriots want them to do, they are exposing themselves to the public while destroying themselves at the same time. The cast of characters are all part of the same [DS] group and the WB now has a WB reporting them. The world is changing the people are realizing who the real enemy is. Q drops more bread, lets us know that indictments are coming, we are now counting down and we are nearing t minus zero.
Check Out The X22 Report Spotlight YouTube Channel X22Report Spotlight
Please check Newzsentinel.com for the latest news on the economic collapse. The Sentinel Alerts are updated throughout the day. If you haven't already, go to "The People" and join the community of people who are helping each through the economic collapse.
---
Current News – 11.12.2019
Watch The X22 Report On Video
---
Economy
Boris Johnson news – live: PM accused of 'woeful' floods crisis response, as parties warned they will be targeted by hackers on daily basis after Labour cyber attack
It comes as Labour revealed it that it has experienced a "sophisticated and large-scale cyber-attack" on its digital platforms. A leading cyber-security expert warned that all political parties would "receive attempts against their network on a daily basis".
Source:  independent.co.uk
Economy is BOOMING. Seems set to have yet another record day!

— Donald J. Trump (@realDonaldTrump) November 12, 2019
EU Begins Accepting Serious Consequences From U.S. Economic and Trade Position…
The major industrial economies of the European Union (U.K., France, Germany) have been the beneficiaries of a decades-long system which allowed one-sided benefits -via tariffs- against U.S. products.
With President Trump demanding reciprocity, and with less industrial purchasing from China, the EU is now starting to contemplate a dramatically different economic future. 
 , President Trump has begun the process of confronting EU tariffs against U.S. products that have existed since the 1948 Marshall Plan was enacted.  Under the Trump administration USTR Robert Lighthizer and Commerce Secretary Wilbur Ross have put the EU on notice that U.S. trade agreements will no longer accept the one-sided benefit; the current U.S. position is reciprocity without compromise.
Against both standards of diminished Asian purchases and diminished protectionism for their collective economy, the EU is entering into a phase of severe economic consequence.
Source: theconservativetreehouse.com
  Trump was speaking at the economic club of NY, and he  laid out his economic message for the 2020 campaign: Under his administration, the US has experienced more than five years of uninterrupted growth, and record-low unemployment.
Trump said he reversed policies imposed by his predecessors that restrained the economy, blaming regulations and trade deals advanced by other presidents. He added that the "political class sold out American workers."
The president reiterated his criticism of the Fed, which he has repeatedly bashed for not cutting interest rates sooner. Yet, this time he actually called for the central bank to consider cutting rates into negative territory like they have in Europe.
Here are some highlights 
TRUMP: THOSE WHO WANT ACCESS TO AMERICAN MARKET MUST OBEY RULES
TRUMP SAYS FED FAR TOO SLOW IN CUTTING RATES
TRUMP SAYS FED PUTS U.S. AT DISADVANTAGE VS OTHER COUNTRIES
TRUMP SCOLDS FED, MAKES PLEA FOR NEGATIVE RATES
TRUMP SAYS THINKS U.S. CAN BRING DOWN TAX RATES FURTHER
TRUMP SAYS EU HAS HIGH TRADE BARRIERS
TRUMP SAYS CHINA TRADE DEAL COULD HAPPEN SOON
TRUMP: IF THERE IS NO DEAL, WE WILL RAISE TARIFFS
And a quote…
"The American Market is the most valuable and coveted market on the globe – those who want access must play by the rules, respect our laws, and treat our workers and businesses FAIRLY," Trump said  
Source: zerohedge.com
---
Political/Rights
The [DS] is now in trouble, Trump is releasing another call he had with Ukraine, complete transparency, and truth, this will hit the fake impeachment again, this is what it is about, exposing all of these people, Q started to post again and Q is letting us know that indictments are coming soon, we will be talking about this a little later in this report, but first another government employee is now retiring
Rep. Peter King, longtime N.Y. congressman, latest in slew of GOP retirements
Rep. Peter King, R-N.Y., announced Monday he will retire from Congress at the end of his term.
"I have decided not to be a candidate for re-election to Congress in 2020," King, 75, said in a statement. "I made this decision after much discussion with my wife Rosemary; my son Sean; and my daughter Erin. The prime reason for my decision was that after 28 years of spending 4 days a week in Washington, D.C., it is time to end the weekly commute and be home in Seaford."
Source: nbcnews.com
As the [DS]/Dems/MSM push the fake impeachment they are just making it worse for themselves, they are exposing the entire [DS] to the world and how they are all connected, but this is part of the plan,
Democrat "Star" Witness sat on Board of Ukranian NGO with deep ties to George Soros
UncoverDC  reported William Taylor spent several years on the board of a Ukranian NGO called EEF, or the East Europe Foundation, that has a strong partnership with Open Cities Association. Open Cities Association is funded by "Open Governments Partnership" which accepts large amounts of funding from George Soros' Open Society Foundation.
William Taylor also has strong connections to other dark power players, many of whom are embroiled in the spying scandal currently under investigation by Attorney General William Barr and US Attorney John Durham. Taylor was a senior advisor to the US- Ukraine Business Council (USUBC), where he often presented round table discussions about policy with David Kramer from the McCain Institute. Evidence has shown that David Kramer was responsible for laundering the Steele Dossier into the FBI on behalf of John McCain, as well as providing the dossier to Buzzfeed.  
The Democrats "star" witness appears to be a dark power pawn, working closely with the brokers who have shifted and molded Ukraine policy for years.
Source: undercoverdc.com
Trump tweeted out the following
"The President has until September 30th to give this aid to Ukraine. He gets it out on September 11th., 3 weeks before the deadline. So, we give our ally aid, and Joe Biden is not investigated. Remember that, they get the aid and we get nothing in return. The Democrats….

— Donald J. Trump (@realDonaldTrump) November 11, 2019
….want that to be an impeachable offense? Good luck with that!" @JesseBWatters @FoxNews

— Donald J. Trump (@realDonaldTrump) November 11, 2019
Then this leads us to Alex Vindman again, it seems he is the source of the WB information and now he is being exposed to the world and the [DS] now have a problem
Here are four problems with the Vindman testimony:
1) Beyond his opinions, he had few new facts to offer. Vindman seemed to be an important fact witness, the first who had actually been on the July 25 call when Trump talked to Zelensky. But the White House weeks ago released the rough transcript of that call, which meant everyone in the secure room in which Vindman testified, and everyone on the planet, for that matter, already knew what had been said.
 Vindman had no problems with the transcript, and he specifically said he did not believe any changes were made with ill intent.
"You don't think there was any malicious intent to specifically not add those edits?" asked Republican counsel Steve Castor.
"I don't think so."
"So otherwise, this record is complete and I think you used the term 'very accurate'?"
"Yes," said Vindman.
Once Vindman had vouched for the rough transcript, his testimony mostly concerned his own interpretation of Trump's words. And that interpretation, as Vindman discovered during questioning, was itself open to interpretation.
2) Vindman withheld important information from investigators. Vindman ended his opening statement in the standard way, by saying, "Now, I would be happy to answer your questions." As it turned out, that cooperation did not extend to both parties.
The only news in Vindman's testimony was the fact that he had twice taken his concerns to Eisenberg. He also told his twin brother, Yevgeny Vindman, who is also an Army lieutenant colonel and serves as a National Security Council lawyer. He also told another NSC official, John Erath, and he gave what he characterized as a partial readout of the call to George Kent, a career State Department official who dealt with Ukraine. That led to an obvious question: Did Vindman take his concerns to anyone else? Did he discuss the Trump-Zelensky call with anyone else? It was a reasonable question and an important one. Republicans asked it time and time again. Vindman refused to answer, with his lawyer, Michael Volkov, sometimes belligerently joining in. Through it all, House Intelligence Committee Chairman Adam Schiff stood firm in favor of keeping his committee in the dark.
Vindman openly conceded that he told other people about the call.
 
source: washingtonexaminer.com
HUGE! — 'Whistleblower" Eric Ciaramella Was Hosting 2016 WH Meeting Where Ukrainian Officials Were Told to Drop Investigation of Hunter Biden!
whistleblower   his second-hand "whistleblower" complaint against President Trump after speaking with Adam Schiff's team in September.

WB claimed he was concerned about President Trump's discussion of Hunter Biden during his call with Ukrainian President Zelensky.
Now we know why Ciaramella was so concerned.
According to White House visitor logs Eric Ciaramella was hosting the January 19, 2016 White House meeting where Ukrainian officials were told to drop the investigation into Hunter Biden.
 
According to Stephen McIntyre the demand that Ukrainian top prosecutor Viktor Shokin be fired as a condition for IMF loan almost certainly originated with Biden staff. The demand was first announced to Ukrainian prosecutors at a January 19, 2016 meeting with US officials hosted by the fake WB 
And   Artem Sytnyk, the director of Ukraine's National Anti-Corruption Bureau (NABU), a Soros group, who leaked documents on kickbacks to Manafort during the 2016 election, was also at the meeting.
Source: thegatewaypundit.com
And Now we have this
BREAKING: New Whistleblower Files ICIG Complaint Against CIA 'WhistleLeaker' Eric Ciaramella For Allegedly Soliciting Illicit Donations Via GoFundMe
A complaint was filed last week to the Intelligence Community Inspector General alleging the WB    may have violated federal law by illicitly soliciting more than $250,000 from anonymous donors through a GoFundMe page.
BREAKING: A new whistleblower has filed an official complaint with the Intelligence Community Inspector General asking him to investigate whether Adam Schiff's "whistleblower" is breaking the law https://t.co/vXB3t3WB4k

— Trump War Room (Text TRUMP to 88022) (@TrumpWarRoom) November 12, 2019
The complaint raised the possibility that donations may have come from 'foreign citizens' or 'agents of a foreign government' — both prohibited sources according to ICIG.
The complaint, which was filed last week  alleged the donations from roughly 6,000 individuals "clearly constitute" gifts to a current intelligence official that may be restricted because of the employee's official position pursuant to 5 CFR 2635.203 and other statutes. To date, the GoFundMe has raised over $227,000.

The complaint also raised the possibility that some of the donations may have come from prohibited sources, and asked the ICIG to look into whether any "foreign citizen or agent of a foreign government" contributed.
The complaint made a reference to Whistleblower Aid, also know as Values United, co-founded by Mark Zaid.
Source: thegatewaypundit.com
Why is such a focus put on 2nd and 3rd hand witnesses, many of whom are Never Trumpers, or whose lawyers are Never Trumpers, when all you have to do is read the phone call (transcript) with the Ukrainian President and see first hand? He and others also stated that there was…..

— Donald J. Trump (@realDonaldTrump) November 12, 2019
….."no pressure" put on him to investigate Sleepy Joe Biden even though, as President, I have an "obligation" to look into corruption, and Biden's actions, on tape, about firing the prosecutor, and his son's taking millions of dollars, with no knowledge or talent, from a…..

— Donald J. Trump (@realDonaldTrump) November 12, 2019
….Ukrainian energy company, and more millions taken from China, and now reports of other companies and countries also giving him big money, are certainly looking very corrupt (to put it mildly!) to me. Both Bidens should be forced to testify in this No Due Process Scam!

— Donald J. Trump (@realDonaldTrump) November 12, 2019
As he hinted at on Friday, the president just confirmed by tweet that he will release the transcript of the "most important" first call with the President of Ukraine this week…
In order to continue being the most Transparent President in history, I will be releasing sometime this week the Transcript of the first, and therefore most important, phone call I had with the President of Ukraine. I am sure you will find it tantalizing!

— Donald J. Trump (@realDonaldTrump) November 11, 2019
I will be releasing the transcript of the first, and therefore more important, phone call with the Ukrainian President before week's end!

— Donald J. Trump (@realDonaldTrump) November 12, 2019
Still very interesting how Washington Democrats and some in the media kept demanding to hear from the whistleblower—and yet the moment the potential coordination between the informant and Adam Schiff became public, the whistleblower was "no longer relevant"

— Mark Meadows (@RepMarkMeadows) November 12, 2019
UH-OH… Dems Went All-In on Schiff Impeachment and Now It's Quickly Turning Into a Schiff Show – Unconstitutional, No Crimes, With Only Far-Left Democrat Support
  The Dems are in real big trouble. 
There are no crimes that President Trump has committed that would lead to  an impeachment inquiry and so lying Schiff keeps moving the goal posts.  But most importantly, only far-left Democrats are in favor of impeachment.
You just can't break the truth.  No matter how far you may bend it, it is always the truth.  The Democrats are learning this lesson again and it is going to be really ugly this time and it should.  
The Schiff Sham is unconstitutional 
Source: thegatewaypundit.com
Notice how the patriots are pushing the Dems down this path,
Dems have a plan to impeach
Trump placed the call on a secure server, he will never release it
Lets get a WB, this WB doesn't have access to the call, Lets change the form
Since Trump placed the phone transcript on a secure server, Lets create a phony phone transcript, and leak it to the WB
Lets leak it out to the press
We have our impeachment, MSM confirms, we have the phone transcript and the WB, nobody will be the wiser
Trump and the patriots, we will release the phone transcript, complete transparency
[DS] plan just fell apart, but we can't stop we have to push on with the lie or they will question the Bidens and us
Lets have secret hearing, and change the rules
MSM backs this up with bombshell leaks that there was quid pro quo.
Transcripts don't reflect this, no evidence, no crime
Lets vote for new rules on the fake impeachment, only the Dems vote for this and two did not go along with this
Lets have public hearings, swalwell says for the most part the testimony was no coordinated, meaning they were coordinated.
Public now realizes that this is coup
MSM,Social Media if you mention the WB name we will stop you, Adam Schiff leaks it out and then deletes
The Dems are trapped, the public is not buying what they are selling
Trump then says lets make my other call transparent, will the Dems do the same, will they be completely transparent, it seems like the Patriots knew of their plan along and led them down this path. 
Those who voted and were behind all of this, their days are numbered
Now the criminal investigation conducted by Durham are now winding down, the IG report is set to be released, and we find out that
Breaking: Former Australian Ambassador Alexander Downer Reportedly Interviewed by US Attorney Durham a Month Ago 
Alexander Downer, the former Australian Ambassador, was reportedly interviewed in London a month ago by AG Barr's US Attorney John Durham. 
 In addition Downer is said to have provided Durham a confidential Australian diplomatic cable.
Source: thegatewaypundit.com
Now we are expecting the IG FISA Report before thanksgiving, CG tweeted out the following
If FISA Inspector General Horowitz report doesn't come out next week when they said it would then I will be very disappointed & left to wonder WHAT THE GAME IS?? Is someone at FBI or DOJ tying IGs hands??

— ChuckGrassley (@ChuckGrassley) November 12, 2019
We will be talking about the indictments and the report a little bit later when we cover Q posts. 
VIDEO: EPSTEIN MEDICAL EXAMINER DROPS AUTOPSY BOMBSHELL; No DNA Test Conducted to Confirm Epstein's Identity
 medical examiner who supervised the New York City autopsy of sex offender Jeffrey Epstein revealed in a shocking interview that no definitive DNA tests were performed  during the autopsy — or anytime after JE reported prison-cell suicide. 
 The Justice Department collects and warehouses DNA samples from persons who have been charged or convicted of certain crimes, especially like Epstein's previous crimes. Epstein was a registered sex offender.
These convicted offender DNA samples are uploaded into the Combined DNA Index System (CODIS) and compared with DNA profiles generated from evidence
collected from crime scenes and victims as part of routine criminal investigations.
If the Feds failed to swab Epstein for his DNA, he couldn't be linked to pending and unsolved cold cases.
Source: truepundit.com
Trump: 'Many of the People in DACA, No Longer Very Young, Are Far From Angels,' Some Are 'Hardened Criminals'
  Trump took to Twitter ahead of the Supreme Court hearing arguments about the controversial Deferred Action for Childhood Arrivals (DACA) program to remind the public that many of the people benefiting from it are no longer young, and are now hardened criminals.
Many of the people in DACA, no longer very young, are far from "angels." Some are very tough, hardened criminals. President Obama said he had no legal right to sign order, but would anyway. If Supreme Court remedies with overturn, a deal will be made with Dems for them to stay!

— Donald J. Trump (@realDonaldTrump) November 12, 2019
Journalist Ryan Girdusky noted that the president is correct — over 50,000 DACA recipients have arrest records.
According to a report from US Citizenship and Immigration Services, which Girdusky had linked to, "almost 8-percent of total DACA requestors (59,786 individuals) had arrest records as of the date the systems were queried, which included offenses such as assault and battery, rape, murder, and drunk driving, among others."
The DACA program, which Obama implemented through an executive order, has prevented over a half a million illegal aliens from being deported.
Source; thegatewaypundit.com
---
War
People Worldwide Are Standing Up to Communists, Regimes and Insane Elitist Policies – People Just Want to be Free!
People around the world are standing up to communists, tyrannical regimes and insane elitist policies.  The movement that started with Brexit and the Trump Presidency is expanding to all parts of the globe.
Iraq
In Iraq, its citizens are standing up against the brutal Iran regime that took over after Obama pulled US troops from the country.
Today the people of Iraq are standing up to the Iranian regime –
Protests continue in spite of threats from the government and Iran –
Hong Kong
In Hong Kong young protesters are standing up to the communist regime in China.  China's efforts to remove individual rights have led to massive protests –
Lebanon
In Lebanon the people are standing up against the government's corruption and recent tax increase with peaceful protests –
Bolivia
Marxist tyrant Evo Morales was ousted this week.  The Chavista communist ruled the South American country for years.
In Spain the people are standing up to the insane policies of the European elites.  The VOX party recently won more seats in the government with a nationalist platform that is anti-abortion and anti-illegal immigration.
---
Q
Q

 

!!mG7VJxZNCI

 

ID: 9b601a

 No.7352751


/agg_image_failure/
/route_DoD_11.11.18/
America Will Be Unified Again.
Future Proves Past.
Q
This the routing url for 8kun which we have now found it goes goes through a Defense Department (DoD) server.
"I prefer dangerous freedom over peaceful slavery."
-Thomas Jefferson
"What we seek is the reign of law, based upon the consent of the governed and sustained by the organized opinion of mankind."
-Woodrow Wilson
"Educate and inform the whole mass of people. They are the only sure reliance for the preservation of our liberty."
-Thomas Jefferson
Q
"Calm Before the Storm." – POTUS –

October 5th, 2017.

Month/Day 'Q' public campaign initiated? –

 operation began on October 28, 2017.

Month/Day 'Durham' initiated? –

On November 13, 2017, Assistant Attorney General Stephen Boyd notified members of Congress that the DOJ had appointed "senior federal prosecutors" (plural) to investigate their concerns about corruption rather than appoint a second Special Counsel.

What famous crime family did Durham target? –

Gambino

"Also spearheaded mob prosecutions of the

[Gambino]

, Genovese and Patriarca crime families."

http://content.time.com/time/nation/article/0,8599,1918738,00.html📁

Killer Says He Murdered Reputed Mafia Boss to Protect Trump

Anthony Comello, 24, murdered alleged mob boss Frank Cali because he became convinced he was part of a deep-state conspiracy against President Trump, his lawyer alleges

[Dec 12 2018]
"What if there's another prosecutor (outside of DC) assigned by SESSIONS w/ the same mandate/authority?" – Q
Do you believe in coincidences?
5:5?
Be ready, Patriots.
Q
POTUS and Q near zero delta with Q posting seconds before Trump. #Qanon

MSM constant attacks?

Ask yourself, why?

Q
The MSM has been attacking Q since Q came online, now since Q has returned the MSM is going crazy, it was like they prepared for this, created stories and were ready for Q's return. All for a LARP a conspiracy
Donald Trump claims Barack Obama tried to call Kim Jong Un ELEVEN times but North Korean dictator had a 'lack of respect' and wouldn't answer – as Obama-era national security spokesman says it 'never' happened

Trump told media during Cabinet meeting that Barack Obama had tried 11 times to connect with Kim Jong-un via phone
He claimed the North Korean strongman rejected Obama each time

Previous # tracked [SURV] by a select dedicated team?

# breakdown pre/post POTUS elect?
Do you believe in coincidences?
Relevant to future upcoming events.
Q

It seems that POTUS told Kim Jong Un to change his phone number, remember Trump and Kim write to each other, the DS is in the dark so OBama had no idea
Whistleblower: Google Is Developing AI for 'Planetary Surveillance'

Mansour asked Vorhies about Google's business engagements in China.

"So Google bought this AI company called DeepMind," Vorhies replied. "Let me just put it in plain language what that is, DeepMind was creating a god-like AI system that is able to ingest the available public information on the internet and make sense of it. Think of it like Amazon Alexa except much much much more intelligent. This AI system was moved out of the UK I believe and placed into China, and it's been dubbed the AI Manhattan Project."

DeepMind disputed Vorhies' comments in a statement to Breitbart News. A DeepMind spokesperson said:  "DeepMind is a scientific research organisation headquartered in the UK and does not have operations in China."

Vorhies continued: "Peter Thiel — he accused Google of acting in a treasonous way. This is how serious this project is. It's the most sophisticated and advanced AI project in the world made by an American company and placed in China."

Vorhies stated: "When people think of surveillance they usually think of country surveillance. This is planetary surveillance of all information that is available on the surface web and also any sources that it can get in the deep web and utilizing Google's extensive deep analysis of its book scanning stuff. So think of the Library of Alexandria of all available websites that you can search for and all that data gets fused together and a decision-making process gets formed because of that. This is essentially what the Google DeepMind project is all about."

[Feb 18 2018]
"Project DeepDream v2[A]?" – Q
Do you believe in coincidences?
Q
Google's Project DeepDream: initial release 2015.

Deep Dream (CIA wanted to use for mass surveillance) from Bourne Ultimatum nearly a decade prior. pic.twitter.com/XlcjZFxInE

— Newsworthy Notables (@QAnonNotables) November 12, 2019
Project Looking Glass?

Going Forward in Order to Look Back.

Q
The Looking Glass technology was apparently used to look backward and forward in time, using the consciousness of an operator as a type of steering mechanism. The operator would sit in a chair that was apparently recovered from a downed extraterrestrial craft capable of interfacing with consciousness directly. When the device was turned on, strong toroidal fields of energy cycled about a pouch of water at the center, which acted as a sort of resonator for in-streaming energies from the point of focus maintained by the operator. The data was collected and projected onto video monitors at incredible speeds, which later needed to be de-interlaced to reveal discernible images. 
What's interesting, is that the biases of the operator would have a direct effect on the images collected. For example, if one were to look back to the times Jesus' cruixifiction, if the person doing so was an atheist, they may not see anything at all. But if the person was a Christian, they may see the infamous cruixifiction event.
This is suggestive of a time-space mechanic in the universe, wherein the human mind is able to navigate through time itself. The work of Dewey B. Larson and his Reciprocal Systems theory provides the basis for this interpretation.
Once C_A always C_A?
Former C_A elected to Congress?
Former C_A running for Congress?
Former C_A running for Senate?
Former C_A elected to Senate?
Former C_A elected to Presidency?
Define 'black op' [clandestine]
Once C_A always C_A?
@Snowden pre_NSA?
@Snowden base of ops [geo location]?
Whistleblower(s) vs. POTUS?
Former C_A?
Define 'black op' [clandestine]
What happens if rogue elements of US AB[C] intel agency target [to insert] US political system [President, VP, House, Senate, NSC, US Amb., etc.] in 'black op' designated to control friend vs. foe targeting [self-preservation]?
NSA v C_A
Q
Snowden was CI_A & advanced their illegal domestic surveillance program while pretending to be an NSA whistleblower. The CI_A has many operatives in government past and present   All to control foreign policy and preserve the agency & its agenda.
Indictments coming.
[2019]
Q
Q indicated that the unsealing of indictments (JUSTICE) would not happen until the DOJ IG report on FISA abuse and Declassification of Spygate documents were released to make the public aware of the crimes of the previous administration. We are nearing the release of both.
---